matt and quinns in the city of brotherly love, the jokes write themselves!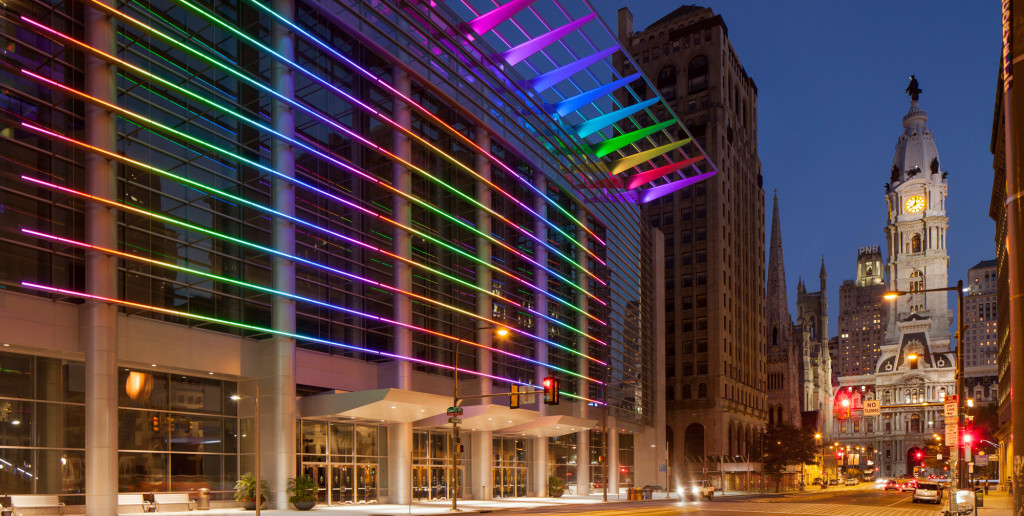 Quinns
: Hey everyone! Quick bit of business. Next week Matt and I will be flying to Philadelphia for 
PAX Unplugged
, the first table game-focused convention from the Penny Arcade Expo people, and we've got all sorts of events where you can catch us.
On Friday I'll be teaching a room full of people to come and play Flamme Rouge and Mysterium in what's being called "a game night in a can". Matt's got his own event teaching Sheriff of Nottingham and Ethnos. On Saturday we've got a live podcast and we're hosting a big fan meetup, so you should totally come to both of those. Finally, we've got an autograph session on the Sunday. We'll also have a merch booth up and running for the whole con where we'll be hanging out if we're at a loose end.
Are you reading this with a frown on your face? Would you have totally bought a ticket if you knew we'd be attending? We've got good news! PAX Unplugged has given us 10 three day passes to gift to our audience, so if you want to come join the fun in Philly just email [email protected] with your full name and email address and we'll hook you up.
All the tickets have been given out. See you guys there!
quinns' toothy heart, a sad birthday, 8 more complexity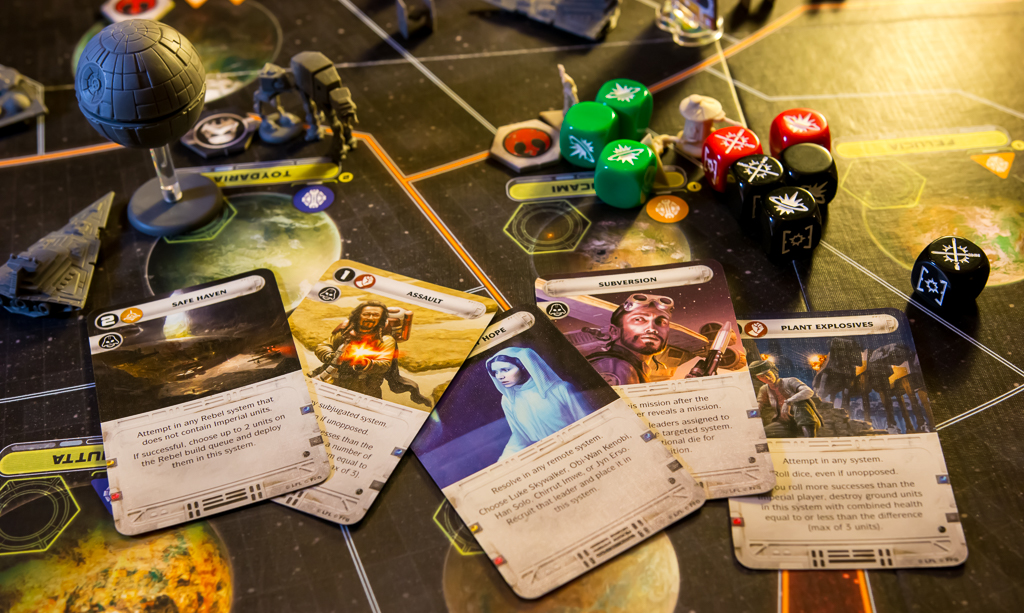 Quinns
: Matt, are you ready to review the
Rise of the Empire expansion
for Star Wars™: Rebellion? To bring everyone up to speed, Rebellion is a grand 2-4 player game set in the Star Wars universe,
which I reviewed
and said it was fun, but I couldn't quite recommend it.
What does the expansion add? Well, let me just quote the press materials: "Rise of the Empire isn't just inspired by Rogue One; it follows the movie's example, adding new depth and story to the Rebellion game experience just as seamlessly as Rogue One provided new insight into the Galactic Civil War presented in the original Star Wars trilogy."
Matt: I just did a big vomit out of a window. In Real-World Terms™ it's an expansion that adds quite a bunch of stuff: new leader characters, new cards, a whole new combat system, more unit types and plastic figures, and a brand new planet: EWOK-HOTH, HOME OF THE CHILLYBEARS.
Machiavelli-maths, i've made a huge mistake, Rafael Silveira is rubbish though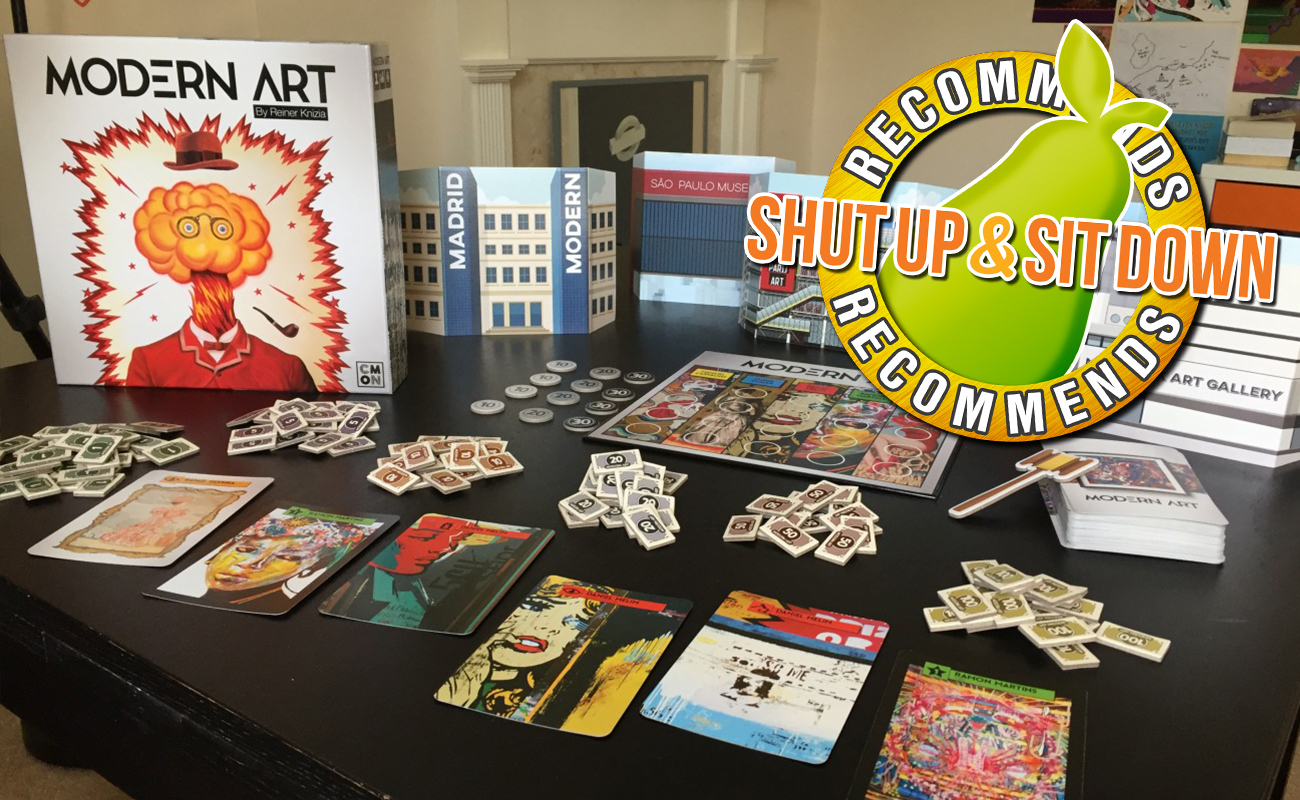 Quinns
: With CMON's
new edition of Modern Art
, a game of blisteringly quick and dangerous art auctions, Shut Up & Sit Down continues its exploration of
classic Knizia.
Just who is Reiner Knizia? Where did he come from? What is he doing?
We've interviewed him
and I still don't know. All I can tell you is that he's responsible for
more than 500 games
, literally some of which are good.
But Modern Art isn't just the oldest Knizia game we've ever reviewed. With the exception of 1981's Consulting Detective, I think this is the oldest game we've reviewed, period. It came out way back in 1992, when Paul was celebrating his 30th birthday and Matt hadn't even been born yet.
Can you feel it? This site is trembling with time right now. Slip inside my cardboard Tardis. Let's see if the years have been kind.
a gurgling relative, deadly dancers, a wobbly future, the star bean

Quinns
: You know how we usually do silly intros for the Games News?
Paul: Absolutely. That's classic Games News.
Quinns: Well, I dunno if we have to today. I think our top story already sounds like a Dr. Seuss story.
Board game designer Friedemann Friese, who likes to make games that begin with the letter 'F', has announced a series of sequels to his title Fabled Fruit. Fear, Fortress and Flee are his three new games in the Fast Forward line, all of which use the Fable system (see below). All of these games are green, because Friedemann likes green games (and has green hair).
Speaking of which, they've also announced the first expansion to Fabled Fruit, and you'll never guess what it adds.
Paul: What does it add?
Quinns: Limes.
Paul: Limes?
Quinns: Limes.
the clambering proletariat, doomed societies, the duality of heroism, monkeys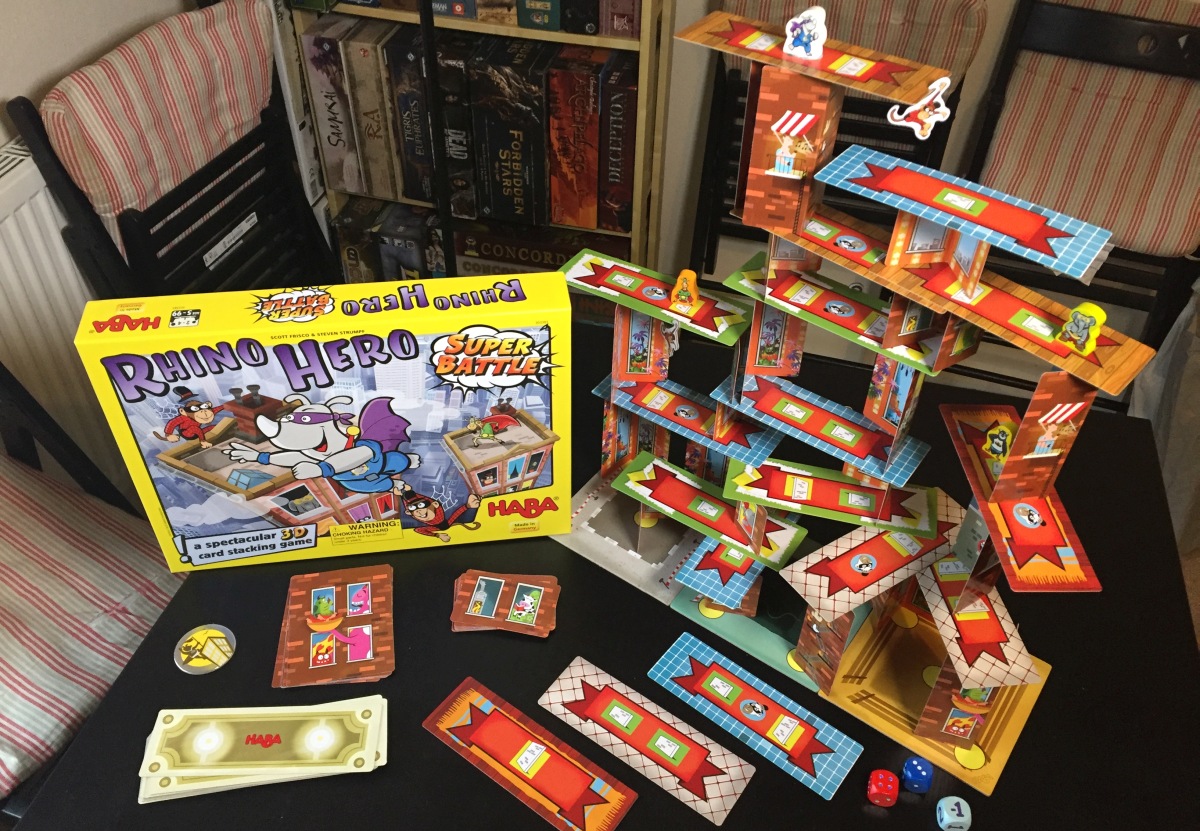 Quinns
: Leigh, thank you very much for agreeing to appear on Shut Up & Sit Down. I hope you won't be expecting any special treatment as my wife.
Leigh: Not at all! It's a pleasure to be invited to this forerunning venue for material game criticism.
Quinns: Do you think you're up for the task?
Leigh: I certainly hope so!
Quinns: Glad to hear it. Today the text we're looking at is Rhino Hero Super Battle, the outsize sequel to 2011 sleeper hit Rhino Hero. From the box - and I quote - "This time not only does the wobbly skyscraper need to be built & climbed, but there will also be fierce battles between the four superheroes Rhino Hero, Giraffe Boy, Big E. and Batguin."
In more ways than one, Leigh, the world of Rhino Hero just got bigger.
a boomerang made of jesus, hot dog-based misadventures, hit the club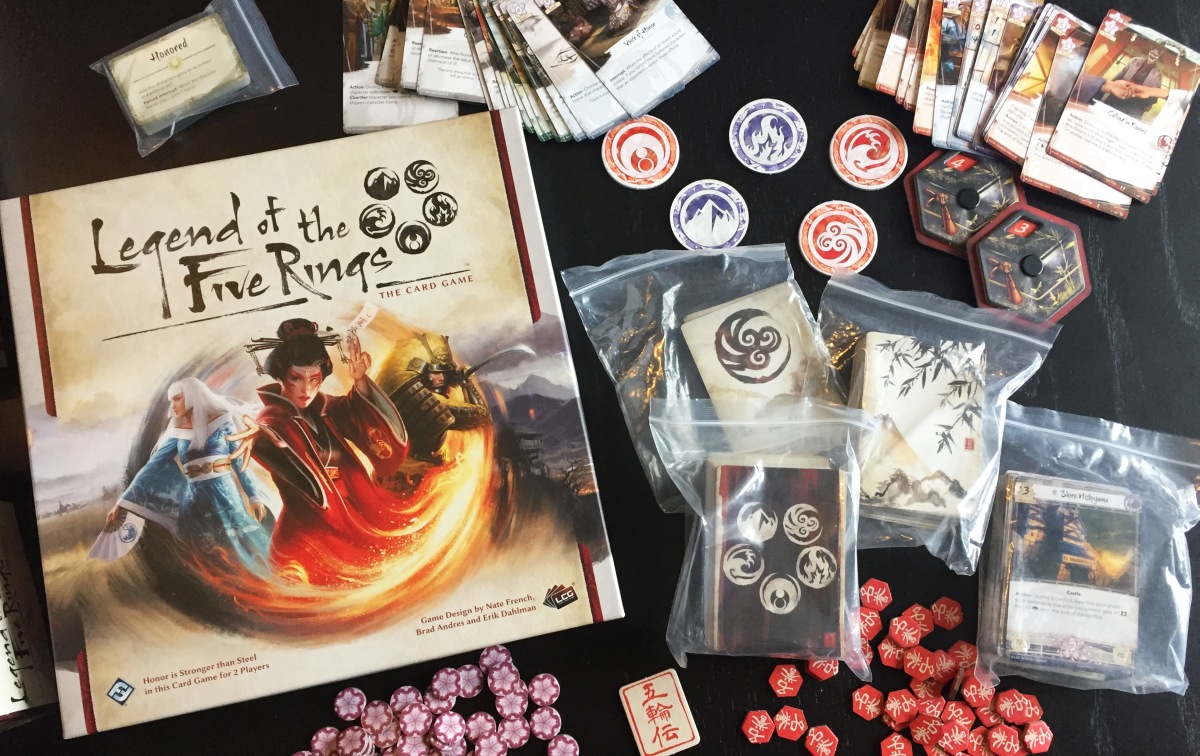 Quinns
: Phew! I birthed two of the year's
toughest
reviews
last week, but there's no rest for the wicked. Today we've got some coverage that a lot of people have been asking for.
Remember when Fantasy Flight Games bought the rights to 1996 collectible card game Netrunner and released a new edition that took over my life? Well, Legend of the Five Rings (henceforth "L5R") is them doing that again. This was originally a 1995 card game, but any week now shops will receive FFG's beautimus new edition using the Living Card Game business model of releasing fixed expansions rather than randomised boosters. This makes it cheap compared to most collectable card games, albeit still expensive compared to board games.
In other words, we could have a hit on our hands. Have Fantasy Flight folded the original game's steel into a captivating card katana?
Let's find out.
wok star, bagged alpacas, a tile-laying tile layer, one very angry passenger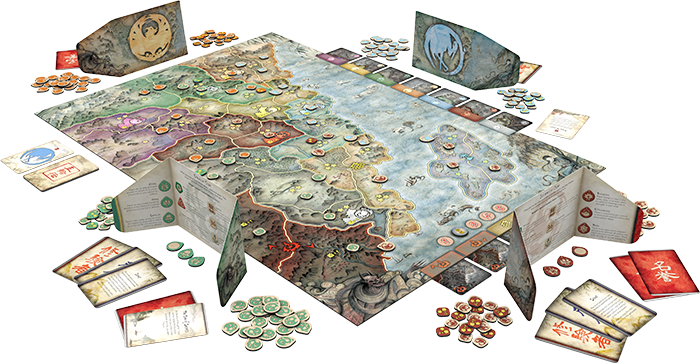 Paul
: Good News to you, my friends. Or, as we say here in Canada, News Be With You. I'm writing this Games News from atop a rock on the edge of the Pacific Ocean, watching the sun plunge past the horizon, thinking about the final touches we're putting to SHUX. I'm already considering how to make next year bigger, better and cheaper, so it's all that I can do to pull my head out of all this and tell you about Fantasy Flight's
BATTLE FOR ROKUGAN
.
Quinns: It's time to have a Really Honorable War.
a georgian george clooney, a ghost whisperer, word-confetti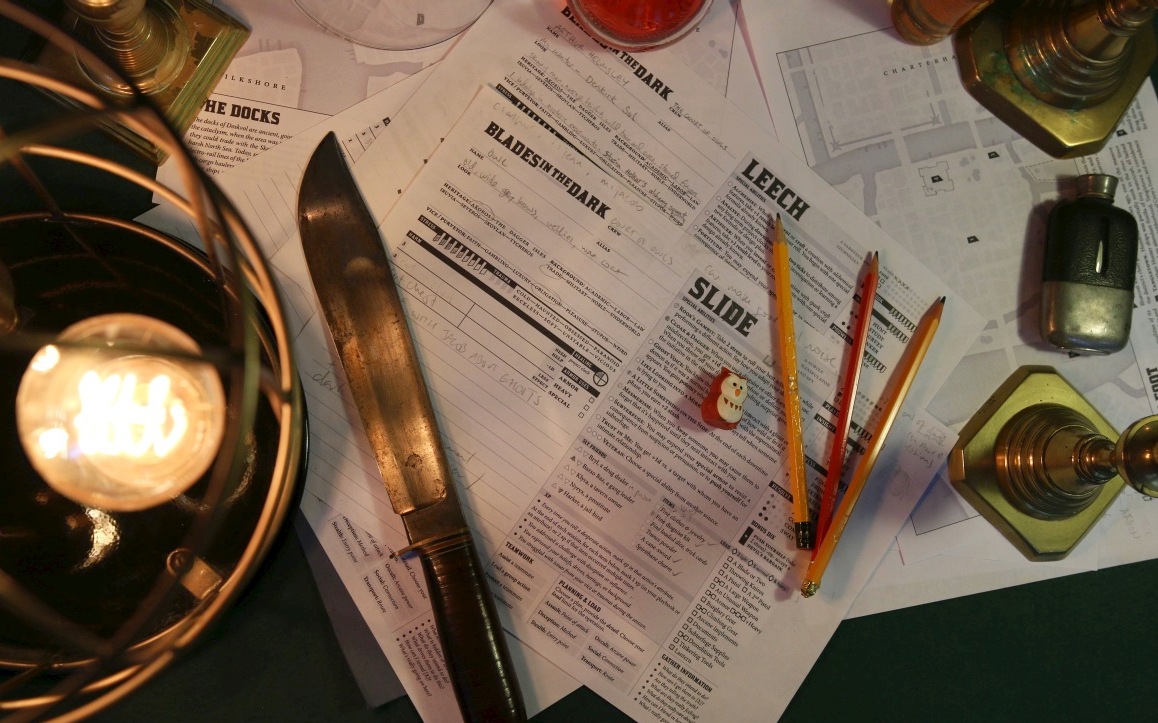 Quinns
: Remember last month when we reviewed 
Tales from the Loop
, the charming sci-fi RPG of bicycles, bottle rockets and 1980s theme songs? Today we're going to look at the other new role-playing game that's been turning heads among my friends, and we're going as villainous as Tales from the Loop was innocent.
Blades in the Dark is a game by John Harper, who you might remember from Cynthia's review of superb free RPG Lady Blackbird. But while that game was an improbable 15 pages, Blades is 336 pages. By comparison, it's his opus.
Which is very good news if (like me) you're a fan of Scott Lynch's Locke Lamora books or the heist genre in general, because Blades is a game of playing regency-era criminals. Oh, yes. This is a scoundrel simulator, and whether you want to play a crew of classy vice dealers, some down-and-dirty brawlers, or even a worrisome cult is simply the first of one million entertaining decisions that you'll be making.
Blades in the Dark also offers a vast, seductive backdrop to your escapades: The haunted city of Doskvol, which will be familiar to anyone who's escaped into the gloompunk of videogames like Thief, Dishonored, Sunless Sea or Fallen London.
This is going to be a long review, and not just because this is a huge book. You see, not only is Blades the most fun that my friends and I have ever had playing an RPG, it's also like nothing I've ever played.
sky bastards, staying in vegas, cardboard fishes, marble madness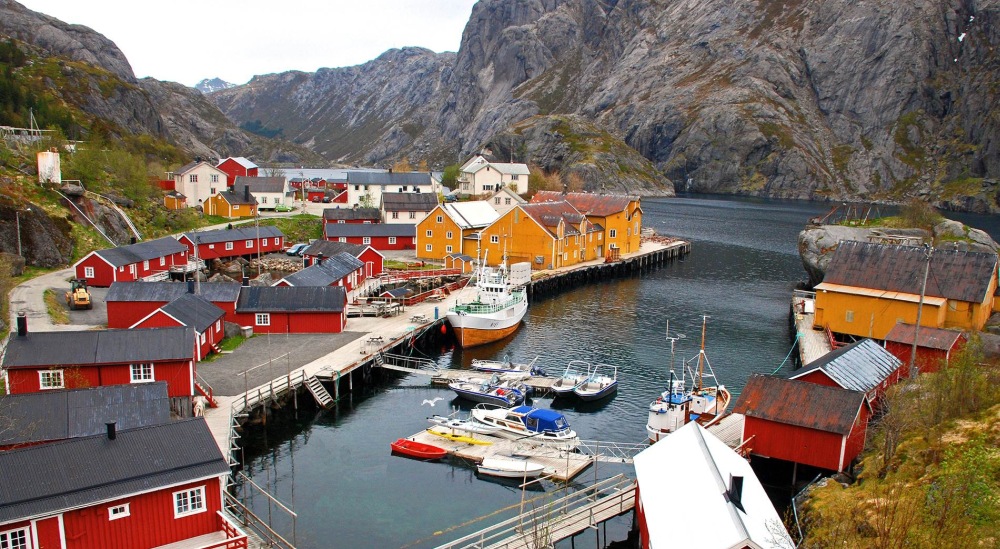 Paul
: The Games News comes at you live today from the Shut Up & Sit Down jacuzzi. We always thought it would be cool to have one, so we splashed out but didn't actually think about where it would go or how we were going to install it. So now we're just sat in an empty jacuzzi. In our swimming trunks. With no water and no bubbles.
Still, there's a new Uwe Rosenberg game coming, hooray! Let's all hail Nusfjord, a game of fishing and worker placement.
Quinns: Hooray! That said, we made this our top story without thinking about how we were going to illustrate it. So up there is just a picture of the real-life town of Nusfjord.
Paul: This isn't our finest hour, is it?
Quinns: Quick, let's distract them with the box!