it's a box of fun, just put it in your pocket, slide it in
Quinns
: Everybody, we've got a Kickstarter we'd like to point you towards! Do you all remember
Monikers
, the effortlessly funny and accessible party game? How would you like an expansion for it created ENTIRELY by the cast of Shut Up & Sit Down?
Ooh, yes! The Shut Up & Sit Down Nonsense Box (this is the link you click on) (click it!) is no less than 112 cards that were dreamed up and playtested by... us! We didn't get the memo that the card descriptions were only supposed to be informative, so we made those really funny too. Oops.
Don't have the Monikers base game? Not a problem. The Nonsense Box is a standalone game, or you can chuck the base game onto your pledge as an add-on.
A micro-FAQ follows, after the jump!
wooden spaceships, expensive tissues, carrot resources, werewords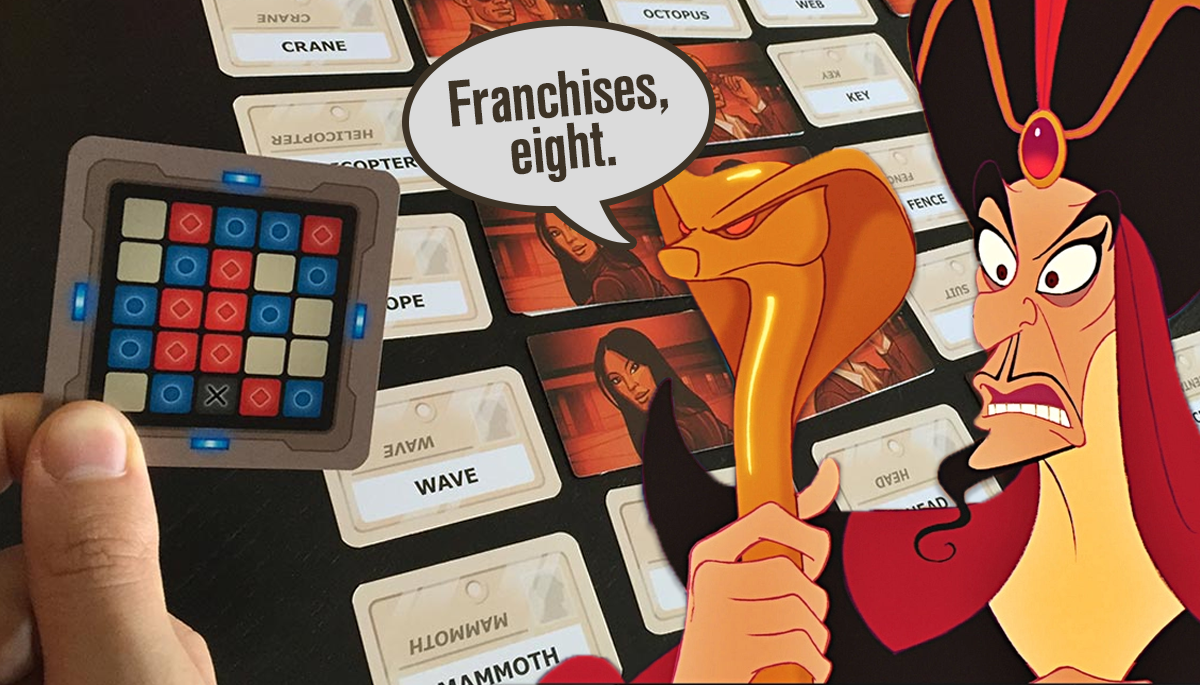 Paul
: My goodness! We start the news this week with the continuing success story of Vlaada Chvátil and Czech Games. Two new, licensed versions of
Codenames
have been announced,
themed around Marvel and Disney
. Surprised?
I can't say I'm ever likely to buy or play either of them, nor that I'm at all invested in the worlds of either of these entertainment giants, but I do see this as a wonderful way to bring different kinds of licensed games to more players, particularly families, beyond another bloody Monopoly, as well as for Czech Games to earn more well-deserved cash. If someone tells me, in twenty years, that they got into board games through trying to interpret obscure clues about Frozen characters, I'm going to be okay with that.
Okay, hold on, there is also comic potential here. I'm sure there's all sorts of hilarious clues you can give if you want people to guess both a talking candlestick and a singing elephant, or something slightly sassy you can say about Spider-Man, Victoria Hand and Captain America. Maybe? I don't actually know anything about comics. Is Garfield DC or Marvel?
horror-fallow, delicious finland, a lego boondoggle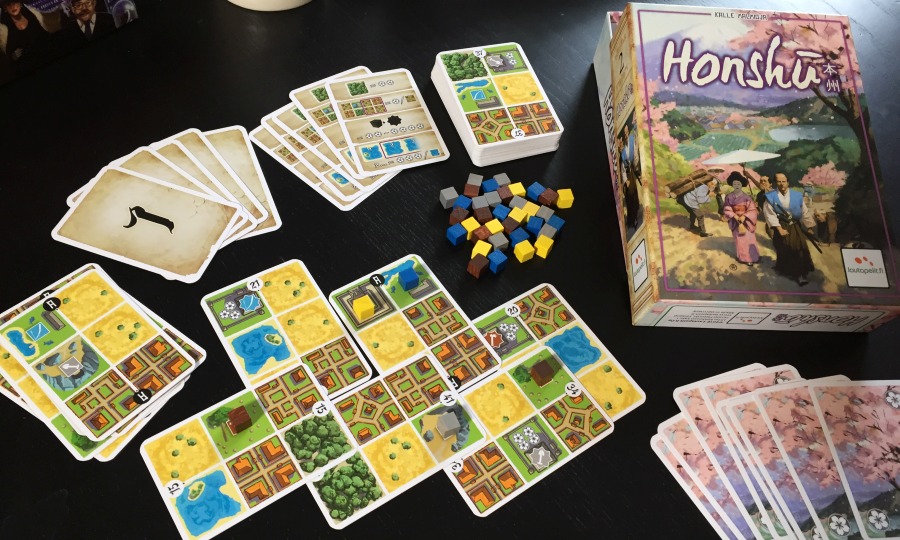 Quinns
: Alright. You see
Honshu
, pictured above? You're looking at one of the most desirable boxes on the planet.
The best thing to come out of Finland since karjalanpiirakat, Honshu made a name for itself during the American convention circuit last year. Contained in its small, peach-tone box are some cards and cubes, and contained within them is a simple card game, and contained within that are Japanese towns of your own design. Players draft cards and tuck them under and over one another in a gentle jigsaw, probing and pondering different arrangements, searching for a high score.
This site's own Paul Dean was convinced after a quick play. So many people were convinced, in fact, that a publisher is finally bringing a shipment of Honshu to America next month.
But should you buy it? Ah, let me help you with that as a European, from the land where copies of this game are considered weeds, and I often have to throw away four or five mouldering copies of Honshu before my breakfast of limppu and kissel.
Honshu is good, but is it "SU&SD Recommends" good? Let's find out.
give me your badge and your gun and that rock you keep in a plastic bag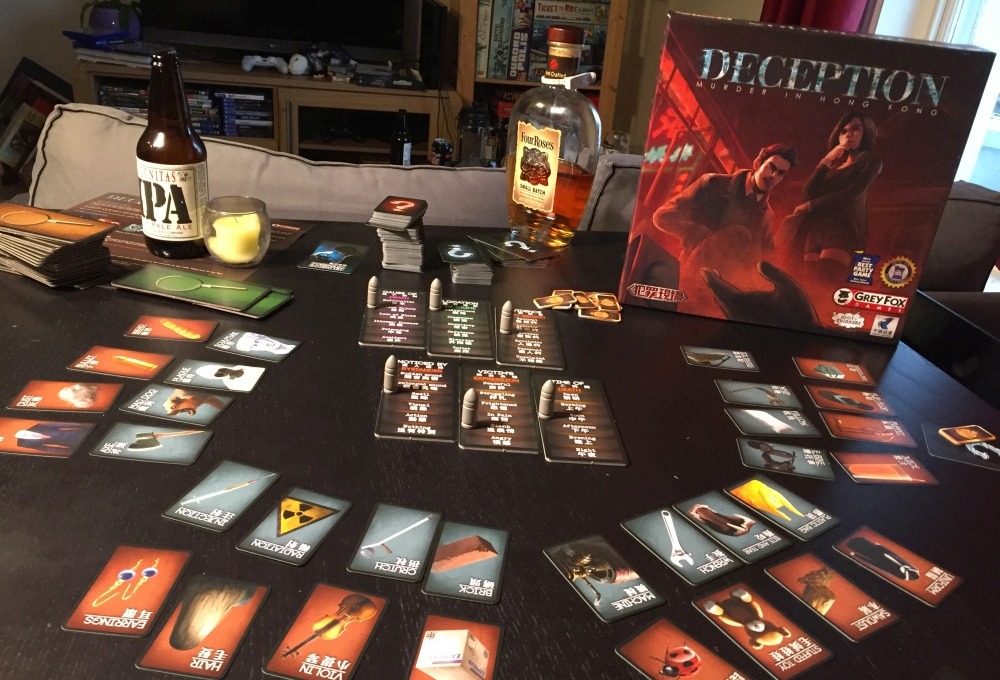 Quinns
: After playing co-operative social deduction game
Deception
, the proof is insurmountable. The 21st century police force is the greatest board game theme of all time, not because it works so well but because
it doesn't work at all.
Back in our eighth ever podcast we talked about Police Precinct, and while we had a terrible time with that game we were endlessly amused because we seemed to be playing the cast of Reno 911 on the set of The Purge. Then last year I finally got to try Good Cop Bad Cop, where in one memorable turn I confiscated my colleague's coffee as evidence, downed it in one gulp, then shot them.
But with a name like "Deception: Murder in Hong Kong" and brooding, maroon box that includes a handful of plastic bullets, you might assume that this, at last, is a serious game about law enforcement.
You couldn't be more wrong. I'm thrilled to say that Deception is every bit as silly as those others, and it's also the best game of the three. Come for a ridealong with me! You're statistically unlikely to be shot.
diceberts, batguins, laxatives, venmo for the human condition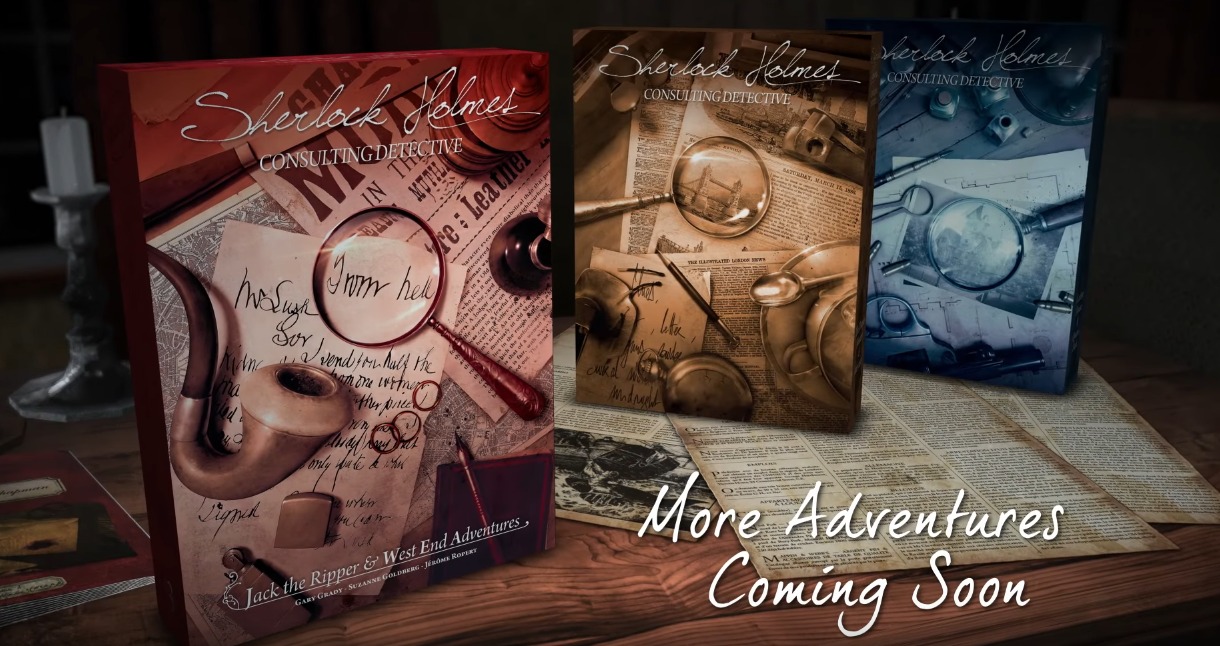 Quinns
: Good morning, Paul! Ready for Games News? How are you feeling today? Rambunctious? Meticulous? Corrugated?
Paul: No, no. Dispirited. Crenelated. Crepuscular. My prandicle is absquatulate.
Quinns: Good God, that's our SEO ruined, for sure. Perhaps you'll be emboldened by THIS wonderful news. SHERLOCK HOLMES CONSULTING DETECTIVE IS GETTING SWOLE because the first(?!) standalone expansion is ALMOST HERE
Paul: OH MY GOD I'M GOING TO EXPLODE
Quinns: HAVE YOU FINISHED THE ORIGINAL TEN CASES YET
Paul: NO
Quinns: ME EITHER
la première super méga extension, jingly bells, from the creator of mascarade: sex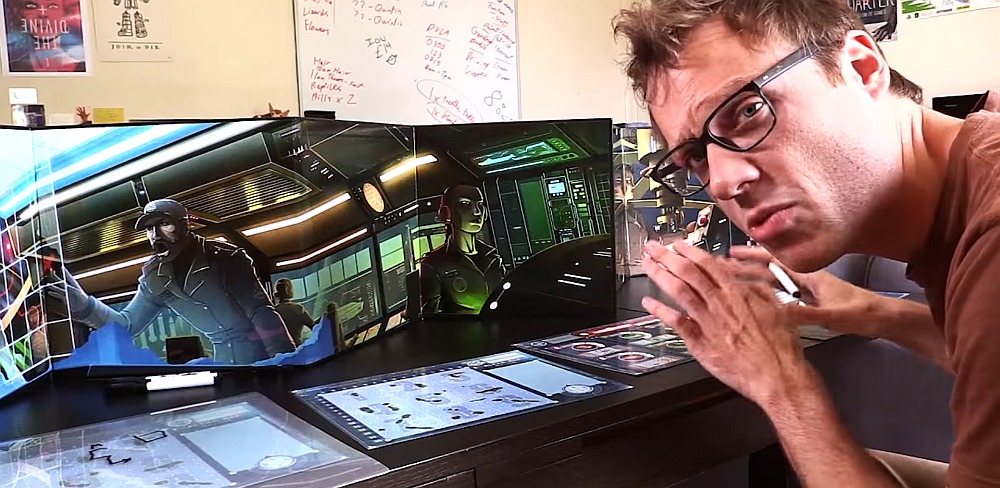 Quinns
: Huddle up, friends. Here we are in the depths of winter with nothing more to burn than the castoff cardboard frames from which we punch our tokens. It is cold and it is dark.
Paul: Yet the warm heart of Shut Up & Sit Down beats strong, emboldened by the news of games to come. This week we're going to tell you about PRINCESSES and SPICES and AN EXPANSION FOR CAPTAIN SONAR. 2017 is already up to speed and it's looking glorious. Which one thing are you most excited about?
Quinns: Yes! Do leave a comment below. Share your youth and vigor with us old men.
tumbling protagonists, twisting highways, sentient fungus
Paul
: Attention please, passengers! Now arriving at platform two is this week's Games News, stopping at High Fantasy, Kickstarter Reflections and Wargaming Central. A light buffet service of links will be available throughout the trip and free wifi is offered for your convenience.
Quinns: Paul I have trapped my coat in the carriage door.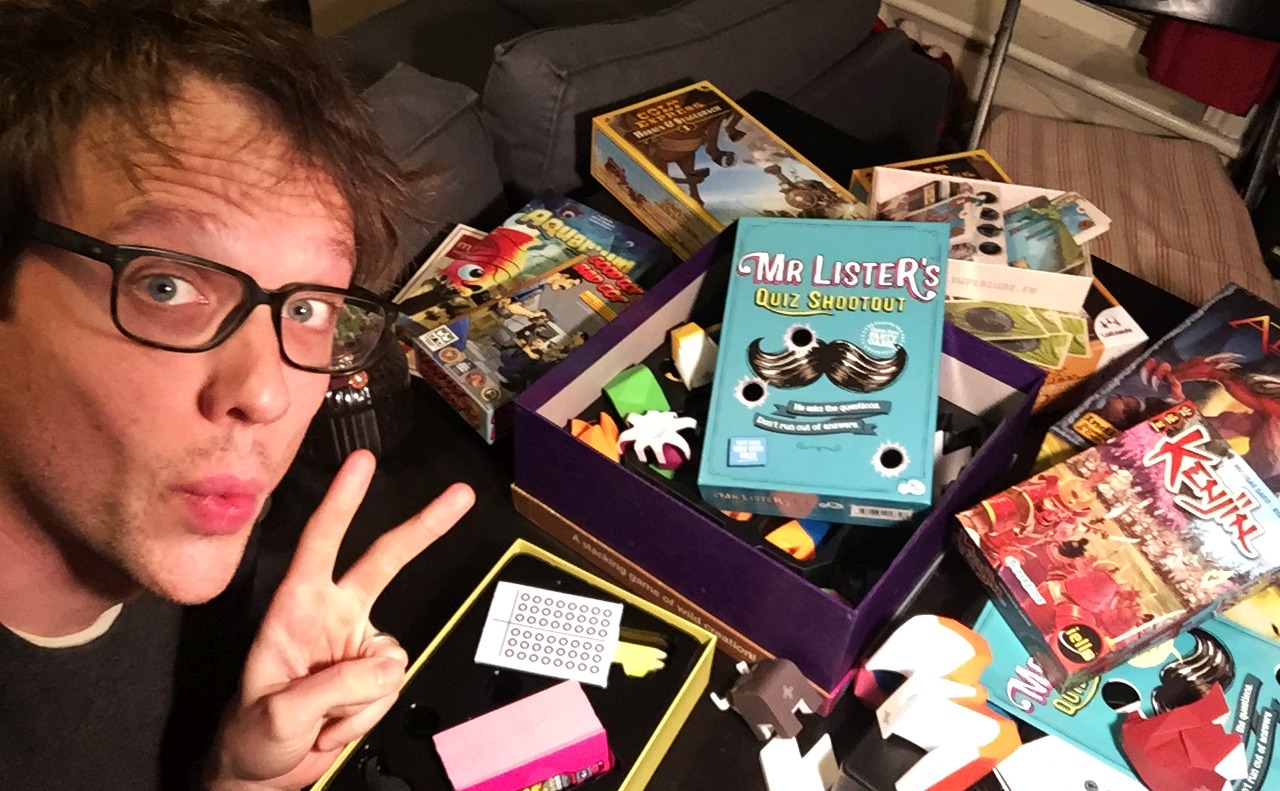 Quinns
: Ladies and gentlemen! Take a seat. Get comfy. Buy some ice-cream from the attendant I had sent to your place of work (yes, YOUR place of work, so keep an eye out for her). It's time for Quinns' Corner Awards '16.
In other words we're one year on from 2015's Corner Awards and I still haven't figured out a better solution for review copies than letting them pile up in the corner of my flat. I bet Tom Vasel doesn't have this problem. Not to worry! Once again I'm dispensing awards to all those games that didn't suit a full review, but were too weird to eject from the corner.
I've heard the rumours. "Quinns is getting too old to review seven games in one article! They already use CG for any scenes where he has to bend his knees."
To which I say: Ha! Watch and learn, kids.
misleading parties, friendly predators, marmalade skies, home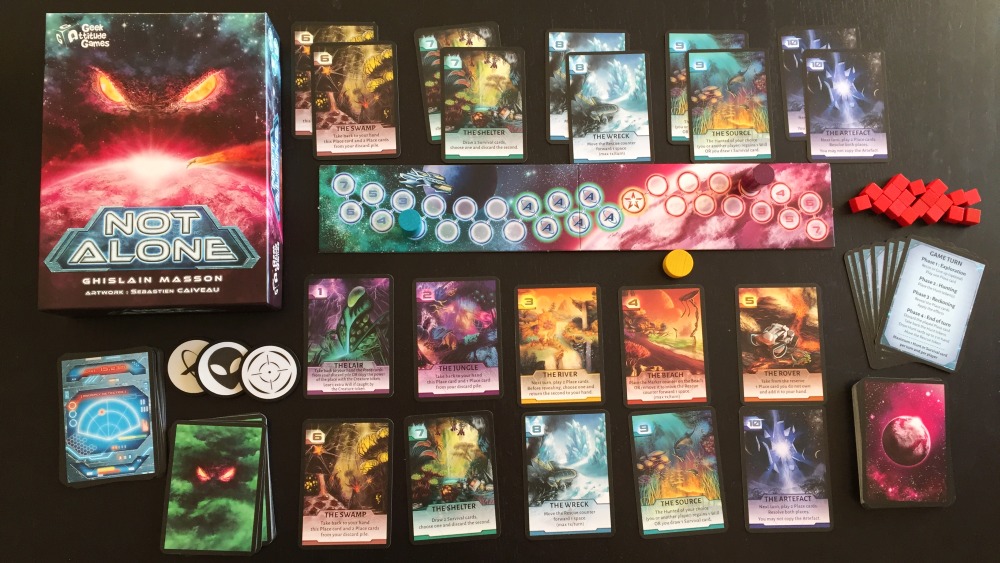 Quinns: You and I need to talk about Not Alone. There are more exciting card games out there, and funnier ones, and ones that are sharp as a tack, but Not Alone is the most deliciously playable little game we've encountered since Crossing. This box might as well be full of popcorn.
Between 1 and 6 players are the survivors of a crash-landing on a wild alien world. This team (possibly made up of just one nervy player) is opposed by one final player controlling the beast that lives there. A long, thin board measures the progress of each team: The humans win if they can survive until help arrives, the beast wins if it can wear down the humans and absorb them into the ecosystem like beer into a shag carpet.
Each turn, each human player plays a card face-down showing where they're going, and the beast has to second-guess their movements and slap fat poker chips onto those locations, invalidating your turn or worse. If the beast itself catches you then it devours a precious "Will" cube.
Do I have your interest? Of course I do. You're a weak-willed human, and this game is a seductive new land. Let's go exploring.
rippling breasts, skirts made of dicks, and the absence thereof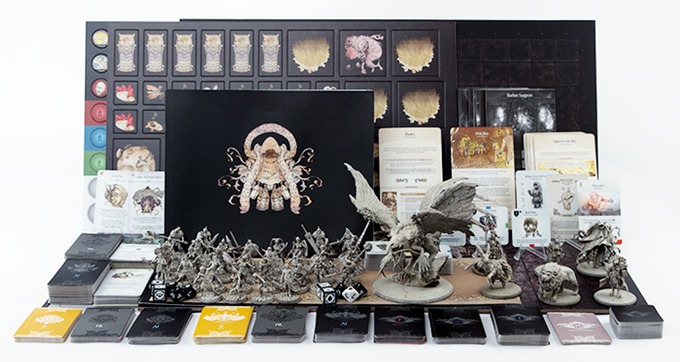 Paul
: Quinns. Quinns I have a strange comment from you here in the Games News notes. It just says-
Quinns: DO NOT READ THAT OUT.
Paul: "Where did the boobs and swinging dicks go"?
Quinns: Ok, I can explain.
Paul: There's no need! It's a question all men must eventually ask themselves.
Quinns: I don't doubt that, but that note actually refers to the Kickstarter for Kingdom Death: Monster, version 1.5. Not only has Kickstarter's most ambitious board game made a comeback, it seems to have been de-sexed.