la première super méga extension, jingly bells, from the creator of mascarade: sex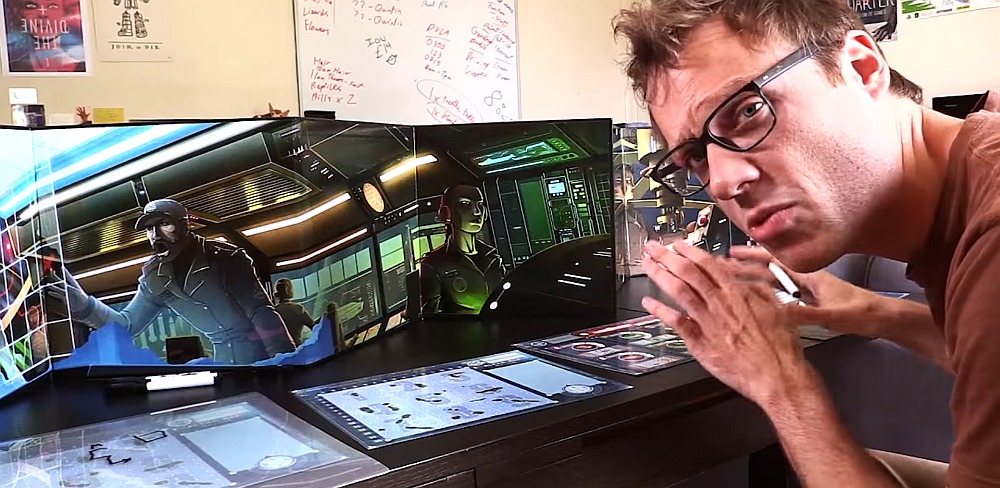 Quinns
: Huddle up, friends. Here we are in the depths of winter with nothing more to burn than the castoff cardboard frames from which we punch our tokens. It is cold and it is dark.
Paul: Yet the warm heart of Shut Up & Sit Down beats strong, emboldened by the news of games to come. This week we're going to tell you about PRINCESSES and SPICES and AN EXPANSION FOR CAPTAIN SONAR. 2017 is already up to speed and it's looking glorious. Which one thing are you most excited about?
Quinns: Yes! Do leave a comment below. Share your youth
tumbling protagonists, twisting highways, sentient fungus
Paul
: Attention please, passengers! Now arriving at platform two is this week's Games News, stopping at High Fantasy, Kickstarter Reflections and Wargaming Central. A light buffet service of links will be available throughout the trip and free wifi is offered for your convenience.
Quinns: Paul I have trapped my coat in the carriage door.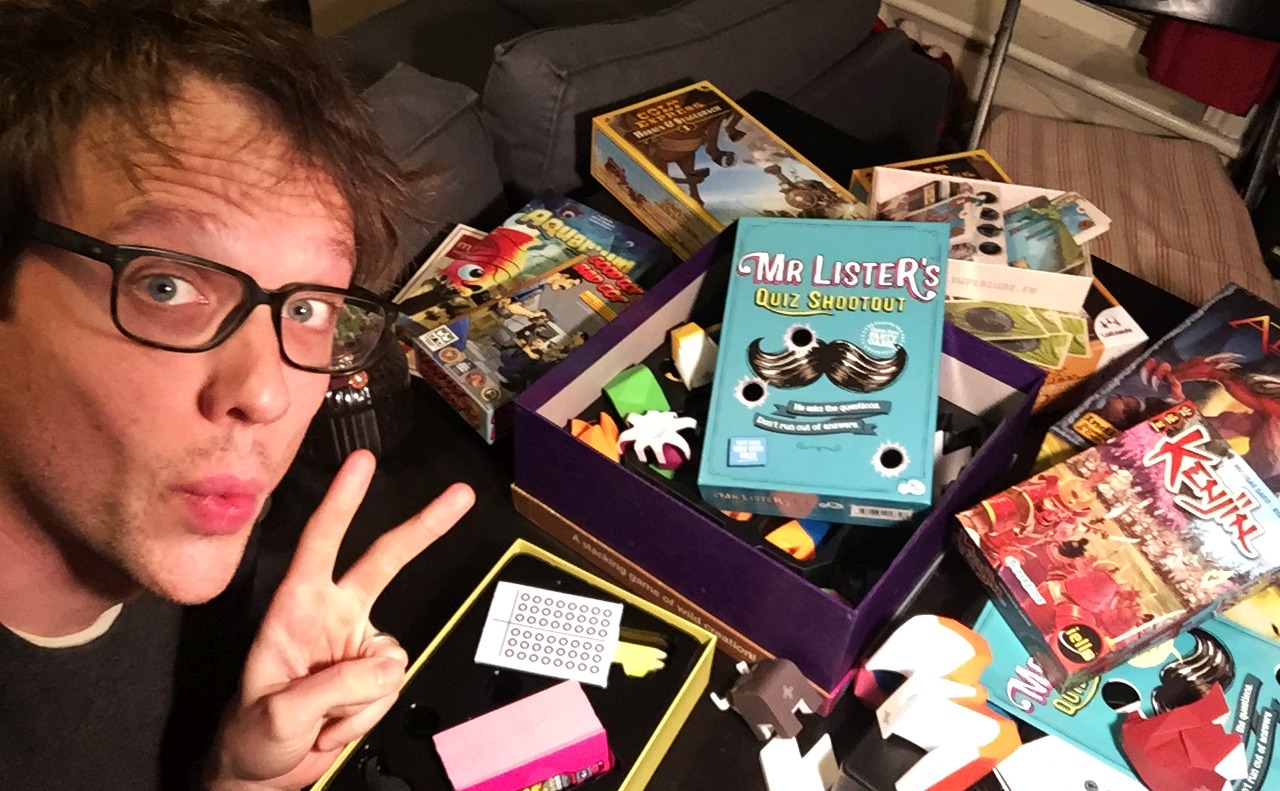 Quinns
: Ladies and gentlemen! Take a seat. Get comfy. Buy some ice-cream from the attendant I had sent to your place of work (yes, YOUR place of work, so keep an eye out for her). It's time for Quinns' Corner Awards '16.
In other words we're one year on from 2015's Corner Awards and I still haven't figured out a better solution for review copies than letting them pile up in the corner of my flat. I bet Tom Vasel doesn't have this problem. Not to worry! Once again I'm dispensing awards to all those games that didn't suit a full review, but were too weird to eject from the corner.
I've heard the rumours. "Quinns is getting too old to review seven games in one article! They already use CG for any scenes where he has to bend his knees."
To which I say: Ha! Watch and learn, kids.
misleading parties, friendly predators, marmalade skies, home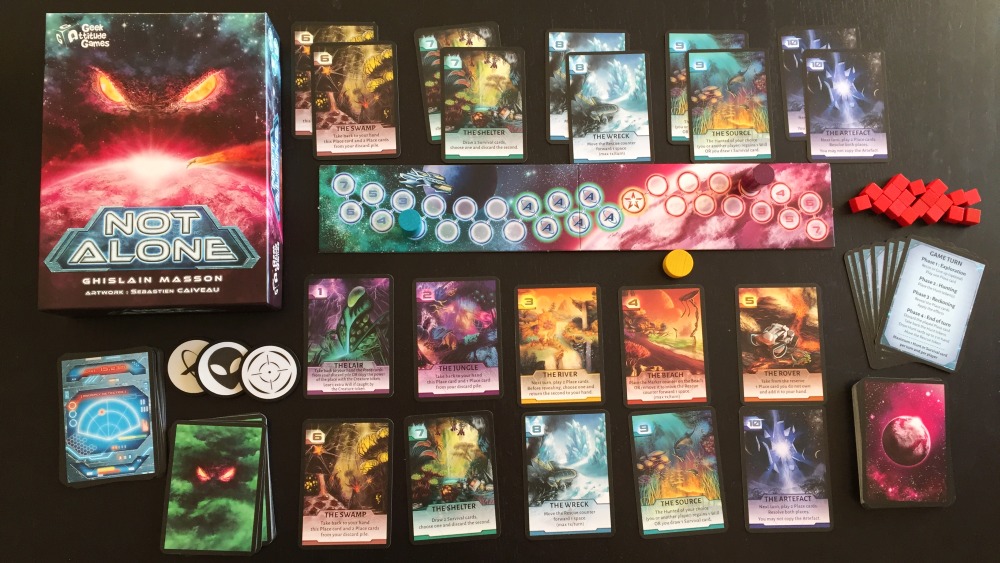 Quinns: You and I need to talk about Not Alone. There are more exciting card games out there, and funnier ones, and ones that are sharp as a tack, but Not Alone is the most deliciously playable little game we've encountered since Crossing. This box might as well be full of popcorn.
Between 1 and 6 players are the survivors of a crash-landing on a wild alien world. This team (possibly made up of just one nervy player) is opposed by one final player controlling the beast that lives there. A long, thin board measures the progress of each team: The humans win if they can survive until help arrives, the beast wins if it can wear down the humans and absorb them into the ecosystem like beer into a shag carpet.
Each turn, each human player plays a card face-down showing where they're going, and the beast has to second-guess their movements and slap fat poker chips onto those locations, invalidating your turn or worse. If the beast itself catches you then it devours a precious "Will" cube.
Do I have your interest? Of course I do. You're a weak-willed human, and this game is a seductive new land. Let's go exploring.
rippling breasts, skirts made of dicks, and the absence thereof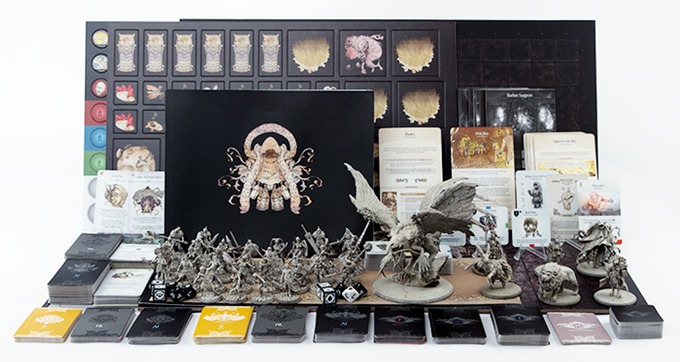 Paul
: Quinns. Quinns I have a strange comment from you here in the Games News notes. It just says-
Quinns: DO NOT READ THAT OUT.
Paul: "Where did the boobs and swinging dicks go"?
Quinns: Ok, I can explain.
Paul: There's no need! It's a question all men must eventually ask themselves.
Quinns: I don't doubt that, but that note actually refers to the Kickstarter for Kingdom Death: Monster, version 1.5. Not only has Kickstarter's most ambitious board game made a comeback, it seems to have been de-sexed.
high finance, dusty teams, stranglin' lando, shadow muses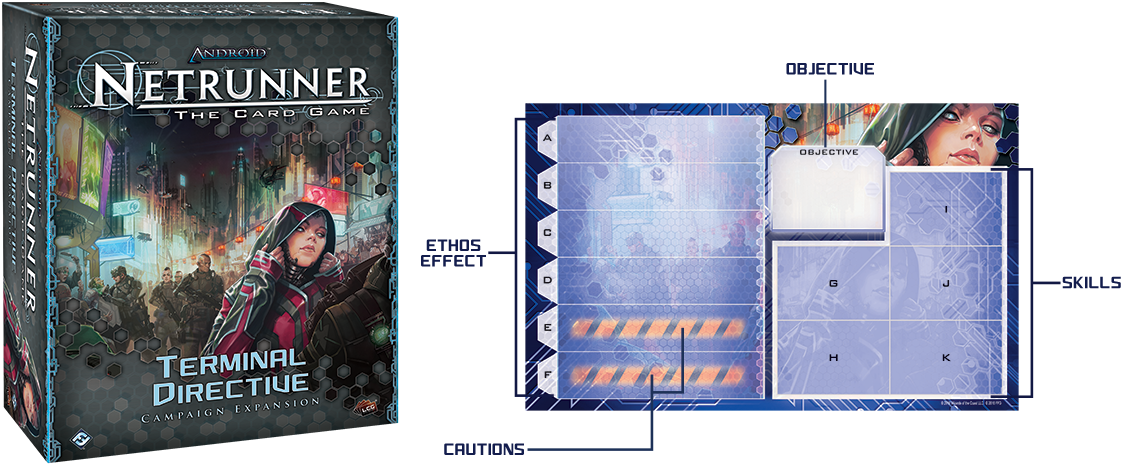 Quinns
: GOOD MORNING everybody! Who's excited about board games? All of you?
Not yet
you're not. Soak up the below news like an high-end paper towel and then we'll talk.
Fantasy Flight has announced the next big box expansion for the superb Android: Netrunner, and it's Netrunner Legacy.
The copywriting on the announcement page for Netrunner: Terminal Directive is a bit of a nightmare, but basically anyone who owns a Netrunner core set and the Terminal Directive expansion will be able to play through a narrative campaign of runners vs. corporations. Sealed packs of never-before-seen cards will be opened one after another as a cyberpunk murder mystery plays out, and players will apply new stickers to their faction's sheet as they win or lose games.
Going into this expansion blind sounds like a delight. Not only do you get the surprise of adding brand new cards to your deck, you then get to surprise your opponent as you unleash them mid-game!
poison ribena, delicious "wine drink", two-bit grape grabbers, dismay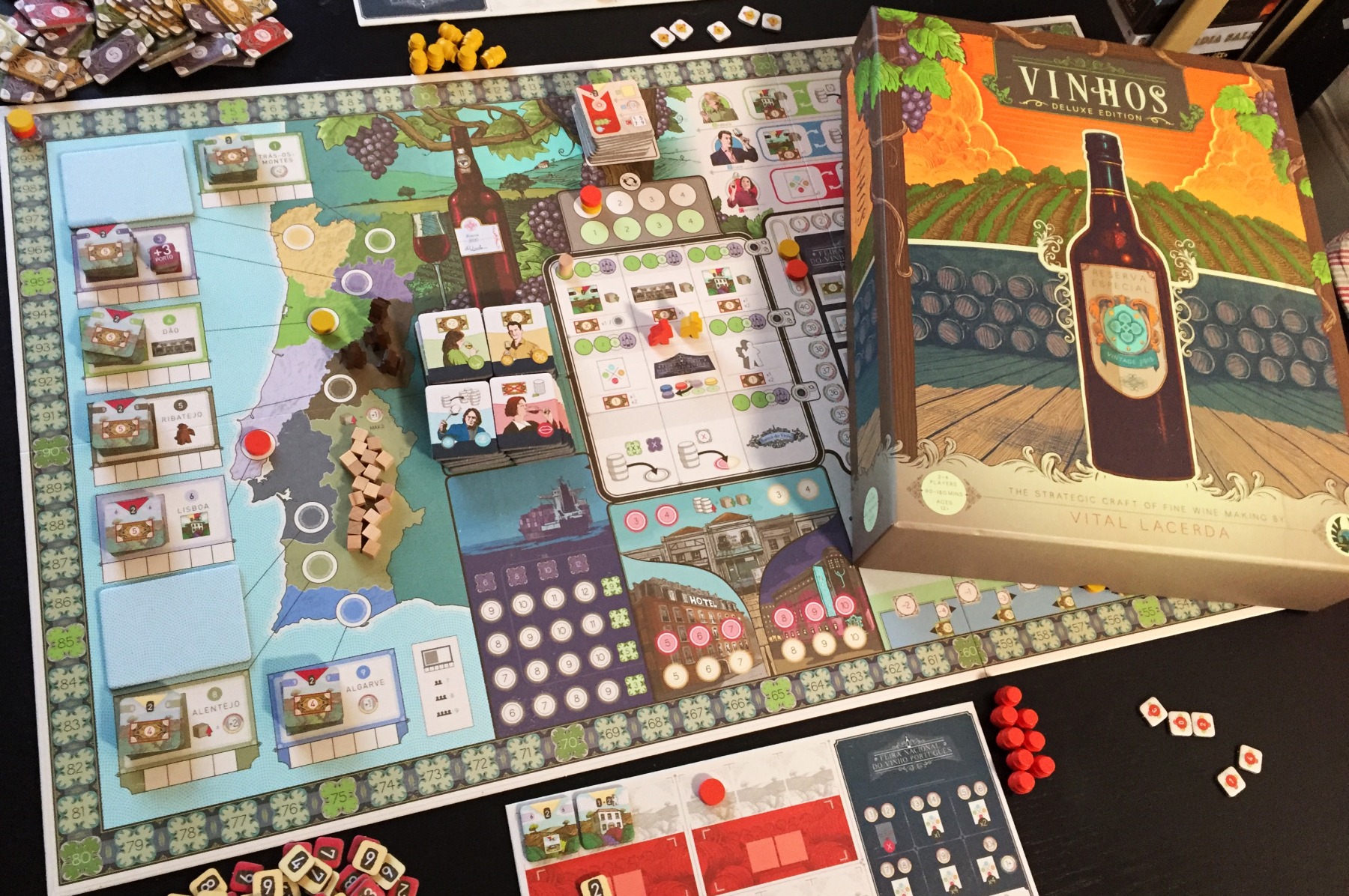 Quinns: Alright ladies and gents. Today we're tackling a box of unparallelled size and charisma. The publishers tell me that there are less than 3500 copies of Vinhos Deluxe Edition (the Kickstarted re-imaging of 2010 wine-making classic Vinhos) left, and I want to make sure that you guys have the chance to buy one.
It takes a lot to excite me these days, but Vinhos Deluxe Edition managed it. Contained in this box is nothing less than a torrent of beautifully-illustrated tokens, a board that's positively threatening in scale, and a fat, clean manual written with wit. It even has nice fonts! In a board game!
But it takes very little to make me nervous, and Vinhos Deluxe did that too. The rules that make sense, like buying vineyards or aging wines, contrast fiercely with the more arcane regions of the board, where players claim score multipliers or manoeuvre their action-selectors.
Any inference you want to draw from the header image of this article is correct. This game's a beast to play, it's tougher to teach, and it's even harder to review.
Obviously, I couldn't be more excited.
sniffing, swinging, dicing, feuding, googling, bogling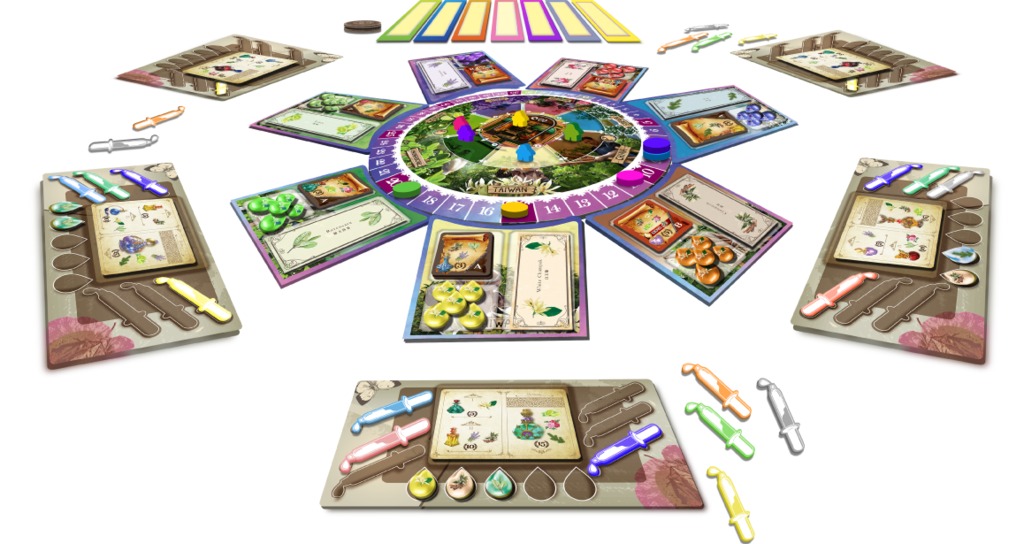 Paul
: Hello hello hello Quinns, what is new with YOU this week? What is new with me is that my phone broke. But then I fixed it again. So it's fine. It's like those sitcoms where nothing fundamental ever changes.
ALSO I guess I found a scratch and sniff board game and now I feel funny. Let me tell you about The Perfumer.
more rules, more friends, more guns, more cash, less fun?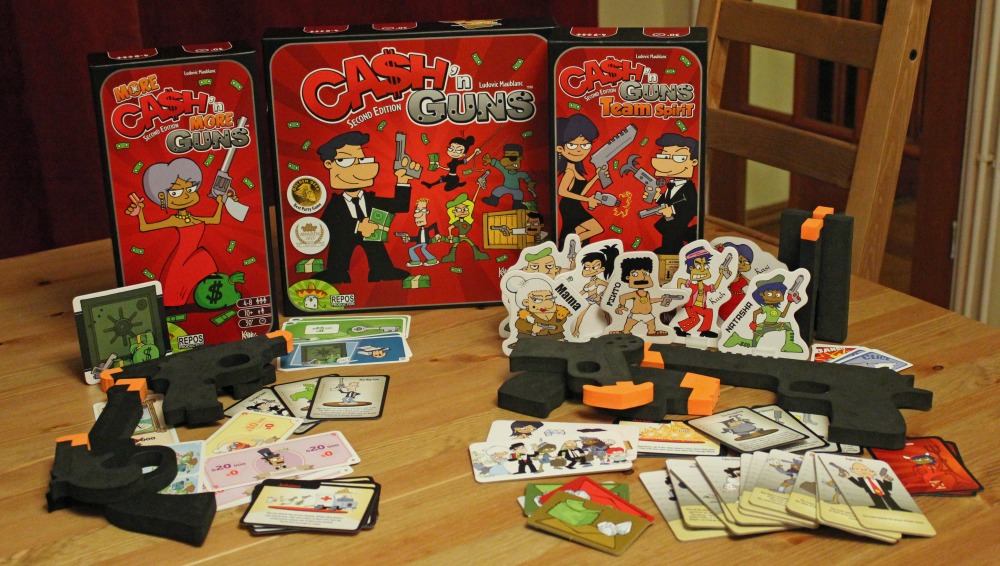 Pip
: In order to assess the two
Cash 'n Guns
expansions I've spent a couple of evenings luring friends to my house with the promise of nachos, homemade chilli and foam guns. One time there was even banana bread. That was the tastiest heist. ANYWAY! I am now in a position to tell you all of my opinions on
More Cash 'n More Guns
, and
Cash 'n Guns: Team Spirit
. Also I have a terrifying foam arsenal which makes me look like I've joined the foamy NRA.
And so! Here's a brief explanation of the base game in case you're unfamiliar: Cash 'n Guns is a party game about dividing the loot from a heist. You all play one of the ne'er-do-wells involved in the heist, each armed with a foam weapon, and you're trying to end up with the most loot. Every round loot cards are dealt onto the table, the players pick a live or fake bullet which they play face down, and then point their foam gun at another player. They then have the choice to duck out of the round, avoiding injury but missing out on loot or staying in and risking injury but also potentially being part of the loot-sharing. There's also a godfather role which can move around between players and does things like giving that player the ability to tell someone to shoot at someone else.
You can imagine that the foam guns help with the role-play and people get really into the theatricality, pretending they're in Reservoir Dogs or attempting accents. (I don't do accents because I know my limits. Cockney ends up somewhere in the West Country, Welsh is somewhere between Indian and Northern Irish, and Russian is some kind of pan-European road trip as the sentence goes along.)
ghost court that is, i find you in contempt of court, happy halloween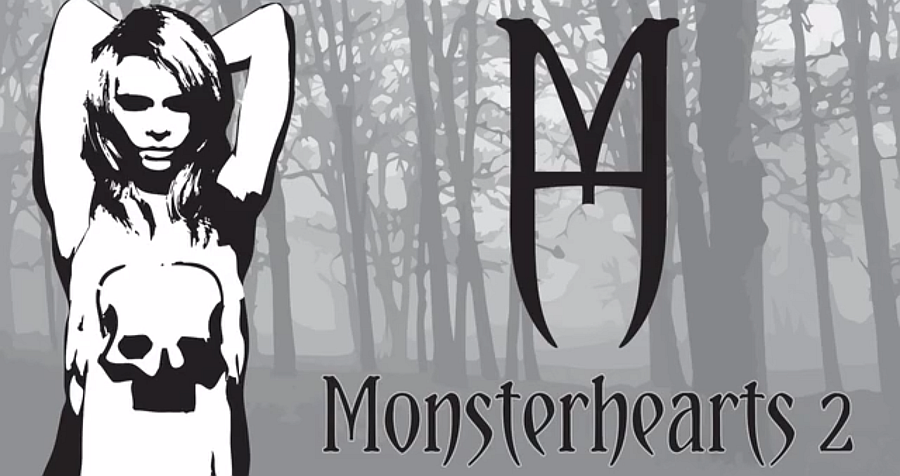 Paul
: Hello and welcome to this week's Games News!
Quinns: paul why are you welcoming me i am always here-
Paul: I was welcoming them! Our readers! Quick, let's get going, I'm writing my parts of this in a café that's playing weird dance music at 1pm. I don't know why it wants to be a club, but also a place that serves French toast. Anyway MONSTERHEARTS 2.
Quinns: HERE COMES MONSTERHEARTS 2!
🎵 Let's have awkward sex again, like we did last summer 🎶