a battalion of artists, an en-drabbening, climbing (nggh) a beanstalk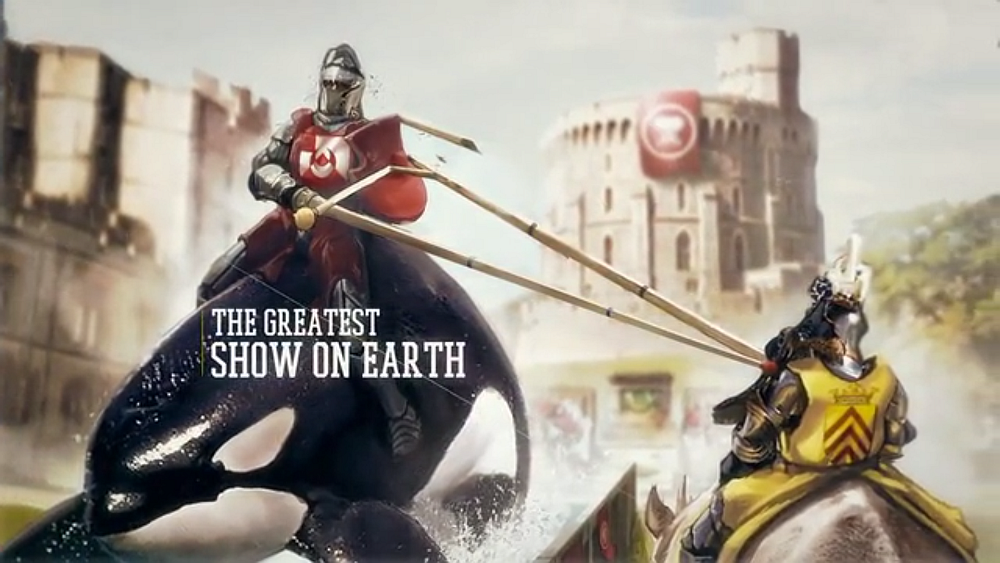 Paul
: Oh boy, do I feel excited about this week's Games News! We have just SO MANY interesting and exciting stories. Where do we even begin? With the Huge Humble Bundle? The slew of Kickstarters? Or the new Netrunner core set?
Quinns: Ooh, I'd love to start with the Kickstarter for The Champion of the Wild.
SU&SD is often late to any kind of party, but TCotW is a fantastic game that we can recommend before everybody else. It's a low-stakes, high-entertainment party game about pitching animals against each other in ridiculous tests of… well, everything from hide and seek to self-stacking. Do you think your animal would win in its category? Is a gorilla good at jousting? Maaaaaybeeee? Go on then, convince me! And enjoy the beautiful, hilarious art while you're at it.
If you'd like to hear a little more, you can hear us playing it at the very end of podcast #60 and having a whale of a time.
a bunch of winkers, getting digital wood, bad rodney, seafaring spuds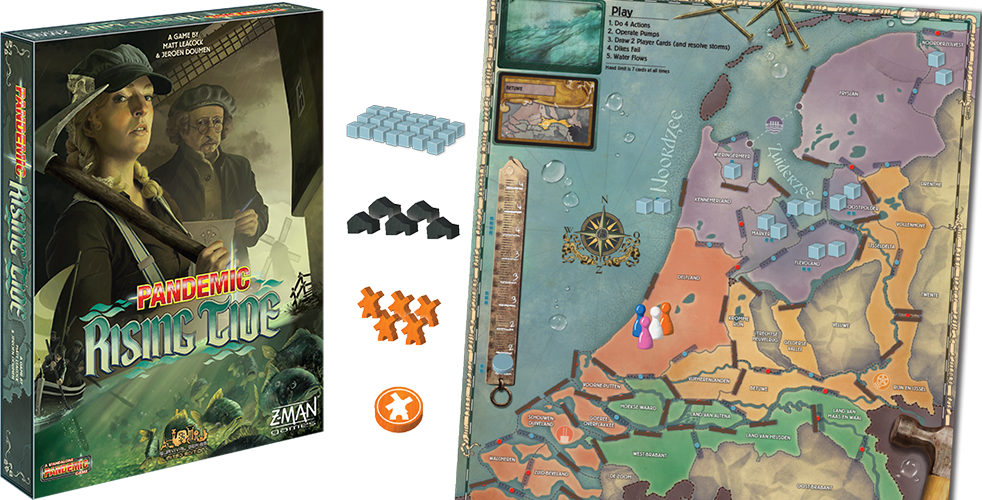 Paul
: It was a case of bad timing when Z-Man Games
announced Pandemic: Rising Tide
, as their scheduling couldn't possibly have foreseen simultaneously flooding in eastern Texas and eastern India, and they very quickly
issued an apology
. That could've been the end of it, but Z-Man are also donating five dollars from every pre-order to Hurricane Harvey relief efforts.
It's a difficult time for a lot of people in the Caribbean and the Gulf Coast right now. Our thoughts are also with the Dice Tower team members who have been forced to evacuate their homes. We hope they can return to enjoying the board games we all love very soon.
wok star, bagged alpacas, a tile-laying tile layer, one very angry passenger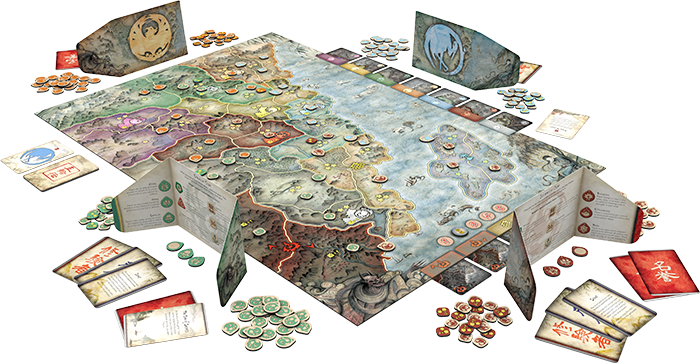 Paul
: Good News to you, my friends. Or, as we say here in Canada, News Be With You. I'm writing this Games News from atop a rock on the edge of the Pacific Ocean, watching the sun plunge past the horizon, thinking about the final touches we're putting to SHUX. I'm already considering how to make next year bigger, better and cheaper, so it's all that I can do to pull my head out of all this and tell you about Fantasy Flight's
BATTLE FOR ROKUGAN
.
Quinns: It's time to have a Really Honorable War.
sky bastards, staying in vegas, cardboard fishes, marble madness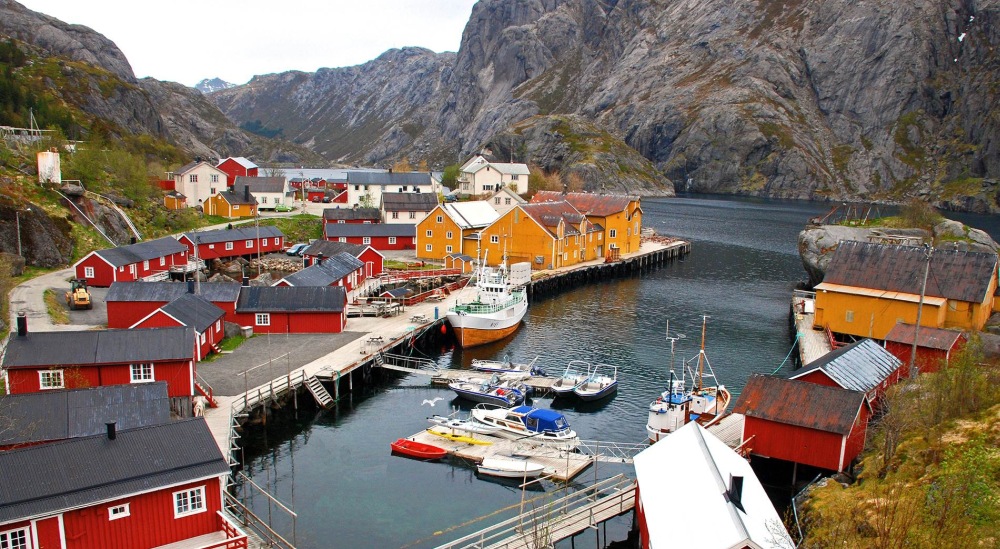 Paul
: The Games News comes at you live today from the Shut Up & Sit Down jacuzzi. We always thought it would be cool to have one, so we splashed out but didn't actually think about where it would go or how we were going to install it. So now we're just sat in an empty jacuzzi. In our swimming trunks. With no water and no bubbles.
Still, there's a new Uwe Rosenberg game coming, hooray! Let's all hail Nusfjord, a game of fishing and worker placement.
Quinns: Hooray! That said, we made this our top story without thinking about how we were going to illustrate it. So up there is just a picture of the real-life town of Nusfjord.
Paul: This isn't our finest hour, is it?
Quinns: Quick, let's distract them with the box!
wooden waterfall, offer extra intestines, it's war time, Dual wielding mops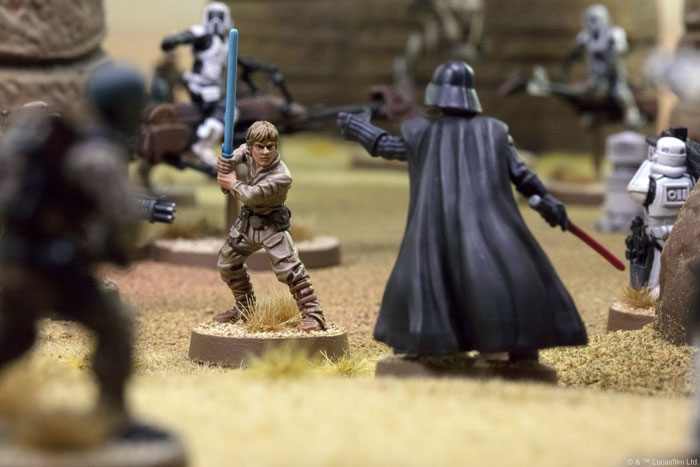 Paul
: It's all hands to the pumps here at Shut Up & Sit Down this week. The News Dam has burst under the weight of stories gushing out of the fiftieth GenCon, along with everything else independent of that massive show that has continued trickling forth. Dual wielding mops all week, we've been doing the best that we can to soak up
all the information
. Some stories are HUGE, others are CRUEL TEASES. It's all too much.
Put on your lifejackets as we dive right into this BUMPER EDITION and start at the deep end with the BRAND NEW STAR WARS MINIATURES GAME.
the cutest of planks, I want to be auntie, torso-sized guns, razorwings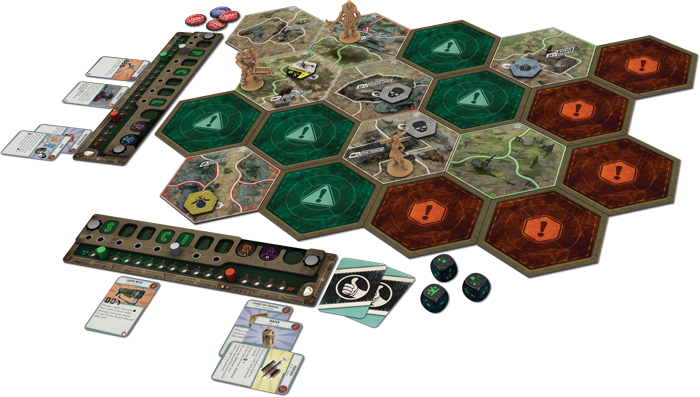 Quinns
: Hold onto your hats!
Twilight Imperium 4th edition
wasn't the only news-belch to erupt from Fantasy Flight Games' silky gullet this week. For many folks the bigger announcement was 
Fallout: The Board Game
. The world's most popular post-apocalyptic video game franchise is finally coming to tabletop*.
Releasing in just a few months, the game will offer 1-4 players the chance to steer a tiny plastic miniature through the wasteland, racing the other miniatures to complete objectives and thereby acquire the most "Influence".
Reading the preview, it sounds like the game's trying to offer an irradiated sampler platter of what you do in the video game: Scrounge rare loot, level up, tangle with radscorpions, align yourself with factions and resolve the occasional moral quandary.
Sounds good, right? Well, here at SU&SD we're keeping our feet off the excitement-ometer for the time being, and here's why.
cybermats, a tacked-on tyri-on, punic puddings, the Kjasjavikalimm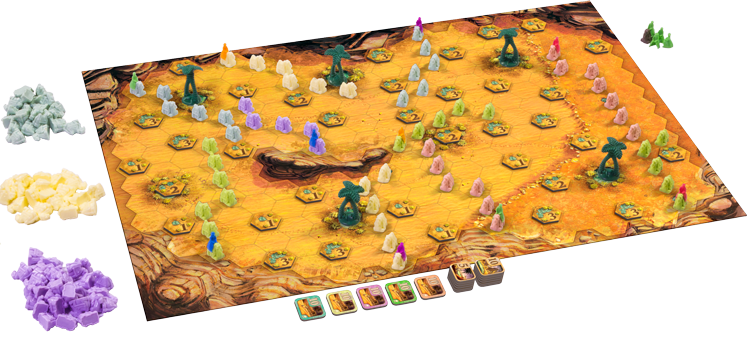 Quinns
: GOOD MORNING. That noise you hear is me cranking the Games News press, pumping out hundreds of thousands of individual copies of this for all of you, our fine and beautiful readers.
Paul: And THAT noise you hear is me pedalling away on my bike, after hurling THIS, your very own copy, onto your doorstep. Look at me ride! A dog is chasing me! You look down at our headline…
Quinns: ANOTHER CLASSIC REBORN: Just like Tigris & Euphrates, Ra and Samurai, Reiner Knizia's Through the Desert is back in a shinier, sexier incarnation, care of Z-Man Games. Will this be yet another refurbished classic that we fall dramatically in love with?
nibbly nuisance, primetime postmortem, toothpaste as glue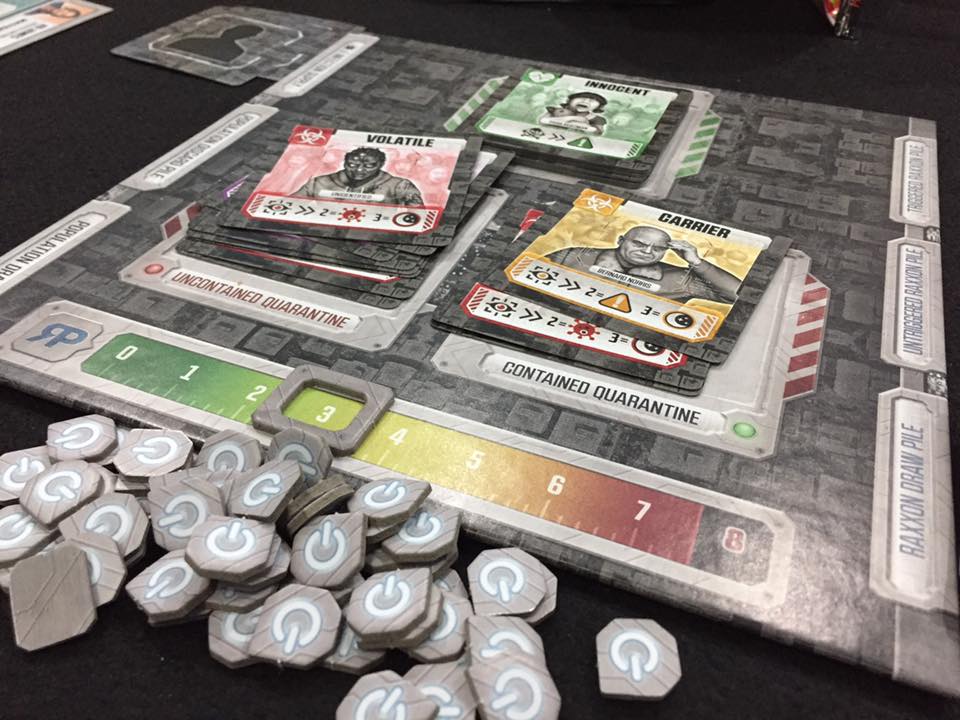 Paul
: Something very strange is happening in board games.
You may be in danger. We may be in danger. Of course, everyone here at Shut Up & Sit Down takes all necessary precautions in the course of their duties, but nevertheless I don't believe any of us could've foreseen Raxxon, Plaid Hat's latest game, which is slowly spreading.
Is anyone safe?
the horror of the everygame, the art of chill, look inside wizard's ear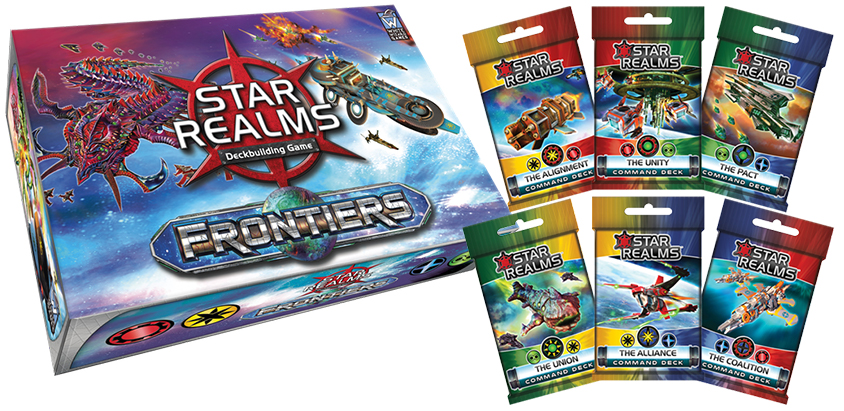 Paul
: Quinns help me I have Kickstarters coming out of my-
Quinns: OH MY GOD WE NEED TO GET YOU TO A DOCTOR.
Paul: Yep. Maybe that doctor could help me with Star Realms Frontiers. This beloved tiny card game that you first wrote about in your 2015 Corner Awards has grown so large! Perhaps it needs to be lanced? It's up to nearly five hundred thousand dollars. Half a million!
That's a lot of money, but then this is no small deal, is it? No sir, this Kickstarter is offering a whole new wave of Star Realms products, from a new standalone expansion that can be combined with the original game or Colony Wars, to a whole load of other, smaller card sets, all of which can be freely intermingled to create a (wait for it) STAR GALAXY of cards. This is an absolutely colossal edition to a game that's already a) not small and b) ever-growing in both scope and popularity.
a terrible dollar, level 10 cats, romantic comedies, drinkin ur sunlight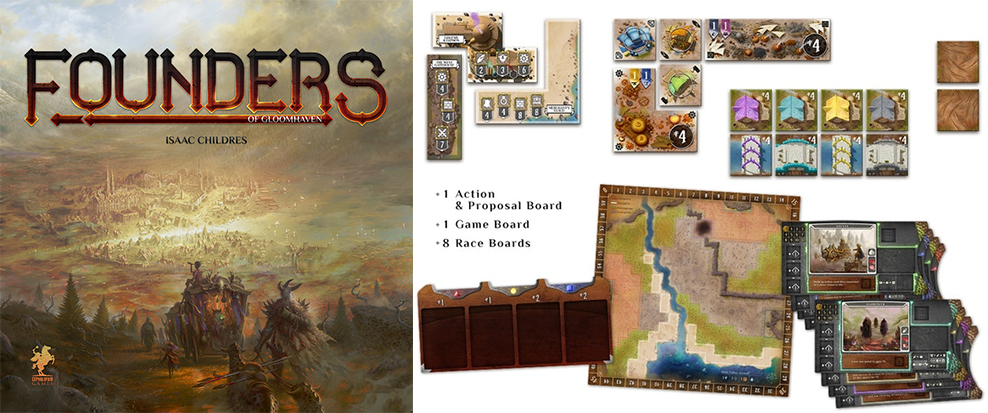 Quinns
: Paul, I understand you enjoy placing illustrated tiles on a grid.
Paul: I hope this is alluding to the Kickstarter for Founders of Gloomhaven, and not my rare sex fetish.
Quinns: Exactly that! Wait, what?
Paul: You haven't heard? Founders of Gloomhaven is board gaming's latest Kickstarter smash hit. Remember Kickstarter fantasy co-op adventure Gloomhaven? Well, Founders of Gloomhaven is a second game from designer Isaac Childres set in the same world, but this time he's offering a competitive game of building a city featuring "a unique mix of tile placement, action selection, hand management, worker placement, and blind bidding."
Quinns: It sounded like you said "rare sex fetish."
Paul: Founders of Gloomhaven has already raised almost $300,000, and it still has twenty-four more days to soar past its funding goal.