billy's bad cannoning, some criminal lemons, a pedalo in space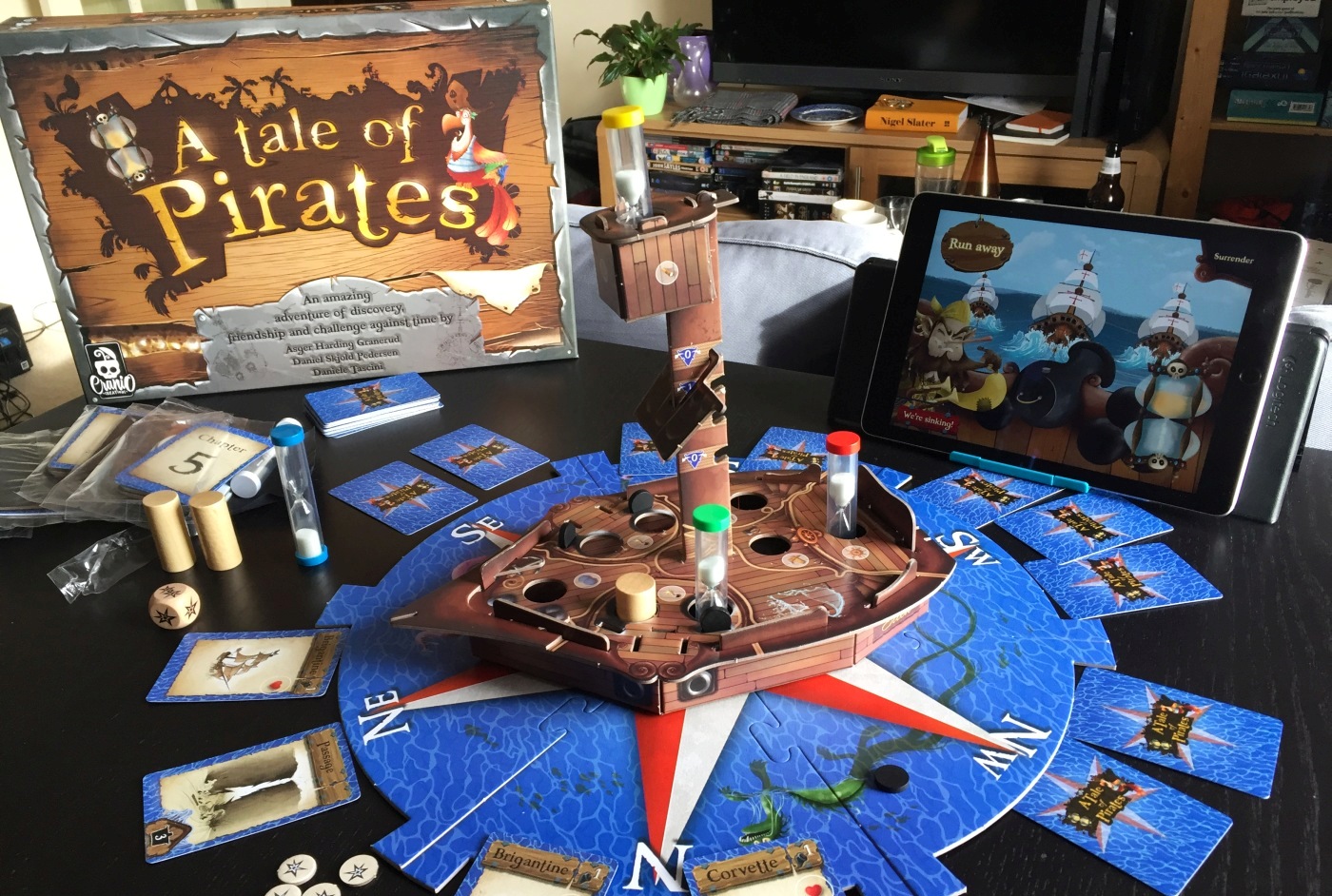 Quinns
: You're looking at
A Tale of Pirates
. More specifically, you're looking at a 3D pirate ship, a load of sand timers and an accompanying app. And before we get to how all of this fits together, let me add that you're looking at a
great
little game.
Last year a lot of people got excited about Kitchen Rush, a real time game where players place sand timers to run a chaotic restaurant together. If Kitchen Rush was any more up our street it'd be banging on our front door, but actually, we found the video game Overcooked to be more entertaining and cheaper.
A Tale of Pirates is similar to Kitchen Rush, but instead of 2-4 players popping their sand timers down to go shopping or cook a bouillabaisse, 2-4 players are placing sand timers to load a cannon or climb the crow's nest of their very own ship. But more importantly, they're working together to unlock the next level in a very playful campaign.
a bloated boxer, a wibbly purple, a wonky illustration, interstellar nutella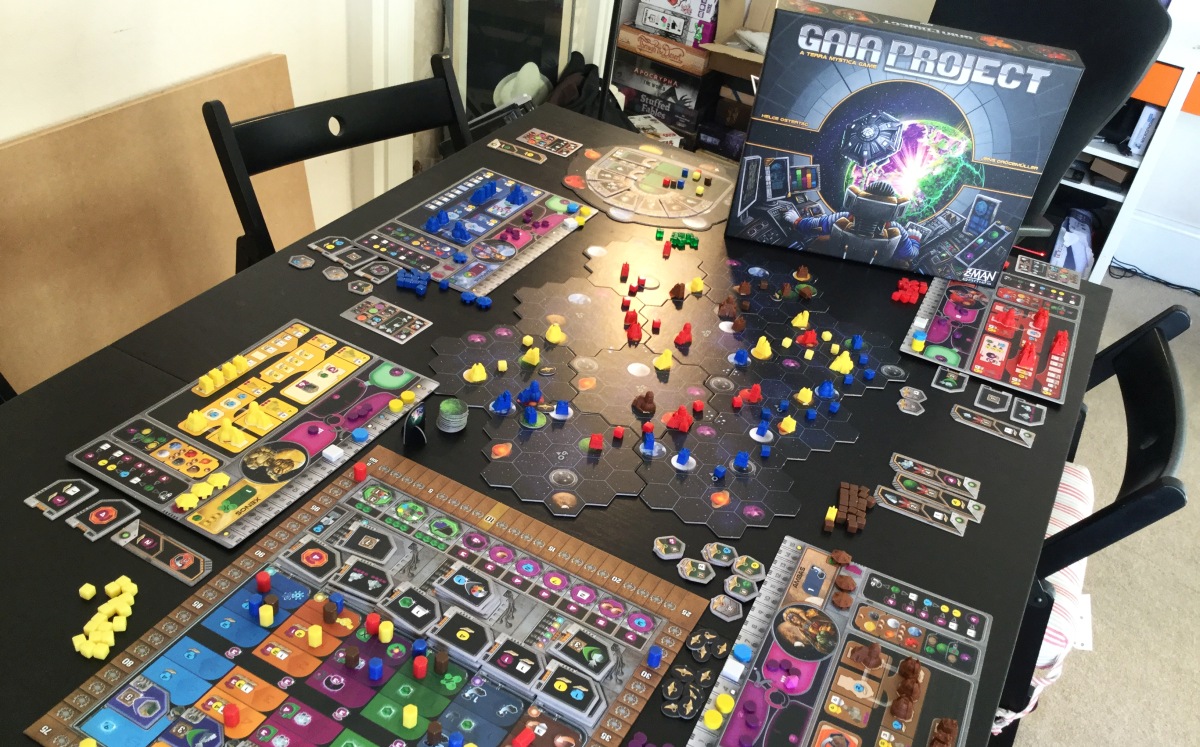 Quinns
: Everybody, stand up from your chairs! Pull up your pants. Spit out that gum. An esteemed classic has returned.
We reviewed fantasy town-building game Terra Mystica back in 2013 and found ourselves submerged in strategic nirvana. Today 28,000 people have rated it on BoardGameGeek, awarding it in an average of 8.3 out of 10. That's shockingly high considering just how complicated and odd Terra Mystica is, with its challenging puzzle squished in between ugly mermaids and magic bowls. But there you have it! It's just that enjoyable.
This week we're looking at the sequel, Gaia Project, which is a big deal in more ways than one. As well as swapping Terra Mystica's musty fantasy for a sci-fi backdrop, it's more expensive, more complicated and demands significantly more table space. All set up, you're looking at an asteroid belt of iconography.
dates, do dates have wasps in, no that's just figs, phew, sea bears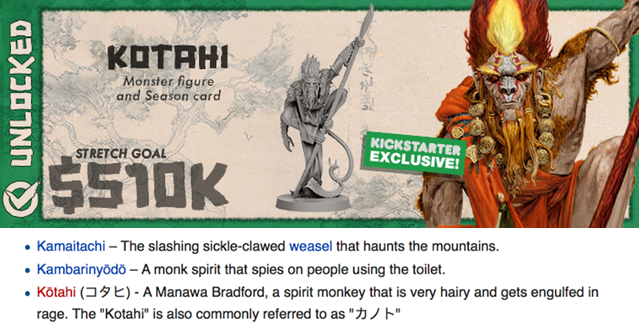 Quinns
: Good morning, my sweet creatures of the table. There's only one story that could possibly kick us off this week: 
How a Random New Zealand Man Became a Character in Rising Sun
.
To summarise, CMON's ludicrously successful Kickstarter game, Rising Sun, was this month shipped to some 32,000 backers only for a few people to begin asking about this "Kotahi" stretch goal miniature. The backers couldn't find any Japanese folklore by that name, but they did find a fake Wikipedia entry where someone put their friend, Kotahi-Manawa Bradford, in Wikipedia's list of Japanese mythical creatures as a joke. In other words, research for Rising Sun was being done via Wikipedia and as a result a random Maori guy was immortalised in CMON's biggest release of the year.
CMON have since stated that they were indeed "tricked", and have sent a couple of copies of the game to Kotahi and his friend in a coy bit of PR, but I'm not sure they come out of this looking good.
this web site is pointless, sumsong, chris quilliams can you see this, you are so good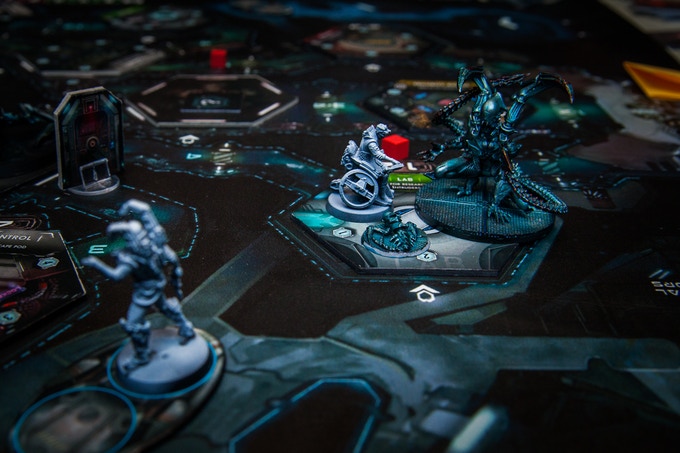 Quinns
: Good morning everyone! I'm back from a holiday in India where I watched a lot of
Kabaddi
, ate a lot of
dosas
 and explored a little bit of ancient 
Hampi
.
Ack, I've only been back at my desk for a few minutes and I'm already playing havoc with the Games News brand. Not one of those links takes you to a rousing piece of honest-to-betsy board game news. Please, let me start your week with some links that do.
As always I like to give the top story to the game with the prettiest header image, and this week that means the glossy Kickstarter of "Ridley Scott's Alien but Don't Tell His Lawyers" board game Nemesis. As any Shut Up & Sit Down reader will know, you'll struggle to find a Kickstarter curmudgeon that ol' Quintinius P. Smith, but Nemesis' campaign is so assured, so dramatic and so generous that even I found my mouse finger twitching towards the "Back this Project" button.
will my wife be annoyed if I buy tiny sniper teams instead of potatoes this Christmas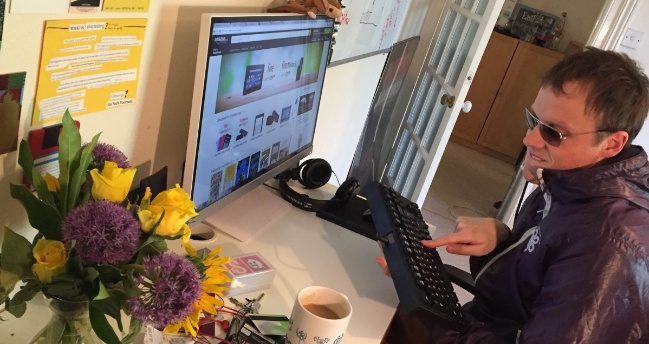 Update:
If you donated after the 21st deadline drop us a
note
and we'll hook you up anyway (it's Christmas after all)!
Quinns: Hi everyone! I've come down with a festive Christmas flu, but I found a block in my busy schedule of sneezing and fingering spicy soup between my lips to post about our 2017 pledge drive, which ends this Thursday. Donating any time between now and then will get you access to a profoundly jolly Christmas newsletter, packed full of the following:
Have your say on our plans for 2018!
Early thoughts on our next reviews!
An outtake reel!
Access to all previous newsletters, totalling 20,000 words!
A warm fuzzy feeling that next year's content is paid for by you!
And more!!
The last day for donations is the 21st of December, and the newsletter itself will go out on the 22nd.
Please donate! This weekend I played my first game of Dropzone Commander and now in addition to everything mentioned in our pledge drive video I also need a United Colonial Marines AC2 "Phoenix" class Heavy Command Gunship.
Thanks for your time, everybody!
quintin "matt damon" smith, the sweetest soviets, industrial gum-flapping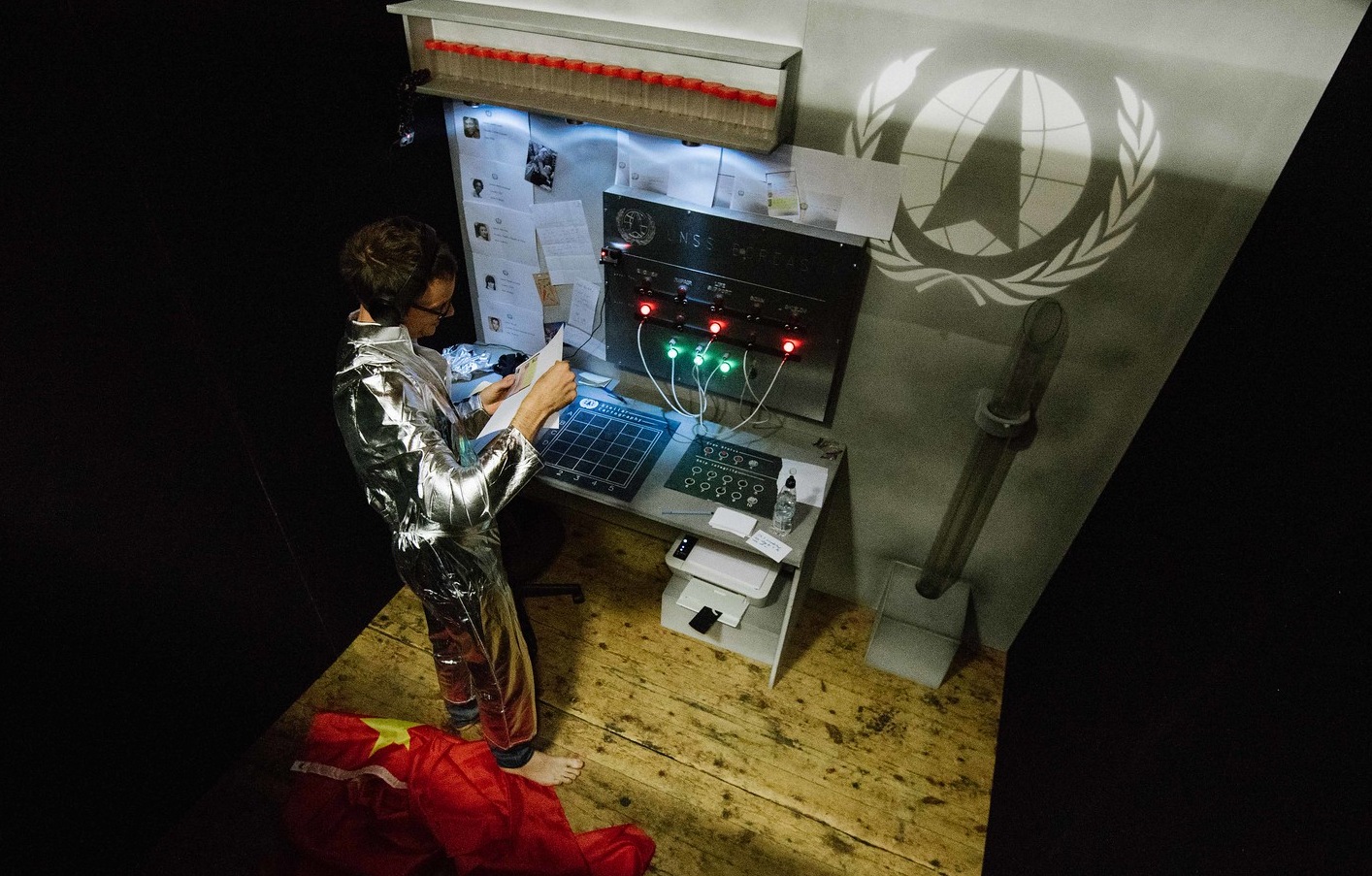 [Special thanks to photographer Ben Broomfield. His other photos of the event are available here.]
Quinns: I've never been so excited by the sound of a printer.
Inside the cramped confines of my spacecraft, the machine's senile clunking makes my heart skip a beat. I drop to my knees, lowering myself before the machine in sweaty supplication. By positioning my head beneath my desk and rotating it 90 degrees, I'm able to start reading the paper before it's ejected.
The printer is my only lifeline to the three competing space agencies outside my ship - the Americans, the Russians and the Chinese - who are trying to bring me home. Only they have the power to scan the space around me, providing the information that I need to navigate a deadly hellscape of black holes, stars and asteroids. Using their messages, I might just make it back to Earth.
I recognise the Russian insignia on the printed sheet. They're my most helpful allies. This will be helpful! The printing finishes and I lift it closer to my lamp, banging my head on the desk on the way up. It reads:
"QUESTION FROM RUSSIA: WHAT IS YOUR FAVOURITE FLAVOUR OF ICE CREAM?"
a nude cat, a charming professor, four dead pokémon
Quinns
:
Instead of this week's Games News we've got something substantially more awesome to put in front of you guys. Remember the old episodic format that SU&SD used to have? Long, TV-style videos that were a mix of skits, reviews and plotting?
Well, today Matt and I have returned to that format on Cool Ghosts, our videogame site. If you like games, jokes or weirdness then you should absolutely make it part of your day. The first people to watch it are already describing it as "Early Shut Up & Sit Down, but instead of the excitement of board games it's the romance of videogames".
Sure, romance. Plus a slightly higher budget, and just a touch of anger.
Joining me today to discuss this new direction is Matthew Lees. Hi Matt.
Matt: Great to be here, Quinns. I've been a fan of Shut Up & Sit Down for years, it's a pleasure to be featured.
matt and quinns in the city of brotherly love, the jokes write themselves!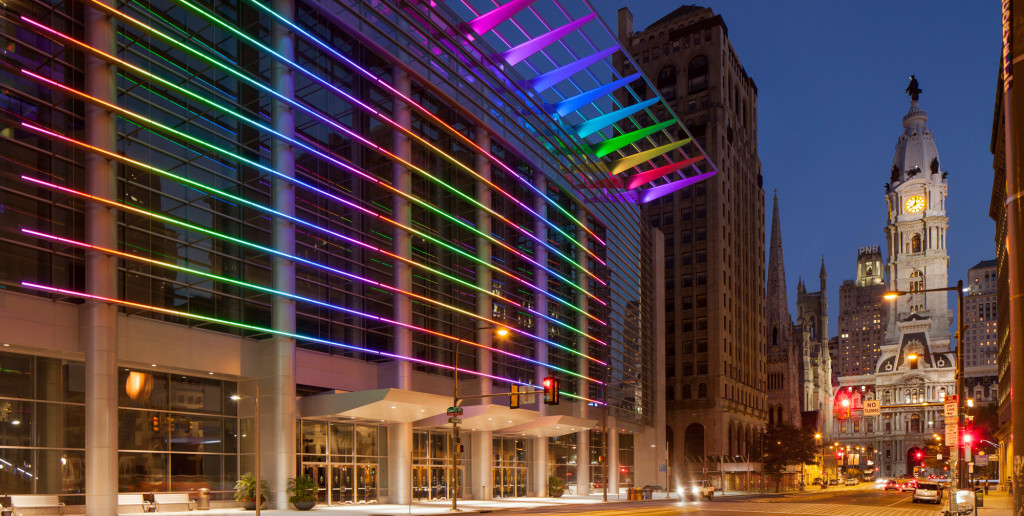 Quinns
: Hey everyone! Quick bit of business. Next week Matt and I will be flying to Philadelphia for 
PAX Unplugged
, the first table game-focused convention from the Penny Arcade Expo people, and we've got all sorts of events where you can catch us.
On Friday I'll be teaching a room full of people to come and play Flamme Rouge and Mysterium in what's being called "a game night in a can". Matt's got his own event teaching Sheriff of Nottingham and Ethnos. On Saturday we've got a live podcast and we're hosting a big fan meetup, so you should totally come to both of those. Finally, we've got an autograph session on the Sunday. We'll also have a merch booth up and running for the whole con where we'll be hanging out if we're at a loose end.
Are you reading this with a frown on your face? Would you have totally bought a ticket if you knew we'd be attending? We've got good news! PAX Unplugged has given us 10 three day passes to gift to our audience, so if you want to come join the fun in Philly just email [email protected] with your full name and email address and we'll hook you up.
All the tickets have been given out. See you guys there!
quinns' toothy heart, a sad birthday, 8 more complexity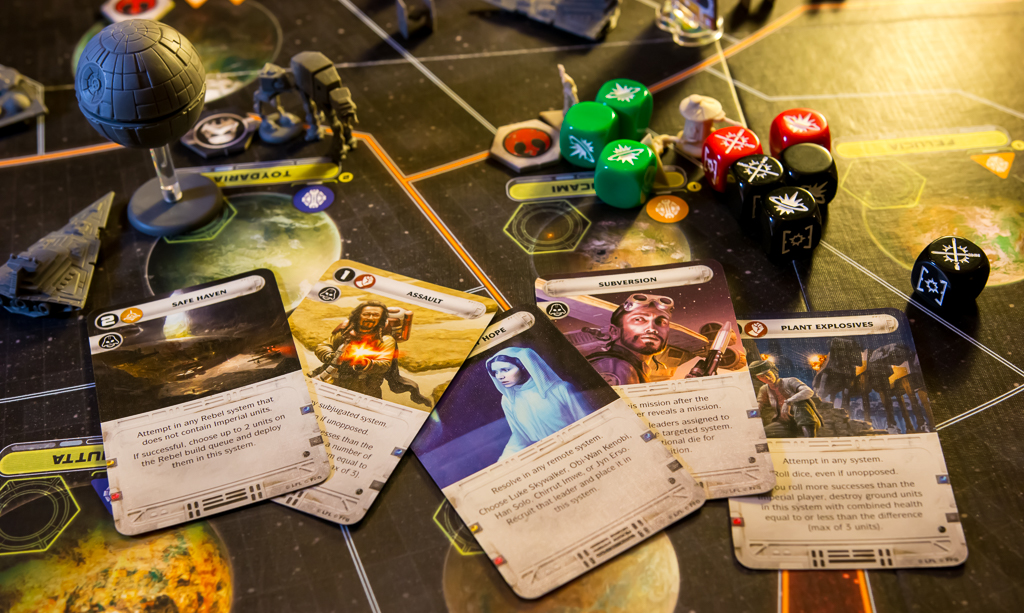 Quinns
: Matt, are you ready to review the
Rise of the Empire expansion
for Star Wars™: Rebellion? To bring everyone up to speed, Rebellion is a grand 2-4 player game set in the Star Wars universe,
which I reviewed
and said it was fun, but I couldn't quite recommend it.
What does the expansion add? Well, let me just quote the press materials: "Rise of the Empire isn't just inspired by Rogue One; it follows the movie's example, adding new depth and story to the Rebellion game experience just as seamlessly as Rogue One provided new insight into the Galactic Civil War presented in the original Star Wars trilogy."
Matt: I just did a big vomit out of a window. In Real-World Terms™ it's an expansion that adds quite a bunch of stuff: new leader characters, new cards, a whole new combat system, more unit types and plastic figures, and a brand new planet: EWOK-HOTH, HOME OF THE CHILLYBEARS.
Machiavelli-maths, i've made a huge mistake, Rafael Silveira is rubbish though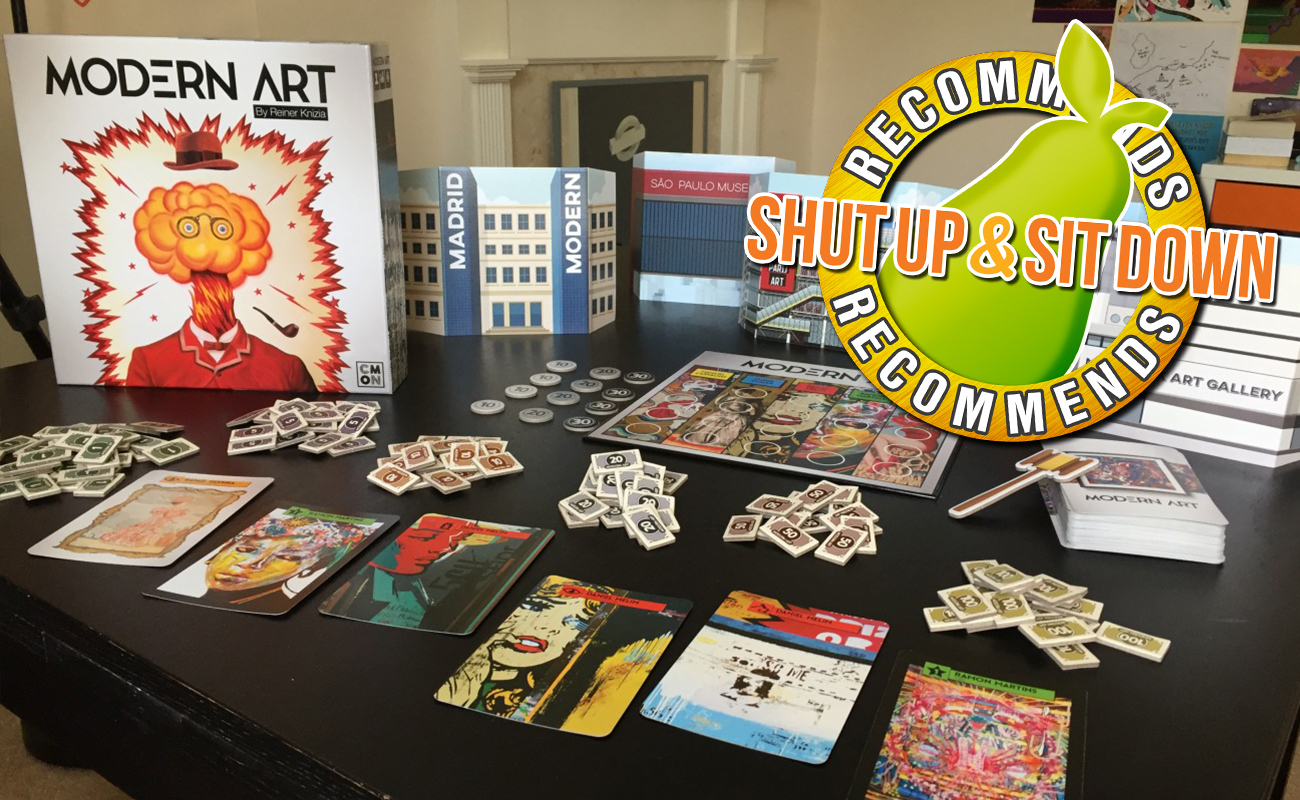 Quinns
: With CMON's
new edition of Modern Art
, a game of blisteringly quick and dangerous art auctions, Shut Up & Sit Down continues its exploration of
classic Knizia.
Just who is Reiner Knizia? Where did he come from? What is he doing?
We've interviewed him
and I still don't know. All I can tell you is that he's responsible for
more than 500 games
, literally some of which are good.
But Modern Art isn't just the oldest Knizia game we've ever reviewed. With the exception of 1981's Consulting Detective, I think this is the oldest game we've reviewed, period. It came out way back in 1992, when Paul was celebrating his 30th birthday and Matt hadn't even been born yet.
Can you feel it? This site is trembling with time right now. Slip inside my cardboard Tardis. Let's see if the years have been kind.