January 29, 2015
99 comment(s)
Quinns: Bad news, readers. Our efforts to appease the grand old month of Expansionanuary seem to be for naught. The days are getting shorter, the nights are getting darker. It's now so cold in my flat that the carpet crunches underfoot.
We must have faith that this will end, friends. Unless the rumours are true, and this is indeed the year of twenty fifspansion.
It's a possibility too horrid to contemplate. In the meantime, we will stay the course. Here's a review of Trains: Rising Sun.
IS THAT REALLY ITS NAME
Yes.
KILL IT WITH FIRE
No! Do you remember our Trains review last year? The one where Paul spent the entire video talking about how he thought Trains would be crap but it's great?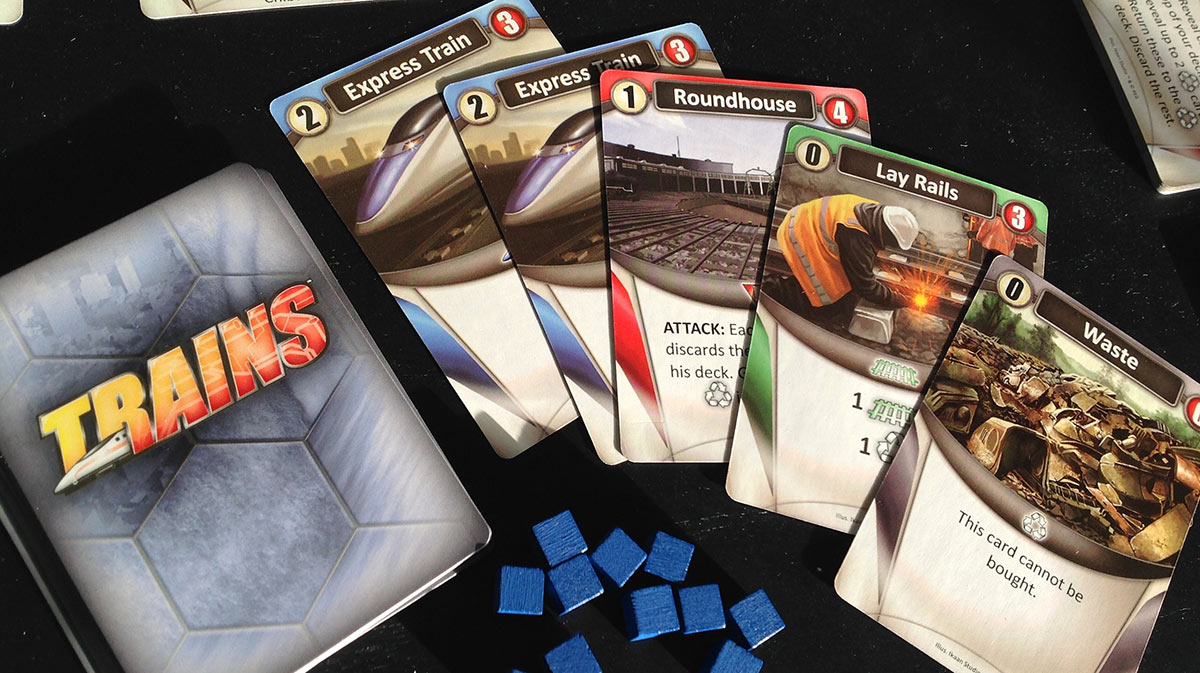 You don't remember? OK.
Trains is a Japanese board game styled after popular "deckbuilding" game Dominion. Players start the game with waifish 10 card deck full of rubbish "Normal Train" and "Lay Rails" cards. Using hands of these cards drawn from their deck, players buy more powerful cards that also slot into this deck, until by the end of the game they're piloting a fat, unknowable, 40 card stack of their own design.
But unlike Dominion, this is only one half of the game. In Trains the action proper takes place on a large board where players are racing to build railway networks, also from cards in their hand.
Like the best Japanese table game designs, the result of this is something hopelessly engaging but quick to explain. Building your deck each turn is simple. Using these same cards to build railways, clawing your way across the Japanese landscape in a bid for victory points is even simpler. Trains' complexity comes from your deck getting in your way because it's random, and your friends getting in your way because they're jerks. Although sometimes your friends will be acting randomly because their deck is being a jerk. It's complicated. Except, as I just said, it's not.
OH. MAYBE THAT SOUNDS PRETTY FUN
Slam dunk!
SO WHAT IS TRAINS: RISING SUN
Glad you asked, horrible disembodied voice!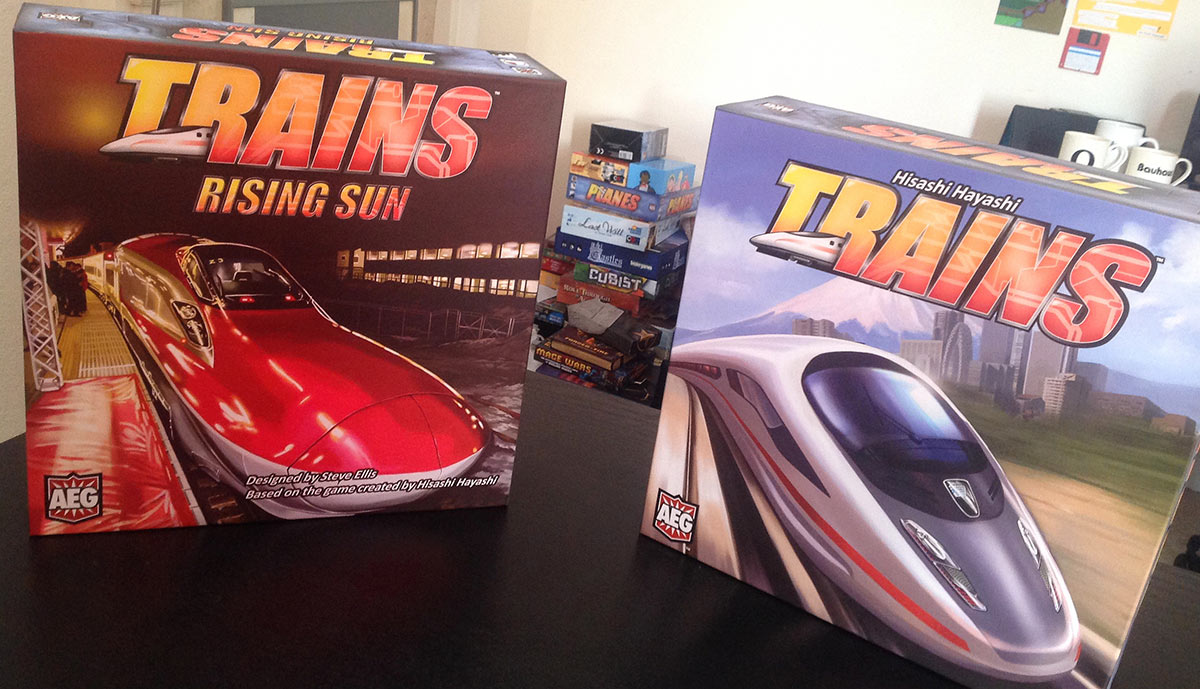 Trains: Rising Sun is a standalone sequel / expansion / seqspansion that contains new boards, new twists to the game and a load of exciting new cards, some of which let you attack other players. Like "Unhappy Passengers"!
I love this card so much. You'll want to click on that picture to see all the details. It takes a brave publisher to take a game called Trains and greenlight the design of a card showing commuters looking miserable. Also, check out the guy in the red hoodie losing his mind.
Anyway, Rising Sun is great, just like the original Trains was great. You can buy Trains: Rising Sun and play it by itself and still have a great time, or you can mix and match stuff from each Trains box for breathtaking new setups.
Imagine it. Covering Osaka with Rising Sun's new Biofuel Trains. Or you could introduce the first game's Holiday Train Timetable cards into the second game's romantic Chiba map. Ooh, it's so cramped! Barely big enough for two…
STOP IT
I'm sorry.
WHY DOES THIS GOOD GAME HAVE SUCH A RUBBISH THEME
There's nothing wrong with trains! They're among the most human of inventions. Great big phalluses thundering around the countryside, making the world a safer place, bringing us all closer together.
Sometimes literally! When the train is cramped, and you fancy the person stood next to you, and the train rocks from side to side and you can't help it, you bump into this person, and your eyes meet…
QUINNS
WHAT.
SHOULD I BUY THIS OR THE ORIGINAL?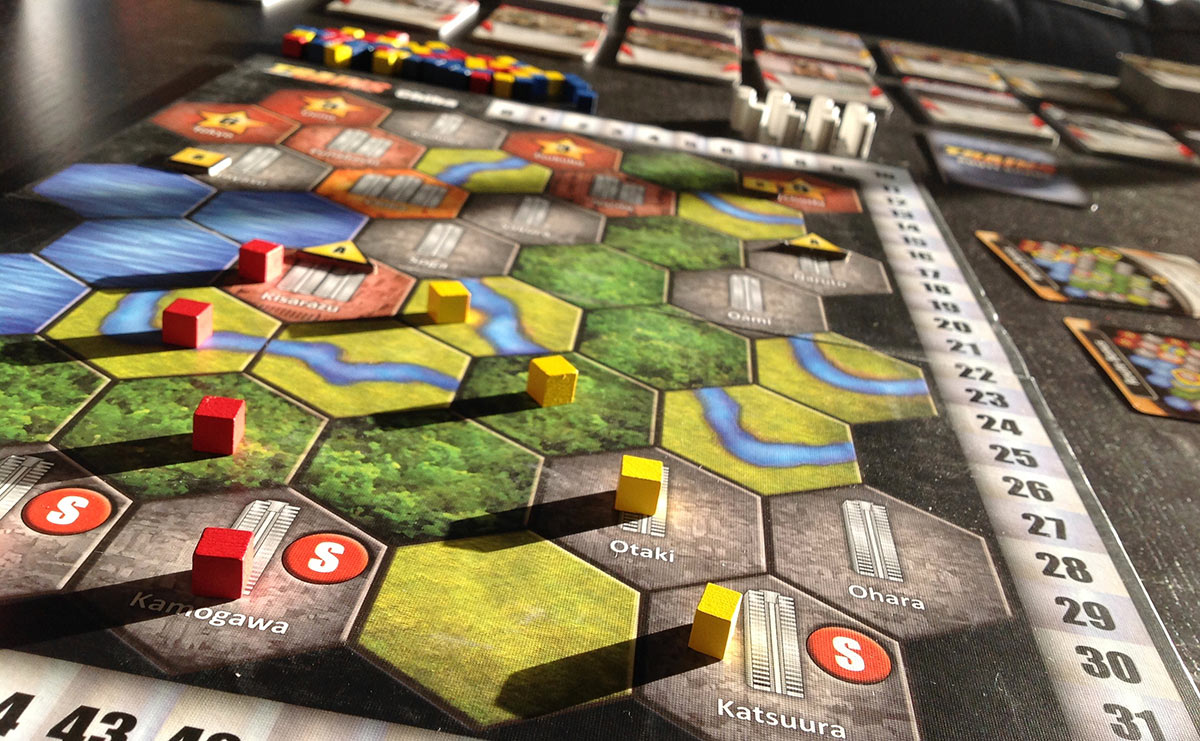 This second bite of the apple is just a little superior. Trains is a fantastic 2 player game, and Rising Sun includes a couple of dinky little dedicated 2 player maps. It also has random routes that players are encouraged to slink their rails between, further changing the exotic geography of these curvaceous foreign regions.
WHAT ARE YOU TALKING ABOUT
I don't know. I'm typing as fast as I can to keep warm
WHAT ARE THE NEW CARDS LIKE
Some of them are pretty dramatic! "Protestors" is an attack card that forces everybody else to discard one "Lay Rails" card they're holding. Moreso than ever you'll need to watch what your opponents are buying, otherwise you might find your company being spanked on the pattoosh by a riding crop made of red tape.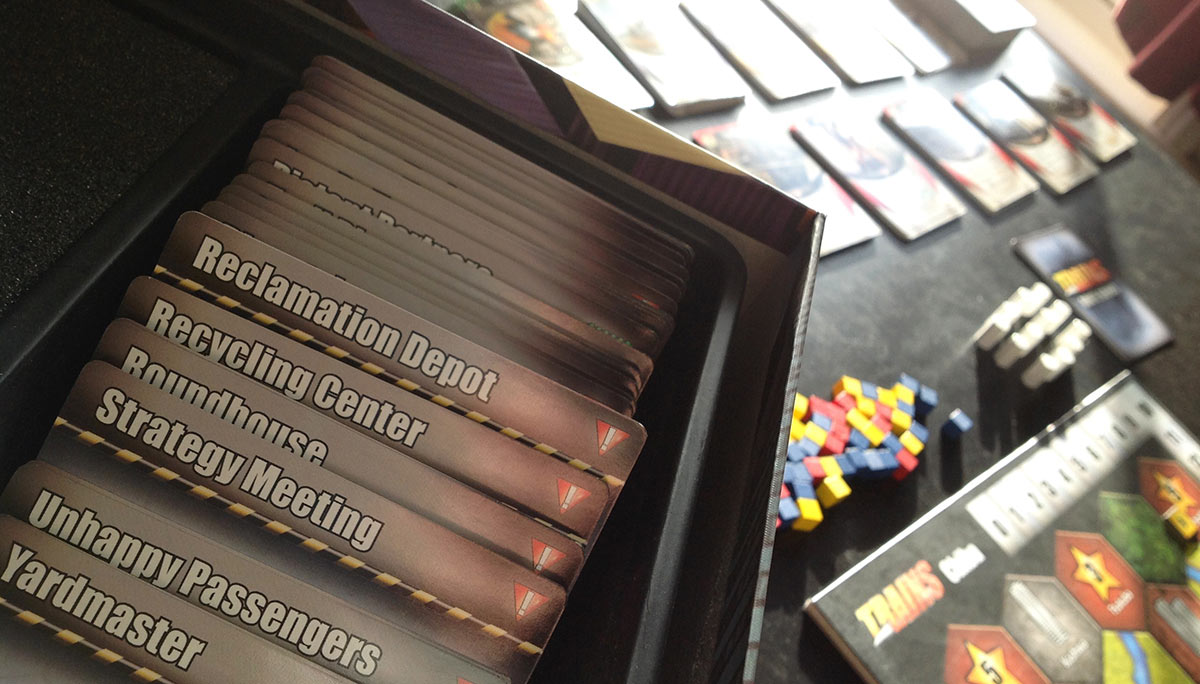 Other than that, the cards are a little more obtuse than the original game. The Surveyor lets you perform construction work without taking any of Trains' useless "Waste" cards into your deck. Regulations is one of the new "attack" cards that'll throttle your opponents if they have any Waste cards in their hand. Yardmaster offers the game's most powerful draw engine ("Draw 3 cards"), but only if you first discard two cards from hand. Which is fine if you're willing to run the risk of filling your deck with rubbish Normal Trains. Although, hang on, if you're doing that then you'll probably just draw more rubbish into your hand.
I dunno. The cards aren't any better or worse than the original, but they do what they're meant to do, which is when you put out your randomised selection of them for each game it'll be a little puzzle you've not seen before. Doubly so if you mix both sets.
My favourite thing about them is still that so many of the cards have laughably boring names. You can now infuse your deck with Strategy Meetings, Legal Counsel or a sexy Government Subsidy.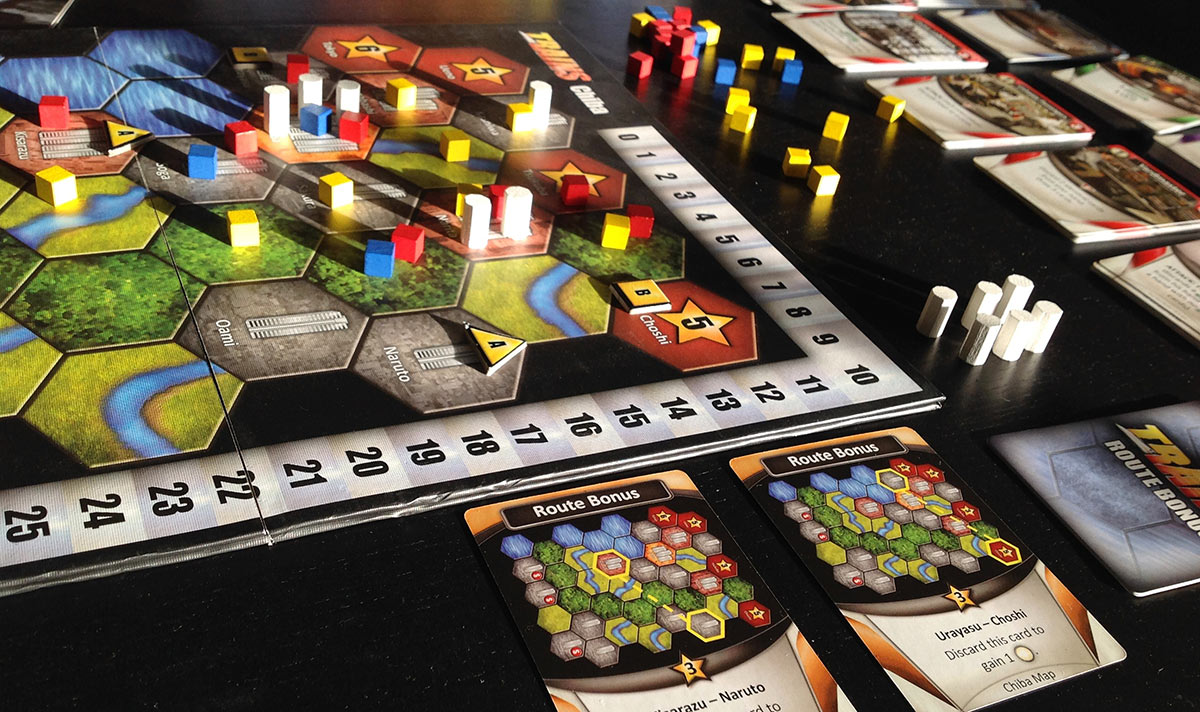 HOW ARE THE 2 PLAYER MAPS
They're great! One has the cool feature of starting players at the same (small) edge, so you both start at the bottom and just race to the top. Building rails on hexes where someone's already built rails or stations is always more expensive, so players end up slithering their tracks in front of one another, just clamberin' all over one another, gettin' all sweaty.
All in all, Trains: Rising Sun is just a fantastic box. Let it come into your house, everybody. See how you feel about it staying the night. No pressure. It's your decision.
Hello? Do you have any more questions?
…hello?
Was I hearing things? There's nobody here…
HELLO
JESUS CHRIST
SORRY I WAS JUST GETTING A CUP OF TEA
You scared the piss out of me! Don't sneak up on me like that.
BUT I'M AN INCORPOREAL NARRATIVE DEVICE
Yeah, well, knock some shit over on your way into a room or something.
WHAT HAVE YOU GOT COMING UP NEXT THEN?
Well, we just got the new Cyclades expansion and it looks absolutely fantastic.
OOH. SHALL WE PLAY IT?
You know what, awful booming disembodied voice? You're alright!