Downton Abbey, an accident, 300 games, 800 spiders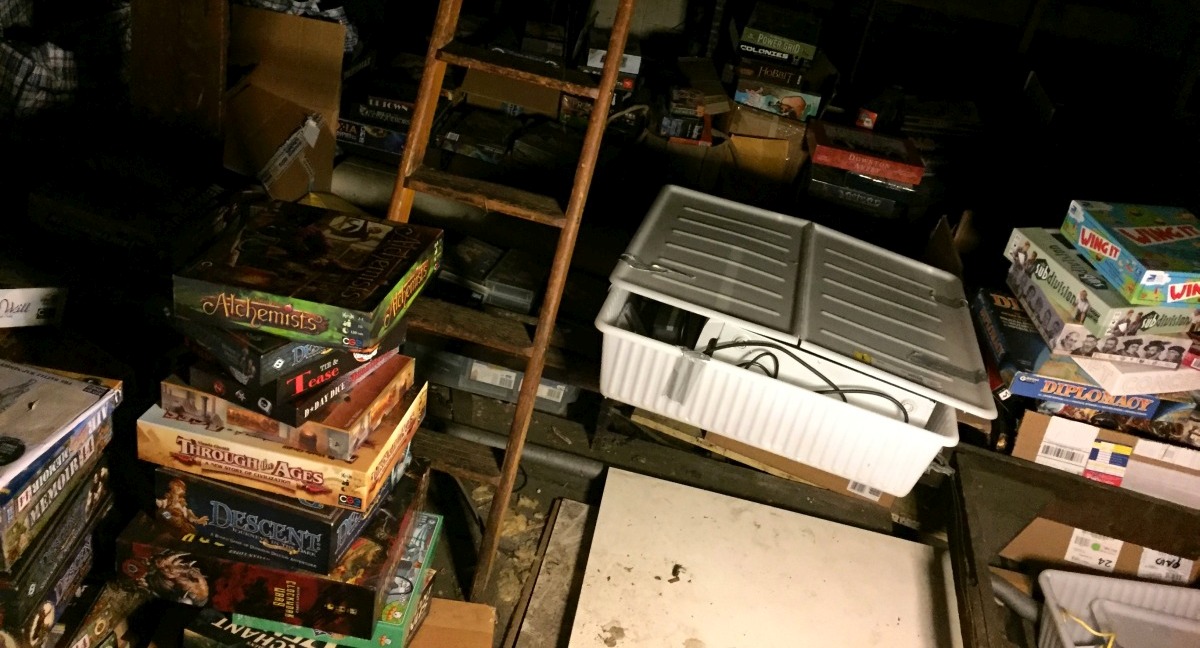 Quinns
: Ladies and gentlemen, roll up! It's time for a new series where we take a look a team SU&SD's board game collections. Come and see! Be amazed. Be aghast. Be envious. Comment with thought-provoking assertions like "why do you have that game it is bad".
You guys will have seen my collection in the background of loads of SU&SD videos, but I don't think you've seen the work that goes into it. Come with me today as I perform... a CULL.
quinns still wishes he was a wizard, also dogs, honest it's a bat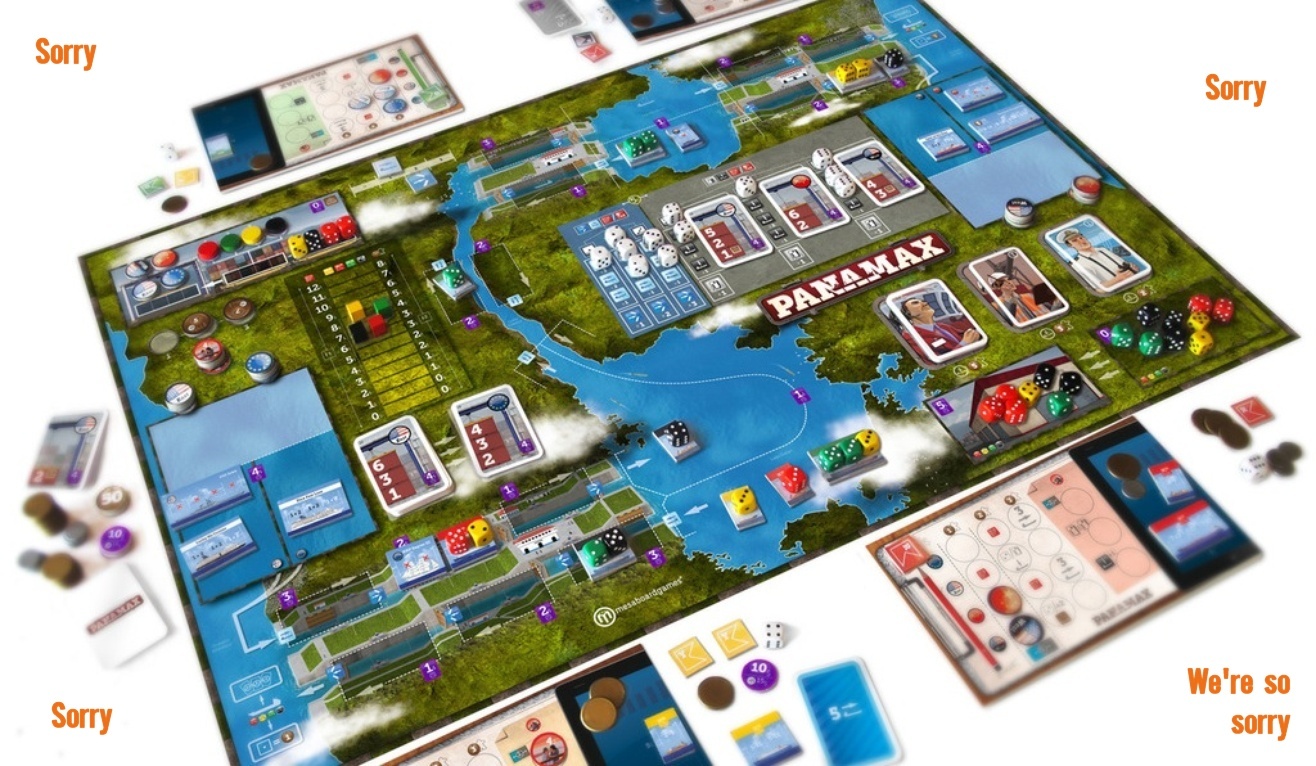 Paul
: Aha! Did you think we were done? Did you think it was all over? The sad truth is that, in assembling our gigantic Top 50 list, so many games don't quite make the cut. We shift them up and down. We debate their inclusion. We resign ourselves to seeing favourites fail to break the Top 50 by the tiniest of margins. That's how it is, though. You stick in a Codenames and the whole list shifts. Someone has to be number 51.
All the games that follow are good games. We don't want you think we've lost our love for them because they weren't featured last week. These are our Honourable Mentions.
curvaceous foreign geography, laying rails, normal trains, longer than average trains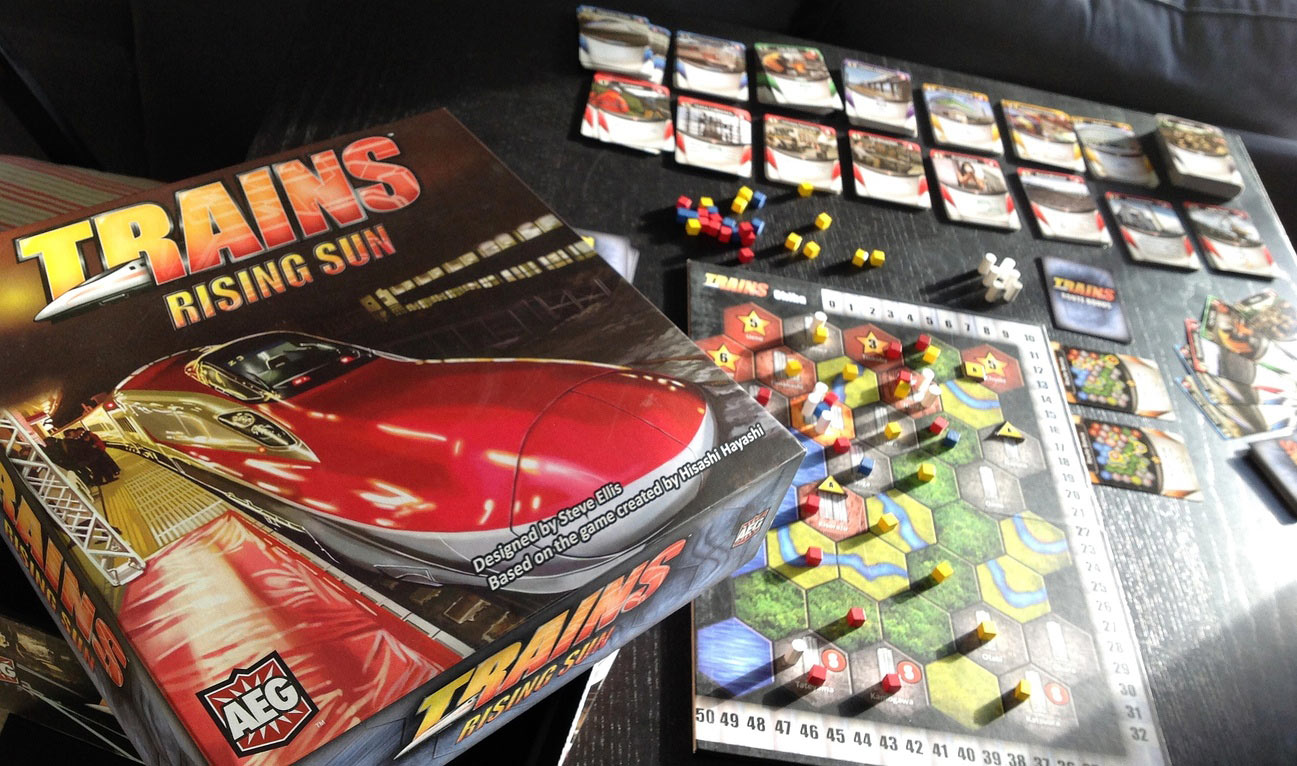 Quinns
: Bad news, readers. Our efforts to appease the grand old month of Expansionanuary seem to be for naught. The days are getting shorter, the nights are getting darker. It's now so cold in my flat that the carpet crunches underfoot.
We must have faith that this will end, friends. Unless the rumours are true, and this is indeed the year of twenty fifspansion.
It's a possibility too horrid to contemplate. In the meantime, we will stay the course. Here's a review of Trains: Rising Sun.
oh god, honourable mentions, the alien gurgey, quash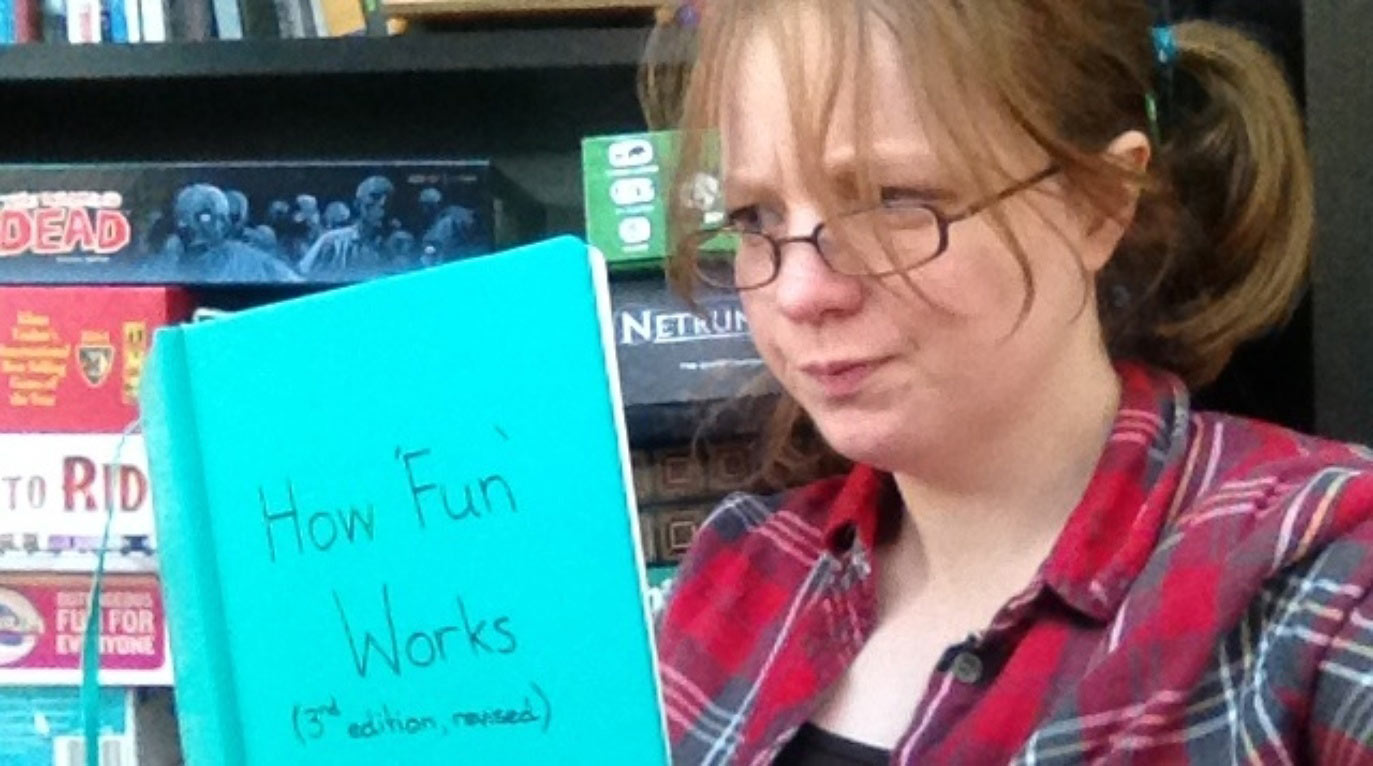 Quinns
: Here we go.
Warning: Contains opinions.
the ultimate resistance of the octopi against the terrible trains of the rising sun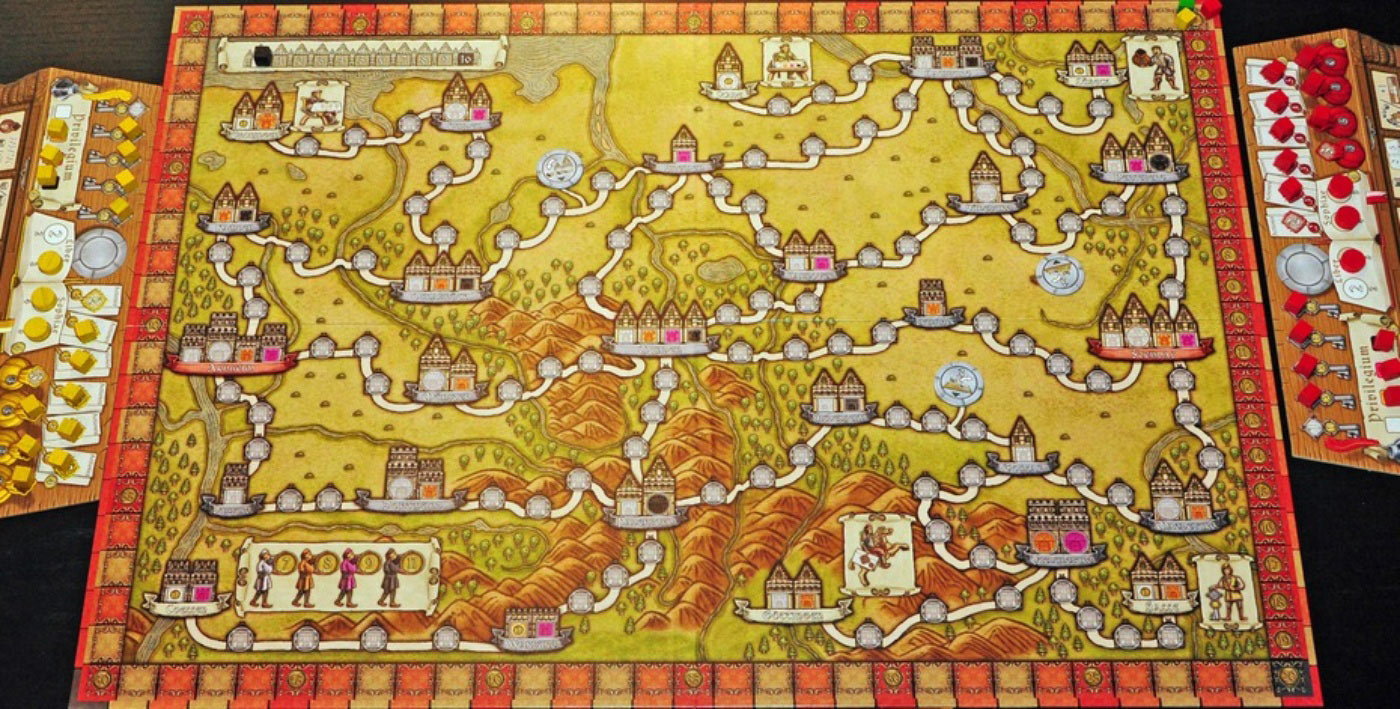 Quinns
: Morning, everyone! How was your weekend? I woke up today with my friend
Olly
sprawled across my sofa after some hot, late-nite
Pictomania
. Such a tragedy that that game didn't sell! It's Vlaada Chvátil's secret best work. If you ever see a copy in the wild, pounce on it instantly and without doubt, like a tiger upon a juicy gazelle.
Oh man, I'm going to get some juice. Be right back.
Our first story is that well-respected 2009 release Hansa Teutonica (seen above) is receiving a reprint this year as well as an expansion, Hansa Teutonica: Britannia, adding an optional new board to play on and revised 2 player rules.
I've never played it, but I can tell you that the fancy Latin name isn't hiding much in the way of theme. Hansa Teutonica is a game about building offices and trading routes in the middle ages, immediately putting me in mind of the comedic-sounding yet actually pretty great Thurn & Taxis. A game where players run a 17th century German postal service. I know! Just like you always dreamed.
hugeness, hot tubs, Ching Shih, number salad, druid parties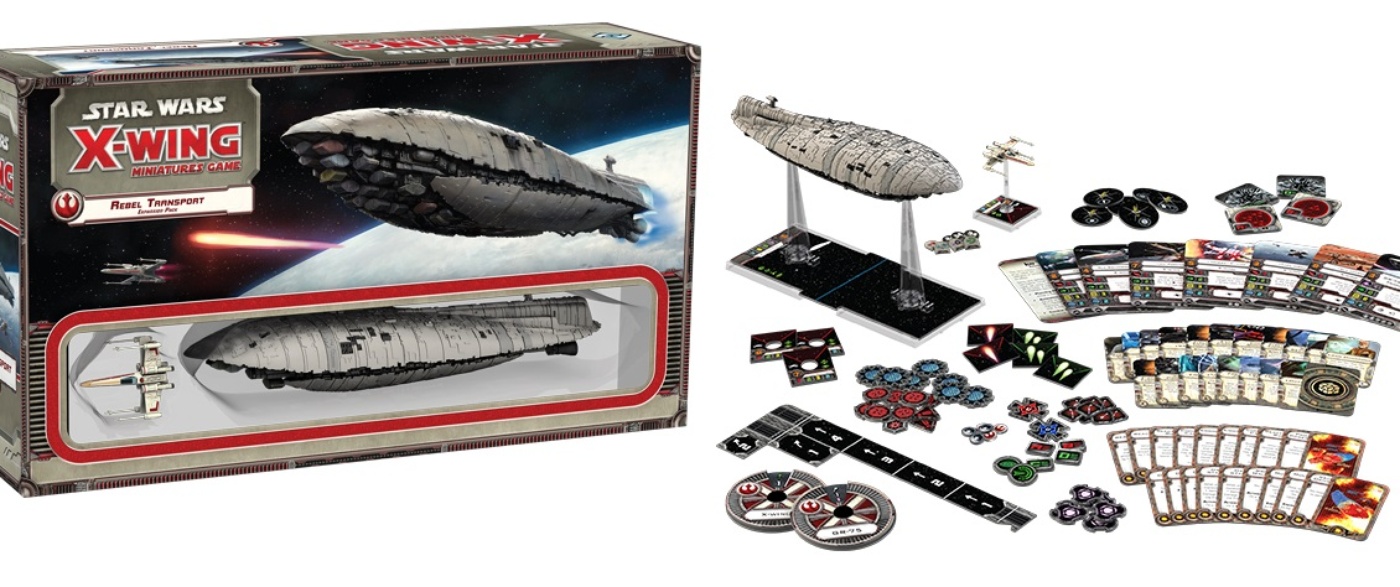 Quinns
: Ooh, it's nice to have dramatic news to lead off with. Fantasy Flight has done a
grand reveal of the first "Huge Ship Expansion"
for their excellent X-Wing Miniatures Game, the GR-75 Rebel transport. Just look at it! Imagine how many new players it's going to bring to the game when they double-take at it in their local game shop.
We all knew that these huge ship packs would be an investment (the Rebel transport will cost $60), so it's nice to see that they'll be a mini-expansion in and of themselves, with new rules for damage, movement and energy, an x-tra X-wing, and a deluge of tokens and cards. And this is just the first of the two huge ships revealed at Gen Con last year, with the other being approx. 20% huger (and $90).
But wait, because I've got some expansion news that's even more exciting!
c***s from space, orc job centres, fun squared, swords, pugs
That's right, babies! You asked for more regular podcasts on your subscriber questionnaires, and we're doing exactly that. The system works! Ignore that clattering and keening coming from our servers. Right now, in this moment, the system works.
Packed into podcast #11 are discussions of Freedom: The Underground Railroad, Keyflower, Space Cadets, Rattus and Cosmic Encounter. We discuss whether Trains has made Dominion redundant, answer a bushel of questions on the subject of imbalance in games, AND devote an entire, loving segment to the board game we've played more than any other- Descent: Journeys into the Dark.
What's your favourite broken monster, readers?
Read the full article...
normal trains, male trains, beautiful trains, ovulating, roadhouse, ur
It's come to this. After a phenomenally successful first year, in which the British press described us as "the sound of the summer" and "London's two most eligible bachelors", team SU&SD are now cold, alone, and reviewing a board game about trains. It's called
Trains
. This is us at our lowest, surely.
On frosty Autumn nights like these, we're glad for the company of the SU&SD supercomputer. She's our one true friend. ...Right?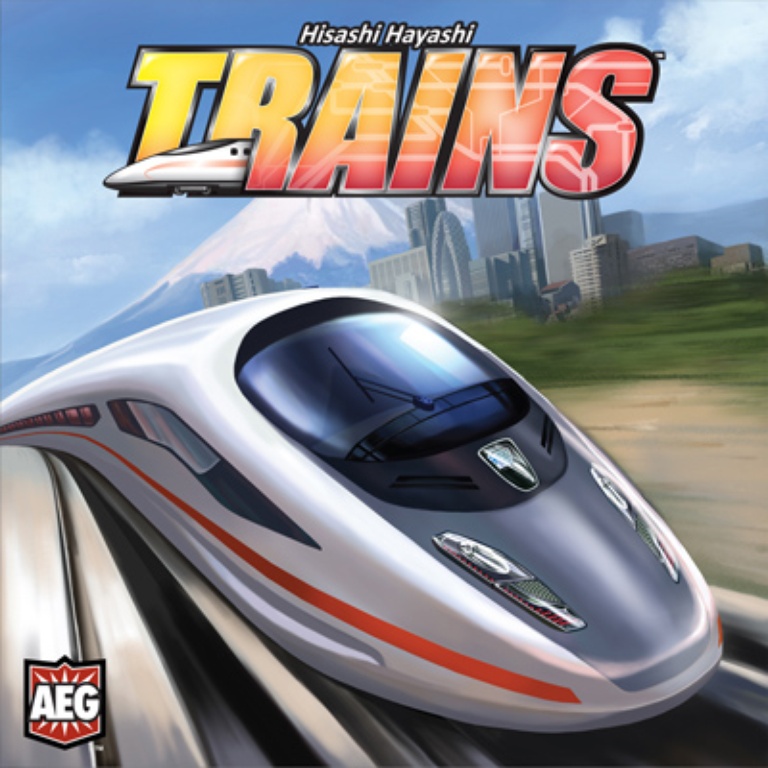 The railways of today are amazing things and bullet trains, freight trains and more keep entire countries running. From transporting the populace to carrying essential materials, trains play an integral part in a nation's power and economic development.
You will start with a small set of cards, but by building a more effective deck throughout the game, you will be able to place stations and lay rails over the maps of Osaka or Tokyo. Gain enough points from your railways and you will ultimately manage the most powerful railroads in modern Japan!
This English edition of Trains, designed by Hisashi Hayashi, features updated graphics, artwork, and streamlined card abilities. With extensive replay value, Trains is one game you won't want to leave the station without!
stealth grandmas, sneezy themes, Meppyarrwhyyl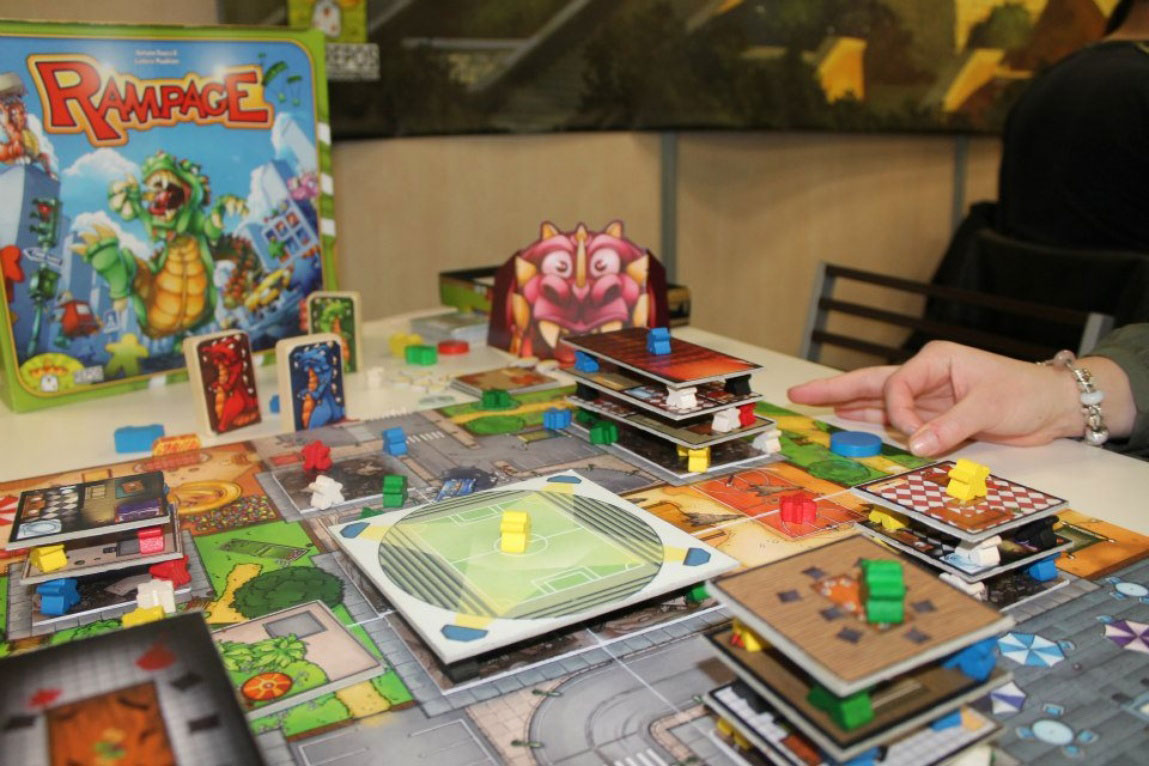 Quinns
: We're used to board games testing our brains, reflexes,
even our privates
. But lungs? That's a new one.
Enter Antoine Bauza's Rampage, which should be landing this year. Bauza's one of our favourite designers here at SU&SD, having crafted 7 Wonders and Ghost Stories, both of which are capable of collapsing your face into deep thought like a strong man might fold a deck chair.
With Rampage, 2-4 players will be dropping their wooden kaiju monsters to crush buildings, blowing on civilians to claim their pathetic lives and even flicking themselves at one another in foul, animal anger. Doesn't that sound perfect?