admirable admirals, a cheeky tug, the insurmountable greed of your nasty space-friends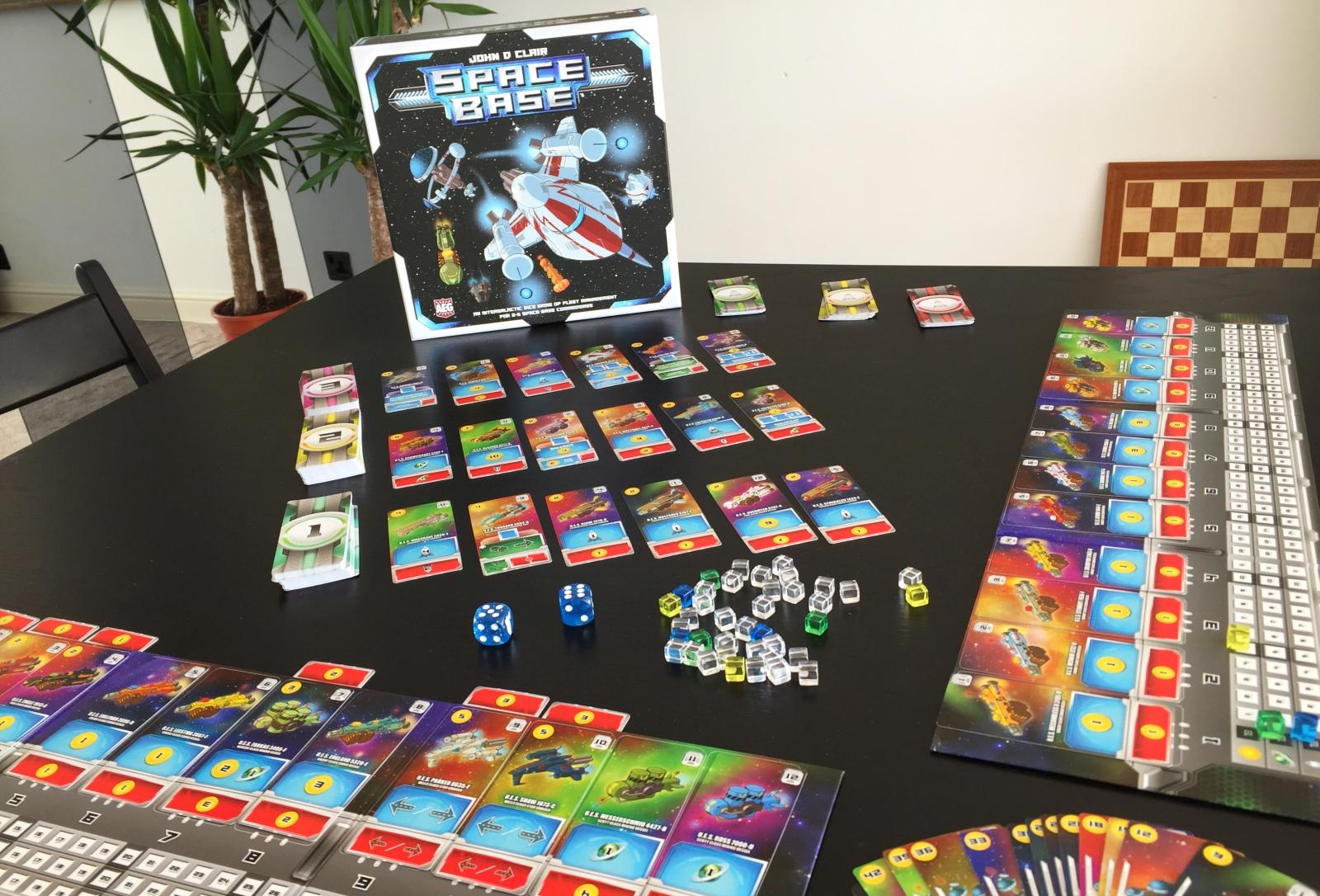 Quinns
: Ever since team Shut Up & Sit Down first borrowed a camcorder and began proselytising and/or squawking about board games, we've been borrowing a line from designer Sid Meier. "A good game is a series of interesting decisions."
But is this true? Six year later, I'm pretty sure that sometimes a good game is one where you roll dice and then nice stuff happens, or perhaps you own a spaceship(!).
Well HOLD ONTO YOUR PANTS, because in the newly-released Space Base all of these things are true. Each player starts with 12 ships that are straining at their docking clamps like greyhounds before a race, and you're going to be shrewdly dispatching them across the galaxy for profit and points.
What you're really doing, though, is designing a slot machine. Won't you listen to me squawk about Space Base? I really like this game.
The cat fell asleep, etymilogical detective, CUMBERBATCH FROM EGGS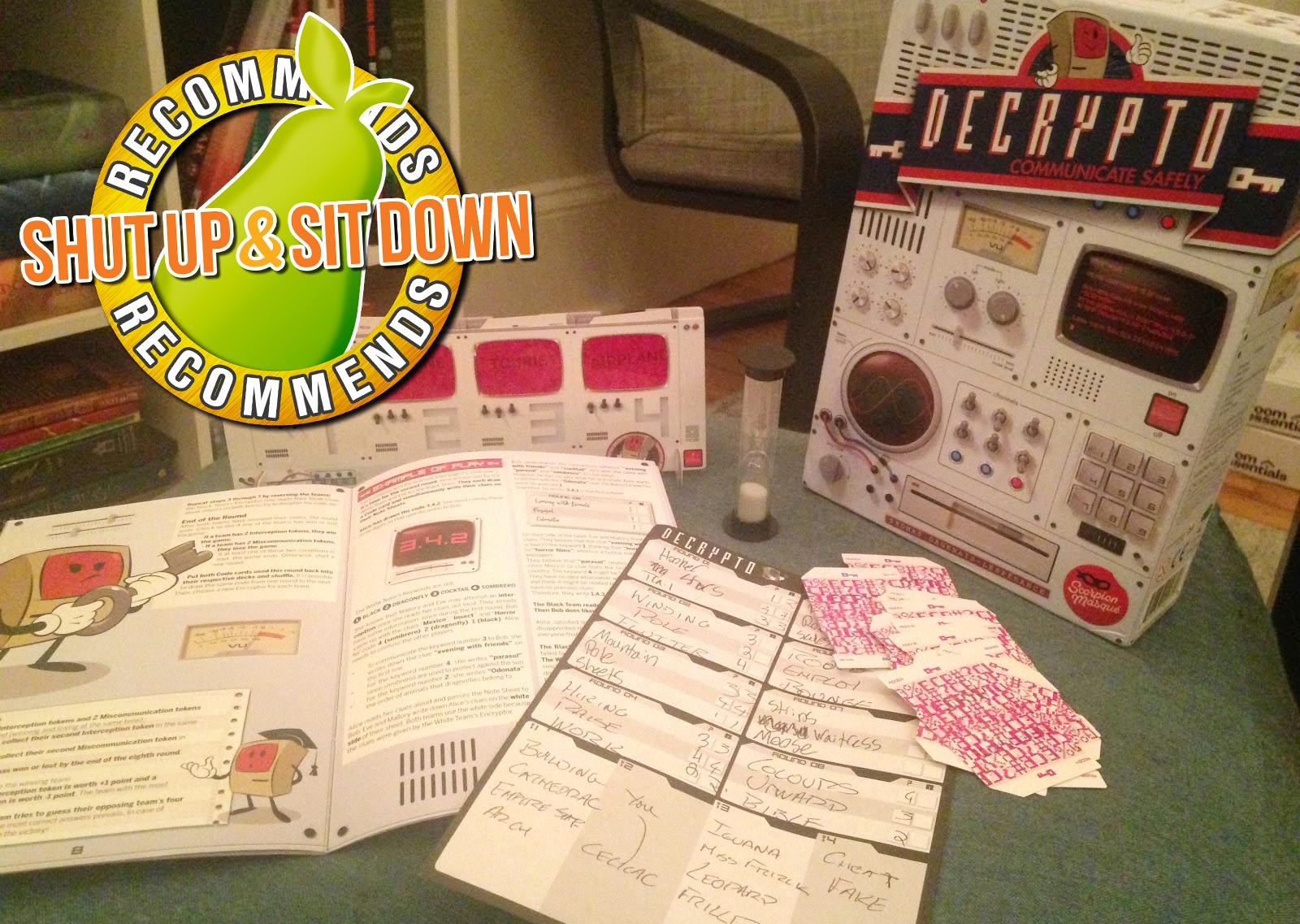 Paul
: I have never, in my life, seen so much frantic, last-minute lying. I've never seen so many misunderstandings over cake. I've never thought I'd have to explain to someone how oil is obviously, indisputably associated with Texas. And I never thought a tiny misunderstanding over a simple word like "heat" could, and would, ruin everything.
But that's Decrypto for you, a game of discord and deception that somehow ends up fraught, funny and absolutely fantastic. It sets you the simplest of challenges and creates the most convoluted complications as you and your friends try to tell secrets out in the open, right in front of each other.
dandelion warriors, floodlights of dread, cooking the books at fraggle rock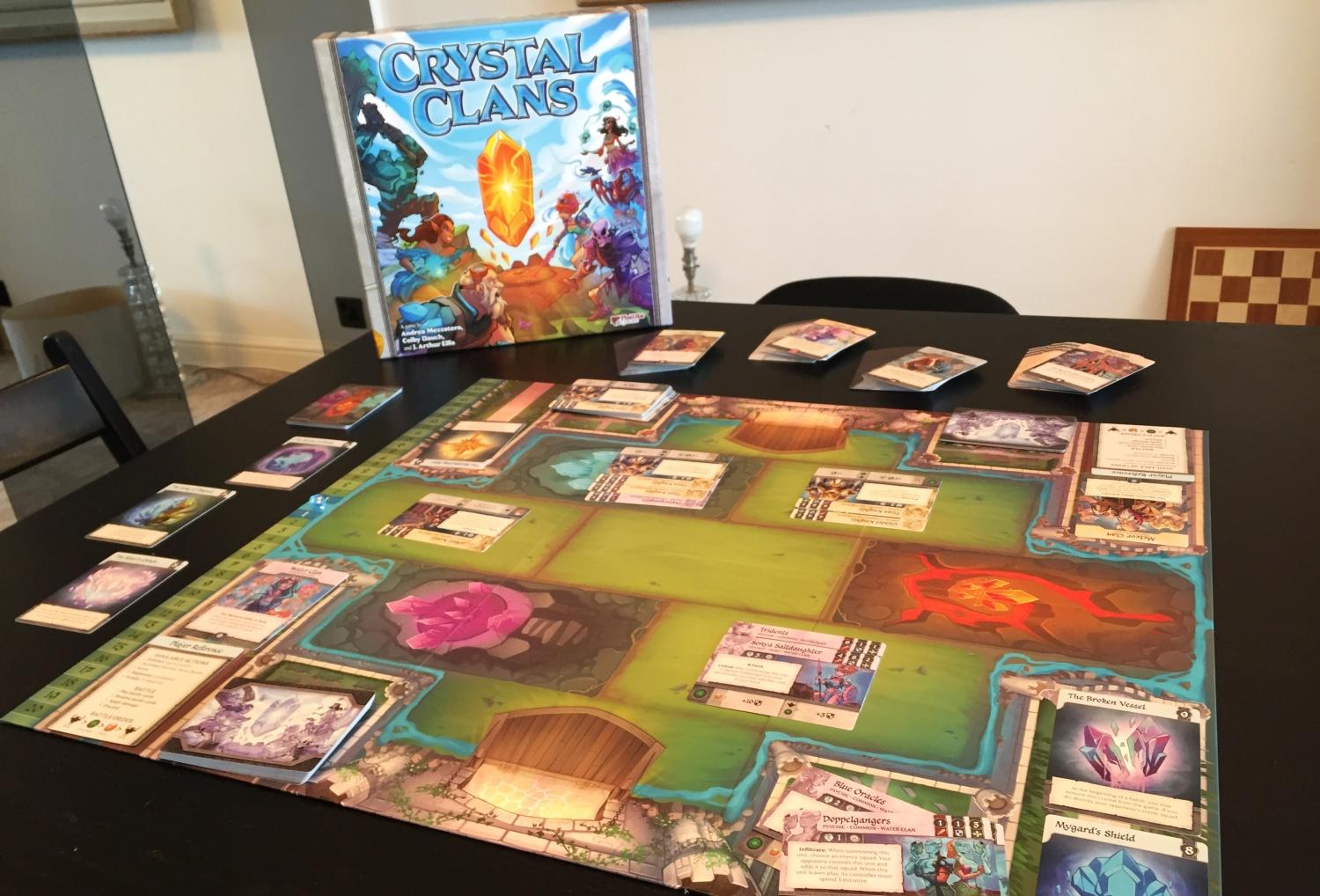 Quinns
: To look at the box of
Crystal Clans
, the new 2 player card game from publisher Plaid Hat, is to hear the soaring soundtrack of Saturday morning cartoons. The bracing breeze of GI Joe! The salty spray of the Thundercats-
Matt: Quinns this is a family show.
Quinns: It sure is, Matthew, and so is Crystal Clans! This box is a bat-signal that immediately summoned my childhood fascination with not just "fantasy" but the fantastical.
Contained within this game's deliciously diverse clans are knights that ride bees into battle, necromancers who pursue a romantic Dia de los Muertos aesthetic, time-travelling twins and one massive crocodile. This feels like a world for everybody, and the manual doubles-down on that by using the feminine "She" to refer to the player.
Everything in Crystal Clans has a touch of the revolutionary about it, and that extends to the actual game. This is like no other box we've ever reviewed.
Thirsty Twerps, ludic inbreeding, batting the drink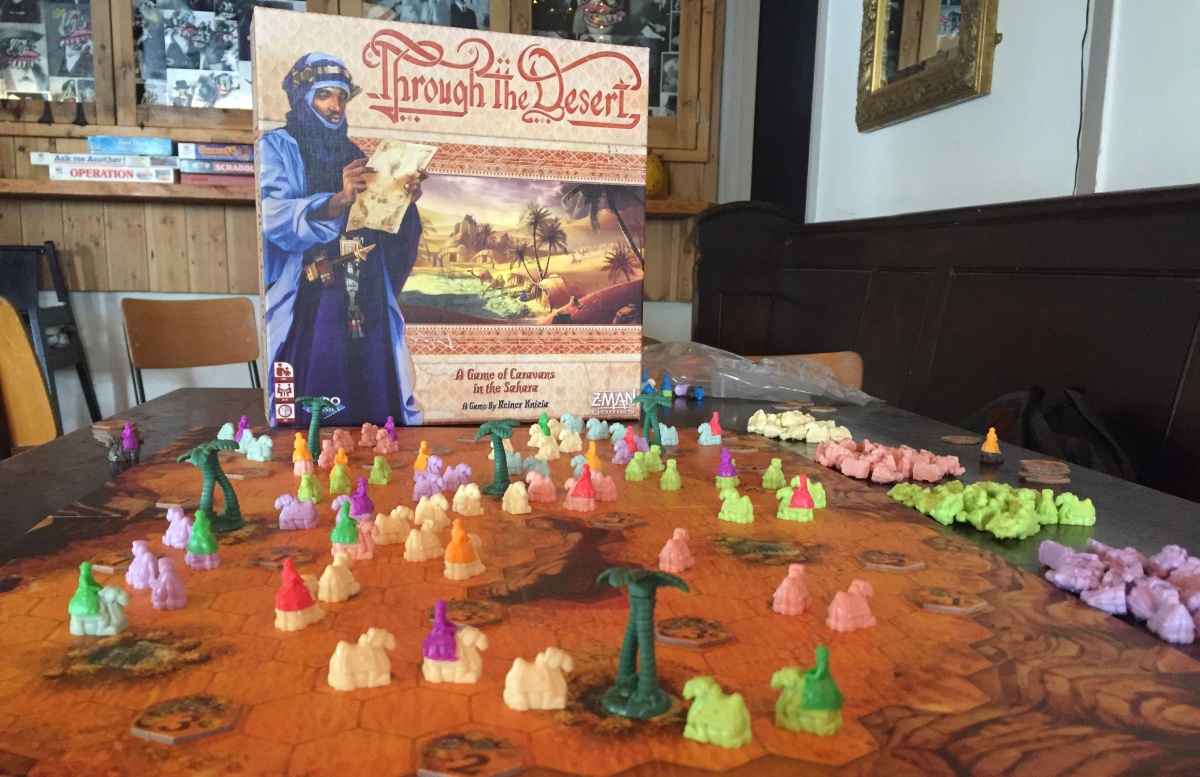 Quinns: When I'm teaching games, I always start with a thematic sales pitch. "We're terrifying wizards out to prove ourselves," I might tease. "We're nasty, competitive park planners." "We're Scottish lairds exploring our very own island!" It's a fun way to get people excited and offer a handle on what's about to happen.
With the recent remake of Reiner Knizia's Through the Desert, that just had to stop. "We're all making caravans of camels," I'd haltingly explain, "But the caravans can't cross, like how you can't cross the streams in Ghostbusters. The camels come in five colours, and when we run out of a camel the game's over. Also, we're not actually going through the desert? We're kind of going around it... Mostly we just want water? They probably should have called it Reiner Knizia's Thirsty Twerps."
twenty times as heavy, a nasty little pulp song, a happy and hairy fellow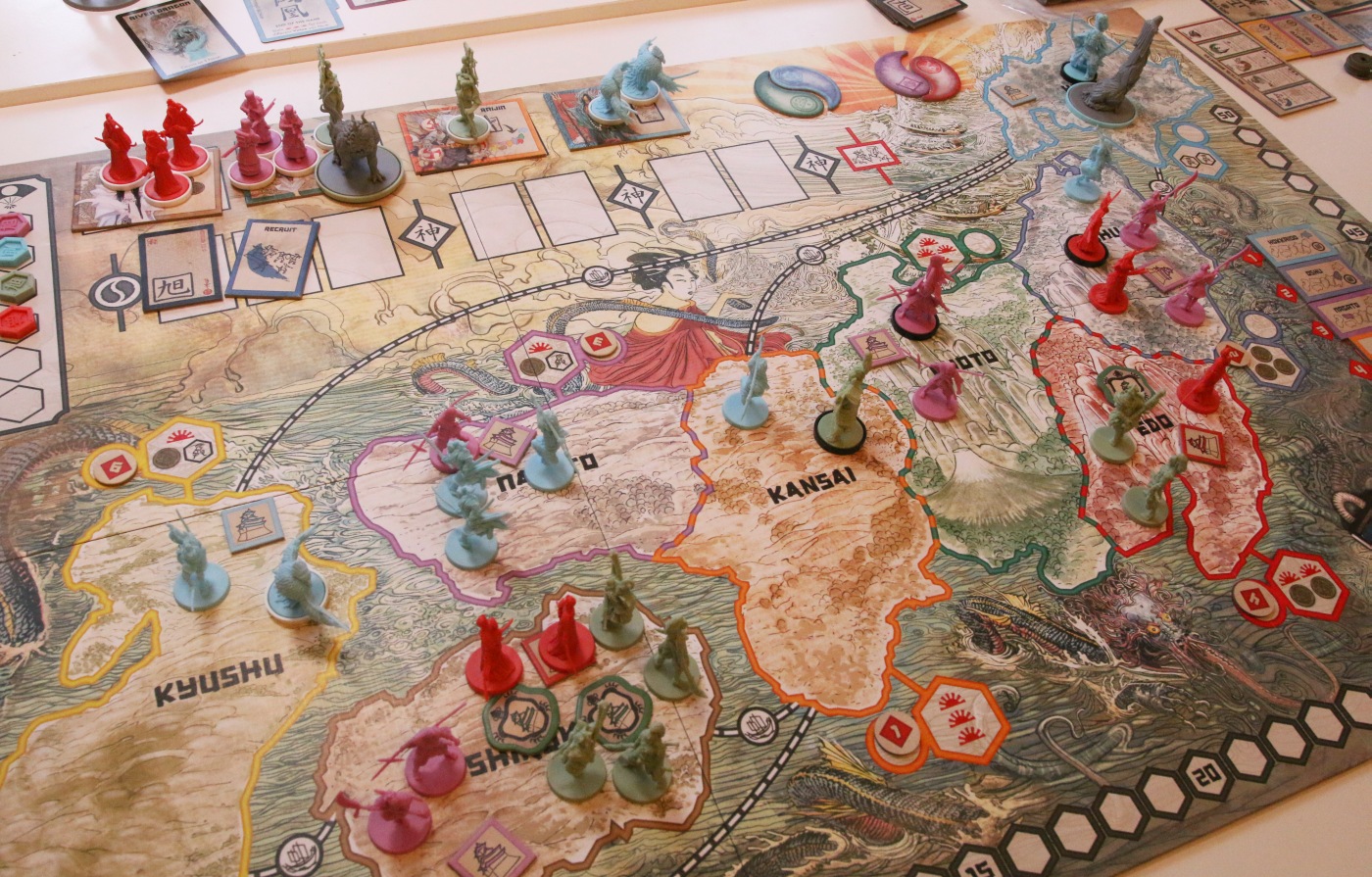 Matt
:
Rising Sun
is a big-box Kickstarter darling filled with frankly massive plastic things, with a hefty retail price of £75 / $80. Set in a god-powered version of feudal Japan, players act as one of six different clans vying for control of those lovely islands. But the plus-size map and plastic armies are slightly misleading: Rising Sun is not what it appears to be.
If you're expecting a traditional game of nudging toy soldiers around a map, Rising Sun might leave players bored, confused, or quietly in a huff. But if you can get your head around what it is, and teach your friends what it is (and isn't), Rising Sun can be really very good.
a sweary han, a forceful box, a noisesome backbone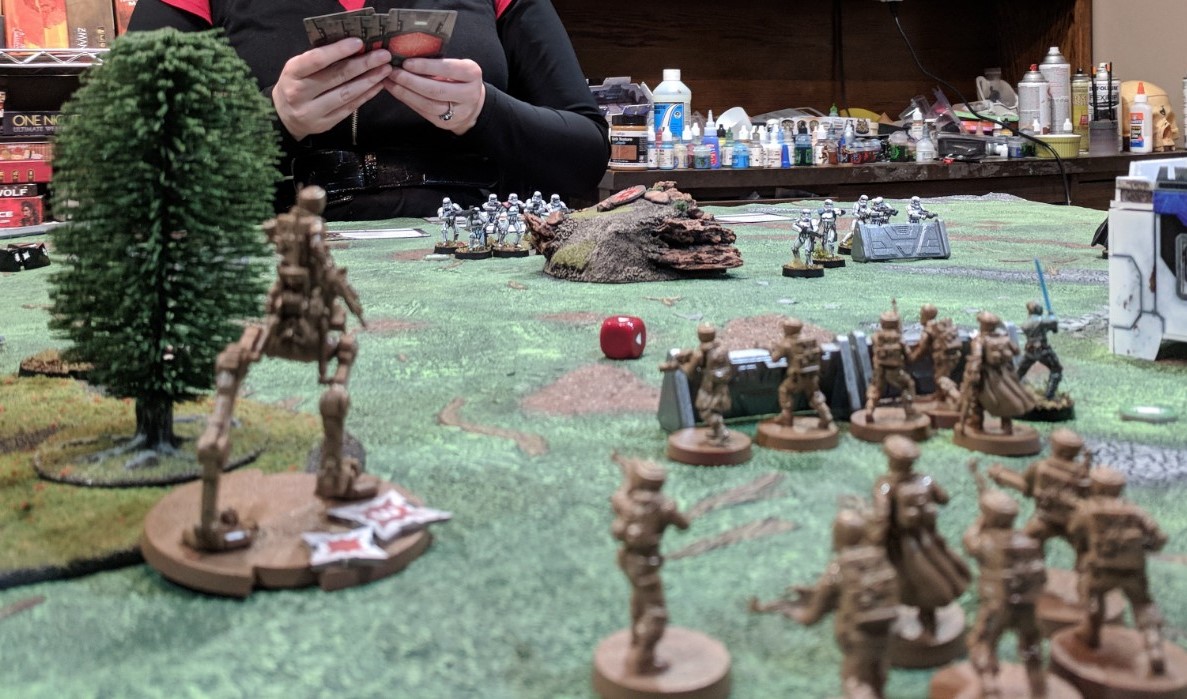 Eric
: Star Wars has always had a strange magic for me, a modern mythological mojo which transcends its contrived plots and sometimes stilted dialog.
I first felt the tingle of that power when I was seven years old. It was an open house at a local technical school. Back in a corner, away from the admittedly-modest crowds, was a little display for a "flat screen" television, cutting edge technology of that long, long time ago. The exhibit had just started, and as I walked up, two droids were surveying the blasted landscape of Tatooine. Perched on a ledge, I sat for the next six hours and watched the entire trilogy, lost in a galaxy far, far away.
That makes Star Wars: Legion, the new miniatures game from Fantasy Flight, hard to review. It tempts me to be too generous – just putting a lightsaber in someone's hand provokes the ghost of a chill. At the same time, it makes me worry I will set the bar too high. To have expectations no collection of cardboard and plastic could ever meet. I say this to acknowledge that I come to this game as the farthest thing from a blank slate. I am a fanboy, with all the enthusiasm and critical nitpicking that entails.
things we want from the second expansion:, bairns, potato cakes, teacakes, limmy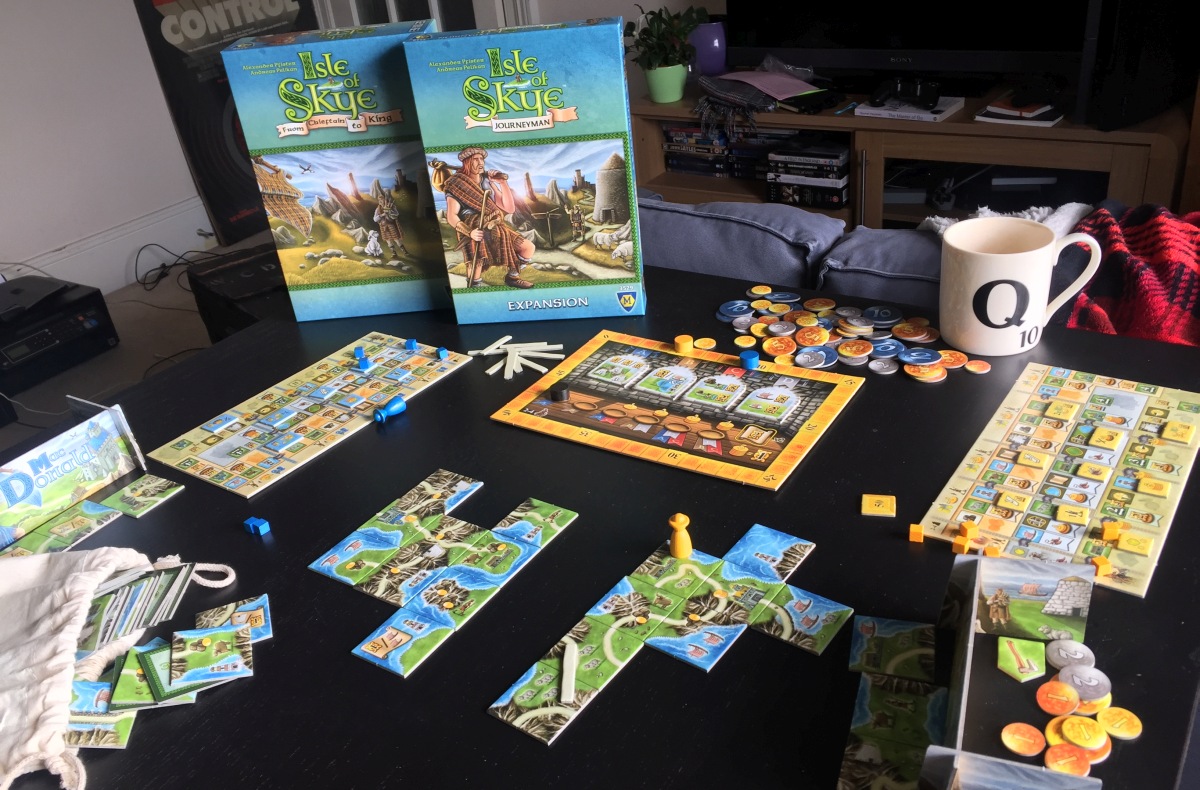 Quinns
: Two years on from
Paul's bucolic Isle of Skye review
(ft. his family cookie recipe), Matt and I have finally taken a stroll through this game's wonky Scottish islands. And you know what? We're both as charmed as Paul was. Isle of Skye is a sweet, rich game of buying and selling squares of land like so much dense shortbread, and I'd recommend it to anybody.
As this site's #1 expansion fan, I'm thrilled to say that today we're looking at Isle of Skye's first expansion! It's Isle of Skye: Journeyman. With it, no longer are you just mapping an island. Journeyman adds a wooden "best mate" who waddles around your island, diligently studying everything from cows to ponds.
But the first thing to say is that this expansion changes the tenor of the experience faster than a fart at a funeral.
reckless and relentless, a mighty interjection, YOU ARE LOOKING AT A SHOWER CURTAIN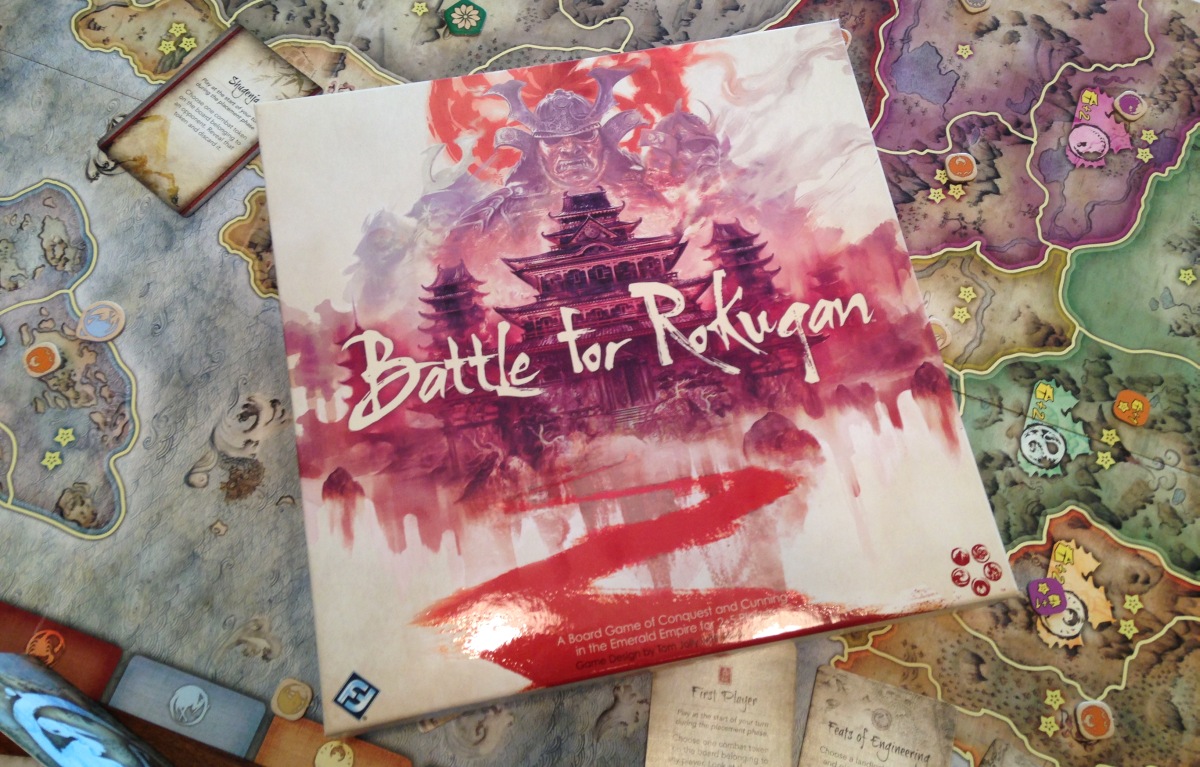 Paul
: I can't remember the last time I angered so many people so quickly. The last time I broke so many promises, stepped on so many toes, turned on so many friends. Maybe I never have before. Maybe a board game has brought out the very worst in me. Maybe my ambition has finally overcome my morality.
Was it worth it? Was all the bloodshed, backstabbing and brutality justified in service to my thirst for cardboard conquest? Would I do it all again? I just might, so take a seat and let me tell you all about Battle for Rokugan.
pretty foxes, handsome woodcutters, and a psychic slapfight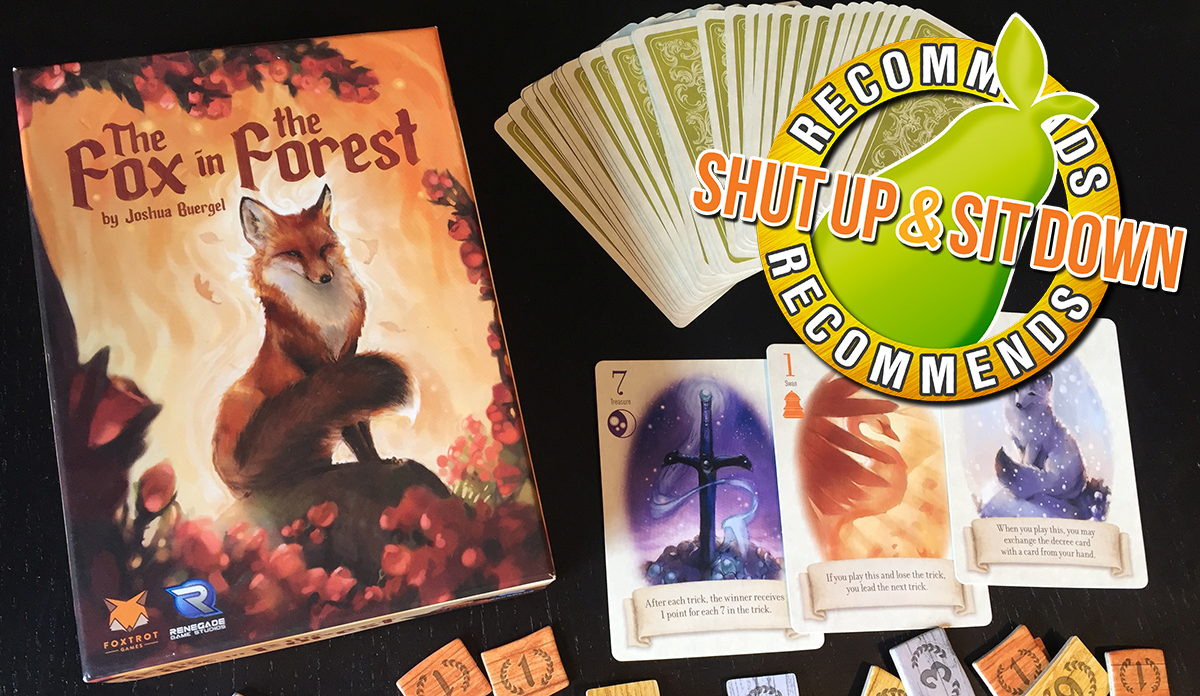 Quinns
:
The Fox in the Forest
is the best small-box card game I've played in two years.
That's a pretty momentous statement, right? Well, now we're going to lose all of that momentum as I plunge this review-car up to its axles in mud, because Fox in the Forest is a trick-taking game.
The board gaming scene has a habit of not explaining what "trick-taking" is, probably because it's a huge pain in the ass to teach. But we're going to do it, here and now, in SU&SD's famous spirit of accessibility. We can through this mud together, reader! You get in the driver's seat, I'll get out and push. Just stick with me! Now, feather the accelerator! The ACCELERATOR! That's what we call the gas pedal in England do it oh god the mud is in my shoes
billy's bad cannoning, some criminal lemons, a pedalo in space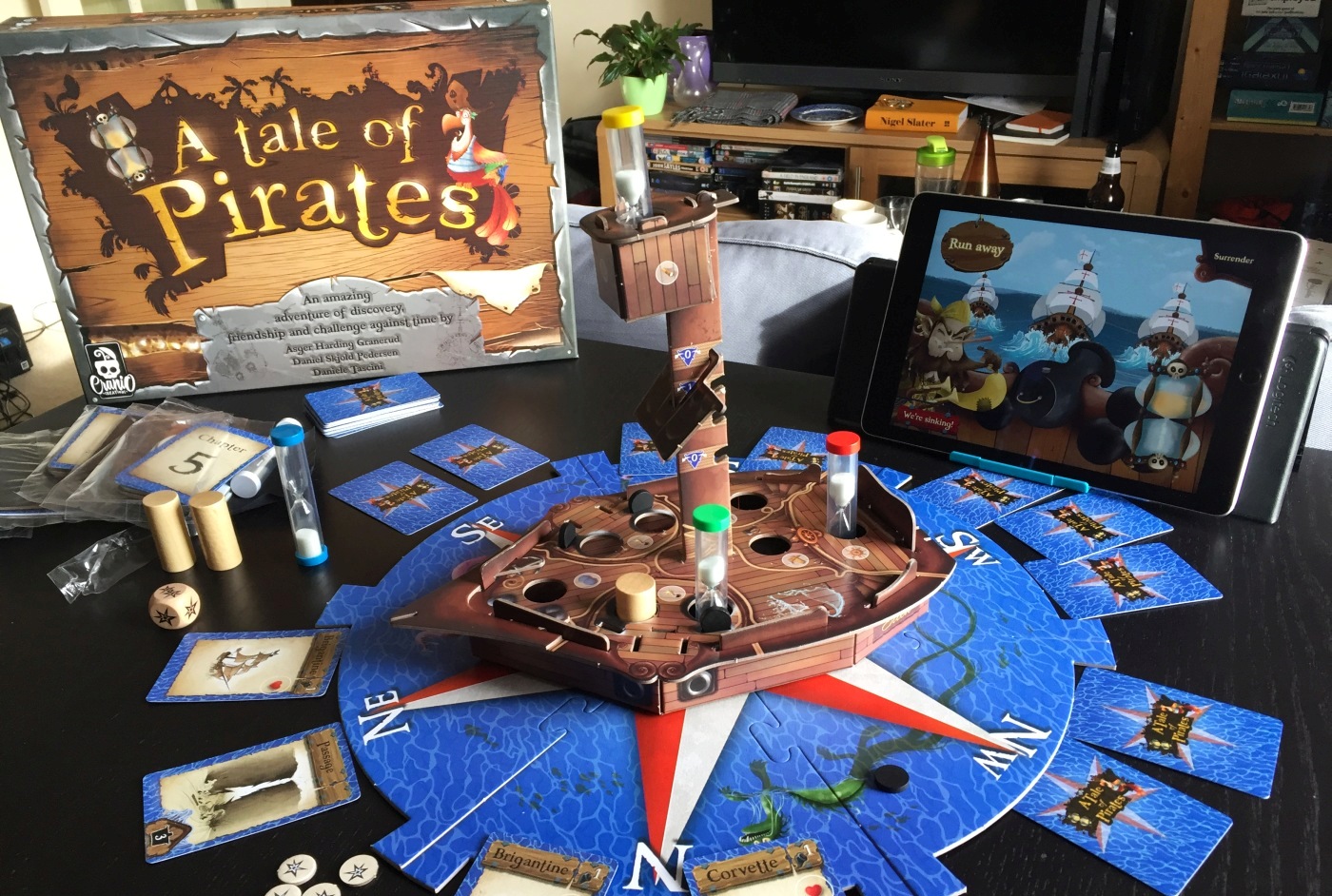 Quinns
: You're looking at
A Tale of Pirates
. More specifically, you're looking at a 3D pirate ship, a load of sand timers and an accompanying app. And before we get to how all of this fits together, let me add that you're looking at a
great
little game.
Last year a lot of people got excited about Kitchen Rush, a real time game where players place sand timers to run a chaotic restaurant together. If Kitchen Rush was any more up our street it'd be banging on our front door, but actually, we found the video game Overcooked to be more entertaining and cheaper.
A Tale of Pirates is similar to Kitchen Rush, but instead of 2-4 players popping their sand timers down to go shopping or cook a bouillabaisse, 2-4 players are placing sand timers to load a cannon or climb the crow's nest of their very own ship. But more importantly, they're working together to unlock the next level in a very playful campaign.