horror-fallow, delicious finland, a lego boondoggle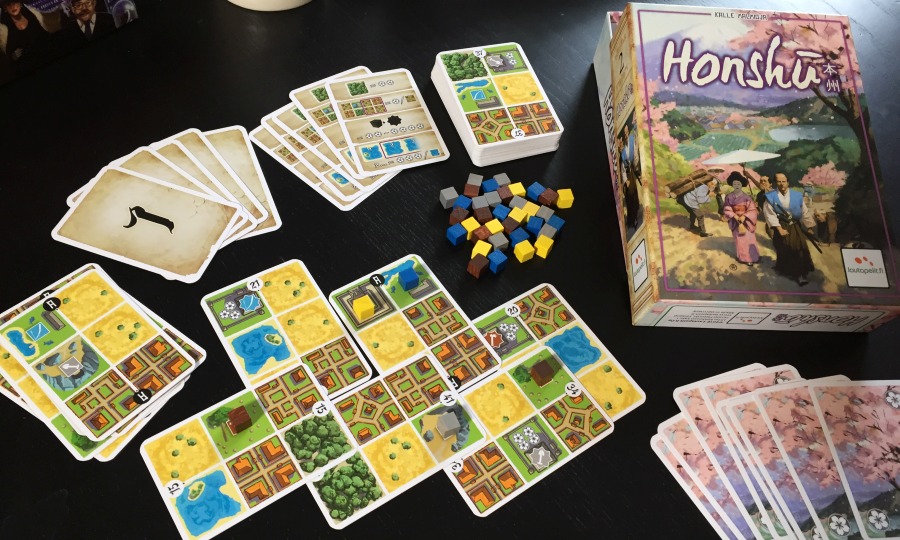 Quinns
: Alright. You see
Honshu
, pictured above? You're looking at one of the most desirable boxes on the planet.
The best thing to come out of Finland since karjalanpiirakat, Honshu made a name for itself during the American convention circuit last year. Contained in its small, peach-tone box are some cards and cubes, and contained within them is a simple card game, and contained within that are Japanese towns of your own design. Players draft cards and tuck them under and over one another in a gentle jigsaw, probing and pondering different arrangements, searching for a high score.
This site's own Paul Dean was convinced after a quick play. So many people were convinced, in fact, that a publisher is finally bringing a shipment of Honshu to America next month.
But should you buy it? Ah, let me help you with that as a European, from the land where copies of this game are considered weeds, and I often have to throw away four or five mouldering copies of Honshu before my breakfast of limppu and kissel.
Honshu is good, but is it "SU&SD Recommends" good? Let's find out.
give me your badge and your gun and that rock you keep in a plastic bag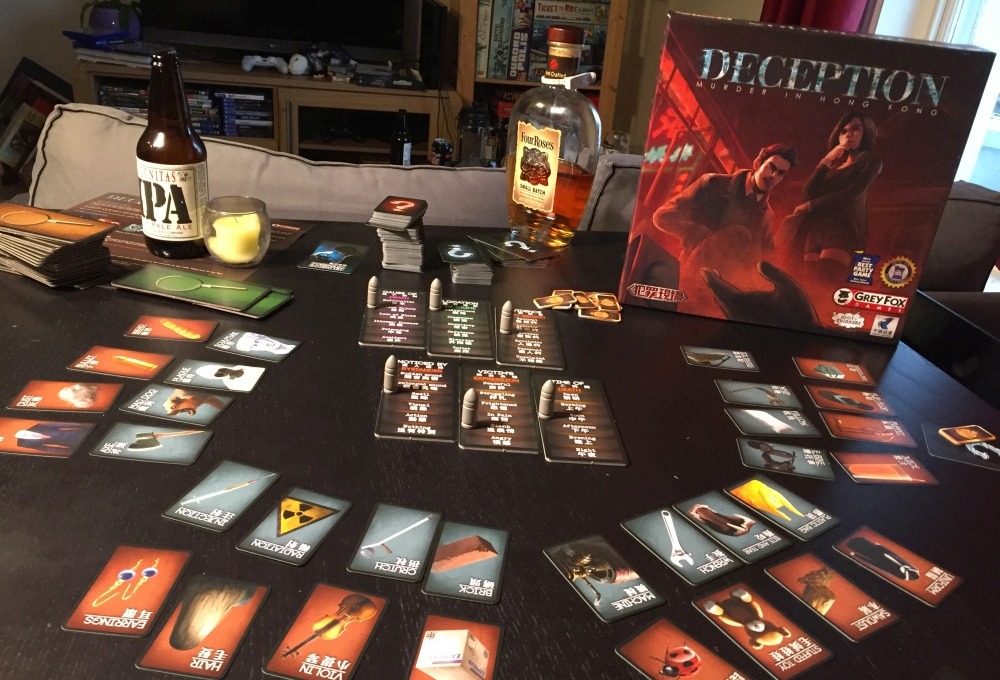 Quinns
: After playing co-operative social deduction game
Deception
, the proof is insurmountable. The 21st century police force is the greatest board game theme of all time, not because it works so well but because
it doesn't work at all.
Back in our eighth ever podcast we talked about Police Precinct, and while we had a terrible time with that game we were endlessly amused because we seemed to be playing the cast of Reno 911 on the set of The Purge. Then last year I finally got to try Good Cop Bad Cop, where in one memorable turn I confiscated my colleague's coffee as evidence, downed it in one gulp, then shot them.
But with a name like "Deception: Murder in Hong Kong" and brooding, maroon box that includes a handful of plastic bullets, you might assume that this, at last, is a serious game about law enforcement.
You couldn't be more wrong. I'm thrilled to say that Deception is every bit as silly as those others, and it's also the best game of the three. Come for a ridealong with me! You're statistically unlikely to be shot.
Tyrants of the Underpants, That's Drow for Now, shoving a dragon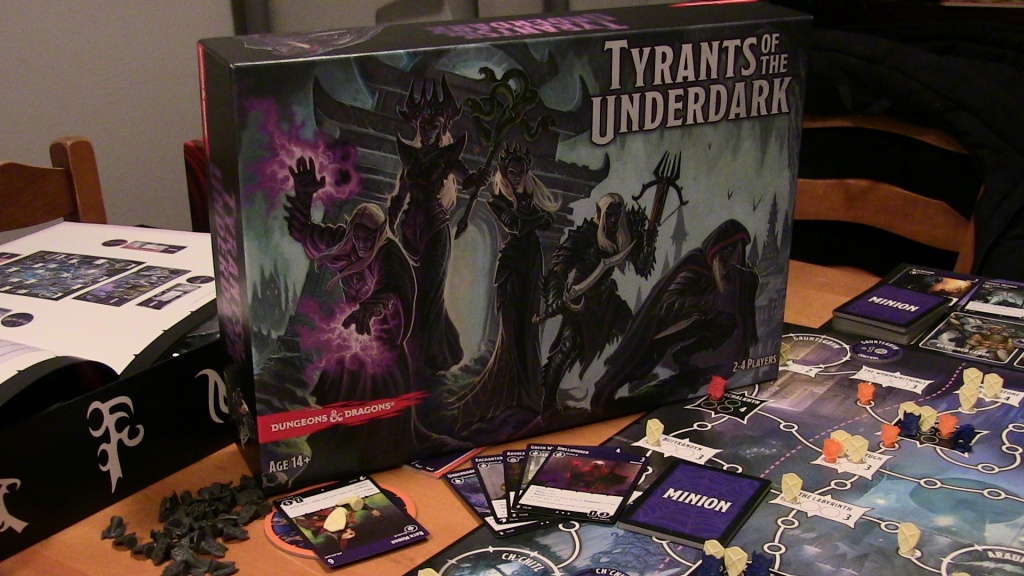 Paul: I have a confession to make. I have a profound prejudice toward purple and it very much affected my first impression of Tyrants of the Underdark. When my review copy arrived, I was a man with plenty to do. I opened the box that evening, saw the almost monochrome palette of so much grey, black and violet, flipped through the manual and then put this in a cupboard.
Sure, it's game set in the murky bowels of the Forgotten Realms, Dungeons & Dragons' most famous setting, but did it really need to be so drab? I was squinting at the card art, groaning at the board and then, suddenly, some long-sealed vault in my mind was opened and a memory of the most monstrous mediocrity suddenly burst forth: Defenders of the Realm. Oh God. This is why I don't play D&D board games. They lack all the spirit that the RPG inspires. "Tyrants of the Underpants," I thought.
I was so wrong about Tyrants of the Underdark.
these things are true: the world is dark, and we are alive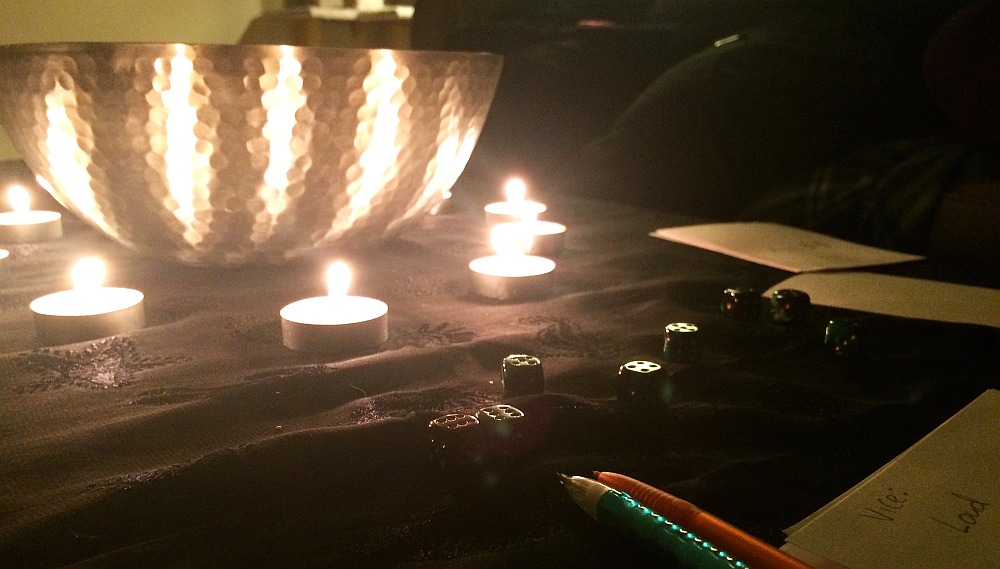 [Introducing RPG columnist Cynthia Hornbeck! As a former Utahn, temporary Minnesotan, PhD dropout and current public school teacher she is radically overqualified for a job with SU&SD. Please, nobody tell her.]
Cynthia: Hello, dear readers! I'd like to invite you all to accompany me to the end of the world, and to your death. Don't worry! I assure you that you're perfectly capable and prepared for the end – as it manifests in the phenomenal indie storytelling game Ten Candles, that is.
Ten Candles is a flexible, firelit game of "tragic horror" designed by Stephen Dewey and published by Cavalry Games. And I'm so totally in love with it. It's many scenarios take place in a variety of apocalypses where thick darkness blankets the earth and an evil force known as "Them" threatens humanity. Oh I know, there are plenty of post-apocalyptic games out there, and I imagine you're all raising your hands to ask what's so special about this one. Well, let me show you. Because what's special about Ten Candles is pretty much everything.
sport, sports, blood sports, mind sports, spoooooorts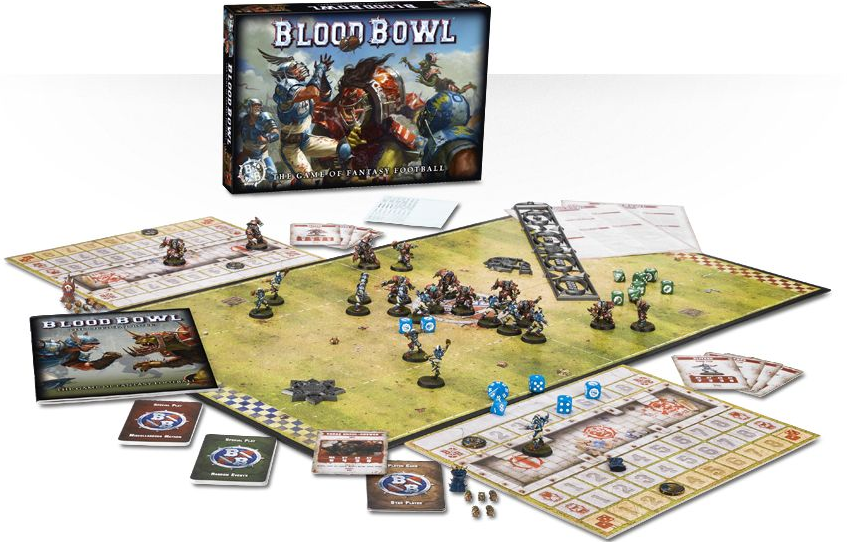 Eric Tonjes, our esteemed miniatures game correspondent, has returned and the CROWDS HAVE GONE WILD! Vendors are sobbing into their hot dogs! Babies are being tossed in the air by baby-tossing machines! Everybody, let the man speak...
Eric: Ladies and gentlemen, boys and girls, we're here to talk about sports! Sports are perhaps the ur-games. Probably organizing alongside early militaries as tools for training and proving of skill, they have grown to eclipse armed conflict for many, serving as a sort of proxy for violent aggression. But what happens when sport seems unnecessarily violent, and we need a proxy for that?
Today we're looking at two possible solutions. Blood Bowl is the grandparent of sports miniatures games. It's a rollicking high fantasy version of North American football in which you can violently maim opposing players. Guild Ball, meanwhile, is a newcomer to the scene which has quickly gained a following. It is a gritty low fantasy version of soccer (or "actual football") in which you can violently maim opposing players. While there are nuances to the themes, both games are clearly competing for similar space. So, in true sports fashion, let's put them in a ring and see which one scores the most points. Or violently maims the other player.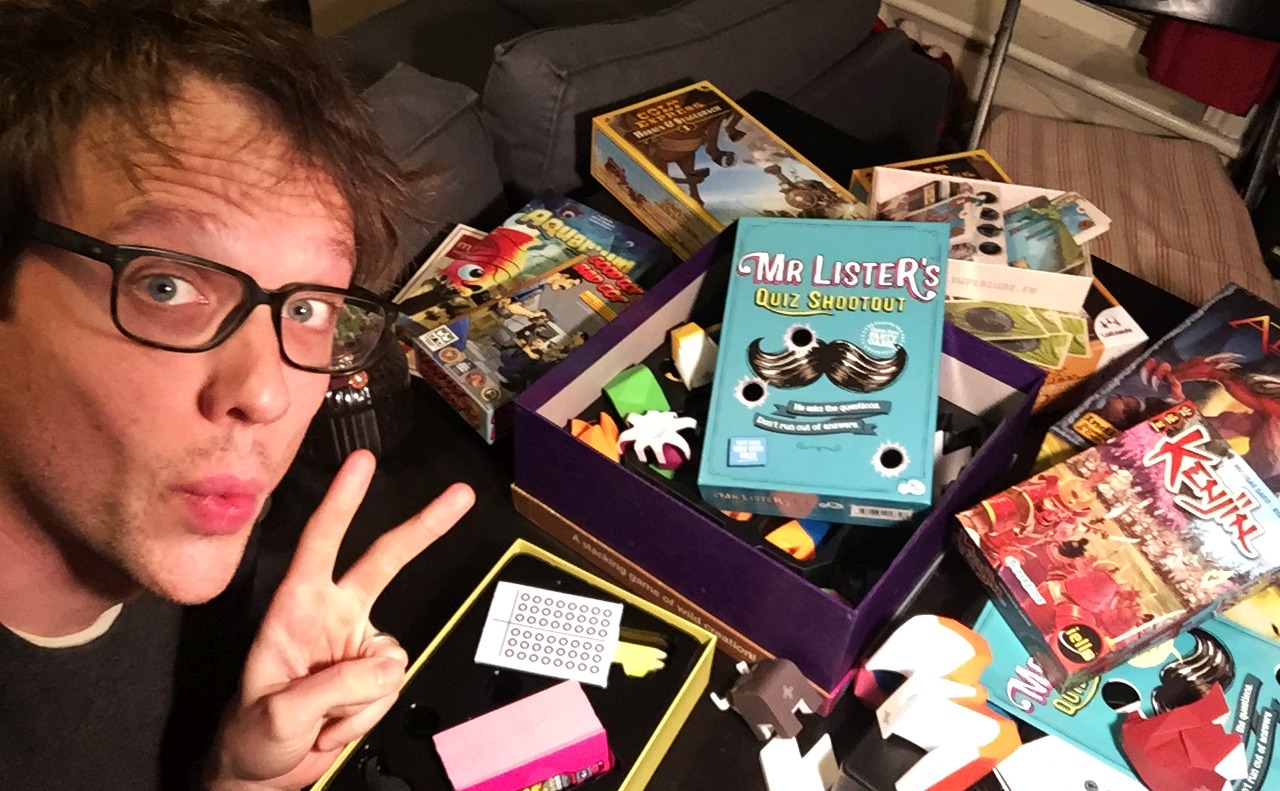 Quinns
: Ladies and gentlemen! Take a seat. Get comfy. Buy some ice-cream from the attendant I had sent to your place of work (yes, YOUR place of work, so keep an eye out for her). It's time for Quinns' Corner Awards '16.
In other words we're one year on from 2015's Corner Awards and I still haven't figured out a better solution for review copies than letting them pile up in the corner of my flat. I bet Tom Vasel doesn't have this problem. Not to worry! Once again I'm dispensing awards to all those games that didn't suit a full review, but were too weird to eject from the corner.
I've heard the rumours. "Quinns is getting too old to review seven games in one article! They already use CG for any scenes where he has to bend his knees."
To which I say: Ha! Watch and learn, kids.
misleading parties, friendly predators, marmalade skies, home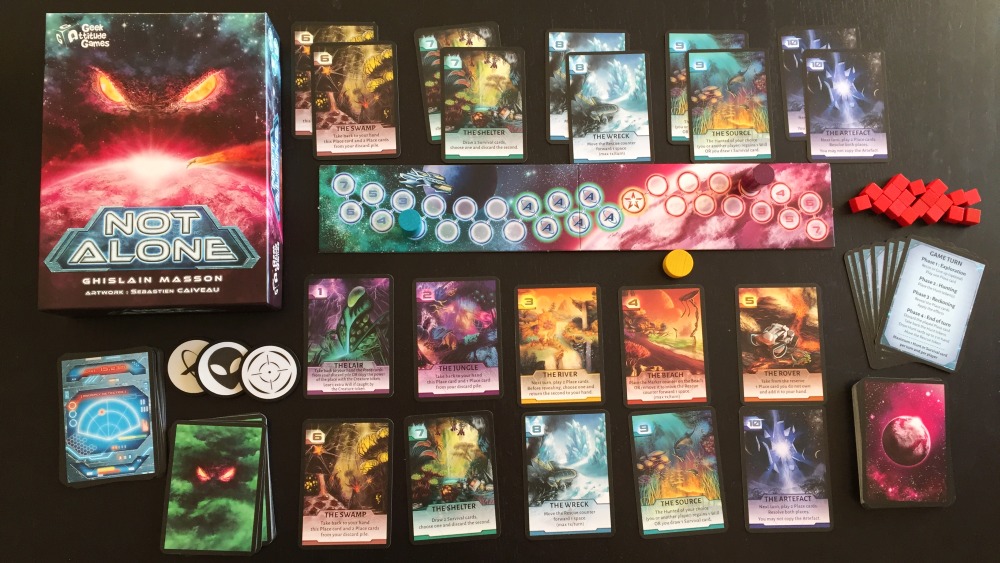 Quinns: You and I need to talk about Not Alone. There are more exciting card games out there, and funnier ones, and ones that are sharp as a tack, but Not Alone is the most deliciously playable little game we've encountered since Crossing. This box might as well be full of popcorn.
Between 1 and 6 players are the survivors of a crash-landing on a wild alien world. This team (possibly made up of just one nervy player) is opposed by one final player controlling the beast that lives there. A long, thin board measures the progress of each team: The humans win if they can survive until help arrives, the beast wins if it can wear down the humans and absorb them into the ecosystem like beer into a shag carpet.
Each turn, each human player plays a card face-down showing where they're going, and the beast has to second-guess their movements and slap fat poker chips onto those locations, invalidating your turn or worse. If the beast itself catches you then it devours a precious "Will" cube.
Do I have your interest? Of course I do. You're a weak-willed human, and this game is a seductive new land. Let's go exploring.
poison ribena, delicious "wine drink", two-bit grape grabbers, dismay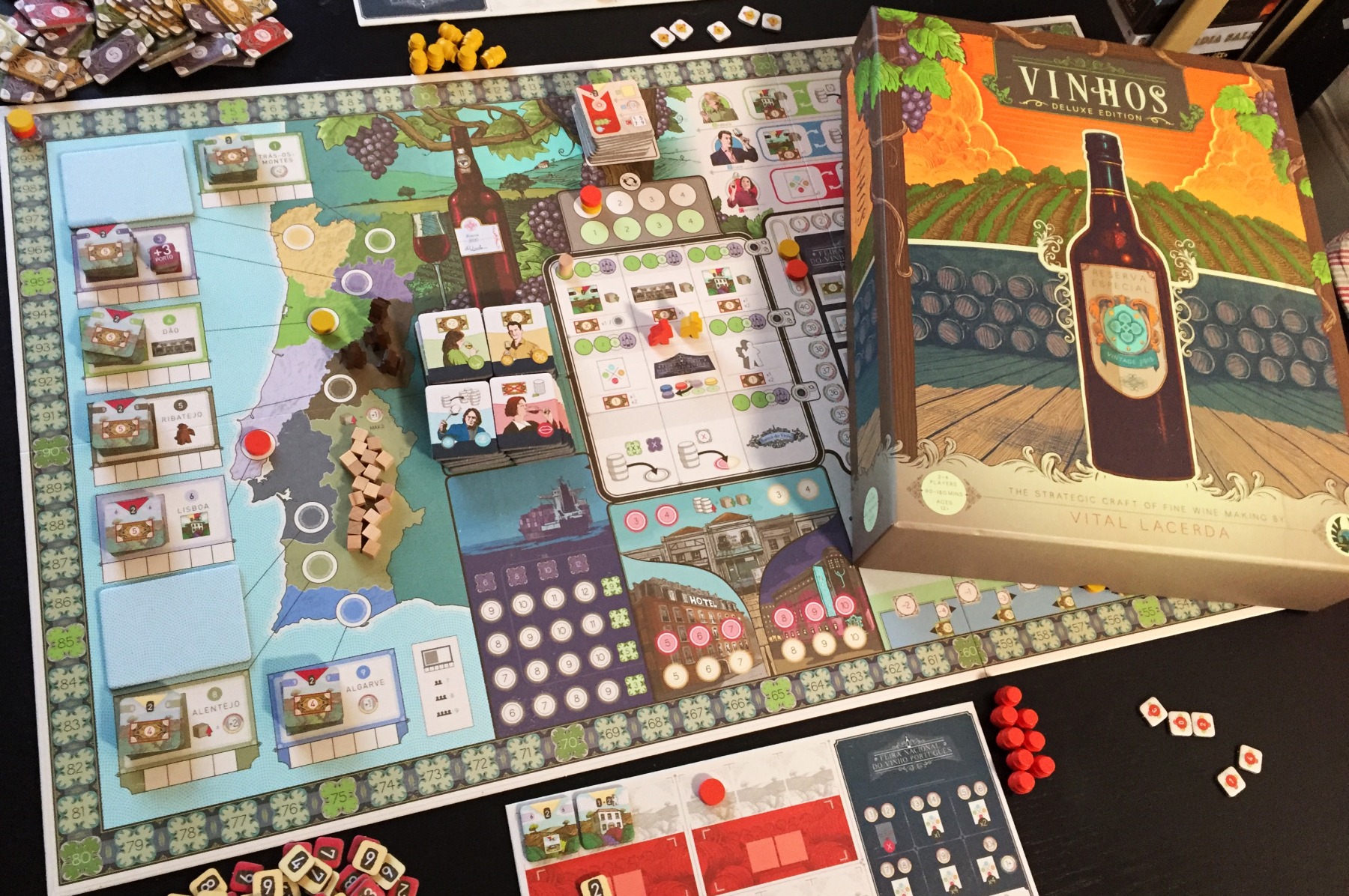 Quinns: Alright ladies and gents. Today we're tackling a box of unparallelled size and charisma. The publishers tell me that there are less than 3500 copies of Vinhos Deluxe Edition (the Kickstarted re-imaging of 2010 wine-making classic Vinhos) left, and I want to make sure that you guys have the chance to buy one.
It takes a lot to excite me these days, but Vinhos Deluxe Edition managed it. Contained in this box is nothing less than a torrent of beautifully-illustrated tokens, a board that's positively threatening in scale, and a fat, clean manual written with wit. It even has nice fonts! In a board game!
But it takes very little to make me nervous, and Vinhos Deluxe did that too. The rules that make sense, like buying vineyards or aging wines, contrast fiercely with the more arcane regions of the board, where players claim score multipliers or manoeuvre their action-selectors.
Any inference you want to draw from the header image of this article is correct. This game's a beast to play, it's tougher to teach, and it's even harder to review.
Obviously, I couldn't be more excited.
more rules, more friends, more guns, more cash, less fun?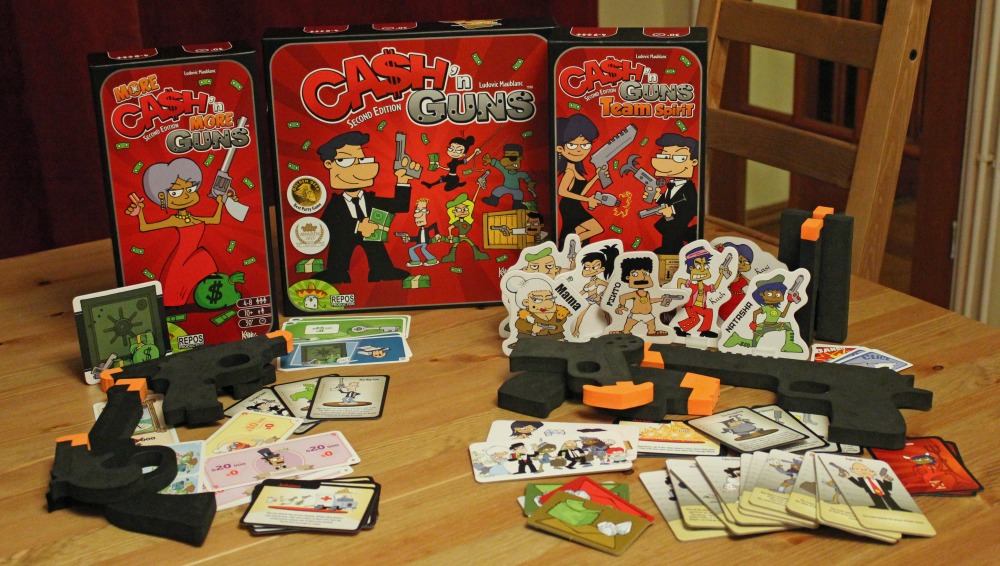 Pip
: In order to assess the two
Cash 'n Guns
expansions I've spent a couple of evenings luring friends to my house with the promise of nachos, homemade chilli and foam guns. One time there was even banana bread. That was the tastiest heist. ANYWAY! I am now in a position to tell you all of my opinions on
More Cash 'n More Guns
, and
Cash 'n Guns: Team Spirit
. Also I have a terrifying foam arsenal which makes me look like I've joined the foamy NRA.
And so! Here's a brief explanation of the base game in case you're unfamiliar: Cash 'n Guns is a party game about dividing the loot from a heist. You all play one of the ne'er-do-wells involved in the heist, each armed with a foam weapon, and you're trying to end up with the most loot. Every round loot cards are dealt onto the table, the players pick a live or fake bullet which they play face down, and then point their foam gun at another player. They then have the choice to duck out of the round, avoiding injury but missing out on loot or staying in and risking injury but also potentially being part of the loot-sharing. There's also a godfather role which can move around between players and does things like giving that player the ability to tell someone to shoot at someone else.
You can imagine that the foam guns help with the role-play and people get really into the theatricality, pretending they're in Reservoir Dogs or attempting accents. (I don't do accents because I know my limits. Cockney ends up somewhere in the West Country, Welsh is somewhere between Indian and Northern Irish, and Russian is some kind of pan-European road trip as the sentence goes along.)
millicent again, a pint-sized tardis, a quizzical diving board, righteous royalty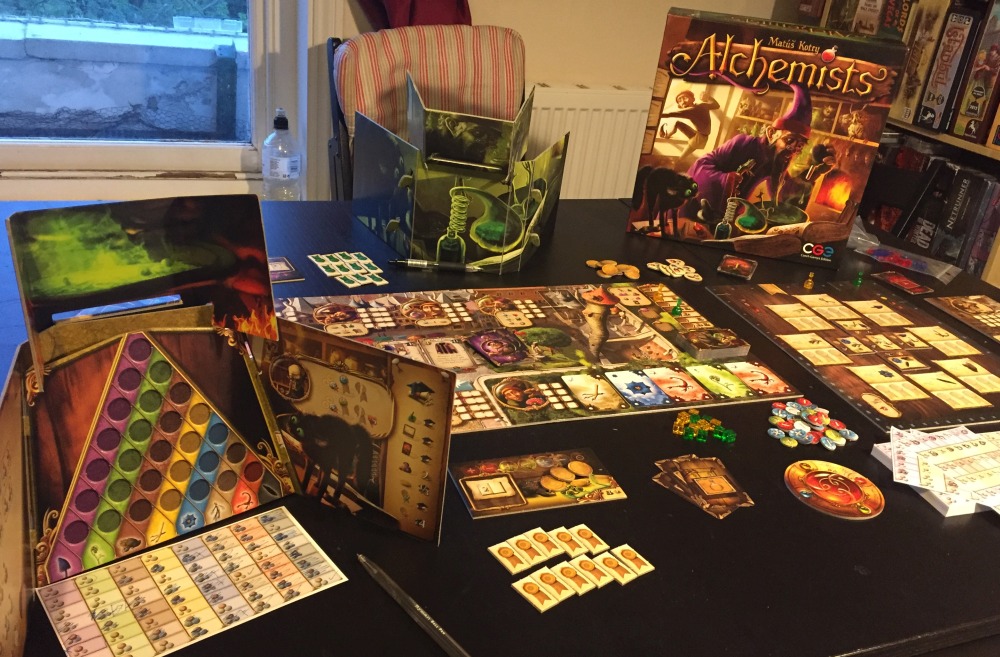 Quinns
: Paul, I did a crime.
Paul: Quinns, it's okay. You can confess and be absolved. Our world is one that still has room for forgiveness. Come and tell-
Quinns: I might have accidentally fed one of my students a pint of poison.
Paul: Ah. It's all right. You're not the first person-
Quinns: Also I misled an adventurer and sold them a flask of soup instead of a healing potion, then I published an academic theory that I knew was a lie.
Paul: Right yes well. The thing is-
Quinns: But worst of all, I forgot how funny Czech Games' board games can be.
Paul: Quinns, I am so excited to write this review that I have got cracker crumbs all over my keyboard. Let's go.