the clambering proletariat, doomed societies, the duality of heroism, monkeys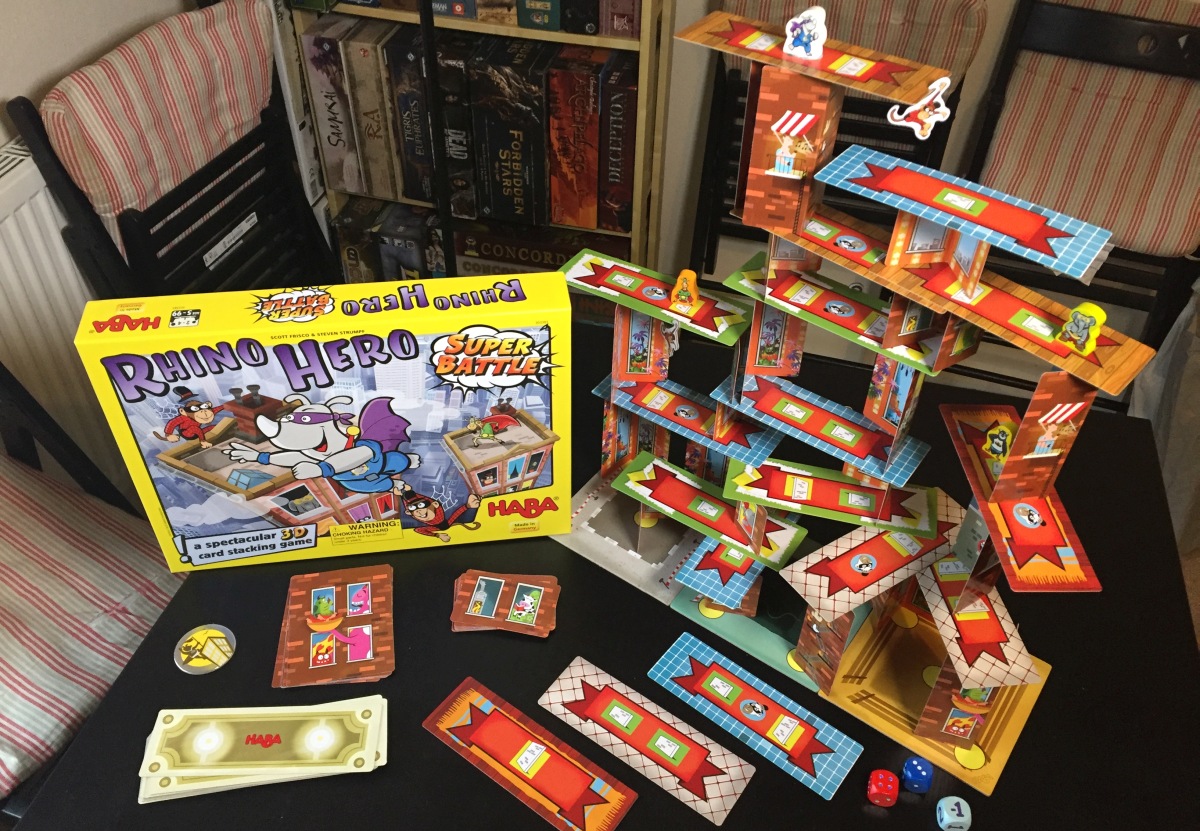 Quinns
: Leigh, thank you very much for agreeing to appear on Shut Up & Sit Down. I hope you won't be expecting any special treatment as my wife.
Leigh: Not at all! It's a pleasure to be invited to this forerunning venue for material game criticism.
Quinns: Do you think you're up for the task?
Leigh: I certainly hope so!
Quinns: Glad to hear it. Today the text we're looking at is Rhino Hero Super Battle, the outsize sequel to 2011 sleeper hit Rhino Hero. From the box - and I quote - "This time not only does the wobbly skyscraper need to be built & climbed, but there will also be fierce battles between the four superheroes Rhino Hero, Giraffe Boy, Big E. and Batguin."
In more ways than one, Leigh, the world of Rhino Hero just got bigger.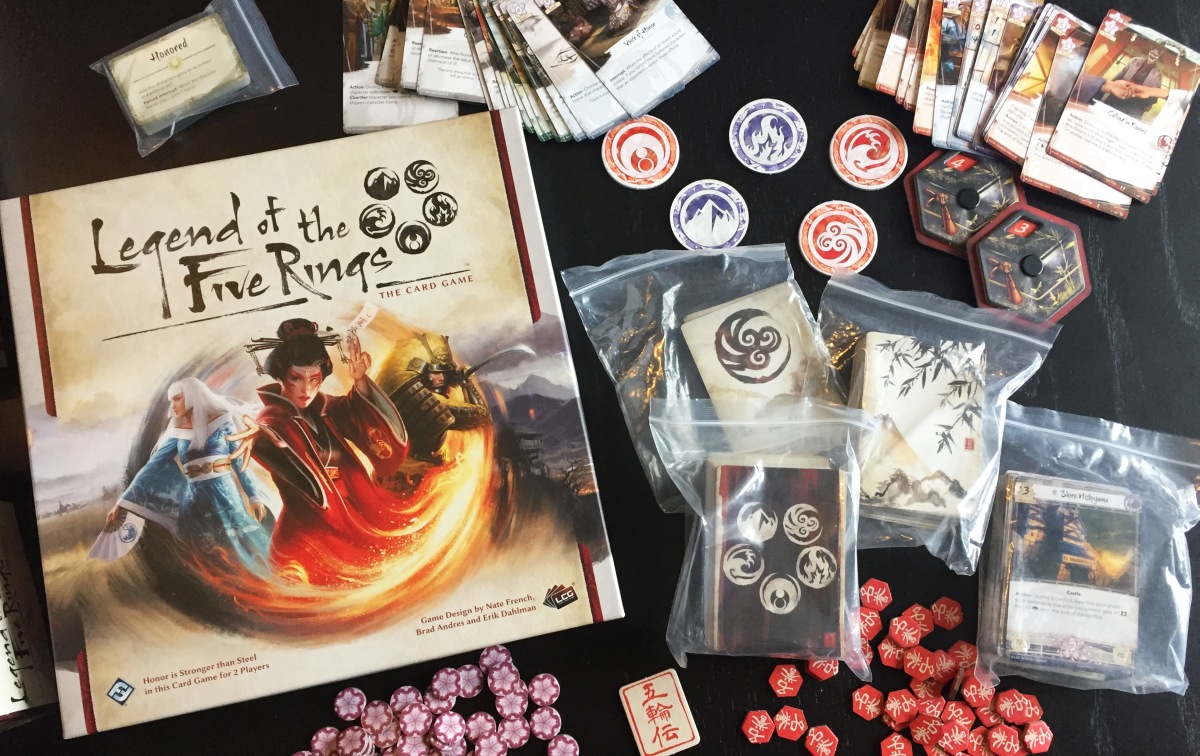 Quinns
: Phew! I birthed two of the year's
toughest
reviews
last week, but there's no rest for the wicked. Today we've got some coverage that a lot of people have been asking for.
Remember when Fantasy Flight Games bought the rights to 1996 collectible card game Netrunner and released a new edition that took over my life? Well, Legend of the Five Rings (henceforth "L5R") is them doing that again. This was originally a 1995 card game, but any week now shops will receive FFG's beautimus new edition using the Living Card Game business model of releasing fixed expansions rather than randomised boosters. This makes it cheap compared to most collectable card games, albeit still expensive compared to board games.
In other words, we could have a hit on our hands. Have Fantasy Flight folded the original game's steel into a captivating card katana?
Let's find out.
a georgian george clooney, a ghost whisperer, word-confetti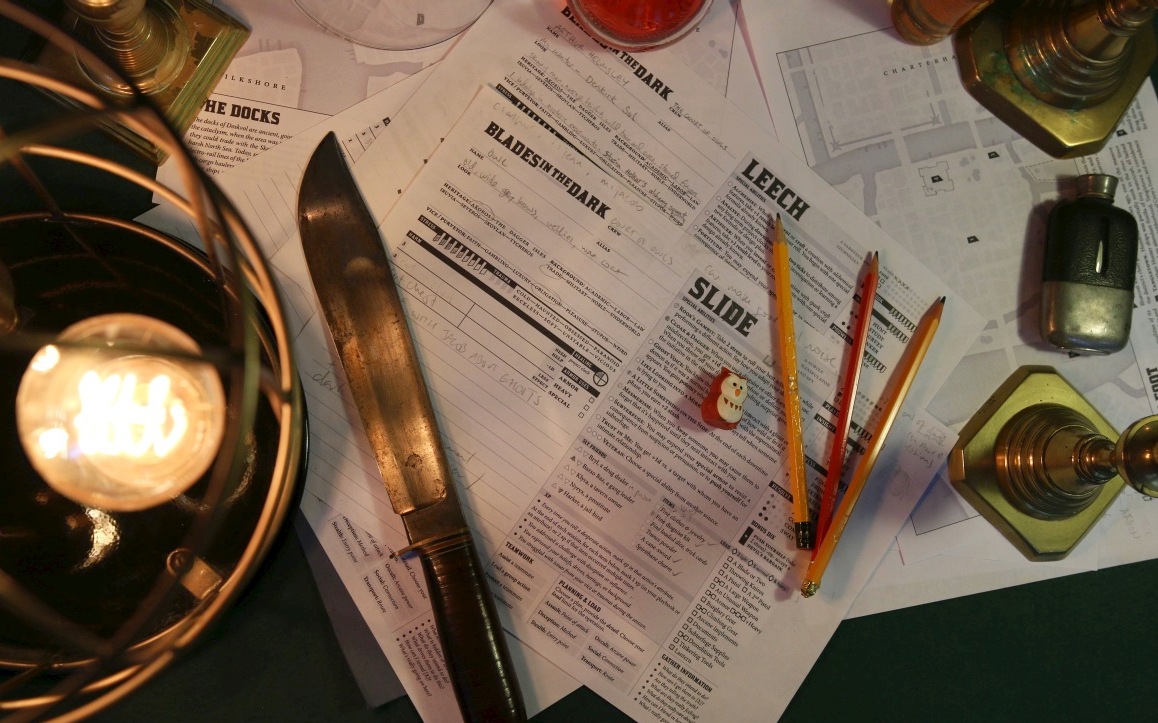 Quinns
: Remember last month when we reviewed 
Tales from the Loop
, the charming sci-fi RPG of bicycles, bottle rockets and 1980s theme songs? Today we're going to look at the other new role-playing game that's been turning heads among my friends, and we're going as villainous as Tales from the Loop was innocent.
Blades in the Dark is a game by John Harper, who you might remember from Cynthia's review of superb free RPG Lady Blackbird. But while that game was an improbable 15 pages, Blades is 336 pages. By comparison, it's his opus.
Which is very good news if (like me) you're a fan of Scott Lynch's Locke Lamora books or the heist genre in general, because Blades is a game of playing regency-era criminals. Oh, yes. This is a scoundrel simulator, and whether you want to play a crew of classy vice dealers, some down-and-dirty brawlers, or even a worrisome cult is simply the first of one million entertaining decisions that you'll be making.
Blades in the Dark also offers a vast, seductive backdrop to your escapades: The haunted city of Doskvol, which will be familiar to anyone who's escaped into the gloompunk of videogames like Thief, Dishonored, Sunless Sea or Fallen London.
This is going to be a long review, and not just because this is a huge book. You see, not only is Blades the most fun that my friends and I have ever had playing an RPG, it's also like nothing I've ever played.
a surprise pterodactyl, vomiting into a trumpet, cereal box fiction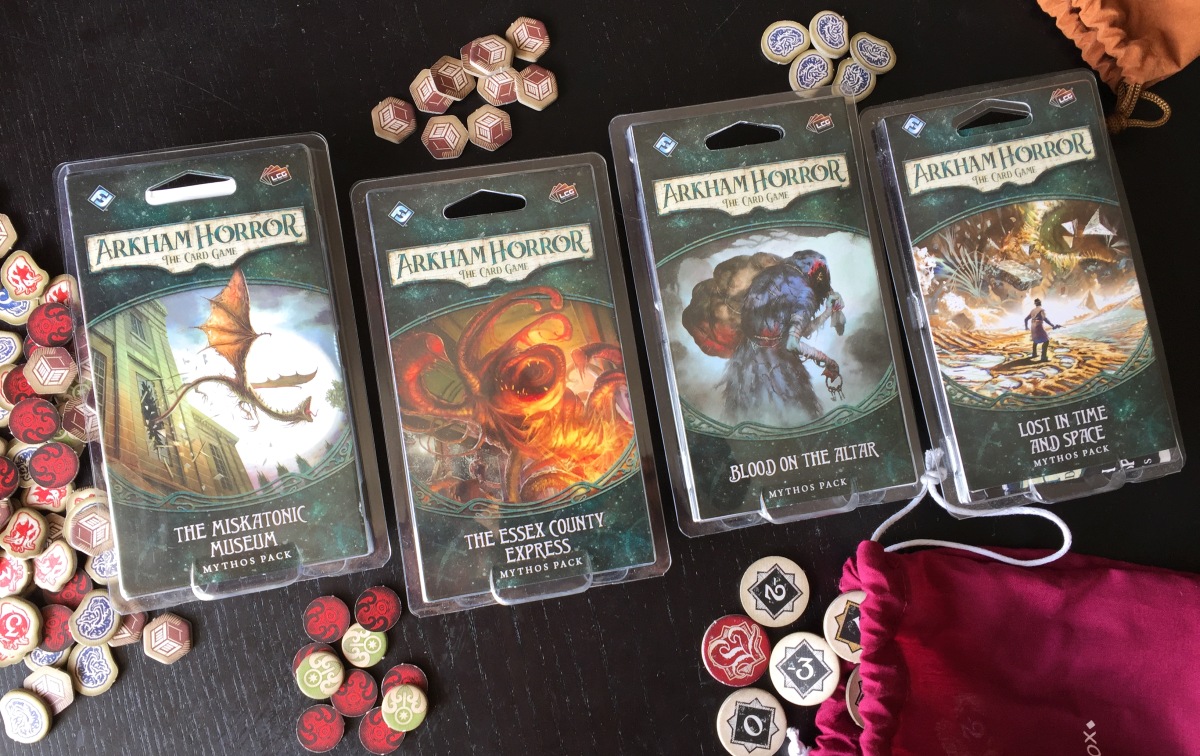 Quinns
: So, we're seven months on from when Matt and I first peeled the delicate outer membrane from the otherworldly Arkham Horror: The Card Game (otherwise known as 'shrink-wrap').
We were stunned at how much fun we had
. After years of rolling our eyes at Fantasy Flight's Lovecraft products, we found that inside this small, unassuming box was an absolutely electric experience. I was as surprised as anyone when I announced that it was
my favourite game of 2016
.
Now, you'll remember that while you can go back and play this game's scenarios on "Hard" and "Expert" modes, most of the appeal is in the first playthrough, making each new expansion pack feel like a long-awaited episode of a favourite TV show. You call your friends over, microwave some popcorn, put the popcorn in the bin so nobody can get grease on the cards and sit down to see what happens to your characters (and their decks!) next.
Which begs a question. Now that the first full campaign has been published (seven expansions that make up The Dunwich Legacy), how's this TV show doing?
And I think most players would answer you the same way. A small laugh, a faraway look, and then they'd say "Oh, man. It's good. And... weird."
Salted Sharon, Peppered Peter, a coyote on coke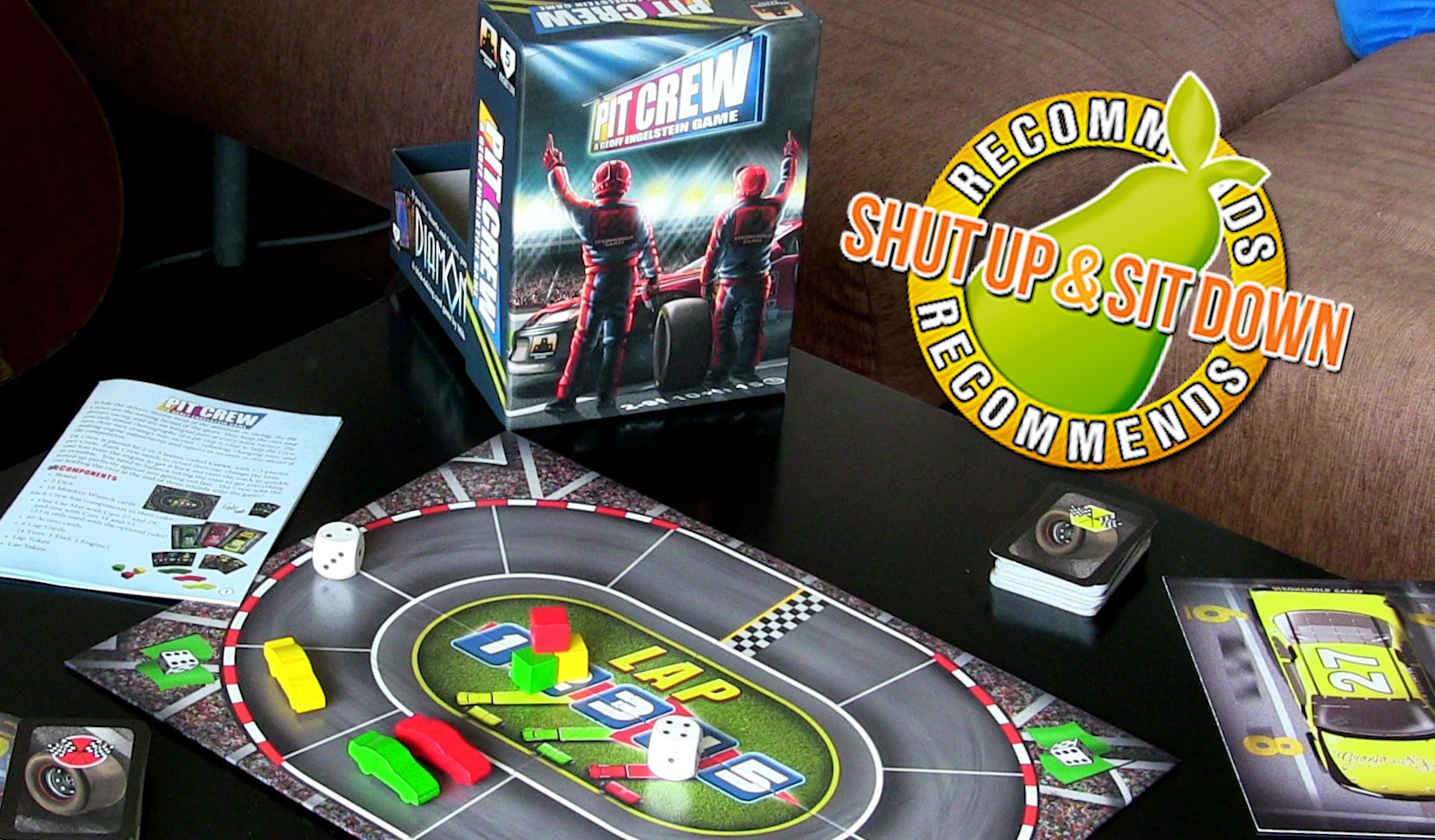 Paul
: Sometimes you gotta go fast.
And in a world where that speed comes from pounding alloy pistons, feels like warm, rubber-scarred asphalt, stinks of fetid fumes and fury, the Pit Crew are the kingmakers. They, and thus you, decide the monarchs of motorsport, with deft hands of restoration and renewal.
Collectively you wrench home a new wheel, working as well together as the finely-tuned machine you maintain. Nobody is screaming for petrol, nobody has broken the engine, nobody has just dropped a card. It's fine. It's okay. You're the pit crew.
a gutted game, an over-large uniform, nicotine discs, a rat in a trap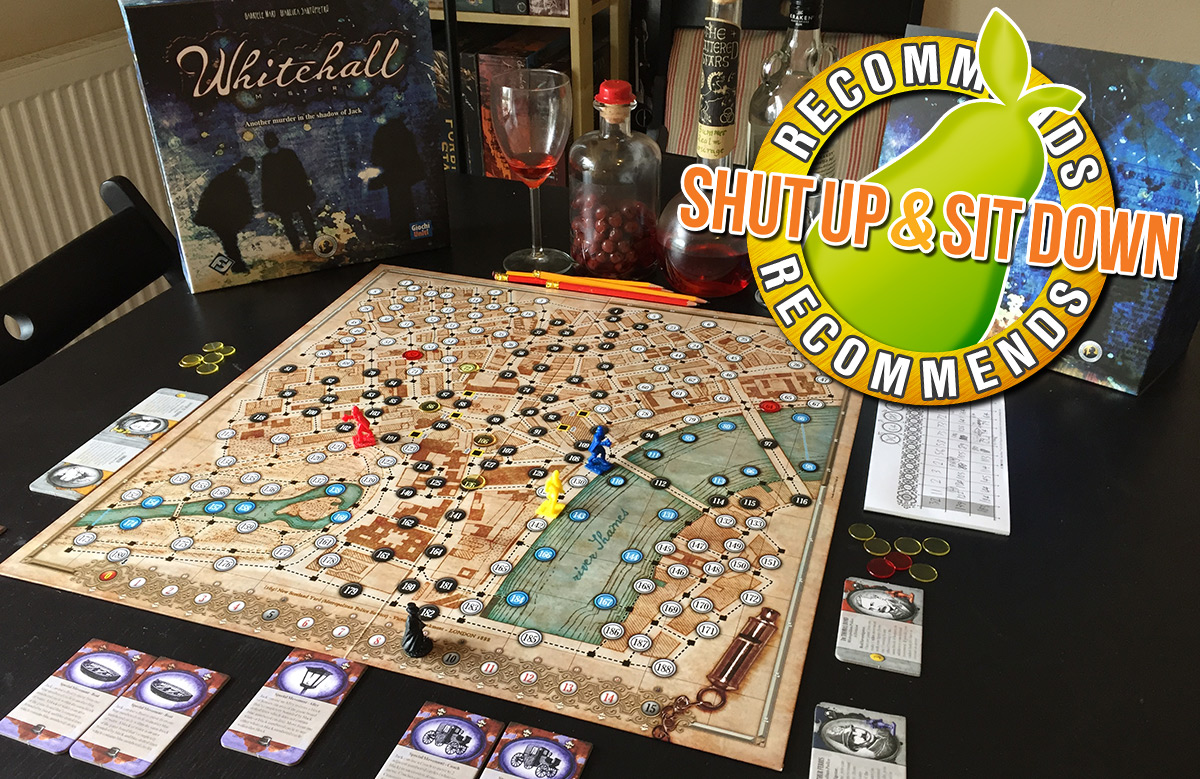 Quinns
: Career Shut Up & Sit Down fans might remember our
2013 Halloween Special
, where we reviewed a game called
Letters from Whitechapel
. This was a beautiful, heinously tense game where one player controls Jack the Ripper, facing off against a team of police players who hunt him through the streets of London like a wild animal. It would be in ill taste to say that we were charmed by that box, but Paul and I would both have to admit to being seduced. What a puzzle. What a board! What fabulous 
pressure.
Fast-forward to 2017, and it was only a couple of months ago that I was arching my eyebrow at the announcement of a spin-off titled Whitehall Mystery. I read the preview articles and couldn't for the life of me figure out what I was supposed to be excited about.
This week review copies of Whitehall Mystery stepped out from the foggy alleyways of publisher Fantasy Flight, and I gave it a play. And you know what? There's now egg on my (blood-flecked, murderer's) face.
I think this is the best hidden movement game ever made.
heart-burst, thriller-made, pool-hides, english-feels, pastoral-slice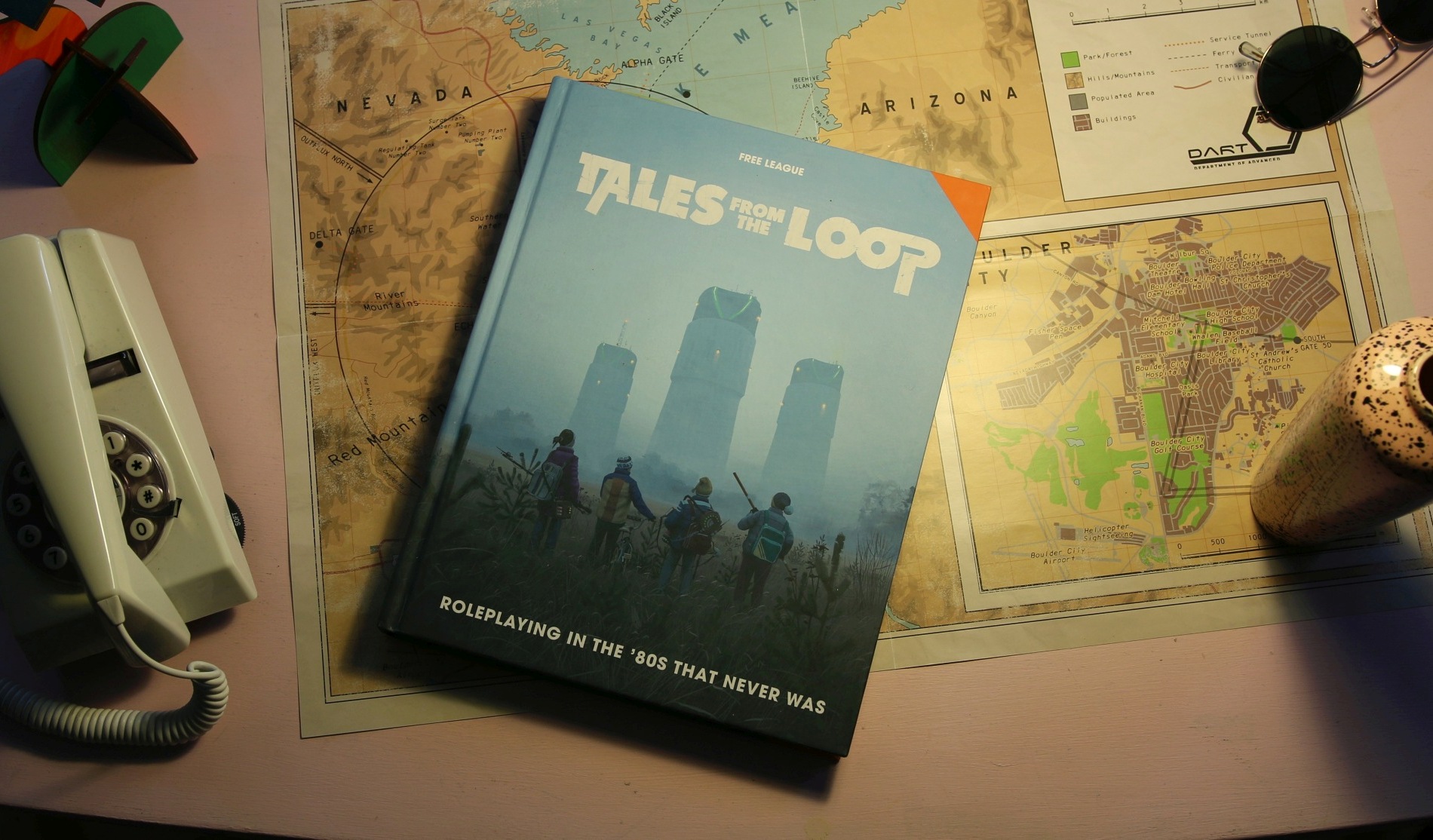 Cynthia
: Omg! I think we might have an RPG blockbuster here, Quinns.
Everyone's talking about Tales from the Loop, the game of roleplaying young kids in a 1980s that never was. It's got everything you need to play out your own version of Gremlins, E.T., Stranger Things, or any movie where kids hurriedly pedal their bicycles to save the day (but should probably be home before dinner).
And who wouldn't want to play a kid? Adolescence is amazing, and I'm not just saying that because I spent months teaching middle school Algebra. All the hormones, and discovery, and bravery, and adventures, and confusion… it's perfect RPG fodder. The question is whether Tales from the Loop successfully unites '80s nostalgia and middle school feels with good science fiction mysteries.
Ok, I confess. I teared up more than once while playing it. What did you think?
Quinns: I'm going to be very British and delay talking about my emotions so I can squeeze this in above the cut: I think Tales from the Loop is a cool, clever, beautiful book, but the real reason I want everyone to know about it is that it might also be the easiest experience I've ever had being a Games Master.
a unicorn autopsy, devilish denials, the eternal damnation of two yellows touching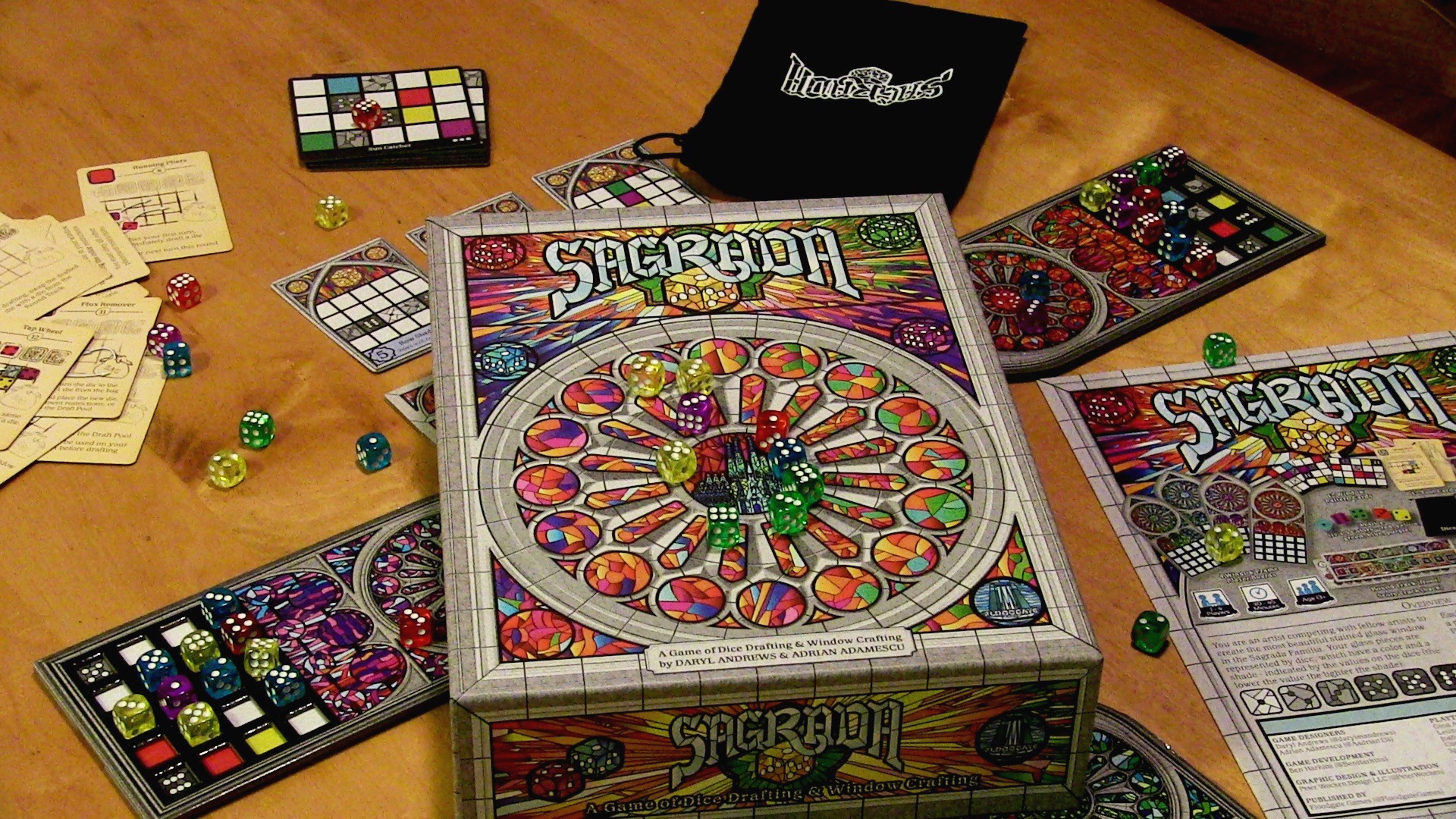 Paul: Help me out here. I'm in a bit of a dilemma.
I keep telling people that I'm not especially enamoured with Sagrada, that it's just my latest diversion, but then I say they should still try a game with me. Then it hits the table again. Then I'm playing it once more. Then we have a good time and I think about the next person I want to try it with. Then it goes back into my bag and I bring it to someone new.
Am I in denial about just how much I like this?
19 organs, 90 dice, 400 of dollars, 7 previous editions, 1 life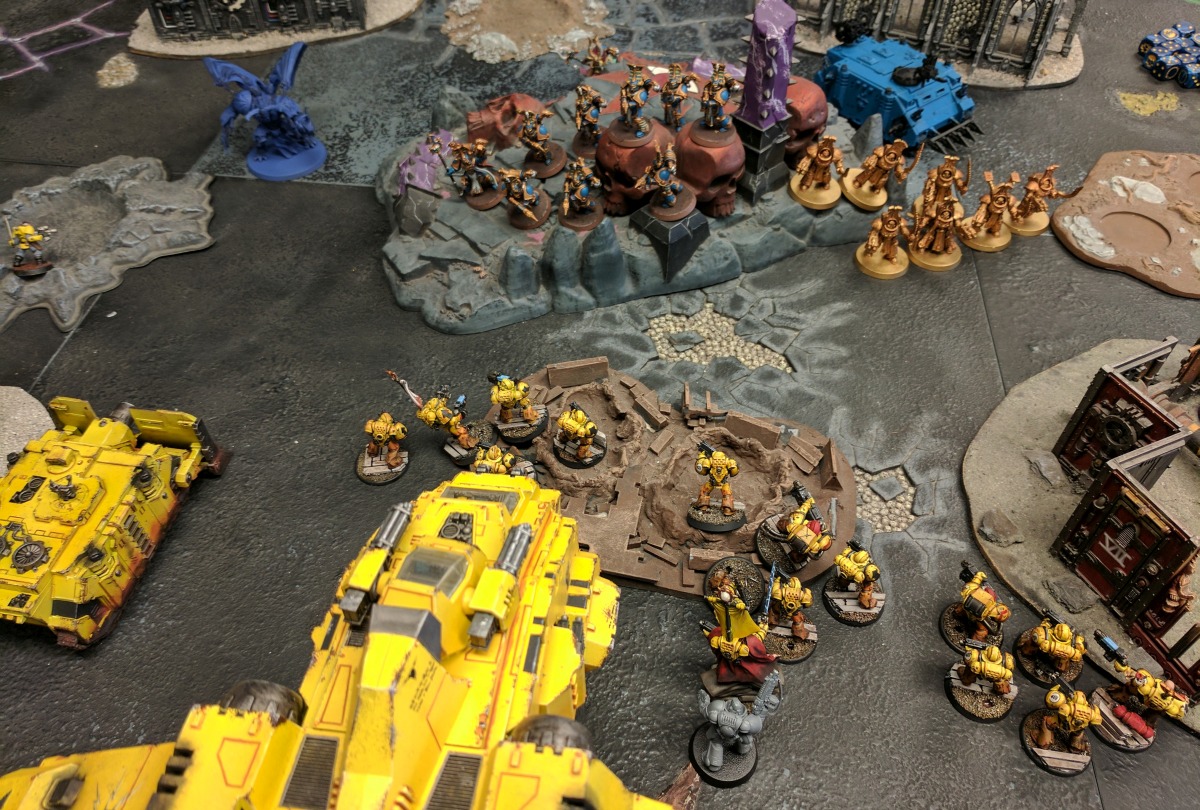 Eric
: For any of what follows to make sense, I need to take you to a place in my past. Imagine the house where I grew up. Follow me down into the basement, past the unfinished walls and pantry shelving and washing machine. Back here, hidden under the stairs. Do you see it?
That was my desk.
It isn't much to look at – an austere, industrial thing. The kind of desk I now imagine factory workers flipping over in some proletarian revolution. But I spent huge amounts of my late childhood and early teenage years here. Pouring through those roleplaying manuals stacked in one corner, drawing elaborate maps on that graph paper, and – as the spackling of color attests – painting the little figurines that line the shelf above.
Those were my first space marines.
About a month ago, Games Workshop released their 8th edition of the Warhammer 40,000 rules. Back when I was painting at that desk, it was 3rd edition I played. As much as those iterations between then and now can be seen as cynical cash grabs – partly because some of them were – there is something noteworthy about this new one. But more on that in a minute.
wrg snargles, top fruit, pints of cream, juicy specificities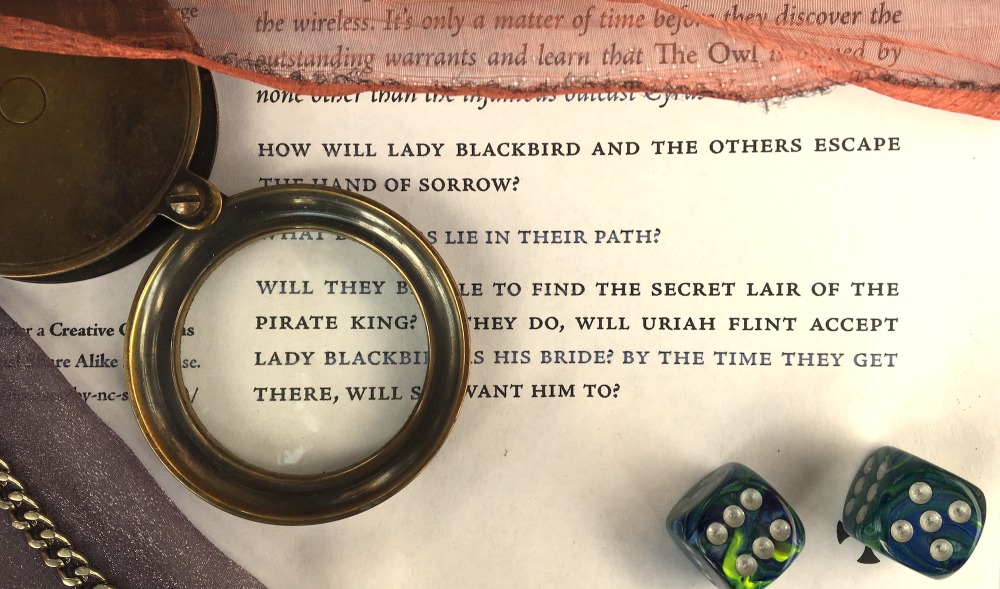 Cynthia: Everyone, I have a little secret that I want to share with you. Ok. Maybe it's a decently-sized secret. Maybe it's not that secret at all. MAYBE it will change your tabletop gaming life.
DON'T TELL ANYONE, but some of the best roleplaying games out there are not available at your local retailer. Thanks to the magic of the internet, they're completely free.
These irresistible blossoms of RPGs can suddenly appear on Twitter or Reddit only to vanish within a few days. Sometimes they'll quietly bloom on a designer's Tumblr or publisher's homepage. A few older ones thrive quietly in the dark places of the internet to be occasionally plucked by some intrepid RPG gatherer who brings them back into the light. There's even a contest-fed bouquet of 200-word RPGs out there, as Quinns and Paul mentioned in a recent edition of Games News. The brightest flower of all these lovely free RPGs, however, is Lady Blackbird.