Quintinkahmun, a weekend in phoenis, the wetness exhibit, a bad spade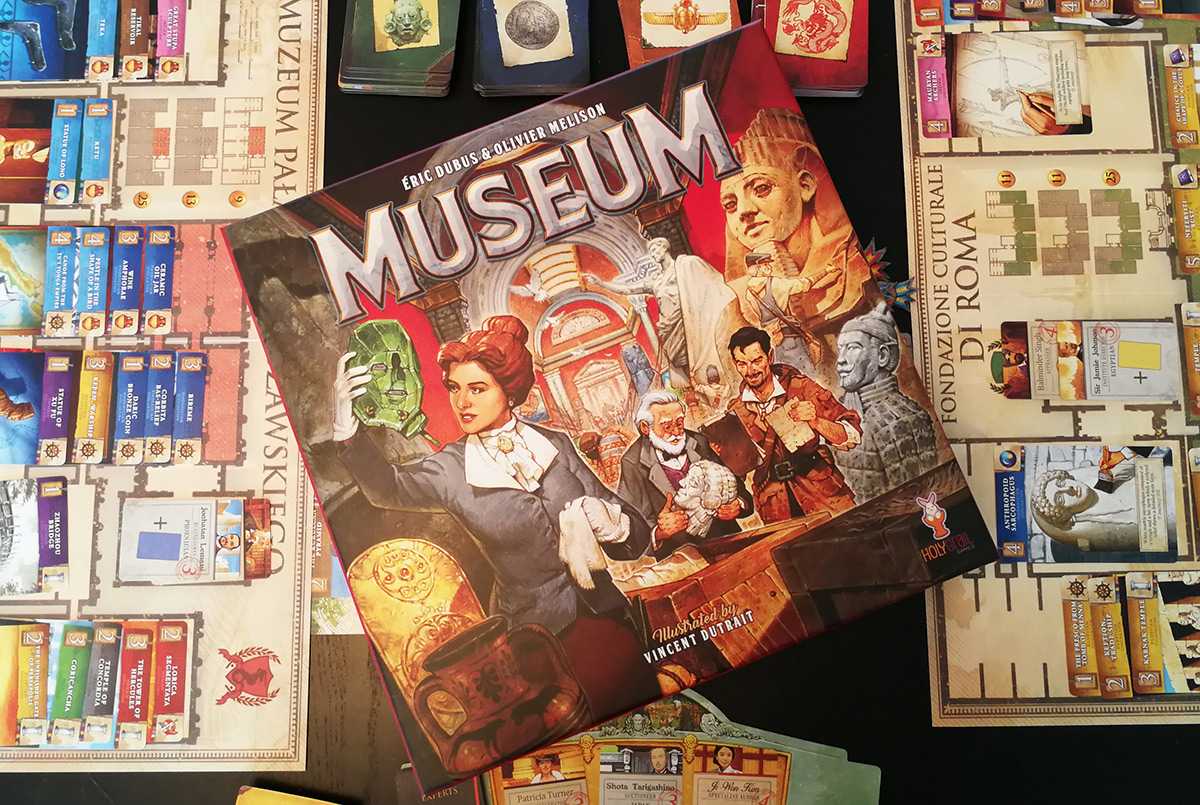 Ava
: Let us take you on a tour of the weirdest, most beautiful objects in the world. We can show you the largest palaces and the most specific digging implements, the canniest navigation tools and the shiniest hats you've ever seen.
Welcome to Museum, a game of archaeology (stealing), curation (re-arranging), and prestige (letter-writing).
Quinns: With over 300 gorgeous illustrations by Vincent Dutrait, Museum is the definition of a labour of love. In fact, Ava and I approached it like a real museum, taking a leisurely tour of its exhibits across two days.
Finally, we're ready to write our review. Ava, do you want to explain the game?
Ava: Let me be your guide through the byzantine corridors...of board game.
Pimp my Symbiotic City Dome, vanilla churn, a goodie fountain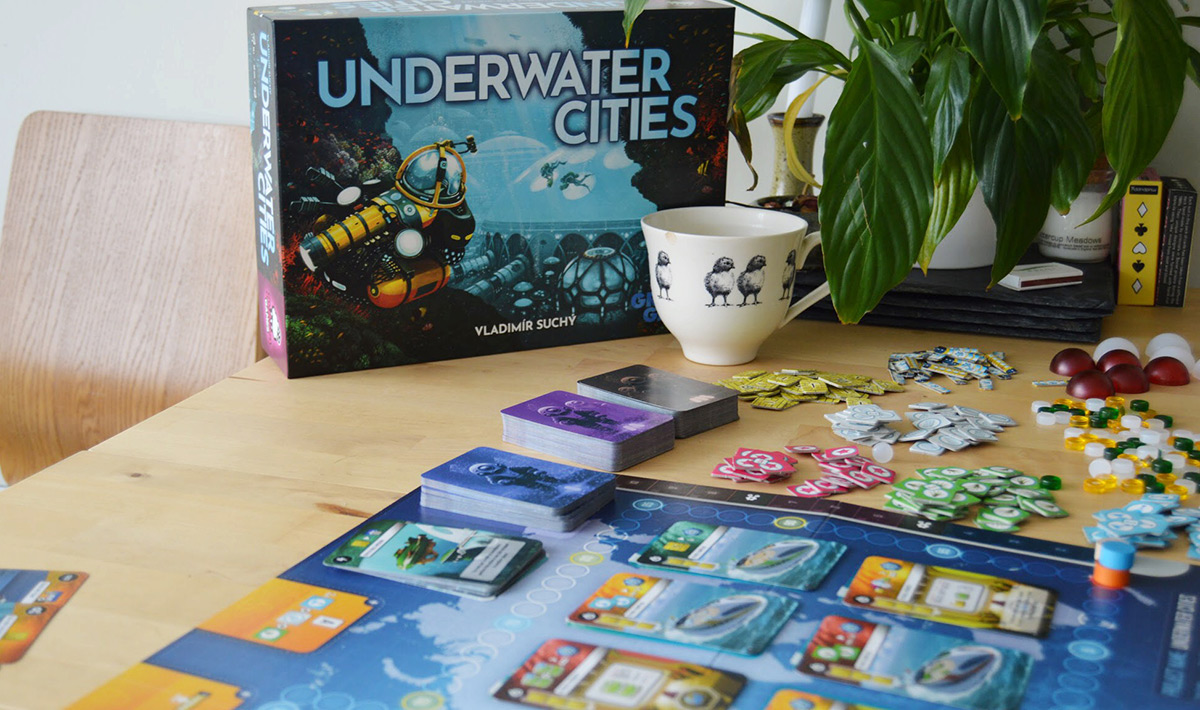 Kylie
: In Vladimír Suchý's heavy management game 
Underwater Cities
, players are competing to build the ultimate deep sea nation. But is it actually better, down where it's wetter? Are there no troubles when life is the bubbles? Can we
really
trust a crustacean that sings? I guess we should find out.
Each player is given a personal city map which you'll fill with a scattering of white and red biodomes, which will connect to a flourishing network of factories and laboratories. Ideally, this network will score you points, as well as act as an engine that'll occasionally spew out resources such as credits, biomatter, and kelp. Lots of kelp.
Apparently when we colonise the seas, the only thing available to eat will be kelp. I've never tried kelp. Have you tried kelp? They tell me it's the kale of the sea, but I'm pretty sure that's a lie.
that gets my scrote, a greasy bribey baby, we don't eat pears here
Oof! When was the last time a game let you get jade, AND sail boat, AND great wall?
Gùgōng is the new game from venerable designer Andreas Steding, and we think it may well be worth your time. This game is a teasing web of tricky economies and corrupt cardplay, and we absolutely can't wait for the expansion to be revealed later this year.
Have a great weekend, everybody.
Mr. Bimble, private pirates, one riddle udder, velveteen booties
"Start as you mean to go on," as they say. That's why for our first review of 2019 we picked a fantastic game, put on the loudest shirts that Matt owned, broke out the eyeliner,
and
squeezed in an homage to The Muppets.
Don't get distracted by all of those lovely colours, though. Featuring a bit of bluffing, a bit of logic, a bit of deduction and a lot of laughter, Treasure Island is a game that deserves some serious consideration.
press f to pay respects, where in the world is rita modl, two-brick matt
The choice of which game of play on
our Twitch channel
this week was a no-brainer. Which is to say, we knew we'd have no brains remaining after flying back from PAX Unplugged, so we chose a game that could be enjoyed by eight-year-olds.
Men at Work is the next beautiful box coming out of Pretzel Games, makers of Flick 'Em Up and Junk Art, and we love the heck out of it. And like those previous games, it functions as a lovely object, as well as a silly challenge, and - if you so choose - an arena where actual tactics can be deployed.
If you'd like to watch the full stream, with the beginning, the end and all of the hilarious comments in between, it'll be available here for the next sixty days. And if you'd like to hear about us talk about Men at Work on the podcast, you'll find that sweet ol' chat on episode #88.
Have a great weekend, everybody!
delicious minerables, networking nirvana, we have to cut our nails for these vids you know
Remember Roland Wright from
our review of Welcome To
? Well, he's only 
done it again.
Railroad Ink should be arriving in shops any week now, and that's cause for celebration. This game of rails, roads and mounting desperation makes its competitors look like amateur hour. The only questions remaining are (a) should you buy the Red or Blue edition, and (b) when can we expect an expansion?
Have a great weekend, everybody.
you're gonna carry that horse, anaconda vs. shed, wasp vs. hot dog
The Champion of the Wild
is the most fun we've had all month. How will an ibex fare versus a shed? How far can a beetle travel down a slip-n-slide? Literally nobody knows, but it's up to your friends to guess, and your fate is in their hands.
Fair warning: This is a small-press indie game, and stocks are low! You can order the game direct from the above link (which should have the best international shipping rates), as well as from these UK retailers.
Have a great weekend, everybody!
boyFetch, a grimy sweet-shop, textbook textures
More than two years ago
Quinns reviewed the classic game of Brass
, but ultimately came away disappointed (and wet, and riding high on sugar).
Today, it's time for round 2! Introducing Brass: Birmingham, a collaboration between Roxley Games and original designer Martin Wallace, this is the sequel to Brass.
Will this industrial revolution bring progress, or once again grind our reviewers' gears? Click play, and find out.
roland wright, y'all ready for bis, it's fine the keyboard was only £7
Welcome To...
made its debut in
podcast #82
, but now it's time for the real housewarming party: The official SU&SD review of one of the best roll'n'write games ever designed.
Are you a sharp enough architect to assemble three streets, speckle them with swimming pools, dab them with parkland and negotiate with real estate agents and contractors? You're probably not, no. But you'll have a great time trying.
daddy lowlands, glassy-eyed virii, quintin speaks dutch?
This week Paul and Quinns are excited to examine
Lowlands
, a svelte and confident sheep farming game in the style of venerable designer Uwe Rosenberg, BUT WITH A TWIST. At the end of the game your herds
might
wash away in a dreadful storm.
Only one question remains. What wool they think of it?