cookie-cutter design, a wobbly foundation for a game, an aussie lolly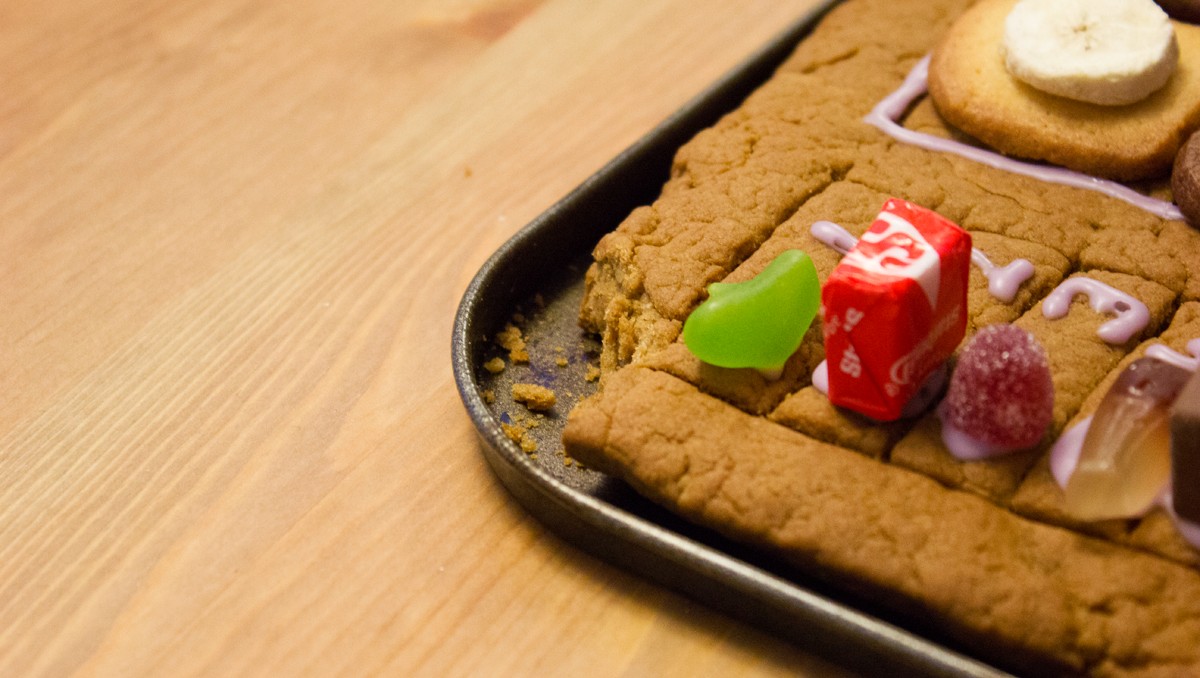 Pip
: In the time it takes my companion/opponent to move his knight to a new square I have broken off a piece of the game board and stuffed it into my mouth, crumbs on my T-shirt volunteering the specifics of my crime.
On the plus side, I am road testing one of Jenn Sandercock's edible games – The Order Of The Oven Mitt – and thus I have a mouthful of gingerbread rather than cardboard. On the less plus side you aren't supposed to eat the board yet and I've just remembered I don't like gingerbread.
The gingerbread debacle happens every year around Christmas. Faced with the dramatic potential of pretending to be a giant devouring a village I will tuck into any number of gingerbread houses and gingerbread folk, trying to ignore my tastebuds. I mention this to make it clear that the gingerbread problem is my own cross to bear rather than anything to do with Jenn. BUT gingerbread is a really useful building material so it's working really well as the substrate for the game.
quinns stop clicking your fingers, number-udders, that's cowboy magic
Hoo baby! The profoundly beefy 2016 game of
Great Western Trail
is finally back in stock the world over. We've had ample time to test its systems, prodding its many rules from every conceivable angle, and today want to tell you that it lives up to the hype.
And thank goodness for that! When was the last time your evenings contained a dose of cowboy magic? It was too long, wasn't it?
a dollop of chaos, a crime soufflé, a misplaced acrobat, and a bloody cat?!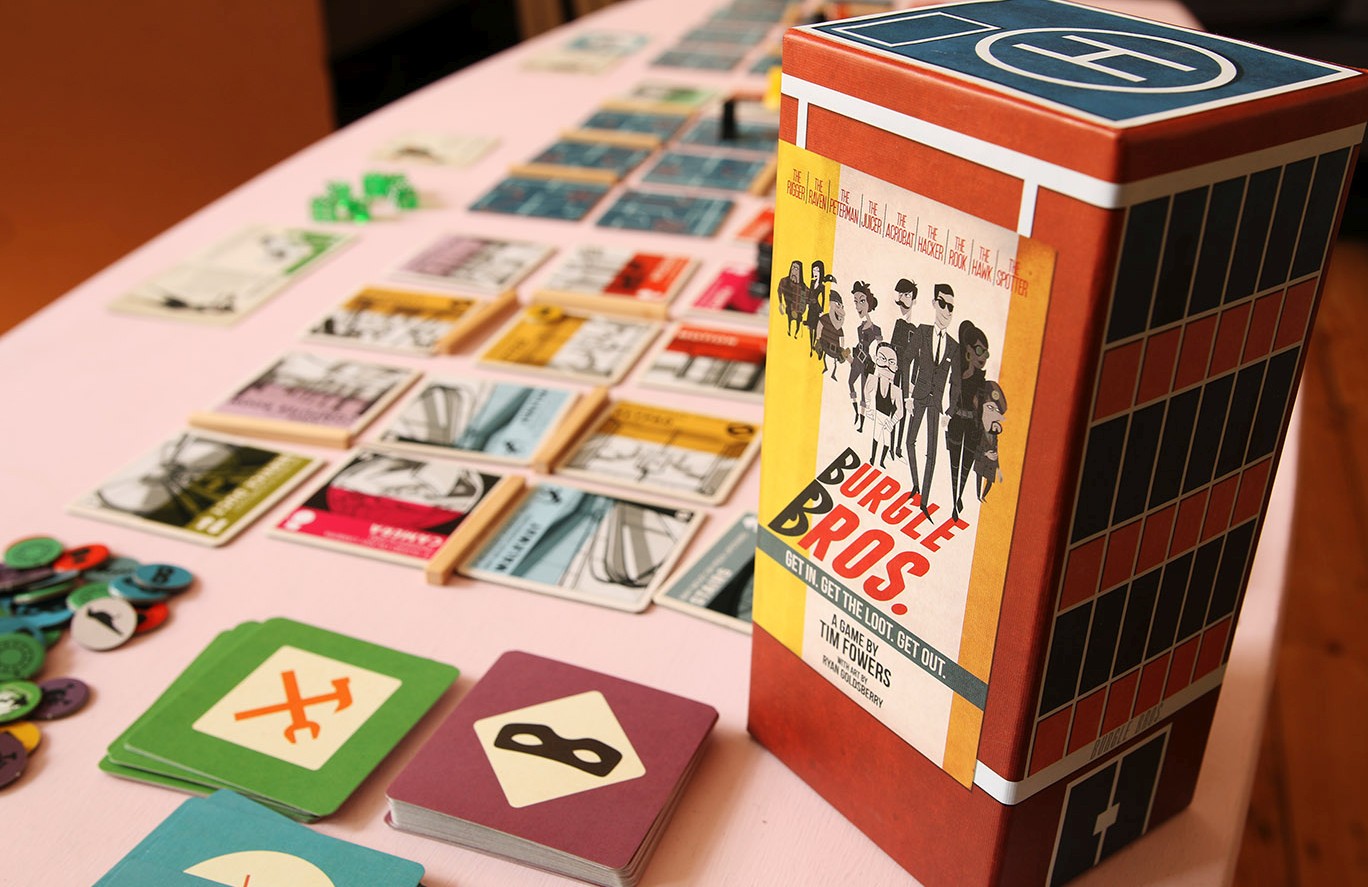 Matt
: Chucking
Pandemic Legacy
in the bin proved to be an uncomfortable day for my board game collection, causing a cardboard-flavoured existential wobble. As much as I love - had loved -
Pandemic
, experiencing the full-fat campaign spin-off had left me wondering if I'd ever bring myself to go back to the standard co-op game that had been such a household staple.
I've spent a while poking my nose around for a worthy replacement, and - for me - I think it might be Burgle Bros.
Dropping two to four players into a classic bank heist, Tim Fowers' has squeezed an almost comical amount of theme and bits and ideas into a box that - being generous - might hold a small shoe. Our intrepid / idiotic thieves have failed to case the joint ahead of the job, so it's up to you and your Colleagues-In-Crime to first find the safes, then crack them, grab the loot, and get out.
never work with animals or triangles, paul's precious intestines, an actual cameo
It looks like 
Watson & Holmes
 isn't the only game that wants to offer something different from 
Consulting Detective!
Introducing Mythos Tales, a game of solving occult mysteries where if you're not careful, you might become a victim yourself. Will Paul Dean crack the case of whether Mythos Tales is a worthy consumer product, or will this be his final review?
We wish him luck.
Spokey Poker, Bi-Men, I thought it would taste of cakes
Who among us can claim that they didn't once dream of growing up to be a master of bicycles? Those debonair doctors of velocity.
The zeal on wheels.
I have good news, friends. It turns out that in the game of Flamme Rouge (French for "Red Flam") you can become a cycleman for no less than 30 to 45 minutes at a time. Clearly we had to give it the full review treatment, and you know what? It turns out that this game is an absolute delight.
Have a fantastic weekend, everybody!
UPDATE: Thanks to SU&SD fan Meeple101 for telling us about the official Flamme Rouge Companion for iOS and Android, which lets you link individual races into a grand tour! What fun.
drop a deduce, the gut-motor, a nice hot loaf of police, elementary you're a dick
A mere thirty-six
years
after the release of the amazing 
Sherlock Holmes Consulting Detective
, the board game industry has leapt into action! This month sees the release of the 
West End Adventures
standalone expansion, and... we're not reviewing it.
That's because this month we're also getting a new English-language edition of Watson & Holmes, and that's EVEN MORE EXCITING. This game takes the original, superlative co-op experience that is Consulting Detective and makes it... competitive. Is this a work of evil genius to rival Moriarty? Or simply an error in deductive reasoning? Let's find out.
Have a great weekend, everybody.
horror-fallow, delicious finland, a lego boondoggle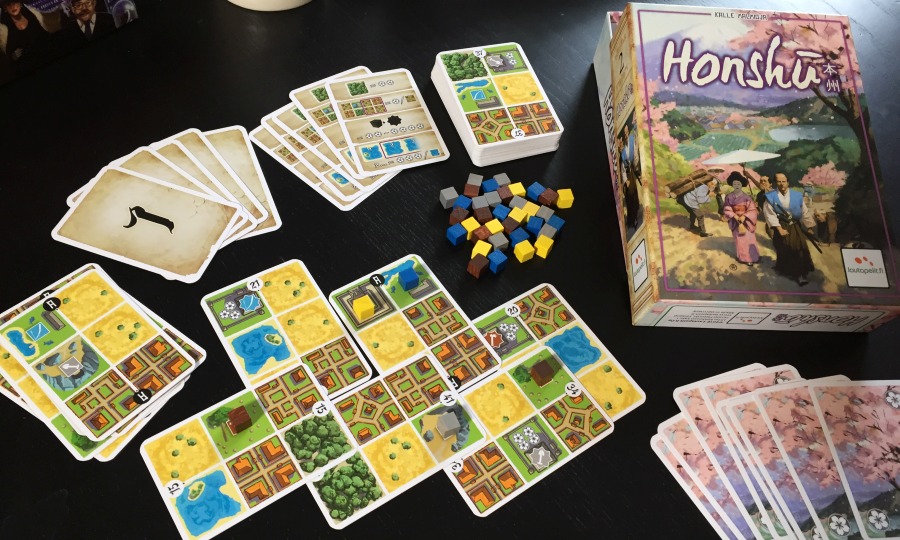 Quinns
: Alright. You see
Honshu
, pictured above? You're looking at one of the most desirable boxes on the planet.
The best thing to come out of Finland since karjalanpiirakat, Honshu made a name for itself during the American convention circuit last year. Contained in its small, peach-tone box are some cards and cubes, and contained within them is a simple card game, and contained within that are Japanese towns of your own design. Players draft cards and tuck them under and over one another in a gentle jigsaw, probing and pondering different arrangements, searching for a high score.
This site's own Paul Dean was convinced after a quick play. So many people were convinced, in fact, that a publisher is finally bringing a shipment of Honshu to America next month.
But should you buy it? Ah, let me help you with that as a European, from the land where copies of this game are considered weeds, and I often have to throw away four or five mouldering copies of Honshu before my breakfast of limppu and kissel.
Honshu is good, but is it "SU&SD Recommends" good? Let's find out.
stuff stuff stuff, rocks rocks rocks, we're going to need a better boat
This week, Paul's gone all viking on us, getting so, so enthusiastic about
A Feast for Odin
with this very in-depth review of a truly enormous game. Then again, wouldn't you be at least a little bit excited? This is one of the biggest boxes we've seen in some time and, with hundreds of cardboard components, scores of wooden pieces and even a moose as a first player token, we really can't blame him.
Can it deliver joy and happiness proportional to its tremendous size? And how does it compare to its ancestors, other games by the same designer such as Agricola, Caverna and Patchwork? And why does Paul think Patchwork has a French accent? It's been a strange week.
quintin's pheremones, matthew's buttery pastry, a hot cup of dice, ladies
To usher in 2017 as a year of good fortune, we're trying all sorts of superstitions. Paul wrote "FLUXX" on a bit of wood and threw it in a river, while Matt and Quinns have chosen a classic for their first review. 
Troyes
 is a beloved 2010 game that's enjoying a well-deserved restocking this month.
But last year we were spoiled for choice when it came to lightweight eurogames! Will Troyes triumph over Orléans, Concordia and Istanbul?
Thanks for your patience, everybody. It feels great to be back.
poison ribena, delicious "wine drink", two-bit grape grabbers, dismay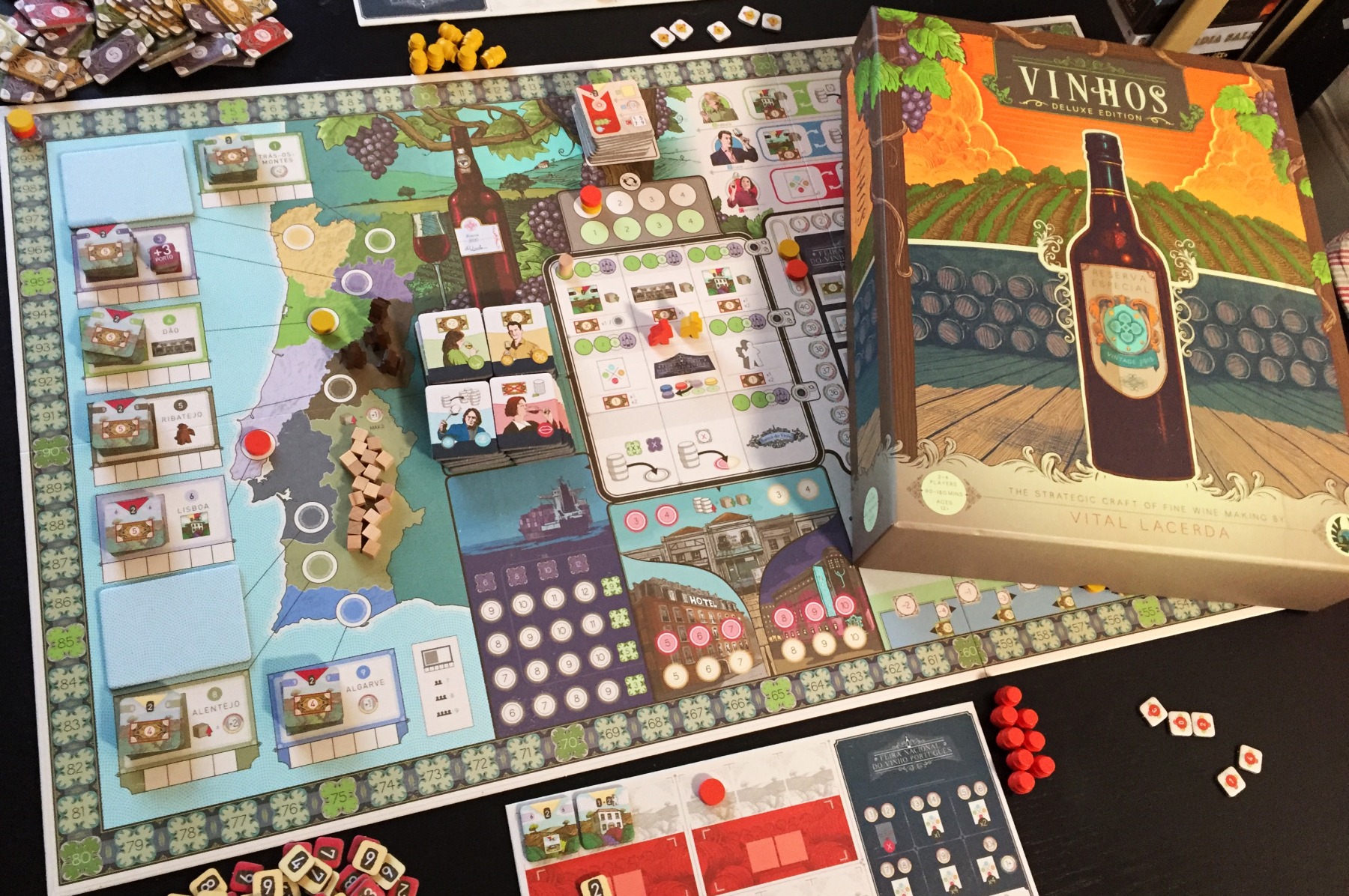 Quinns: Alright ladies and gents. Today we're tackling a box of unparallelled size and charisma. The publishers tell me that there are less than 3500 copies of Vinhos Deluxe Edition (the Kickstarted re-imaging of 2010 wine-making classic Vinhos) left, and I want to make sure that you guys have the chance to buy one.
It takes a lot to excite me these days, but Vinhos Deluxe Edition managed it. Contained in this box is nothing less than a torrent of beautifully-illustrated tokens, a board that's positively threatening in scale, and a fat, clean manual written with wit. It even has nice fonts! In a board game!
But it takes very little to make me nervous, and Vinhos Deluxe did that too. The rules that make sense, like buying vineyards or aging wines, contrast fiercely with the more arcane regions of the board, where players claim score multipliers or manoeuvre their action-selectors.
Any inference you want to draw from the header image of this article is correct. This game's a beast to play, it's tougher to teach, and it's even harder to review.
Obviously, I couldn't be more excited.