Conversational sex act, Danny DeVito, No no no no no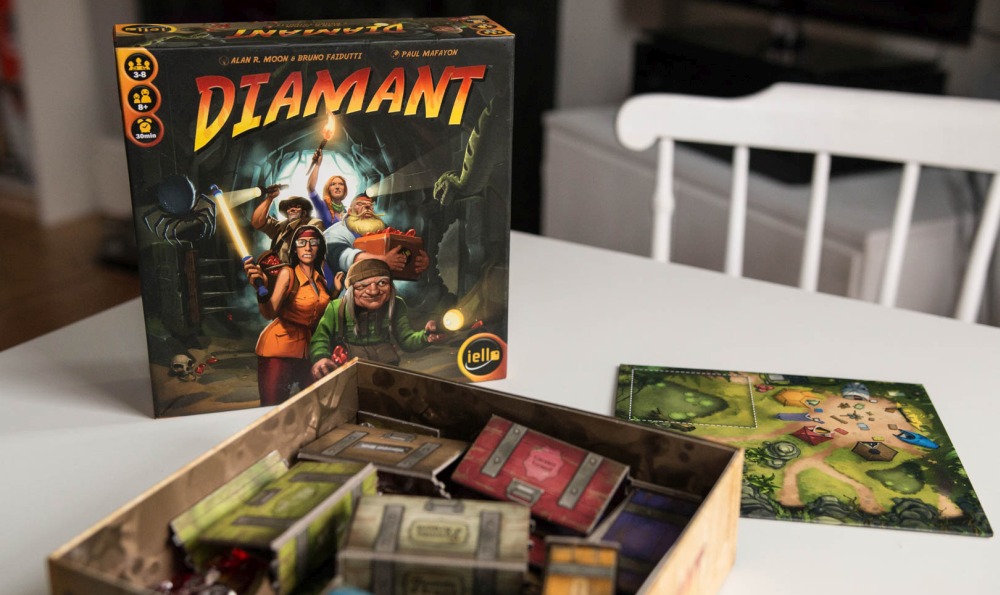 Paul
: QUINTIN. I know we want to tell people all about
Diamant
and how this cute-but-cruel game of pushing your luck can make you either rich or dead, but I've got to say one thing right thing right here, right now, right off the bat. Right?
Quinns: I'll allow it!
Paul: Diamant is probably the most fun I've had for the least investment of time and energy SO FAR THIS YEAR. I'm so sorry. I just had to blurt that. It's a petite wonder. PETITE. WONDER. Like… Danny DeVito. Or... a teabag?
Quinns: You're arriving at this party a little late though, aren't you? Last year I called Incan Gold the best little push-your-luck game I'd played in forever. Diamant is just a beautiful new edition of the same game! You can't talk about it like you've just found a dead sea scroll in your back garden.
Paul: All right, all right, back that boulder up, snarkaeologist. Incan Gold? The 2006 game? And when did you come to it, exactly?
Quinns: Erm. 2016.
Paul: An entire decade of incompetence.
A sentient saw, a song from aladdin, a giant map, seriously you gotta see this map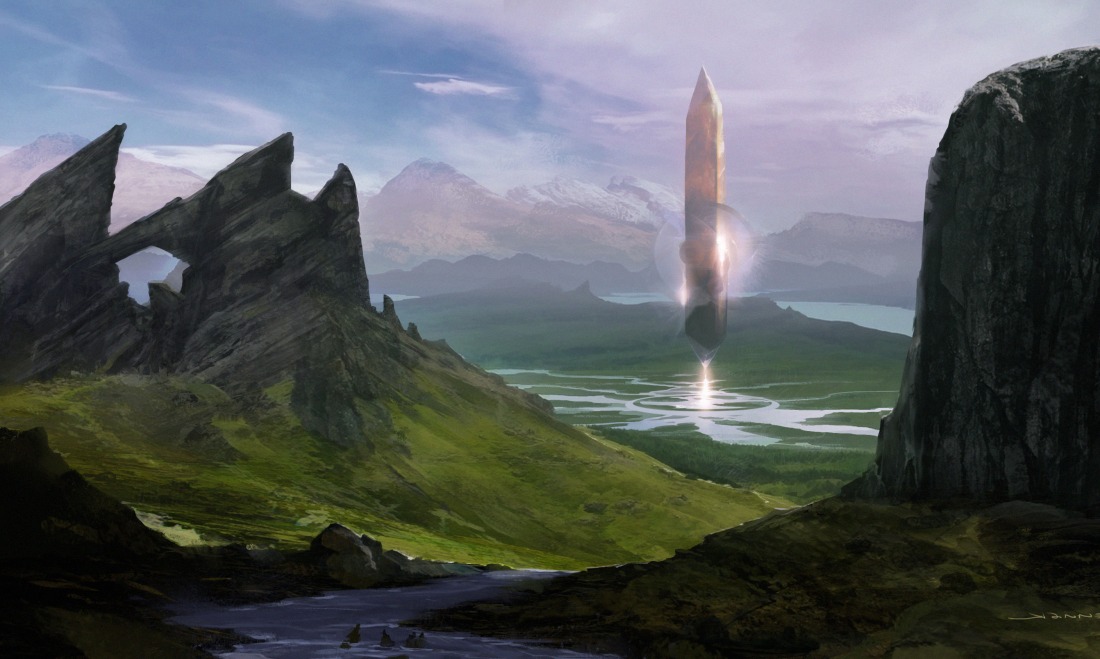 Cynthia: Imagine rising to the top of a valley and discovering the above vista: green hills, snowcapped mountains, seemingly pristine waters, and an obelisk, tens of thousands of years old, 
humming
with magical (or mechanical?) power. You could be the first to learn all of its secrets, or simply find out how it works, and harness its power. And that could be just the beginning of your earthly adventures.
For this uncanny place is our Earth, far, far, far into the future, after our civilization and seven others have climbed, peaked, fallen, and been rusted over. More than one alien invasion has occurred, and more than one alien species has mingled genes with humanity. A new civilization has arisen, but hasn't really gotten past the middle ages. The perplexing debris of past civilizations, from humming obelisks and transdimensional portals to enchanted amulets and portable CD players, is everywhere. The people of earth call these weird objects "filled-with-power-things": numenera.
Welcome to the Ninth World, the setting of Monte Cook's Numenera. I would say, "come on in, the water's fine," but it's probably filled with flesh-eating microdroids or laced with bubble-gum flavored psychotropic drugs or something. But forget the water, there's so much here. This place is so ancient, and vast, and tremendous. Let's explore!
drop a deduce, the gut-motor, a nice hot loaf of police, elementary you're a dick
A mere thirty-six
years
after the release of the amazing 
Sherlock Holmes Consulting Detective
, the board game industry has leapt into action! This month sees the release of the 
West End Adventures
standalone expansion, and... we're not reviewing it.
That's because this month we're also getting a new English-language edition of Watson & Holmes, and that's EVEN MORE EXCITING. This game takes the original, superlative co-op experience that is Consulting Detective and makes it... competitive. Is this a work of evil genius to rival Moriarty? Or simply an error in deductive reasoning? Let's find out.
Have a great weekend, everybody.
clusterpickles, electric bimbling, bum-first into the robo-bin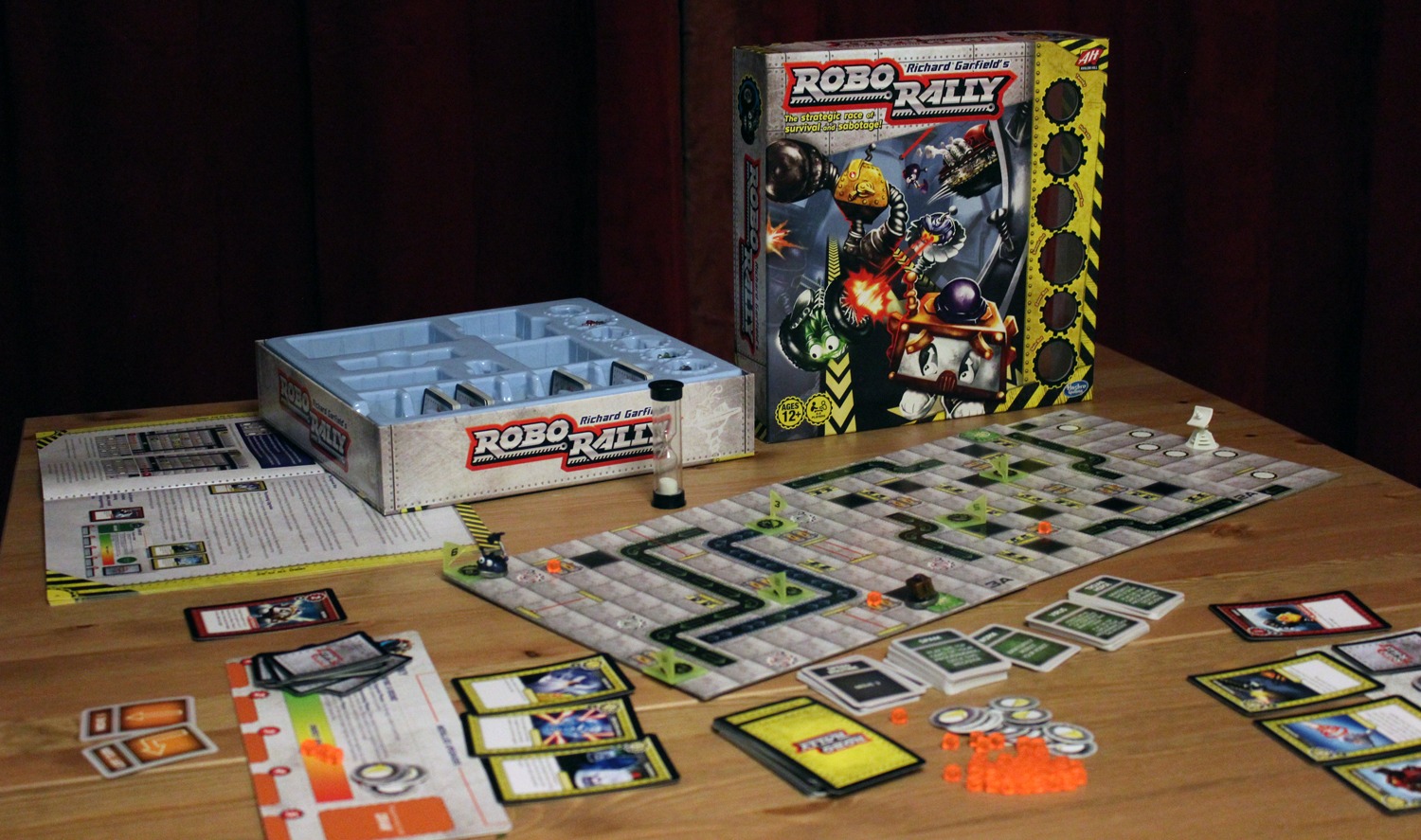 Pip
: When living with a fellow board game enthusiast you have the benefit of a ready-made companion for cardboard adventures – HOORAY! – but you also start to realise that, for a lot of games that say they're for 2-to-however-many-players on the side, there's this disproportionately large leap in enjoyment between the two-player version and the three-or-more-player outings.
Robo Rally might be the ultimate illustration of this. With three people it's a rambunctious clusterpickle of robots and conflicting agendas where your neatly programmed sequence of moves gets nudged hilariously and disastrously off course. With two we ended up trying to house-rule it so we could ginger up the experience and keep our momentum. Quinns informs me that SU&SD is all about reviewing board games in their favoured conditions, though, so consider this a review of Robo Rally the beloved 3-6 player omnishambles, and not Robo Rally the 2 player compromise-simulator.
RACCOON ANXIETY, OXYTOCIN, THE GORDON RAMSEY OF MICE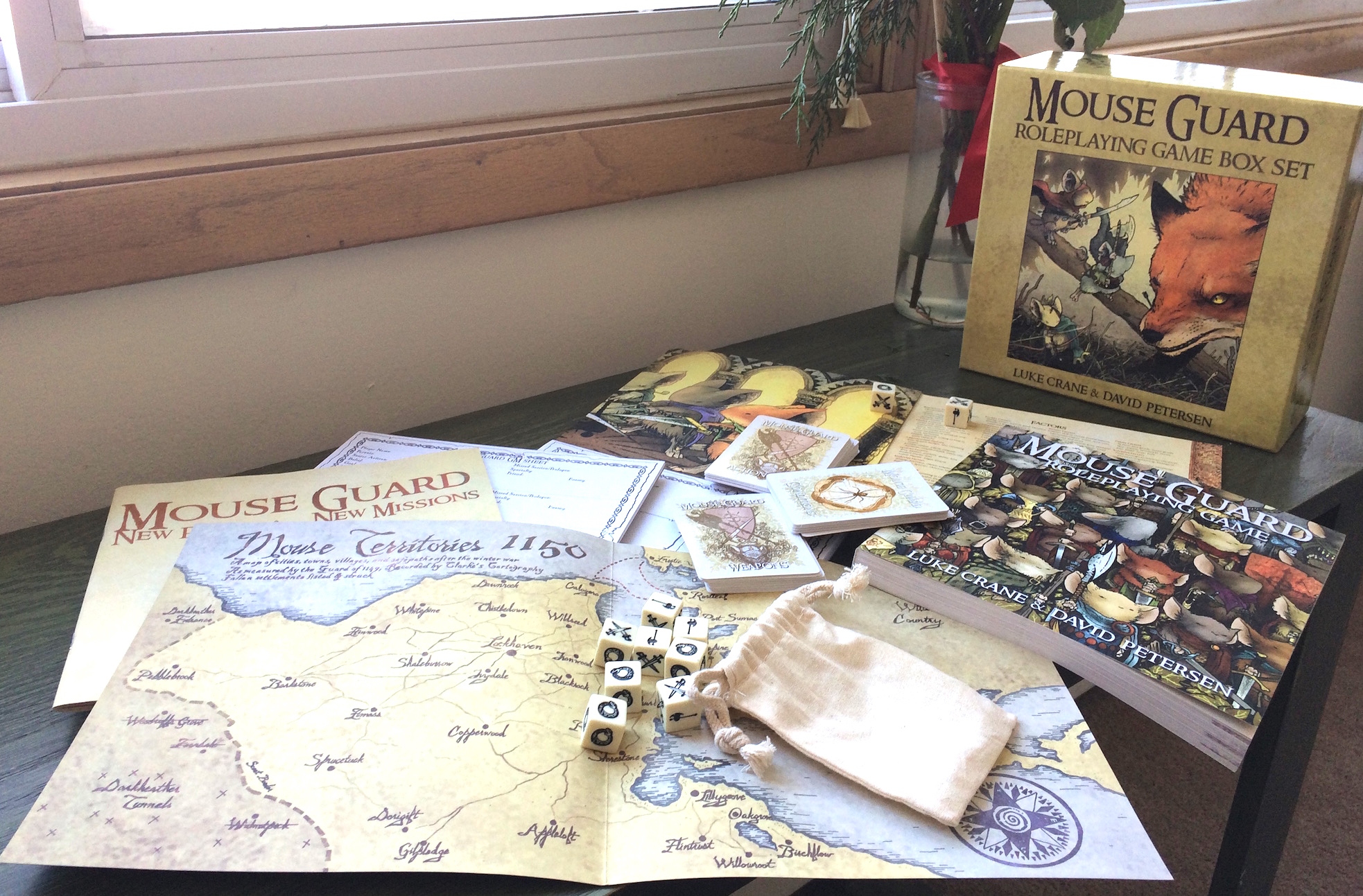 Cynthia: There's something extra lovely about roleplaying games in the winter. Where I live in Minnesota, going outside can often be quite deadly, so I prefer to huddle around a table with friends and food and drink. The problem is, being trapped indoors makes me crave adventure.
chocolate vampires, a spot of light burglary, classic trepanning, screams
My goodness! After we were a little dismissive at Gen Con last year, it turns out that
Arkham Horror
is the best card game to come out of Fantasy Flight since
Netrunner
. Pour yourself a glass of interdimensional phlegm, ensure you're sitting uncomfortably, and let Matt and Quinns tell you why in this
spoiler-free
review.
If you're the sort of devil-may-care investigator who doesn't care about forbidden secrets, don't forget that you can watch Matt and Quinns play the whole first scenario in this video. Though actually, in hindsight we've now realised that it's a tutorial mission and actually comparatively simple. You should know that far greater twists and terrors await in the full game!
stuff stuff stuff, rocks rocks rocks, we're going to need a better boat
This week, Paul's gone all viking on us, getting so, so enthusiastic about
A Feast for Odin
with this very in-depth review of a truly enormous game. Then again, wouldn't you be at least a little bit excited? This is one of the biggest boxes we've seen in some time and, with hundreds of cardboard components, scores of wooden pieces and even a moose as a first player token, we really can't blame him.
Can it deliver joy and happiness proportional to its tremendous size? And how does it compare to its ancestors, other games by the same designer such as Agricola, Caverna and Patchwork? And why does Paul think Patchwork has a French accent? It's been a strange week.
give me your badge and your gun and that rock you keep in a plastic bag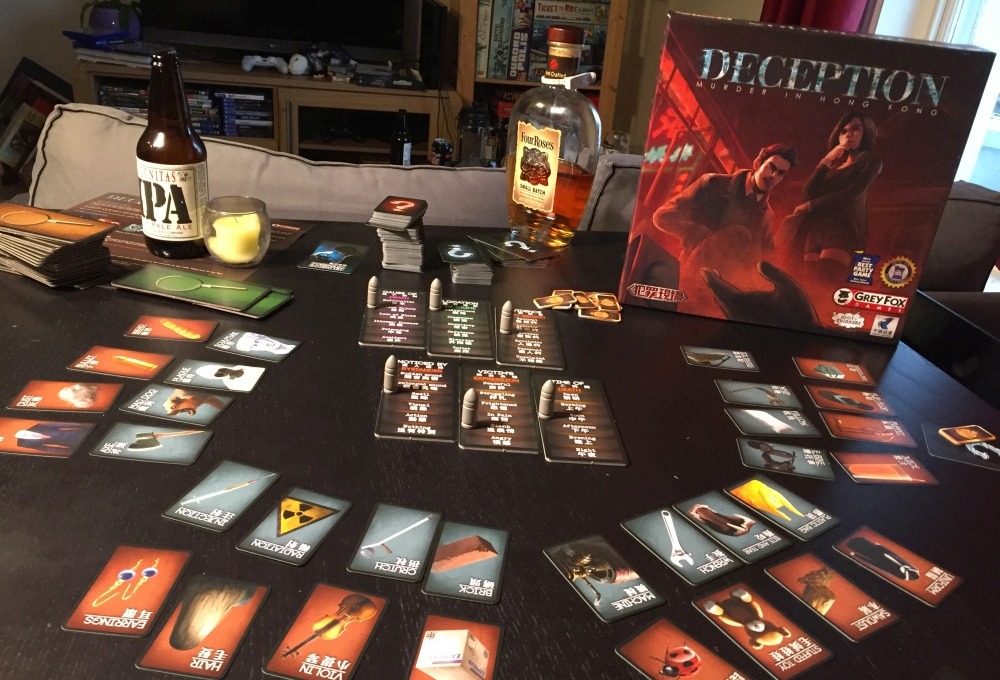 Quinns
: After playing co-operative social deduction game
Deception
, the proof is insurmountable. The 21st century police force is the greatest board game theme of all time, not because it works so well but because
it doesn't work at all.
Back in our eighth ever podcast we talked about Police Precinct, and while we had a terrible time with that game we were endlessly amused because we seemed to be playing the cast of Reno 911 on the set of The Purge. Then last year I finally got to try Good Cop Bad Cop, where in one memorable turn I confiscated my colleague's coffee as evidence, downed it in one gulp, then shot them.
But with a name like "Deception: Murder in Hong Kong" and brooding, maroon box that includes a handful of plastic bullets, you might assume that this, at last, is a serious game about law enforcement.
You couldn't be more wrong. I'm thrilled to say that Deception is every bit as silly as those others, and it's also the best game of the three. Come for a ridealong with me! You're statistically unlikely to be shot.
Tyrants of the Underpants, That's Drow for Now, shoving a dragon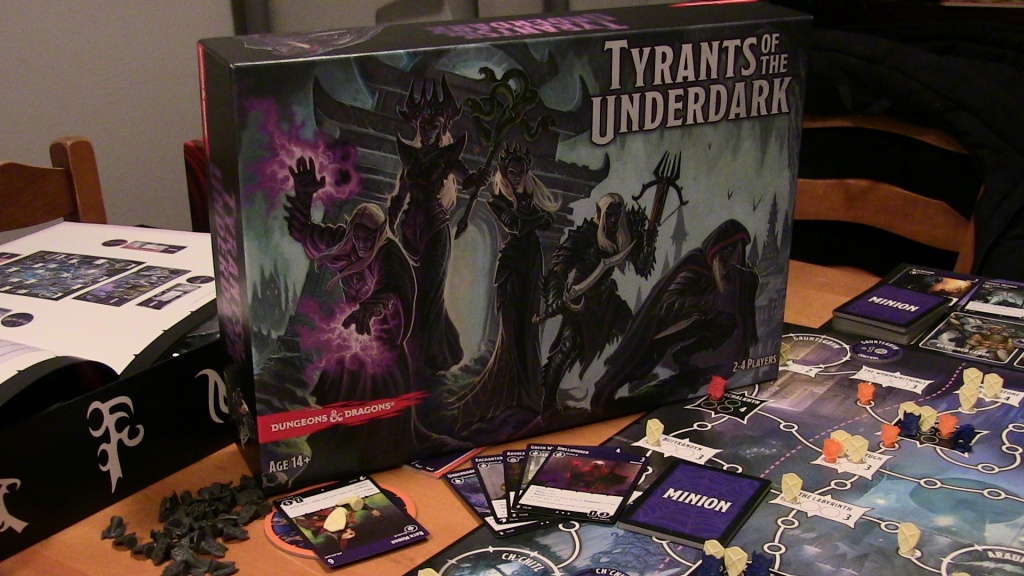 Paul: I have a confession to make. I have a profound prejudice toward purple and it very much affected my first impression of Tyrants of the Underdark. When my review copy arrived, I was a man with plenty to do. I opened the box that evening, saw the almost monochrome palette of so much grey, black and violet, flipped through the manual and then put this in a cupboard.
Sure, it's game set in the murky bowels of the Forgotten Realms, Dungeons & Dragons' most famous setting, but did it really need to be so drab? I was squinting at the card art, groaning at the board and then, suddenly, some long-sealed vault in my mind was opened and a memory of the most monstrous mediocrity suddenly burst forth: Defenders of the Realm. Oh God. This is why I don't play D&D board games. They lack all the spirit that the RPG inspires. "Tyrants of the Underpants," I thought.
I was so wrong about Tyrants of the Underdark.
these things are true: the world is dark, and we are alive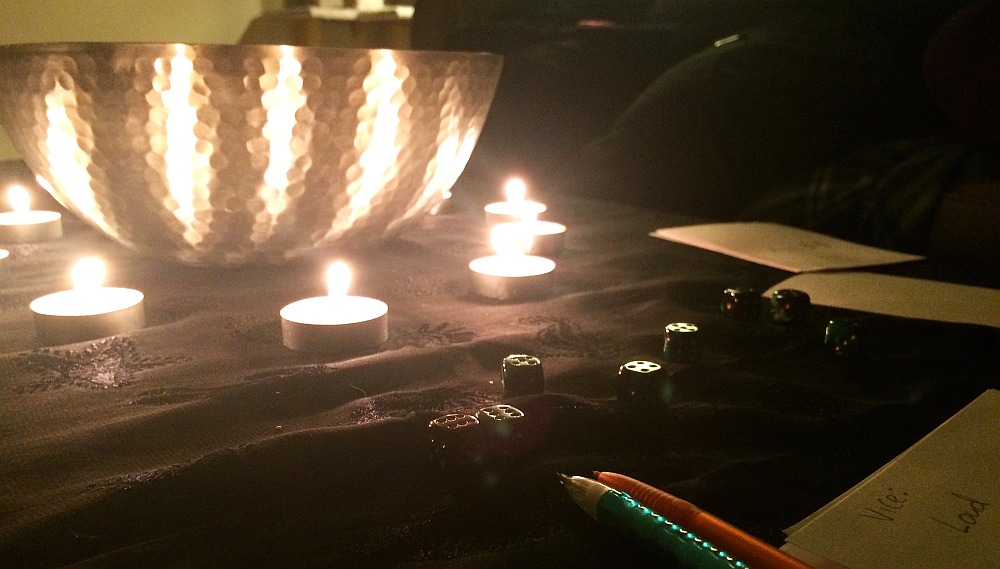 [Introducing RPG columnist Cynthia Hornbeck! As a former Utahn, temporary Minnesotan, PhD dropout and current public school teacher she is radically overqualified for a job with SU&SD. Please, nobody tell her.]
Cynthia: Hello, dear readers! I'd like to invite you all to accompany me to the end of the world, and to your death. Don't worry! I assure you that you're perfectly capable and prepared for the end – as it manifests in the phenomenal indie storytelling game Ten Candles, that is.
Ten Candles is a flexible, firelit game of "tragic horror" designed by Stephen Dewey and published by Cavalry Games. And I'm so totally in love with it. It's many scenarios take place in a variety of apocalypses where thick darkness blankets the earth and an evil force known as "Them" threatens humanity. Oh I know, there are plenty of post-apocalyptic games out there, and I imagine you're all raising your hands to ask what's so special about this one. Well, let me show you. Because what's special about Ten Candles is pretty much everything.