a georgian george clooney, a ghost whisperer, word-confetti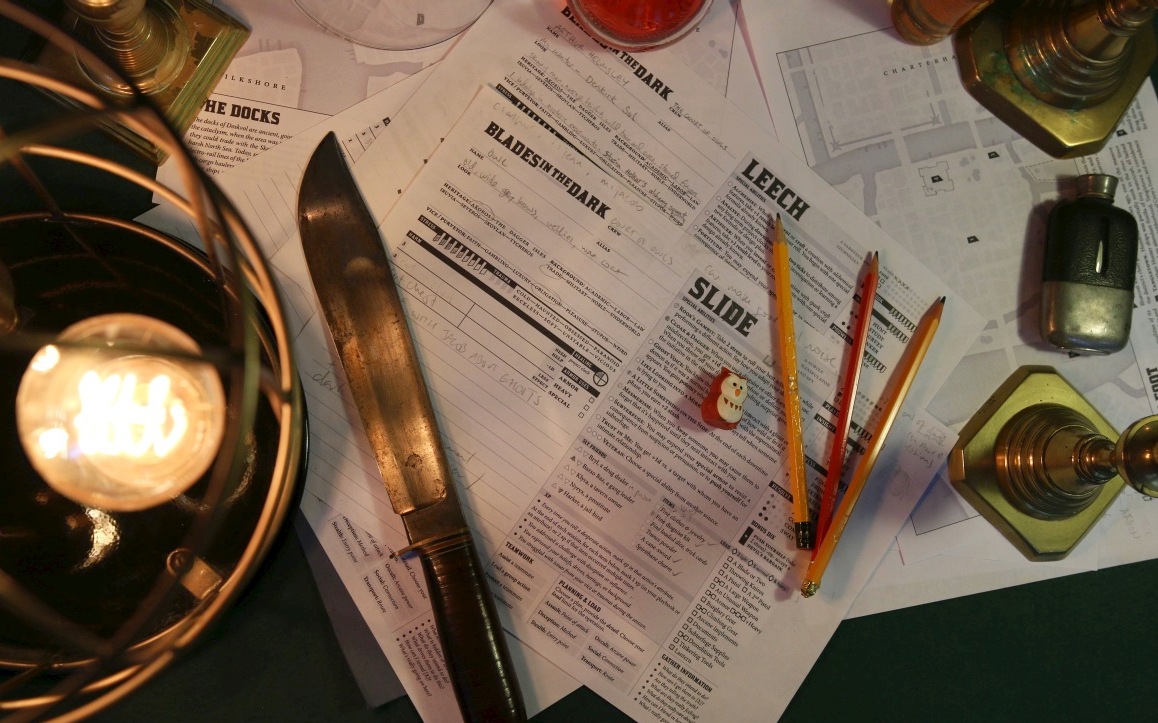 Quinns
: Remember last month when we reviewed 
Tales from the Loop
, the charming sci-fi RPG of bicycles, bottle rockets and 1980s theme songs? Today we're going to look at the other new role-playing game that's been turning heads among my friends, and we're going as villainous as Tales from the Loop was innocent.
Blades in the Dark is a game by John Harper, who you might remember from Cynthia's review of superb free RPG Lady Blackbird. But while that game was an improbable 15 pages, Blades is 336 pages. By comparison, it's his opus.
Which is very good news if (like me) you're a fan of Scott Lynch's Locke Lamora books or the heist genre in general, because Blades is a game of playing regency-era criminals. Oh, yes. This is a scoundrel simulator, and whether you want to play a crew of classy vice dealers, some down-and-dirty brawlers, or even a worrisome cult is simply the first of one million entertaining decisions that you'll be making.
Blades in the Dark also offers a vast, seductive backdrop to your escapades: The haunted city of Doskvol, which will be familiar to anyone who's escaped into the gloompunk of videogames like Thief, Dishonored, Sunless Sea or Fallen London.
This is going to be a long review, and not just because this is a huge book. You see, not only is Blades the most fun that my friends and I have ever had playing an RPG, it's also like nothing I've ever played.
a surprise pterodactyl, vomiting into a trumpet, cereal box fiction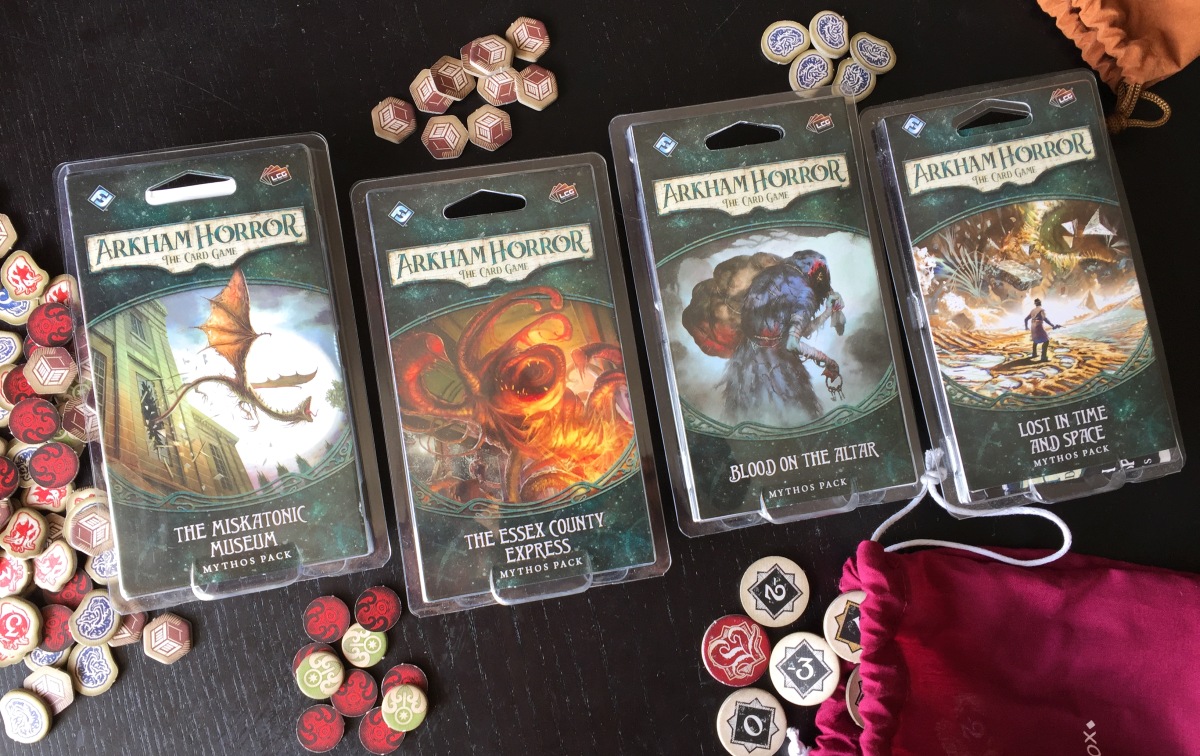 Quinns
: So, we're seven months on from when Matt and I first peeled the delicate outer membrane from the otherworldly Arkham Horror: The Card Game (otherwise known as 'shrink-wrap').
We were stunned at how much fun we had
. After years of rolling our eyes at Fantasy Flight's Lovecraft products, we found that inside this small, unassuming box was an absolutely electric experience. I was as surprised as anyone when I announced that it was
my favourite game of 2016
.
Now, you'll remember that while you can go back and play this game's scenarios on "Hard" and "Expert" modes, most of the appeal is in the first playthrough, making each new expansion pack feel like a long-awaited episode of a favourite TV show. You call your friends over, microwave some popcorn, put the popcorn in the bin so nobody can get grease on the cards and sit down to see what happens to your characters (and their decks!) next.
Which begs a question. Now that the first full campaign has been published (seven expansions that make up The Dunwich Legacy), how's this TV show doing?
And I think most players would answer you the same way. A small laugh, a faraway look, and then they'd say "Oh, man. It's good. And... weird."
Salted Sharon, Peppered Peter, a coyote on coke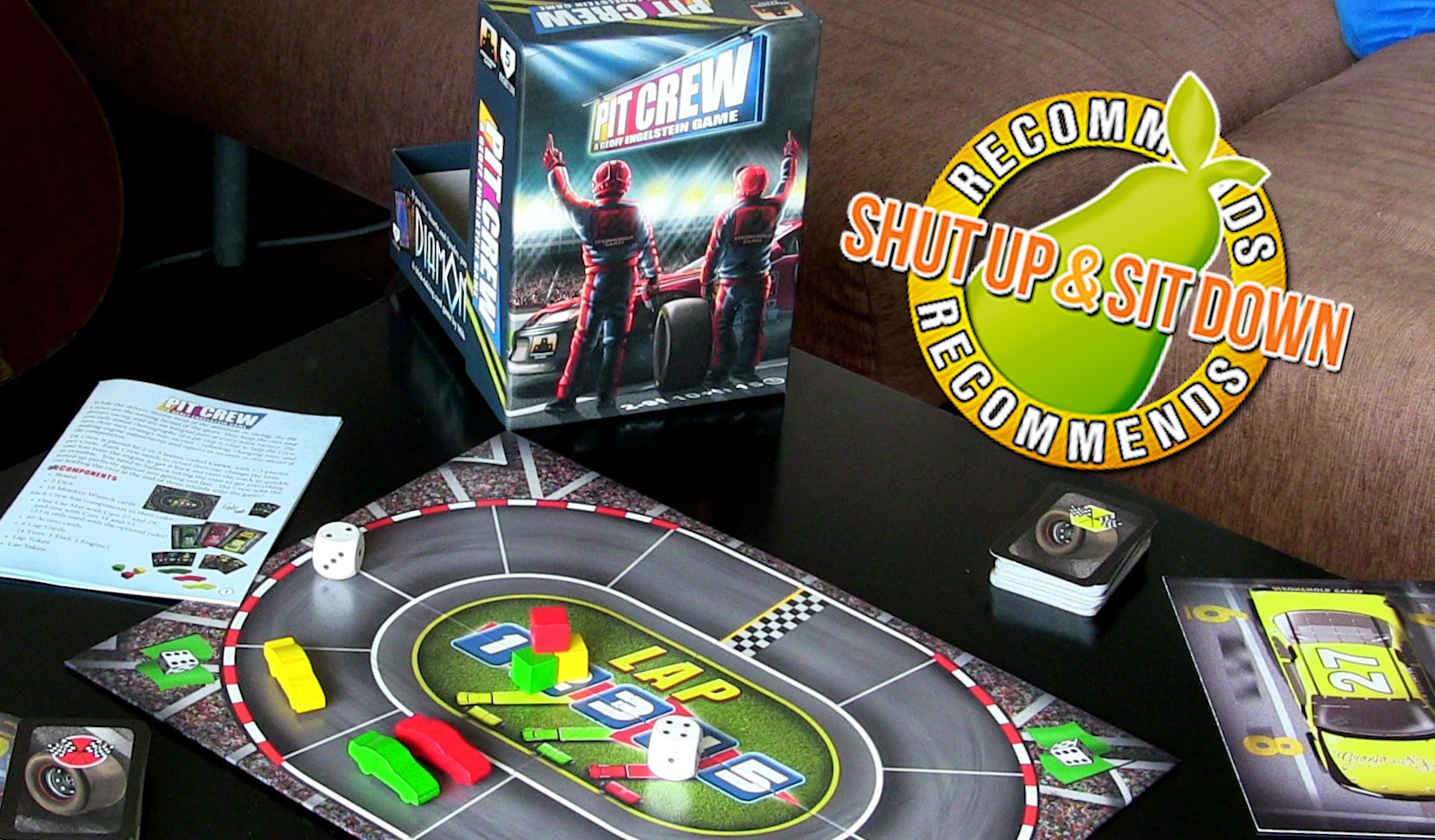 Paul
: Sometimes you gotta go fast.
And in a world where that speed comes from pounding alloy pistons, feels like warm, rubber-scarred asphalt, stinks of fetid fumes and fury, the Pit Crew are the kingmakers. They, and thus you, decide the monarchs of motorsport, with deft hands of restoration and renewal.
Collectively you wrench home a new wheel, working as well together as the finely-tuned machine you maintain. Nobody is screaming for petrol, nobody has broken the engine, nobody has just dropped a card. It's fine. It's okay. You're the pit crew.
furry tetris, bear patch of land, *blep*
It was bound to happen sooner or later. Even if we'd tried, if we'd deployed all the forces at our command, we'd never have been able to keep Paul away from reviewing 
Bärenpark
. It's a tile-laying game and it features bears. The best we can do is hope he doesn't overdose on pure pleasure.
That said, Paul is a consummate professional and it'll take more than a boxful of bruins to win him over. Can Bärenpark deliver or, at heart, is it just too simple?
a gutted game, an over-large uniform, nicotine discs, a rat in a trap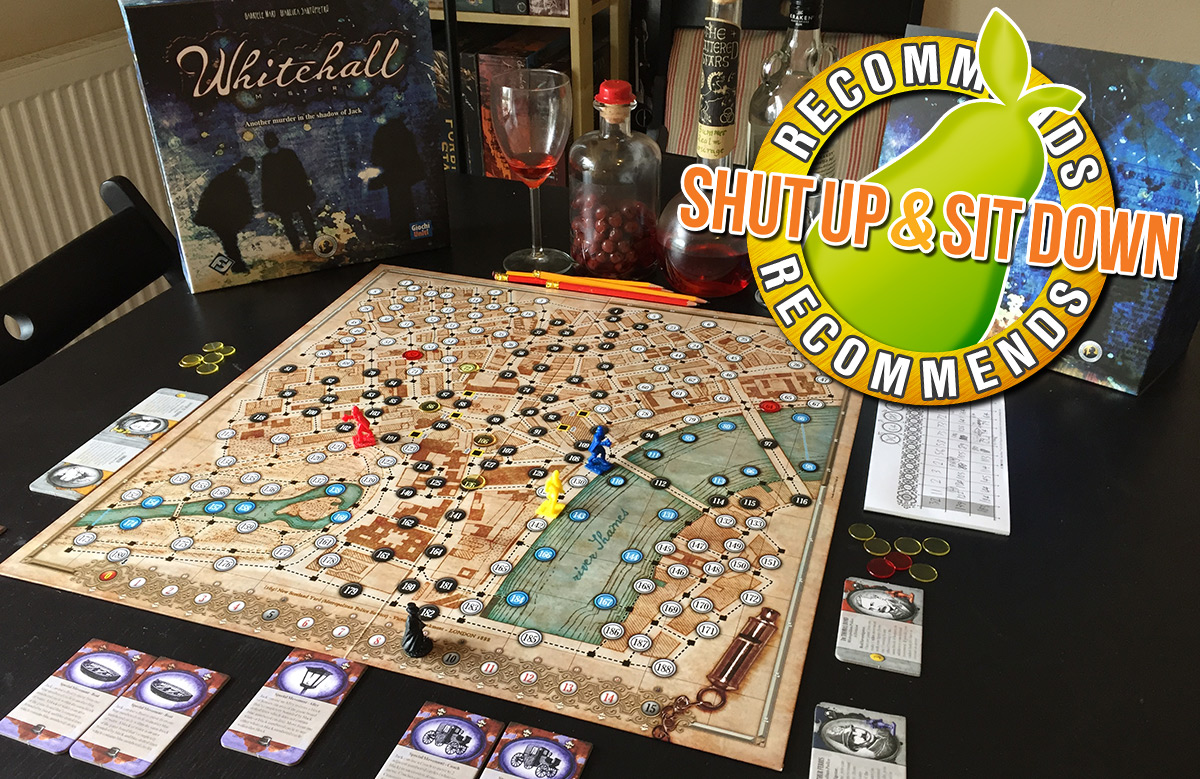 Quinns
: Career Shut Up & Sit Down fans might remember our
2013 Halloween Special
, where we reviewed a game called
Letters from Whitechapel
. This was a beautiful, heinously tense game where one player controls Jack the Ripper, facing off against a team of police players who hunt him through the streets of London like a wild animal. It would be in ill taste to say that we were charmed by that box, but Paul and I would both have to admit to being seduced. What a puzzle. What a board! What fabulous 
pressure.
Fast-forward to 2017, and it was only a couple of months ago that I was arching my eyebrow at the announcement of a spin-off titled Whitehall Mystery. I read the preview articles and couldn't for the life of me figure out what I was supposed to be excited about.
This week review copies of Whitehall Mystery stepped out from the foggy alleyways of publisher Fantasy Flight, and I gave it a play. And you know what? There's now egg on my (blood-flecked, murderer's) face.
I think this is the best hidden movement game ever made.
heart-burst, thriller-made, pool-hides, english-feels, pastoral-slice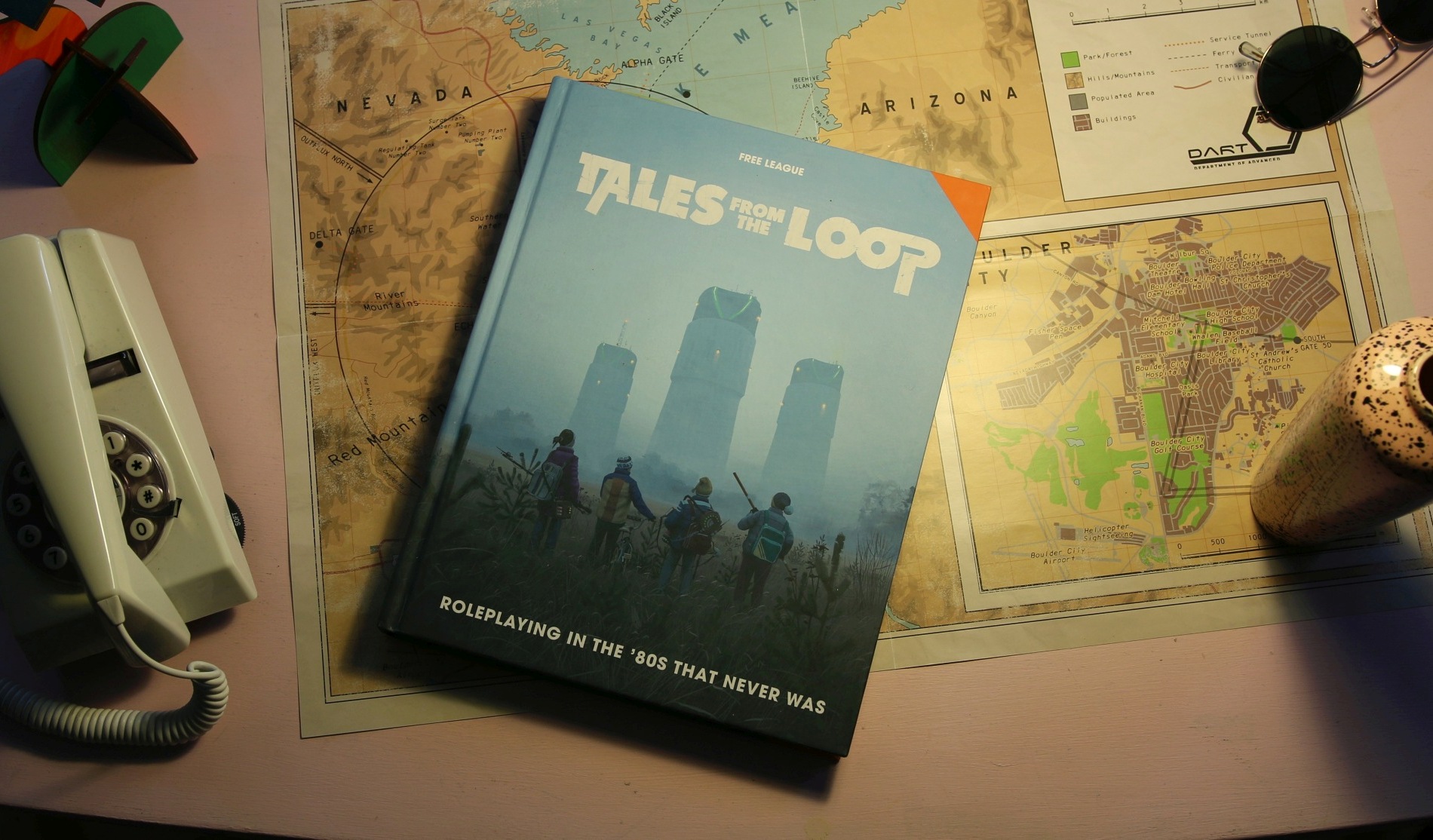 Cynthia
: Omg! I think we might have an RPG blockbuster here, Quinns.
Everyone's talking about Tales from the Loop, the game of roleplaying young kids in a 1980s that never was. It's got everything you need to play out your own version of Gremlins, E.T., Stranger Things, or any movie where kids hurriedly pedal their bicycles to save the day (but should probably be home before dinner).
And who wouldn't want to play a kid? Adolescence is amazing, and I'm not just saying that because I spent months teaching middle school Algebra. All the hormones, and discovery, and bravery, and adventures, and confusion… it's perfect RPG fodder. The question is whether Tales from the Loop successfully unites '80s nostalgia and middle school feels with good science fiction mysteries.
Ok, I confess. I teared up more than once while playing it. What did you think?
Quinns: I'm going to be very British and delay talking about my emotions so I can squeeze this in above the cut: I think Tales from the Loop is a cool, clever, beautiful book, but the real reason I want everyone to know about it is that it might also be the easiest experience I've ever had being a Games Master.
the name's bond, james bond, listen do you have 5p for a cup of tea
What's the new hidden role game that's got SU&SD buzzing? That's full of laughs and surprises whether you play it with 4 players, all the way to 8? That has the single nicest components that Quinns has EVER TOUCHED?
We couldn't possibly say. Those are Secrets, you see.
Please note that Secrets isn't out yet, and arrives in shops in August. If you're interested, we recommend contacting your friendly local game shop and asking to place a pre-order.
wrg snargles, top fruit, pints of cream, juicy specificities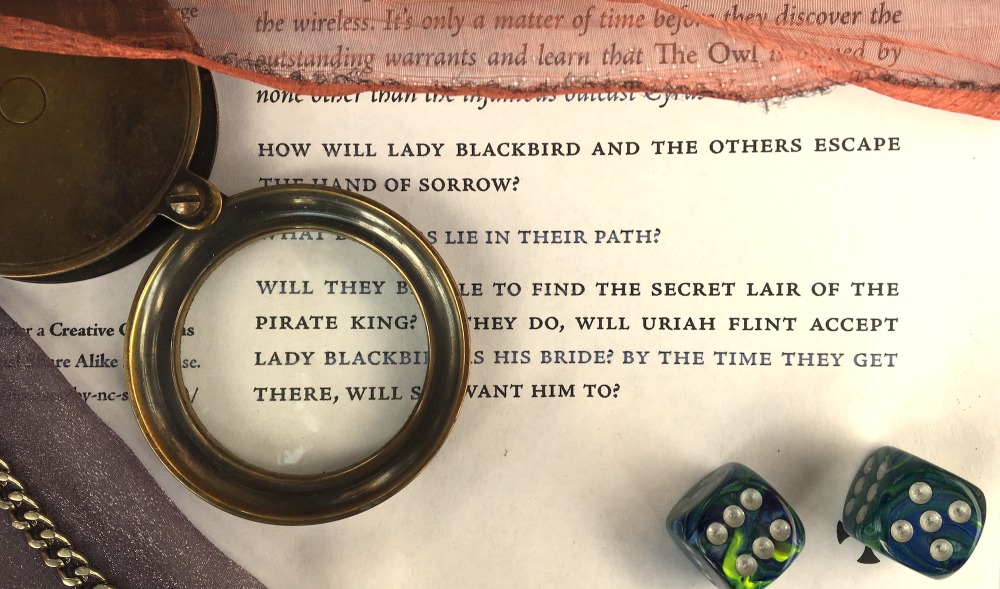 Cynthia: Everyone, I have a little secret that I want to share with you. Ok. Maybe it's a decently-sized secret. Maybe it's not that secret at all. MAYBE it will change your tabletop gaming life.
DON'T TELL ANYONE, but some of the best roleplaying games out there are not available at your local retailer. Thanks to the magic of the internet, they're completely free.
These irresistible blossoms of RPGs can suddenly appear on Twitter or Reddit only to vanish within a few days. Sometimes they'll quietly bloom on a designer's Tumblr or publisher's homepage. A few older ones thrive quietly in the dark places of the internet to be occasionally plucked by some intrepid RPG gatherer who brings them back into the light. There's even a contest-fed bouquet of 200-word RPGs out there, as Quinns and Paul mentioned in a recent edition of Games News. The brightest flower of all these lovely free RPGs, however, is Lady Blackbird.
Everybody, it's the most wonderful time of the year! We of course refer to the 
Annual Summer Goodtime Tile-Based Reinerstravaganza, and this year the star of the show is the new Windrider edition of Reiner's 1997 classic, Tigris & Euphrates.
Don't know who Reiner is? Don't like tigers? Allergic to tiles? Well frankly, that's just not good enough. This box is a bulwark against boredom, a titan of the table, and the new edition deserves just a little more love.
mount your turtles, biting risks, bloated samurai, tasty details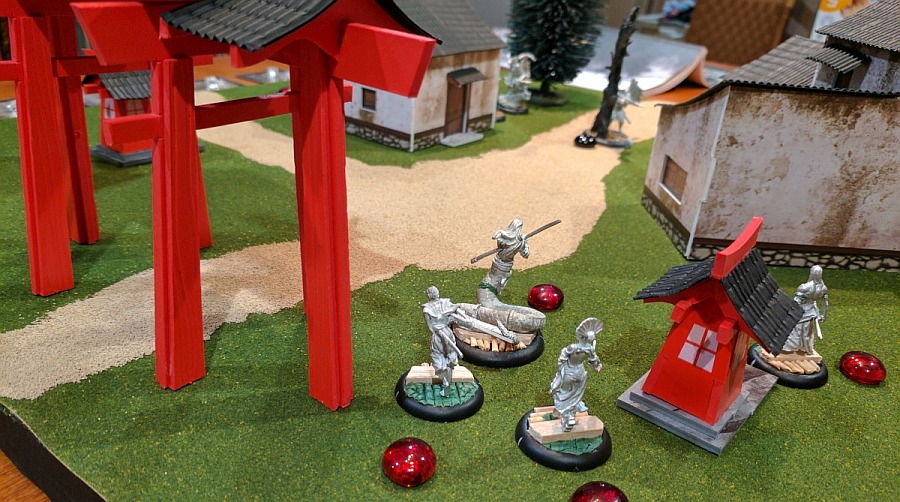 Eric
: I'm standing here, what feels like a katana in my chest, the bodies of my soldiers piled around me. I'm standing here defeated and absolutely delighted, a big grin on my face, trying to figure out what it's doing there.
That was the end of my second play of Bushido by GCT Games - the actual impaling being only metaphorical, if you're the queasy sort, but the defeat and delight being real. From my first encounter, what intrigued me about Bushido was that I found it immensely pleasurable even when I lost horribly. Let me try to explain why.
If the name and picture don't make it apparent, Bushido is a tabletop skirmish game set in a world inspired by Japanese folklore, or at least a western, Tolkein-filtered riff on Japanese folklore. Elves and Dwarves are replaced by Tengu and Oni, the heroes include snake-people and warrior pandas, and the outfits look like the result of a raid on a Kurosawa film's prop closet. All in the best possible way.