space sneeze, letnev party, a reallyreallyreallyreallyreallyreallyreally big car park
At last
. A full six years after we rugby-tackled one of the most glorious and gargantuan board games ever made, we once again take on Twilight Imperium. Sleeker and shinier than ever, just how does the refined 
fourth edition
compare with its previous incarnation? Look no further, for we offer you the definitive review of this epic space opera.
And yes, we really do mean definitive. After Matt and Paul prodded the game so much at Fantasy Flight's headquarters for Matt's in-depth documentary, Quinns took on the brave (some would say Herculean) task of looking at this new edition both as a standalone game, but also alongside its predecessor, which is now widely discounted. Which one deserves your money?
splinching Spock, good space weather, the mirror universe and all its evil beards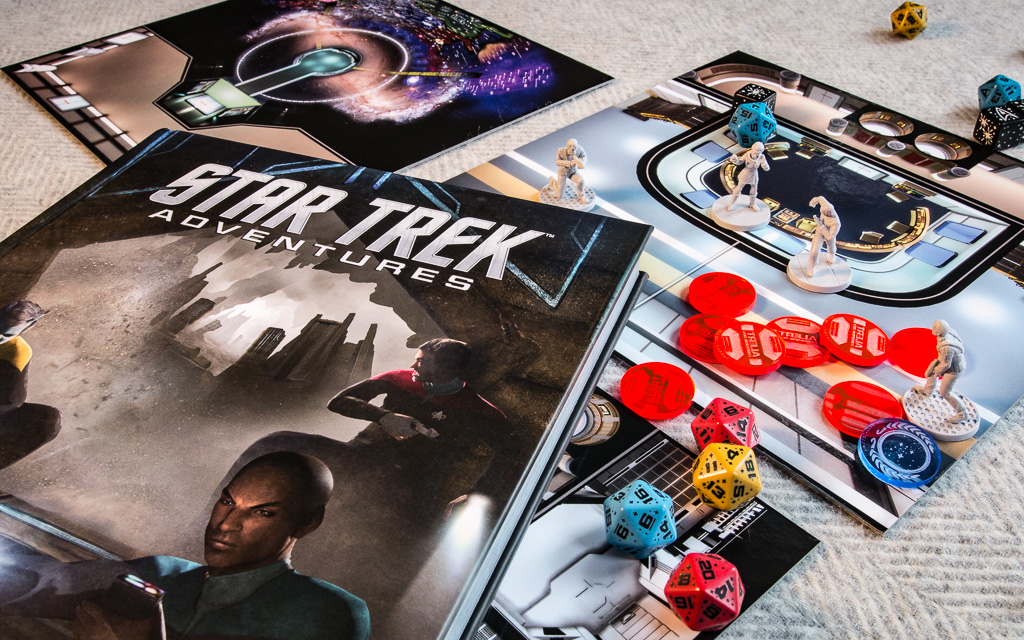 Cynthia
: "
Space. The final frontier.
" As a kid, whenever I heard Patrick Stewart utter those words, I'd drop everything, leap into my favorite chair (from the back,
à la Riker
) and watch. Star Trek: The Next Generation is more deeply rooted in my nerdy American psyche than pumpkin pie, Marvel superheroes and football combined. So when Modiphius announced they were publishing the first
Star Trek roleplaying game
in
fifteen years
, I began tugging Quinns' sleeve like a kid passing an arcade. "Can we review that?
Please?!
"
But does it provide that perfect blend of discovery, combat, philosophy and cheap humour that characterised Star Trek at its strongest? Can it submerge us the suffocating moral ambiguity of Deep Space Nine, inspire us like The Next Generation, or make us squee with dread like the tribbles of The Original Series? Does it boldly go where no science fiction RPG has gone before?
is it still "cosplay" if it's this bad, leaving numbers behind, rose-tinted goggles
A mere 700 days later and IT'S HERE!
Pandemic Legacy: Season 2
is the sequel to our game of 2015,
Pandemic Legacy
, and it's even more ambitious than the first game. Not only is this box heavier and more expensive, it tells a far more complicated story.
But what do we think? Has the lightning of genius smote this particular property once again? Or does Season 2 feel like a difficult second album?
If we were you, we'd take a deep breath, click play and find out.
Hoth on highballs, subtle seasoning, flicked to the full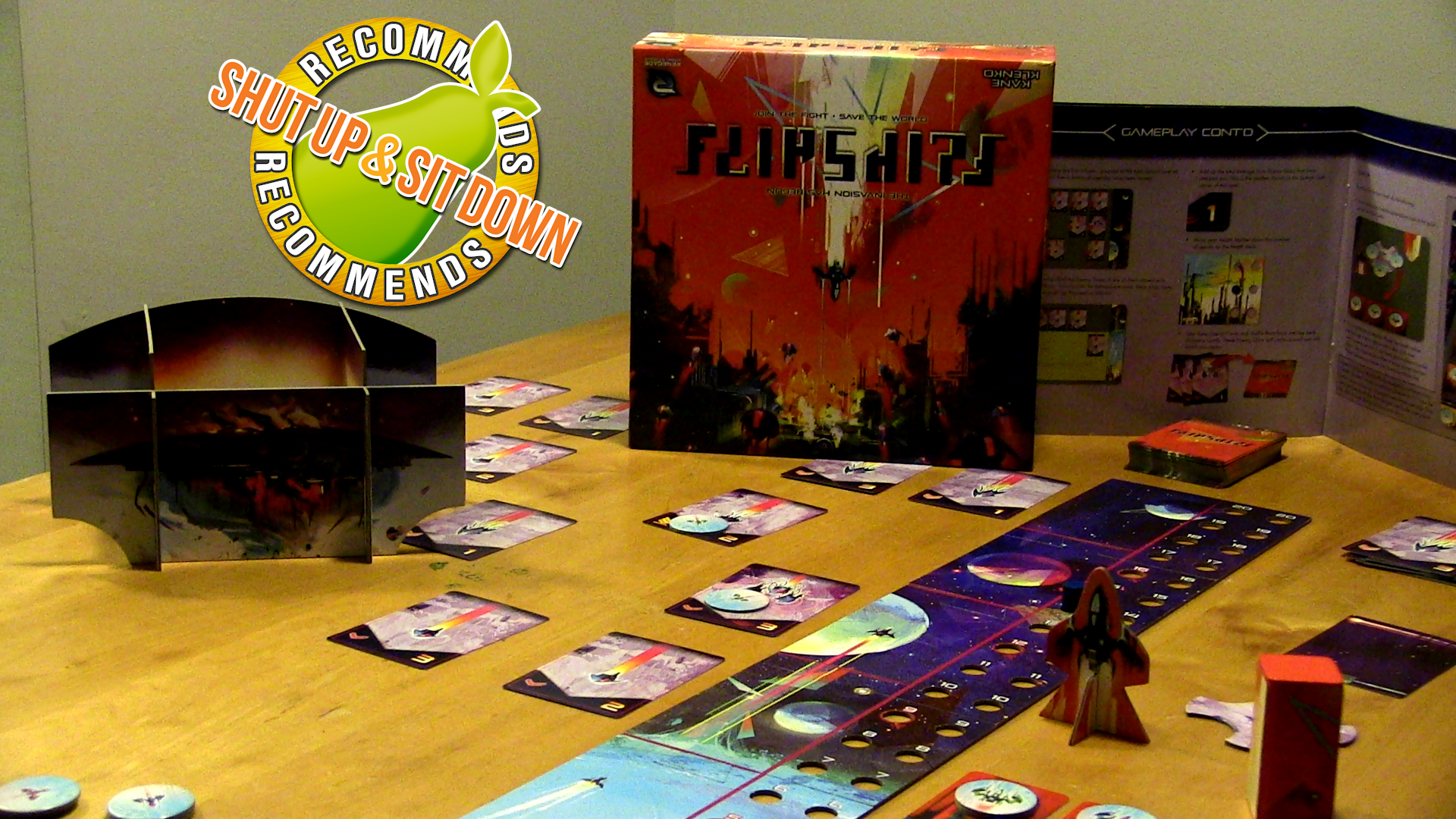 (This review contains gifs. Viewing it on a mobile device may use a lot of roaming data. If your usage is metered, consider reading this at home!)
Paul: The aliens are coming. Aggressively advancing, ever encroaching, nothing seems to stop their dreadful descent. The sunlight shines off their silver spacecraft as they pierce the heavens and prepare to bring down so much death and destruction onto the city below.
You and your friends are all that stand in their way. Together, you will use a small flight of fighters and the most precise cardboard-flipping skills the galaxy has ever seen to win the hour. You will flip them round the moons. You will flip them in low orbit. You will flip them in the atmosphere. You will never surrender.
Or you'll flick a state-of-the-art starfighter straight across the room and lose it behind the sofa. Who's to say?
Machiavelli-maths, i've made a huge mistake, Rafael Silveira is rubbish though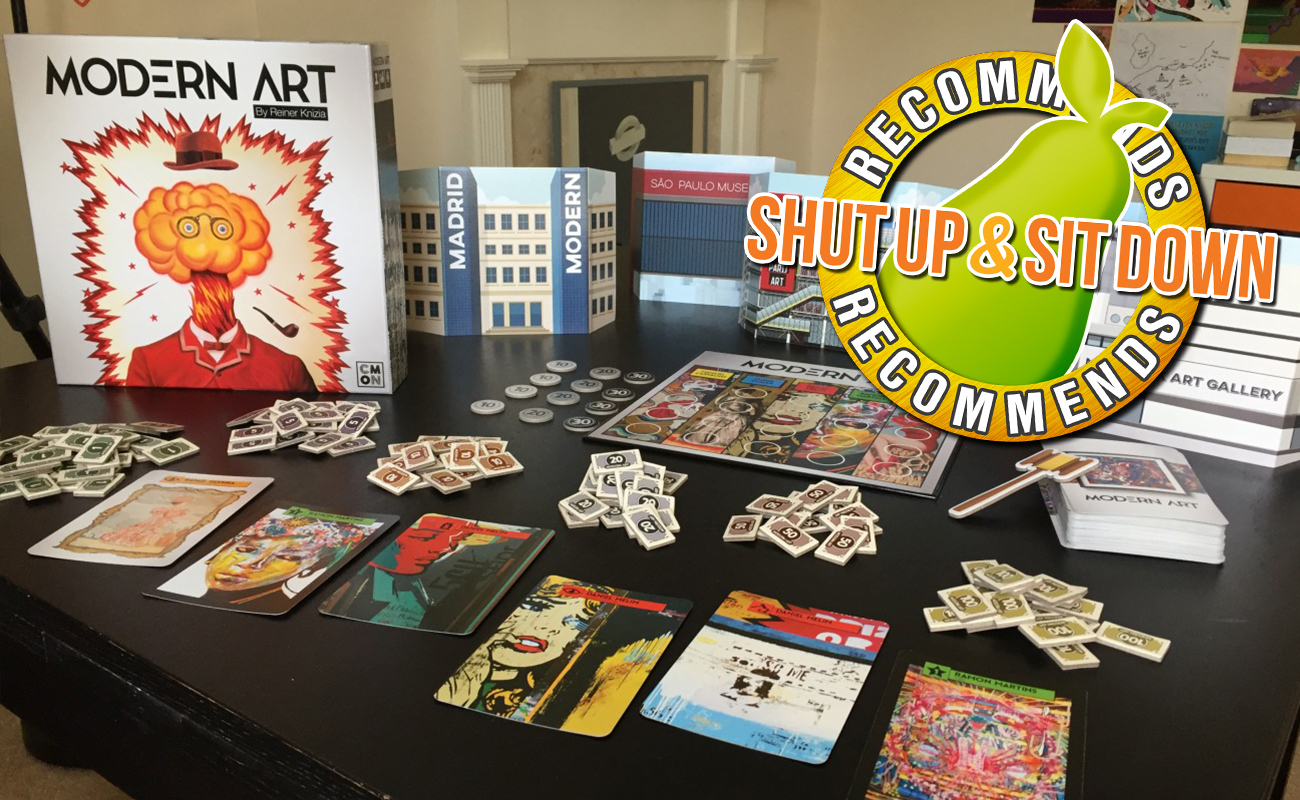 Quinns
: With CMON's
new edition of Modern Art
, a game of blisteringly quick and dangerous art auctions, Shut Up & Sit Down continues its exploration of
classic Knizia.
Just who is Reiner Knizia? Where did he come from? What is he doing?
We've interviewed him
and I still don't know. All I can tell you is that he's responsible for
more than 500 games
, literally some of which are good.
But Modern Art isn't just the oldest Knizia game we've ever reviewed. With the exception of 1981's Consulting Detective, I think this is the oldest game we've reviewed, period. It came out way back in 1992, when Paul was celebrating his 30th birthday and Matt hadn't even been born yet.
Can you feel it? This site is trembling with time right now. Slip inside my cardboard Tardis. Let's see if the years have been kind.
poisonous cat masks, erotic pastries, trains that literally go to hell, inhaling rules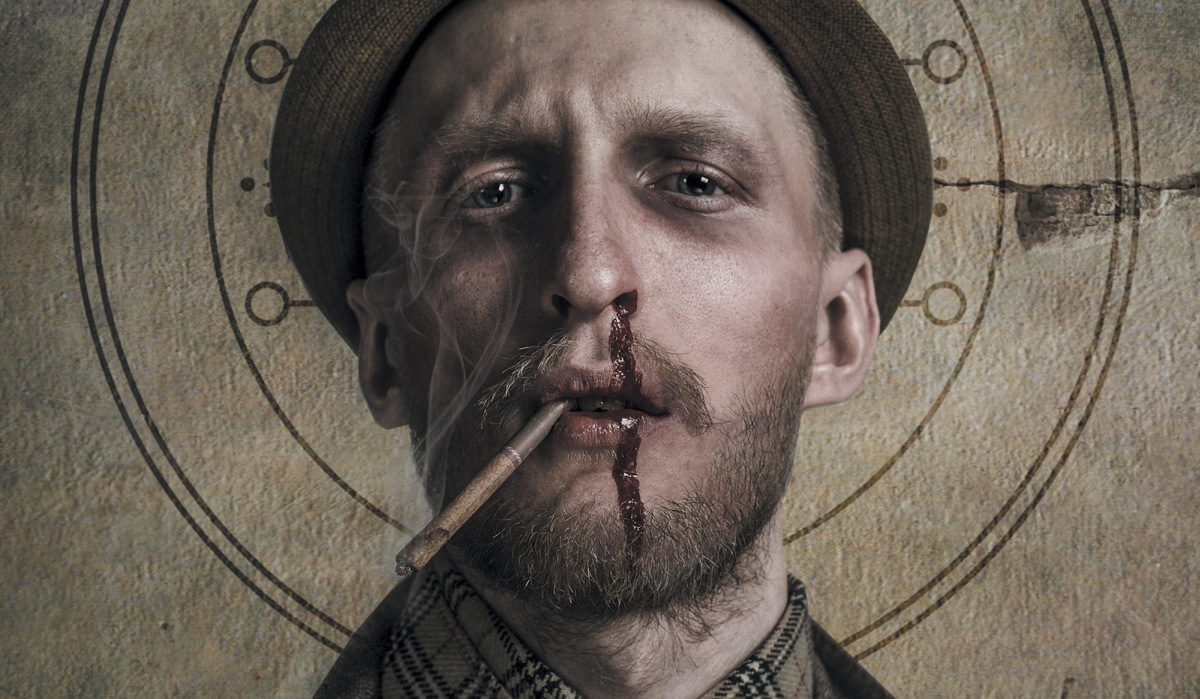 Cynthia
: The
third edition of Unknown Armies
appeared in May of this year and got my attention with this pitch: "A
n occult game about broken people conspiring to fix the world."
Alright, I thought, I'm hungry for games set in the actual dumpster fire world we live in, and I enjoy creepy, occult things, and I always want to investigate characters with secrets, traumas, and unsolvable problems. So I gathered a small cabal and led them into a morally ambiguous underworld of deadly rituals, paramilitary organizations, ancient crypts that appear only at midnight, young women without tongues, and murder. I plunged them into an international struggle for the future of the TransCanada oil pipeline, of Vancouver real estate, of the White House, and the world.
If you're ready for a game of of vast conspiracies and sleepless nights, a game in which your obsessions give you strength and great power comes with great corruption, in which you'll be haunted by invisible demons with ten-inch claws and compelled to do bloody deeds, where heroes are less Captain America and much more Jessica Jones… then read on. Just be warned: in case you haven't figured it out yet, this game is not family-friendly. Nor is it for the faint of heart.
a georgian george clooney, a ghost whisperer, word-confetti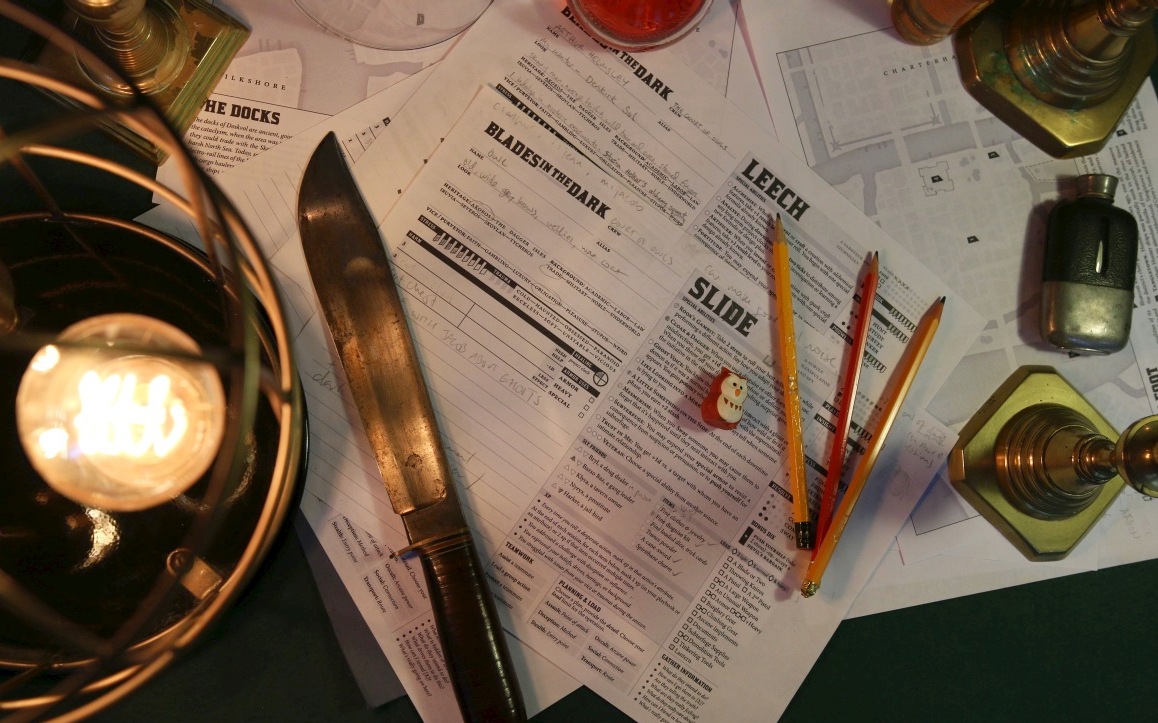 Quinns
: Remember last month when we reviewed 
Tales from the Loop
, the charming sci-fi RPG of bicycles, bottle rockets and 1980s theme songs? Today we're going to look at the other new role-playing game that's been turning heads among my friends, and we're going as villainous as Tales from the Loop was innocent.
Blades in the Dark is a game by John Harper, who you might remember from Cynthia's review of superb free RPG Lady Blackbird. But while that game was an improbable 15 pages, Blades is 336 pages. By comparison, it's his opus.
Which is very good news if (like me) you're a fan of Scott Lynch's Locke Lamora books or the heist genre in general, because Blades is a game of playing regency-era criminals. Oh, yes. This is a scoundrel simulator, and whether you want to play a crew of classy vice dealers, some down-and-dirty brawlers, or even a worrisome cult is simply the first of one million entertaining decisions that you'll be making.
Blades in the Dark also offers a vast, seductive backdrop to your escapades: The haunted city of Doskvol, which will be familiar to anyone who's escaped into the gloompunk of videogames like Thief, Dishonored, Sunless Sea or Fallen London.
This is going to be a long review, and not just because this is a huge book. You see, not only is Blades the most fun that my friends and I have ever had playing an RPG, it's also like nothing I've ever played.
a surprise pterodactyl, vomiting into a trumpet, cereal box fiction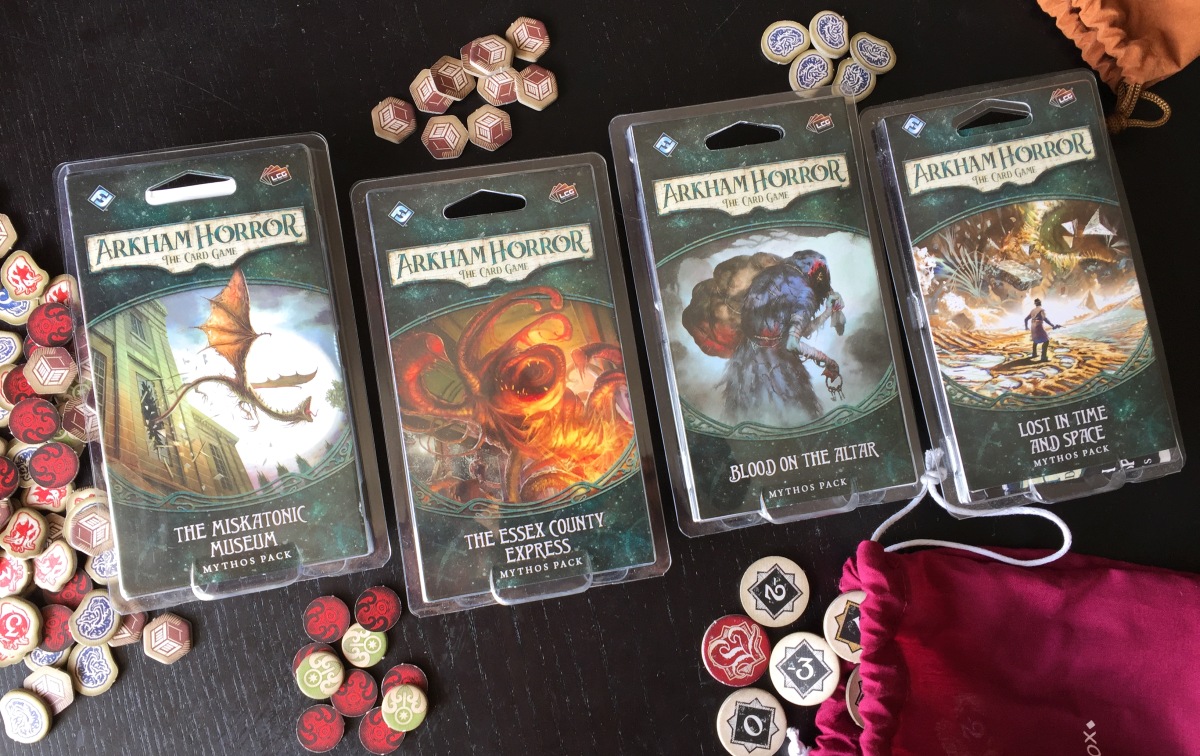 Quinns
: So, we're seven months on from when Matt and I first peeled the delicate outer membrane from the otherworldly Arkham Horror: The Card Game (otherwise known as 'shrink-wrap').
We were stunned at how much fun we had
. After years of rolling our eyes at Fantasy Flight's Lovecraft products, we found that inside this small, unassuming box was an absolutely electric experience. I was as surprised as anyone when I announced that it was
my favourite game of 2016
.
Now, you'll remember that while you can go back and play this game's scenarios on "Hard" and "Expert" modes, most of the appeal is in the first playthrough, making each new expansion pack feel like a long-awaited episode of a favourite TV show. You call your friends over, microwave some popcorn, put the popcorn in the bin so nobody can get grease on the cards and sit down to see what happens to your characters (and their decks!) next.
Which begs a question. Now that the first full campaign has been published (seven expansions that make up The Dunwich Legacy), how's this TV show doing?
And I think most players would answer you the same way. A small laugh, a faraway look, and then they'd say "Oh, man. It's good. And... weird."
Salted Sharon, Peppered Peter, a coyote on coke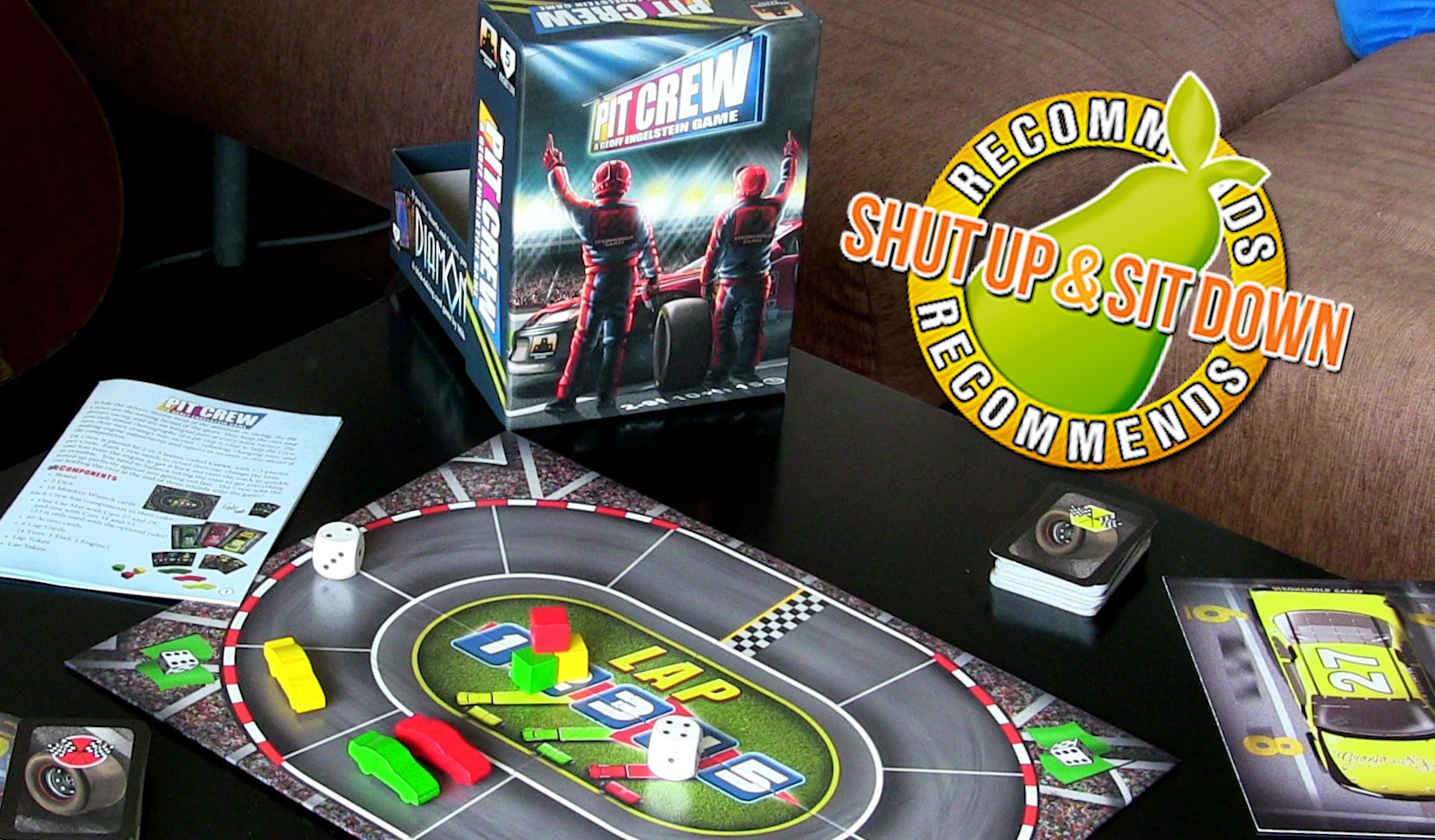 Paul
: Sometimes you gotta go fast.
And in a world where that speed comes from pounding alloy pistons, feels like warm, rubber-scarred asphalt, stinks of fetid fumes and fury, the Pit Crew are the kingmakers. They, and thus you, decide the monarchs of motorsport, with deft hands of restoration and renewal.
Collectively you wrench home a new wheel, working as well together as the finely-tuned machine you maintain. Nobody is screaming for petrol, nobody has broken the engine, nobody has just dropped a card. It's fine. It's okay. You're the pit crew.
furry tetris, bear patch of land, *blep*
It was bound to happen sooner or later. Even if we'd tried, if we'd deployed all the forces at our command, we'd never have been able to keep Paul away from reviewing 
Bärenpark
. It's a tile-laying game and it features bears. The best we can do is hope he doesn't overdose on pure pleasure.
That said, Paul is a consummate professional and it'll take more than a boxful of bruins to win him over. Can Bärenpark deliver or, at heart, is it just too simple?