a smoking clock, embiggened decrypting, game tea
Quinns
: Are you interested in coming to the third Shut Up & Sit Down convention this October? Because
tickets are now on sale on the official event page
!
If you're one of our amazing attendees from previous years, you'll know what to expect- a world-class buffet of published and experimental games, plenty of goofy stage shows, and all sorts of opportunities to make new friends.
It's a huge privilege for us to be able to throw this party for the best community in board gaming. If you want to see what all the SHUX is about, we'd love to see you there!
Three Men on a Boat, Three Men in Canada, Three Men and a Mountie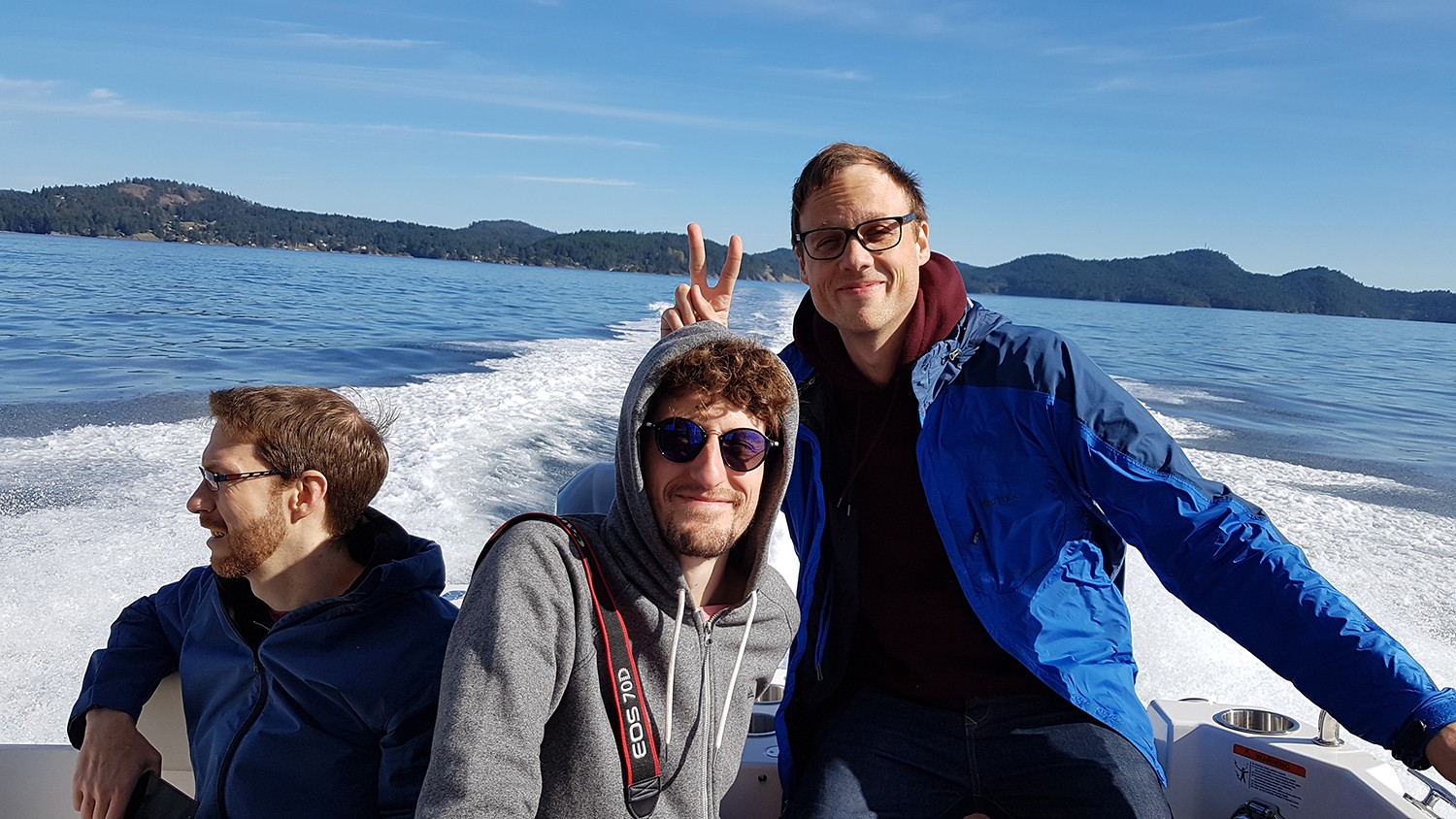 Paul
: Hello everyone!
SHUX 2018
is now just four days away, looming like a mountain in the mist, so we won't be putting any new or posts up on the site this week. Instead, the whole team is sat around a table
as I write this
to do last minute prep, which includes everything from rolling up characters for live RPGs to making sure the compass arrow on the convention map
really is pointing North
. Is it? FIND OUT ON FRIDAY.
i am arresting you under the monty python act of 1981 for being much too silly
Quinns
: Hey, did you know Shut Up & Sit Down is doing its second con this year? Did you know it's now officially the BIGGEST board game convention IN ALL OF CANADA?
These three days of 24/7 gaming are going to be - if it's at all possible - even better than last year. This time we'll have booths from all of the industry's big board game publishers, a ridiculous array of special guests, and more silly events than you could feasibly watch.
However, we are now 70% sold out of tickets. If you want to join all of the swell people who've snagged tickets early, you can do so right here, at Shux.Show.
Thanks everbody!
come see how tall matt and quinns are, and how tiny paul is, he's like a jelly baby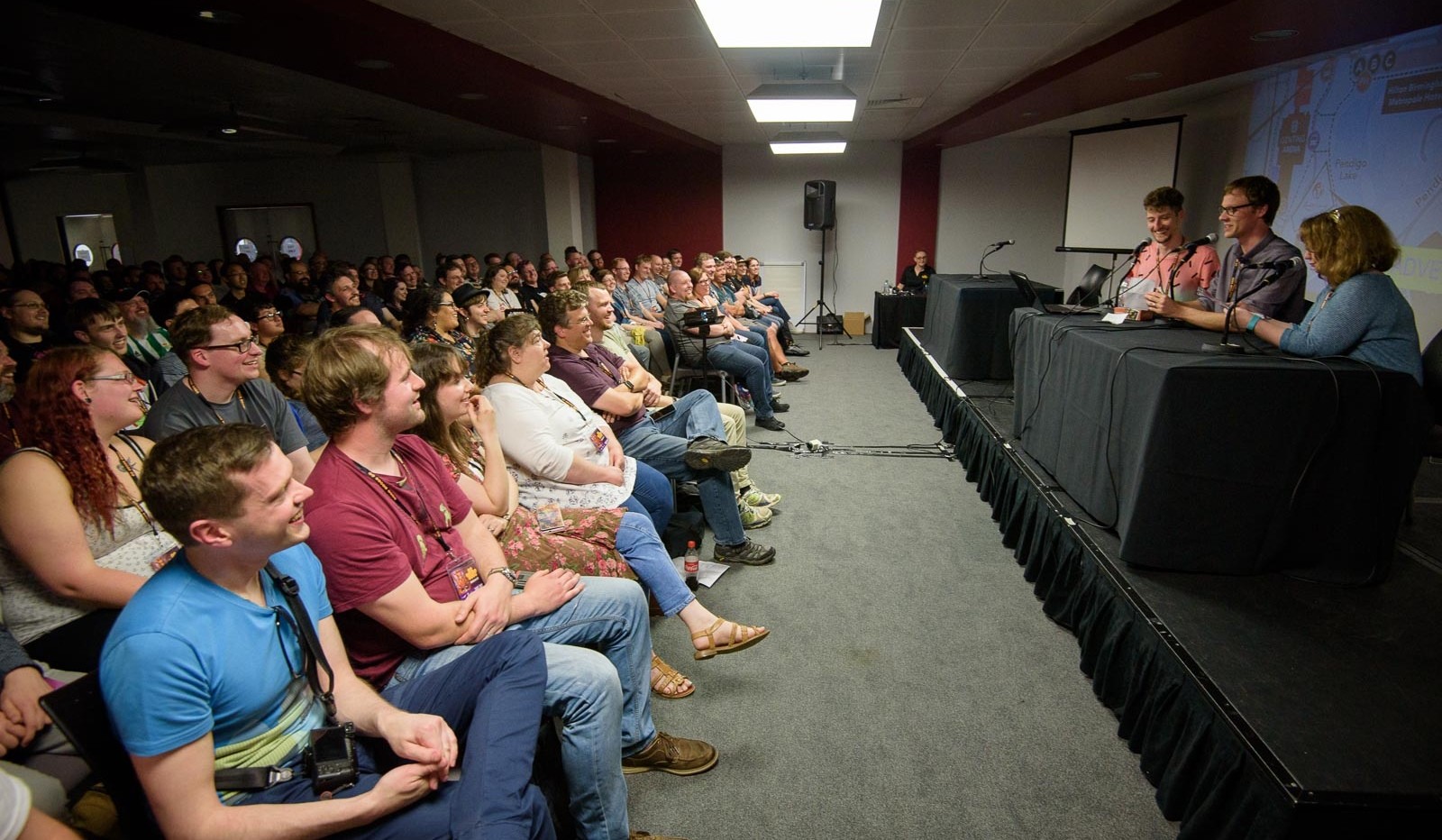 Photo courtesy of photographer Ben Broomfield.
Quinns: Hi everybody! You know what's better than watching Shut Up & Sit Down on a screen? Watching us live, or actually meeting us. Did that handshake linger a little longer than it should have? Were we... flirting with you? Was it just a dream... ?
In chronological order, here are all the conventions you can see us at in 2018.
Coming up just next week is the UK Games Expo, where we're doing a live podcast on Friday, another podcast on Saturday, Paul's doing an on-stage interview with designer Martin Wallace, and we'll also be appearing as guests on the Sunday show of Knightmare Live, though for that you'll have to buy tickets in advance. Also, we're hoping to do a meet-and-greet and hopefully have merchandise for sale at our booth. Keep your eyes on our Twitter for the when and the where!
In August, we'll be returning to Gen Con in Indianapolis. On Thursday at 10am we'll be kicking the convention off with a live show in their grand 1200 person ballroom. It's a big responsibility, and we're planning on making it our best live show ever. We'll also be the hosts of the What's New at Asmodee Digital event, so come along to that if you want to watch us try, and fail, to be professional.
In October we will of COURSE be doing more than a dozen shows at SHUX '18, our very own Shut Up & Sit Down convention. If you're still on the fence about attending, don't worry! We'll be doing an update in the coming months about all the guests, publishers and events we've confirmed so far. Or you could just buy a ticket right now, because that update is gonna be awesome.
Finally, at the end of November you might be able to catch us at PAX Unplugged, depending on whether the organisers decide to again invite us as special guests. We're hoping that they will, since we had a great time last year, but we'll let you know on Twitter as soon as we're invited.
Thanks, everybody!
one of these pears is real, a fine jar of marmalade, buy us a hovercraft
Quinns
: Oh my goodness, here we go!
Tickets are now on sale for SHUX 2018
, Shut Up & Sit Down's second annual convention in October this year.
Would you like to meet team SU&SD at a fabulous, warm, profoundly silly three day gaming party? Well, now you can! Last year tickets sold out in just over a week, so this year we're moving to a substantially bigger venue that can contain even more SU&SD fans. Still, we'd recommend you book early to avoid disappointment.
For an idea of what there is to do at SHUX, you can either watch the above video or click on that link. But most importantly, if you've never been to a board game convention before, that's perfect. SHUX will be designed with you foremost in mind.
As a glimpse of the madness of last year's SHUX, below we've uploaded this late-nite Q&A with myself, Paul, Matt and RPG reviewer Cynthia Hornbeck. I'm not sure I've laughed that hard since!
oh my god please come, it'll be weird if it's just six of us in a ballroom
Quinns: This is one of those times where you wish our headlines didn't already use capital letters, so we could SHOUT!
Our team has been working ludicrously hard for the last five months putting together the first ever SU&SD convention. It'll be in Vancouver, Canada on October 6th, 7th and 8th of this year, and tickets, details and hotel rooms are available through THIS LINK.
You can expect a board game lending library, tons of tables to play games, no less than three Megagames(!), a full track of talks and loads of special guests including every single member of the SU&SD team. It's going to be ludicrously good fun. Practical info can be found on the above SHUX '17 page, but I'll pop a small F.A.Q. after the cut.