Quinns
: Hey everybody! Tonight team SU&SD is celebrating how superb negotiation game Chinatown is arriving back in shops after a
very
long absence. You can watch Quinns' review above, and at 7pm BST
we'll be playing a game of Chinatown live on Twitch
! Yes, we normally stream on Thursdays, but not tonight! Remember to click "Follow" on our Twitch page to get an email whenever we go live.
Anyway, as I was saying, what a game! With a slim box, reasonable price, and simple-yet-fresh design, this is the kind of game that we can see ourselves recommending from now until this site finally implodes like a dying star.
...That said, the box art and setting look increasingly iffy with each passing year. Here's hoping that with the next print run, Z-Man update the theming to something less eye-rolly to Chinese board gamers.
tick tock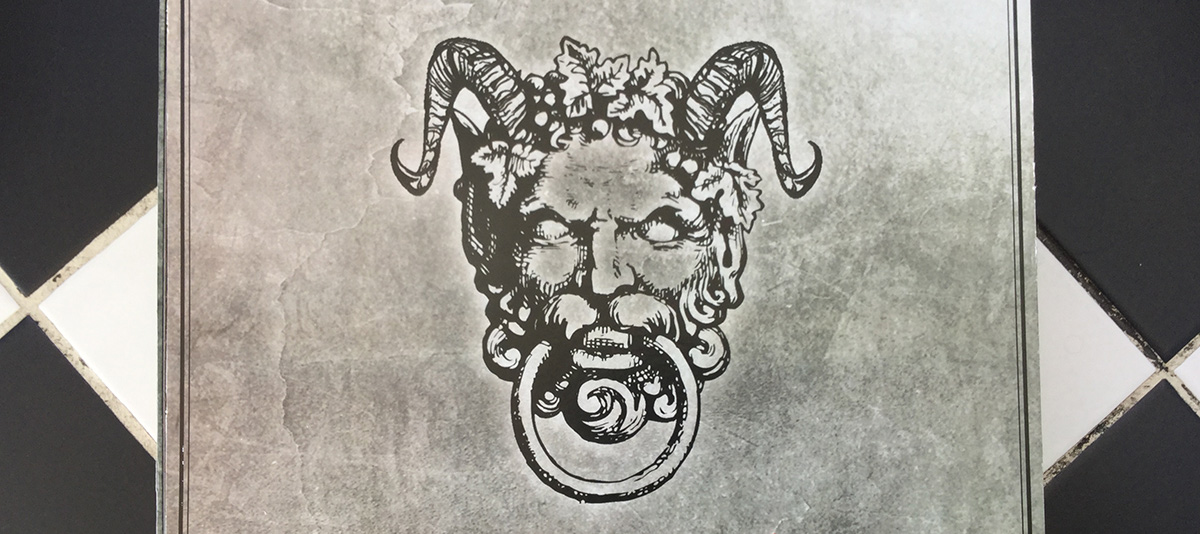 Quinns
: Hey everyone! There will be no Games News this week, as our team is developing one of 2019's more...
standout
reviews.
In fact, this is the most time we've spent on a single review since Matt's examination of Gloomhaven. However, we think this game is more than worth it.
You'll find out lots, lots more on Friday. Thanks for your patience!
planet bunk, a drawing of a dreadnaught, the diary room pushed to its limits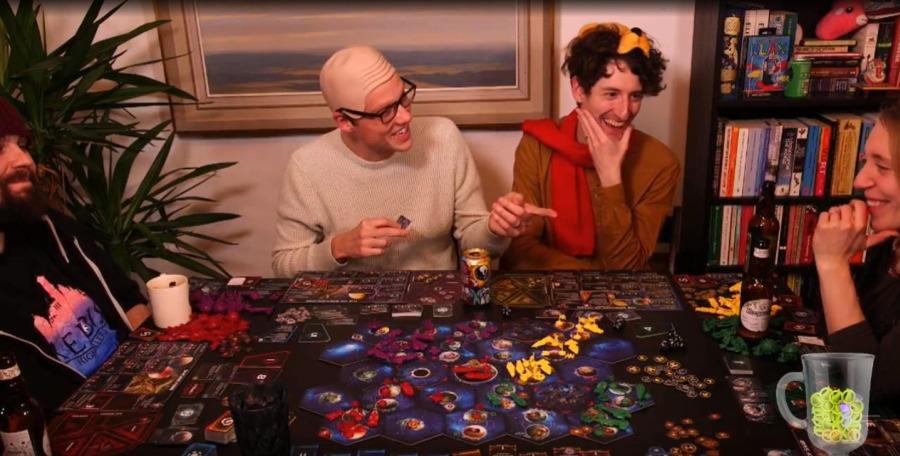 Quinns
: Hey everybody! After doing a nine hour(!) stream of Twilight Imperium this weekend, Matt and I are going to spend this week resting up and finishing up our quest to find this year's SU&SD interns.
Normal service (Monday news, Wednesday podcast, Friday review) will be resumed next week, although we're still going to be posting little bits for you to watch. Some of our best panels from SHUX '18 will be going up on our YouTube channel, and on Friday we'll post our playthrough video of SEAL Team Flix.
Best of all, you can watch our epic game of Twilight Imperium right here as a video-on-demand, but if you do that, we'd actually like to ask a favour...
In a couple of months we're going to upload this gargantuan 9 hour video to YouTube, but we want to start preserving some of the best comments from Twitch chat as text pop-ups within the YouTube video. So, pretty please, if you watch any of the video on Twitch and something in Twitch chat makes you laugh, could you leave a comment on this post with the line of chat, the username and the timestamp where it appears? You should be able to copy-paste everything you see, so it should be pretty easy.
Thanks so much everybody, and have a great week!
matt will be lions, elaine will be gnomes, quinns will be bad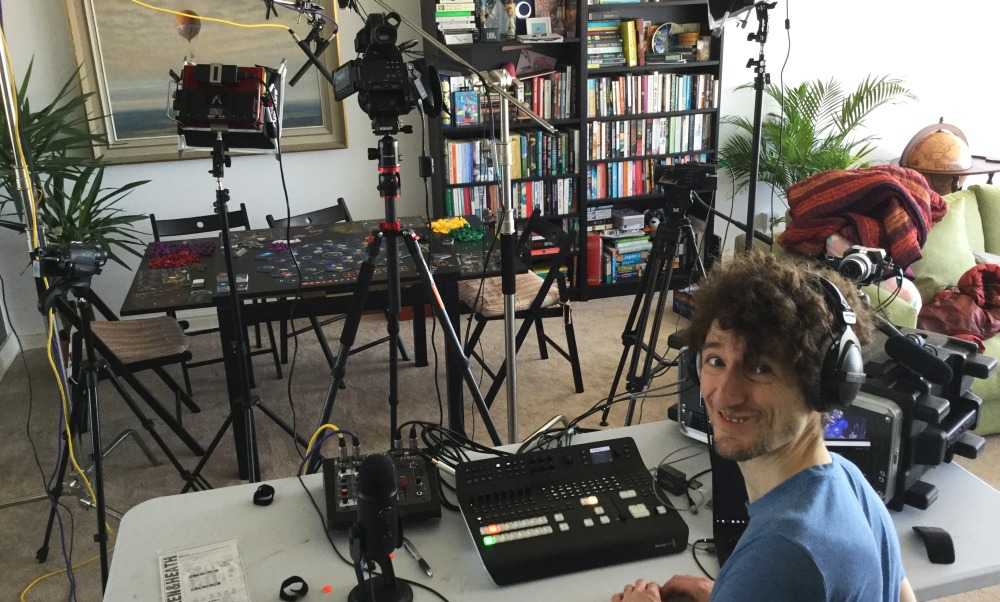 Quinns
: HELLO! After a literal week of preparation, today is the day 
we're going to be streaming a full game of Twilight Imperium 4th edition
. And with a bit of luck, it's going to be the most exhaustive playthrough of Twilight Imperium that the internet has ever seen. We will have...
Our secret diary room for whenever players want to share their secret plans
A tactical overlay showing the map, the objectives and who's completed them
The "Galactic News" readout showing the best Twitch comments
And even more!
Obviously after the stream is over you'll be able to watch it as a Twitch video on demand, and after that's gone we'll be uploading it to YouTube, but if you want to come along and join in the fun we'll be starting at 2PM GMT, 9AM EST, 6AM PST.
See you there!
push it, just push the button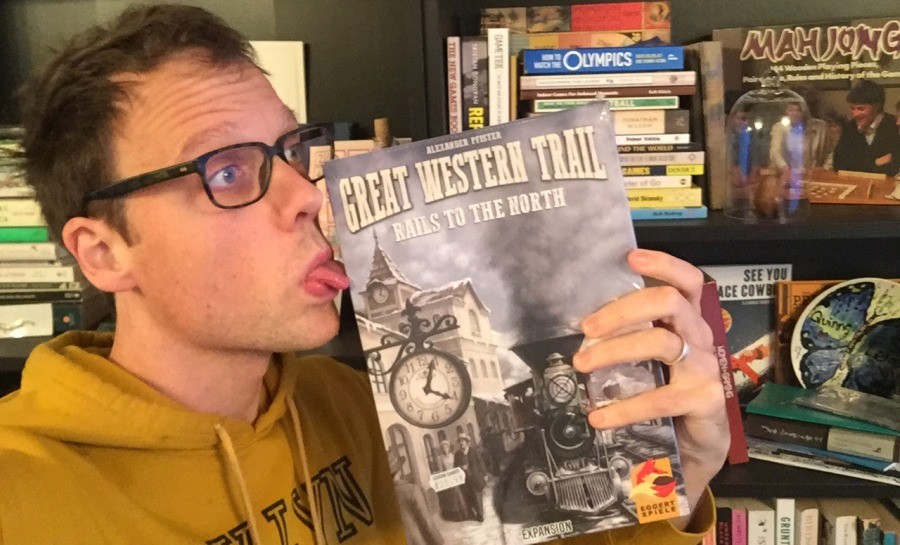 Quinns
: Hey everybody! If you've not checked out our live Twitch streams yet, you're officially missing out. They're basically an extra-long, live Let's Play, and I can now proudly say the channel has developed a frighteningly witty chat community. If you've been part of our chat over the last few months, thank you so, so much.
But here's the thing- you don't actually need to remember when we're streaming. If you just go to our Twitch channel and click on the button that reads "Follow", you'll get an email every time we start the show, which is once every couple of weeks. Also, you're adding follower count, which helps us out.
Tomorrow we're going to be trying the Great Western Trail expansion, Rails to the North, and the show after that... well, let's just say you won't want to miss it, and we'll be confirming more details shortly.
Oh, and did I mention our Twitch chat has a custom emote of the LADY ON THE CONCORDIA BOX? That's right! The wonders never cease.
Thanks again, everybody!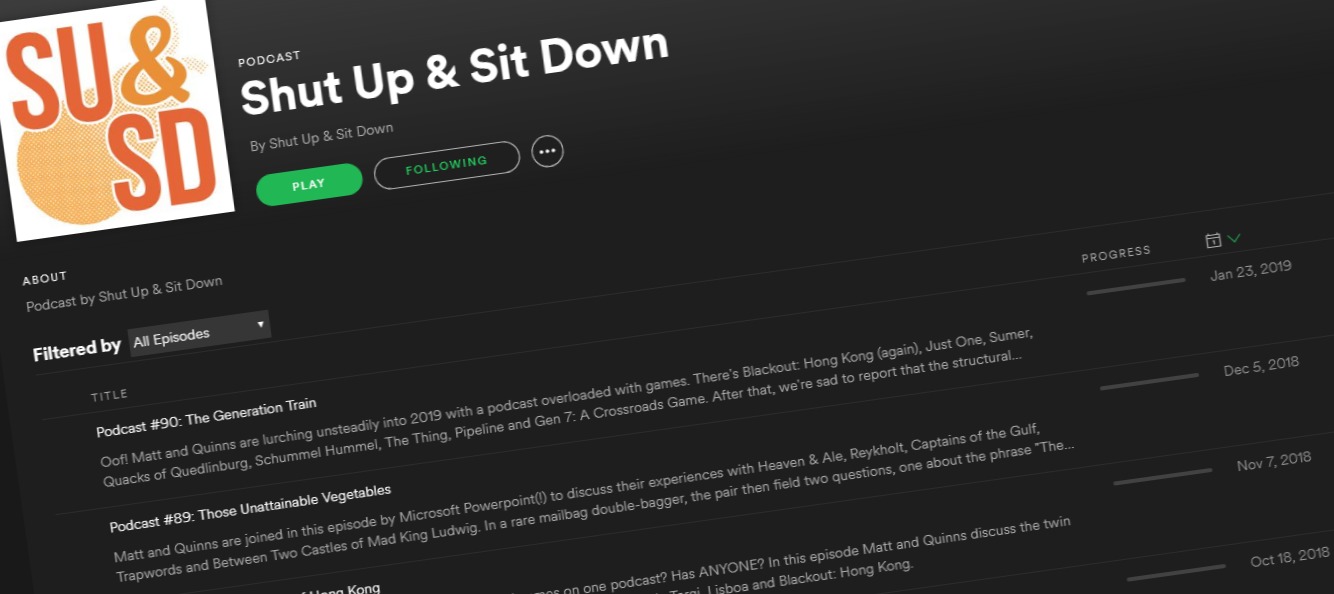 Quinns
: Good news, everyone! The SU&SD board game podcast is
now available on Spotify
. If you'd like to listen to it, it can be found there now, in addition to the other places where it can usually be found. A short FAQ follows.
Q: Can I now listen to the SU&SD podcast on Spotify?
A: Yes
Q: Will brand new episodes of the SU&SD podcast be on Spotify?
A: Yes
Q: Using Spotify, can I now put the SU&SD podcast into my ears?
A: Yes
We hope that clears everything up! If you have any further questions about the SU&SD podcast being on Spotify, please leave a comment and I'll see if I can help out.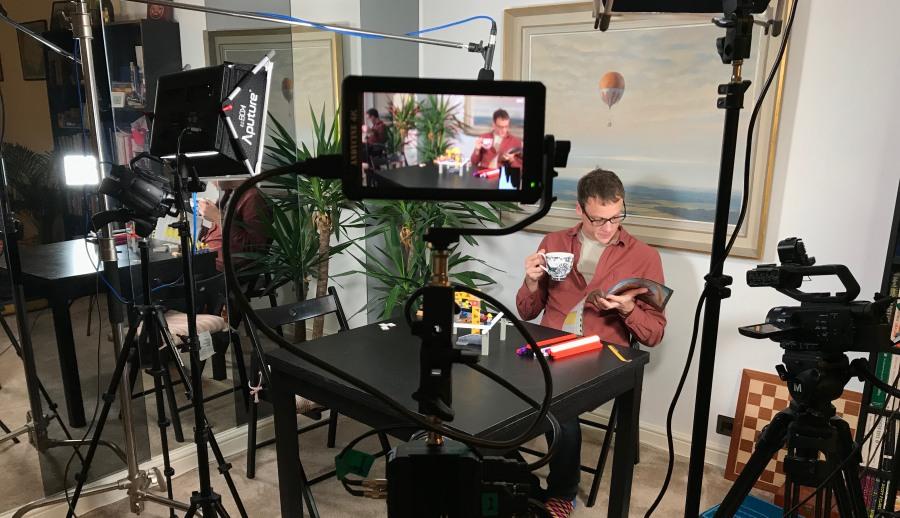 Quinns
: Hello my board-based bosom buddies! Shut Up & Sit Down's misadventures on Twitch will be continuing, live, any minute now, 
right here on our channel
. You can expect the show to run from 7pm GMT to 10pm GMT.
This week will be especially worth your time because we're playing a game that isn't even out yet- the next dexterity game from the makers of Flick 'Em Up and Junk Art, it's Men at Work!
If you've not joined in the fun on our Twitch streams yet, lemme tell you, it's an absolutely fantastic time. Our Twitch commenters are routinely a lot funnier than the stream itself, and as hosts we're really starting to find our groove.
In other words, try it! You might just like it.
Time for me to join the others and take my place. I'll see some of there!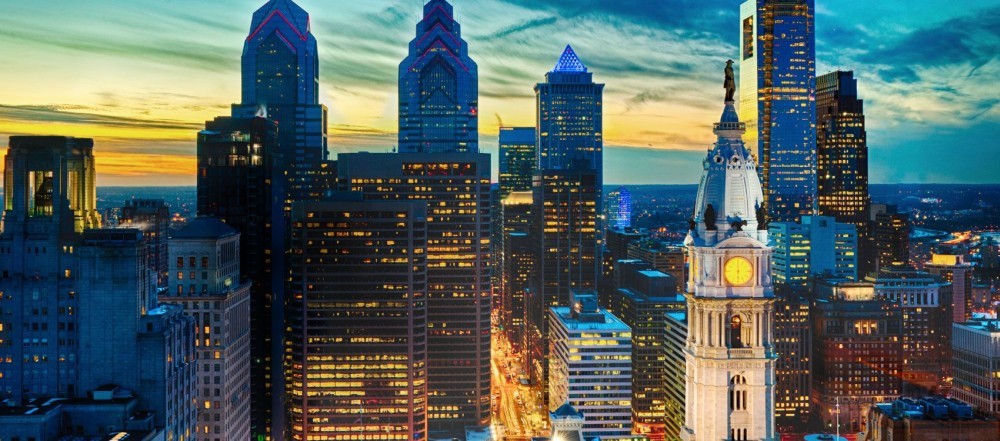 Quinns
: Hello my lovelies! This weekend Matt and I will be attending this week's big show in Philadelphia,
PAX Unplugged
.
We won't have a stand or merch at the con, but we are doing a bunch of live shows.
Also, a quick word to the wise- usually our events have big queues outside before they start, which means a lot of people assume that there won't be room for them and don't try and get into the event. This is a mistake! PAX has huge theatres with room for everybody and then some, so if you just wait until they've let the big line into the theatre, you should be able to waltz right in.
See you this weekend, everybody!
we just have one office rule, don't make eye contact with the pear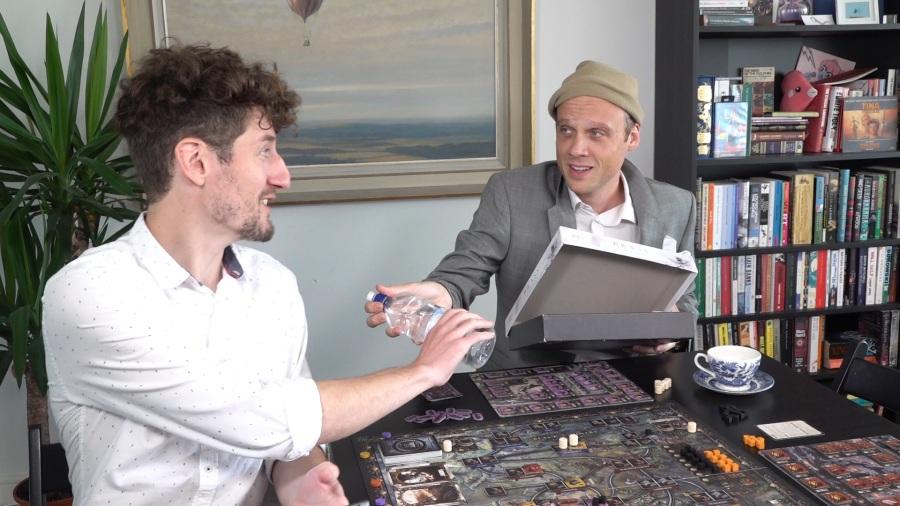 Quinns
: Hello all! Big news today. With Paul moving on to pastures new, we're beginning the search for new team members. Today, we're excited to announce a new, paid, part-time internship.
Throughout 2019, SU&SD will be offering a series of 3 month positions open to anyone in the UK interested in working with us, getting in front of our audience and learning everything that we can reasonably teach you about board games, scripting, video production, and all of the admin that gets stuck in-between.
We can't promise that any of these paid internships will lead to future work, but they really might. That said, even if they don't, we're confident we'll be able to teach you a whole lot, and - if it's something you want - we can help you to find your own audience.
Matt: We've gotten pretty good at what we do, but new voices and perspectives are always important - so whilst wit and on-camera charisma are a boon, we'd like to make it clear that applicants for these internship needn't have all the same skills that we do. Both myself and Quinns were lucky to start our careers in magazine writing - a culture that naturally cultivated mentorship and gave us both a really solid head start. In 2019 we'd like to try and pay this forward.
If you or someone you know would like to apply, all of the details can be found here, and the deadline for applications is January 31st.
oh no, oh gosh, i haven't played this game in years, help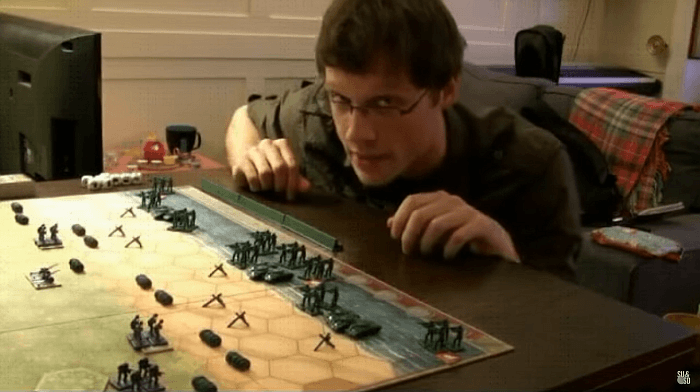 Quinns
: Our next
Twitch stream is tonight
, and I am expecting to get the bejeezus whipped out of me.
At 7pm UK time, 2pm EDT, I'm going to be playing Memoir '44 against our viewers. We're going to set up the cameras so that you can see your hand of cards, and every space will have a grid reference. Then, everyone can suggest moves in Twitch chat, Efka from No Pun Included will then pick the most popular suggestion, and stream director Chris Bratt will make the move and roll the dice. It's a bit like a Rube Goldberg machine specifically designed to cause me pain?
If you're not sure what Memoir '44 is, be sure to check out our review in the first ever episode of SU&SD, you can watch our playthrough of the superb, supermassive Memoir '44: Overlord, or there's this video where I can teach you how to play.
And as always, don't worry if you miss the stream! We'll be putting the video up on YouTube tomorrow.