did you know that indianapolis is the world's largest marriot hotel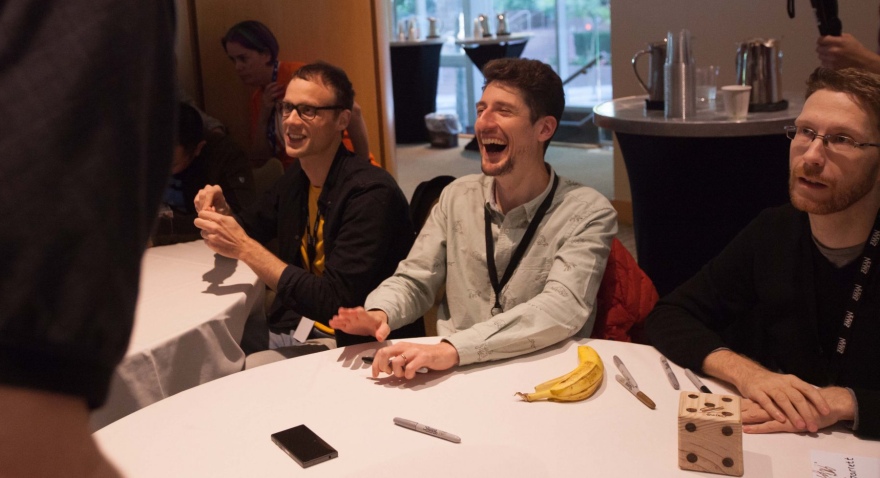 Quinns
: Hey all! Some final reminders of where you can see us at this week's big show in Indianapolis.
Our extravagant live stage show will be on Thursday at 10am. The good news is, they gave us the main stage that seats 1,200 people! The bad news is, that's the same exact time the main hall opens. You know, the one with all the games in?
To make the most of what we're calling "the death slot", we're planning to give you our early impressions on some VERY hyped games, like Detective: A Modern Crime Board Game, Disney's Villainous, even the bizarre creation that is Cryptozoic's Wallet.  Why not come along to this first, and THEN hit the hall when you know which games to queue for?
At 3pm that same day we'll be doing a bit of work as presenters, revealing some upcoming videogame adaptations of board games at What's New at Asmodee Digital With Shut Up & Sit Down. Come along for at least one announcement that blew my mind when I first heard about it...
Paul: We'll also be doing a signing session on Saturday the 4th at midday, where we will sign everything except Matthew.
Thanks everybody!
come see how tall matt and quinns are, and how tiny paul is, he's like a jelly baby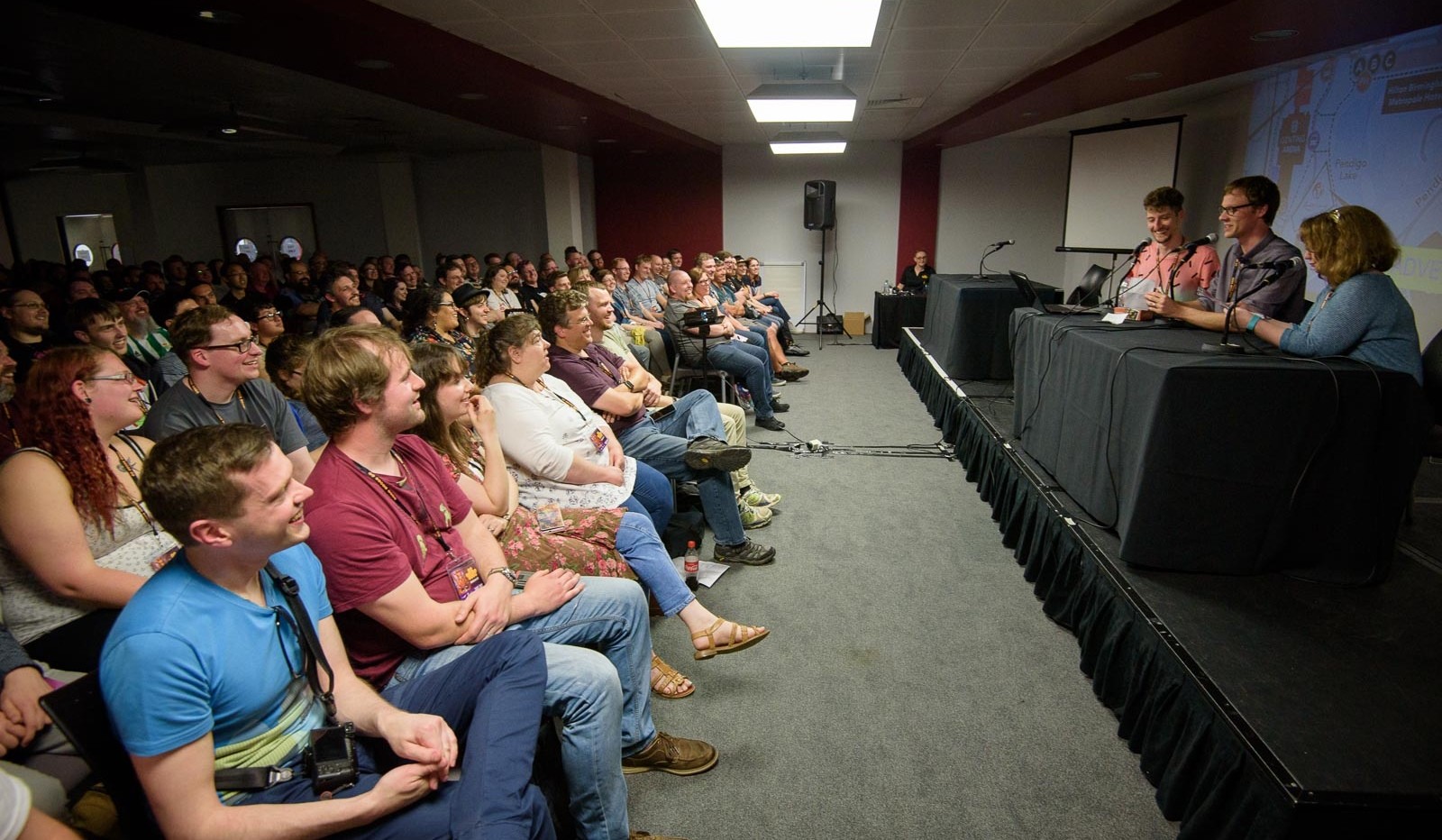 Photo courtesy of photographer Ben Broomfield.
Quinns: Hi everybody! You know what's better than watching Shut Up & Sit Down on a screen? Watching us live, or actually meeting us. Did that handshake linger a little longer than it should have? Were we... flirting with you? Was it just a dream... ?
In chronological order, here are all the conventions you can see us at in 2018.
Coming up just next week is the UK Games Expo, where we're doing a live podcast on Friday, another podcast on Saturday, Paul's doing an on-stage interview with designer Martin Wallace, and we'll also be appearing as guests on the Sunday show of Knightmare Live, though for that you'll have to buy tickets in advance. Also, we're hoping to do a meet-and-greet and hopefully have merchandise for sale at our booth. Keep your eyes on our Twitter for the when and the where!
In August, we'll be returning to Gen Con in Indianapolis. On Thursday at 10am we'll be kicking the convention off with a live show in their grand 1200 person ballroom. It's a big responsibility, and we're planning on making it our best live show ever. We'll also be the hosts of the What's New at Asmodee Digital event, so come along to that if you want to watch us try, and fail, to be professional.
In October we will of COURSE be doing more than a dozen shows at SHUX '18, our very own Shut Up & Sit Down convention. If you're still on the fence about attending, don't worry! We'll be doing an update in the coming months about all the guests, publishers and events we've confirmed so far. Or you could just buy a ticket right now, because that update is gonna be awesome.
Finally, at the end of November you might be able to catch us at PAX Unplugged, depending on whether the organisers decide to again invite us as special guests. We're hoping that they will, since we had a great time last year, but we'll let you know on Twitter as soon as we're invited.
Thanks, everybody!
will my wife be annoyed if I buy tiny sniper teams instead of potatoes this Christmas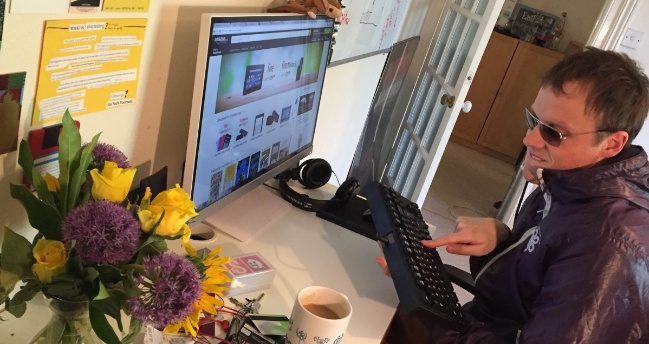 Update:
If you donated after the 21st deadline drop us a
note
and we'll hook you up anyway (it's Christmas after all)!
Quinns: Hi everyone! I've come down with a festive Christmas flu, but I found a block in my busy schedule of sneezing and fingering spicy soup between my lips to post about our 2017 pledge drive, which ends this Thursday. Donating any time between now and then will get you access to a profoundly jolly Christmas newsletter, packed full of the following:
Have your say on our plans for 2018!
Early thoughts on our next reviews!
An outtake reel!
Access to all previous newsletters, totalling 20,000 words!
A warm fuzzy feeling that next year's content is paid for by you!
And more!!
The last day for donations is the 21st of December, and the newsletter itself will go out on the 22nd.
Please donate! This weekend I played my first game of Dropzone Commander and now in addition to everything mentioned in our pledge drive video I also need a United Colonial Marines AC2 "Phoenix" class Heavy Command Gunship.
Thanks for your time, everybody!
a nude cat, a charming professor, four dead pokémon
Quinns
:
Instead of this week's Games News we've got something substantially more awesome to put in front of you guys. Remember the old episodic format that SU&SD used to have? Long, TV-style videos that were a mix of skits, reviews and plotting?
Well, today Matt and I have returned to that format on Cool Ghosts, our videogame site. If you like games, jokes or weirdness then you should absolutely make it part of your day. The first people to watch it are already describing it as "Early Shut Up & Sit Down, but instead of the excitement of board games it's the romance of videogames".
Sure, romance. Plus a slightly higher budget, and just a touch of anger.
Joining me today to discuss this new direction is Matthew Lees. Hi Matt.
Matt: Great to be here, Quinns. I've been a fan of Shut Up & Sit Down for years, it's a pleasure to be featured.
matt and quinns in the city of brotherly love, the jokes write themselves!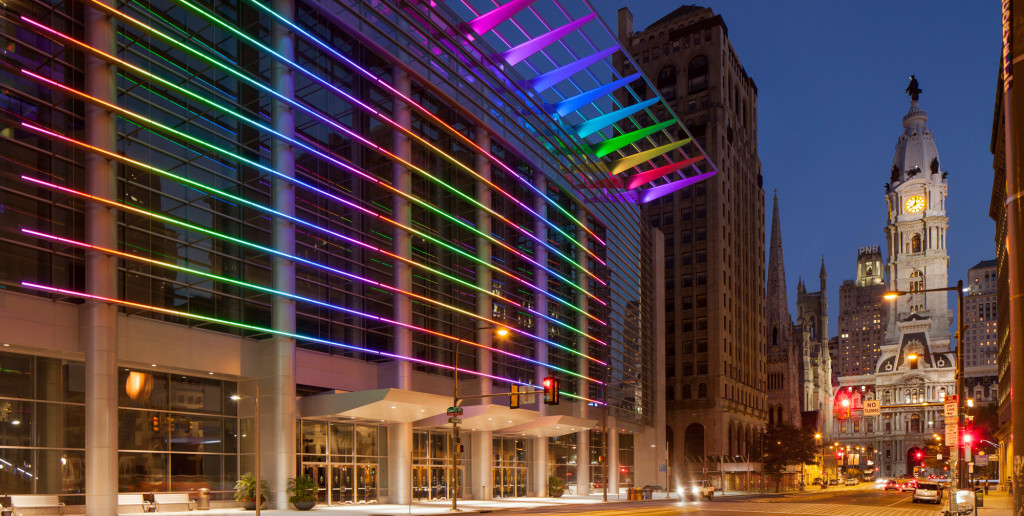 Quinns
: Hey everyone! Quick bit of business. Next week Matt and I will be flying to Philadelphia for 
PAX Unplugged
, the first table game-focused convention from the Penny Arcade Expo people, and we've got all sorts of events where you can catch us.
On Friday I'll be teaching a room full of people to come and play Flamme Rouge and Mysterium in what's being called "a game night in a can". Matt's got his own event teaching Sheriff of Nottingham and Ethnos. On Saturday we've got a live podcast and we're hosting a big fan meetup, so you should totally come to both of those. Finally, we've got an autograph session on the Sunday. We'll also have a merch booth up and running for the whole con where we'll be hanging out if we're at a loose end.
Are you reading this with a frown on your face? Would you have totally bought a ticket if you knew we'd be attending? We've got good news! PAX Unplugged has given us 10 three day passes to gift to our audience, so if you want to come join the fun in Philly just email [email protected] with your full name and email address and we'll hook you up.
All the tickets have been given out. See you guys there!
phew, sheesh, oh goodness, oh my, so many people clapped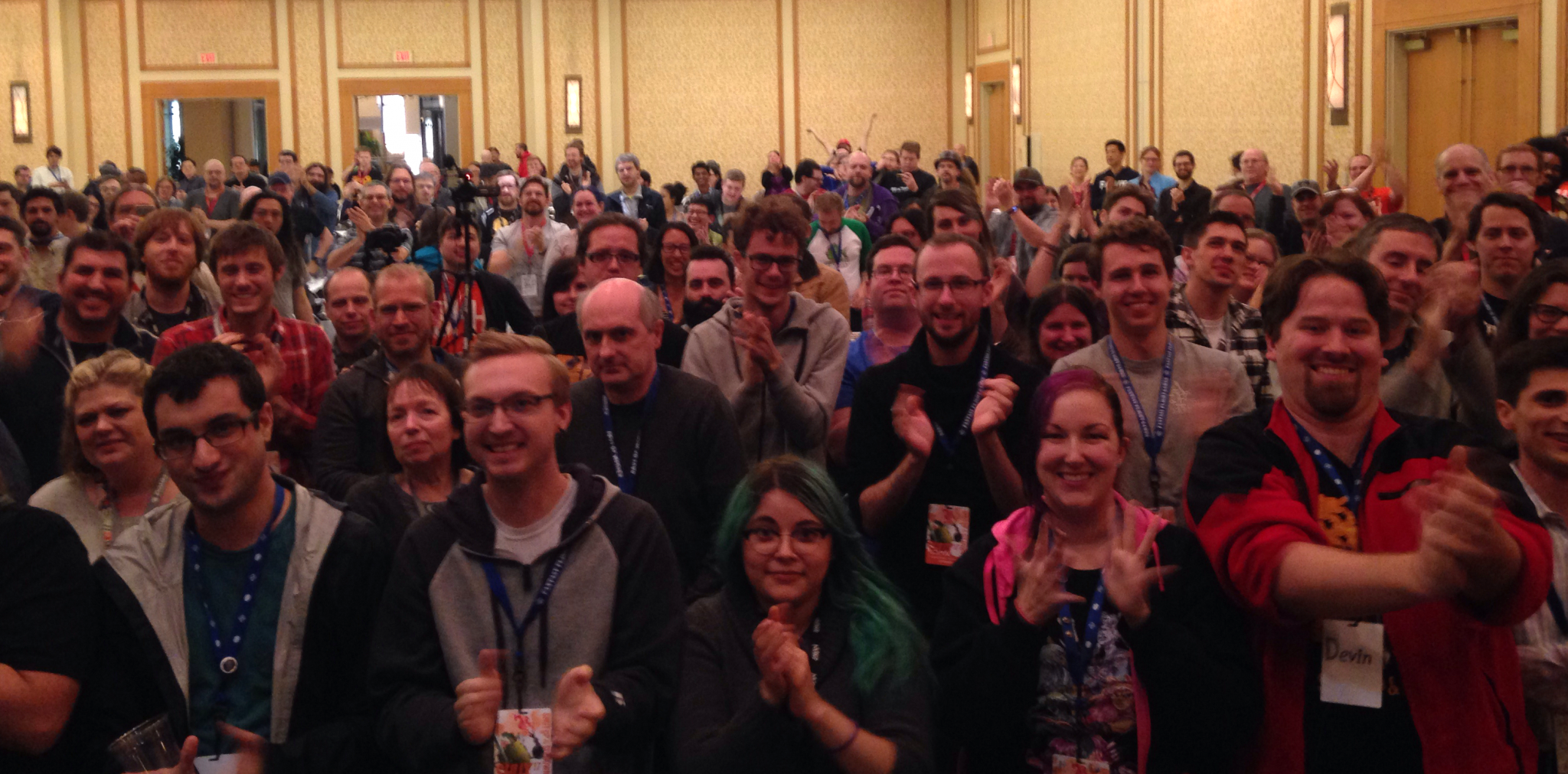 Paul
: Wow.
So SHUX happened. Our first ever convention collected together hundreds of wonderful people for a weekend so amazingly positive that I'm still trying to process everything. I'm sat here looking at a blank page, trying to work out how to express how it was so much more than I could even have imagined it would be. It's not so much that I'm lost for words as I've almost entirely forgotten what words are.
Matt: I know what words are! They come out of a mouth and are sometimes good or bad. Normal service will resume shortly, but today we'd just like to share some words and pictures.
a boomerang made of jesus, hot dog-based misadventures, hit the club
oh my god please come, it'll be weird if it's just six of us in a ballroom
Quinns: This is one of those times where you wish our headlines didn't already use capital letters, so we could SHOUT!
Our team has been working ludicrously hard for the last five months putting together the first ever SU&SD convention. It'll be in Vancouver, Canada on October 6th, 7th and 8th of this year, and tickets, details and hotel rooms are available through THIS LINK.
You can expect a board game lending library, tons of tables to play games, no less than three Megagames(!), a full track of talks and loads of special guests including every single member of the SU&SD team. It's going to be ludicrously good fun. Practical info can be found on the above SHUX '17 page, but I'll pop a small F.A.Q. after the cut.
Make a sound effect using someone else's hand from another room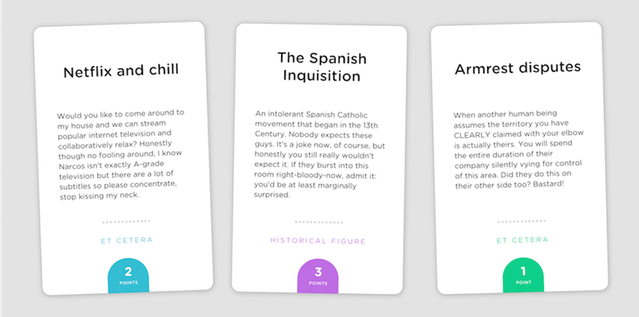 Quinns
: Hey everybody! With just seven days left on our
Kickstarter for the Monikers Nonsense Box
 - a standalone expansion for
Monikers
written entirely by SU&SD staff - all backers now get a free gift!
Basically we reached 2,500 backers and decided we'd like to improve the product you guys were getting. Think of it as a kind of thank you for helping us to stretch past our original goal. We're calling this addition a "Girth Objective" and it's my guess that by 2020 every Kickstarter will have one.
As of this week every backer of the Nonsense Box Kickstarter will get a free pack of Hopelessly Stupid Fourth Round Cards. You see, Monikers is a game that starts off very pedestrian in round 1 and becomes marginally more interesting in round 2 before going completely insane in round 3. But as old Monikers pros will tell you, you can keep playing and the game gets dumber and funnier with every additional round. "Charades but under a bedsheet" has to be played to be believed.
We have a tenative list already drawn up, but we're well aware that you guys are often funnier and smarter than us in our comment threads. If you have an idea for a fourth round for Monikers, and would like to see it on a card with your name on it and a professional illustration, please leave a comment below!
Thanks so much, everyone. <3
it's a box of fun, just put it in your pocket, slide it in
Quinns
: Everybody, we've got a Kickstarter we'd like to point you towards! Do you all remember
Monikers
, the effortlessly funny and accessible party game? How would you like an expansion for it created ENTIRELY by the cast of Shut Up & Sit Down?
Ooh, yes! The Shut Up & Sit Down Nonsense Box (this is the link you click on) (click it!) is no less than 112 cards that were dreamed up and playtested by... us! We didn't get the memo that the card descriptions were only supposed to be informative, so we made those really funny too. Oops.
Don't have the Monikers base game? Not a problem. The Nonsense Box is a standalone game, or you can chuck the base game onto your pledge as an add-on.
A micro-FAQ follows, after the jump!