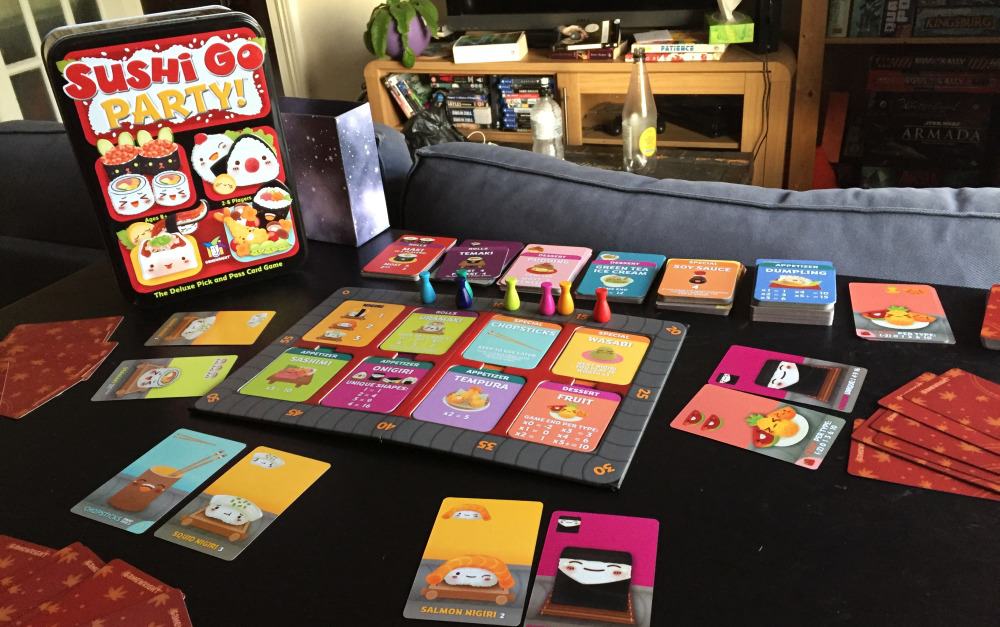 Quinns: Ever since I first squeaked about Sushi Go in my 2015 Corner Awards (and dust off your tux, because I'll be publishing the 2016 Corner Awards any week now) this little game has become loved by my friends. Throughout this year, at the end of a game night when everyone has the happy-sleepy feeling that comes from digesting a two drinks and a big game, and I can't be bothered teaching Mundus Novus, Sushi Go makes a natural end point for the evening.
More specifically, it's Sushi Go Party! that we play. This is the enlargened, deluxe-ified version of Sushi Go! that offers all sorts of new takeout boxes, rueful rolls and playful puddings for you to experiment with, as well adding a board and little soy sauce score-trackers. The original Sushi Go was a delicious-looking package, but Party is positively mouthwatering.
But here's the thing. I'm not sure Sushi Go Party! is as good as other simple, small-box classics you might end a night with, games like Welcome to the Dungeon, Incan Gold or Parade. So why do I keep playing it… ?
It's a frosty Wednesday, I have a hot cup of coffee and I'm feeling optimistic. Let's go deep on this one.
Read More