troublesome fuzziness, impterns, unless i'm drunk you are my grandchild
Brace yourselves, because Quinns (maybe) has a new favourite board game of all time.
Blood on the Clocktower is live on Kickstarter right now, and for the first time in Shut Up & Sit Down history we've published our review to coincide with that Kickstarter to help to get this game into the hands of as many people as possible.
What makes it so special? Is it the haunted gerrymandering? The frightening complexity? The fact that, under all of the lying and murder, it's a feelgood experience?
It's all of that, and much, much more. Have a great weekend, everybody!
The cat fell asleep, etymilogical detective, CUMBERBATCH FROM EGGS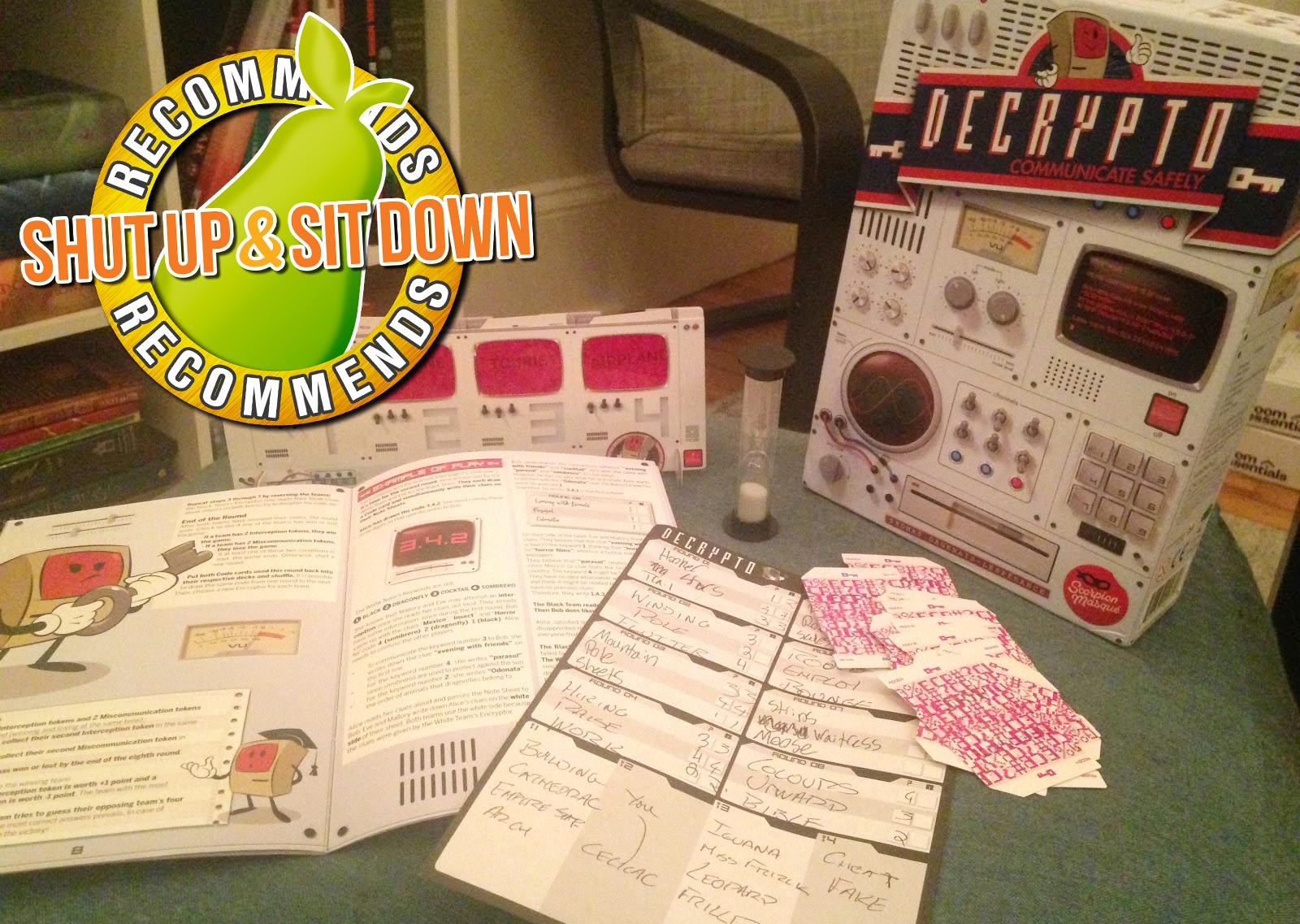 Paul
: I have never, in my life, seen so much frantic, last-minute lying. I've never seen so many misunderstandings over cake. I've never thought I'd have to explain to someone how oil is obviously, indisputably associated with Texas. And I never thought a tiny misunderstanding over a simple word like "heat" could, and would, ruin everything.
But that's Decrypto for you, a game of discord and deception that somehow ends up fraught, funny and absolutely fantastic. It sets you the simplest of challenges and creates the most convoluted complications as you and your friends try to tell secrets out in the open, right in front of each other.
what's the point of elephants, genuine fury, goat on a plank
This week's video is a playthrough of the outrageously silly and frustrating
Meeple Circus
 -a game so
hot and squeaky-fresh that it isn't actually available yet. Sorry. (If you want to read more, Paul recently tried and
enjoyed it at SHUX
). But if you'll just put that goat and plank
down
for a moment - 
look at who we've got with us in this flipping video? 
Assembling an incredible sort of UK board game supergroup/cabal, this video features guest appearances from Jon Purkis (aka Actualol) as well as Efka and Elaine! (No Pun Included). For the inititated, we'd love to point you towards Jon's song about Pandemic Legacy, and NoPunIncluded's review of Great Western Trail - if only for the shocking revelation that cows are no longer required for fresh milk.
But do go and poke around! Both channels do great stuff, and it's worth noting that just last month Actualol popped onto Patreon. Finally, special apologies to Efka - Matt got a bit too involved in the game and literally wasn't a proficient cameraman. Everyone else: enjoy!
Salted Sharon, Peppered Peter, a coyote on coke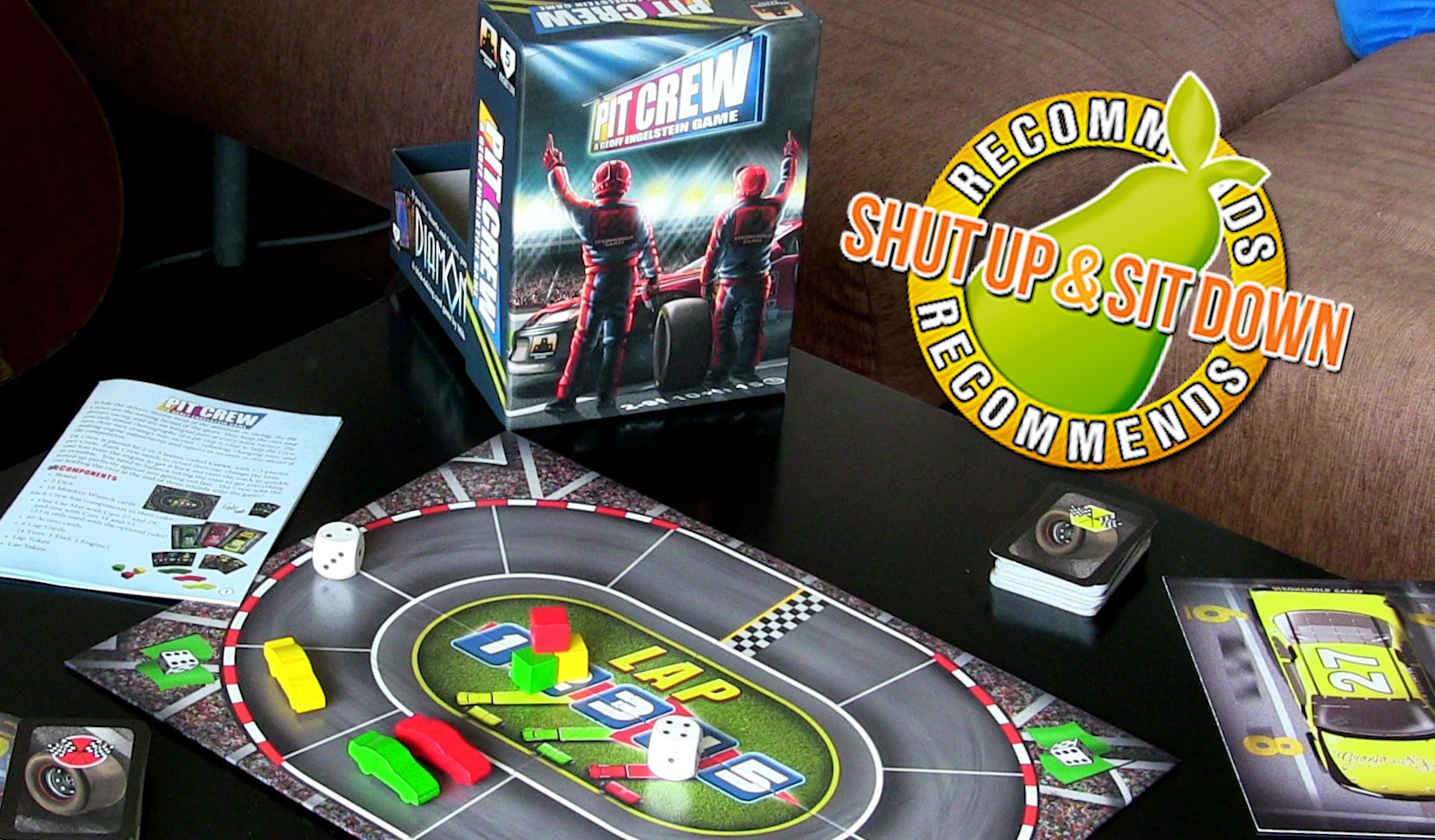 Paul
: Sometimes you gotta go fast.
And in a world where that speed comes from pounding alloy pistons, feels like warm, rubber-scarred asphalt, stinks of fetid fumes and fury, the Pit Crew are the kingmakers. They, and thus you, decide the monarchs of motorsport, with deft hands of restoration and renewal.
Collectively you wrench home a new wheel, working as well together as the finely-tuned machine you maintain. Nobody is screaming for petrol, nobody has broken the engine, nobody has just dropped a card. It's fine. It's okay. You're the pit crew.
the name's bond, james bond, listen do you have 5p for a cup of tea
What's the new hidden role game that's got SU&SD buzzing? That's full of laughs and surprises whether you play it with 4 players, all the way to 8? That has the single nicest components that Quinns has EVER TOUCHED?
We couldn't possibly say. Those are Secrets, you see.
Please note that Secrets isn't out yet, and arrives in shops in August. If you're interested, we recommend contacting your friendly local game shop and asking to place a pre-order.
Conversational sex act, Danny DeVito, No no no no no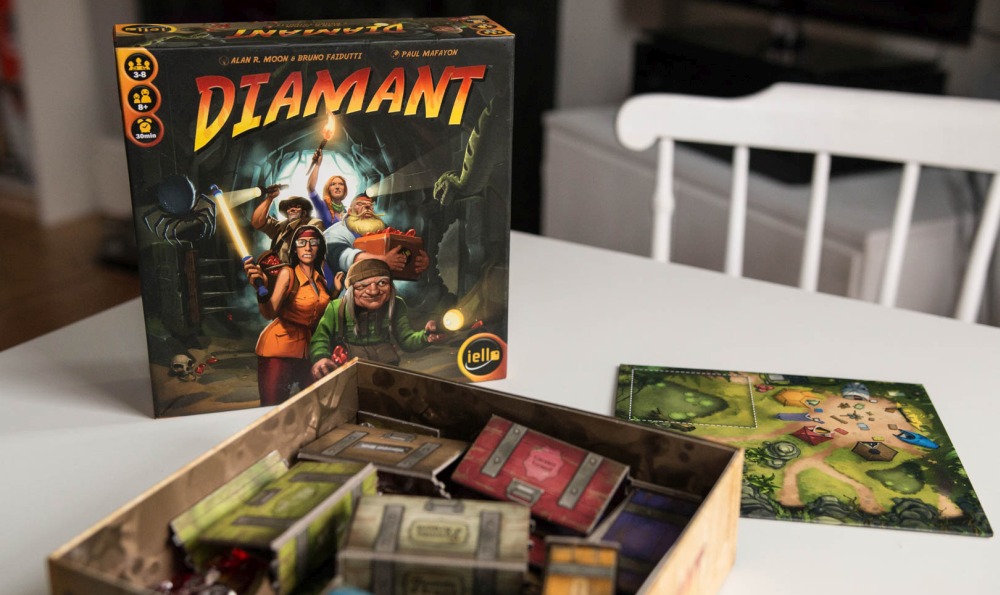 Paul
: QUINTIN. I know we want to tell people all about
Diamant
and how this cute-but-cruel game of pushing your luck can make you either rich or dead, but I've got to say one thing right thing right here, right now, right off the bat. Right?
Quinns: I'll allow it!
Paul: Diamant is probably the most fun I've had for the least investment of time and energy SO FAR THIS YEAR. I'm so sorry. I just had to blurt that. It's a petite wonder. PETITE. WONDER. Like… Danny DeVito. Or... a teabag?
Quinns: You're arriving at this party a little late though, aren't you? Last year I called Incan Gold the best little push-your-luck game I'd played in forever. Diamant is just a beautiful new edition of the same game! You can't talk about it like you've just found a dead sea scroll in your back garden.
Paul: All right, all right, back that boulder up, snarkaeologist. Incan Gold? The 2006 game? And when did you come to it, exactly?
Quinns: Erm. 2016.
Paul: An entire decade of incompetence.
give me your badge and your gun and that rock you keep in a plastic bag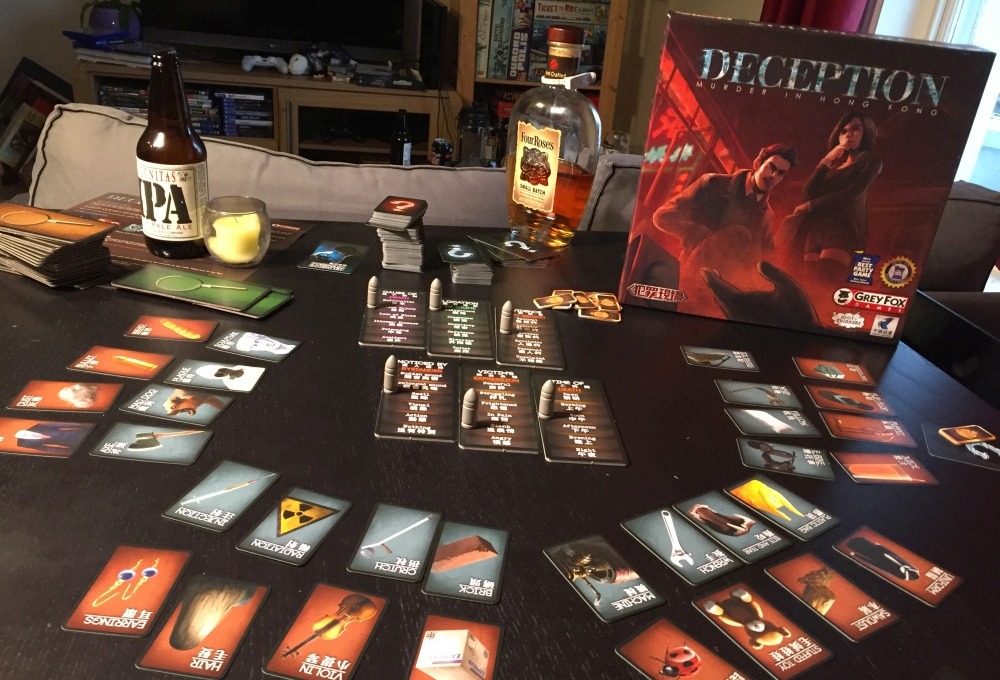 Quinns
: After playing co-operative social deduction game
Deception
, the proof is insurmountable. The 21st century police force is the greatest board game theme of all time, not because it works so well but because
it doesn't work at all.
Back in our eighth ever podcast we talked about Police Precinct, and while we had a terrible time with that game we were endlessly amused because we seemed to be playing the cast of Reno 911 on the set of The Purge. Then last year I finally got to try Good Cop Bad Cop, where in one memorable turn I confiscated my colleague's coffee as evidence, downed it in one gulp, then shot them.
But with a name like "Deception: Murder in Hong Kong" and brooding, maroon box that includes a handful of plastic bullets, you might assume that this, at last, is a serious game about law enforcement.
You couldn't be more wrong. I'm thrilled to say that Deception is every bit as silly as those others, and it's also the best game of the three. Come for a ridealong with me! You're statistically unlikely to be shot.
more rules, more friends, more guns, more cash, less fun?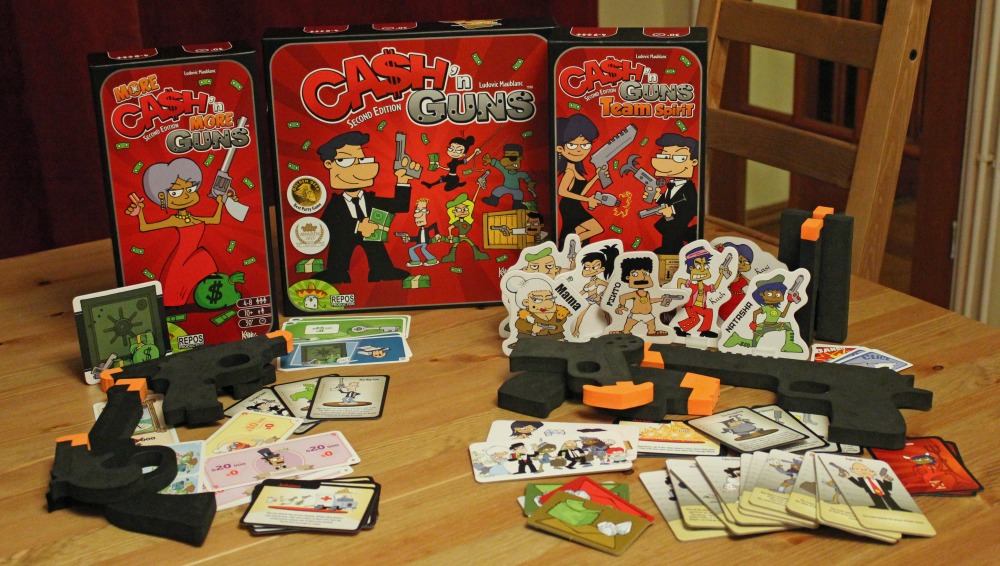 Pip
: In order to assess the two
Cash 'n Guns
expansions I've spent a couple of evenings luring friends to my house with the promise of nachos, homemade chilli and foam guns. One time there was even banana bread. That was the tastiest heist. ANYWAY! I am now in a position to tell you all of my opinions on
More Cash 'n More Guns
, and
Cash 'n Guns: Team Spirit
. Also I have a terrifying foam arsenal which makes me look like I've joined the foamy NRA.
And so! Here's a brief explanation of the base game in case you're unfamiliar: Cash 'n Guns is a party game about dividing the loot from a heist. You all play one of the ne'er-do-wells involved in the heist, each armed with a foam weapon, and you're trying to end up with the most loot. Every round loot cards are dealt onto the table, the players pick a live or fake bullet which they play face down, and then point their foam gun at another player. They then have the choice to duck out of the round, avoiding injury but missing out on loot or staying in and risking injury but also potentially being part of the loot-sharing. There's also a godfather role which can move around between players and does things like giving that player the ability to tell someone to shoot at someone else.
You can imagine that the foam guns help with the role-play and people get really into the theatricality, pretending they're in Reservoir Dogs or attempting accents. (I don't do accents because I know my limits. Cockney ends up somewhere in the West Country, Welsh is somewhere between Indian and Northern Irish, and Russian is some kind of pan-European road trip as the sentence goes along.)
try tuna and go from there, honestly sushi is really good, let the good times roll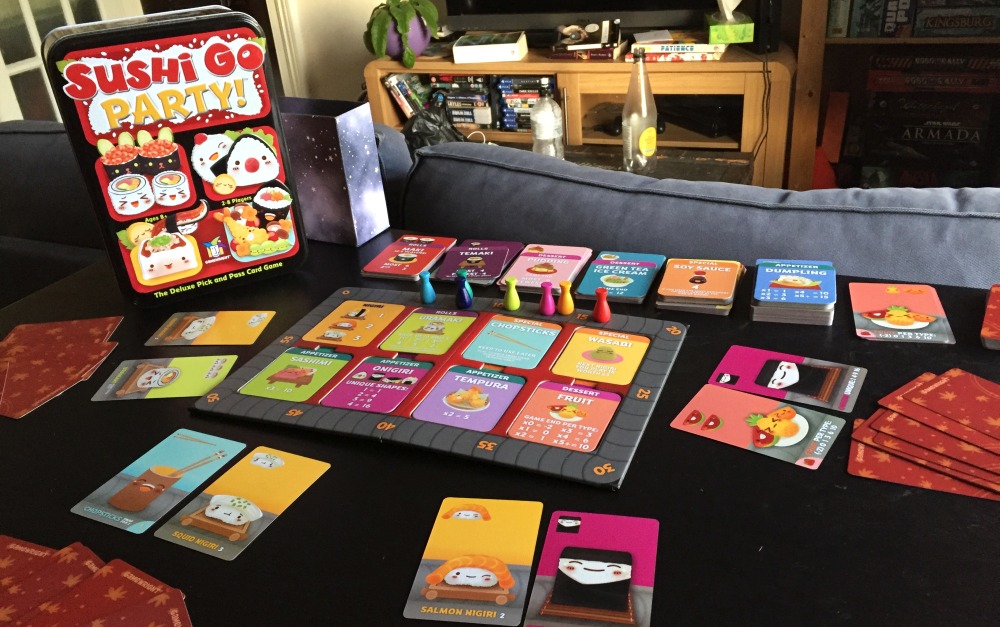 Quinns: Ever since I first squeaked about Sushi Go in my 2015 Corner Awards (and dust off your tux, because I'll be publishing the 2016 Corner Awards any week now) this little game has become loved by my friends. Throughout this year, at the end of a game night when everyone has the happy-sleepy feeling that comes from digesting a two drinks and a big game, and I can't be bothered teaching Mundus Novus, Sushi Go makes a natural end point for the evening.
More specifically, it's Sushi Go Party! that we play. This is the enlargened, deluxe-ified version of Sushi Go! that offers all sorts of new takeout boxes, rueful rolls and playful puddings for you to experiment with, as well adding a board and little soy sauce score-trackers. The original Sushi Go was a delicious-looking package, but Party is positively mouthwatering.
But here's the thing. I'm not sure Sushi Go Party! is as good as other simple, small-box classics you might end a night with, games like Welcome to the Dungeon, Incan Gold or Parade. So why do I keep playing it... ?
It's a frosty Wednesday, I have a hot cup of coffee and I'm feeling optimistic. Let's go deep on this one.
gremlins II, gremlins, vampires, what was up with that sexy gremlin anyway
Happy Halloween y'all! To celebrate this most fiendish of holidays Paul's 
brought a game back from the dead.
SU&SD first covered Werewolf with Matt's candlelit review. Since then we've fallen in love with One Night Ultimate Werewolf and its standalone sequel, Daybreak.
Today Paul investigates the next game in this undying chain. One Night Ultimate Vampire significantly en-complicates the series we know and love. Can it possibly survive?