March 30, 2020
51 comment(s)
Tom: m o n d a y
Ava: Is it? It is? How can you tell?
Tom: t h e n e w s
Ava: Oh dear, you might be right. Let's take a look in the news-pipes and see what pops out.
I try to avoid quoting the Simpsons too often, but if anything gives me the chance to say trombopaline, then I'm going to take it.
Trampoline Park is bouncing high to the top of the list of 'games with themes I cannot believe have happened', and what a bounce it is. It sounds like a family friendly puzzle of using varying power to bounce between trampolines, bouncing other players or your other bouncing tokens away when you land on them. First person to have three tokens bouncing on all the same colours or letters wins.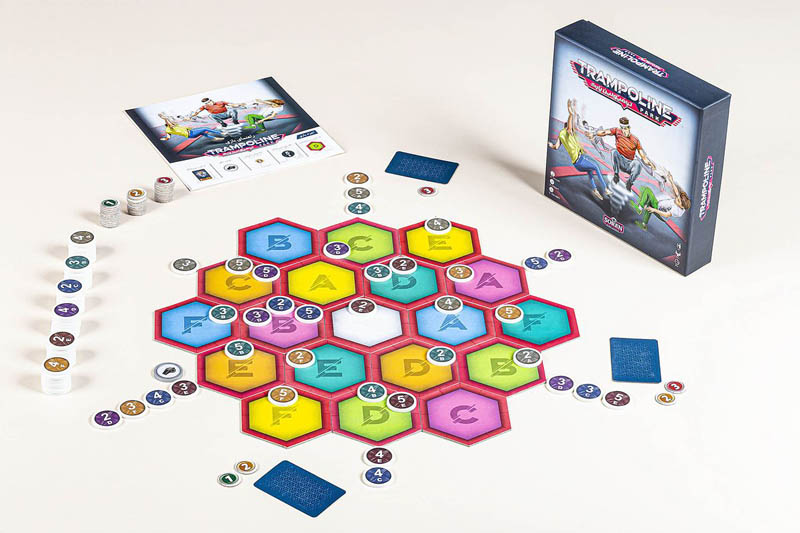 Tom: This feels like a Tim and Eric sketch with the tagline 'Trampoline Park: All the fun of trampolining, but from the comfort of your living room!' I feel like it's certainly some of the fun of trampolining, but I'm sure that trampolining would be substantially improved, nay, necessitated by, the presence of a trampoline.
Ava: I feel like they've gone about this all the wrong way round. I don't really want a board game about trampolining, I want elaborate, maybe violent, competitions to take place in trampoline parks. We should send Quinns off to investigate once people are allowed to bounce in the same rooms again.
Tom: We've said trampoline too many times and now all words don't sound right anymore. Trampoline Park looks neat. I'm going to have a lie down.
Ava: But Tom, you can't lie down, it's Uwe Rosenberg's fiftieth birthday!
Classic bean trading bonanza Bohnanza has a two player duel variant (possibly from before those were all the rage), and it's getting a new lick of paint and a deluxe edition for the old bean's birthday. It looks like it will remain as arguably ugly as ever.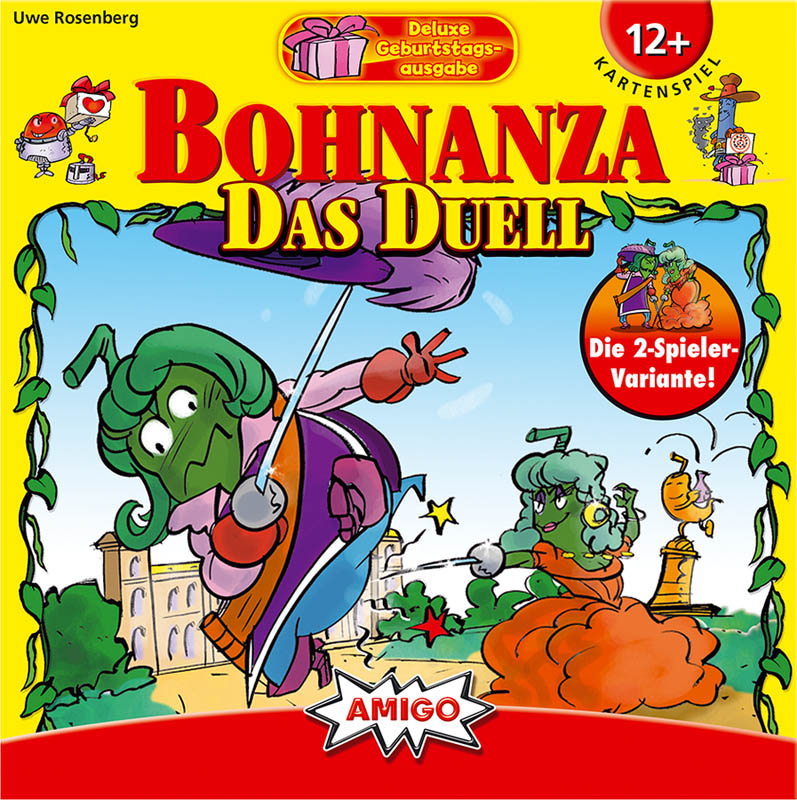 Tom: I adore Bohnanza – it was one of the first games I added to my collection and that 'arguably' ugly art is what draws my friends towards it to this day. There's something magic and savage, though, about a crowded table shouting over each other to get the best bean bargains, so I'd be intrigued to see how a two player version compares.
If one thing is for certain though, it's that this sentence from the press release is fabulous: 'Thus, Uwe Rosenberg not only made his breakthrough as a game designer with Bohnanza in the 1990s, but the bean game has accompanied him for half his life.' Bohnanza, a card game about collecting and selling beans, is here portrayed as either a loyal companion or a grand sisyphean task, depending on which way your imagination swings.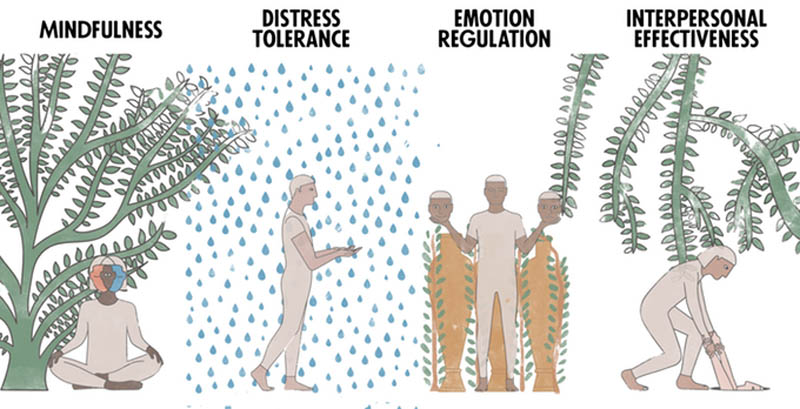 Ava: Bohnanza is an excellent name for a dog, or a cat, or an anomalorcaris.
While my initial instinct was 'I don't know if I can handle any more real life right now', I'm also pretty glad this unusual kickstarter is kicking.
The Game of Real Life offers a deck of cards based around Dialectical Behaviour Therapy, and hopes to build people's life skills, and how to deal with that challenges of real, actual life. They've made the print and play version freely available as they realised that a lot more people might be in need of these skills and lessons right now. Play takes the form of rounds where people try to use the coping strategies in their hand to deal with a shared conflict, explaining how they think it will help. You keep dealing with conflicts until you reach the end of the deck or you achieve your life goal.
Ouch. That last sentence was bleaker than I had expected. This looks beautiful, and they're hoping to use some of the money raised on the kickstarter to distribute copies to hospitals, clinics and schools. Everything here is lovely, even if it's hard to not make it sound sad.
Tom: There's always a lot of room to joke about theme in games, and how the lessons learned in some of them are either so cold and mechanical that you wouldn't want them to be applied to the real world, or you end up shocked by how they are applied in the real world (Food Chain Magnate, i'm looking at you). It's nice to see something so outwardly positive, and positively educational, to boot – it'll be nice having a game out there somewhere that'll teach you how to deal with stress rather than how to price-gouge your opponents into oblivion.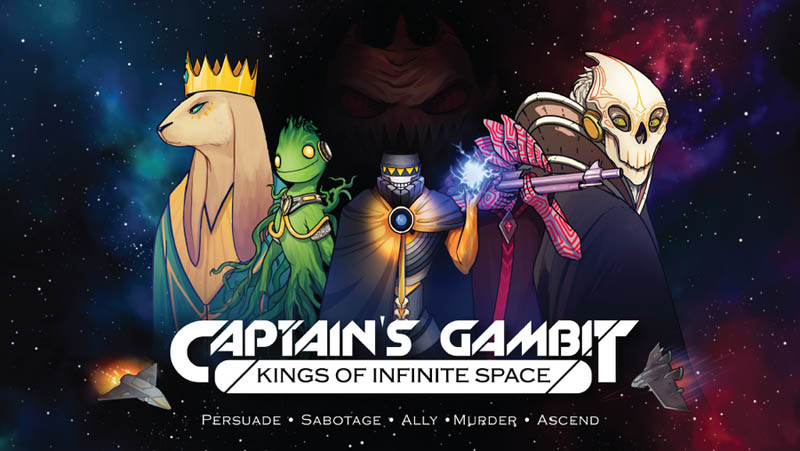 Ava: Captain's Gambit: Kings of Infinite Space sounds a bit like somebody's thrown a bunch of ideas in a blender, but I think it could be on to something. Players take the role of sci-fi captains with asymmetric secret objectives and names based on characters from Shakespeare's plays, yet somehow it still manages to sound a little bit like Coup. On your turn you take either a regular action to gain energy or stab your opponents, or stronger permit actions that you can do whether or not you have the relevant card, but your bluff can be called and you could get caught short. Honestly, I can't tell you this is going to be good, but I can tell you that Lady Macbeth is a brain in a jar and Rosalind appears to be an elder god, and those are two things I couldn't have told you before I saw this one.
Tom: Ava, it looks like the news-pipes are running dry… I can't seem to see any more games up there!
Ava: Dang. Seems as though *gestures vaguely* is lowering the pressure on the old new-release news-release valve. There's only one thing for it.
Tom: *OPEN THE UPLIFTING SOLIDARITY SPIGOT!*
Ava: Lovely specialist Twilight Imperium podcast Space Cats and Peace Turtles are dealing with the lock down in the most ridiculous way possible, by hosting a Twilight imperium tournament on twitch. The semi finals are nearly done with, but all the matches appear to still be available, and of course, everyone is taking part remotely. I had someone ask me if it was possible to play Twilight Imperium via the internet, and I abruptly said no way. But I have been proved very, very, very wrong, and they've been doing this for ages. Good luck to the final finalists, likely playing around the 18 April.
Tom: *WE'VE GOT 15 TERA-PASCALS OF GOOD NEWS FLOWIN' HERE! STAY DOWN! STAY DOWN!*
Ava: Reader and good egg Ross McCreedy got in touch to let us know about another unexpected online transition, as Gothenberg Megagames attempt the world's first (?) online megagame.
Den of Wolves is being run entirely on discord and shared documents. Players take the role of captains, crews and specialists aboard a fleet of spaceships fleeing a more advanced enemy. Running through a series of different audio channels, with each faction with its own control, it's already full and is for megagame veterans only. It's a pretty fascinating experiment and I wish them well.
Tom: *NEWS-BILGE! MAN THE STUMPWATCH! WE'VE GOT A BREACH BELOW!*
Ava: Eduardo Baraf is hosting and Pencil First Games is sponsoring a stay at home boardgame design competition. There's money on the line for anyone who wants to make a 45 minute game for 1,2 or 4 people that fits on 4 sides of A4 paper. It's also not one of those iffy contests where the company ends up owning it if you accept the prize, it's just a prize for creativity, and you publish your game when you're done (though they do want to be able to share it).
And if you're thinking of getting into role playing design in your isolation, take a quick peek at Avery Alder's business tips. She's offering unique and useful insight. And Vincent D Baker is part way through an incredible series on the design principles behind Apocalypse World and his definition of a Powered by the Apocalypse design process. It's brilliant stuff.
Tom: LOOK OUT! MIND YER HEADS! THE JIBBOOM IS GONNA BLOW ANY MINUTE, AND WE CAN'T AFFORD TO LOSE ANOTHER PAIR OF SNOTWAYS!
Ava: Portal Games are adding to the ever-swelling tide of games companies giving away freebies that people can play at home while keeping isolated. There's a scenario for Detective that doesn't require the base game to play, a scenario for Imperial Settlers, and some bonus sheets for the Imperial Settlers roll and write that I'm unclear if you need a copy of the game to play. If you've got any of their games, it's probably worth a rummage, they're promising more in the coming days.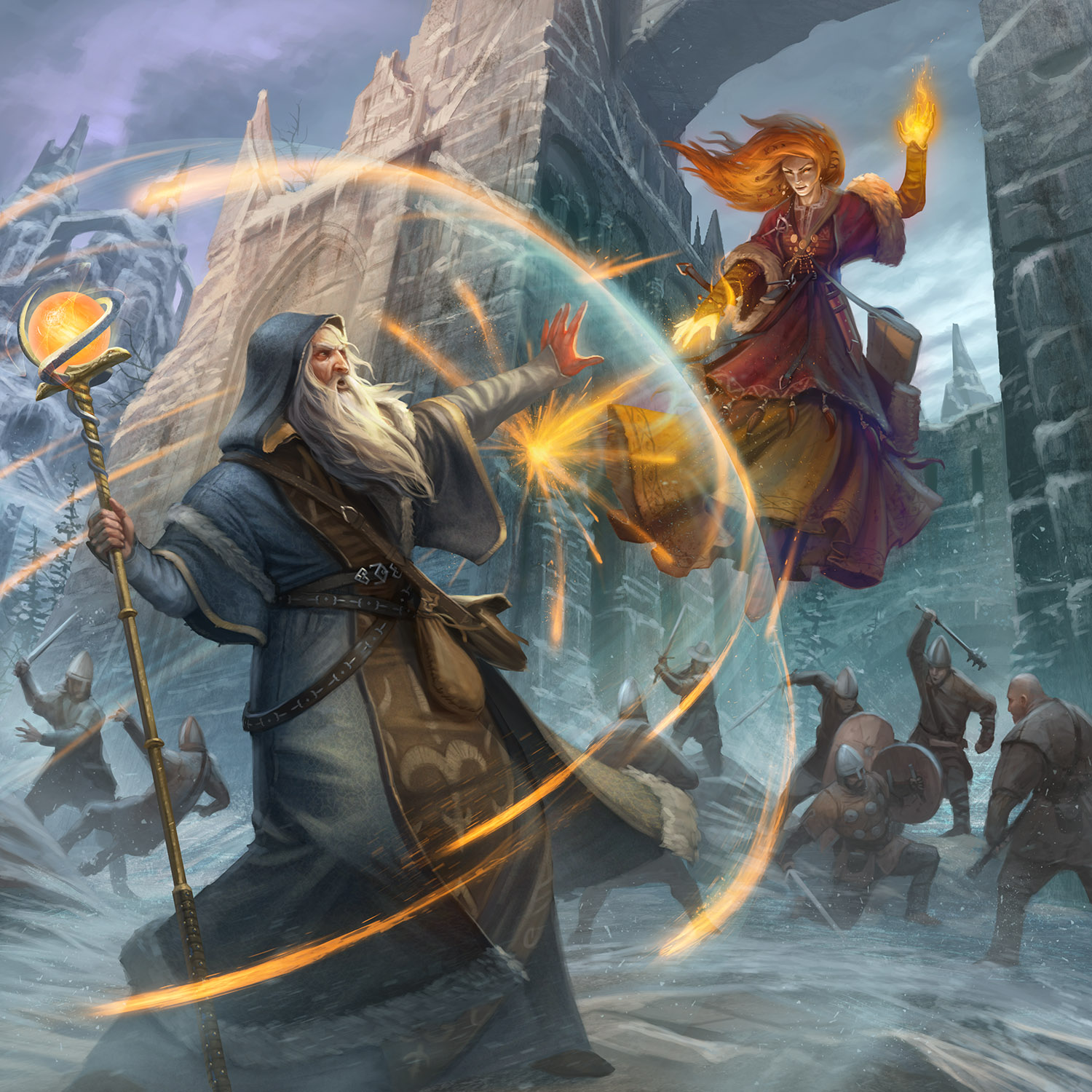 Ava:The lovely Osprey Games are giving away the rulebook and some solo scenarios for their Frostgrave wargame. It's free with the right download code, and they've included encouragement to make minis out of whatever you can, a blog post on how to play it best with lego and some downloadable print and play scenery. The grave may be frosty, but the heart is definitely warmed.
Tom: GET ME THOSE REPLACEMENT SPARDVALVES AS SOON AS POSSIBLE OR WE'RE GOING TO HIT… MY GOD.. I NEVER THOUGHT I'D SEE THE DAY…
Ava: There's also the Boardgame Remix Kit, a set of cards I backed on Kickstarter approximately seventy million years ago. This kit lays out a whole host of new ways of playing with the games many families have at home even if they don't have a board game obsessive in the house. Among other things there's a zombie battling version of Cluedo, and a way to play poker with Monopoly. There's even a couple that grab pieces from one game and transplant them into another. I'm glad to see it be made freely available, and hope it finds its ways to the people who might be trapped in doors with someone desperate enough to play Monopoly.
Tom: IT'S IN THE VENTS! IT'S IN THE VENTS! GET YOURSELF TO THE NEAREST FLUMPHOLE AND EVACUATE, IT'S HERE! IT'S HERE! THE HORROR!
Ava: And finally, if that hasn't warmed your cockles enough, we've got one final cocklewarmer, in the form of our very own Matt Lees, and an event he is simply describing as a 'test stream'. Matt needs to check out if he's successfully rehoused the Twitch stream set up in his closet, and will be streaming….something! Unclear if it's going to be a game, a chat, a hair care primer or just him prodding at lots of buttons and going, 'ahhhh, yes….that's how that works.' Whatever he's doing, he's aiming to start at 3pm BST/7am PST/10am EST on Thursday 2 April, and he's yet another person I'm wishing good luck.
Matt: It will probably just be a couple of hours of me, alone, doing something quite intensely boring. Tune in!
 Ava: Wait. What's that going on behind me. Are you okay Tom?
Tom: We're never opening the uplifting solidarity spigot ever again.
Ava:Until next week. Stay safe folks.