press f to pay respects, where in the world is rita modl, two-brick matt
The choice of which game of play on
our Twitch channel
this week was a no-brainer. Which is to say, we knew we'd have no brains remaining after flying back from PAX Unplugged, so we chose a game that could be enjoyed by eight-year-olds.
Men at Work is the next beautiful box coming out of Pretzel Games, makers of Flick 'Em Up and Junk Art, and we love the heck out of it. And like those previous games, it functions as a lovely object, as well as a silly challenge, and - if you so choose - an arena where actual tactics can be deployed.
If you'd like to watch the full stream, with the beginning, the end and all of the hilarious comments in between, it'll be available here for the next sixty days. And if you'd like to hear about us talk about Men at Work on the podcast, you'll find that sweet ol' chat on episode #88.
Have a great weekend, everybody!
what's the point of elephants, genuine fury, goat on a plank
This week's video is a playthrough of the outrageously silly and frustrating
Meeple Circus
 -a game so
hot and squeaky-fresh that it isn't actually available yet. Sorry. (If you want to read more, Paul recently tried and
enjoyed it at SHUX
). But if you'll just put that goat and plank
down
for a moment - 
look at who we've got with us in this flipping video? 
Assembling an incredible sort of UK board game supergroup/cabal, this video features guest appearances from Jon Purkis (aka Actualol) as well as Efka and Elaine! (No Pun Included). For the inititated, we'd love to point you towards Jon's song about Pandemic Legacy, and NoPunIncluded's review of Great Western Trail - if only for the shocking revelation that cows are no longer required for fresh milk.
But do go and poke around! Both channels do great stuff, and it's worth noting that just last month Actualol popped onto Patreon. Finally, special apologies to Efka - Matt got a bit too involved in the game and literally wasn't a proficient cameraman. Everyone else: enjoy!
Hoth on highballs, subtle seasoning, flicked to the full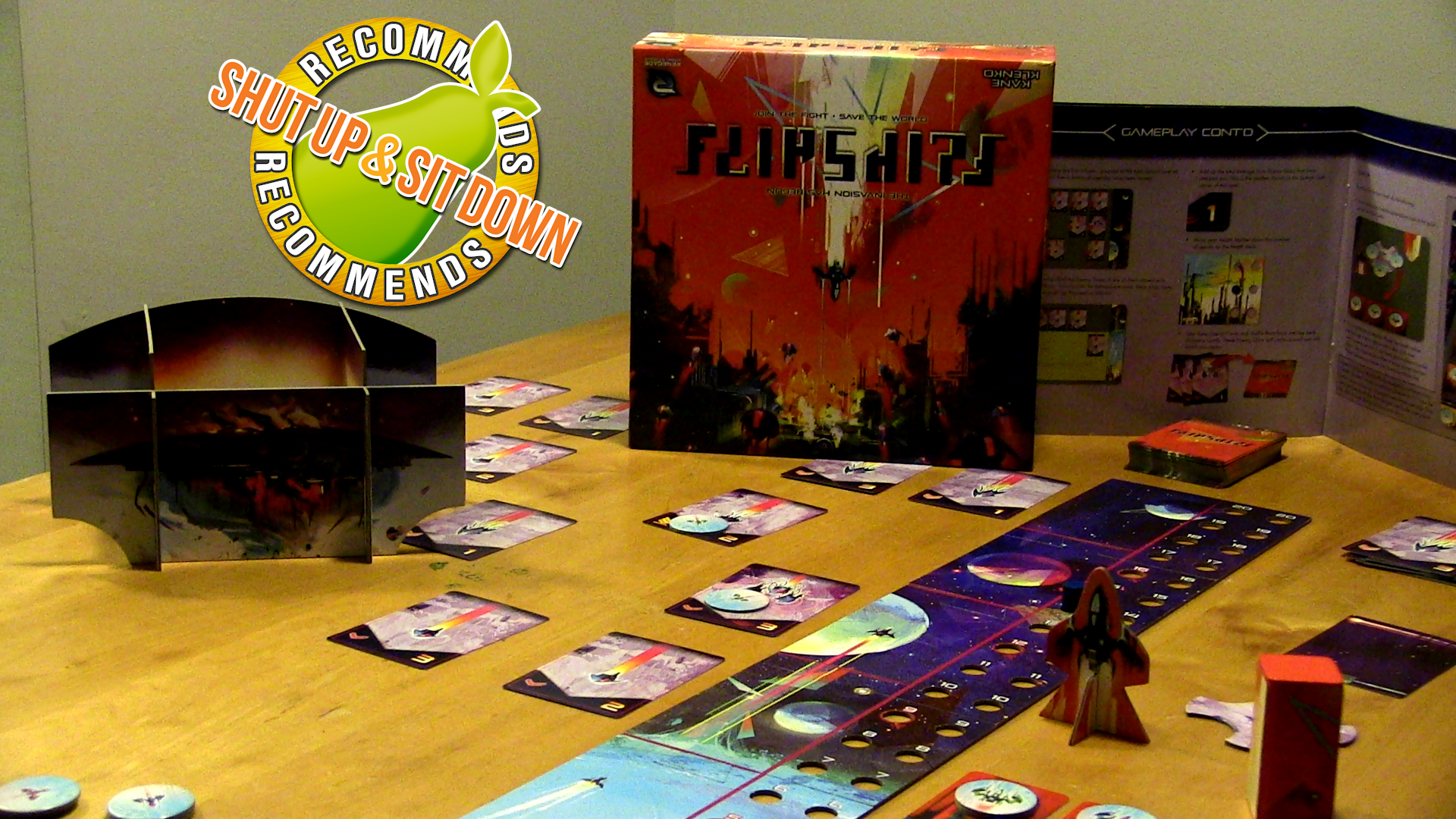 (This review contains gifs. Viewing it on a mobile device may use a lot of roaming data. If your usage is metered, consider reading this at home!)
Paul: The aliens are coming. Aggressively advancing, ever encroaching, nothing seems to stop their dreadful descent. The sunlight shines off their silver spacecraft as they pierce the heavens and prepare to bring down so much death and destruction onto the city below.
You and your friends are all that stand in their way. Together, you will use a small flight of fighters and the most precise cardboard-flipping skills the galaxy has ever seen to win the hour. You will flip them round the moons. You will flip them in low orbit. You will flip them in the atmosphere. You will never surrender.
Or you'll flick a state-of-the-art starfighter straight across the room and lose it behind the sofa. Who's to say?
Pinata land mine, lurching and leaping, organics
This week, Paul springs into action and plays against type as he looks at not one, but two games of the more physical variety. First up, he takes on the chunky and junky
Junk Art
, before going on to wrestle with (and shoot at) the penguins of
Pingo Pingo
. It's all guns and blocks and dashing and crashing. Good heavens, I'm getting a headache.
Why this strange change of interest? What's with Paul's new, more active lifestyle? And what is the meaning of Quinns' unusual delivery? That's a lot of questions for a Friday. Let's all go and have a lie down.
he's not a wizard he's an illusionist, he's eating his wizard weetabix, will he hit, yes
Almost since SU&SD began we've been banging on about
Catacombs
, the dungeon-delving dexterity game. A team of heroes (who are discs) battling an evil villain (who's a disc) with spells, slings and arrows (which are - you guessed it - discs).
Availability of Catacombs is a little thin right now, though, so we figured we'd do a video that lets you enjoy it through us! Pull up a stinky dungeon pew, and watch as Matt and Quinns break out a copy of Catacombs, a bottle of absinthe, and a camera that does cooool slo-mo.
illegal flicks, gelatinous perks, are you looking at me for luck punk
Matt and Quinns are ready to flick one another up! Won't somebody stop them? Seriously we're not insured
This week we're looking at Flick 'em Up!, a beautiful new French game of flicking bullets at one another. But could anything replace SU&SD's favourite dexterity game, Catacombs? Only one thing's for sure. This town ain't big enough for both of 'em.
real-life micro machines, hot flicks, irradiated wastelands, nerr nerr nerr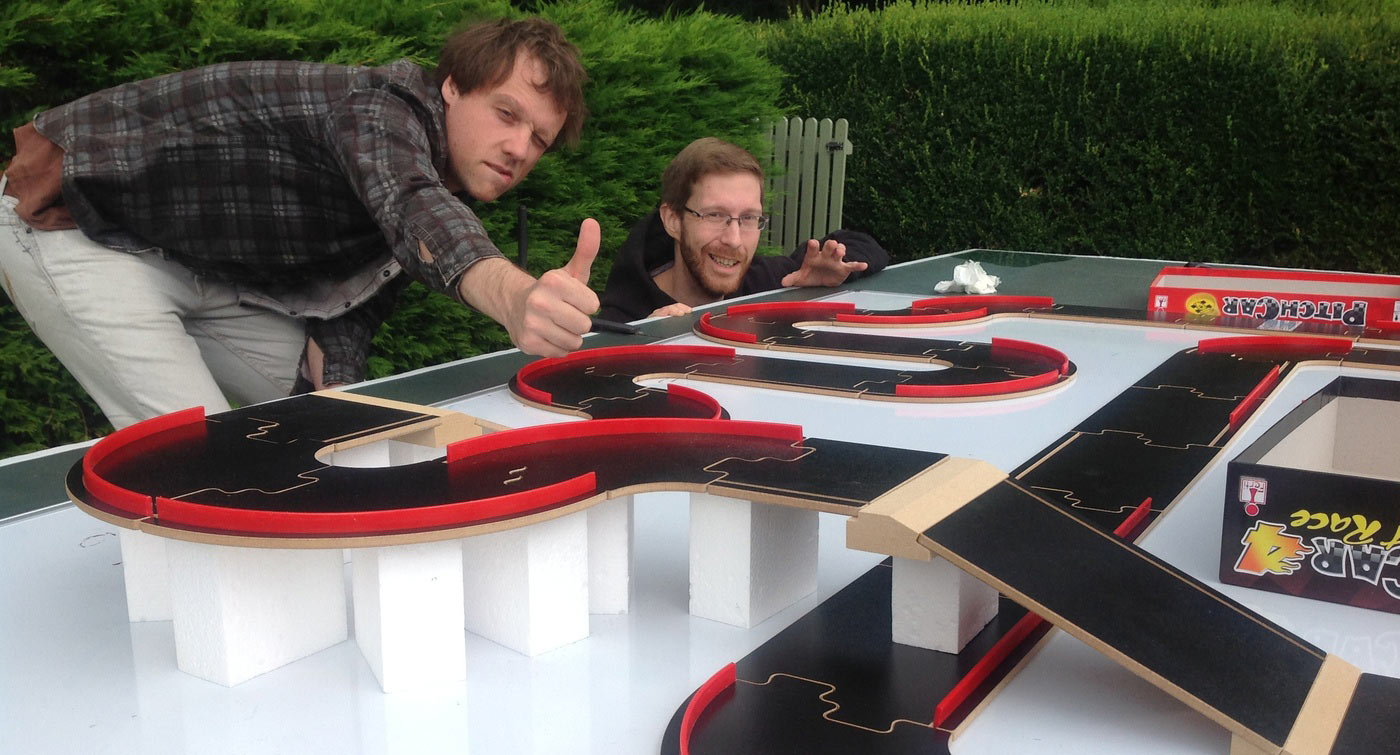 Matt
: I don't know if this is by far the silliest thing we've ever reviewed...
Paul: ...and I don't even know if that matters or not. Is PitchCar silly? Is it also possibly the simplest game to ever grace our (web)pages? Is it even a board game?
Matt: Do we even care?
Paul: Will we ever stop using the word "even"?
memorable injuries, fractured fingers & french frottage, hot potatoes, hotter brains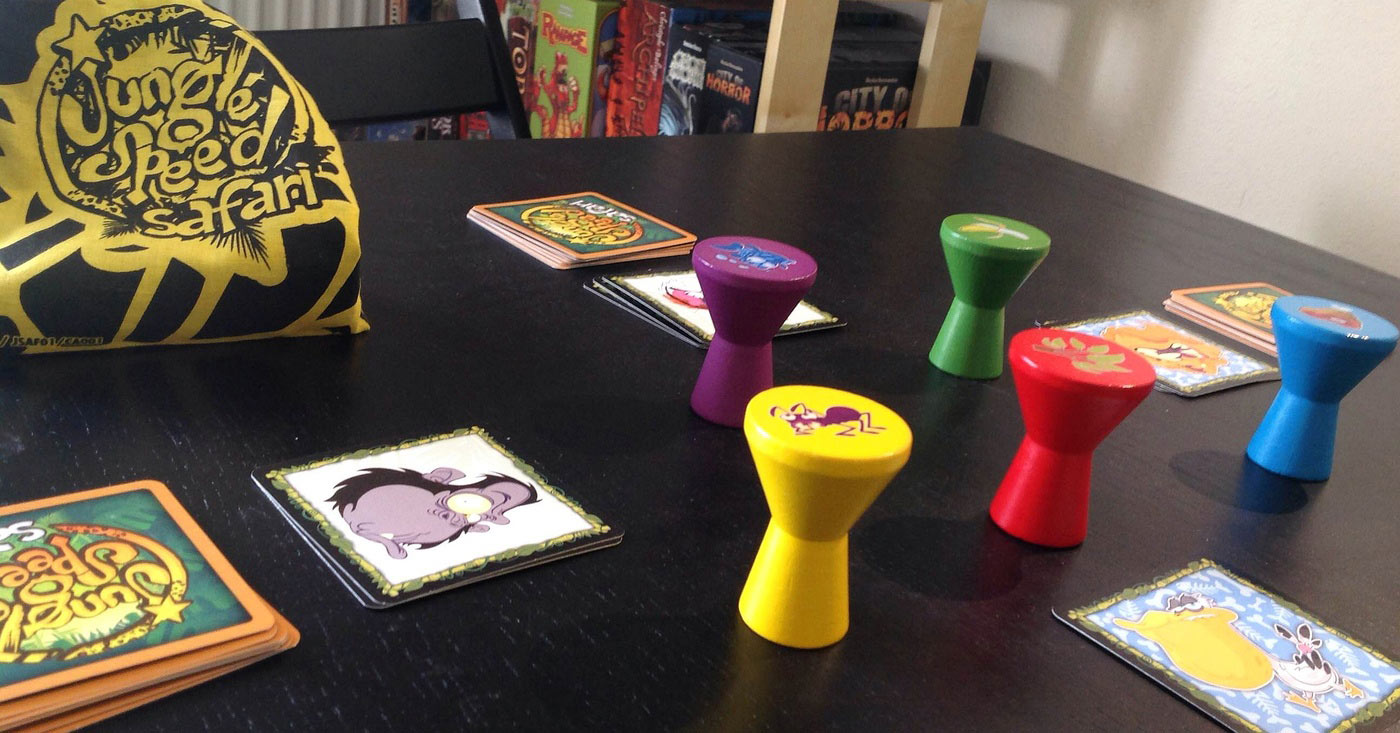 Quinns
: What I love most about
Jungle Speed Safari
is your friends'
fear
when you set it up. If there's a rule the manual's missing, it's that you've got to play this up. "OK," you announce, dealing out the game's cards. "If you're wearing rings, take them off. It's impossible to get blood out of cards."
"Funny joke," says one of your friends. "That was a joke, right?"
"What?" you say, and then: "Can everybody see something purple in this room?"
Your friends look around, assess the room, their chairs. They start to panic. "What do you mean?" someone says. "What are the wooden things in the middle of the table? And what do these pictures on the cards mean? WHAT ARE WE PLAYING?"
"Shhh," you say, pressing a finger to their lips. "Don't be scared. It'll all be over soon."
passionate kisses, accidental spit, cardstock crucible, eating teeth, the french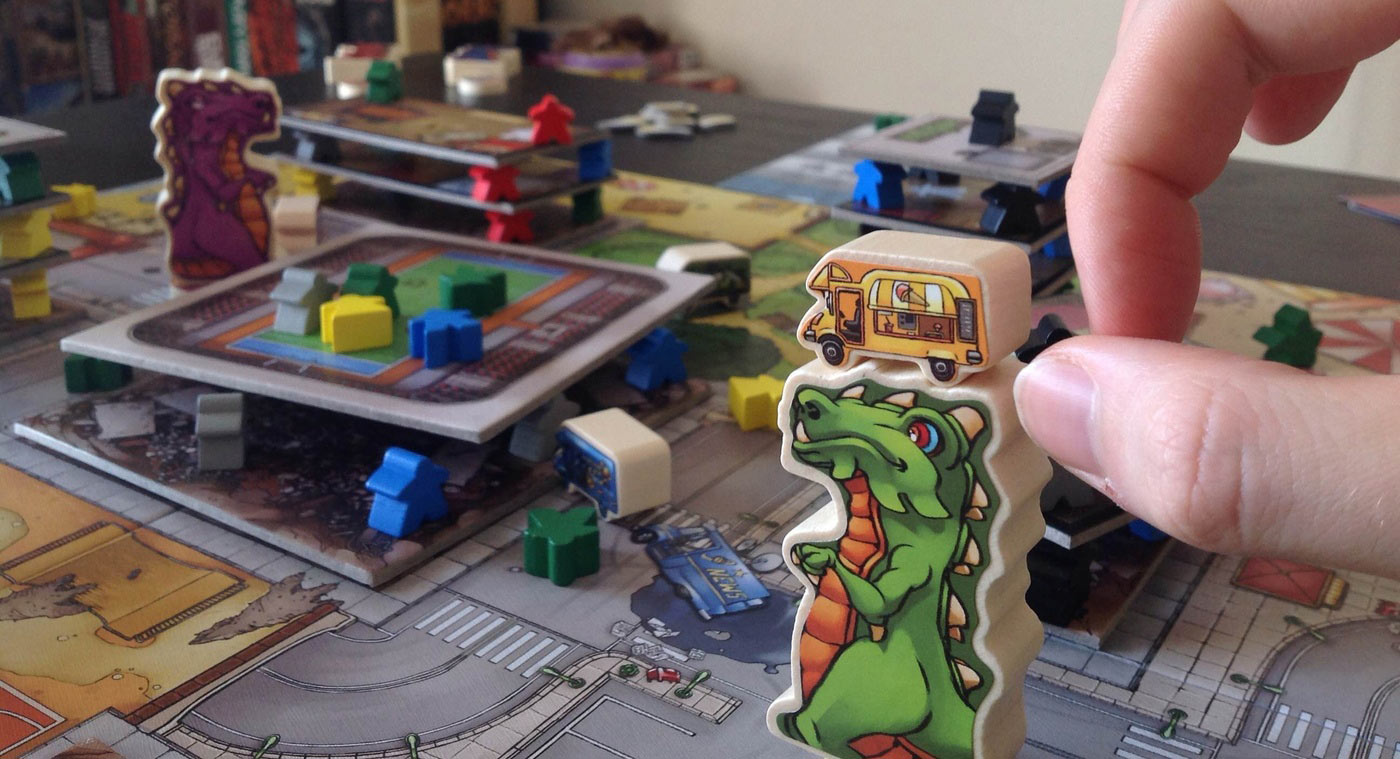 Quinns
: A lot of you guys said you were really excited about Rampage, and it's easy to see why. A game of destroying a real-life three dimensional city? AND enjoy misadventures with real-life spit? Sold!
I just gave my review to the mighty Eurogamer. It starts like this...
In Rampage, everybody plays a big, stompy kaiju monster, and the game ends when you've all levelled a town. Like a board game from the '80s (think of the merciless TV advertising, the photogenic kids shouting and high-fiving), a game of Rampage starts by offering you an immaculate, three-dimensional city, and wants you to delight in knocking it over. At the end of the game, the player who caused the most destruction to the city, its inhabitants and the other monsters is the winner.
And then, like the lashing of a great monster tail, the review goes on to have not one, but TWO separate twists. Go have a read, people! And definitely don't write this one off as too silly for you. It has a lizard brain to it, full of animal cunning.
praying, flicking, bawbags, aspiring woodmen, timescotch, hopscotch
When you think SU&SD, we know you think "co-ordinated," "graceful," probably even "lithe." So this was a long time coming- a video featuring three of our favourite dexterity games on the market today. The noble
Oss
, the exotic
Toc Toc Woodman
and the farcical
Cube Quest
, all showcased lovingly by us in time for Christmas!
One more word, from Brendan: "I've put an end to all this sodding continuity, too." What on earth is he talking about?