if we get back alive i'm talking to the HR department about this
This weekend, please enjoy a video plucked daintily from
our Twitch channel
.
For as long as SU&SD has been around, we've been fans of Space Alert. Even today, it might well be the most ridiculous, challenging and inventive co-operative game ever... erm, invented.
For anyone who missed it, you'll find our review of Space Alert all the way back in this SU&SD episode from 2011, where we also reviewed Twilight Imperium and Race for the Galaxy. Classics, every one.
the bandana boys, cause of death: cool punches, good talk guys
In yesterday's Twitch stream, masculinity was stretched to its very limits
. 
Bandanas? Check. Beer? Check. Punching a warehouse full of bad dudes 
right in the mouth?
 Check.
The game we're playing is Street Masters, which has a new expansion (as well as the base game) on Kickstarter RIGHT NOW. If you're in the mood for some dumb, schlocky fun, Street Masters is precisely the kind of smart dumb fun that we can get behind.
If you'd like to watch the video and our gut-busting Twitch commenters at the same time, the stream will be available here for the next couple of months. Oh, and look forward to more co-op combat in a couple of weeks, because on the 22nd of November we'll be streaming Gloomhaven, and Quinns will be doing his best to make a permanent impact on Matt's campaign.
Have a great weekend, everybody.
The cat fell asleep, etymilogical detective, CUMBERBATCH FROM EGGS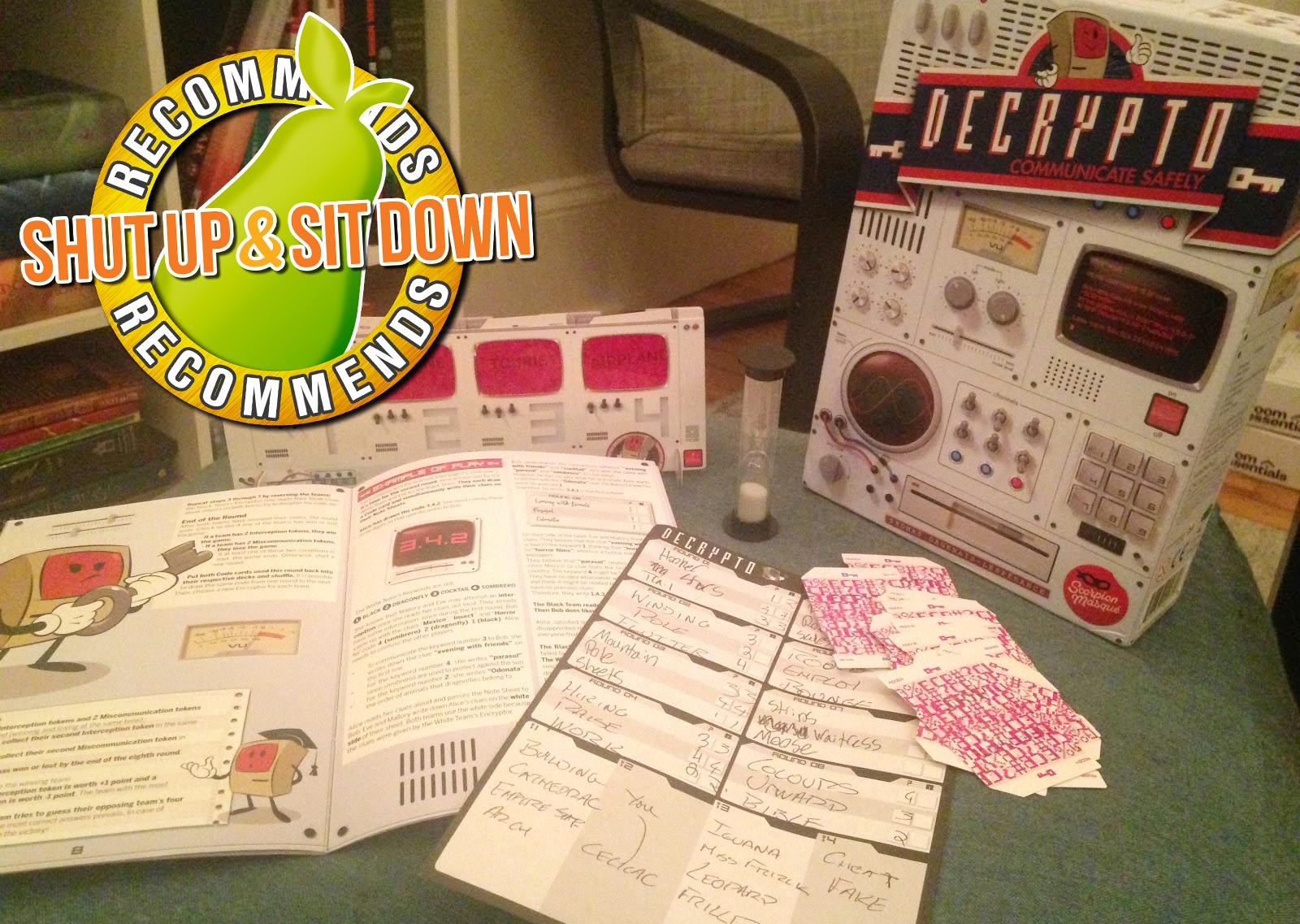 Paul
: I have never, in my life, seen so much frantic, last-minute lying. I've never seen so many misunderstandings over cake. I've never thought I'd have to explain to someone how oil is obviously, indisputably associated with Texas. And I never thought a tiny misunderstanding over a simple word like "heat" could, and would, ruin everything.
But that's Decrypto for you, a game of discord and deception that somehow ends up fraught, funny and absolutely fantastic. It sets you the simplest of challenges and creates the most convoluted complications as you and your friends try to tell secrets out in the open, right in front of each other.
cuddling in the ballroom, crying in a park, is it getting hot in here?
As if it were needed, Jacob Jaskov's
Fog of Love
 is definitive proof that board games can be sexy, and it's finally in shops the world over. But there's more to this box than just sex! For example, there's sometimes a troubling absence of sex. Sometimes there's heartbreak. And sometimes, just sometimes, there's true love.
Don't let this game be "The one that got away," everybody. Take a look at our definitive review, and see if it's for you.
is it still "cosplay" if it's this bad, leaving numbers behind, rose-tinted goggles
A mere 700 days later and IT'S HERE!
Pandemic Legacy: Season 2
is the sequel to our game of 2015,
Pandemic Legacy
, and it's even more ambitious than the first game. Not only is this box heavier and more expensive, it tells a far more complicated story.
But what do we think? Has the lightning of genius smote this particular property once again? Or does Season 2 feel like a difficult second album?
If we were you, we'd take a deep breath, click play and find out.
plodding & prodding, it's a crane not a gun, every flavour of lozenge
OH MY GOODNESS! It's time for a fantastically exciting box.
First Martians: Adventures on the Red Planet
is a game of surviving as the very first colonists on the Solar Satsuma, and keeping your wits about you as your home crumbles like a dunked biscuit.
It's also the sequel to 2012 release Robinson Crusoe, which Quinns didn't get on with very well. What's changed in five years? A lot, we can tell you.
a surprise pterodactyl, vomiting into a trumpet, cereal box fiction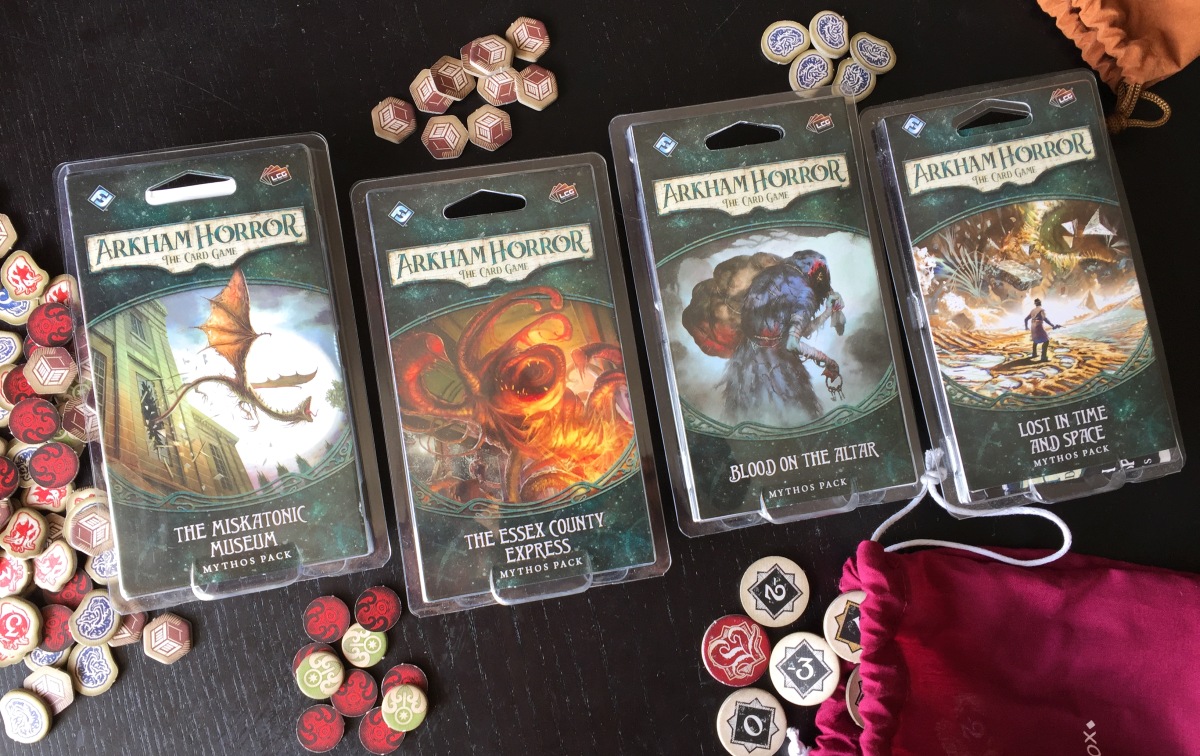 Quinns
: So, we're seven months on from when Matt and I first peeled the delicate outer membrane from the otherworldly Arkham Horror: The Card Game (otherwise known as 'shrink-wrap').
We were stunned at how much fun we had
. After years of rolling our eyes at Fantasy Flight's Lovecraft products, we found that inside this small, unassuming box was an absolutely electric experience. I was as surprised as anyone when I announced that it was
my favourite game of 2016
.
Now, you'll remember that while you can go back and play this game's scenarios on "Hard" and "Expert" modes, most of the appeal is in the first playthrough, making each new expansion pack feel like a long-awaited episode of a favourite TV show. You call your friends over, microwave some popcorn, put the popcorn in the bin so nobody can get grease on the cards and sit down to see what happens to your characters (and their decks!) next.
Which begs a question. Now that the first full campaign has been published (seven expansions that make up The Dunwich Legacy), how's this TV show doing?
And I think most players would answer you the same way. A small laugh, a faraway look, and then they'd say "Oh, man. It's good. And... weird."
a gutted game, an over-large uniform, nicotine discs, a rat in a trap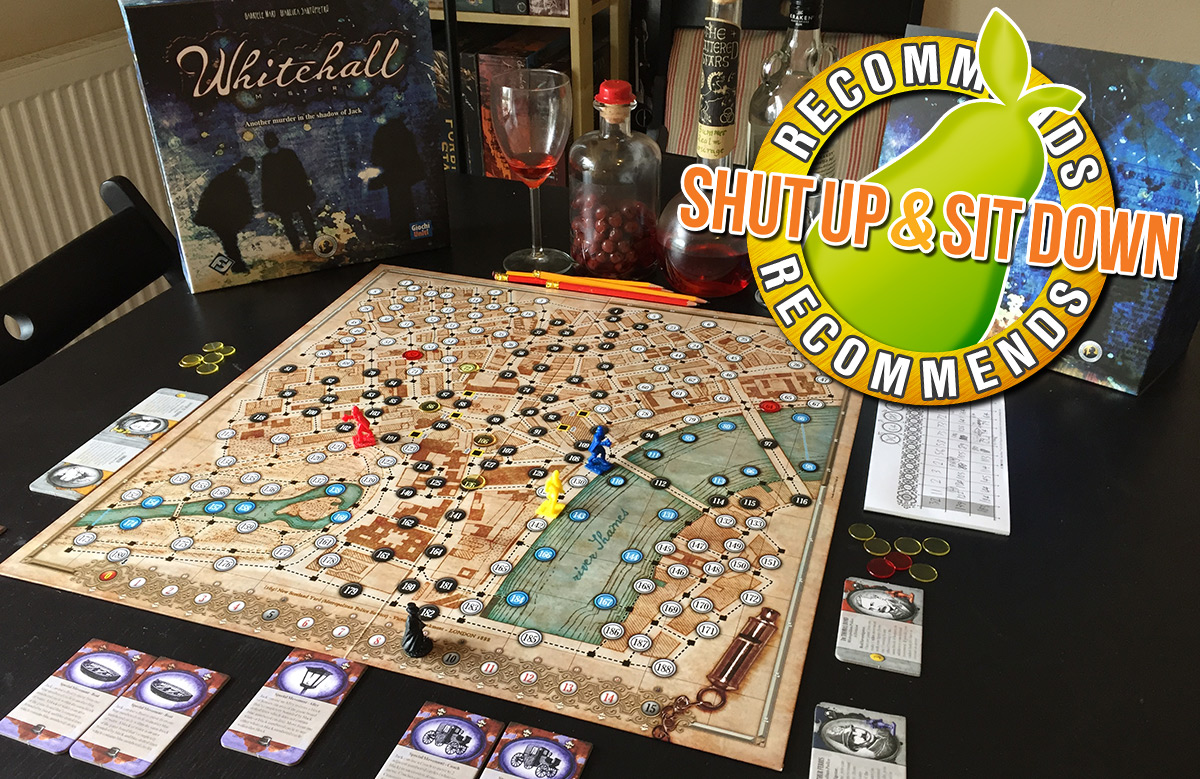 Quinns
: Career Shut Up & Sit Down fans might remember our
2013 Halloween Special
, where we reviewed a game called
Letters from Whitechapel
. This was a beautiful, heinously tense game where one player controls Jack the Ripper, facing off against a team of police players who hunt him through the streets of London like a wild animal. It would be in ill taste to say that we were charmed by that box, but Paul and I would both have to admit to being seduced. What a puzzle. What a board! What fabulous 
pressure.
Fast-forward to 2017, and it was only a couple of months ago that I was arching my eyebrow at the announcement of a spin-off titled Whitehall Mystery. I read the preview articles and couldn't for the life of me figure out what I was supposed to be excited about.
This week review copies of Whitehall Mystery stepped out from the foggy alleyways of publisher Fantasy Flight, and I gave it a play. And you know what? There's now egg on my (blood-flecked, murderer's) face.
I think this is the best hidden movement game ever made.
a dollop of chaos, a crime soufflé, a misplaced acrobat, and a bloody cat?!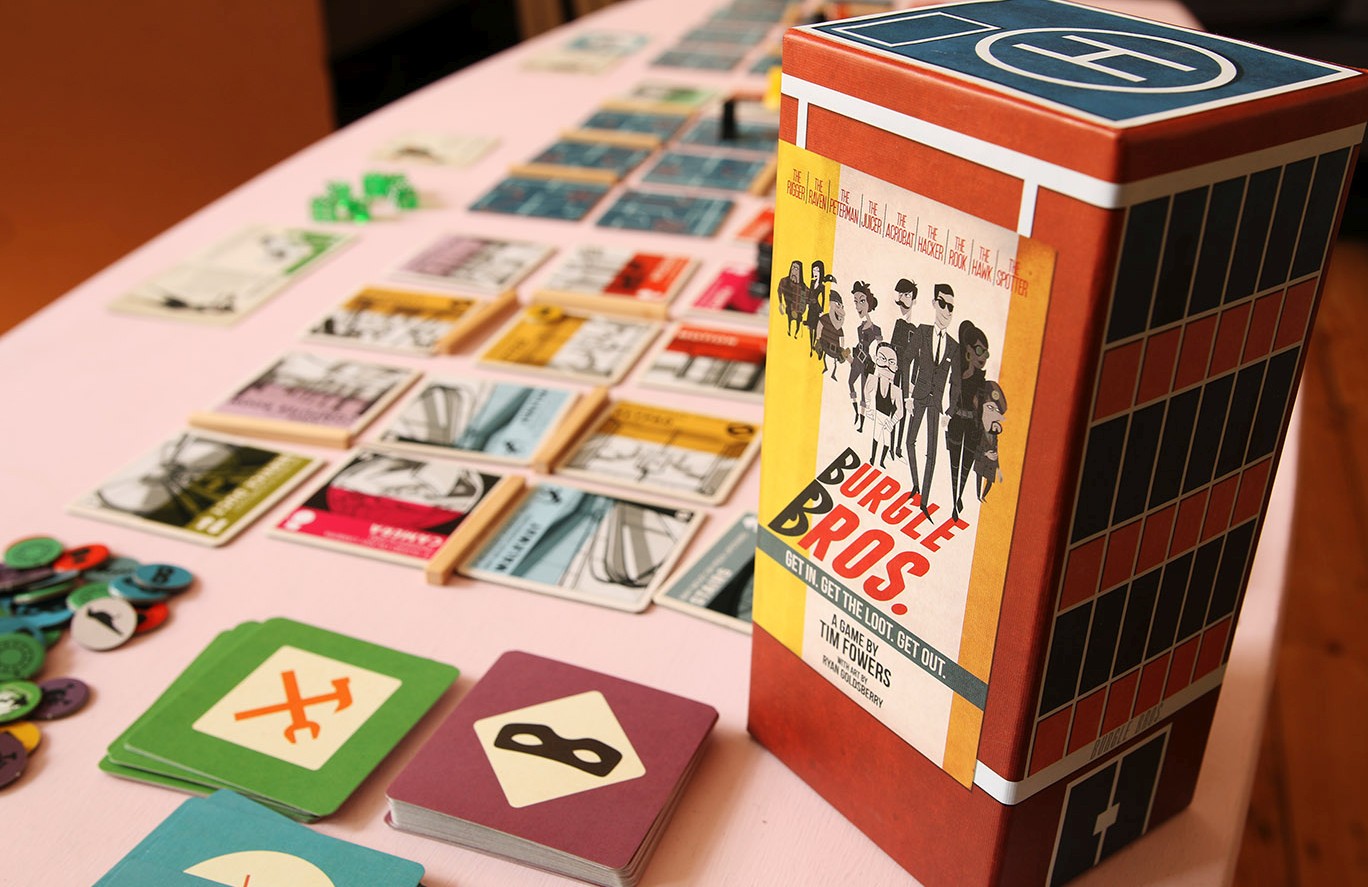 Matt
: Chucking
Pandemic Legacy
in the bin proved to be an uncomfortable day for my board game collection, causing a cardboard-flavoured existential wobble. As much as I love - had loved -
Pandemic
, experiencing the full-fat campaign spin-off had left me wondering if I'd ever bring myself to go back to the standard co-op game that had been such a household staple.
I've spent a while poking my nose around for a worthy replacement, and - for me - I think it might be Burgle Bros.
Dropping two to four players into a classic bank heist, Tim Fowers' has squeezed an almost comical amount of theme and bits and ideas into a box that - being generous - might hold a small shoe. Our intrepid / idiotic thieves have failed to case the joint ahead of the job, so it's up to you and your Colleagues-In-Crime to first find the safes, then crack them, grab the loot, and get out.
chocolate vampires, a spot of light burglary, classic trepanning, screams
My goodness! After we were a little dismissive at Gen Con last year, it turns out that
Arkham Horror
is the best card game to come out of Fantasy Flight since
Netrunner
. Pour yourself a glass of interdimensional phlegm, ensure you're sitting uncomfortably, and let Matt and Quinns tell you why in this
spoiler-free
review.
If you're the sort of devil-may-care investigator who doesn't care about forbidden secrets, don't forget that you can watch Matt and Quinns play the whole first scenario in this video. Though actually, in hindsight we've now realised that it's a tutorial mission and actually comparatively simple. You should know that far greater twists and terrors await in the full game!