Oh God okay we're doing this everybody hold tight I'm pressing the button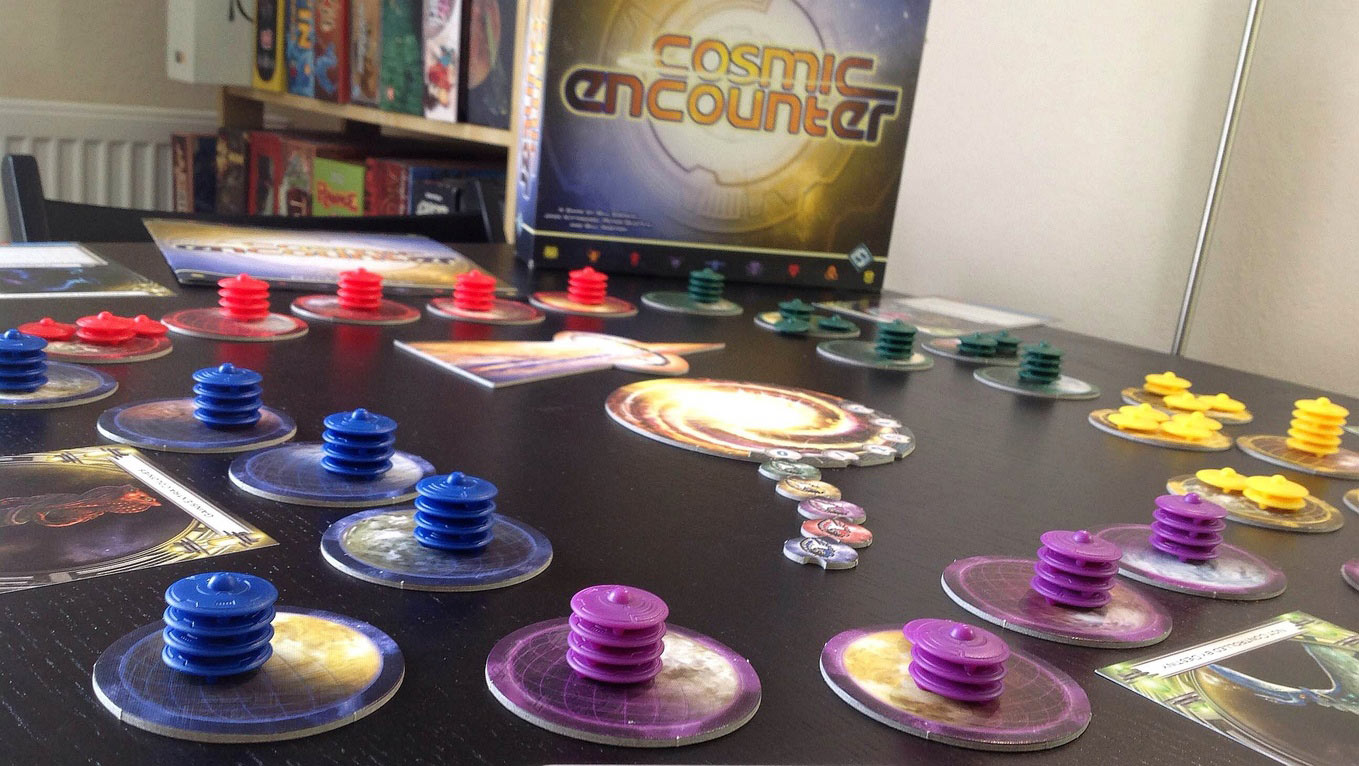 Paul: BoardGameGeek is a titan of the board game scene, one of the most comprehensive and consulted sites the hobby has, as well as a place to which we owe a huge debt of inspiration. It's also home to the absolute Board Game Geekiest among us, namely those with a monthly allowance for small zip-lock baggies. While we undoubtedly fall into that category too, we appreciate that not everyone does and it's inevitable that our opinions will diverge, right?
Just what do we make of those most esteemed of titles that are forever locked in an eternal battle for a place in BGG's Top 100 rankings? This week, we'll be giving an extensive, nay, exhaustive breakdown of that list, telling you what we've covered, what we thought and even admitting what we've missed out on. So come with us as we count down the games in a whole week's worth of analysis and adventure!
BOLD TRAVELLER! Dare you enter the land of
Ethnos
? There live creatures the likes of which you 
cannot imagine.
 Trolls! Orcs! And what's that, hiding over there in that bush? Why, it's a wizard, laying a 
wizard egg
. It is spring here, after all.
Alright, so the "land" of Ethnos is a bit rubbish. But this is a new game from Paolo Mori, who gifted us with Libertalia in 2013 and Dogs of War the year after that. Surely he has earned a moment of your time? Sit a while, traveller, and listen to Matt and Quinns rave about his latest design.
cookie-cutter design, a wobbly foundation for a game, an aussie lolly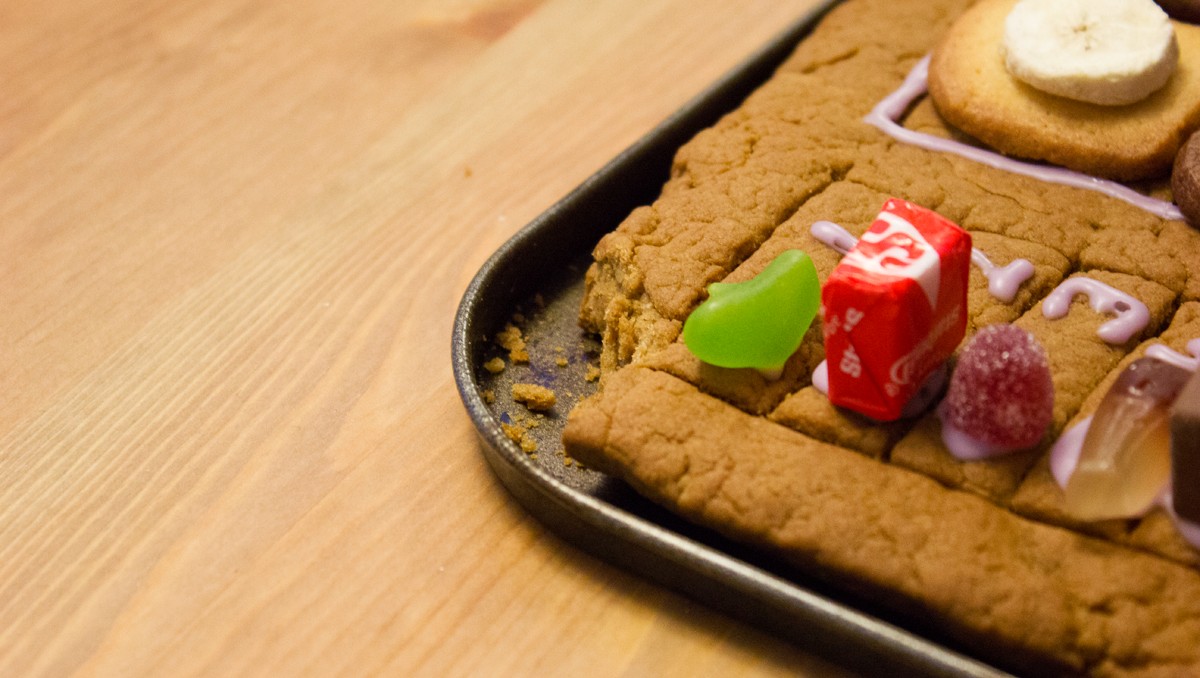 Pip
: In the time it takes my companion/opponent to move his knight to a new square I have broken off a piece of the game board and stuffed it into my mouth, crumbs on my T-shirt volunteering the specifics of my crime.
On the plus side, I am road testing one of Jenn Sandercock's edible games – The Order Of The Oven Mitt – and thus I have a mouthful of gingerbread rather than cardboard. On the less plus side you aren't supposed to eat the board yet and I've just remembered I don't like gingerbread.
The gingerbread debacle happens every year around Christmas. Faced with the dramatic potential of pretending to be a giant devouring a village I will tuck into any number of gingerbread houses and gingerbread folk, trying to ignore my tastebuds. I mention this to make it clear that the gingerbread problem is my own cross to bear rather than anything to do with Jenn. BUT gingerbread is a really useful building material so it's working really well as the substrate for the game.
a sticky heist, a brief and wondrous life, two detective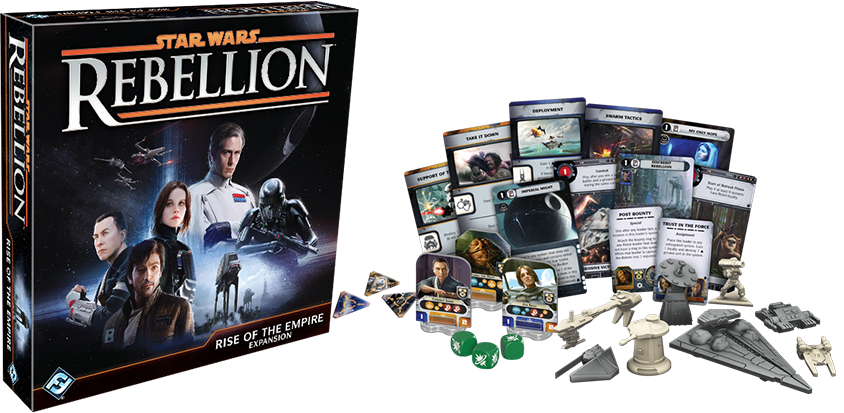 Paul
: Quinns! The oven timer has gone off! What have you got in there, exactly? It looks like… bread.
Quinns: No, that's not bread that's rising. It's THE EMPIRE.
Paul: Is it going to take long? I wanted to put a pizza in.
Here's a question for you. What contains
Fields of Arle
,
Spoils of War
,
Conflict of Heroes
and
Lost Valley of the Dinosaurs
?
That's right! The answer is "A fistfight over an archaeological dig site in Northern Germany." But another valid answer would be the 58th ever SU&SD podcast, wherein Paul and Quinns discuss all of these games. What's more, Quinns reveals the results of his months-long experiment using the BG Stats app.
After all of that excitement the boys relax by dipping into the mailbag for a question on why board games seem to be getting more expensive, and close the podcast by talking about the noble art of marble racing. Enjoy, everybody!
(Thanks to BGG User Steph Hodge for this podcast's header image!)
this... isn't... sparta!, a ceremonial bin, a questionable bath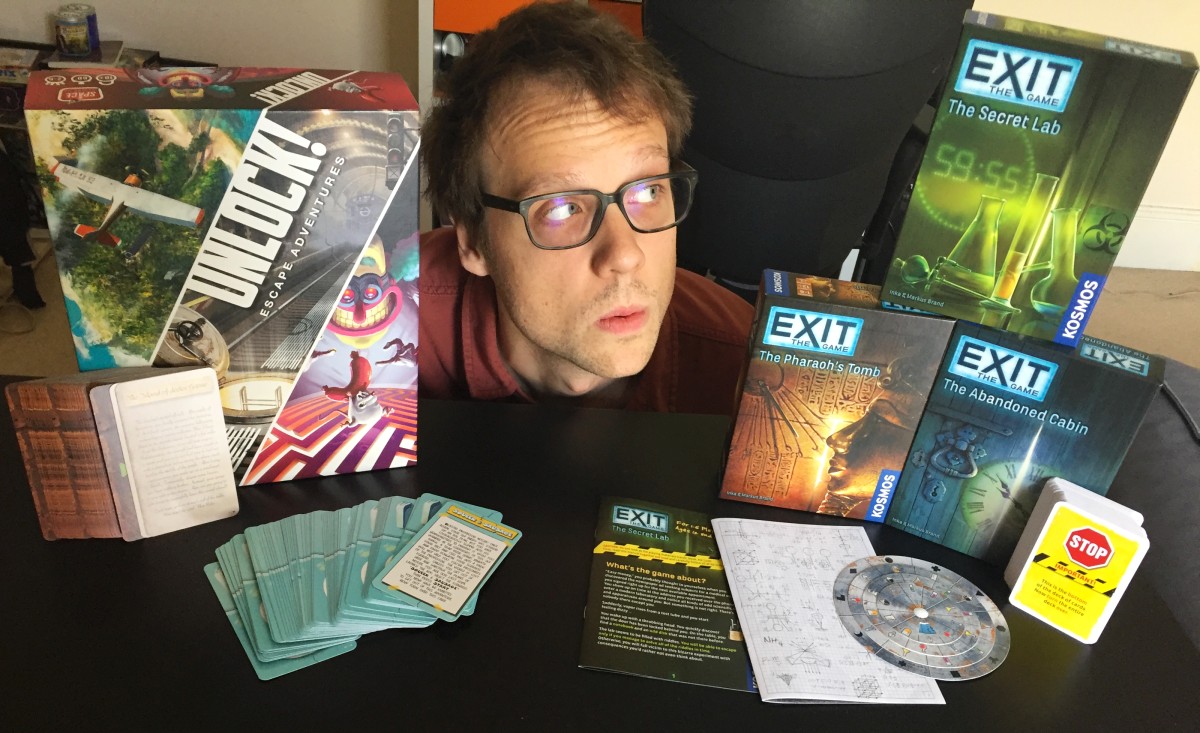 Quinns
: As "escape rooms" continue to spread across the world like an architectural venereal disease (but a nice one!), you may or may not know that there are now lots of escape room
board games.
 Yes! You can have (almost) all the fun of escaping a real room, but at a tidy fraction of the price.
For the last few weeks I've been fretting and sweating against these games' arbitrary countdowns, searching for the best simulation of being locked in a room. And do you know what? I had a consistently happy time of it.
But the time for happiness is over. Two series emerged as front-runners during my trials, and it's only right that I pit them against one another in cardboard combat. From Germany, in the blue corner, we have the prestigious series of EXIT: The Game. And from France, in the red corner, we have the flashy contender known as Unlock!
LADIES AND GENTLEMEN! LET'S GET READY TO RUMBLE PUZZLE!
quinns stop clicking your fingers, number-udders, that's cowboy magic
Hoo baby! The profoundly beefy 2016 game of
Great Western Trail
is finally back in stock the world over. We've had ample time to test its systems, prodding its many rules from every conceivable angle, and today want to tell you that it lives up to the hype.
And thank goodness for that! When was the last time your evenings contained a dose of cowboy magic? It was too long, wasn't it?
oh my god please come, it'll be weird if it's just six of us in a ballroom
Quinns: This is one of those times where you wish our headlines didn't already use capital letters, so we could SHOUT!
Our team has been working ludicrously hard for the last five months putting together the first ever SU&SD convention. It'll be in Vancouver, Canada on October 6th, 7th and 8th of this year, and tickets, details and hotel rooms are available through THIS LINK.
You can expect a board game lending library, tons of tables to play games, no less than three Megagames(!), a full track of talks and loads of special guests including every single member of the SU&SD team. It's going to be ludicrously good fun. Practical info can be found on the above SHUX '17 page, but I'll pop a small F.A.Q. after the cut.
a dollop of chaos, a crime soufflé, a misplaced acrobat, and a bloody cat?!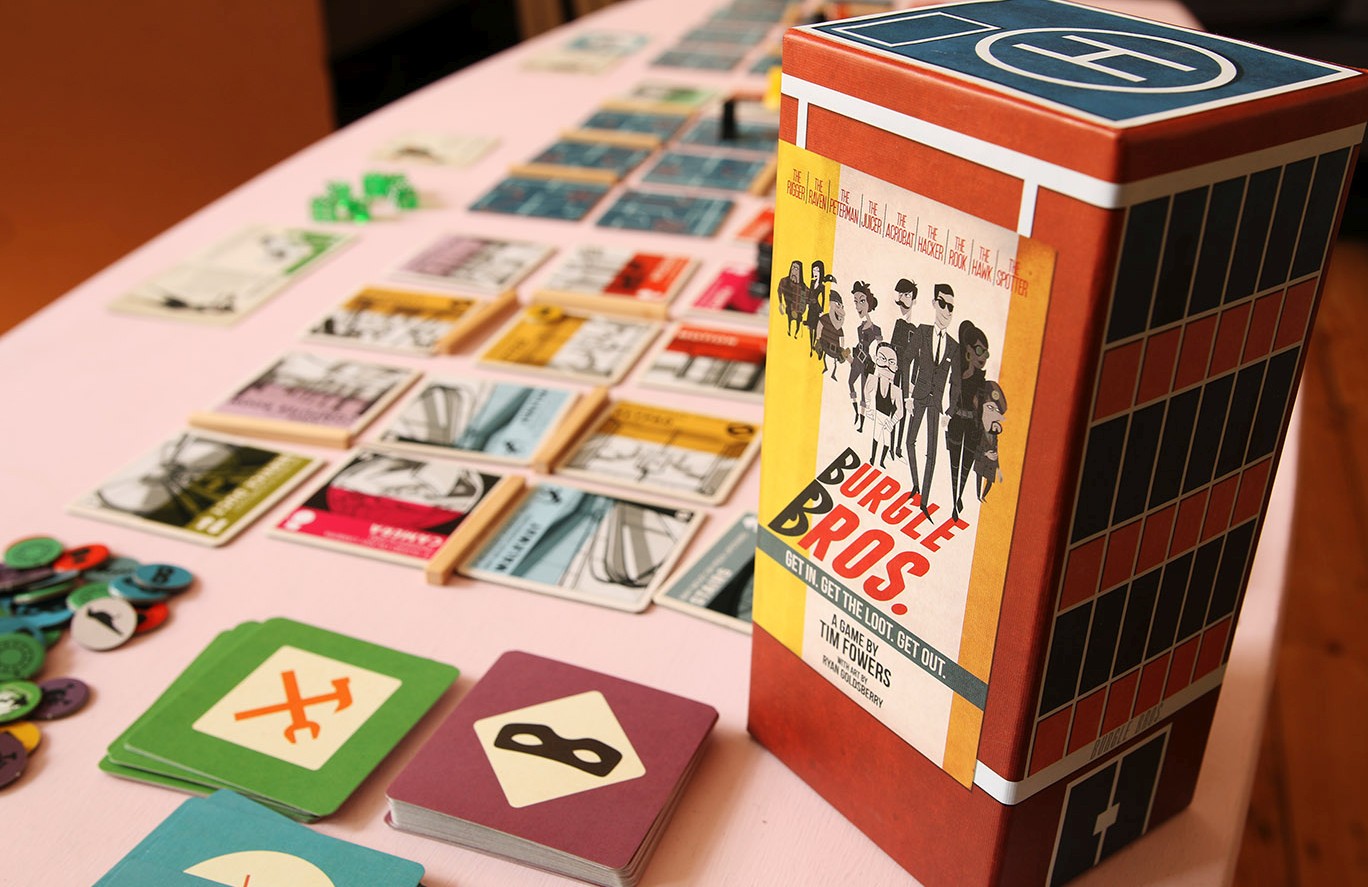 Matt
: Chucking
Pandemic Legacy
in the bin proved to be an uncomfortable day for my board game collection, causing a cardboard-flavoured existential wobble. As much as I love - had loved -
Pandemic
, experiencing the full-fat campaign spin-off had left me wondering if I'd ever bring myself to go back to the standard co-op game that had been such a household staple.
I've spent a while poking my nose around for a worthy replacement, and - for me - I think it might be Burgle Bros.
Dropping two to four players into a classic bank heist, Tim Fowers' has squeezed an almost comical amount of theme and bits and ideas into a box that - being generous - might hold a small shoe. Our intrepid / idiotic thieves have failed to case the joint ahead of the job, so it's up to you and your Colleagues-In-Crime to first find the safes, then crack them, grab the loot, and get out.
the hated cobbles, the sweetest scythe, the additional hamilcar, ecstasy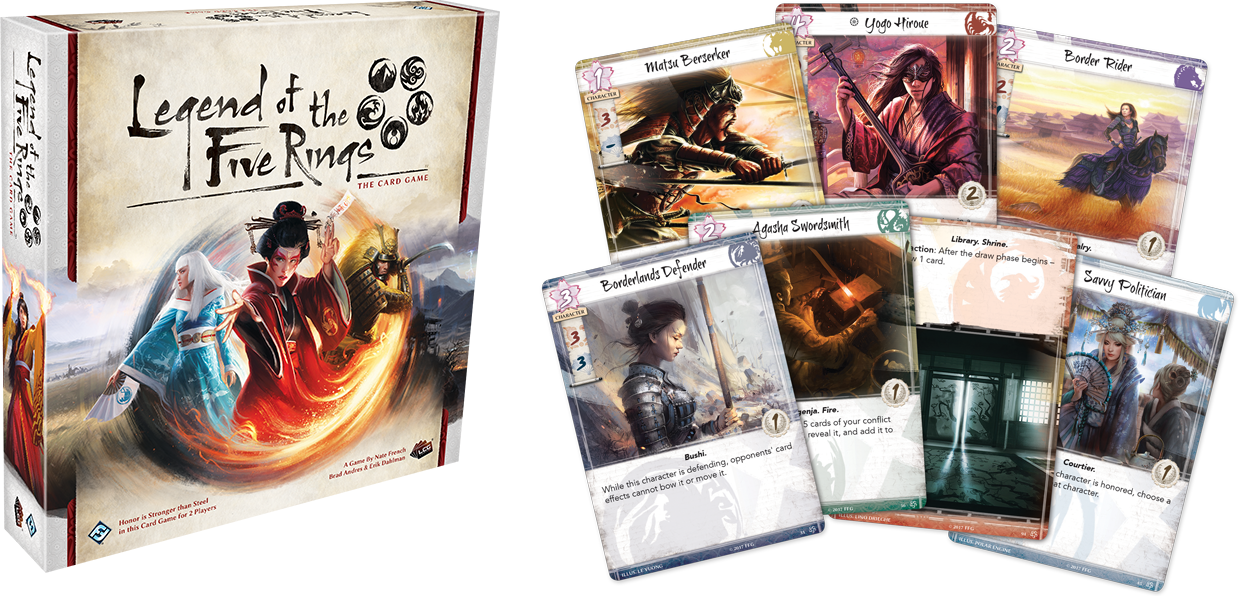 Paul
: Here we are again, marshalling a whole host of new Games News arrivals! Please stand back as I wave the latest Games News to Gate F26, where it will disembark and make its way toward customs. Quintin, I believe you actually wanted to detain a
particularly
important story related to
Fantasy Flight's new Legend of the Five Rings card game
, right?
Quinns: Ah, yes please, Paul. Please send it this way, where I will thoroughly inspect it, as well as the first of their preview articles...