stuff stuff stuff, rocks rocks rocks, we're going to need a better boat
This week, Paul's gone all viking on us, getting so, so enthusiastic about
A Feast for Odin
with this very in-depth review of a truly enormous game. Then again, wouldn't you be at least a little bit excited? This is one of the biggest boxes we've seen in some time and, with hundreds of cardboard components, scores of wooden pieces and even a moose as a first player token, we really can't blame him.
Can it deliver joy and happiness proportional to its tremendous size? And how does it compare to its ancestors, other games by the same designer such as Agricola, Caverna and Patchwork? And why does Paul think Patchwork has a French accent? It's been a strange week.
give me your badge and your gun and that rock you keep in a plastic bag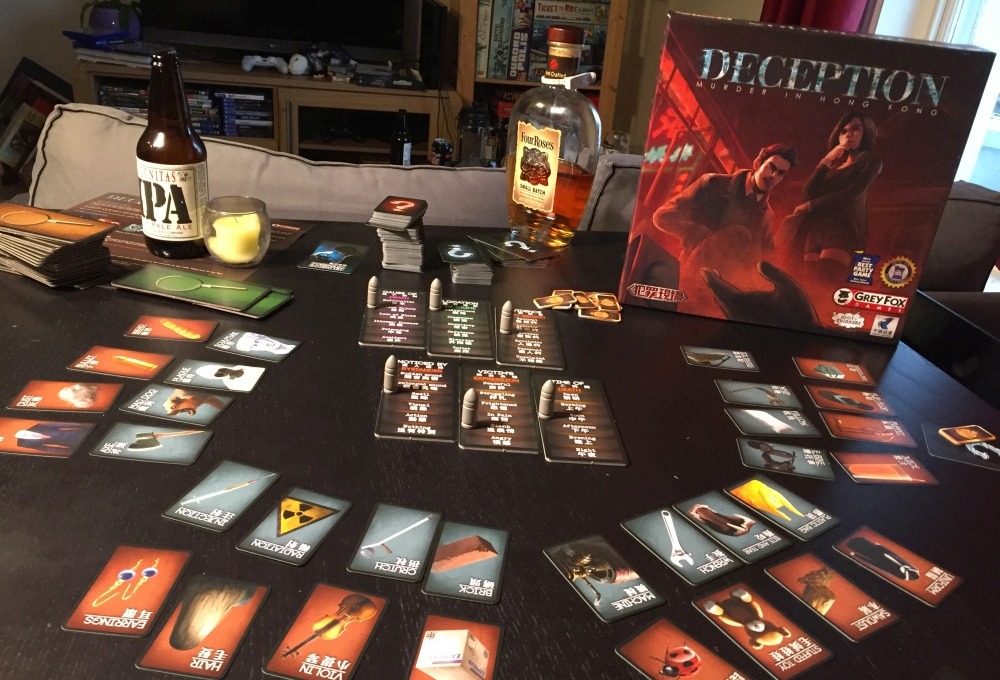 Quinns
: After playing co-operative social deduction game
Deception
, the proof is insurmountable. The 21st century police force is the greatest board game theme of all time, not because it works so well but because
it doesn't work at all.
Back in our eighth ever podcast we talked about Police Precinct, and while we had a terrible time with that game we were endlessly amused because we seemed to be playing the cast of Reno 911 on the set of The Purge. Then last year I finally got to try Good Cop Bad Cop, where in one memorable turn I confiscated my colleague's coffee as evidence, downed it in one gulp, then shot them.
But with a name like "Deception: Murder in Hong Kong" and brooding, maroon box that includes a handful of plastic bullets, you might assume that this, at last, is a serious game about law enforcement.
You couldn't be more wrong. I'm thrilled to say that Deception is every bit as silly as those others, and it's also the best game of the three. Come for a ridealong with me! You're statistically unlikely to be shot.
diceberts, batguins, laxatives, venmo for the human condition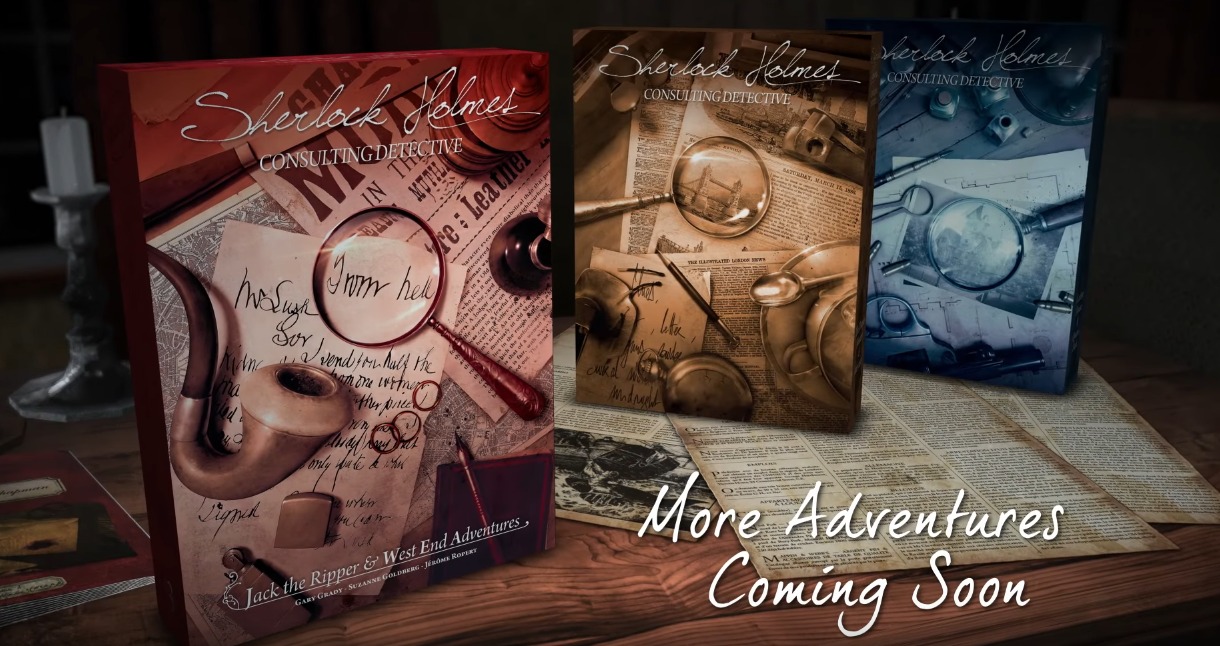 Quinns
: Good morning, Paul! Ready for Games News? How are you feeling today? Rambunctious? Meticulous? Corrugated?
Paul: No, no. Dispirited. Crenelated. Crepuscular. My prandicle is absquatulate.
Quinns: Good God, that's our SEO ruined, for sure. Perhaps you'll be emboldened by THIS wonderful news. SHERLOCK HOLMES CONSULTING DETECTIVE IS GETTING SWOLE because the first(?!) standalone expansion is ALMOST HERE
Paul: OH MY GOD I'M GOING TO EXPLODE
Quinns: HAVE YOU FINISHED THE ORIGINAL TEN CASES YET
Paul: NO
Quinns: ME EITHER
Tyrants of the Underpants, That's Drow for Now, shoving a dragon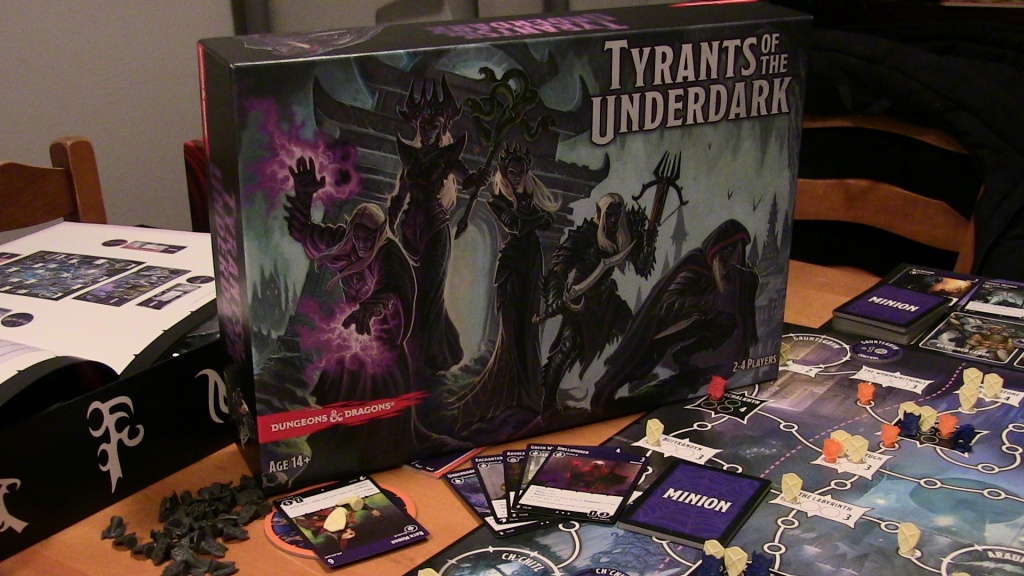 Paul: I have a confession to make. I have a profound prejudice toward purple and it very much affected my first impression of Tyrants of the Underdark. When my review copy arrived, I was a man with plenty to do. I opened the box that evening, saw the almost monochrome palette of so much grey, black and violet, flipped through the manual and then put this in a cupboard.
Sure, it's game set in the murky bowels of the Forgotten Realms, Dungeons & Dragons' most famous setting, but did it really need to be so drab? I was squinting at the card art, groaning at the board and then, suddenly, some long-sealed vault in my mind was opened and a memory of the most monstrous mediocrity suddenly burst forth: Defenders of the Realm. Oh God. This is why I don't play D&D board games. They lack all the spirit that the RPG inspires. "Tyrants of the Underpants," I thought.
I was so wrong about Tyrants of the Underdark.
these things are true: the world is dark, and we are alive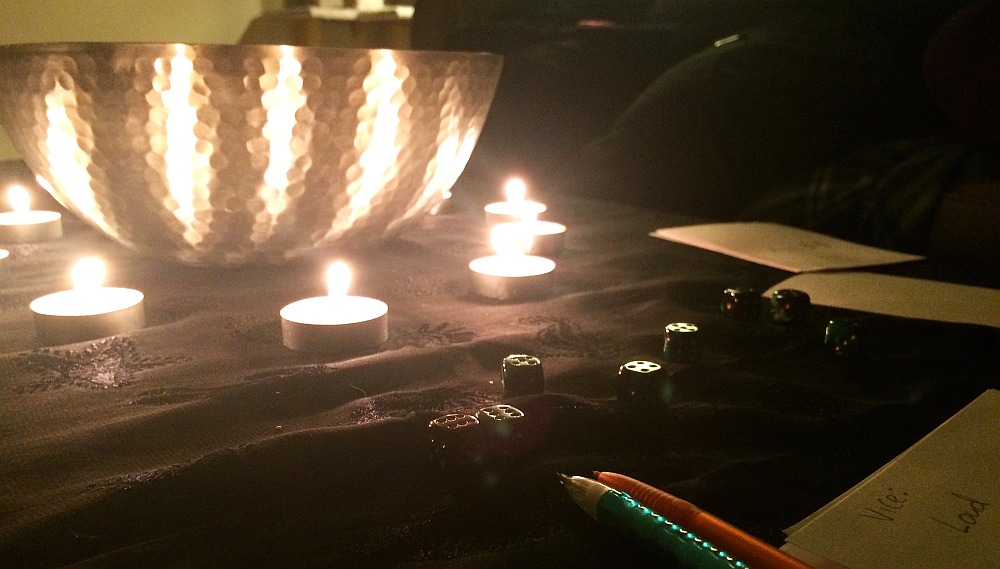 [Introducing RPG columnist Cynthia Hornbeck! As a former Utahn, temporary Minnesotan, PhD dropout and current public school teacher she is radically overqualified for a job with SU&SD. Please, nobody tell her.]
Cynthia: Hello, dear readers! I'd like to invite you all to accompany me to the end of the world, and to your death. Don't worry! I assure you that you're perfectly capable and prepared for the end – as it manifests in the phenomenal indie storytelling game Ten Candles, that is.
Ten Candles is a flexible, firelit game of "tragic horror" designed by Stephen Dewey and published by Cavalry Games. And I'm so totally in love with it. It's many scenarios take place in a variety of apocalypses where thick darkness blankets the earth and an evil force known as "Them" threatens humanity. Oh I know, there are plenty of post-apocalyptic games out there, and I imagine you're all raising your hands to ask what's so special about this one. Well, let me show you. Because what's special about Ten Candles is pretty much everything.
la première super méga extension, jingly bells, from the creator of mascarade: sex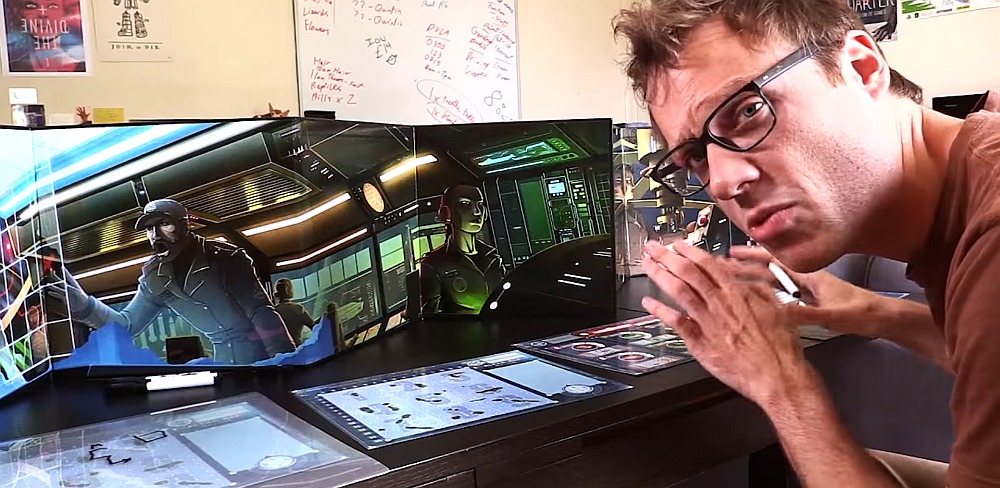 Quinns
: Huddle up, friends. Here we are in the depths of winter with nothing more to burn than the castoff cardboard frames from which we punch our tokens. It is cold and it is dark.
Paul: Yet the warm heart of Shut Up & Sit Down beats strong, emboldened by the news of games to come. This week we're going to tell you about PRINCESSES and SPICES and AN EXPANSION FOR CAPTAIN SONAR. 2017 is already up to speed and it's looking glorious. Which one thing are you most excited about?
Quinns: Yes! Do leave a comment below. Share your youth and vigor with us old men.
quintin's pheremones, matthew's buttery pastry, a hot cup of dice, ladies
To usher in 2017 as a year of good fortune, we're trying all sorts of superstitions. Paul wrote "FLUXX" on a bit of wood and threw it in a river, while Matt and Quinns have chosen a classic for their first review. 
Troyes
 is a beloved 2010 game that's enjoying a well-deserved restocking this month.
But last year we were spoiled for choice when it came to lightweight eurogames! Will Troyes triumph over Orléans, Concordia and Istanbul?
Thanks for your patience, everybody. It feels great to be back.
sport, sports, blood sports, mind sports, spoooooorts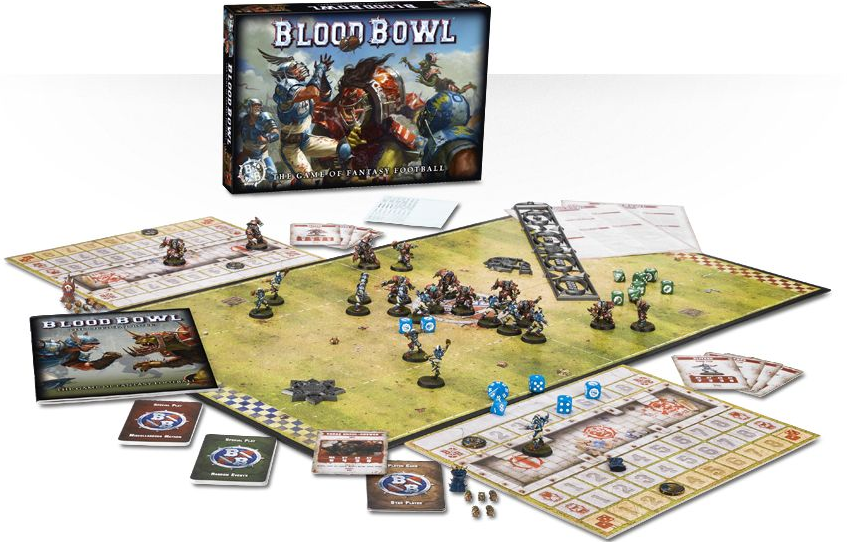 Eric Tonjes, our esteemed miniatures game correspondent, has returned and the CROWDS HAVE GONE WILD! Vendors are sobbing into their hot dogs! Babies are being tossed in the air by baby-tossing machines! Everybody, let the man speak...
Eric: Ladies and gentlemen, boys and girls, we're here to talk about sports! Sports are perhaps the ur-games. Probably organizing alongside early militaries as tools for training and proving of skill, they have grown to eclipse armed conflict for many, serving as a sort of proxy for violent aggression. But what happens when sport seems unnecessarily violent, and we need a proxy for that?
Today we're looking at two possible solutions. Blood Bowl is the grandparent of sports miniatures games. It's a rollicking high fantasy version of North American football in which you can violently maim opposing players. Guild Ball, meanwhile, is a newcomer to the scene which has quickly gained a following. It is a gritty low fantasy version of soccer (or "actual football") in which you can violently maim opposing players. While there are nuances to the themes, both games are clearly competing for similar space. So, in true sports fashion, let's put them in a ring and see which one scores the most points. Or violently maims the other player.
an explanation for paul, a rally for quinns, a gory mish-mash, a Heidelberger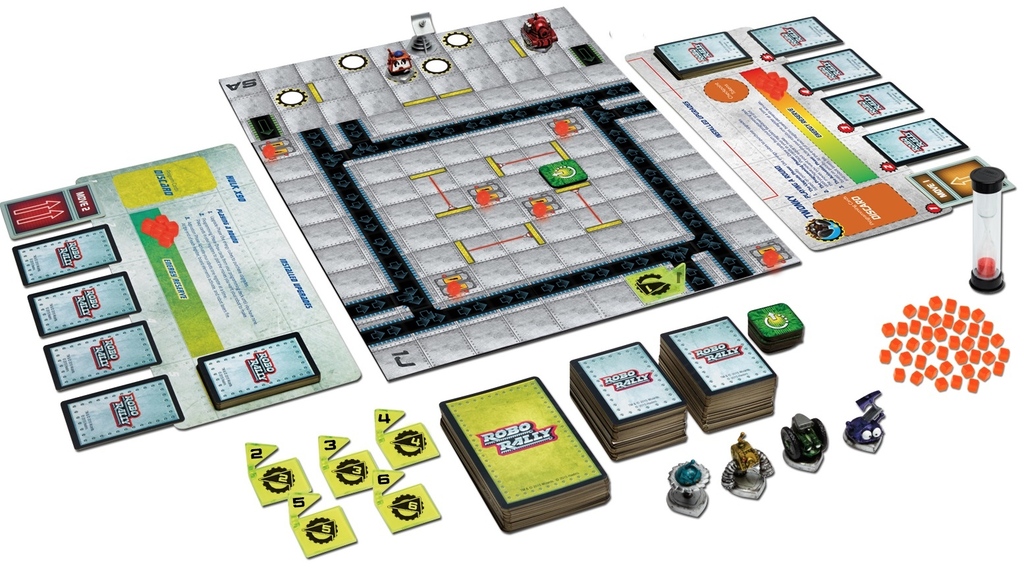 Quinns
: Please, everyone, take your places, fasten your seatbelts and keep your hands INSIDE THE VEHICLE AT ALL TIMES as we welcome you to a brand new year of board gaming, a year that promises to be a WILD RIDE.
Paul: Good morning! Good afternoon! Hello! Happy New Year! The Games News has been building up like snow over the holidays and we've been doing our very best to clear it, shoveling the path and salting the drive. Nevertheless, it's impossible to avoid slipping on some exciting new gossip or falling face-first into a pile of previews. Let's get right into things by talking about… oh no.
Robo Rally.
quinns at the oscars, paul in a gang, alien offices, rare husbands
We don't want to tell you how to live your life but you might want to put on a tie or a string of pearls or BOTH before listening to this 
very classy podcast.
The results of the inaugral Pearple's Choice Awards are in and noteworthy hosts Paul Dean and Quintin Smith discuss the games that won Best Expansion of 2016, Best Reprint and (of course) Best Game. They chat about some old classics they've played over the festive season, like City of Remnants and Galaxy Trucker. Finally, they want to tell you about a folk game that's come all the way from Peru.
2016 has been a spectacular year for board games and once again, next year looks even more exciting. This can't be sustainable. Or can it?