poisonous cat masks, erotic pastries, trains that literally go to hell, inhaling rules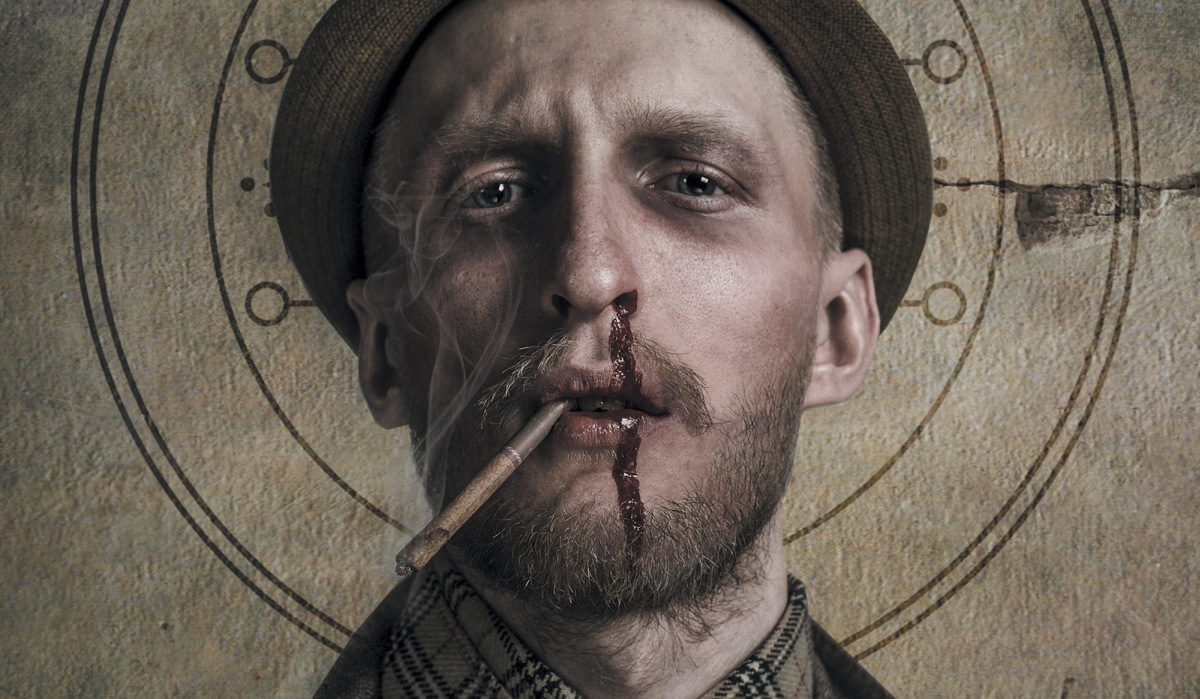 Cynthia
: The
third edition of Unknown Armies
appeared in May of this year and got my attention with this pitch: "A
n occult game about broken people conspiring to fix the world."
Alright, I thought, I'm hungry for games set in the actual dumpster fire world we live in, and I enjoy creepy, occult things, and I always want to investigate characters with secrets, traumas, and unsolvable problems. So I gathered a small cabal and led them into a morally ambiguous underworld of deadly rituals, paramilitary organizations, ancient crypts that appear only at midnight, young women without tongues, and murder. I plunged them into an international struggle for the future of the TransCanada oil pipeline, of Vancouver real estate, of the White House, and the world.
If you're ready for a game of of vast conspiracies and sleepless nights, a game in which your obsessions give you strength and great power comes with great corruption, in which you'll be haunted by invisible demons with ten-inch claws and compelled to do bloody deeds, where heroes are less Captain America and much more Jessica Jones… then read on. Just be warned: in case you haven't figured it out yet, this game is not family-friendly. Nor is it for the faint of heart.
a gurgling relative, deadly dancers, a wobbly future, the star bean

Quinns
: You know how we usually do silly intros for the Games News?
Paul: Absolutely. That's classic Games News.
Quinns: Well, I dunno if we have to today. I think our top story already sounds like a Dr. Seuss story.
Board game designer Friedemann Friese, who likes to make games that begin with the letter 'F', has announced a series of sequels to his title Fabled Fruit. Fear, Fortress and Flee are his three new games in the Fast Forward line, all of which use the Fable system (see below). All of these games are green, because Friedemann likes green games (and has green hair).
Speaking of which, they've also announced the first expansion to Fabled Fruit, and you'll never guess what it adds.
Paul: What does it add?
Quinns: Limes.
Paul: Limes?
Quinns: Limes.
speedos & cigarettes, quintin: fan of children, congratulations matt
In the words of Tom Jones, "What's new pussycat?"
We're so glad you asked, Tom! It's a video of Shut Up & Sit Down and special guest Mark Hulmes playing The Metagame in honour of our Kickstarter for Metagame: The Game: The Games Expansion: Game Away. It's hard to express exactly how good The Metagame is in words alone, so we decided that we'd make an actual play video that proves, once and for all, that this game is not messing around.
And if you think this game looks like pots of fun? We've got good news! We've just unlocked our stretch goal so any who backs the Kickstarter (where you can also get the base game) gets a free booster of board game-related cards.
As promised, this video isn't replacing an ordinary SU&SD video. We're sticking to our bi-weekly schedule, and Quinns will have a fresh'n'tasty new video review for you next week.
Enjoy, everybody!
the clambering proletariat, doomed societies, the duality of heroism, monkeys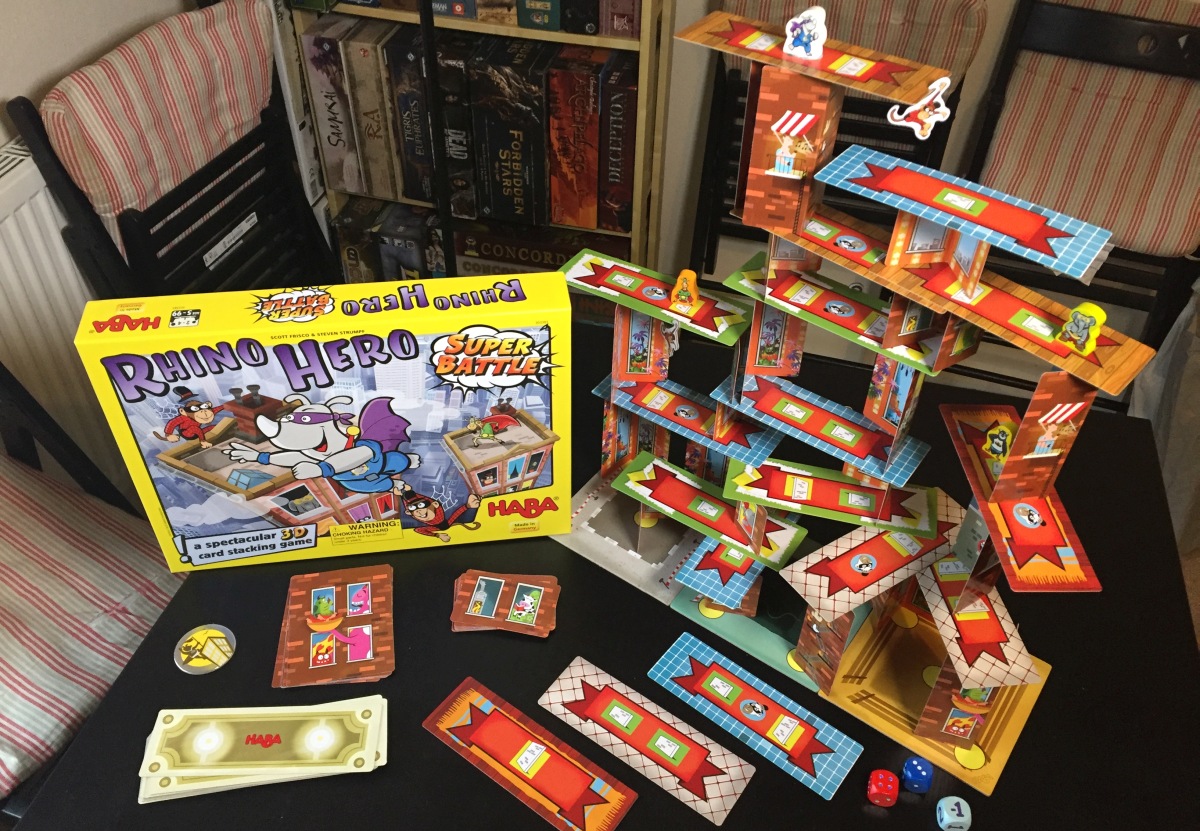 Quinns
: Leigh, thank you very much for agreeing to appear on Shut Up & Sit Down. I hope you won't be expecting any special treatment as my wife.
Leigh: Not at all! It's a pleasure to be invited to this forerunning venue for material game criticism.
Quinns: Do you think you're up for the task?
Leigh: I certainly hope so!
Quinns: Glad to hear it. Today the text we're looking at is Rhino Hero Super Battle, the outsize sequel to 2011 sleeper hit Rhino Hero. From the box - and I quote - "This time not only does the wobbly skyscraper need to be built & climbed, but there will also be fierce battles between the four superheroes Rhino Hero, Giraffe Boy, Big E. and Batguin."
In more ways than one, Leigh, the world of Rhino Hero just got bigger.
a battalion of artists, an en-drabbening, climbing (nggh) a beanstalk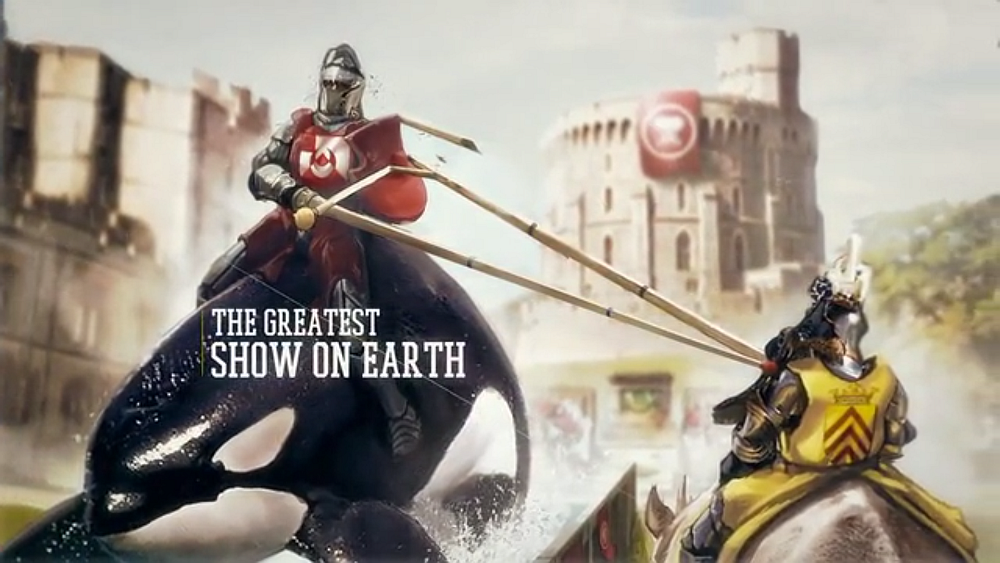 Paul
: Oh boy, do I feel excited about this week's Games News! We have just SO MANY interesting and exciting stories. Where do we even begin? With the Huge Humble Bundle? The slew of Kickstarters? Or the new Netrunner core set?
Quinns: Ooh, I'd love to start with the Kickstarter for The Champion of the Wild.
SU&SD is often late to any kind of party, but TCotW is a fantastic game that we can recommend before everybody else. It's a low-stakes, high-entertainment party game about pitching animals against each other in ridiculous tests of… well, everything from hide and seek to self-stacking. Do you think your animal would win in its category? Is a gorilla good at jousting? Maaaaaybeeee? Go on then, convince me! And enjoy the beautiful, hilarious art while you're at it.
If you'd like to hear a little more, you can hear us playing it at the very end of podcast #60 and having a whale of a time.
sexy turtles, a deadly broom-gun, a glass birthing canal, death by box
We've come a long way, baby!
Six years ago SU&SD published a review of the grand, weird game of Twilight Imperium 3rd edition. Today, we present a first for the board game industry. Please enjoy our amateur attempt at a documentary on the history of the game - which is really the history of Fantasy Flight Games - and the development of the new, shiny, 4th edition. Huge thanks to our donors, without whom this project (which we started work on back in 2015!) would never, ever have been possible.
As you buckle your seatbelt for this ride through time and outer space, please bear in mind that the doc doesn't cover the nitty-gritty of game mechanics that have changed from 3rd to 4th edition. We'll be covering that in our forthcoming review of Twilight Imperium 4th ed, which Quinns will be creating since he had almost no involvement in the doc.
Instead, we tried to make the documentary of broader interest, so please consider sharing it with board game-curious friends. Or just tell your mum it's Netflix? That might work.
Enjoy, everybody!
a boomerang made of jesus, hot dog-based misadventures, hit the club
Flip Flip Pancake, Urine Tokens, A Pyre of Praise, What Is Dogs
a bunch of winkers, getting digital wood, bad rodney, seafaring spuds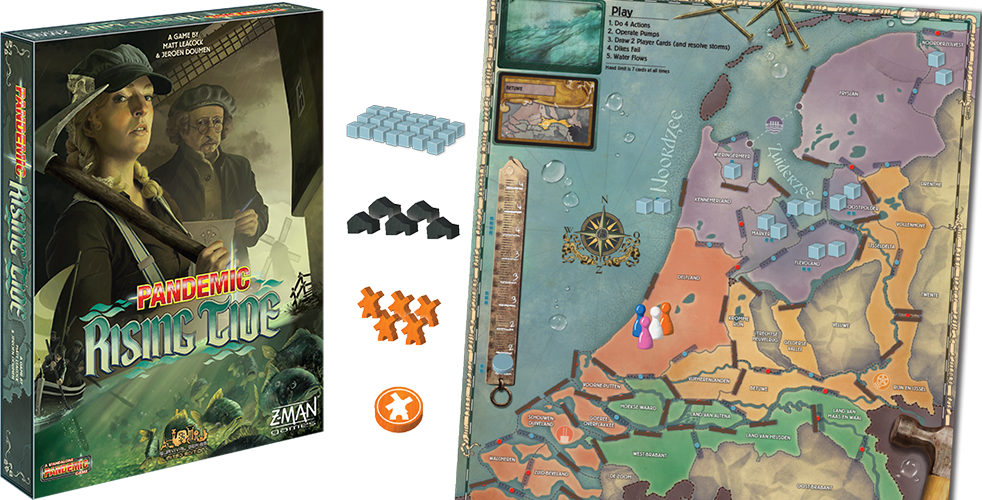 Paul
: It was a case of bad timing when Z-Man Games
announced Pandemic: Rising Tide
, as their scheduling couldn't possibly have foreseen simultaneously flooding in eastern Texas and eastern India, and they very quickly
issued an apology
. That could've been the end of it, but Z-Man are also donating five dollars from every pre-order to Hurricane Harvey relief efforts.
It's a difficult time for a lot of people in the Caribbean and the Gulf Coast right now. Our thoughts are also with the Dice Tower team members who have been forced to evacuate their homes. We hope they can return to enjoying the board games we all love very soon.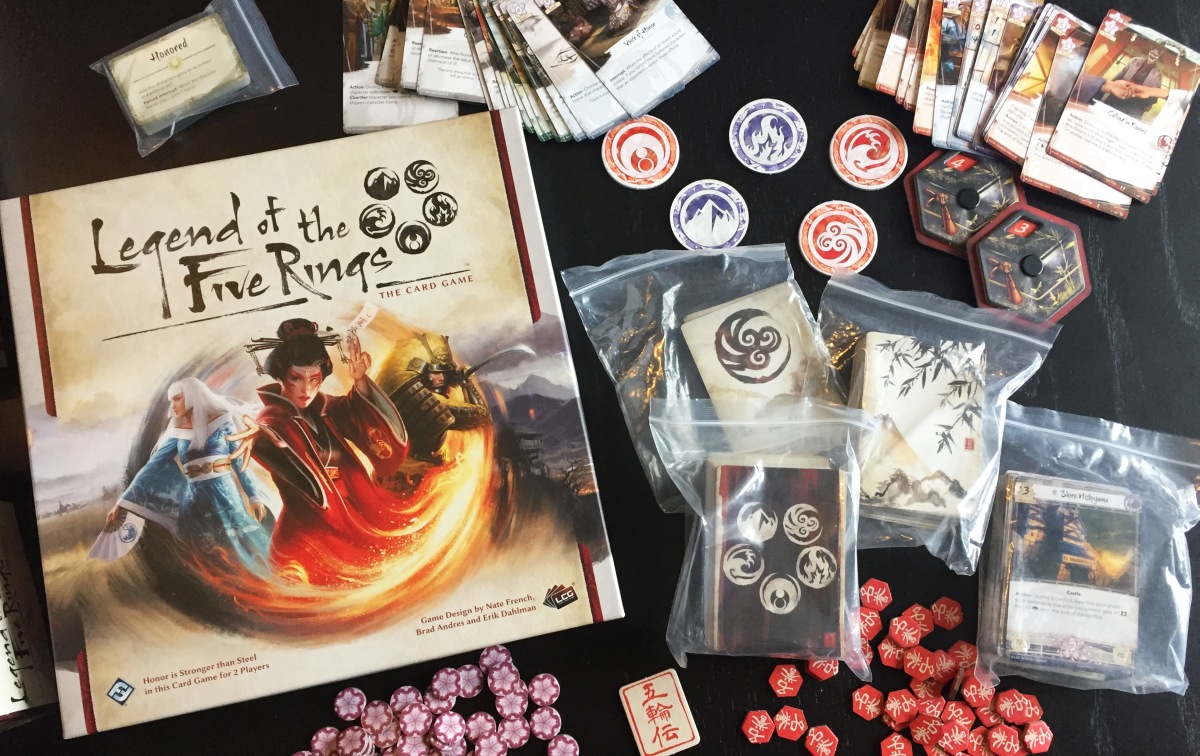 Quinns
: Phew! I birthed two of the year's
toughest
reviews
last week, but there's no rest for the wicked. Today we've got some coverage that a lot of people have been asking for.
Remember when Fantasy Flight Games bought the rights to 1996 collectible card game Netrunner and released a new edition that took over my life? Well, Legend of the Five Rings (henceforth "L5R") is them doing that again. This was originally a 1995 card game, but any week now shops will receive FFG's beautimus new edition using the Living Card Game business model of releasing fixed expansions rather than randomised boosters. This makes it cheap compared to most collectable card games, albeit still expensive compared to board games.
In other words, we could have a hit on our hands. Have Fantasy Flight folded the original game's steel into a captivating card katana?
Let's find out.