goose eggs, backwards walks, roaring roses, lamplight pizzling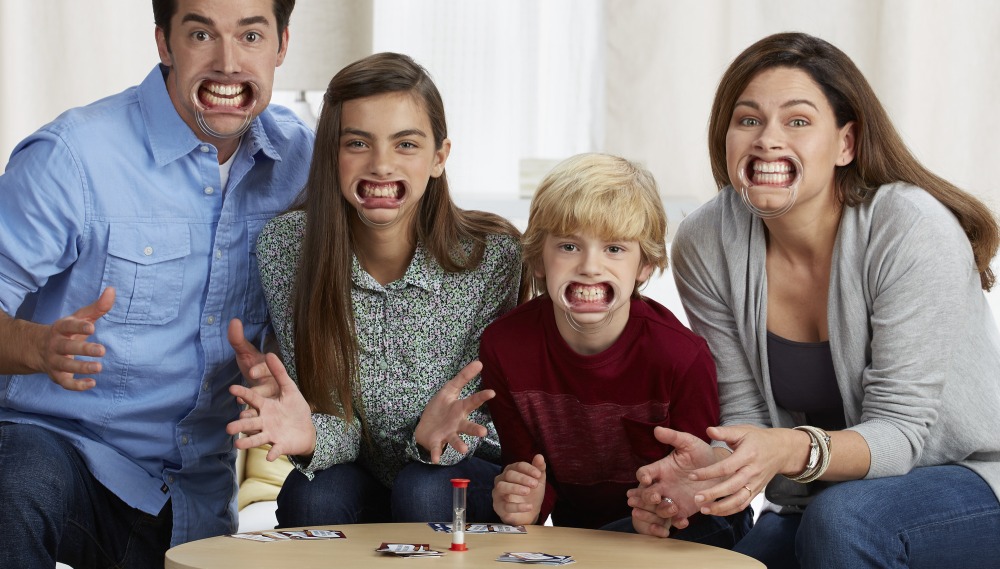 Quinns
: Hello everybody! So glad you could meet me here, at the Games News pub. It's my round! Who's for a pint of news? [points at you] News and soda, was it?
It's happy hour, so we're going to start out with a double news on the rocks. The nonsense-mongers at Hasbro have just unveiled two new games. Speak Out: Kids vs Parents is a familial evolution of their game Speak Out, both of which feature your team trying to work out what the hell you're saying while you wear a dentist's cheek retractor.
Doesn't that sound like a game we'd make up as part of a skit? I can only approve that Hasbro has made it a reality.
The press image for it (above) is freaking me out, though. The combination of Habro's clean-cut toy photography (which has always looked a little "uncanny valley" to me) with rictus grins is absolutely terrifying. Imagine coming downstairs and finding them in your living room. "WOULD YOU LIKE TO PLAY A GAME," bleats the mother, spraying spit across the room.
oily eels, a kick in the rules-testicles, why is ireland even on the board, oh no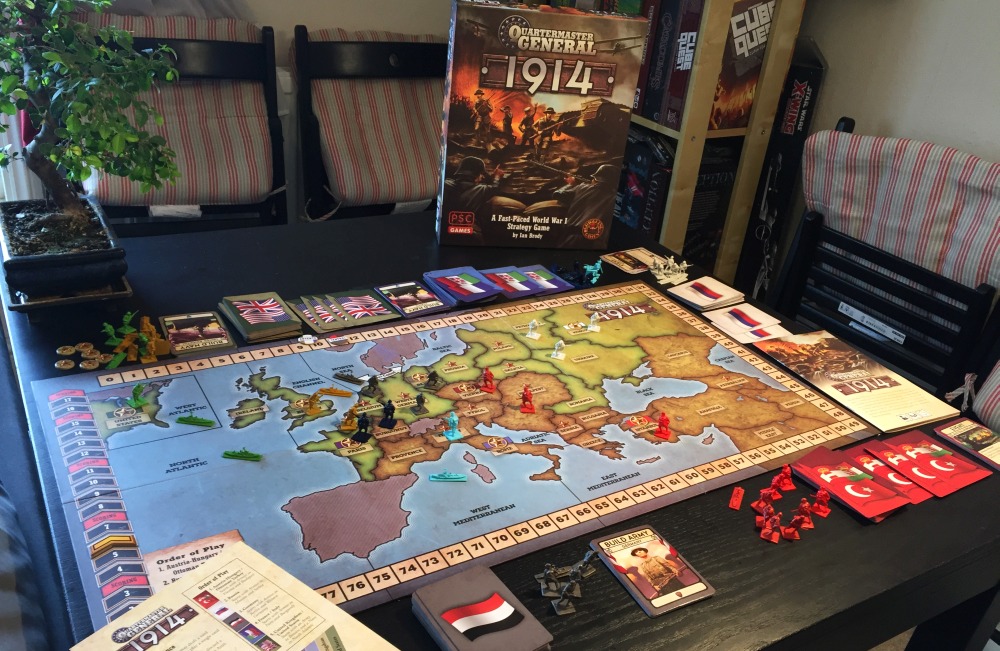 Quinns
: It can be lonely reviewing games by yourself. Matt and Paul might be at the Game Developer's Conference, but I have a solution!
Matt's head made from papier-mâché: that's because you're great quinns
Quinns: Ha ha, you flatter me! Let's get down to business, Matt.
Matt's head made from papier-mâché: i love business
Quinns: Today we're reviewing Quartermaster General 1914, the third (and most highly-rated) entry in the Quartermaster General series. Like Memoir '44, these games might look like stodgy wargames, but don't be fooled! 1914 is a tricky, playful card game that lets you get stuck into the drama and anxiety of WAR without having to measure any distances or frown at charts.
Now, our site has said over and over again that there aren't enough team-based board games -
Matt's head made from papier-mâché: oh goodness no, nowhere near enough
Quinns: Don't speak, you're getting flakes of glue on the table. So team play is exactly what the Quartermaster General series is all about. In our case, 1914 is a five player game where three frail players take on two wealthy ones. It's a tremendously exciting hook, and we're just getting started.
clusterpickles, electric bimbling, bum-first into the robo-bin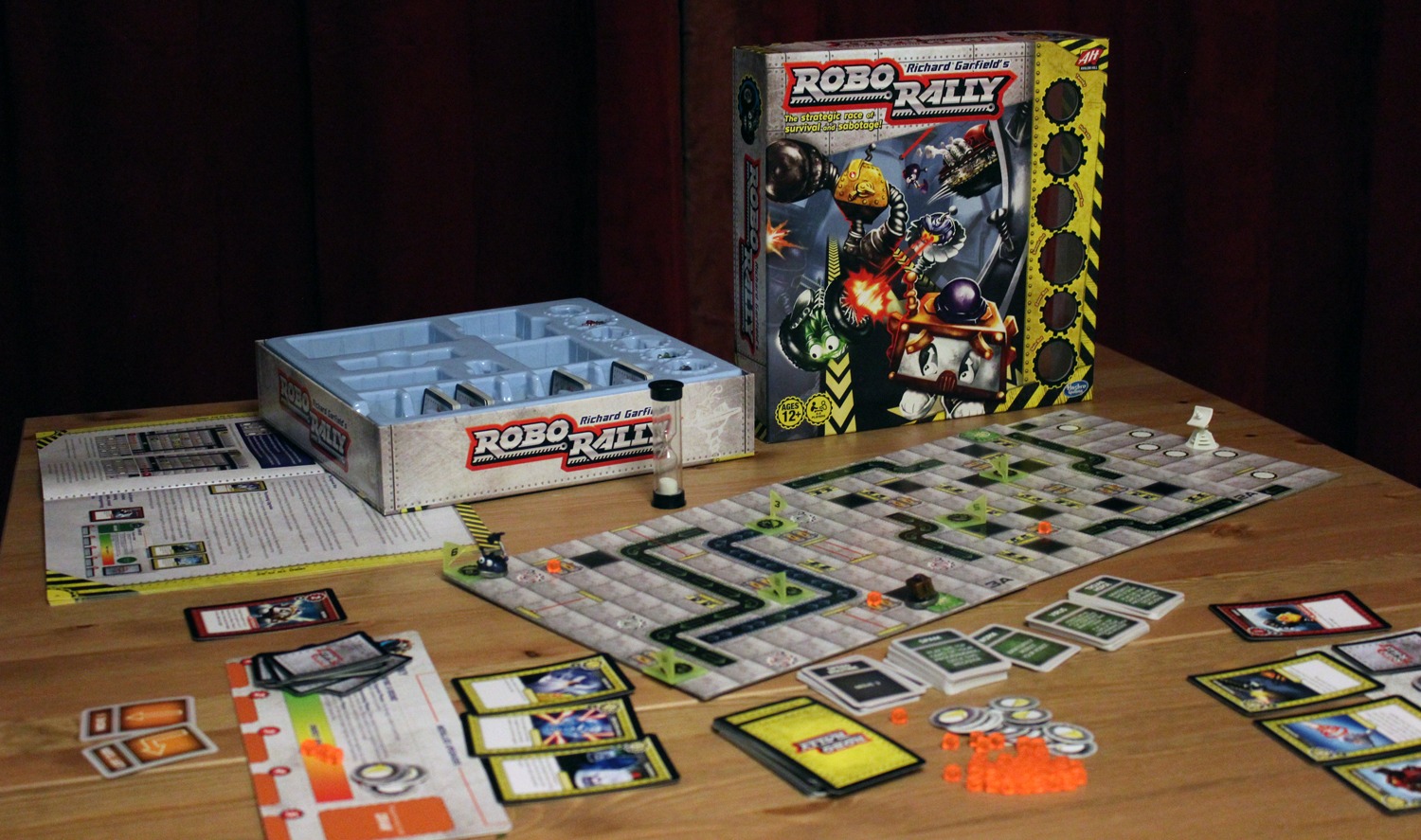 Pip
: When living with a fellow board game enthusiast you have the benefit of a ready-made companion for cardboard adventures – HOORAY! – but you also start to realise that, for a lot of games that say they're for 2-to-however-many-players on the side, there's this disproportionately large leap in enjoyment between the two-player version and the three-or-more-player outings.
Robo Rally might be the ultimate illustration of this. With three people it's a rambunctious clusterpickle of robots and conflicting agendas where your neatly programmed sequence of moves gets nudged hilariously and disastrously off course. With two we ended up trying to house-rule it so we could ginger up the experience and keep our momentum. Quinns informs me that SU&SD is all about reviewing board games in their favoured conditions, though, so consider this a review of Robo Rally the beloved 3-6 player omnishambles, and not Robo Rally the 2 player compromise-simulator.
Boring herbivores, exciting skeksis, the ruddy borg, hot hot hats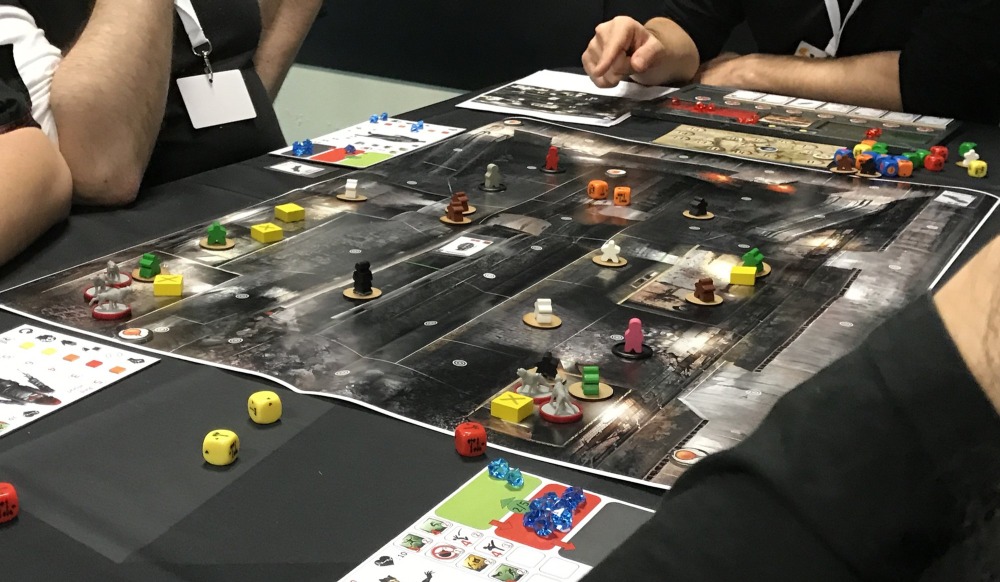 Quinns
: Good morning sweet shut-upsters! Today is the start of a very 
solitary
couple of weeks on the site. Paul and Matt have gone overseas to run our board game lounge at the yearly Game Developer's Conference, and 
then
they're making a top-secret visit to a board game publisher. Like a lighthouse keeper I will be maintaining a lonely vigil
. 
And maybe talking to myself and going a bit mad. We'll see.
Speaking of maddening things, our top story this week is the above header image that was tweeted by BoardGameGeek. Looks boring, eh? WELL, you're actually looking at a prototype of Monolith's next project, Batman: The Board Game, and judging from the dice and stamina crystals it'll be an evolution of Conan, a miniatures game that this site loved to pieces.
This adaptation makes perfect sense! Conan's brutal choreography and breathless heroism would be perfect for Batman. But there's a problem that has me finding this announcement to be bittersweet.
Monolith's Kickstarters for Conan ($3.3 million) and then Mythic Battles ($2.6 million) have shown that they know how to run an exciting Kickstarter. Clearly, the page for Batman is going to make millions of dollars. But in addition to the sexism that's run across their games like an oil spill, in this pundit's opinion Monolith's been botching the post-release support that I've come to expect from expensive games.
always be certain, from like a thicket or something, scythiest
Things turn very bad indeed when Paul goes outdoors in an attempt to review the Kickstarter megahit
Scythe
. What does he make of this tremendously successful title, with its giant mechs, slaving peasants and very helpful bear? Can it live up to its tremendous reputation?
And what happens to us when we die? That's nothing to do with the video. Just asking. Have a lovely weekend!
it's a box of fun, just put it in your pocket, slide it in
Quinns
: Everybody, we've got a Kickstarter we'd like to point you towards! Do you all remember
Monikers
, the effortlessly funny and accessible party game? How would you like an expansion for it created ENTIRELY by the cast of Shut Up & Sit Down?
Ooh, yes! The Shut Up & Sit Down Nonsense Box (this is the link you click on) (click it!) is no less than 112 cards that were dreamed up and playtested by... us! We didn't get the memo that the card descriptions were only supposed to be informative, so we made those really funny too. Oops.
Don't have the Monikers base game? Not a problem. The Nonsense Box is a standalone game, or you can chuck the base game onto your pledge as an add-on.
A micro-FAQ follows, after the jump!
wooden spaceships, expensive tissues, carrot resources, werewords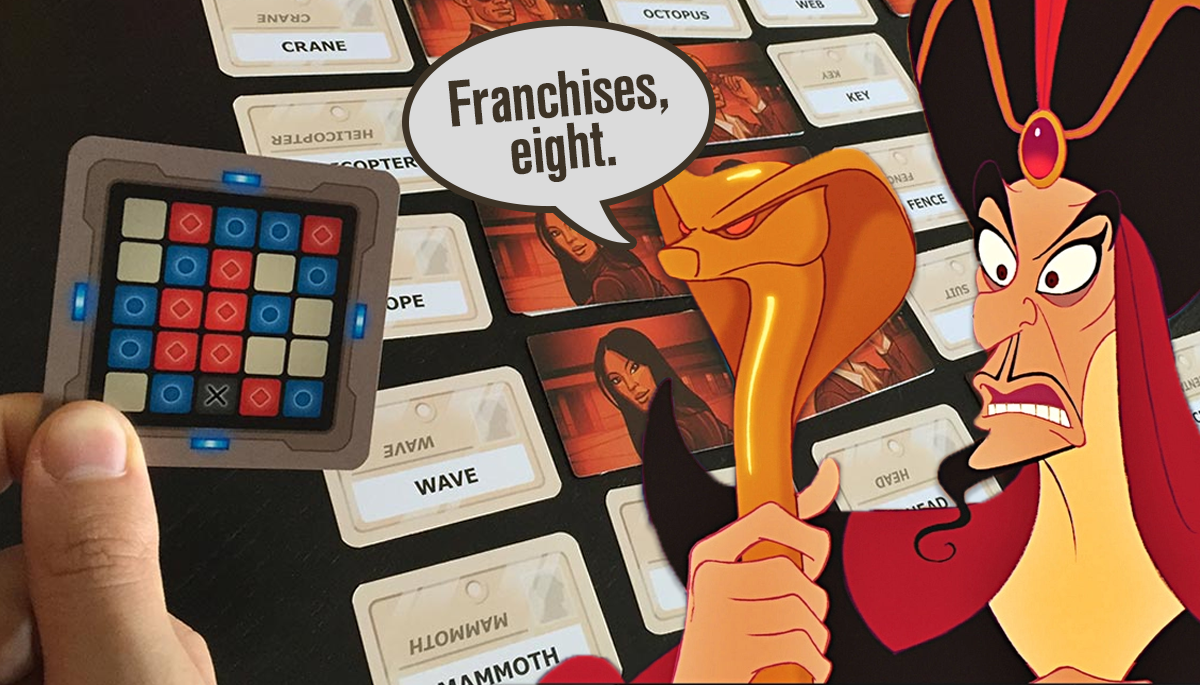 Paul
: My goodness! We start the news this week with the continuing success story of Vlaada Chvátil and Czech Games. Two new, licensed versions of
Codenames
have been announced,
themed around Marvel and Disney
. Surprised?
I can't say I'm ever likely to buy or play either of them, nor that I'm at all invested in the worlds of either of these entertainment giants, but I do see this as a wonderful way to bring different kinds of licensed games to more players, particularly families, beyond another bloody Monopoly, as well as for Czech Games to earn more well-deserved cash. If someone tells me, in twenty years, that they got into board games through trying to interpret obscure clues about Frozen characters, I'm going to be okay with that.
Okay, hold on, there is also comic potential here. I'm sure there's all sorts of hilarious clues you can give if you want people to guess both a talking candlestick and a singing elephant, or something slightly sassy you can say about Spider-Man, Victoria Hand and Captain America. Maybe? I don't actually know anything about comics. Is Garfield DC or Marvel?
hair-in-mouth game, finger-in-mouth game, pharmaceutical t***s
Like the plot of every time-travel movie ever, Matt and Quinns have officially gone
too far into the past
and may never be the same again.
In this unusually raunchy edition of the acclaimed SU&SD podcast the pair discuss/complain about some titans of the 80's and 90's- Space Hulk, Blood Bowl and Magic: The Gathering. Meanwhile, Paul offers much more sedate comments on Scythe and Santorini.
Finally, the group discuss some folk games sent in by an anthropologist... which are played by monkeys. Join us for the critical analysis of Magic, but stick around for our description "Hair In Mouth Game".
Have you played any games from your childhood recently? And were they rubbish?
RACCOON ANXIETY, OXYTOCIN, THE GORDON RAMSEY OF MICE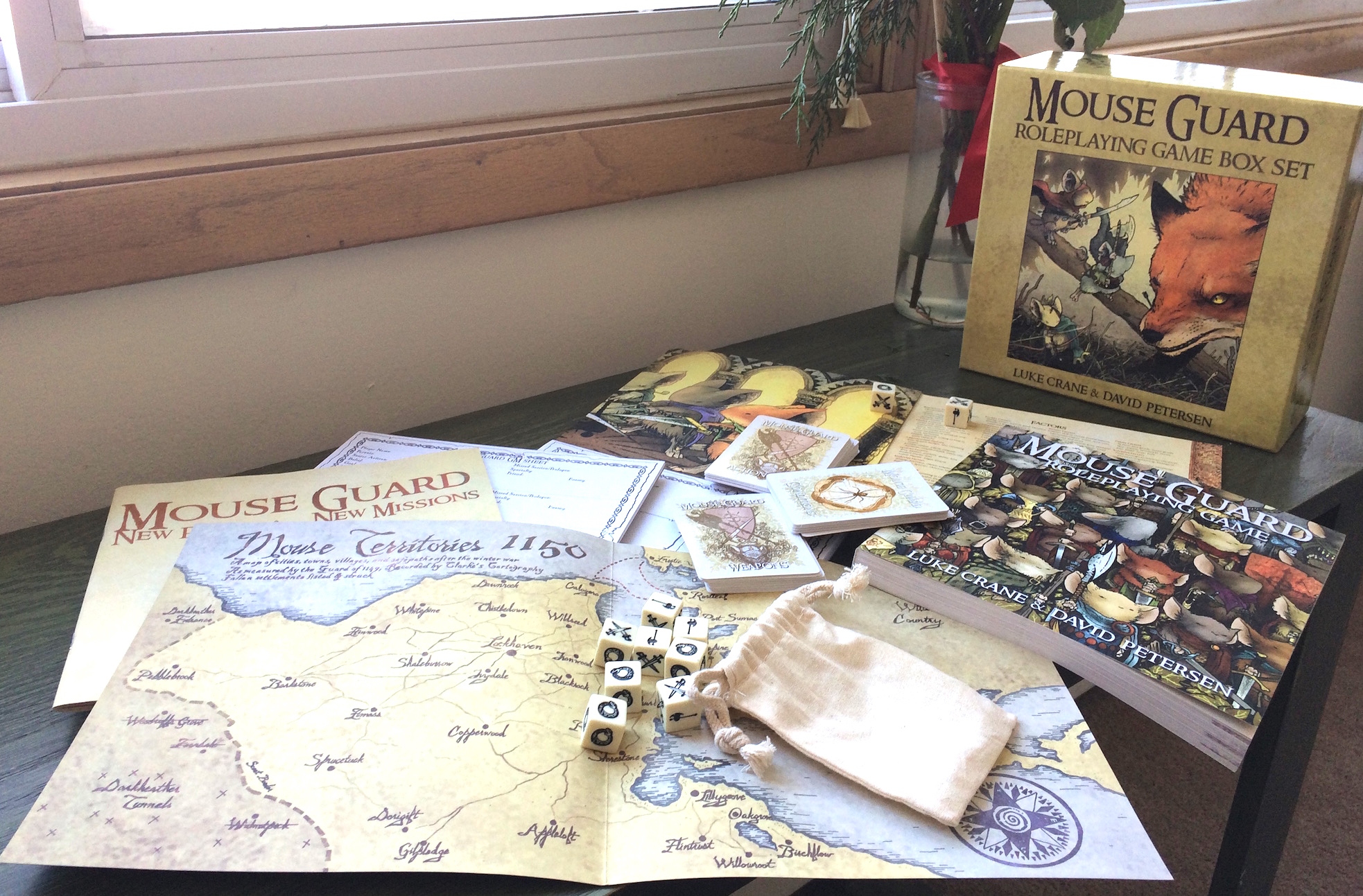 Cynthia: There's something extra lovely about roleplaying games in the winter. Where I live in Minnesota, going outside can often be quite deadly, so I prefer to huddle around a table with friends and food and drink. The problem is, being trapped indoors makes me crave adventure.
pavlovian paul, dog detective, the teasing zone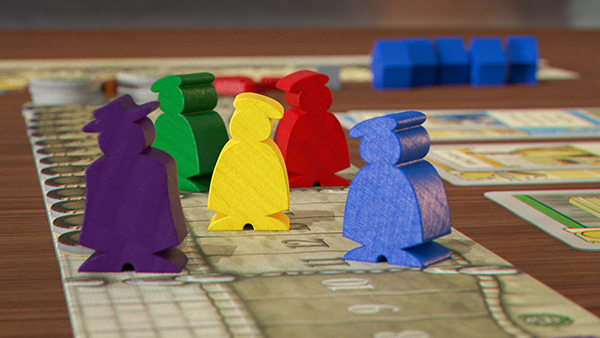 Paul
: Good Monday to you, dear readers. Please, take a seat, take a break, take pause and taaaaake me to the magic of the moment. On a glooooory night.
How appropriate that, while Quinns takes a well-earned break on an unusual and unique Mediterranean island that I am not going to disclose the name of, I'm ready to tell you all about Valletta, a terrifically tempting game of jaunty hats.