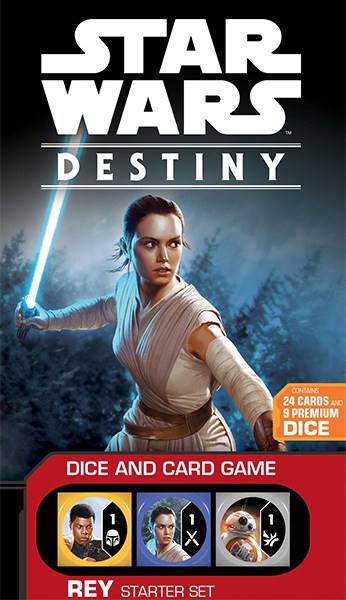 Buying from these fine retailers helps support Shut Up & Sit Down.
Star Wars: Destiny is a collectible dice and card game of battles between iconic heroes and villains that encompasses characters, locations, and themes from the entire Star Wars saga.
In Star Wars: Destiny, two players engage in a fast-paced duel, each striving to eliminate the other's characters first. The game's innovative mechanisms combine dice-driven combat with faction-driven hand management. Straightforward rules make the game easy to learn, but also enable deep strategic thinking and clever deck-building. Players can create decks that include characters from every faction and any era, as long as heroes and villains are on opposite sides of the fight. For example, Padmé Amidala might fight alongside Rey and Finn, taking on Jabba the Hutt, Kylo Ren, and Jango Fett.
Each round, you use your characters' abilities, an assortment of dice, and a carefully constructed thirty-card deck filled with events, upgrades, and supports. You and your opponent alternate actions: activating your dice, playing cards from your hand, attacking your foes, and claiming the battlefield. You need to prove your skills and defeat your opponent's characters to claim your destiny!