Pavlovian puppies, sightless stooge, sumptuously silly smorgasbord of stuff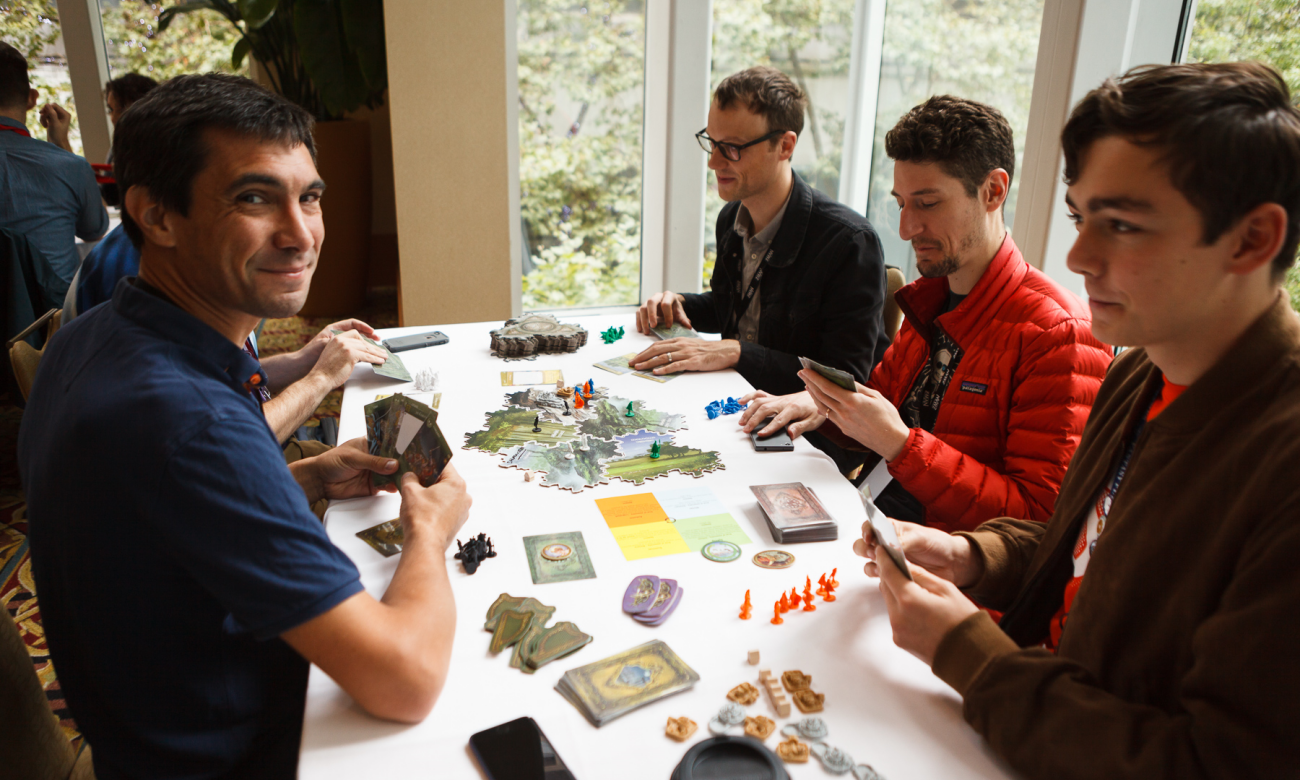 Paul
: It feels so very, very strange to be doing this. We're always writing post-con roundups, flying home and tapping out our thoughts on the best new games we tried, but to do that after our
own
con? It feels a little peculiar, like the first time a doctor shone a light into my ear. But that's a proper, sensible thing that doctors do, right? It's not just for giggles?
Matt: At the time, it was straight-up stressful! We hadn't accounted for the fact that people might be showing off things we really wanted to look at, so we frantically juggled schedules to try and check stuff out. There was still so much we missed, but we caught some REAL GOOD BITS.
Paul: For a start, Matagot only went and rolled up with an Inis expansion that they just casually announced IS A THING THAT EXISTS?
clinical immortality, a cranky wonder, sweet sweet telenets, hot hot birbs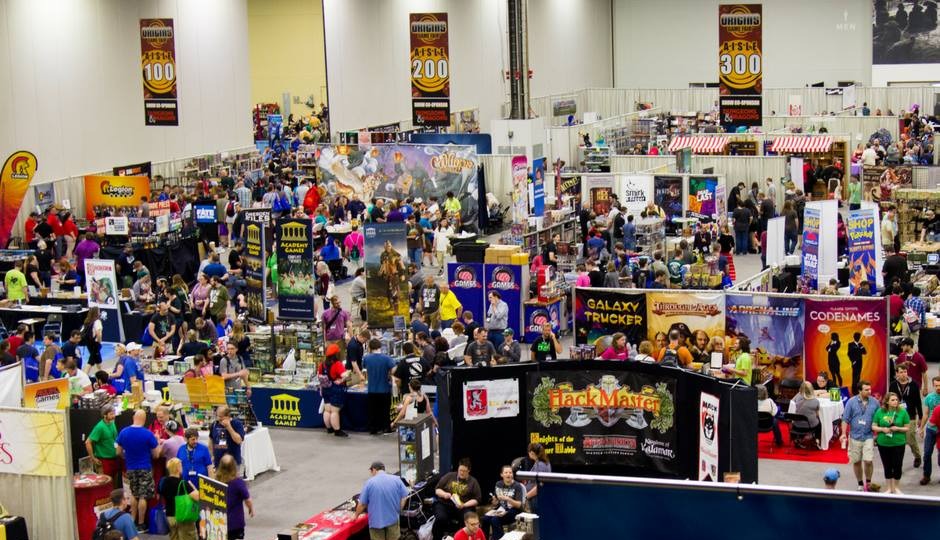 Cynthia
: Date: June, 2017. Subject:
Origins Game Fair
.
Known in the United States, at least, as Gen Con's quiet but friendly little sibling who lives in Columbus, Ohio. Also known for revealing major summer releases well in advance of Gen Con.
But what really goes on at Origins? Shut Up & Sit Down was curious, so I donned my best black hoodie and infiltrated the scene. Slipping past the bronze statue of Arnold Schwarzenegger that guards the convention center, I entered a bustling space filled with thousands of gamers. Fortunately I seemed to blend in, and… oh, alright. It was just a great con.
Locals and industry people were open and nice, it was easy to get into events or find gaming space at the last minute and, above all, the Columbus Convention Center is a quick walk from the North Market, where there's all kinds of good, nutritious food like Vietnamese noodle bowls and donuts and gourmet ice cream.
i'm a rock! et! man!, sweaty french cyclists, taking a lichen to mars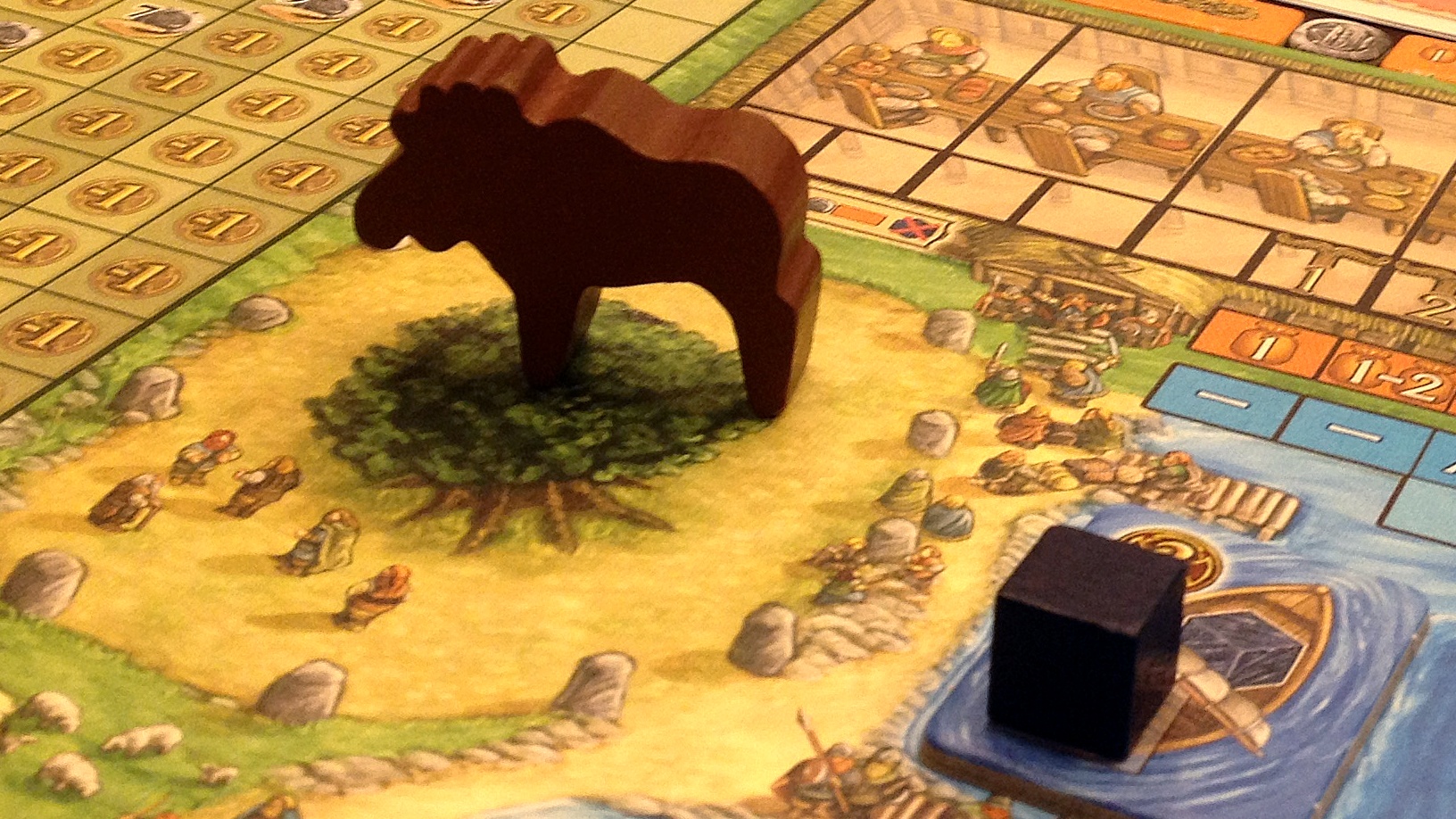 Paul: Oh my word. I have had A Hot Time in Texas and, boy oh boy, I can't wait to tell you all about it. Do you want to know all about BoardGameGeek Con 2016? Are you settled and ready? Are you prepar- I DON'T CARE LET'S GO.
i named my nation quinstantinople if anyone was wondering, #ancientworldjokes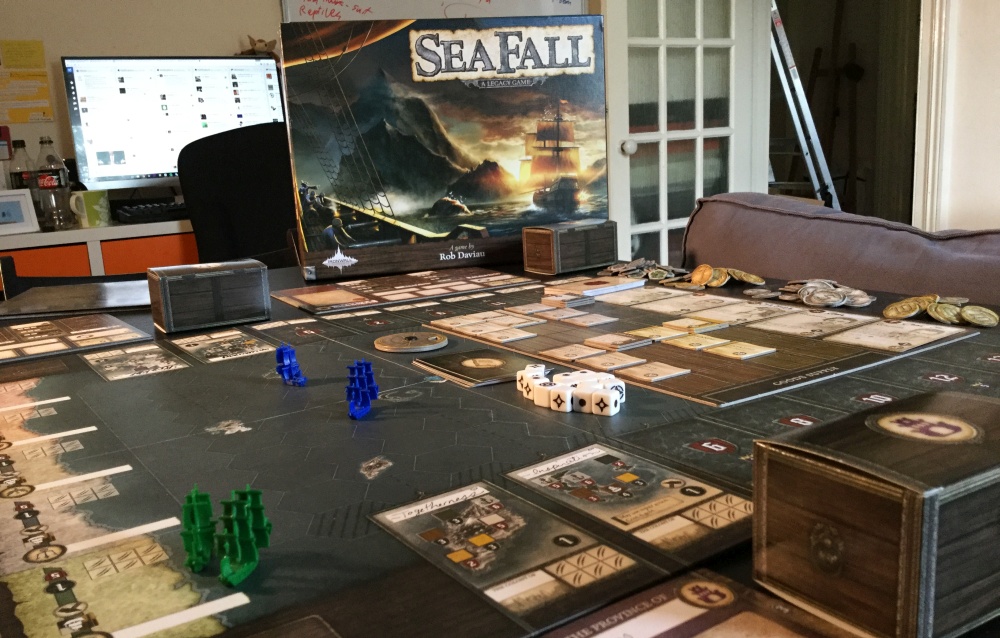 [The following impressions are entirely spoiler-free.]
Leigh: Quinns? Why is the front door locked
Quinns: Leigh! So glad you could make it. I know being on Shut Up & Sit Down is a bit intimidating, but I'm sure you'll do fine.
Leigh: Honey I have to be on the TV news in an hour-
Quinns: Not a problem! Just tell them you had to share your impressions on Seafall, the new Legacy game from Rob Daviau, designer of Risk Legacy and co-designer of Pandemic Legacy.
Besides, TV's a dying medium! I bet they don't have an email and a Facebook. Did I show you our email?
Leigh: QUINTIN
Quinns: I'll unlock the front door in five minutes I promise
So, you and I and some friends of ours started our Seafall campaign last night, pushing it to the MAX with a full five players. By now most of the board gaming world knows a few things about Seafall - it's Daviau's first game that's designed from the ground up for the box-opening, card-ripping Legacy format, it's more complex than past Legacy titles and it looks insanely exciting. Boats! Intrigue! Exploring misty islands and sticking them on the map!
But by the end of our first evening we all agreed that a post on SU&SD explaining what Seafall isn't would probably be very helpful.
be nice to the witch, get your own bed, big pear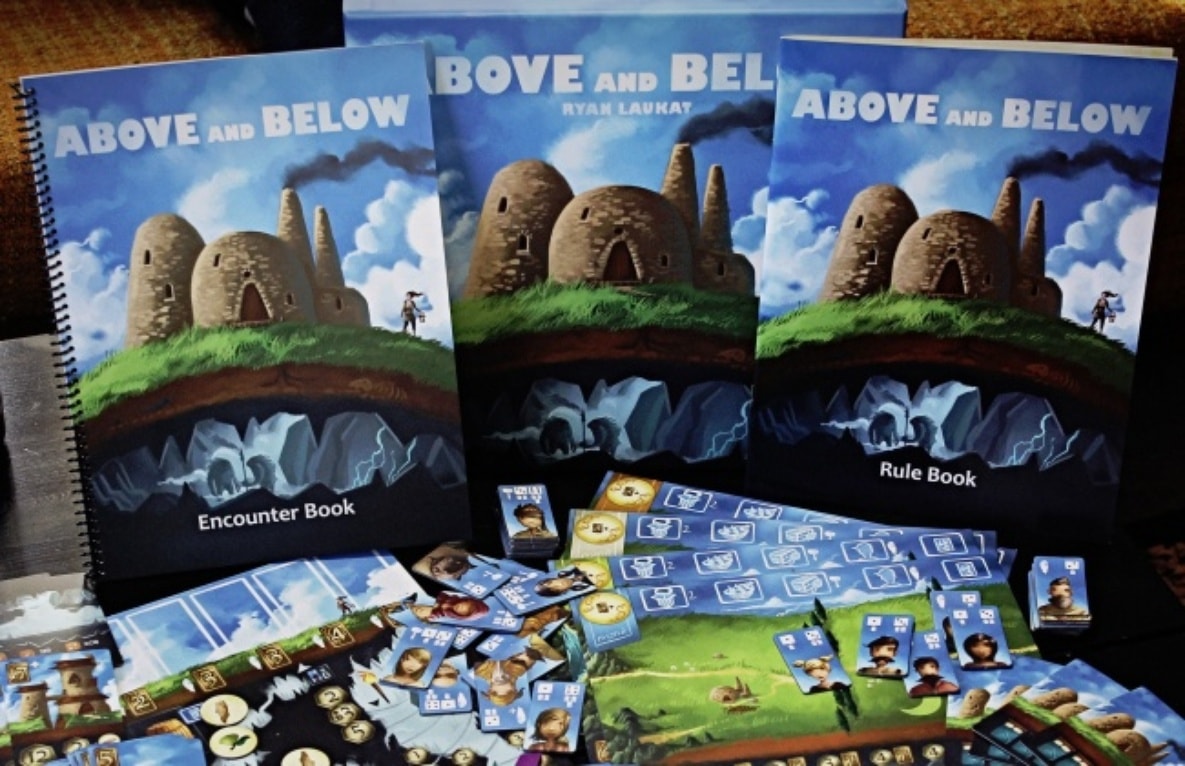 Paul
: I saw a curious mix of games at this year's
BGGCon
, from hard euros to simple set collection games to the rising tensions of Win, Lose, Banana Legacy.† Of all the many things I saw while hiding from the baking Texas sun in the cavernous, subterranean depths of Dallas Fort Worth's Hyatt Regency, Above and Below was my favourite. Appropriately, it was my underground adventure.
Also, it gave me a chance to try out a Pear Strategy. I went Full Pear, All Out Fruit, and didn't do too badly for it, either. I quested, I recruited, I constructed and then I made all my money from Big Pear. Meanwhile, my friends hired adventurers, fought bandits and found the legendary Moss King. All in a day's work.
I mesmerise you, no I mesmerise you, no I punch you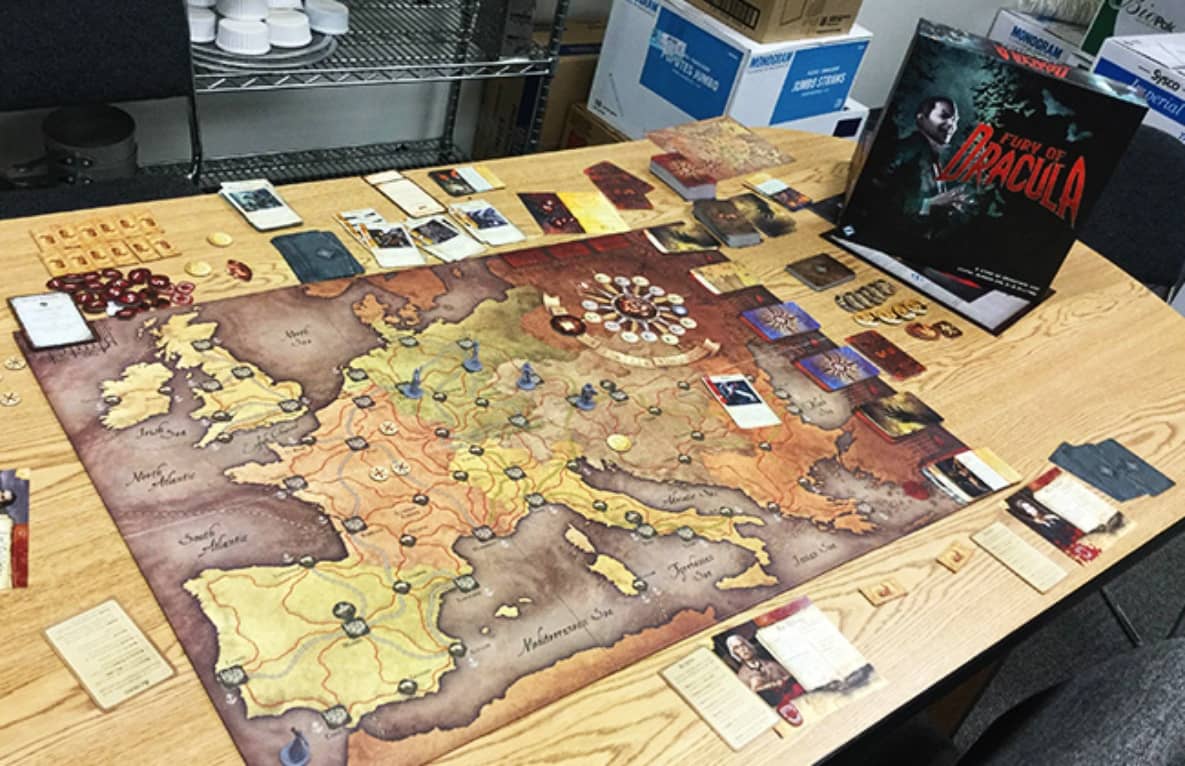 Paul
: I'm a doctor. I'm not
the
Doctor, but I have dogs and garlic and a knife and a gun, along with train tickets that take me all over Europe. That's better than anything Colin Baker ran around with. The dogs are
particularly
useful because they saved me from an ambush. This was just one of all sorts of unpleasant surprises that Dracula had left in his wake, like horrid slime behind a slug, as he slipped his way across Europe. In this case, he'd left a nasty surprise in Edinburgh, one of my very favourite cities. Damn you, Dracula, for ruining such a fine town.
Quinns: Paul, are you excited about the new edition of Fury of Dracula? Fantasy Flight's gothic hidden movement game, originally from Games Workshop back in the distant past, has been out of print for so long now that it's almost passed into legend. Now and then, copies surface online with ridiculous three-figure price tags, but they're as rare as hen's teeth.
Paul: As rare as vampire fangs! Except those fangs aren't rare any more. Dracula's back! He's back in style, too, with a glossier cape, a smoother style and even an improved map of Europe. I'm glad to see Dracula back because the boy done good.
damage olives, don't swear live on twitch that would be bad, proboscis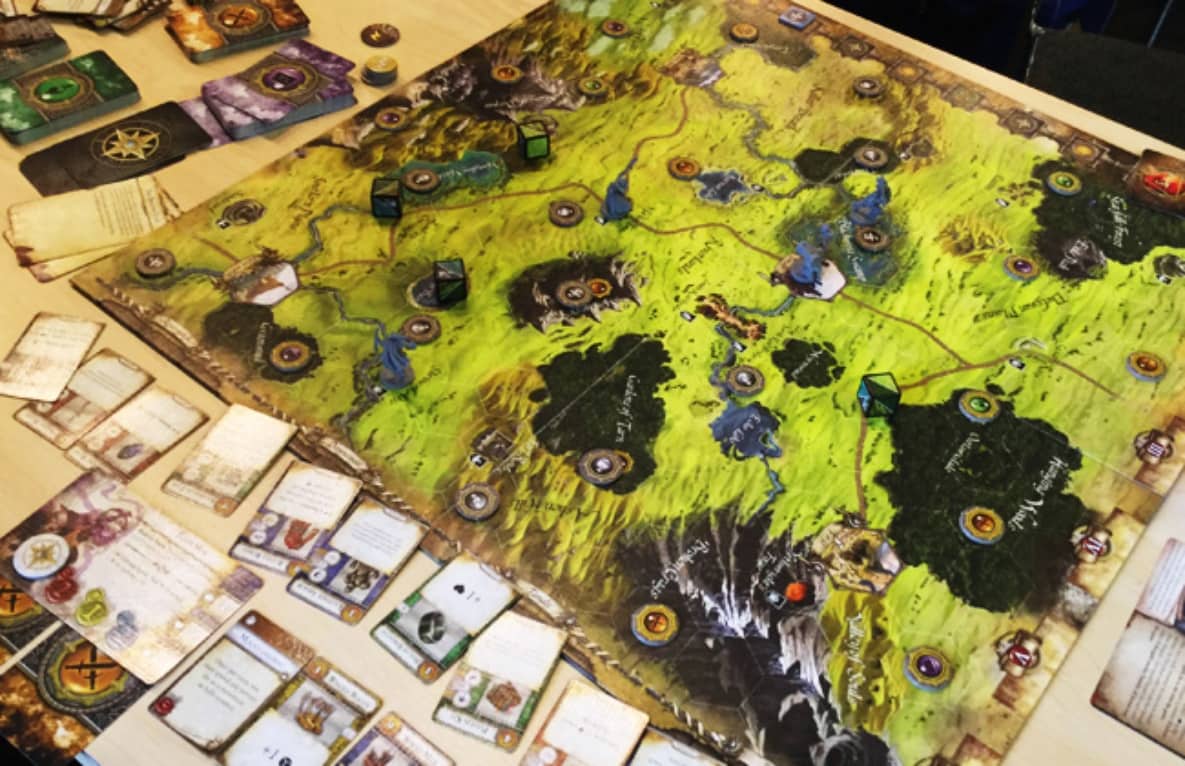 Quinns
: Paul, do you remember our Runebound review?
Paul: No? Who are you? Get out of my house.
Quinns: That's because it doesn't exist! I played the 2nd edition of fantasy quest game Runebound back in 2011 and didn't think it was vitally important to tell our readers about it.
Paul: That's probably because it wasn't vitally important. It wasn't the most compelling fantasy quest game I've ever played, either. It was a bit stodgy, a bit brown, a bit turgid, a bit-
Quinns: BUT PAUL! Fantasy Flight are about to release a new, beautiful, 3rd edition of Runebound and we PLAYED IT HERE AT THEIR WORLDS EVENT!
Paul: YES I KNOW THIS WHY ARE YOU YELLING AT ME here we are all asweat with excitement right now, reporting LIVE FROM THE SCENE and completely surrounded by X-wings and Netrunner decks and people live-streaming who have been repeatedly told DON'T SWEAR ON THE STREAMS.
tyrell, then who cares, then stark, then lannister, then martell, then baratheon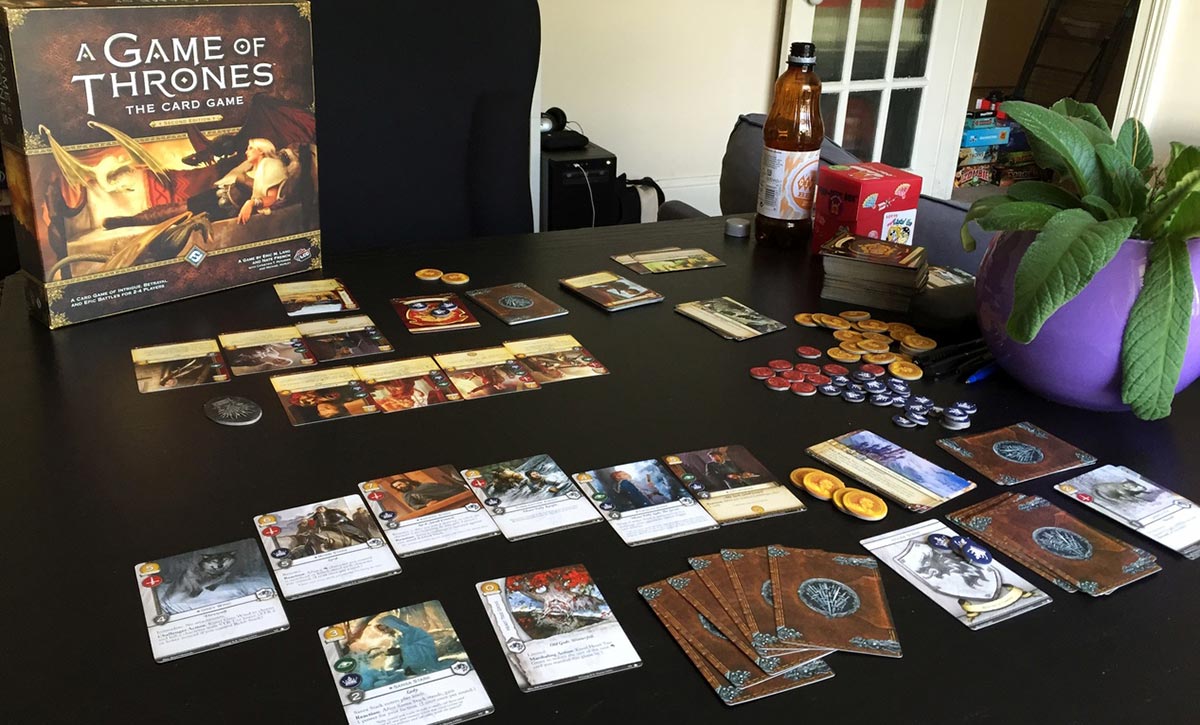 Quinns
: In a couple of weeks the 2nd edition of Fantasy Flight's
Game of Thrones: The Card Game
, with its direwolves, chunky coins and endless pictures of sultry nobles, will be released. A lot of people are very excited, and with good reason- the 1st edition amassed a cult following, and the 2nd edition looks
incredibly
sharp.
You won't be getting our review just yet. As a Living Card Game, this box encourages players to collect monthly expansions and build their own decks, and we want to have conviction when we suggest you get involved (or not). But I can offer some early impressions and comparisons to the LCGs that this site has gone on the record as recommending, namely the bizarre Doomtown and the sublime Netrunner (on the subject, Paul will have a review of Plaid Hat's new card game Ashes in the next few weeks).
So let's begin. How do you win the Game of Thrones?
I'm thrilled to say that it's by being an appropriately sneaky f***.
forbidden monsters of the secret congo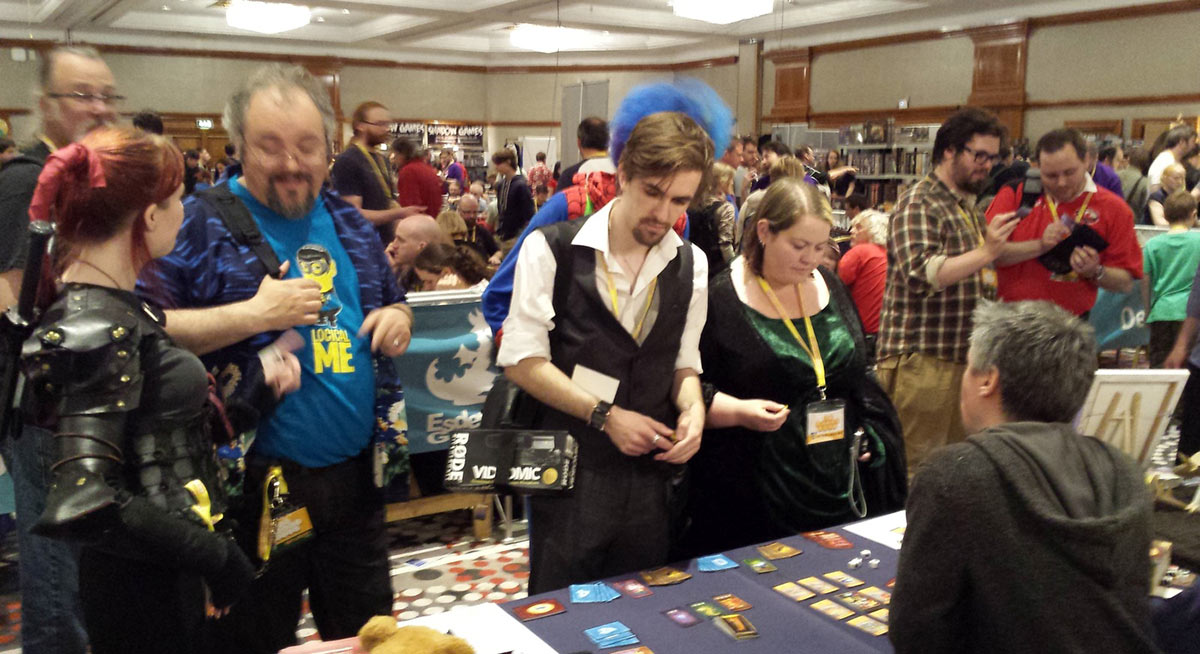 Quinns
: Hello everybody! I'm coming to you live from SU&SD's sealed Con-Tamination Chamber, where I'll be sitting until any convention germs I'm carrying are long gone. It's nice in here! It looks a lot like Matt's bathroom, actually. Matt might have just locked me in his bathroom. I'm not sure. He pushes a slice of toast under the door twice a day.
I was at the UK Games Expo this weekend, while I heartily recommend to anyone who'd consider going. It's grown considerably in recent years, and it was a lovely space to buy games, try games, and attend all sorts of special events.
Today I want to tell you about the best unreleased games I got to see there, including a new Vlaada Chvátil party game! Oh, yes.
pastelboys, a bad circus, the 17th space hussars, Quinns' sex thing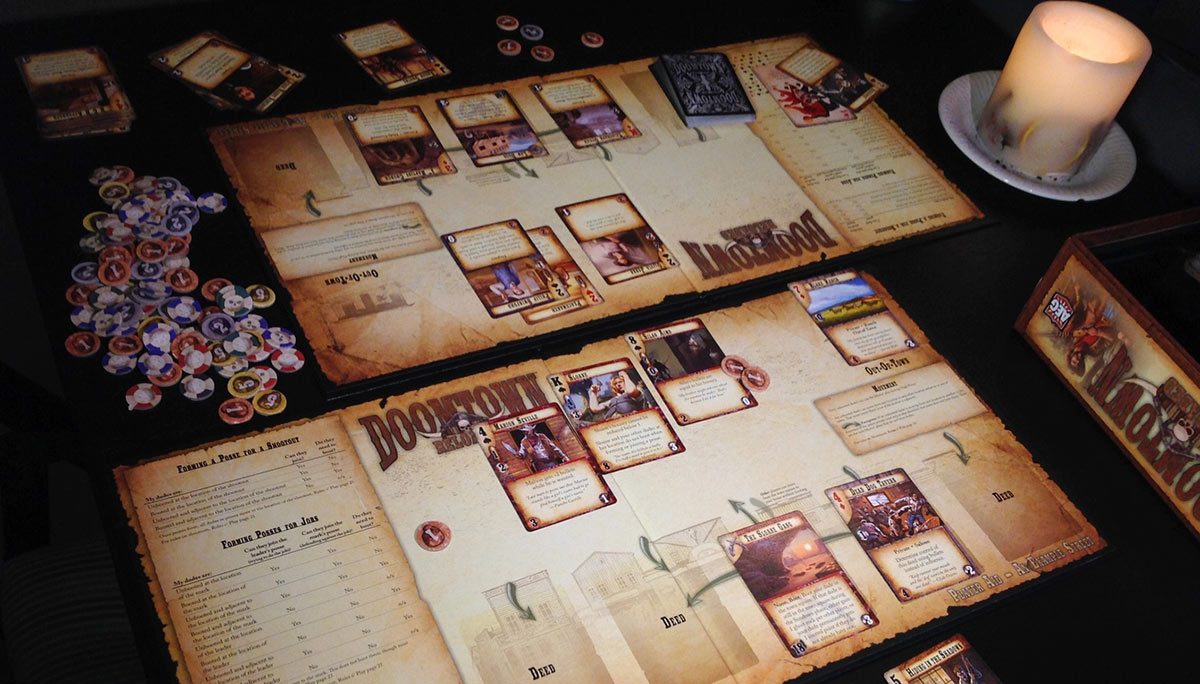 Quinns
: I want to play
Doomtown: Reloaded
a little more before I'm ready for our official review, but I also want to write about it before SU&SD wraps up for the year. Greedy boy that I am, I intend to have my cowboy cake and eat it by writin' up some impressions.
Silas: Yeeee-hawww! Let's get to it.
Quinns: ...Who are you?
Silas: Ah'm Silas McCoy, a fictional character invented by that dirty Brendan fella fer his Colt Express review. Yeeee-hawww!
Quinns: Yeah, I don't think so.
[BANG]