Conversational sex act, Danny DeVito, No no no no no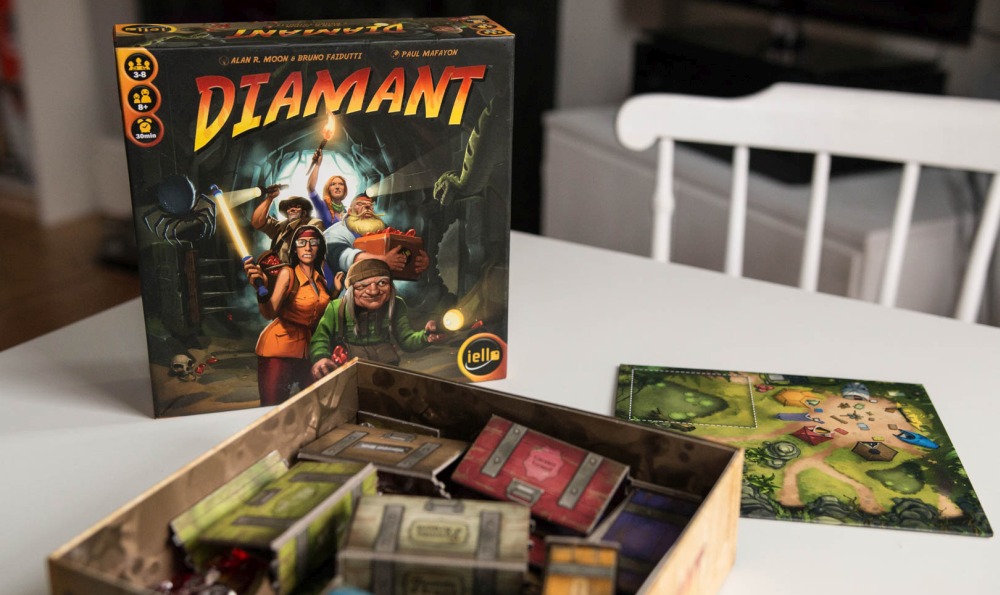 Paul
: QUINTIN. I know we want to tell people all about
Diamant
and how this cute-but-cruel game of pushing your luck can make you either rich or dead, but I've got to say one thing right thing right here, right now, right off the bat. Right?
Quinns: I'll allow it!
Paul: Diamant is probably the most fun I've had for the least investment of time and energy SO FAR THIS YEAR. I'm so sorry. I just had to blurt that. It's a petite wonder. PETITE. WONDER. Like… Danny DeVito. Or... a teabag?
Quinns: You're arriving at this party a little late though, aren't you? Last year I called Incan Gold the best little push-your-luck game I'd played in forever. Diamant is just a beautiful new edition of the same game! You can't talk about it like you've just found a dead sea scroll in your back garden.
Paul: All right, all right, back that boulder up, snarkaeologist. Incan Gold? The 2006 game? And when did you come to it, exactly?
Quinns: Erm. 2016.
Paul: An entire decade of incompetence.
give me your badge and your gun and that rock you keep in a plastic bag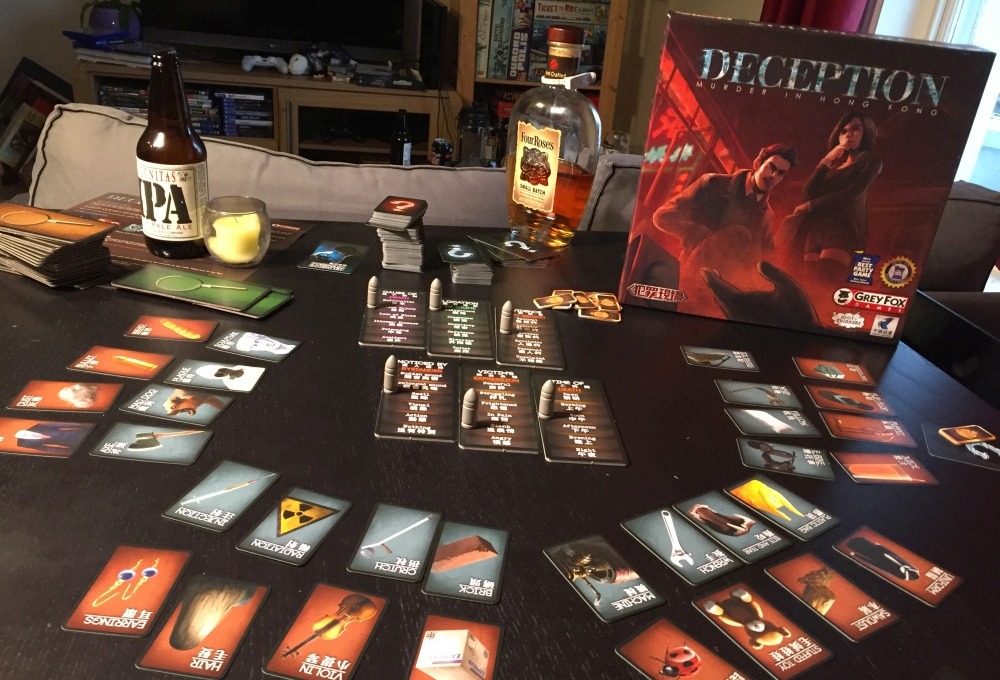 Quinns
: After playing co-operative social deduction game
Deception
, the proof is insurmountable. The 21st century police force is the greatest board game theme of all time, not because it works so well but because
it doesn't work at all.
Back in our eighth ever podcast we talked about Police Precinct, and while we had a terrible time with that game we were endlessly amused because we seemed to be playing the cast of Reno 911 on the set of The Purge. Then last year I finally got to try Good Cop Bad Cop, where in one memorable turn I confiscated my colleague's coffee as evidence, downed it in one gulp, then shot them.
But with a name like "Deception: Murder in Hong Kong" and brooding, maroon box that includes a handful of plastic bullets, you might assume that this, at last, is a serious game about law enforcement.
You couldn't be more wrong. I'm thrilled to say that Deception is every bit as silly as those others, and it's also the best game of the three. Come for a ridealong with me! You're statistically unlikely to be shot.
cool crimes, greasy opossums, rubbery kigurumis, dammit linkedin
Who wants to get extravagant! Inspired by
his own Chinatown review
, Quinns has published a
negotiation triple-bill
. Three new smallbox games, each one telling the story of dividing up loot after a cool crime, but each with a radically different approach.
At the time of writing H.M.S. Dolores looks like it has some European stock availability, but Millions of Dollars and Gentleman's Deal aren't yet broadly available for purchase. If you want these games and can't find them, simply call your friendly local game shop (or your friendly regional game shop) and put in an order.
more rules, more friends, more guns, more cash, less fun?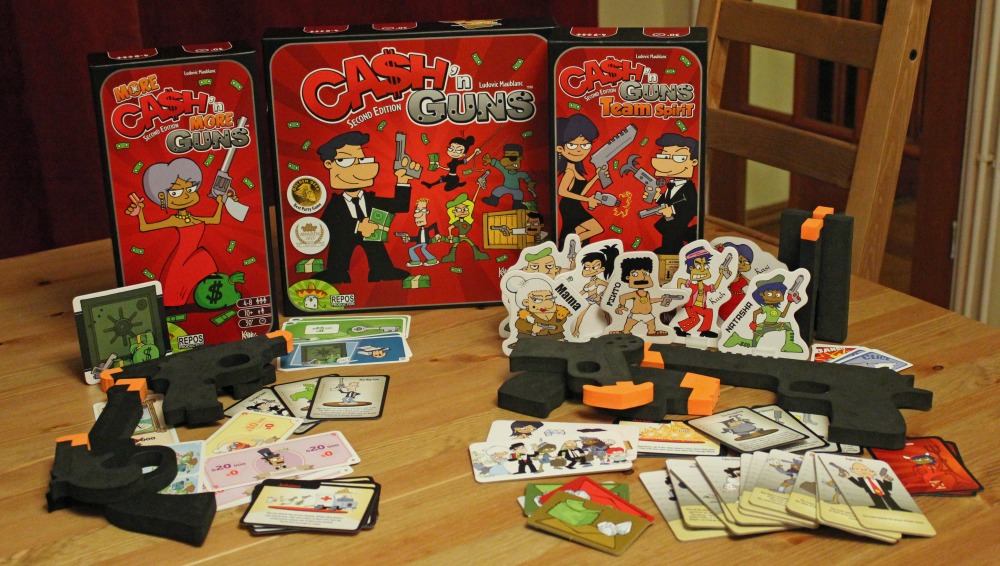 Pip
: In order to assess the two
Cash 'n Guns
expansions I've spent a couple of evenings luring friends to my house with the promise of nachos, homemade chilli and foam guns. One time there was even banana bread. That was the tastiest heist. ANYWAY! I am now in a position to tell you all of my opinions on
More Cash 'n More Guns
, and
Cash 'n Guns: Team Spirit
. Also I have a terrifying foam arsenal which makes me look like I've joined the foamy NRA.
And so! Here's a brief explanation of the base game in case you're unfamiliar: Cash 'n Guns is a party game about dividing the loot from a heist. You all play one of the ne'er-do-wells involved in the heist, each armed with a foam weapon, and you're trying to end up with the most loot. Every round loot cards are dealt onto the table, the players pick a live or fake bullet which they play face down, and then point their foam gun at another player. They then have the choice to duck out of the round, avoiding injury but missing out on loot or staying in and risking injury but also potentially being part of the loot-sharing. There's also a godfather role which can move around between players and does things like giving that player the ability to tell someone to shoot at someone else.
You can imagine that the foam guns help with the role-play and people get really into the theatricality, pretending they're in Reservoir Dogs or attempting accents. (I don't do accents because I know my limits. Cockney ends up somewhere in the West Country, Welsh is somewhere between Indian and Northern Irish, and Russian is some kind of pan-European road trip as the sentence goes along.)
gremlins II, gremlins, vampires, what was up with that sexy gremlin anyway
Happy Halloween y'all! To celebrate this most fiendish of holidays Paul's 
brought a game back from the dead.
SU&SD first covered Werewolf with Matt's candlelit review. Since then we've fallen in love with One Night Ultimate Werewolf and its standalone sequel, Daybreak.
Today Paul investigates the next game in this undying chain. One Night Ultimate Vampire significantly en-complicates the series we know and love. Can it possibly survive?
The world is your mushroom, throbbing and unprecedented desire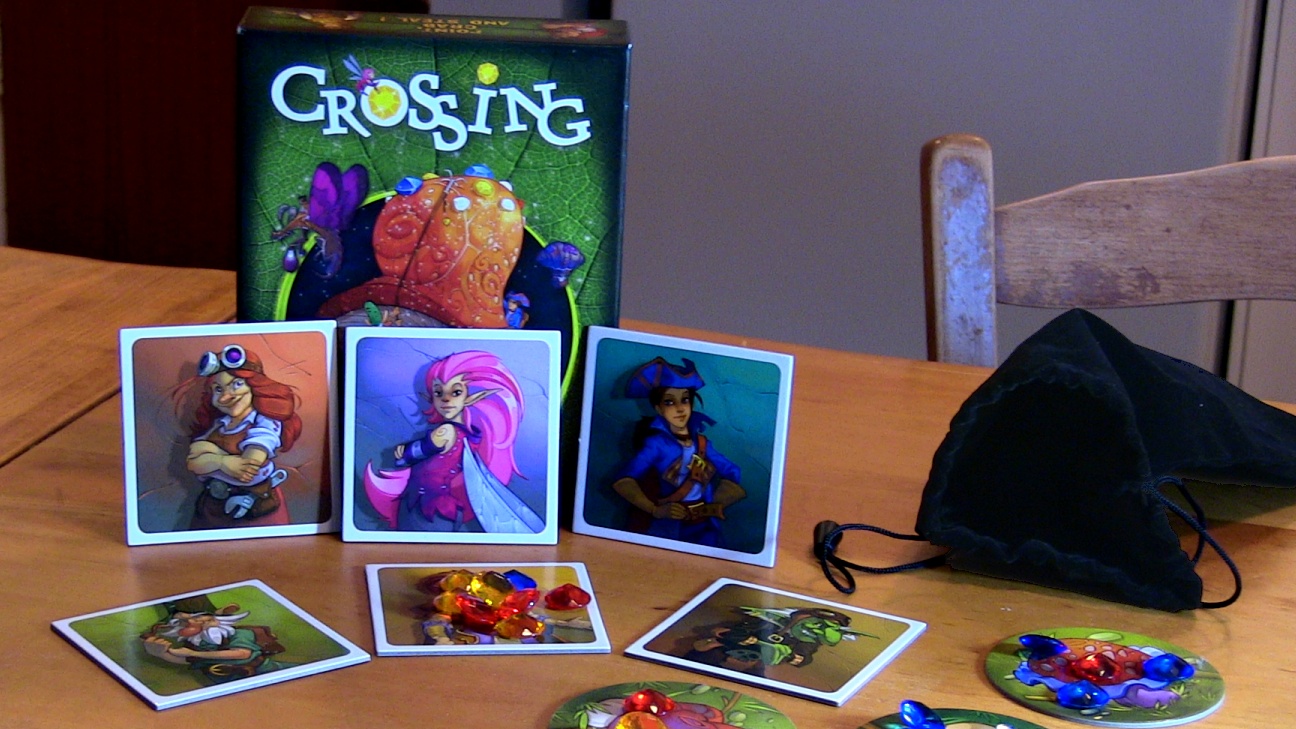 Paul: Ah, you're here, dear reader. Excellent. Come closer, come closer, and let me tell you the torrid tale of mushroom corruption that is Crossing. It's a tale of riches and of theft, of cunning and of deception. It's a tale of gems and fungi, like none you've ever heard before.
Are you sitting comfortably? Are you ready for the story of the tiny little game that was full of wonder? Then I'll begin.
having a bear, druid dealing, whale song, assisted by the gods of the volcano
Ahh, is there anything more beautiful than that most classic of English summers? What about the so very gorgeous cards of 
Mystic Vale
, cards you don't just play, but cards you can 
build
, piece by piece?
Intrigued? You bet you are! We took our two most experienced druids, Quinns and Matt (Paul is a bard), and we put them in a room with cards and crystals and radiant peaks. We asked them not only how it compares with our two very favourite card games, Trains and Arctic Scavengers, but if it's capable of being as beautifully magical as the luscious Seasons.
Unfortunately, there was too much conjuration energy in that room.
the furtive pigeon, the exciting office, the bechstein's bat, so easily forgotten
HOT TAMALE-BEANS! It's Quinns with a Shut Up & Sit Down review of
Quadropolis
! Who could have guessed
I am writing this from the UK Games Expo we just did a live podcast and I've got no energy left at all. Does anyone even read these text descriptions? There's no way we can know. Unless you guys were to tell us somehow? I don't know how you could do that though
We're all going to go and eat some food now, and drink a beer. Beer is real good. Shut Up & Sit Down Recommends: Beer
boxed ovaries, phallic veggies, wonky willy's, do you want to be captain
It's time once again for you to place your evening in our large, spindly hands. Following on from
Arboretum and Pasta With Trees
, why not invite your friends over for a game of Celestia and a fluffy frittata?
Lovely push-your-luck mechanics? Check! Little cardboard boat? Check! Vegetables? Check!
We're not sure who'd have a checklist like that, but if you do, we should hang out. Get in touch!
treasure dumps, hot hot tents, wanted birds, unwanted birds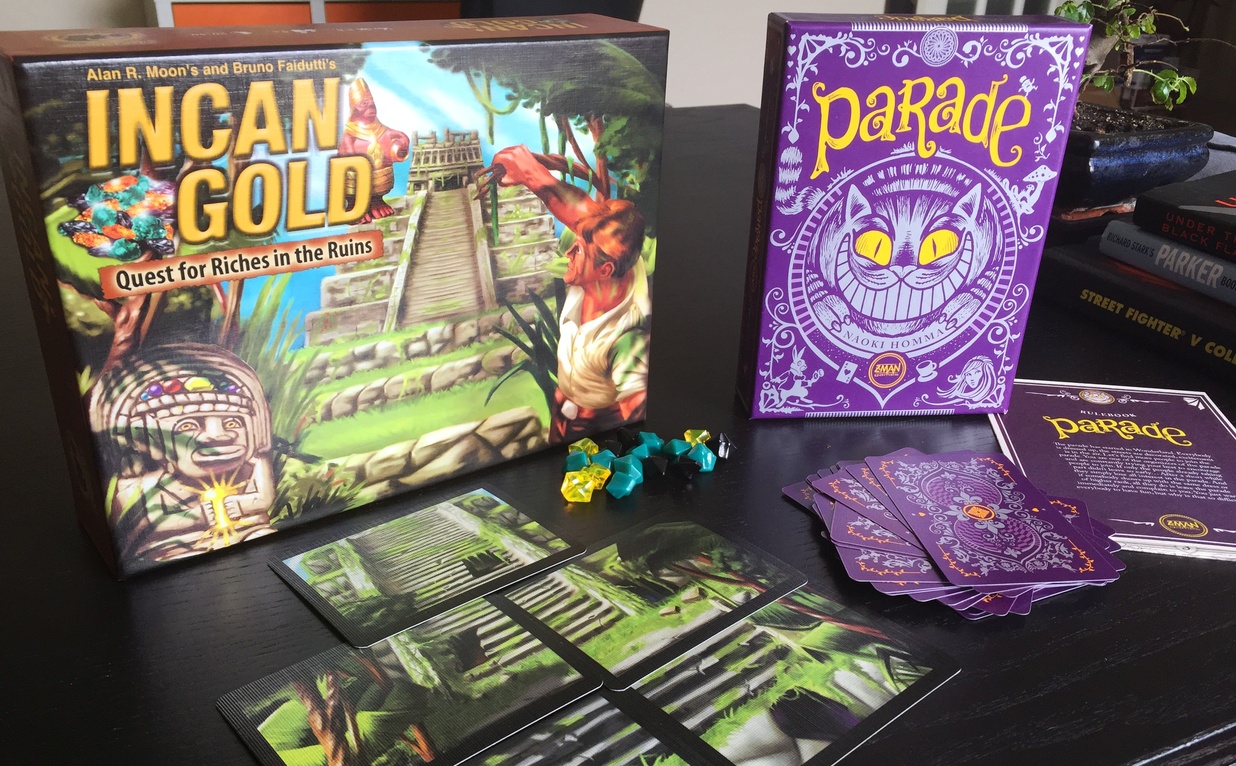 Quinns
: You know double-yolk eggs? Those rarest of treasures that whisper "It's all going to be ok" up from the pan? Well, today you get a double-review! Enclosed within the brittle shell of this article are not one, but TWO of the greatest card games we've ever played, full of fatty fun and caloric goodness.
Please ensure your credit card is secured in your official SU&SD fast-draw holster before continuing. We're serious. These games are very, very good.