snake duty, the creepiest tiger, a children's game
We're back with another gem from
our Twitch channel
! This week we want to show you have to have responsible fun with Restoration Games'
Fireball Island
.
Warning: This game contains choking hazards, fireballs, bees, snakes, rockfalls and a vengeful god. Do not operate while under the influence. Or was that "Only operate while under the influence"? We can't remember.
Have a great weekend, everybody!
prawn town, non-sexual photos of prawns, a nice park, full of prawns
Fab negotiation game
Chinatown
has finally received a new print run! To celebrate, Quinns dusted off the copy he used
in his 2014 review
for a playthrough
on our Twitch page
. Can Chinatown newcomers Matt and Kylie make a fool of him in his own streets? Yes, of course they can.
Ooh, and while you're watching, don't forget to quote the famous movie line! "Forget it, Jake. It's prawns."
Mr. Bimble, private pirates, one riddle udder, velveteen booties
"Start as you mean to go on," as they say. That's why for our first review of 2019 we picked a fantastic game, put on the loudest shirts that Matt owned, broke out the eyeliner,
and
squeezed in an homage to The Muppets.
Don't get distracted by all of those lovely colours, though. Featuring a bit of bluffing, a bit of logic, a bit of deduction and a lot of laughter, Treasure Island is a game that deserves some serious consideration.
press f to pay respects, where in the world is rita modl, two-brick matt
The choice of which game of play on
our Twitch channel
this week was a no-brainer. Which is to say, we knew we'd have no brains remaining after flying back from PAX Unplugged, so we chose a game that could be enjoyed by eight-year-olds.
Men at Work is the next beautiful box coming out of Pretzel Games, makers of Flick 'Em Up and Junk Art, and we love the heck out of it. And like those previous games, it functions as a lovely object, as well as a silly challenge, and - if you so choose - an arena where actual tactics can be deployed.
If you'd like to watch the full stream, with the beginning, the end and all of the hilarious comments in between, it'll be available here for the next sixty days. And if you'd like to hear about us talk about Men at Work on the podcast, you'll find that sweet ol' chat on episode #88.
Have a great weekend, everybody!
delicious minerables, networking nirvana, we have to cut our nails for these vids you know
Remember Roland Wright from
our review of Welcome To
? Well, he's only 
done it again.
Railroad Ink should be arriving in shops any week now, and that's cause for celebration. This game of rails, roads and mounting desperation makes its competitors look like amateur hour. The only questions remaining are (a) should you buy the Red or Blue edition, and (b) when can we expect an expansion?
Have a great weekend, everybody.
you're gonna carry that horse, anaconda vs. shed, wasp vs. hot dog
The Champion of the Wild
is the most fun we've had all month. How will an ibex fare versus a shed? How far can a beetle travel down a slip-n-slide? Literally nobody knows, but it's up to your friends to guess, and your fate is in their hands.
Fair warning: This is a small-press indie game, and stocks are low! You can order the game direct from the above link (which should have the best international shipping rates), as well as from these UK retailers.
Have a great weekend, everybody!
a hill worth dying on, death warmed over, generational trauma, sticker schlock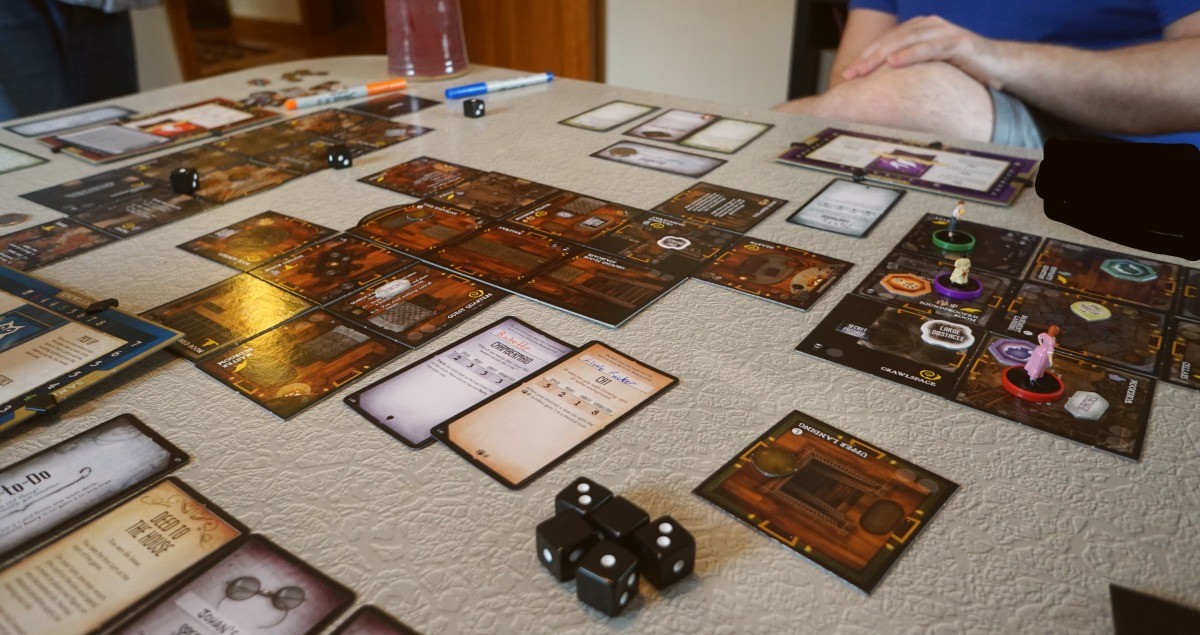 [Hello everybody! Please welcome back Jon Bolding, the rogue who offered us reviews of Orléans and the World Wide Wrestling RPG. As a special Halloween treat, today we're shoving him towards the campaign-powered sequel to Betrayal at the House on the Hill. Bwa-ha-ha...]
Bolds: Moving to live in a new place is stressful, nigh on terrifying. A place where the faucets turn differently, the light switches are in odd places, and your bed faces a wholly new wall.
Well, GET READY, because Betrayal Legacy is a game about moving into a new house over and over, forever, without end. A new house where the portraits leak blood, the attic is infested with gremlins, and even the ghosts have skeletons in their spectral closets.
mens for the men cup, captain efka, here we are in history times
This week
our Twitch page
was the site of a
grand experiment.
It's no secret that Memoir '44 is one of our favourite games. 5 years ago we even made a video
showcasing its amazing 4 vs 4 Operation Overlord expansion
. Well, this week we tried
1 vs 100,
as Quinns took on the wobbly hivemind of Twitch chat!
Huge thanks to everyone who took part, and for Efka of No Pun Included for acting as Twitch's supreme commander. Our live stream will be back in a couple of weeks on the 8th of November, with Matt and Quinns whupping some punks in a game of Street Masters. See some of you there!
eaten by a witch, the realm of retail, doritos: cool original
Who's ready to make a sale?
Bargain Quest
is a game about running a shop in a fantasy world, and figuring out the best way to empty the pockets of doomed heroes. Though if they actually manage to slay the dragon? Well, that's just free marketing.
Better yet, Bargain Quest is Matt's new favourite way to get newbies involved in the joys of board gaming. But will he sell Quinns on it? That boy's a famously tough customer...
The Sushi Go Party! review mentioned in the review can be found right here. Thanks to Dice Saloon here in Brighton for letting us film. They're an awesome, friendly shop with a ton of free play space, and locals should check them out.