quinns stop clicking your fingers, number-udders, that's cowboy magic
Hoo baby! The profoundly beefy 2016 game of
Great Western Trail
is finally back in stock the world over. We've had ample time to test its systems, prodding its many rules from every conceivable angle, and today want to tell you that it lives up to the hype.
And thank goodness for that! When was the last time your evenings contained a dose of cowboy magic? It was too long, wasn't it?
a dead prince, a drifting stick, a strong spine, steve holt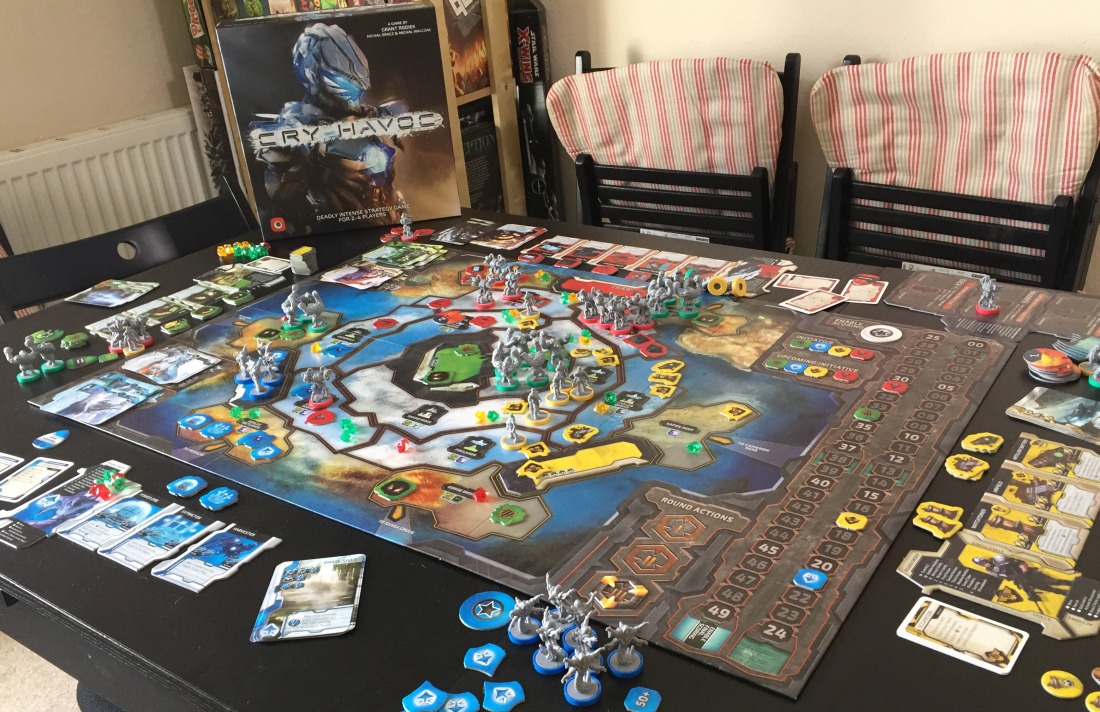 Quinns
: Oh my god. Where do we start?
Maybe just gaze into the above image. Try and take it all in. Crystals! Robots! Colours! Cards! Three dozen unique kinds of token, each with a different shape, as if they were all so scared of this primary-coloured scrum that they started to collapse in on themselves.
This is Cry Havoc, one of 2016's most striking and well-received war games, and if you take anything from its Shakespearean name it shouldn't be wry sophistication, but that this design is as wild and energetic as a pack of dogs.
"Friends, Romans, countrymen, lend me your ears!" Let me tell you what I think of this grand box.
That was another quote from Julius Caesar, you see. I might even do another before we're done. Brace yourselves!
oily eels, a kick in the rules-testicles, why is ireland even on the board, oh no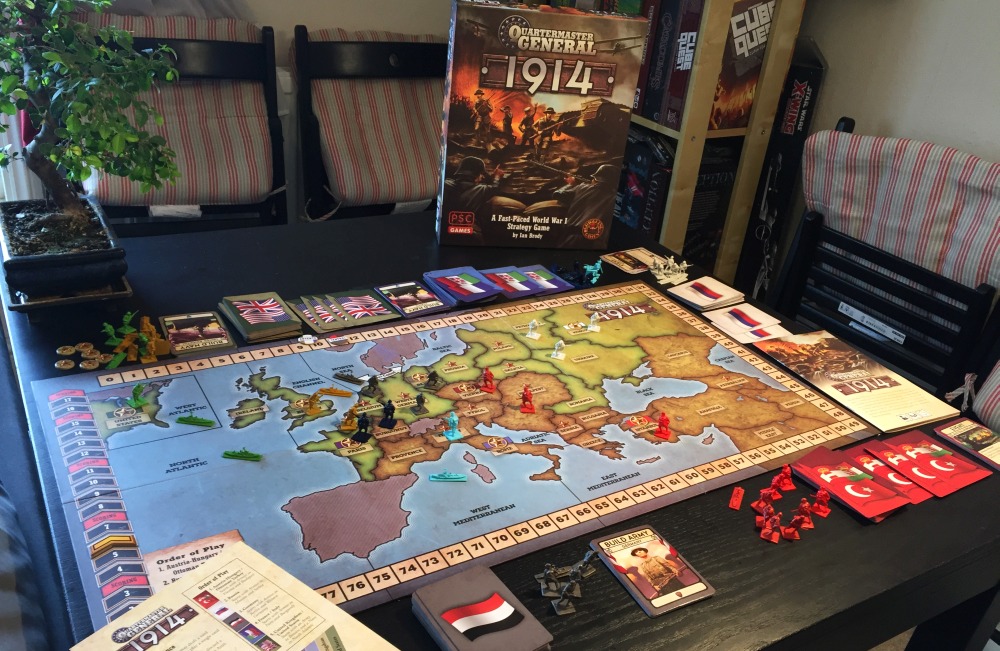 Quinns
: It can be lonely reviewing games by yourself. Matt and Paul might be at the Game Developer's Conference, but I have a solution!
Matt's head made from papier-mâché: that's because you're great quinns
Quinns: Ha ha, you flatter me! Let's get down to business, Matt.
Matt's head made from papier-mâché: i love business
Quinns: Today we're reviewing Quartermaster General 1914, the third (and most highly-rated) entry in the Quartermaster General series. Like Memoir '44, these games might look like stodgy wargames, but don't be fooled! 1914 is a tricky, playful card game that lets you get stuck into the drama and anxiety of WAR without having to measure any distances or frown at charts.
Now, our site has said over and over again that there aren't enough team-based board games -
Matt's head made from papier-mâché: oh goodness no, nowhere near enough
Quinns: Don't speak, you're getting flakes of glue on the table. So team play is exactly what the Quartermaster General series is all about. In our case, 1914 is a five player game where three frail players take on two wealthy ones. It's a tremendously exciting hook, and we're just getting started.
poison ribena, delicious "wine drink", two-bit grape grabbers, dismay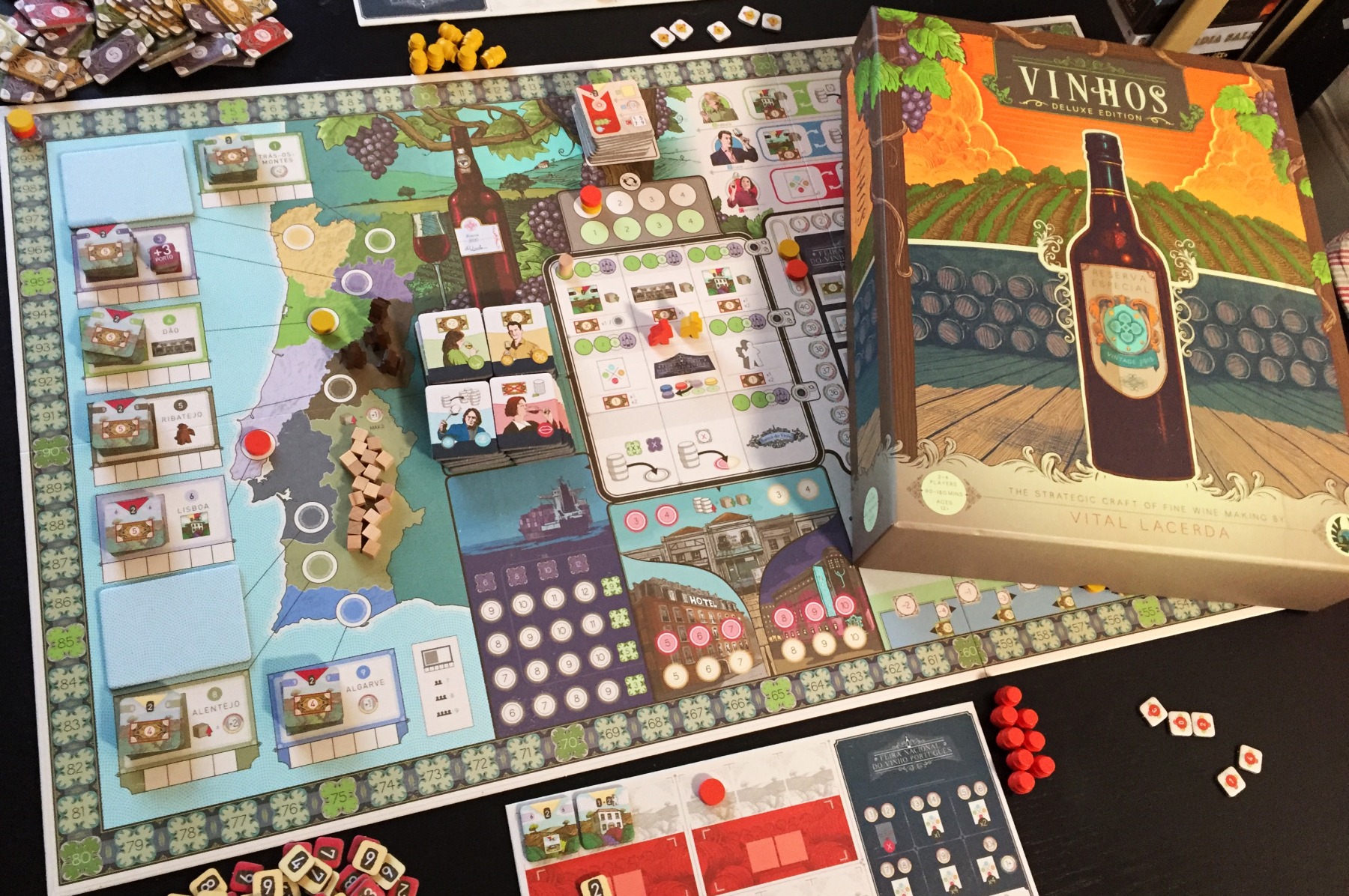 Quinns: Alright ladies and gents. Today we're tackling a box of unparallelled size and charisma. The publishers tell me that there are less than 3500 copies of Vinhos Deluxe Edition (the Kickstarted re-imaging of 2010 wine-making classic Vinhos) left, and I want to make sure that you guys have the chance to buy one.
It takes a lot to excite me these days, but Vinhos Deluxe Edition managed it. Contained in this box is nothing less than a torrent of beautifully-illustrated tokens, a board that's positively threatening in scale, and a fat, clean manual written with wit. It even has nice fonts! In a board game!
But it takes very little to make me nervous, and Vinhos Deluxe did that too. The rules that make sense, like buying vineyards or aging wines, contrast fiercely with the more arcane regions of the board, where players claim score multipliers or manoeuvre their action-selectors.
Any inference you want to draw from the header image of this article is correct. This game's a beast to play, it's tougher to teach, and it's even harder to review.
Obviously, I couldn't be more excited.
millicent again, a pint-sized tardis, a quizzical diving board, righteous royalty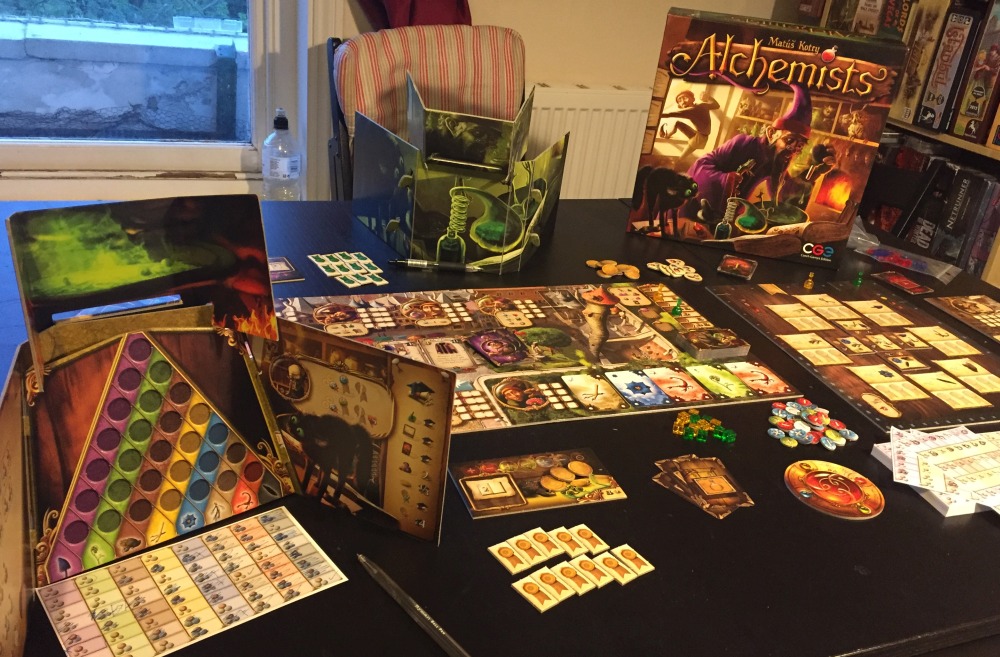 Quinns
: Paul, I did a crime.
Paul: Quinns, it's okay. You can confess and be absolved. Our world is one that still has room for forgiveness. Come and tell-
Quinns: I might have accidentally fed one of my students a pint of poison.
Paul: Ah. It's all right. You're not the first person-
Quinns: Also I misled an adventurer and sold them a flask of soup instead of a healing potion, then I published an academic theory that I knew was a lie.
Paul: Right yes well. The thing is-
Quinns: But worst of all, I forgot how funny Czech Games' board games can be.
Paul: Quinns, I am so excited to write this review that I have got cracker crumbs all over my keyboard. Let's go.
a robotic chocolate box, omnistomping, fueltanking, headbutting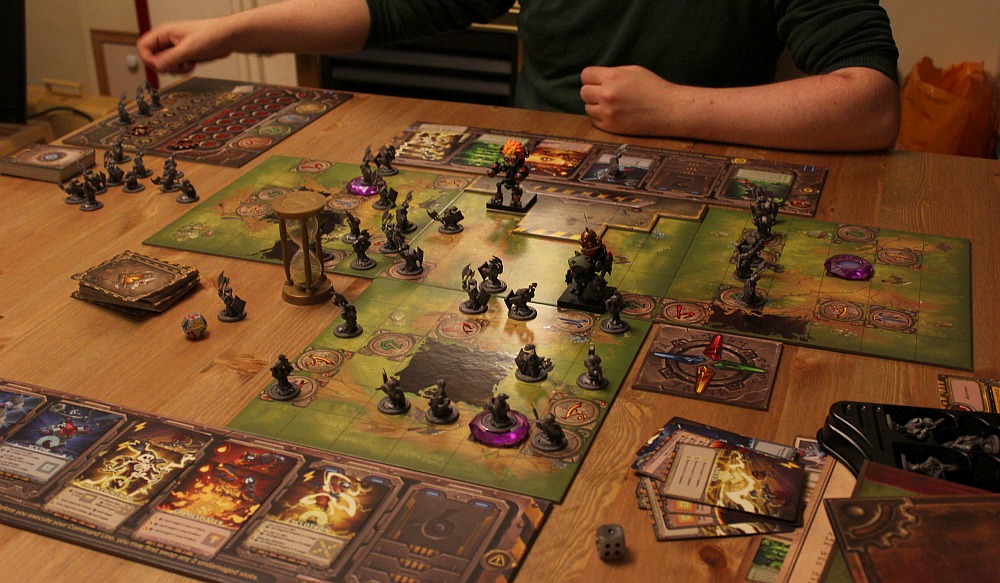 Disclaimer: Quinns, of this site, was a paid consultant on this game. Originally we weren't planning to cover it, but ultimately decided to send it to Pip for an impartial review.
Pip: Summary for the super spoiler-conscious: League of Legends – a videogame with a frankly enormous player base – has made a first foray into board gaming with Mechs vs Minions.
Mechs vs Minions is REALLY good! The developers bill it as Robo Rally meets Descent to give you an idea of how it plays. I've been playing through the campaign with Chris Thursten. We're having a blast and I'll get into the more detailed explanations in a moment BUT!
I wanted to say how much we're enjoying it up here because the game is an episodic campaign with each mission coming in its own envelope so as to deliver a few surprises as you play. With that in mind I figured it would be best to say "It's so good!" up front in case you wanted to go in with as close to zero knowledge of the contents of the game.
Everybody else? Come stomping this way.
sordid scrambles, fattening up your squares, just what is an alhambra?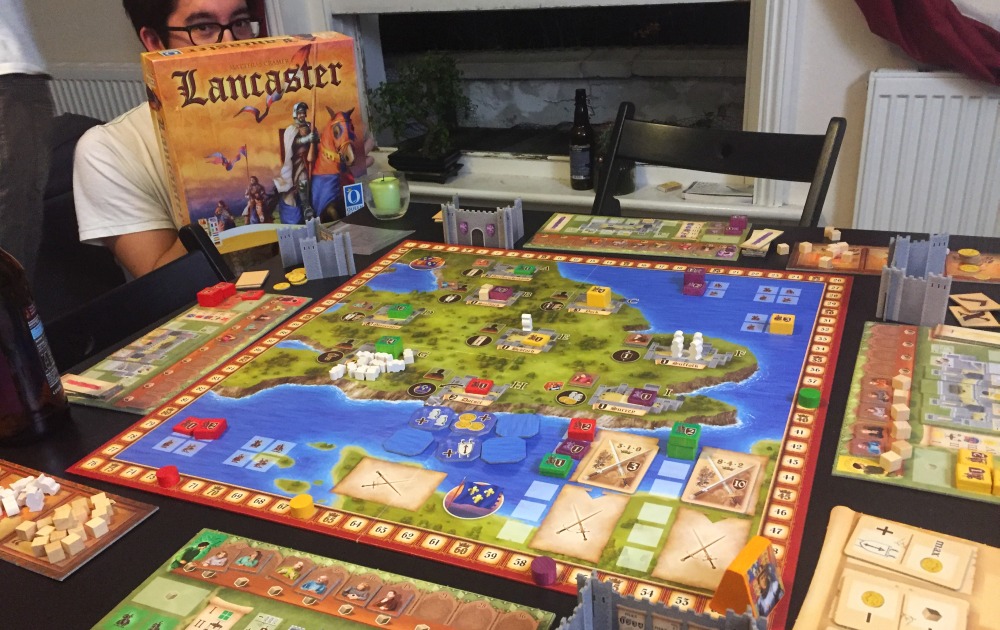 Quinns
: One leathery fruit borne from
the article on my board game collection
was a lot of people telling me to finally play
Lancaster
. "It's a classic," they said. "I'd never turn down a game of Lancaster," they said.
We'll get to what I thought of it, but first I owe this game an apology. I realise now that I'd mentally compartmentalised Lancaster in the same place as Alhambra- a weird box that was continually being printed by Queen Games long before Shut Up & Sit Down began, that would be printed long after we're gone.
I remember finding a copy of Alhambra Big Box in my friendly local game store in 2013. "What is that game?" I asked a staff member, and we both gawped at it as if it were the monolith from 2001: A Space Odyssey.
the best rules, the worst die, quintin smithu mooltipas, honest-to-god sex
It was two years ago that Paul and Quinns
ordered you guys to buy Dead of Winter
. Today, we've got fantastic news for everyone who disobeyed us!
Dead of Winter: The Long Night is a new, standalone expansion for Dead of Winter that's bigger and sexier than the original game. But since it's mostly the same game again, we figured that instead of a review we'd do a rules explanation for both games with a teeny buyer's guide on the end.
And yes, we're aware of the irony that our filming date for this frosty game fell on the hottest day of the year. At least
swab yourself, stormy stories, that's so pbrbrbpt, sea wasps
Joy of joys! The latest SU&SD review has arrived at port, having completed its grand tour of
Seafall
. Ah, see how it's sitting low in the water? It must be carrying a tremendous cargo of opinions and insight. That, or it's leaking.
If you haven't heard the hype around this game, all you need to know is that it's designer Rob Daviau's third legacy game following on from the amazing Risk Legacy and Pandemic Legacy. But while those two games were fairly straightforward, Seafall is an ambitious epic. In other words, it's the most exciting box we're expecting to review all year. So what are you waiting for? Click play! Watch. And be amazed.
sexy lady apes, Robot and the Holograms, Dr. Worm, back on the shelf
We delight in throwing curveballs, so here's a video you'd never have expected. A fat Let's Play of fantastic miniatures game
Infinity
, with scenery provided by the excellent people at
Battle Systems
!
The truth is that ever since our spirited review of this game last year, Matt and Quinns have been collecting Infinity together with a few of their friends, and anything we're interested in, we want to show you why. So we ended up making the above heartfelt half-hour, demonstrating just how tense and dangerous this game is. Enjoy, everybody.
NOTE: There's about 45 seconds of insane strobing in this video, especially during the final interview segment. Rest assured that Quinns is working on a fix.