eton mess, sticky toffee, profiteroles, coal, misery, top hats
OH MY GOODNESS! Just one week on from
Paul tackling Through the Ages
, Quinns is cracking open another board game classic.
Brass
is an incredibly nuanced game of carving out the industries of England's industrial revolution that dates all the way back to 2007, when Elvis Presley was on the radio and Vietnam was all anyone could talk about.
Will we recommend this game? Will Quinns have anything informative to say about England? Click play, and find out.
the waterfall of time, the idea of getting on top of a horse, absolutely garnished
Steady your socks, folks, this week's review is a bumper one! Paul has been looking at Through the Ages: A New Story of Civilization, the latest version of Through the Ages. To many, this is new iteration of a modern classic, yet another fine work by talented game designer Vlaada Chvátil. What did Shut Up & Sit Down make of it? And is everybody feeling okay?
We should warn you that, as well as Paul, this video also contains some slight flashing or strobing at a particular point.
the climax of the egg trilogy, battle cats, large dogs, emotional monsters
Hold on to your womp rats! Quinns is here with one of the biggest reviews of the year.
Star Wars: Rebellion
is Fantasy Flight's forthcoming Star Wars
star war
.
One side plays the Empire, another the Rebellion, in a vast conflict involving more than 150 plastic miniatures and countless twists, turns and heroics.
In other words it's about the most exciting thing imaginable. Sit back, relax, and enjoy this early review.
four trolley, mick fleetwood, i have stared into infinity
It's been styled as an experiment, but is it more of an extravagance or perhaps even some crazed meddling with the forces of nature themselves?
504
is no simple board game, but instead a... gigantic collection of cards and components and pieces and possibilities.
Is this a revolution? This this hubris? Is this madness? This week, Paul faced down one of his greatest challenges ever...
we're not sure what bookkeeping is, we think it's kind of like beekeeping?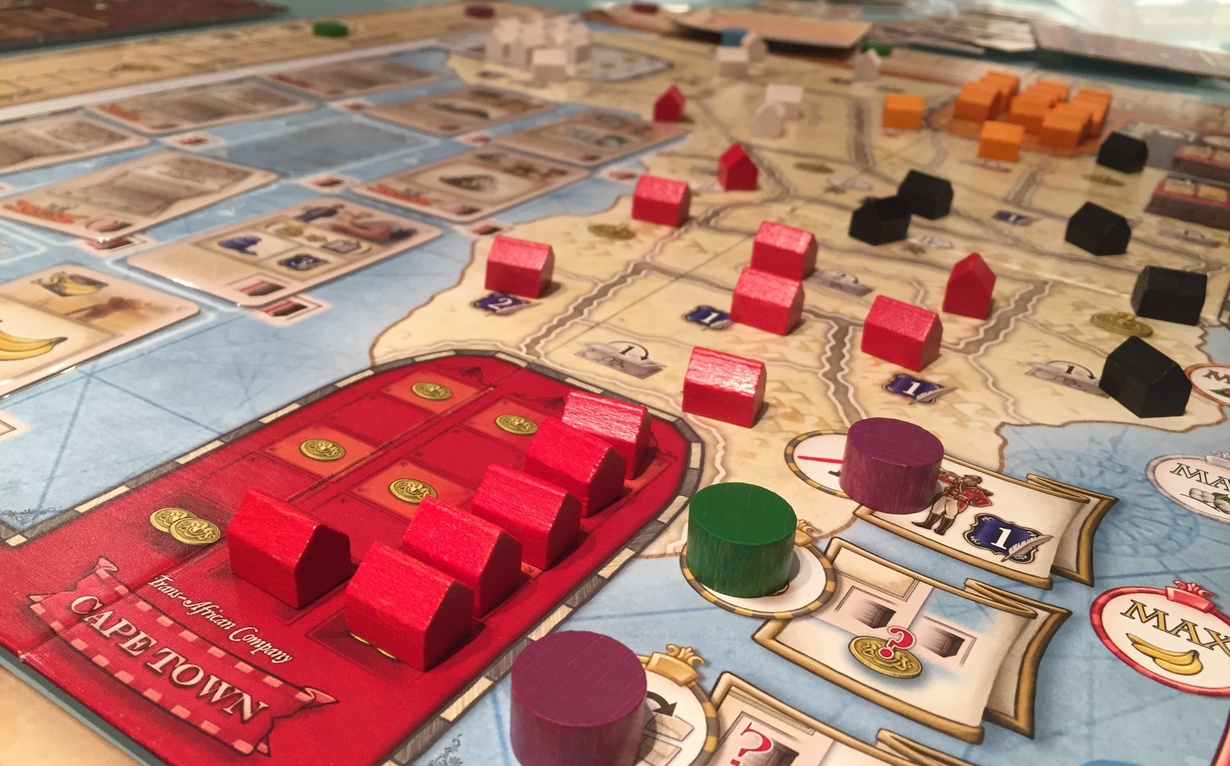 Matt
:
Diamonds and bananaaas
!
They will slip you up, and please you
They can stimulate and tease you
Bring icecream in the night
and I promise I might DESSERT YOUUU
Quinns: Bananas are forever,
Hold one up and then caress it,
Touch it, stroke it, and undress it,
I can see every part,
And I know in my heart they're GOOD CAAARDS!
Ba-ba-ba-ba-ba-ba-BABA!
twerp eggs, cokey cola, the terrible tale of alcotown and its five competing foodgangs
Do you want the good news, or the bad news?
The good news is that Food Chain Magnate is an absolute barn stormer of a game. A delicious puzzle patty rolled in thematic batter, deep fried across years of playtesting(?).
The bad news is that it became almost entirely sold out between us receiving this game and publishing the review. Your best bet is to pre-order straight from Splotter, or reserve a copy at your friendly local game shop (where it should be cheaper).
the gorethe glory, the boobs, the surprise multi-ball bonus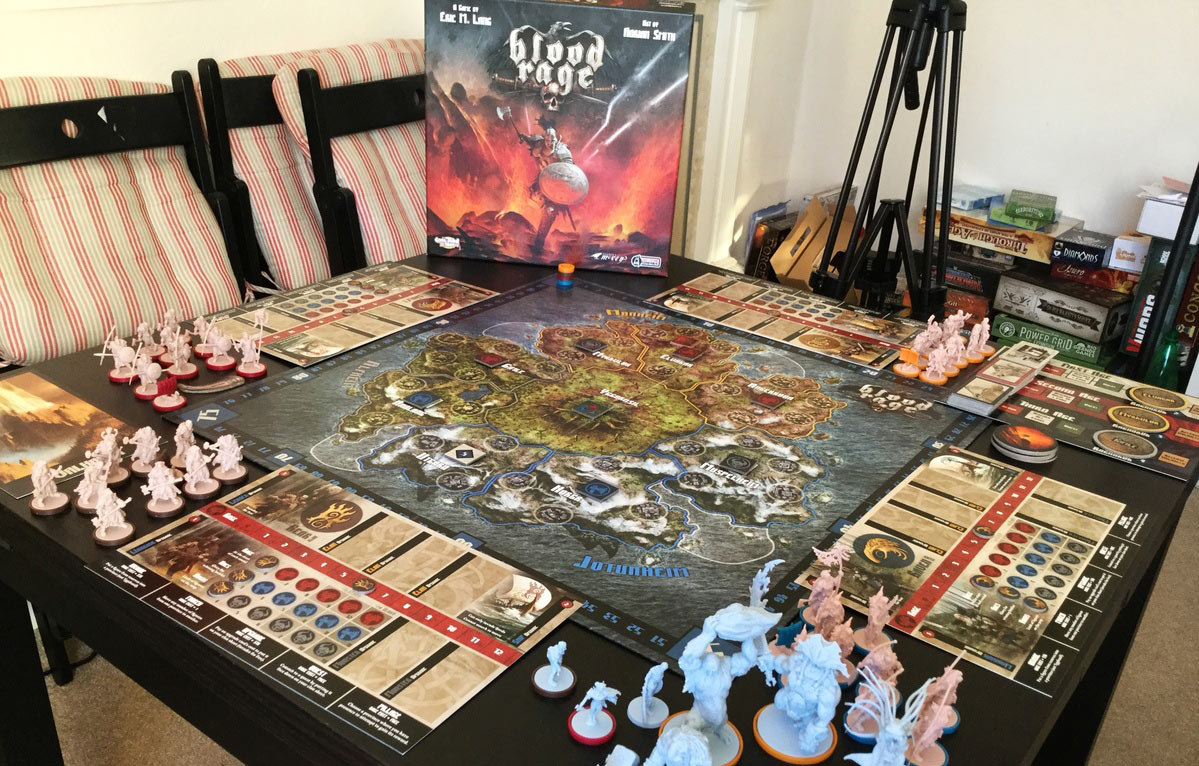 Quinns
: Ooh, hold on to your helms! Today we're looking at Blood Rage. That's exciting because (a) this box gathered positive reviews last year like a corpse gathers flies, and (b) it's called BLOOD RAGE. If you were thinking of buying this miniature-stuffed box, read on! If you were hoping to find out what a blood rage is, I warn you: I still have absolutely no idea.
2-4 players in Blood Rage control viking clans, fighting for glory in the final moments before Ragnorok shatters the world and drowns it beneath the sea. Your goal is to pillage the board's villages, undo your friends' plans and lay claim to the prestigious central area containing the great tree Yggdrasil which connects the 9 worlds of Norse mythology. Then you pillage that, too.
Once again: I have absolutely no idea.
On to the miniatures!
have fun hunting an old and potentially misgendered man across europe
You ask, and we provide! Our second ever
How to Play
video walks you through your first game of the sublime 3rd edition of
Fury of Dracula
.
Once again, this isn't a COMPLETE rules explanation (we forgot to mention that Dracula can't be found in sea spaces and doesn't place encounter cards, for a start), but it should certainly give everyone a ruddy good grasp of the game before you get stuck into the dirty business of questions and manuals.
Enjoy, everybody!
feathering pedals, nichole loves bricks, the world's crappest carousel
Porta Nigra
! It's a new eurogame, all about the famous Nigras that live within the mossy depths of the Porta dimension.
...Ok, so maybe we're not entirely clear on what a "Porta Nigra" is. But by god, that won't stop us from reviewing this hype-filled new release.
And let's have a big round of applause for our Gold Club members for letting Paul and Quinns work together again! Unlike Romans, those plane tickets don't grow on trees.
I mesmerise you, no I mesmerise you, no I punch you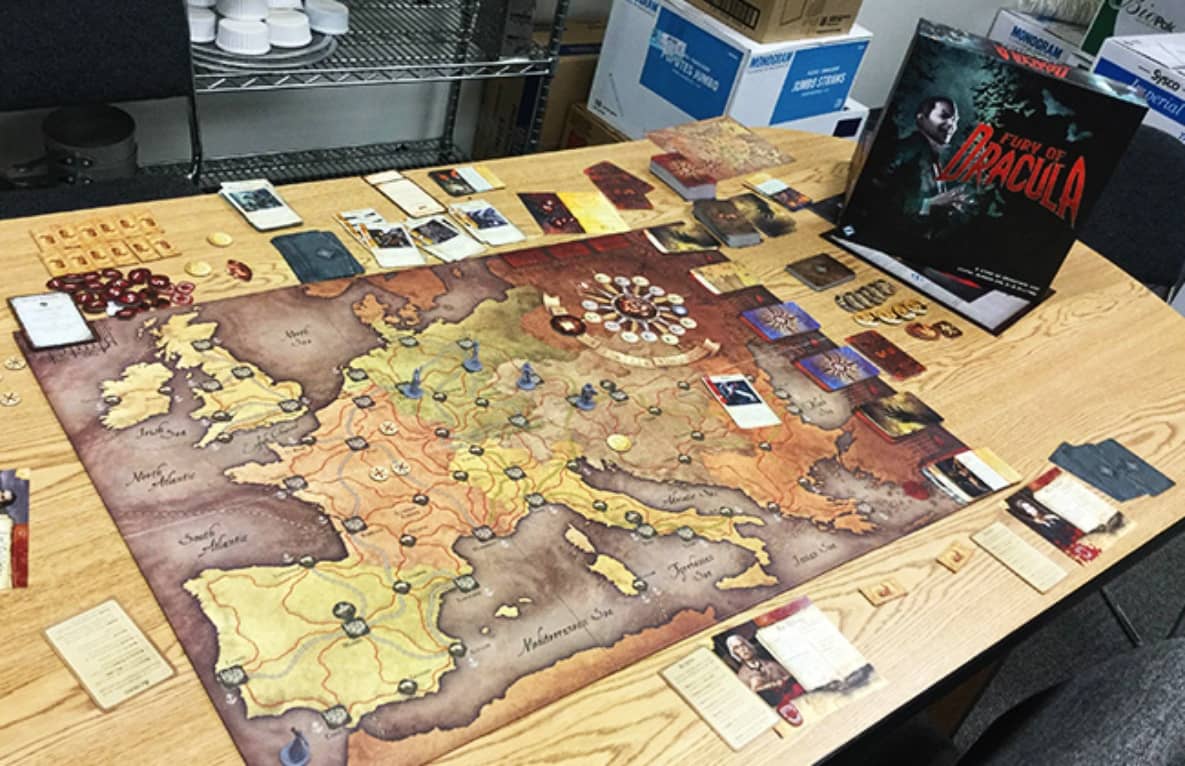 Paul
: I'm a doctor. I'm not
the
Doctor, but I have dogs and garlic and a knife and a gun, along with train tickets that take me all over Europe. That's better than anything Colin Baker ran around with. The dogs are
particularly
useful because they saved me from an ambush. This was just one of all sorts of unpleasant surprises that Dracula had left in his wake, like horrid slime behind a slug, as he slipped his way across Europe. In this case, he'd left a nasty surprise in Edinburgh, one of my very favourite cities. Damn you, Dracula, for ruining such a fine town.
Quinns: Paul, are you excited about the new edition of Fury of Dracula? Fantasy Flight's gothic hidden movement game, originally from Games Workshop back in the distant past, has been out of print for so long now that it's almost passed into legend. Now and then, copies surface online with ridiculous three-figure price tags, but they're as rare as hen's teeth.
Paul: As rare as vampire fangs! Except those fangs aren't rare any more. Dracula's back! He's back in style, too, with a glossier cape, a smoother style and even an improved map of Europe. I'm glad to see Dracula back because the boy done good.