swab yourself, stormy stories, that's so pbrbrbpt, sea wasps
Joy of joys! The latest SU&SD review has arrived at port, having completed its grand tour of
Seafall
. Ah, see how it's sitting low in the water? It must be carrying a tremendous cargo of opinions and insight. That, or it's leaking.
If you haven't heard the hype around this game, all you need to know is that it's designer Rob Daviau's third legacy game following on from the amazing Risk Legacy and Pandemic Legacy. But while those two games were fairly straightforward, Seafall is an ambitious epic. In other words, it's the most exciting box we're expecting to review all year. So what are you waiting for? Click play! Watch. And be amazed.
sexy lady apes, Robot and the Holograms, Dr. Worm, back on the shelf
We delight in throwing curveballs, so here's a video you'd never have expected. A fat Let's Play of fantastic miniatures game
Infinity
, with scenery provided by the excellent people at
Battle Systems
!
The truth is that ever since our spirited review of this game last year, Matt and Quinns have been collecting Infinity together with a few of their friends, and anything we're interested in, we want to show you why. So we ended up making the above heartfelt half-hour, demonstrating just how tense and dangerous this game is. Enjoy, everybody.
NOTE: There's about 45 seconds of insane strobing in this video, especially during the final interview segment. Rest assured that Quinns is working on a fix.
crunchy boatmen, hot jests, herb gardens, winning beer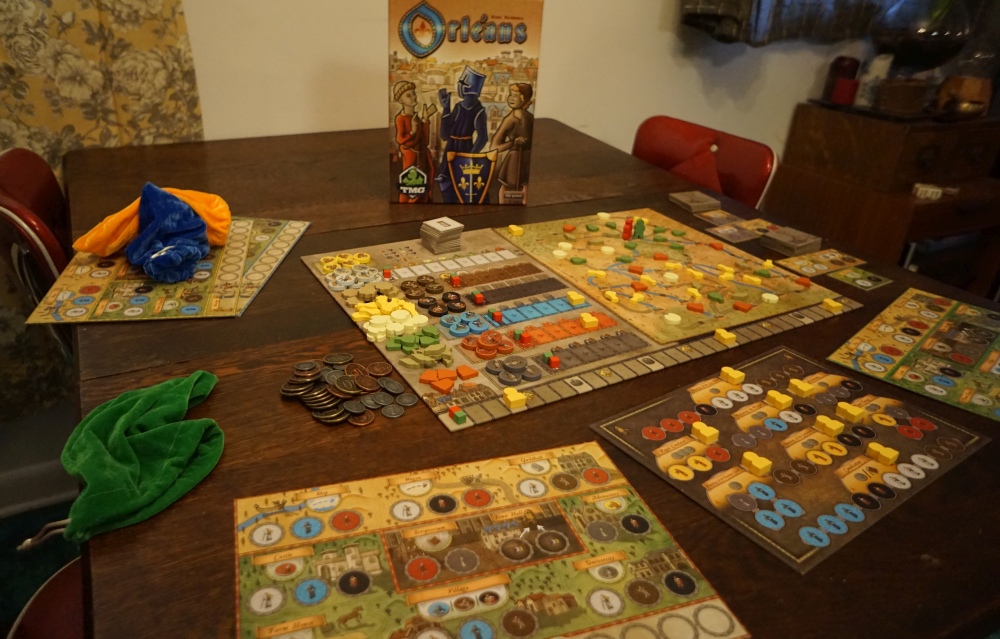 [Team SU&SD grows ever-stronger! Please give a warm welcome to game writer Jon Bolding, who comes bearing gifs. Enjoy, everybody.]
Bolds: Welcome! Welcome to Medieval France's fabulous Loire valley, and its jewel, its shining, brocaded, wine-and-cheese-filled capital city of Orléans.
Orléans has a lot in common with those ever-popular "deck-building" games, in that you're still accruing little somethings to go in your something, but each something is different, and has a different purpose - and your something, certainly, is different from everyone else's something. In Orléans these somethings aren't cards, but are little circular people, and you stuff them in your personal bag like a kind of hungry giant saving them for later, never quite sure what delicious treat you'll pull forth when you go plunging in for a snack.
Ugh, peasants again? Why don't we ever have Boatmen? Love Boatmen. The little crunchy paddles and rafts. The delicate waterlogged texture.
And speaking of crunch, Orleans is a good deal heavier than most deck-building games. Really, what we've got here is a fabulous fusion of a "building" game and a heavy eurogame, and it's almost entirely delicious.
a cartoon buzzing, a non-existent bear, a wet firewalker, a nonsense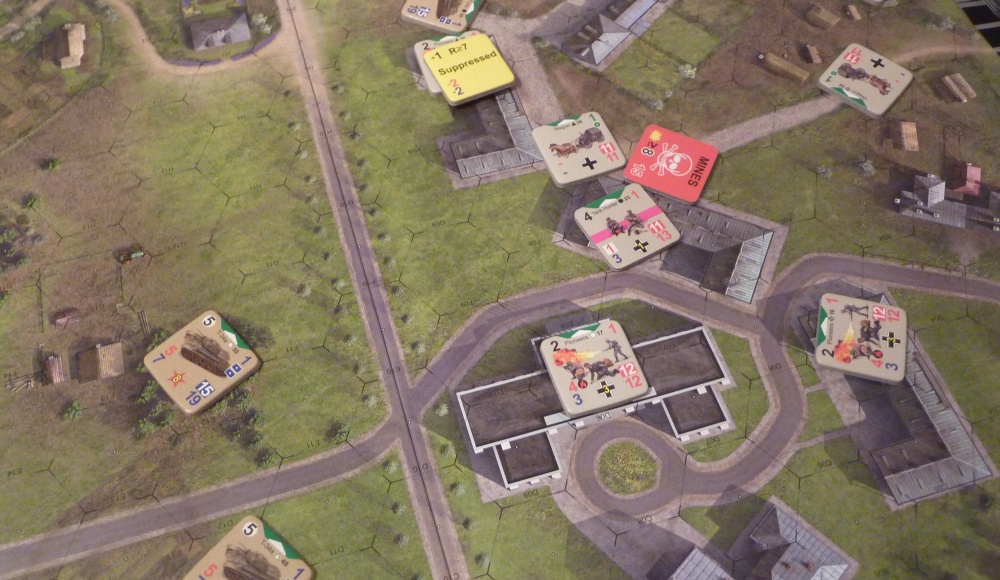 Thrower
: Why don't you play wargames? Why, after all I've forced SU&SD to publish about them at gunpoint, have you not pressed the nuclear button on this this amazing corner of our hobby? There's lots of reasons I can think of. Possibly it's their rumoured rules complexity. Maybe the focus on simulating men being sad in some mud. Or perhaps it's the drab art and thin components?
WELL, I've got a game for you with none of that! It's called Conflict of Heroes: Awakening the Bear (a series you might remember from my primer on wargames or my article on the best introductory wargames) and Academy Games made it just for you. Yes, you. The publisher even said so on its sister game, Storms of Steel. "The historical wargame that Eurogamers love to play," was the actual marketing copy!
You can smell the difference between CoH and typical wargames the second you open the lid. It's the faint scent of solvents from the decadent, multi-coloured printing used on the mounted boards and fat counters. Oddly-named German tanks rumble around in the box. You can even see a flamethrower doing what flamethrowers do in slightly more detail than you probably want. Alas, in spite of the name, there are no actual bears.
eton mess, sticky toffee, profiteroles, coal, misery, top hats
OH MY GOODNESS! Just one week on from
Paul tackling Through the Ages
, Quinns is cracking open another board game classic.
Brass
is an incredibly nuanced game of carving out the industries of England's industrial revolution that dates all the way back to 2007, when Elvis Presley was on the radio and Vietnam was all anyone could talk about.
Will we recommend this game? Will Quinns have anything informative to say about England? Click play, and find out.
the waterfall of time, the idea of getting on top of a horse, absolutely garnished
Steady your socks, folks, this week's review is a bumper one! Paul has been looking at Through the Ages: A New Story of Civilization, the latest version of Through the Ages. To many, this is new iteration of a modern classic, yet another fine work by talented game designer Vlaada Chvátil. What did Shut Up & Sit Down make of it? And is everybody feeling okay?
We should warn you that, as well as Paul, this video also contains some slight flashing or strobing at a particular point.
the climax of the egg trilogy, battle cats, large dogs, emotional monsters
Hold on to your womp rats! Quinns is here with one of the biggest reviews of the year.
Star Wars: Rebellion
is Fantasy Flight's forthcoming Star Wars
star war
.
One side plays the Empire, another the Rebellion, in a vast conflict involving more than 150 plastic miniatures and countless twists, turns and heroics.
In other words it's about the most exciting thing imaginable. Sit back, relax, and enjoy this early review.
four trolley, mick fleetwood, i have stared into infinity
It's been styled as an experiment, but is it more of an extravagance or perhaps even some crazed meddling with the forces of nature themselves?
504
is no simple board game, but instead a... gigantic collection of cards and components and pieces and possibilities.
Is this a revolution? This this hubris? Is this madness? This week, Paul faced down one of his greatest challenges ever...
we're not sure what bookkeeping is, we think it's kind of like beekeeping?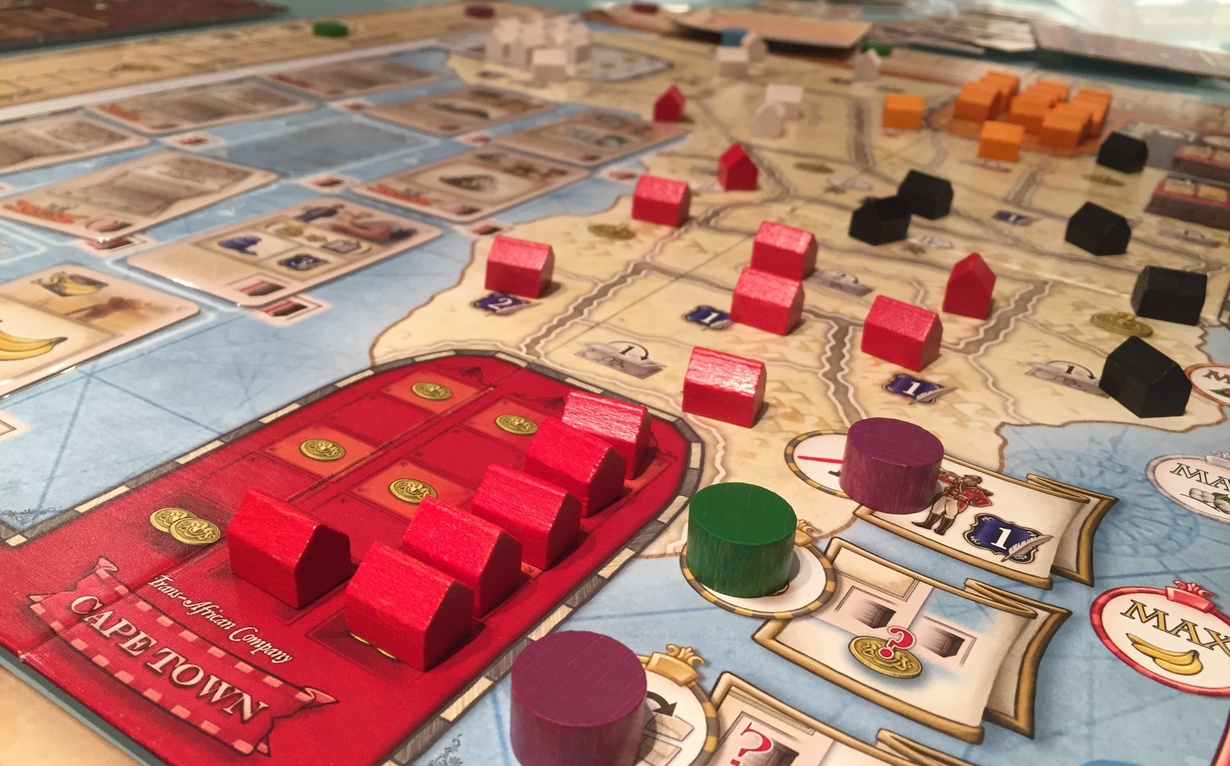 Matt
:
Diamonds and bananaaas
!
They will slip you up, and please you
They can stimulate and tease you
Bring icecream in the night
and I promise I might DESSERT YOUUU
Quinns: Bananas are forever,
Hold one up and then caress it,
Touch it, stroke it, and undress it,
I can see every part,
And I know in my heart they're GOOD CAAARDS!
Ba-ba-ba-ba-ba-ba-BABA!
twerp eggs, cokey cola, the terrible tale of alcotown and its five competing foodgangs
Do you want the good news, or the bad news?
The good news is that Food Chain Magnate is an absolute barn stormer of a game. A delicious puzzle patty rolled in thematic batter, deep fried across years of playtesting(?).
The bad news is that it became almost entirely sold out between us receiving this game and publishing the review. Your best bet is to pre-order straight from Splotter, or reserve a copy at your friendly local game shop (where it should be cheaper).