the gorethe glory, the boobs, the surprise multi-ball bonus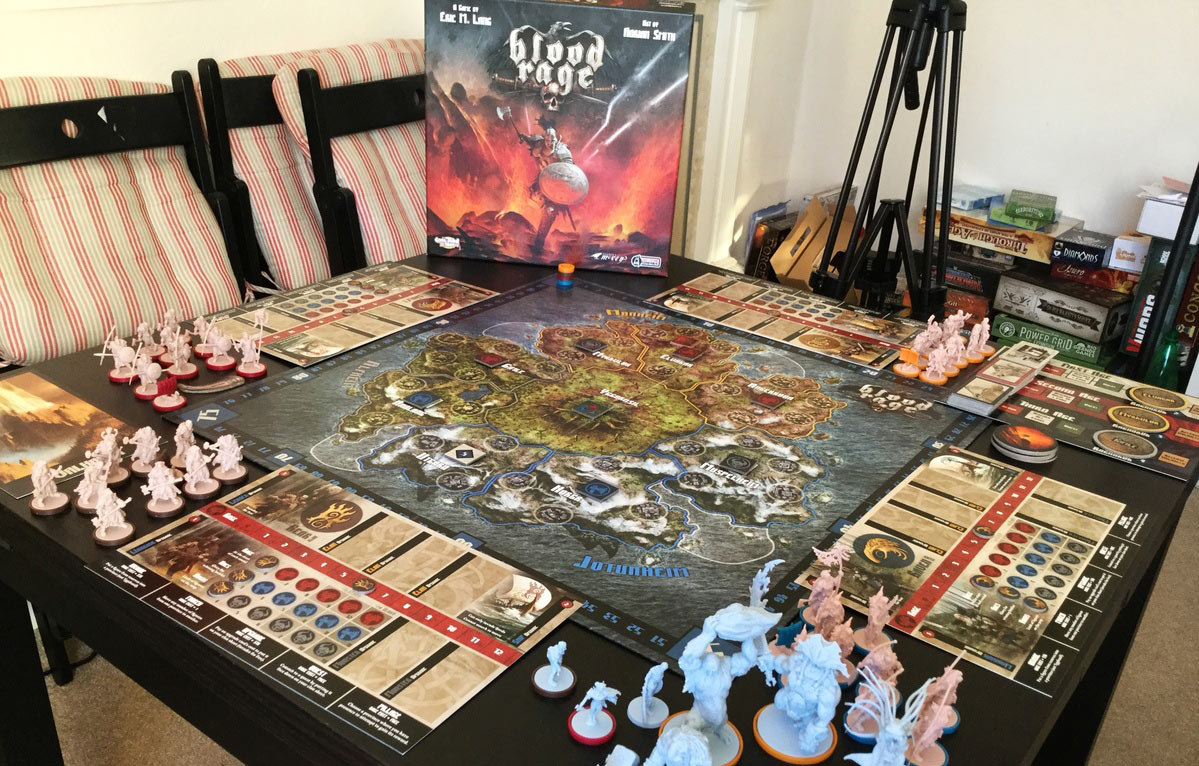 Quinns
: Ooh, hold on to your helms! Today we're looking at Blood Rage. That's exciting because (a) this box gathered positive reviews last year like a corpse gathers flies, and (b) it's called BLOOD RAGE. If you were thinking of buying this miniature-stuffed box, read on! If you were hoping to find out what a blood rage is, I warn you: I still have absolutely no idea.
2-4 players in Blood Rage control viking clans, fighting for glory in the final moments before Ragnorok shatters the world and drowns it beneath the sea. Your goal is to pillage the board's villages, undo your friends' plans and lay claim to the prestigious central area containing the great tree Yggdrasil which connects the 9 worlds of Norse mythology. Then you pillage that, too.
Once again: I have absolutely no idea.
On to the miniatures!
have fun hunting an old and potentially misgendered man across europe
You ask, and we provide! Our second ever
How to Play
video walks you through your first game of the sublime 3rd edition of
Fury of Dracula
.
Once again, this isn't a COMPLETE rules explanation (we forgot to mention that Dracula can't be found in sea spaces and doesn't place encounter cards, for a start), but it should certainly give everyone a ruddy good grasp of the game before you get stuck into the dirty business of questions and manuals.
Enjoy, everybody!
feathering pedals, nichole loves bricks, the world's crappest carousel
Porta Nigra
! It's a new eurogame, all about the famous Nigras that live within the mossy depths of the Porta dimension.
...Ok, so maybe we're not entirely clear on what a "Porta Nigra" is. But by god, that won't stop us from reviewing this hype-filled new release.
And let's have a big round of applause for our Gold Club members for letting Paul and Quinns work together again! Unlike Romans, those plane tickets don't grow on trees.
I mesmerise you, no I mesmerise you, no I punch you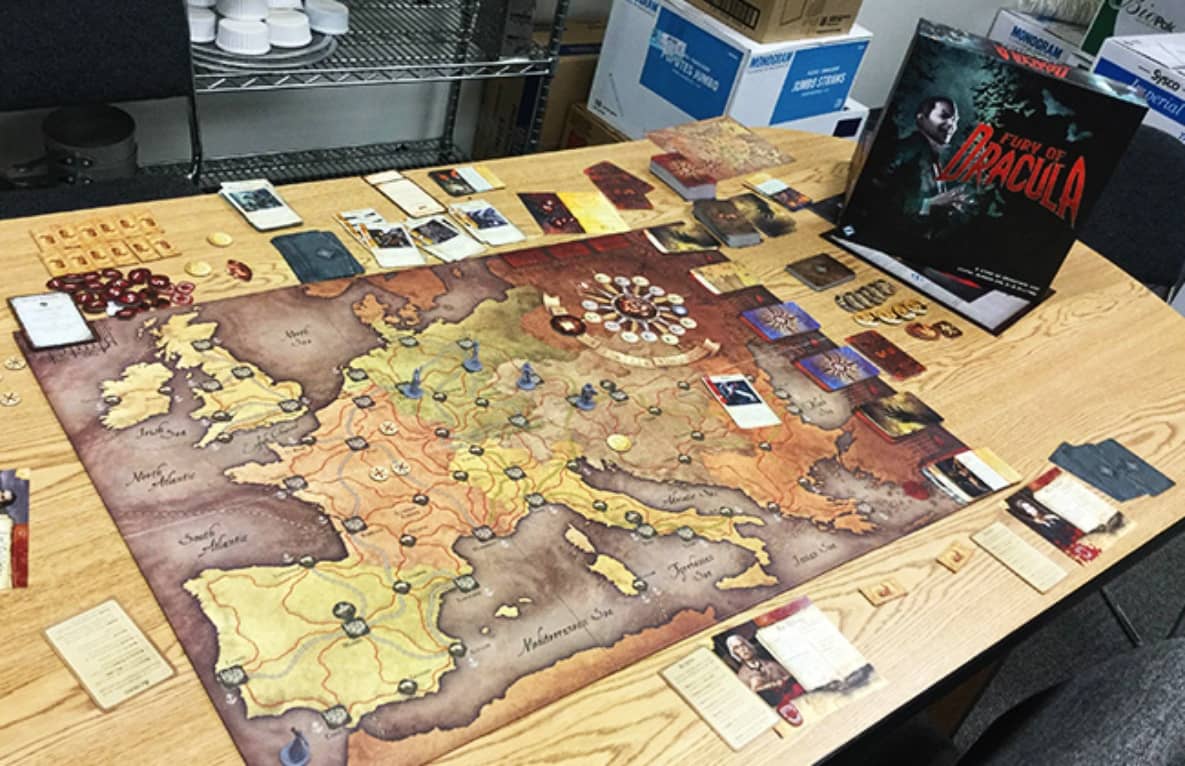 Paul
: I'm a doctor. I'm not
the
Doctor, but I have dogs and garlic and a knife and a gun, along with train tickets that take me all over Europe. That's better than anything Colin Baker ran around with. The dogs are
particularly
useful because they saved me from an ambush. This was just one of all sorts of unpleasant surprises that Dracula had left in his wake, like horrid slime behind a slug, as he slipped his way across Europe. In this case, he'd left a nasty surprise in Edinburgh, one of my very favourite cities. Damn you, Dracula, for ruining such a fine town.
Quinns: Paul, are you excited about the new edition of Fury of Dracula? Fantasy Flight's gothic hidden movement game, originally from Games Workshop back in the distant past, has been out of print for so long now that it's almost passed into legend. Now and then, copies surface online with ridiculous three-figure price tags, but they're as rare as hen's teeth.
Paul: As rare as vampire fangs! Except those fangs aren't rare any more. Dracula's back! He's back in style, too, with a glossier cape, a smoother style and even an improved map of Europe. I'm glad to see Dracula back because the boy done good.
tyrell, then who cares, then stark, then lannister, then martell, then baratheon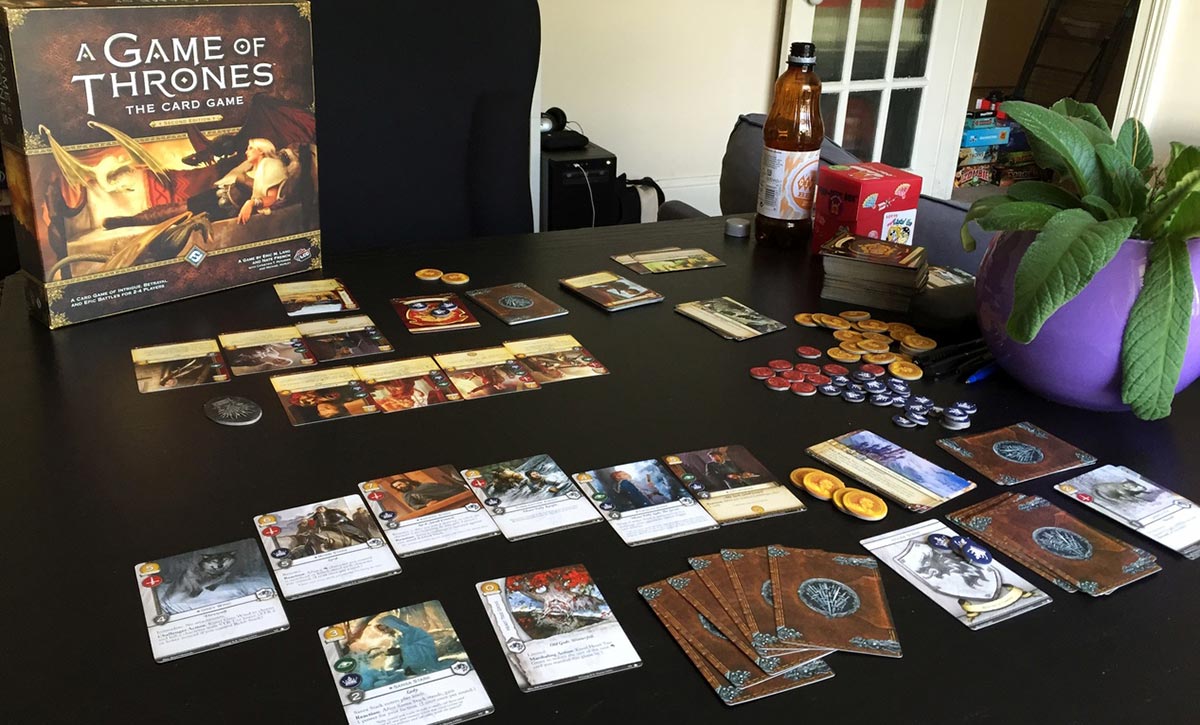 Quinns
: In a couple of weeks the 2nd edition of Fantasy Flight's
Game of Thrones: The Card Game
, with its direwolves, chunky coins and endless pictures of sultry nobles, will be released. A lot of people are very excited, and with good reason- the 1st edition amassed a cult following, and the 2nd edition looks
incredibly
sharp.
You won't be getting our review just yet. As a Living Card Game, this box encourages players to collect monthly expansions and build their own decks, and we want to have conviction when we suggest you get involved (or not). But I can offer some early impressions and comparisons to the LCGs that this site has gone on the record as recommending, namely the bizarre Doomtown and the sublime Netrunner (on the subject, Paul will have a review of Plaid Hat's new card game Ashes in the next few weeks).
So let's begin. How do you win the Game of Thrones?
I'm thrilled to say that it's by being an appropriately sneaky f***.
hot popes, hard rains, cold blood, jamiroquai, hitler
SU&SD is host to a grand old game today! Fief is a negotiation-heavy wargame that's been around since 1981, and a fancy new edition titled
Fief: France 1429
has just arrived. What will the boys make of it?
This review features a special segment on WHEN BOARD GAMES GO BAD. It's a tear-jerker.
dollops of thought-sauce, squeaking men in england, quintin's attic
Buckle up, boardkids! It's time for Team SU&SD to tackle the Official 38th Best Board Game of All Time:
Trajan
. A game of thrashing as many victory points as you can out of Ancient Rome.
Don't believe what you've heard. Shut Up & Sit Down can still handle heavy eurogames.
...or can they?
Tiny car, actually doing history, laundry stealth challenge
What's this, sneaking into Friday's schedule? Why, it's a review of Plaid Hat's hotly anticipated
Specter Ops
, a hidden movement game from one of the industry's most renowned publishers.
Paul takes a long, hard look at the game and... well, has anyone taken a long hard look for Paul recently? Actually, it's probably best not to. He appears to have both gone missing and gone a little... mournfully malfunctional. This is the first time that's happened since last time. Do let us know if you spot him, or even any part of him. Probably don't approach him, mind.
Best not dwell on that. Have a lovely weekend!
nubs for the nub throne, all of the guns, oh what a lovely war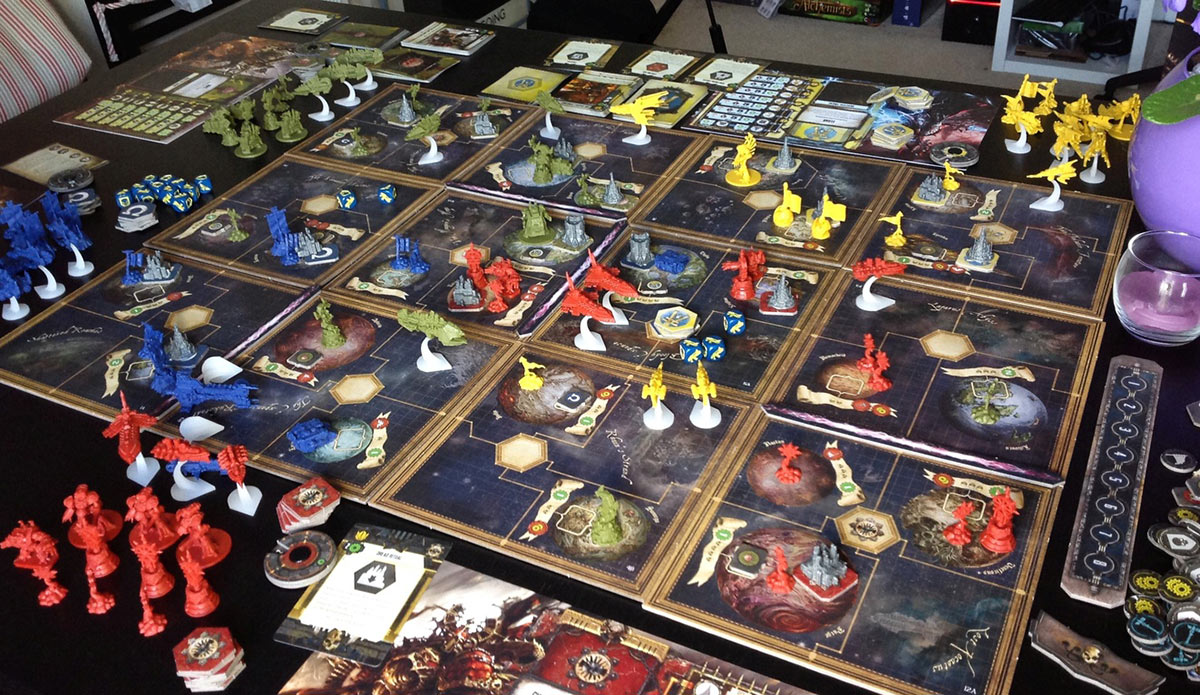 Quinns
: I don't really like the Warhammer universes. When I was a kid I couldn't get enough of them. "In the grim darkness of the future there is only war"? Holy shit!
These days I find them a little tired. Conflict is exciting, but not without peace to contrast it with, and not when you siphon all the humanity out of it. Where's the ego and romance? Where are the themes and mysteries? And obviously: Where are the women?
Let me wrap this up before people start sending me photos of Sisters of Battle, or pointing out that the expanded universe is awesome (I know!). My point is I was a little grouchy when I opened up of Forbidden Stars, Fantasy Flight's new, striking war game set in the Warhammer 40K universe.
I'm happy to say that Forbidden Stars defrosted my icy heart. This game is sensational.
zepplins, ziggurats, marie curie, quinns' unorthodox lunches
Imperial Settlers
is a civilization-building game with the best art we've ever seen in almost five years of running Shut Up & Sit Down.
Nations
, on the other hand, looks like a Soviet spreadsheet.