king of the bobbits, gothic seagulls, shut up and war of the ring
If you were looking for 
one game to rule them all,
War of the Ring
 might be it. This magical game has more than 200 plastic miniatures, 40 pages of rules and a depth that most board games could only dream of.
But what will Matt and Quinns make of it? For one thing, this wouldn't be the first time that Lord of the Rings was accused of being too long.
Click play, and let their opinions seep into your very bones.
twenty times as heavy, a nasty little pulp song, a happy and hairy fellow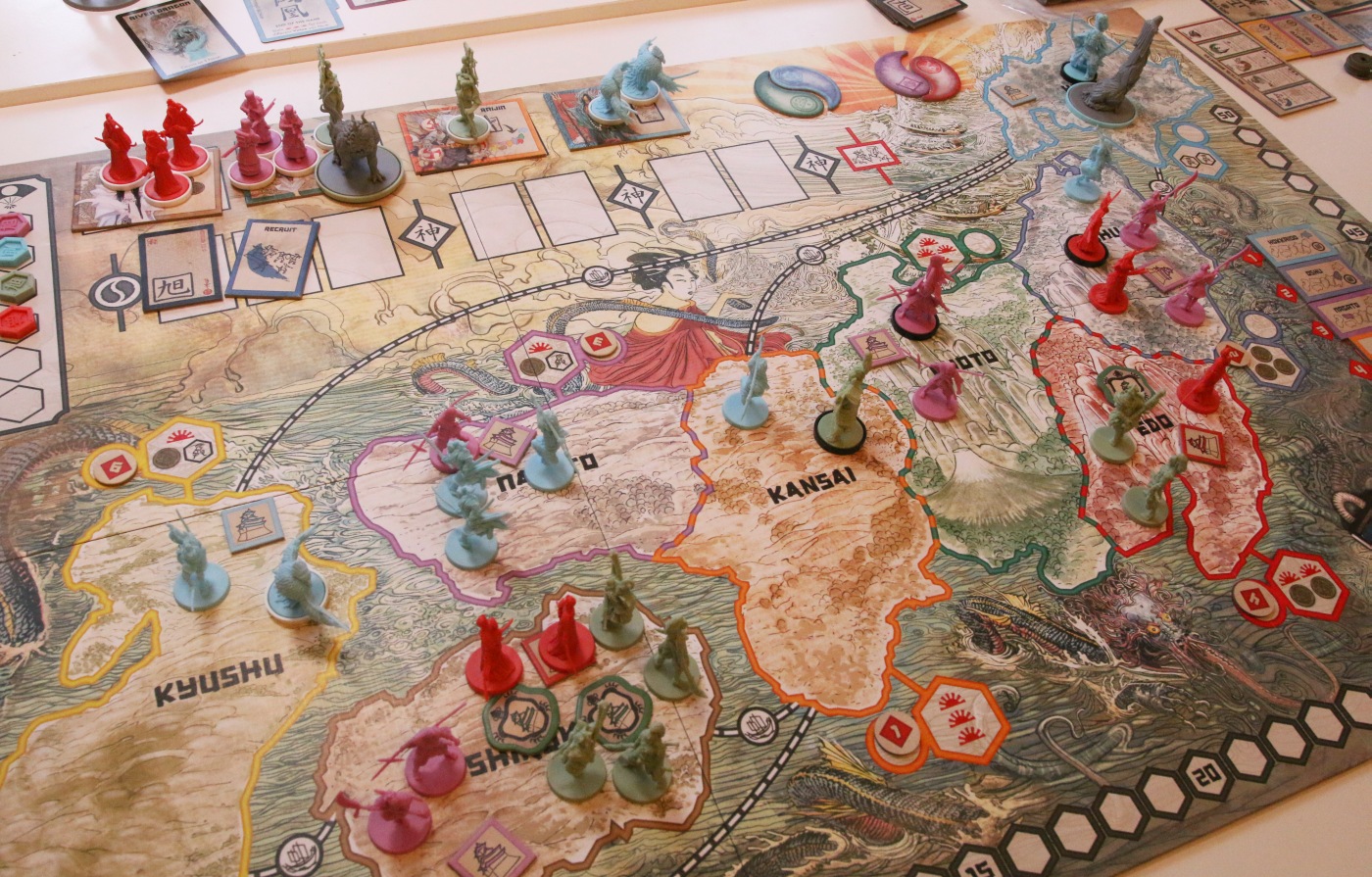 Matt
:
Rising Sun
is a big-box Kickstarter darling filled with frankly massive plastic things, with a hefty retail price of £75 / $80. Set in a god-powered version of feudal Japan, players act as one of six different clans vying for control of those lovely islands. But the plus-size map and plastic armies are slightly misleading: Rising Sun is not what it appears to be.
If you're expecting a traditional game of nudging toy soldiers around a map, Rising Sun might leave players bored, confused, or quietly in a huff. But if you can get your head around what it is, and teach your friends what it is (and isn't), Rising Sun can be really very good.
swapping skittles, being wasps, taking the victory points from both of your legs
Think you've seen it all? THINK AGAIN.
Sidereal Confluence: Trading and Negotiation in the Elysian Quadrant might have a silly name, but this hybrid sci-fi/negotiation/economic game is no joke. Whether you're playing space-wasps, space-squids or space-school teachers, it's going to demand every ounce of intelligence you can muster.
Have you got what it takes? There's actually a good chance you don't.
a bloated boxer, a wibbly purple, a wonky illustration, interstellar nutella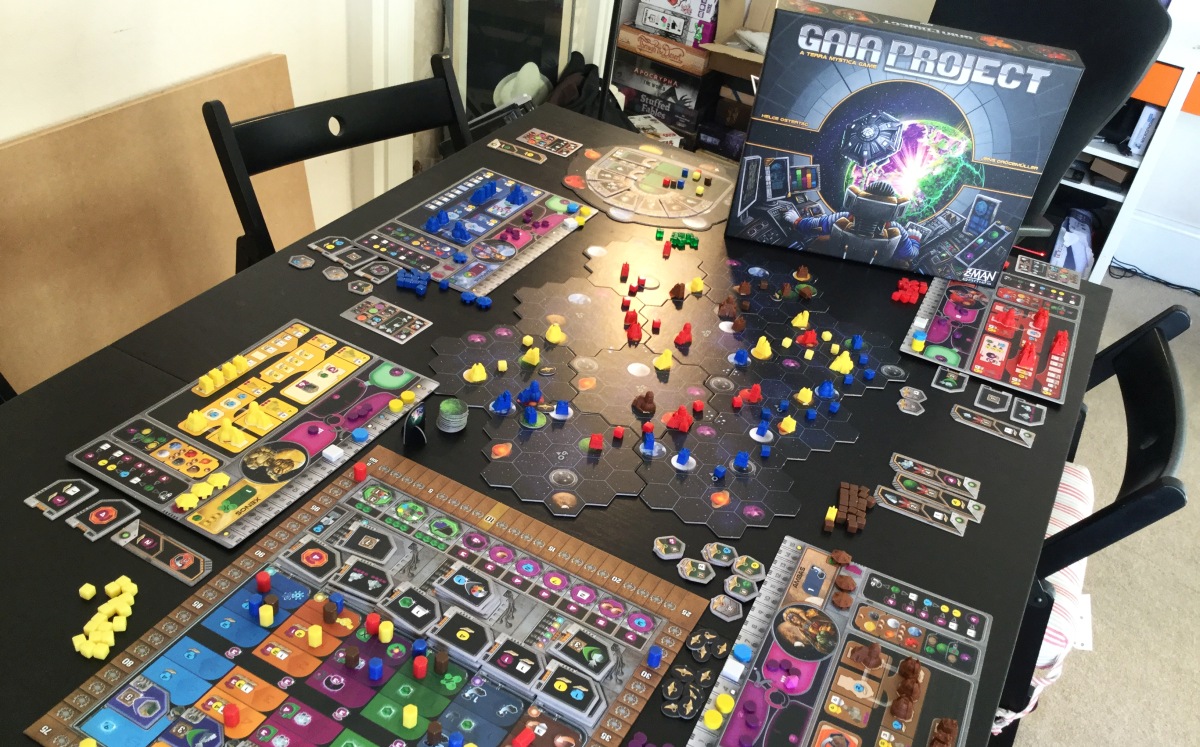 Quinns
: Everybody, stand up from your chairs! Pull up your pants. Spit out that gum. An esteemed classic has returned.
We reviewed fantasy town-building game Terra Mystica back in 2013 and found ourselves submerged in strategic nirvana. Today 28,000 people have rated it on BoardGameGeek, awarding it in an average of 8.3 out of 10. That's shockingly high considering just how complicated and odd Terra Mystica is, with its challenging puzzle squished in between ugly mermaids and magic bowls. But there you have it! It's just that enjoyable.
This week we're looking at the sequel, Gaia Project, which is a big deal in more ways than one. As well as swapping Terra Mystica's musty fantasy for a sci-fi backdrop, it's more expensive, more complicated and demands significantly more table space. All set up, you're looking at an asteroid belt of iconography.
in memoriam lyv, an itchy brain, a timid lover, a beloved lasgun, a two-part head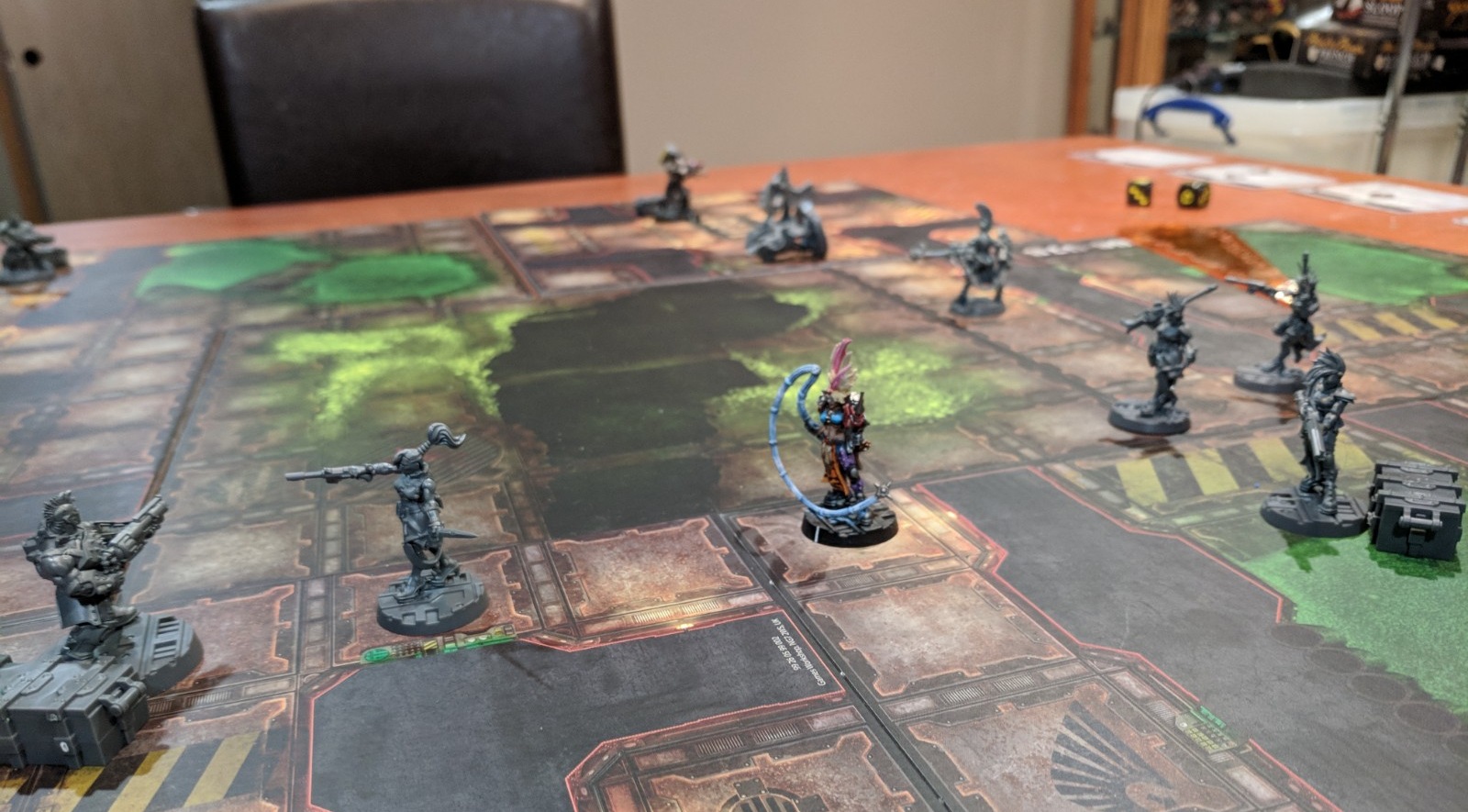 [We once again welcome SU&SD miniatures correspondent Eric Tonjes for a report from some far-flung warzone. If you've not yet caught up on his work for us, do so on the double!]
Eric: A few years ago I had the chance to revisit the grade school I attended as a child. It was a jarring afternoon. The huge hallways were suddenly kind of small. I could see over the bookshelves in the library where I used to get lost. The teachers... several of them were younger than me. I walked in the door feeling nostalgic; I left a bit unsettled.
I found myself remembering that visit as I got ready to open Games Workshop's new remake of Necromunda. A skirmish game set in the collapsing underbellies of hive cities in the Warhammer 40,000 universe, the original Necromunda one-upped the grim darkness of the 41st millenia by adding gangs, drugs, slavery, abject poverty and child soldiers. To a 15-year-old me, it was a thing of glorious joy. Yet I wondered, would this turn out to be just another narrow-halled school with five-foot bookshelves?
gloomhavin a good time, mind-belts, i love you, no i love you
Sentient trebuchets rejoice! With just hours to go until the end of the board gaming year, we've snuck in our review of 2017's biggest game. The fantasy hack-and-slash epic that is Gloomhaven weighs in at a preposterous 22lbs, it takes hundreds of hours to finish, and it raised more than four million dollars on Kickstarter.
It will be enjoying a global retail release just next month, but should you buy it?
Let's take a look.
space sneeze, letnev party, a reallyreallyreallyreallyreallyreallyreally big car park
At last
. A full six years after we rugby-tackled one of the most glorious and gargantuan board games ever made, we once again take on Twilight Imperium. Sleeker and shinier than ever, just how does the refined 
fourth edition
compare with its previous incarnation? Look no further, for we offer you the definitive review of this epic space opera.
And yes, we really do mean definitive. After Matt and Paul prodded the game so much at Fantasy Flight's headquarters for Matt's in-depth documentary, Quinns took on the brave (some would say Herculean) task of looking at this new edition both as a standalone game, but also alongside its predecessor, which is now widely discounted. Which one deserves your money?
is it still "cosplay" if it's this bad, leaving numbers behind, rose-tinted goggles
A mere 700 days later and IT'S HERE!
Pandemic Legacy: Season 2
is the sequel to our game of 2015,
Pandemic Legacy
, and it's even more ambitious than the first game. Not only is this box heavier and more expensive, it tells a far more complicated story.
But what do we think? Has the lightning of genius smote this particular property once again? Or does Season 2 feel like a difficult second album?
If we were you, we'd take a deep breath, click play and find out.
quinns' toothy heart, a sad birthday, 8 more complexity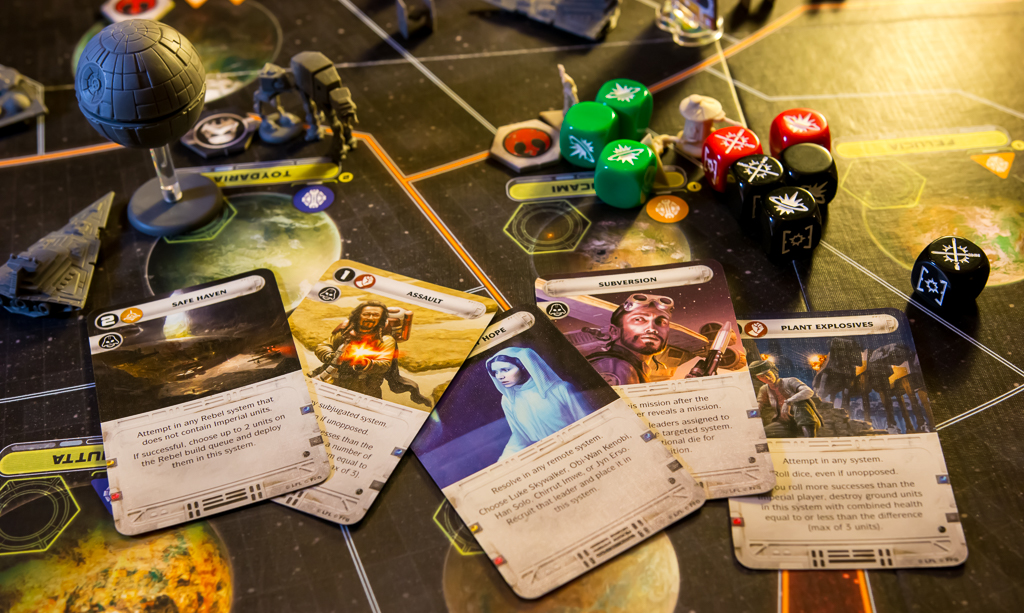 Quinns
: Matt, are you ready to review the
Rise of the Empire expansion
for Star Wars™: Rebellion? To bring everyone up to speed, Rebellion is a grand 2-4 player game set in the Star Wars universe,
which I reviewed
and said it was fun, but I couldn't quite recommend it.
What does the expansion add? Well, let me just quote the press materials: "Rise of the Empire isn't just inspired by Rogue One; it follows the movie's example, adding new depth and story to the Rebellion game experience just as seamlessly as Rogue One provided new insight into the Galactic Civil War presented in the original Star Wars trilogy."
Matt: I just did a big vomit out of a window. In Real-World Terms™ it's an expansion that adds quite a bunch of stuff: new leader characters, new cards, a whole new combat system, more unit types and plastic figures, and a brand new planet: EWOK-HOTH, HOME OF THE CHILLYBEARS.
embarrassing dads, a really good candy-based joke, bouncing bags of bananas
Hot dog! At the time of writing
The Voyages of Marco Polo
is ranked as BoardGameGeek's 39th best game 
ever.
 Our team has now comprehensively tested, teased and tutted over every aspect of its complicated machinery to bring you what we think.
That said, our viewers should note that as Englishmen, we still have no bloody idea about that American folk game where someone yells "Marco!" and someone else yells "Polo!", and we're not Googling it on principal.