Who's clothes am I wearing?, It's been a long day and I've got a mustache
Paul
: Are you already missing the madcap misadventures of
SU&SDD&D
? Then grieve not, because today we're also sharing our very special (and slightly different) live SHUX roleplaying session. Prepare yourselves for The Hangover!
This rather different D&D module is based around the hugely successful comic Rat Queens and was authored by its creator, the ineffable Kurtis Wiebe, so who better to ask to run this remarkable roleplaying event than the man himself? Yes, that's right, Kurtis took the helm while Pip, Cynthia, Quinns and Matt went wild with his characters. Don't worry, no canon interpretations were harmed during the making of this video.
Our huge thanks again to Kurtis for flying in to make this happen, for doing a Q&A after and for being such a terrific convention guest. This is also a personal point of pride for me, as I assembled and organised most of this session, and it was a pleasure to bring some live roleplaying to SHUX. One short word of warning: this is definitely a little more NSFW than many of our other videos. As they say in some parts of the world, viewer discretion is advised.
an actual magic sword, a locked door puzzle, the classics are genuinely the best
What follows
Part 1
and
Part 2
? We've got some news for you: It's the third part of our D&D adventure!
In this episode our team of a tory, a crank and a lizard descend into their very first dungeon,  the very engine room of D&D. What monsters will they fight? What puzzles will they overcome? And what treasure will they find?
It's easy to poke fun at D&D. It's a lot harder to argue with the thrill of beating up a boss and taking his gold. Get 'em, Badger!
acquisition mode, the fabled swamptopus, man is literally the real monster
It's time to rejoin the adventures of Badger Kennington, Mr. Balderk and Sean Dragonborn! Our group's inevitable descent into "being the bad guys" continues apace.
If you missed part one, check it out right here. If you want to watch more from our sickeningly good guest dungeon master, Mark Hulmes' own channel can be found here. Or were you looking for something a little... stronger? If so, all of SU&SD's role-playing game coverage is here.
Tell you what, this "Dungeons & Dragons" thing is a lot of fun. Expect big things from this game. As cutting edge board game critics, we'd stake our reputation on it.
Snake Buds, Another Glass of Breakfast, Unexpected Debts
Last year we transported our bodies to Bristol for a day of filming with
Mark Hulmes
- a Dungeon Master extraordinaire who specializes in creating high-grade fun within the realms of Dungeons & Dragons. Be aware that whilst we've snipped out the swearing, the series does contain infrequent graphic descriptions of violence.
pasta money, architectural aluminium, from horses to robots, why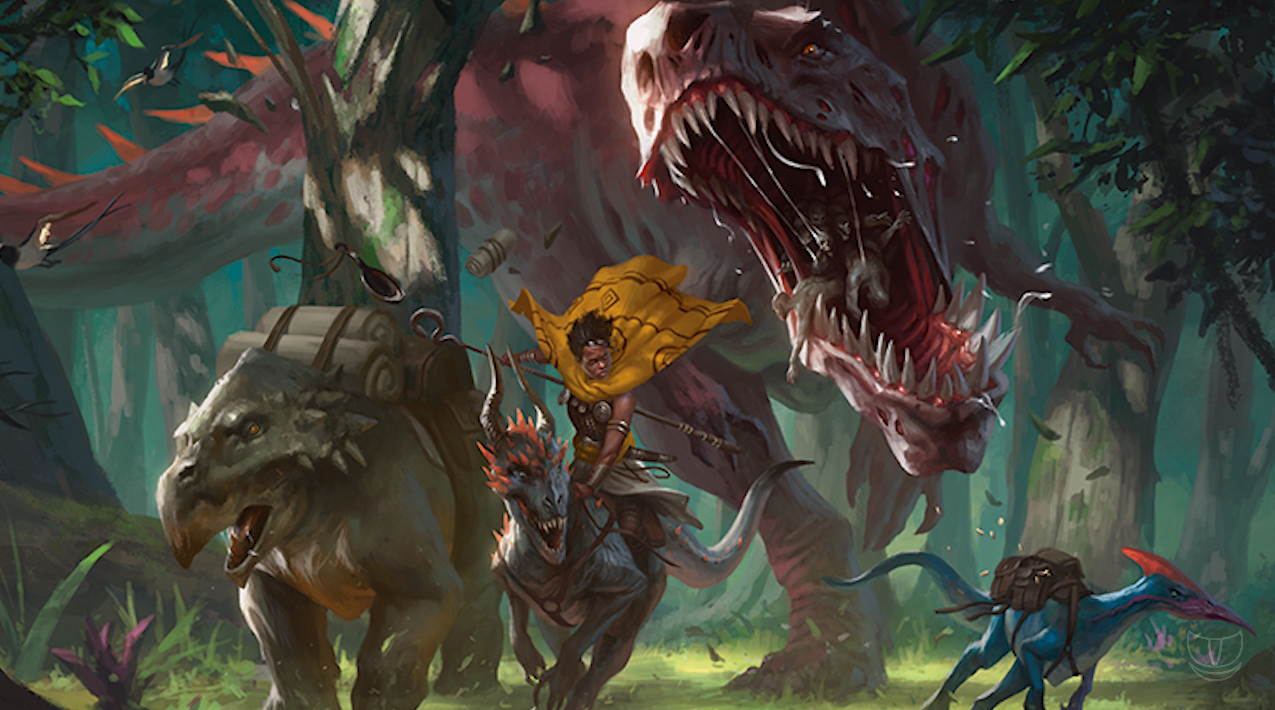 Quinns
: Morning everybody! We've got good news and bad news for you. The good news is that during last week's "
Stream of Annihilation
" where Wizards of the Coast announced a whole load of new Dungeons & Dragons products via Twitch, we found out that dinosaurs are coming to the D&D world!
The bad news is that they seem to have zero interest in renaming the brand "Dungeons, Dragons & Dinosaurs", or DD&D. Imagine! After a few more years of announcements they could be selling Dungeons, Dragons, Dinosaurs, Diplomats, Dinghies, Derby's and Dancers, or DDDDDD&D.
Paul: A couple of board games came out of this announcement. We're getting the Dungeons & Dragons: Tomb of Annihilation Board Game, which can be combined with all those D&D board games that came out in 2011, and we're also getting Betrayal at Baldur's Gate. Which is--
Quinns: Oh no
Paul: Which is a Dungeons & Dragons-themed version of fabled box of nonsense Betrayal at the House on the Hill.
Quinns: Oh, no.
tap-tap for jesus, the best maths, who invented illithids, the death of trivia
In this temporarily-educated instalment of the SU&SD podcast, Matt, Pip and Paul gathered at a hotel during the 2017 Game Developer's Conference. Their mission? To discuss the
hot questions of the day.
Should liches be banned? Are humans secretly terrible at games? Why can't I have my raven back? When is an asteroid frustrating? Should SU&SD be on Pinterest? And most importantly, why do the world's best board game designers think the future is great for players?
We also reach into the mailbag to answer a question on trivia games, and discuss some deeply unprofessional games that are played by actors, on stage.
Commenters, what do you think? Should trivia games continue their slow death, or should we be huffing and puffing into their lungs like someone who kind of remembers CPR (but not really)?
industrial rubber bands, beauteous mutants, the worst spies, montana
First things first, huge thanks to Vitaliy Zavadskyy for gifting our podcast with some magical intro and outro themes. The UK finally has a second radio show to be proud of after the BBC World Service.
In this episode Paul's been hard at work testing Spyfall, Panamax and The Witcher Adventure Game as well as continuing to plumb the depths of the new edition of D&D.
Meanwhile, Matt and Quinns do their best to get in his way. Quinns wants everybody to play his new on-air banana game and Matt needs to talk about corpses, churches and bushes.
Read the full article...
The first Dungeons & Dragons game was played back when Gary Gygax and Dave Arneson chose to personalize the massive battles of their fantasy wargames with the exploits of individual heroes. This inspiration became the first fantasy roleplaying game, in which players are characters in an ongoing fantasy story. This new kind of game has become immensely popular over the years, and D&D has grown to include many new ways to vividly experience worlds of heroic fantasy.
The core of D&D is storytelling. You and your friends tell a story together, guiding your heroes through quests for treasure, battles with deadly foes, daring rescues, courtly intrigue, and much more. You can also explore the world of Dungeons & Dragons through any of the novels written by its fantasy authors, as well as engaging board games and immersive video games. All of these stories are part of D&D.
deadly teens, secret dungeon entrances, the contents of paul's pouch, cookies
Halloween is upon us! That wonderful time of the year where bumps are forcibly inserted into the night, and we can bookend our podcast with creaky door sound effects.
In this horrifying installment we discuss the gore-flecked teenagers of Zombie 15′, the forbidden pouches of Sheriff of Nottingham, the… uh… terrifying suburbs and sidewalks of Subdivision, before finally giving up and chatting about the new edition of D&D, indie RPG Dog Eat Dog and Paul's trip to FiraxiCon.
Listen… IF YOU DARE.
Read the full article...
keith the elf, craven the thief, investio the wizard, cool sex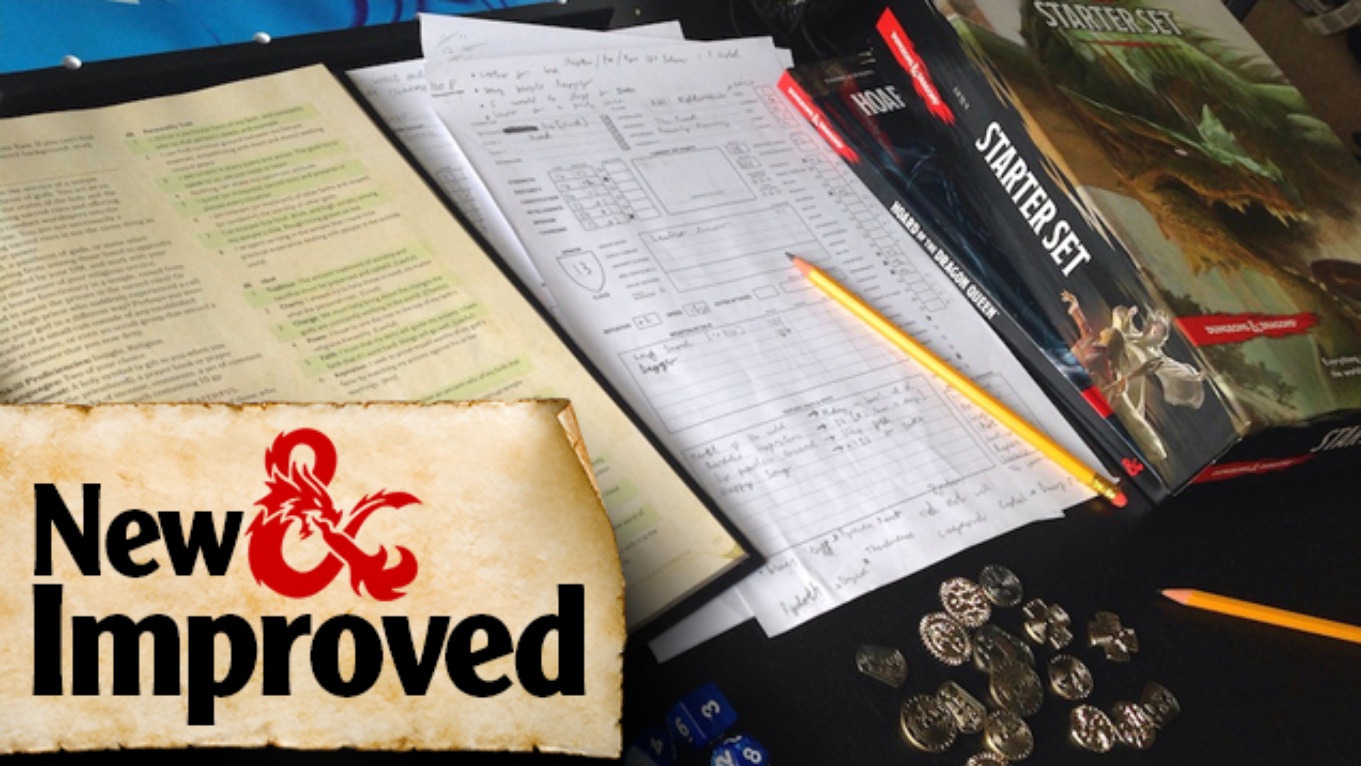 Quinns
: While SU&SD's Star Wars RPG campaign will continue unabated like some grimy, stuttering starship, I've also been playing the
new edition
of Dungeons and Dragons. Did you know how good it is? It's Chaotic Good. Good like a +3 Long Sword of Goodness and Being Clever.
This week I filed a Kotaku column all about just how smart and timely it is. The words include, but aren't limited to, these ones...
"You know how when movies or sitcoms depict D&D, people sit down and within 60 seconds they're being ambushed by goblins, panickedly figuring out who they are and what they're carrying? That's what the beginner box offers. Printed on the back of each character sheet are instructions on how to level up, especially relevant in this version because (again, just like video games) the many and varied power trees of your character class open up gradually. Only once you've been playing for two evenings will you be asked whether your Rogue wants to be a Thief, Assassin or Arcane Trickster. And if you decide to pick up the Player's Handbook for the full rules, you'll find funny, witty charts to help players down the unsettling path of roleplaying."
But I also manage to squeeze some sex and glassblowing in there. Go read!