sweat washes off, john lemon, millennium dollars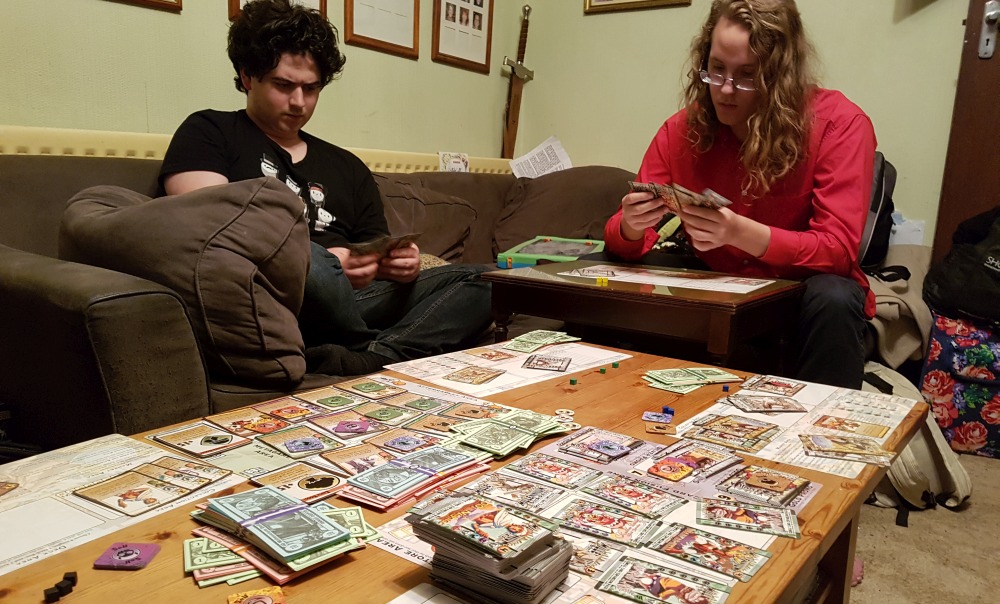 Thrower
: The table is a wreck of cards, tokens and wads of cash. One player has collapsed on the sofa, eyes closed, exhausted. Another feverishly sorts their deck, cards held close to face, unable to understand what went wrong. Someone else has walked out, professing a desire for space and calm.
I'm wondering where the last two hours went and how I didn't notice we now have an audience of a new visitor and a cat. I realise, suddenly, that on this cool spring evening I'm bathed in sweat. This is the aftermath of Millennium Blades.
We've spent the time pretending to be players of a fictional collectible card game in an anime universe. Millennium Blades is, then, a game about playing games. This sounds like a recipe for a design that disappears up its own backside. Instead, this game is interesting, intense and ingenious. Stuffed with self-referential satire, it sits, winking at its players from the comfort of its oversize box. If you can unpick all the parodies from a card called "I'll Form the Head" from the "Obari as Hell" card set, you're a higher voltage gamer than me.
BOLD TRAVELLER! Dare you enter the land of
Ethnos
? There live creatures the likes of which you 
cannot imagine.
 Trolls! Orcs! And what's that, hiding over there in that bush? Why, it's a wizard, laying a 
wizard egg
. It is spring here, after all.
Alright, so the "land" of Ethnos is a bit rubbish. But this is a new game from Paolo Mori, who gifted us with Libertalia in 2013 and Dogs of War the year after that. Surely he has earned a moment of your time? Sit a while, traveller, and listen to Matt and Quinns rave about his latest design.
chocolate vampires, a spot of light burglary, classic trepanning, screams
My goodness! After we were a little dismissive at Gen Con last year, it turns out that
Arkham Horror
is the best card game to come out of Fantasy Flight since
Netrunner
. Pour yourself a glass of interdimensional phlegm, ensure you're sitting uncomfortably, and let Matt and Quinns tell you why in this
spoiler-free
review.
If you're the sort of devil-may-care investigator who doesn't care about forbidden secrets, don't forget that you can watch Matt and Quinns play the whole first scenario in this video. Though actually, in hindsight we've now realised that it's a tutorial mission and actually comparatively simple. You should know that far greater twists and terrors await in the full game!
horror-fallow, delicious finland, a lego boondoggle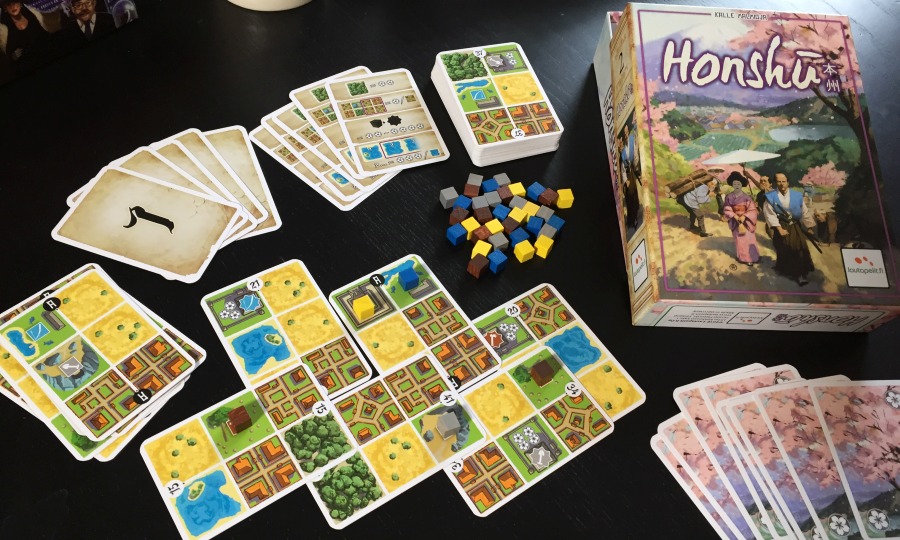 Quinns
: Alright. You see
Honshu
, pictured above? You're looking at one of the most desirable boxes on the planet.
The best thing to come out of Finland since karjalanpiirakat, Honshu made a name for itself during the American convention circuit last year. Contained in its small, peach-tone box are some cards and cubes, and contained within them is a simple card game, and contained within that are Japanese towns of your own design. Players draft cards and tuck them under and over one another in a gentle jigsaw, probing and pondering different arrangements, searching for a high score.
This site's own Paul Dean was convinced after a quick play. So many people were convinced, in fact, that a publisher is finally bringing a shipment of Honshu to America next month.
But should you buy it? Ah, let me help you with that as a European, from the land where copies of this game are considered weeds, and I often have to throw away four or five mouldering copies of Honshu before my breakfast of limppu and kissel.
Honshu is good, but is it "SU&SD Recommends" good? Let's find out.
the nude FBI, making grapes, good buddies, a machete
It
could
 be the voices that whisper ceaselessly inside our skull, but it seems everyone is talking about
Arkham Horror: The Card Game
! We're only going to review it after a lot more plays and a few more expansions, but for now why not watch Matt and Quinns play the first chapter of the first campaign? For reference, here's that
Garth Marenghi
thing they keep referencing. If you haven't yet seen it, do get the DVD. You're in for a treat.
And hey! Since we're in the middle of a donation drive right now and it's the season of giving, we've got yet another video coming in just a few days. Want it a clue? It rhymes with "Wingdom Beth Ponster Peview." What could it be... ?
misleading parties, friendly predators, marmalade skies, home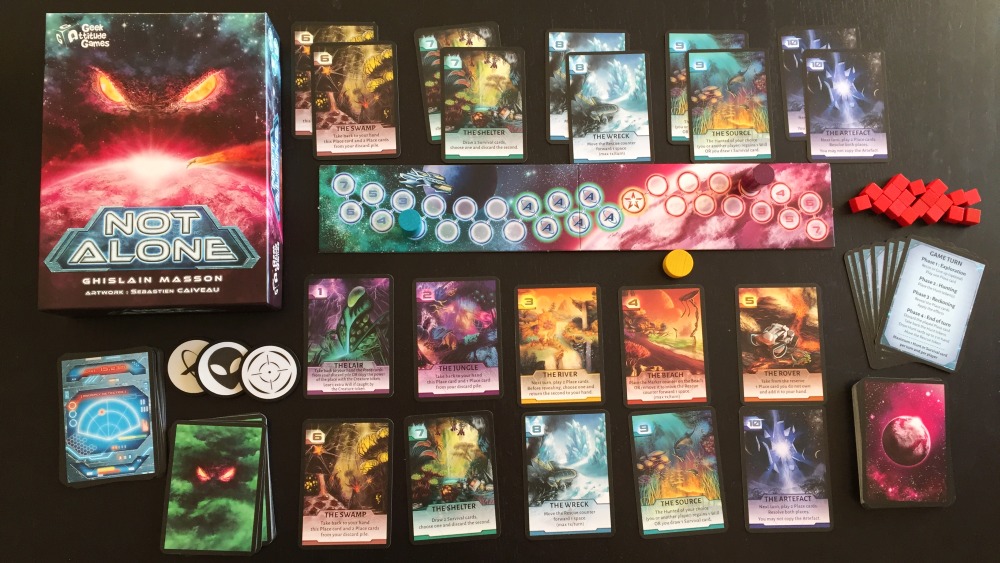 Quinns: You and I need to talk about Not Alone. There are more exciting card games out there, and funnier ones, and ones that are sharp as a tack, but Not Alone is the most deliciously playable little game we've encountered since Crossing. This box might as well be full of popcorn.
Between 1 and 6 players are the survivors of a crash-landing on a wild alien world. This team (possibly made up of just one nervy player) is opposed by one final player controlling the beast that lives there. A long, thin board measures the progress of each team: The humans win if they can survive until help arrives, the beast wins if it can wear down the humans and absorb them into the ecosystem like beer into a shag carpet.
Each turn, each human player plays a card face-down showing where they're going, and the beast has to second-guess their movements and slap fat poker chips onto those locations, invalidating your turn or worse. If the beast itself catches you then it devours a precious "Will" cube.
Do I have your interest? Of course I do. You're a weak-willed human, and this game is a seductive new land. Let's go exploring.
Katherine F. Tynderflail-Crustington, he's the worst, who invited that guy
Following on from our
early review
of Mysterium and our video that
teaches you the rules
, today we're rounding off our coverage with something a bit special. It's our most ambitious Let's Play EVER, featuring both more cameras and
more dressing up
than ever before. We're also playing exclusively with the new characters, locations and weapons found in the new expansion,
Mysterium: Hidden Signs
!
Huge thanks to T.D. for the set-dressing on this one, and to Leigh and Jessi for being thoroughly excellent 1920s psychics.
Everyone else, have a great weekend!
having a bear, druid dealing, whale song, assisted by the gods of the volcano
Ahh, is there anything more beautiful than that most classic of English summers? What about the so very gorgeous cards of 
Mystic Vale
, cards you don't just play, but cards you can 
build
, piece by piece?
Intrigued? You bet you are! We took our two most experienced druids, Quinns and Matt (Paul is a bard), and we put them in a room with cards and crystals and radiant peaks. We asked them not only how it compares with our two very favourite card games, Trains and Arctic Scavengers, but if it's capable of being as beautifully magical as the luscious Seasons.
Unfortunately, there was too much conjuration energy in that room.
put the "oo" in boo, put the "host" in ghost, i can't think of any more
We reviewed Mysterium so early (and
so breathlessly
) that we never got to do a video on it. Gaw bless these rules explanations for letting us fix that!
Mysterium didn't so much replace Dixit as murder it in the attic with the mantelpiece clock, and Asmodee's new edition is just gorgeous. In fact, we're planning a full Let's Play as soon as the Hidden Signs expansion arrives, which could be as early as next month!
treasure dumps, hot hot tents, wanted birds, unwanted birds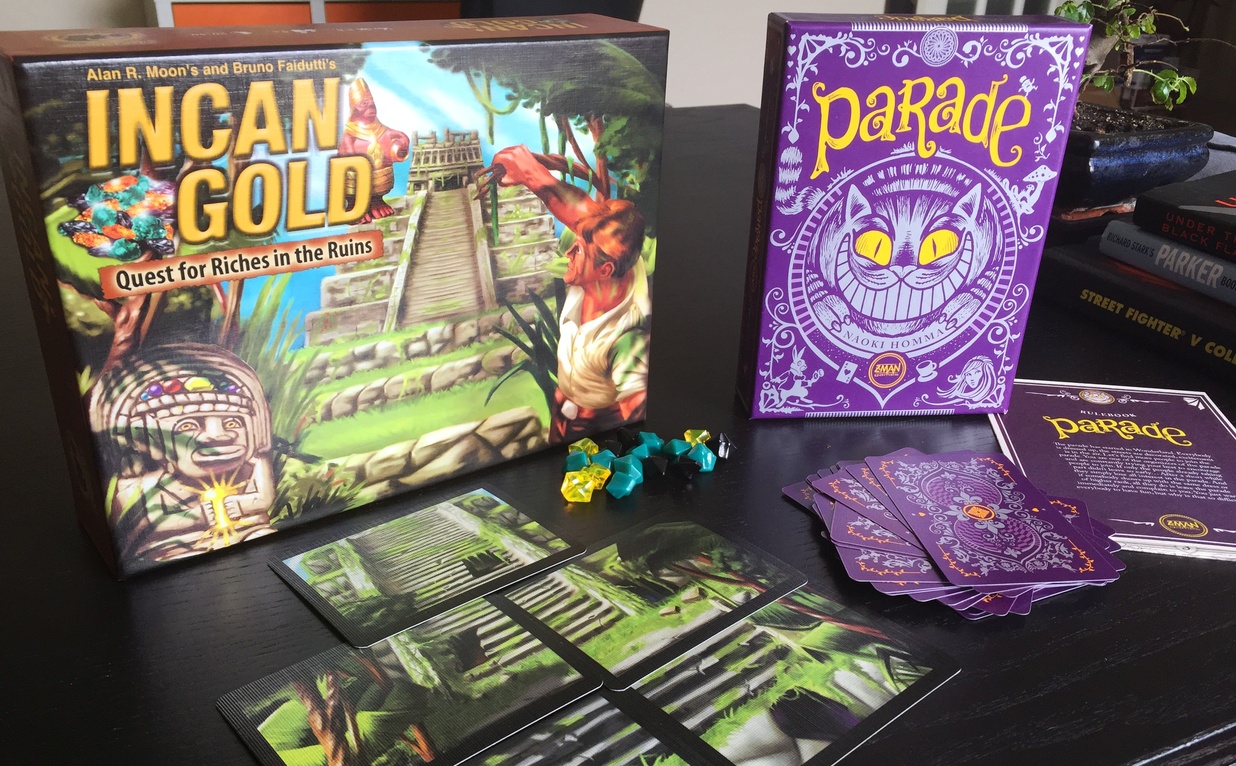 Quinns
: You know double-yolk eggs? Those rarest of treasures that whisper "It's all going to be ok" up from the pan? Well, today you get a double-review! Enclosed within the brittle shell of this article are not one, but TWO of the greatest card games we've ever played, full of fatty fun and caloric goodness.
Please ensure your credit card is secured in your official SU&SD fast-draw holster before continuing. We're serious. These games are very, very good.