Star Munchkin: Hidernament Hothpek of Bazaday, Blood Bout!, Puzzle Spoin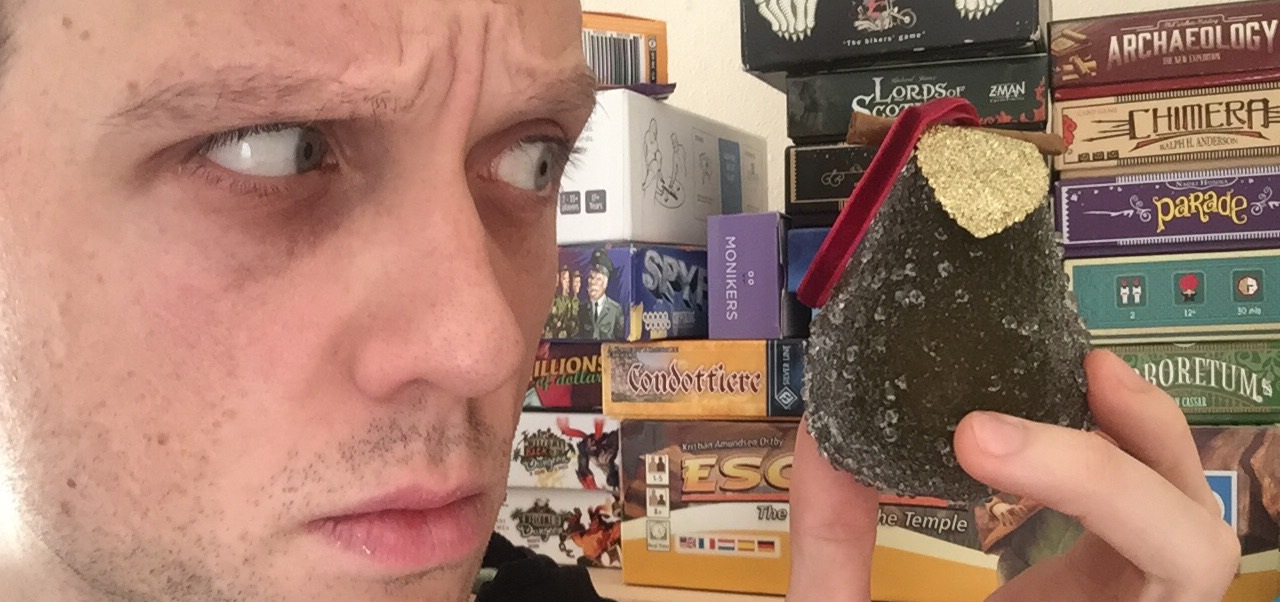 Paul
: Good morning, Quintin!
Quinns: Good morning, Paul. How are you on this brisk winter's morning?
Paul: I am so refreshed and wholesome.
Quinns: I slept curled up, and a draft in my bedroom froze me into a parenthesis.
Paul: What does that look like?
Quinns: )
But nevermind my failing body. Paul, voting has begun for the annual Pearple's Choice awards on the SU&SD forum! Everybody reading this should go and vote for their games of 2017, and we'll be discussing the results on our year-end podcast. Vote now to replace disappointment with frustration! Isn't democracy fun!
bursting potions, chess rebellions, sleepy krakens, vlaada's hot nethers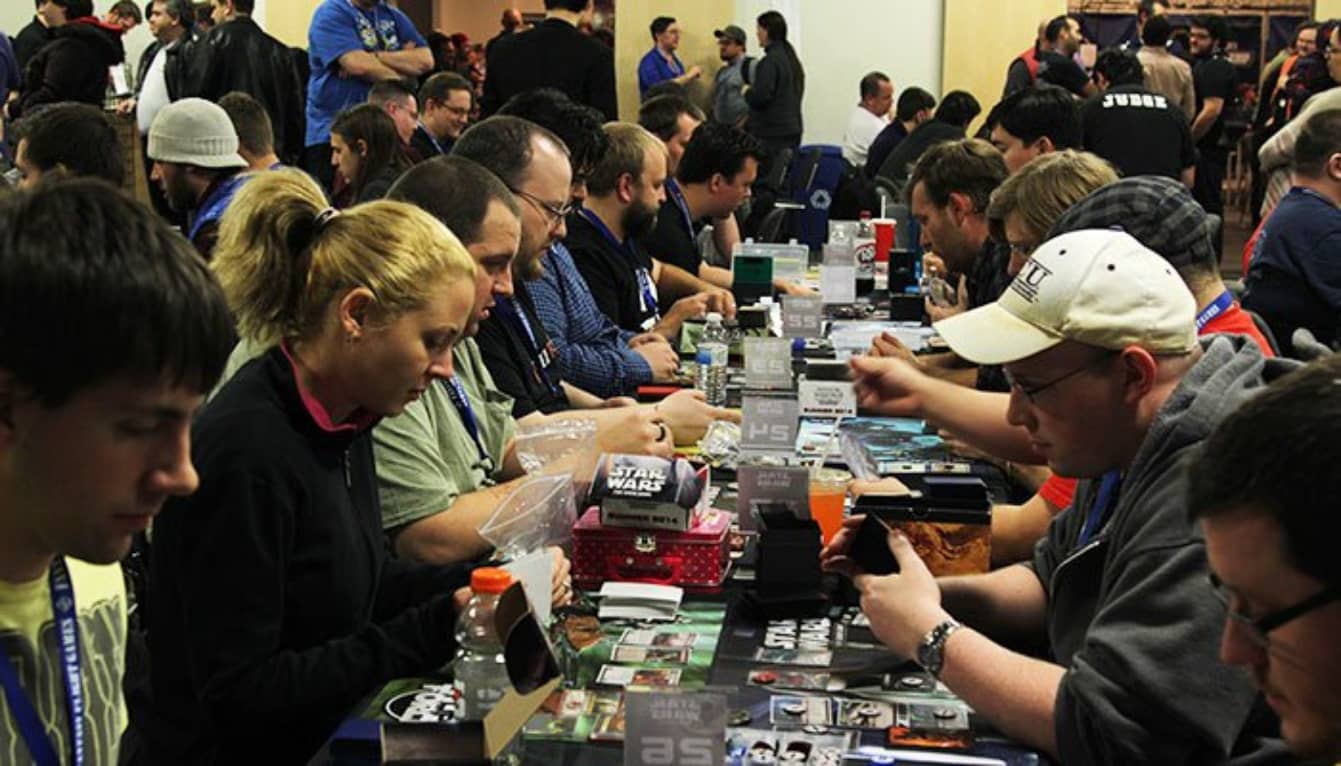 Quinns
: I write to you, toothbrush in mouth, suitcase open, packing for
the trip of a lifetime
.
Tomorrow Team SU&SD will fly to Fantasy Flight's 2015 World Championships. We'll be interviewing folks, previewing new releases and generally luxuriating at the world's best publisher of licensed games. We are also going to steal so much stationary.
We'll have lots of content up on the site for the next week, but probably in unusual shapes. In the meantime, here's a quick Games News! A gasp of normalcy before Paul and myself climb onto a jetplane, bound for five days of board gaming. Ah, Roseville, Minnesota! Truly, a field of dreams...
pearls, clams, su&sd godhead, butlin's at skegness, cirri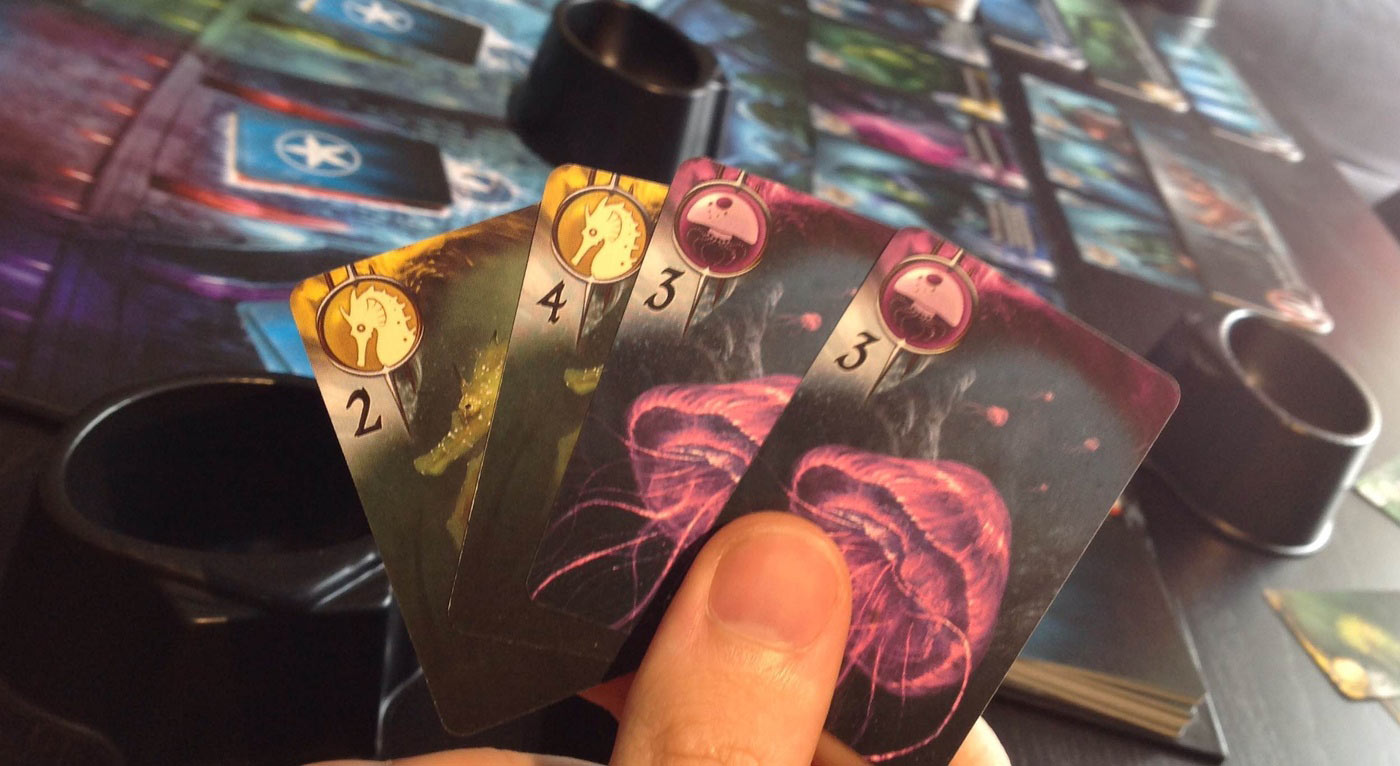 Quinns
: Paul, you're tracking water on the carpet and you've got a starfish on your forehead.
Paul: Oh! Sorry. I've been running around the undersea realm of Bruno Cathala's Abyss. Don't worry, though. Written reviews are rarely canonical so the carpet will probably be fine.
Quinns: What?
Paul: Well, it'll be fine in the canonical universe. After this review finishes our story will return to the SU&SD godhead and this reality will, in all likelihood, be erased.
Quinns: What?!
Paul: You know, like how I killed you in our review of Descent 2nd edition.
Quinns: WHAT? But I've still got so much to live for! I wanted a wedding-
Paul: Life is full of surprises, and so is Abyss! Let me get these barnacles out of my ears and I'll explain.
rubbish seahorses, secret passages, kid with knife, prismatic pandas, james cameron
Our very 21st podcast is a magical journey into the realm of card games. We start in our Lifeboat, fall into Bruno Cathala's undersea Abyss, and wash up in the exotic Eastern home of Samurai Spirit, Panda Poker and Seiji Kanai's Say Bye to the Villains.
Matt, Quinns and Paul have played all of these games, but that's not the best part. It turns out we can't agree about a single one of them.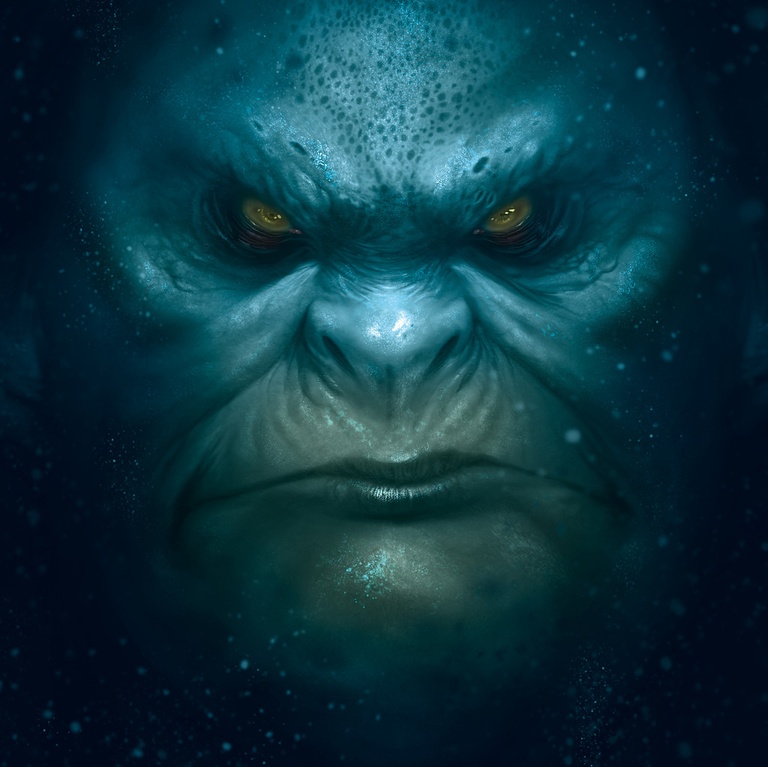 Internal unrest brews among the court of the Abyss. The warlike Crabs bring chaos against the wise mages of the Jellyfish while the merchant Shellfish wage trade wars against the insidious Squid politicians. Can you recruit the allies you need to master the lords of the Abyss?
Venture to Abyss, where players must battle monsters, recruit allies, and sway the great lords of the deep. The right hand of ally cards will let you control the lords who will help you seize the kingdoms of the Abyss. Be careful of your foes, though, because treachery abounds in the lands under the sea!
sudden rainstorms, romantic encounters, sweep the board game off the table, dungeons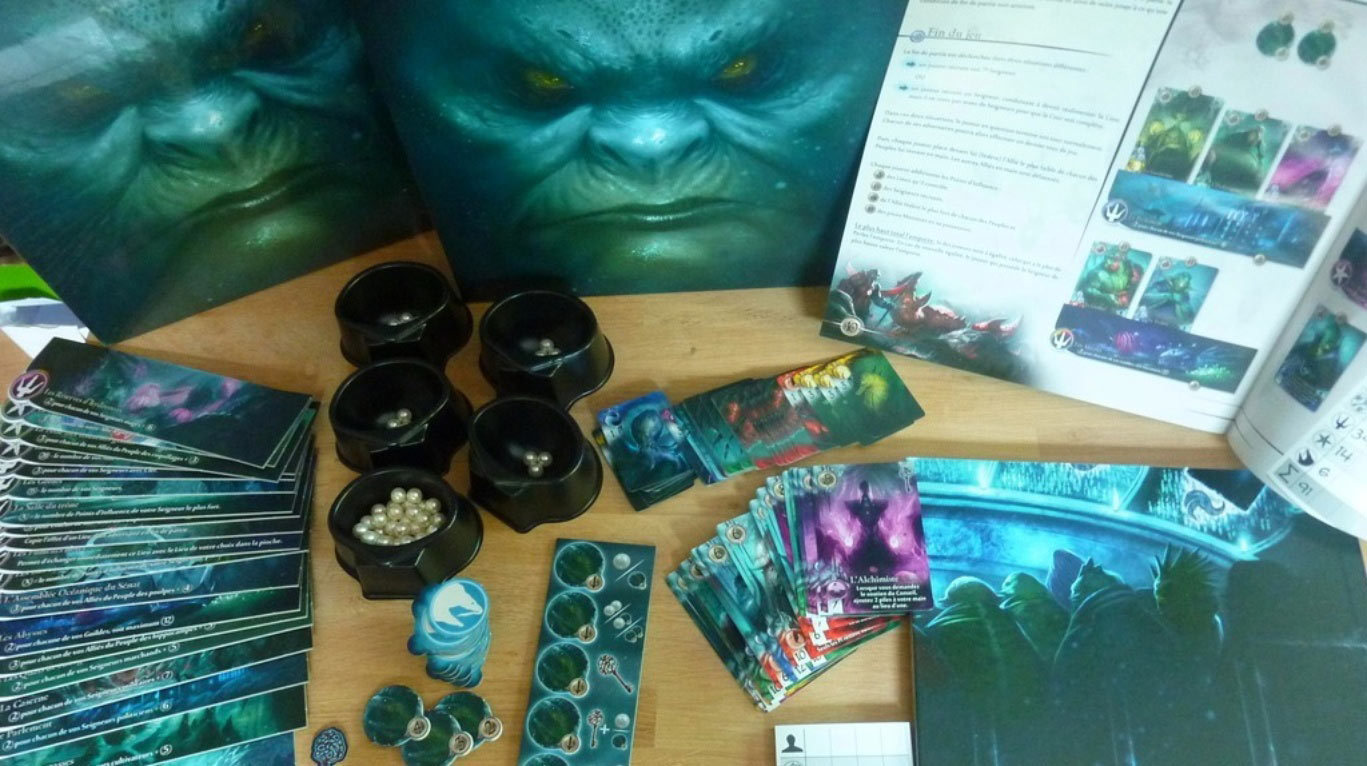 Quinns
: Hello, everybody! How are we all? I spent my morning sweating my way around the warren of central London with all the purpose and grace of
a Hex Bug
, visiting five shops with nothing to show for my brave capitalist efforts. And now there's not much news on the internet, either! What a day.
We'll start with the reveal of the above image, which is the box contents for undersea power struggle Abyss. This game looked exquisite before I knew that it included pearls as a currency, or that the stunning cover is only one of five different boxes. I love what the publishers are doing here so, so much. If this design was any more arresting I'd be in fish prison.
octopus allies, fox mulder, wooden wizards, the card bogs, malfunctioning elbows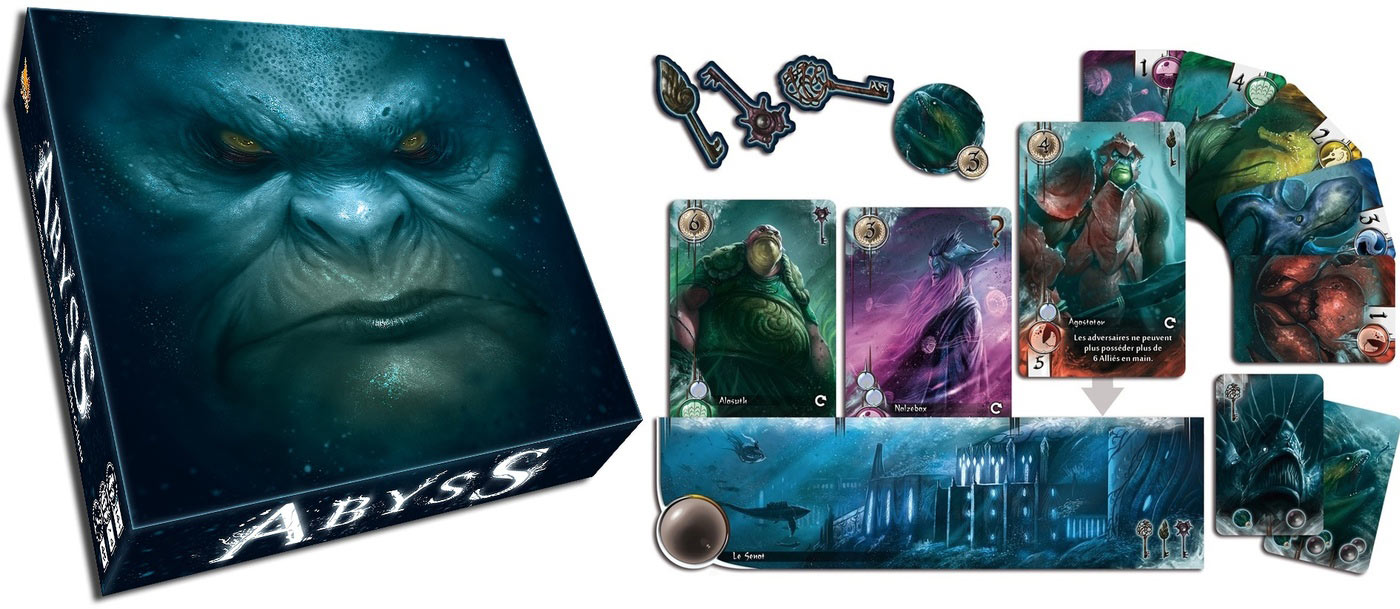 Quinns
: Guys. GUYS. Before I went to bed last night I said a little prayer to the Gods of Gaming. I asked for a very special game to be announced.
I wanted a game from Bruno Cathala, the designer of Shadows Over Camelot and Cyclades, where the players all control wizened undersea lords. A game of politicking and pushing your luck, where you can ally with crabs, control the algae trade and stockpile pearls. A game with beautiful art that's at once ridiculous, otherworldly and beautiful.
YOU'LL NEVER GUESS WHAT HAPPENED.