a dead prince, a drifting stick, a strong spine, steve holt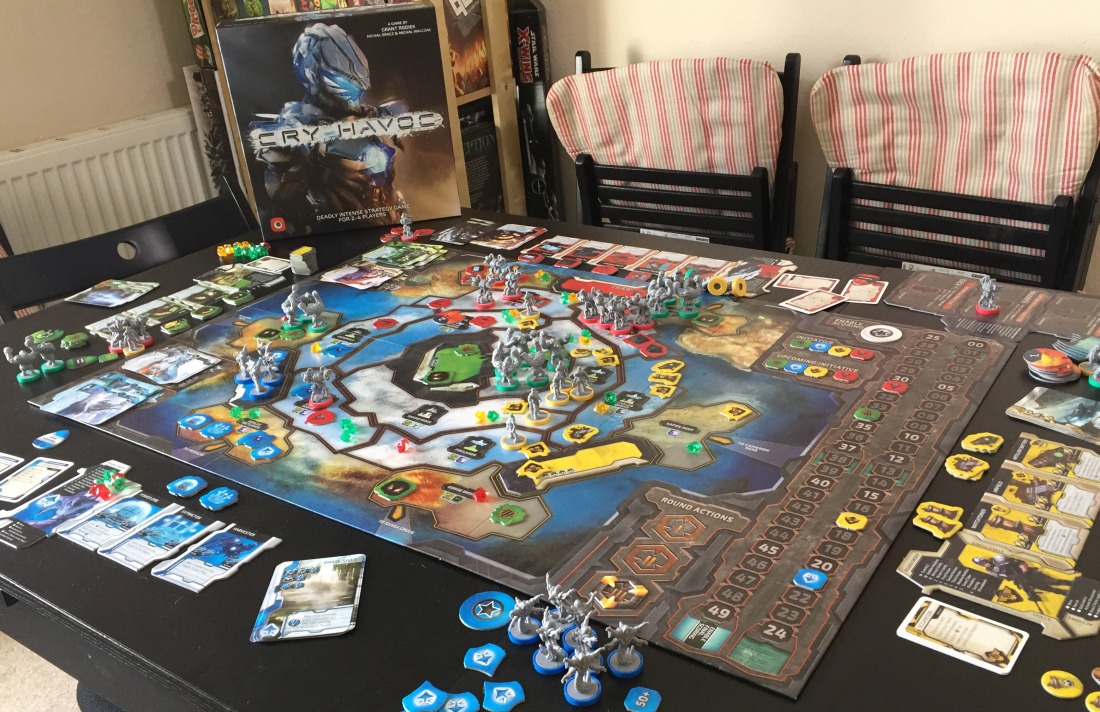 Quinns
: Oh my god. Where do we start?
Maybe just gaze into the above image. Try and take it all in. Crystals! Robots! Colours! Cards! Three dozen unique kinds of token, each with a different shape, as if they were all so scared of this primary-coloured scrum that they started to collapse in on themselves.
This is Cry Havoc, one of 2016's most striking and well-received war games, and if you take anything from its Shakespearean name it shouldn't be wry sophistication, but that this design is as wild and energetic as a pack of dogs.
"Friends, Romans, countrymen, lend me your ears!" Let me tell you what I think of this grand box.
That was another quote from Julius Caesar, you see. I might even do another before we're done. Brace yourselves!
oily eels, a kick in the rules-testicles, why is ireland even on the board, oh no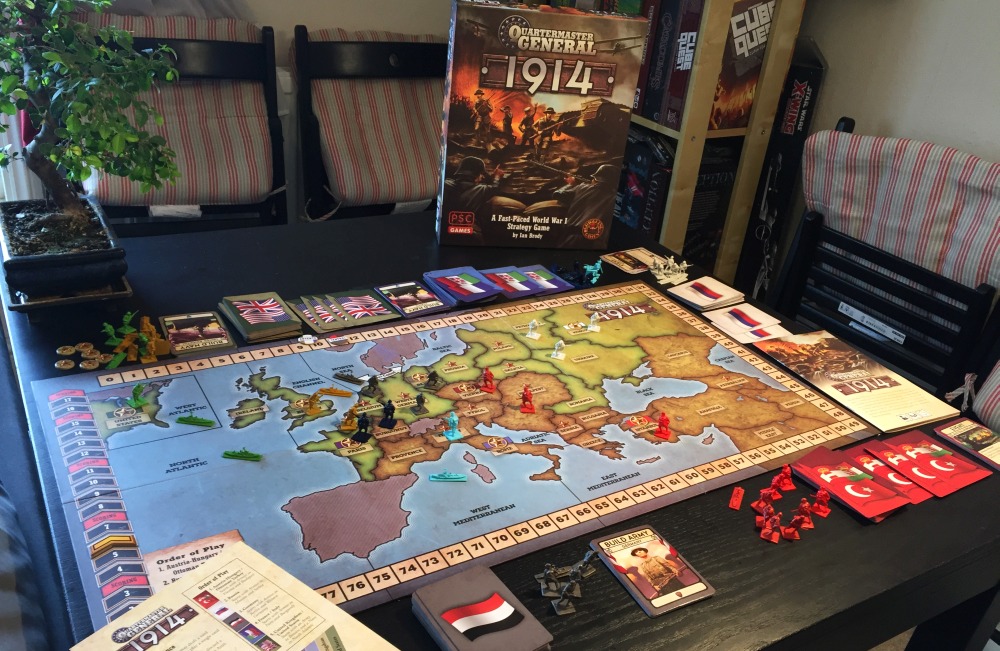 Quinns
: It can be lonely reviewing games by yourself. Matt and Paul might be at the Game Developer's Conference, but I have a solution!
Matt's head made from papier-mâché: that's because you're great quinns
Quinns: Ha ha, you flatter me! Let's get down to business, Matt.
Matt's head made from papier-mâché: i love business
Quinns: Today we're reviewing Quartermaster General 1914, the third (and most highly-rated) entry in the Quartermaster General series. Like Memoir '44, these games might look like stodgy wargames, but don't be fooled! 1914 is a tricky, playful card game that lets you get stuck into the drama and anxiety of WAR without having to measure any distances or frown at charts.
Now, our site has said over and over again that there aren't enough team-based board games -
Matt's head made from papier-mâché: oh goodness no, nowhere near enough
Quinns: Don't speak, you're getting flakes of glue on the table. So team play is exactly what the Quartermaster General series is all about. In our case, 1914 is a five player game where three frail players take on two wealthy ones. It's a tremendously exciting hook, and we're just getting started.
tittering tricksters, twirling triskels, and you, (and maybe your friends)
Gather close to the fire pit, everybody. Paul and Quinns want to tell you about the last of our favourite games from Gen Con 2016. This one's called
Inis
, it's the third game in the series that brought us
Cyclades
and
Kemet
and, frankly, it's a little bit perfect. Not only is Inis the best game of plastic soldiers running around a map that we've played all year, it manages that with a 5 minute rules explanation and - look ma! - no dice.
The only problem is that Inis isn't out yet. English-language distributors don't always get a lot of Matagot's stock in, either, so pre-order at your local retailer to avoid disappointment. And have a fantastic weekend!
satan really is very rude, million-dollar acetate, dolphins kissing
In honour of the Rio Olympics Games, Quinns has done a review about diving! 
Just like
in the Olympic Games,
Captain Sonar
is a contest where two teams dive beneath the seas and try and destroy one another with high explosives, drawing one another's movements on sheets of acetate.
If you regularly play games with a group of six-plus feisty men and women then you've got to watch this video. Captain Sonar isn't just fun, it's like nothing else you've ever played. And even if you can't get those numbers together, Captain Sonar will do backflips to accommodate you. Literally.
Have a fantastic weekend, everybody.
Captain Sonar should be arriving in shops any day now. Pre-order at your local retailer to avoid disappointment!
a cartoon buzzing, a non-existent bear, a wet firewalker, a nonsense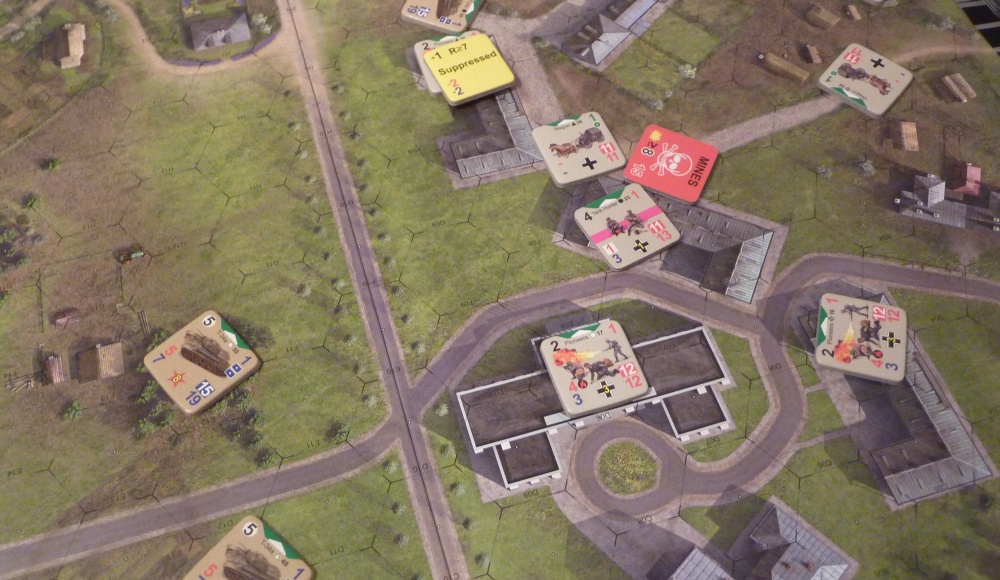 Thrower
: Why don't you play wargames? Why, after all I've forced SU&SD to publish about them at gunpoint, have you not pressed the nuclear button on this this amazing corner of our hobby? There's lots of reasons I can think of. Possibly it's their rumoured rules complexity. Maybe the focus on simulating men being sad in some mud. Or perhaps it's the drab art and thin components?
WELL, I've got a game for you with none of that! It's called Conflict of Heroes: Awakening the Bear (a series you might remember from my primer on wargames or my article on the best introductory wargames) and Academy Games made it just for you. Yes, you. The publisher even said so on its sister game, Storms of Steel. "The historical wargame that Eurogamers love to play," was the actual marketing copy!
You can smell the difference between CoH and typical wargames the second you open the lid. It's the faint scent of solvents from the decadent, multi-coloured printing used on the mounted boards and fat counters. Oddly-named German tanks rumble around in the box. You can even see a flamethrower doing what flamethrowers do in slightly more detail than you probably want. Alas, in spite of the name, there are no actual bears.
bang, ping, ww1 jokes, errant candles, rmble rmble rmble
In some ways, Memoir '44 is the game that birthed SU&SD. Paul and Quinns were playing a long campaign of this definitive game of toy soldiers when they decided to create a board game web series. Historians can find our ye olde review of Memoir
right here
(timestamp 15:01), filmed on a borrowed camcorder on a sweltering summer's evening.
A more recent Memoir video we did is our Operation Overlord Let's Play. While Memoir's campaign books make it a longer game and the Breakthrough rules are there if you want to make it more tactical, Overlord is what you get if you want an epic experience.
If only all games could be tailored to the same extent! What a world that would be.
a really angry slice of pizza, gently crushing an exposed butt, sexy fingernails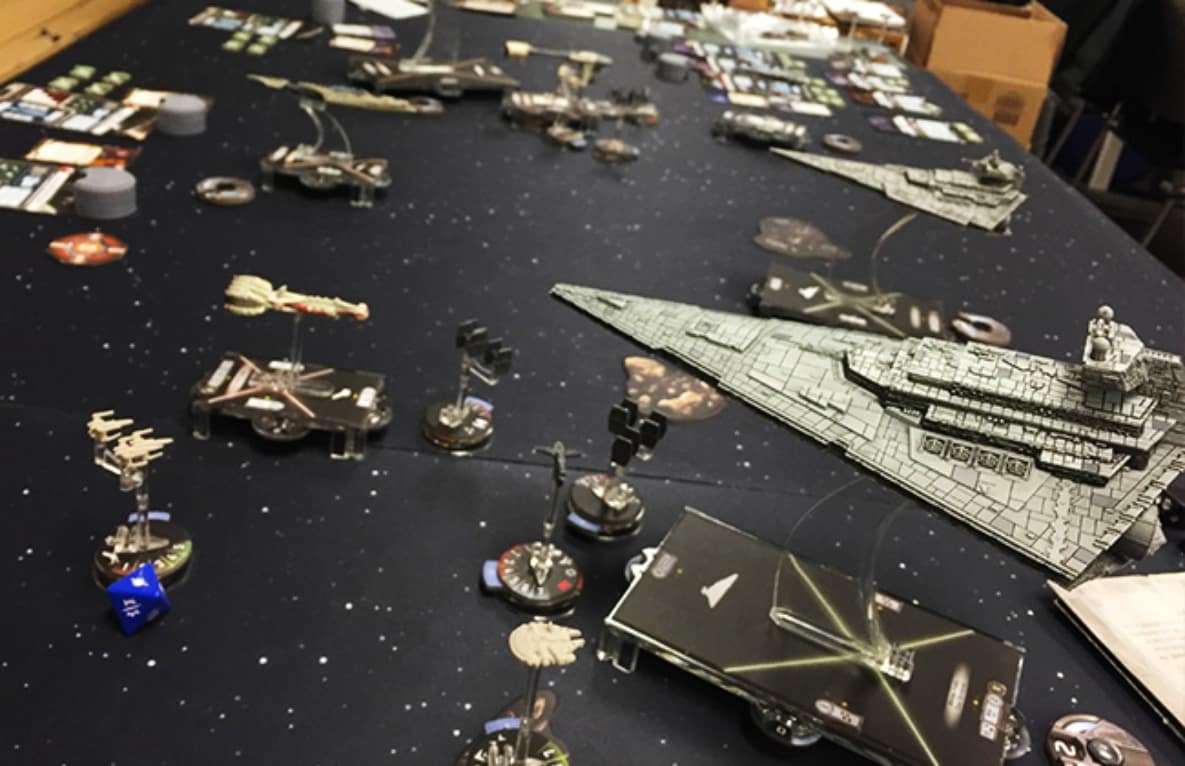 Paul
: Quinns I am so sorry that I blew up your space ship. I know you liked that space ship and you wanted to try out that space ship as part of Armada's Second Wave of Expansions, so I apologise for shooting it until it exploded. It was only a small space ship and it did not take much shooting before the exploding happened, so you cannot accuse me of excess.
However, I hope this won't colour your experience or your impressions of Wave 2, even though I, a completely inexperienced Armada player, blew up your space ship. And also a lot of your TIE fighters. Obviously I didn't do great, being new to the game and a little overwhelmed, yet I still seem to have shot a lot of things. How do you feel?
Quinns: I feel like a man who's been waiting six months for the Imperial Raider, and then you blew it up before it had fired a shot. So much for continuing our coverage of Star Wars Armada, which started with this written review and this fun Let's Play.
head banging, muscle flexing, pipe downing, good old fashioned racism
Following our review of the beautiful
Samurai
on Wednesday, Quinns is reviewing classic game
Shogun
! Which means it's retroactively Japan week and you should all
act accordingly
.
It's worth watching this review just for the fabulous [REDACTED]. How does it work? Where did it come from? We just don't know! Ha! Please stop asking such silly questions.
the ballad of the sweet warlord and Hitler's forgotten shoes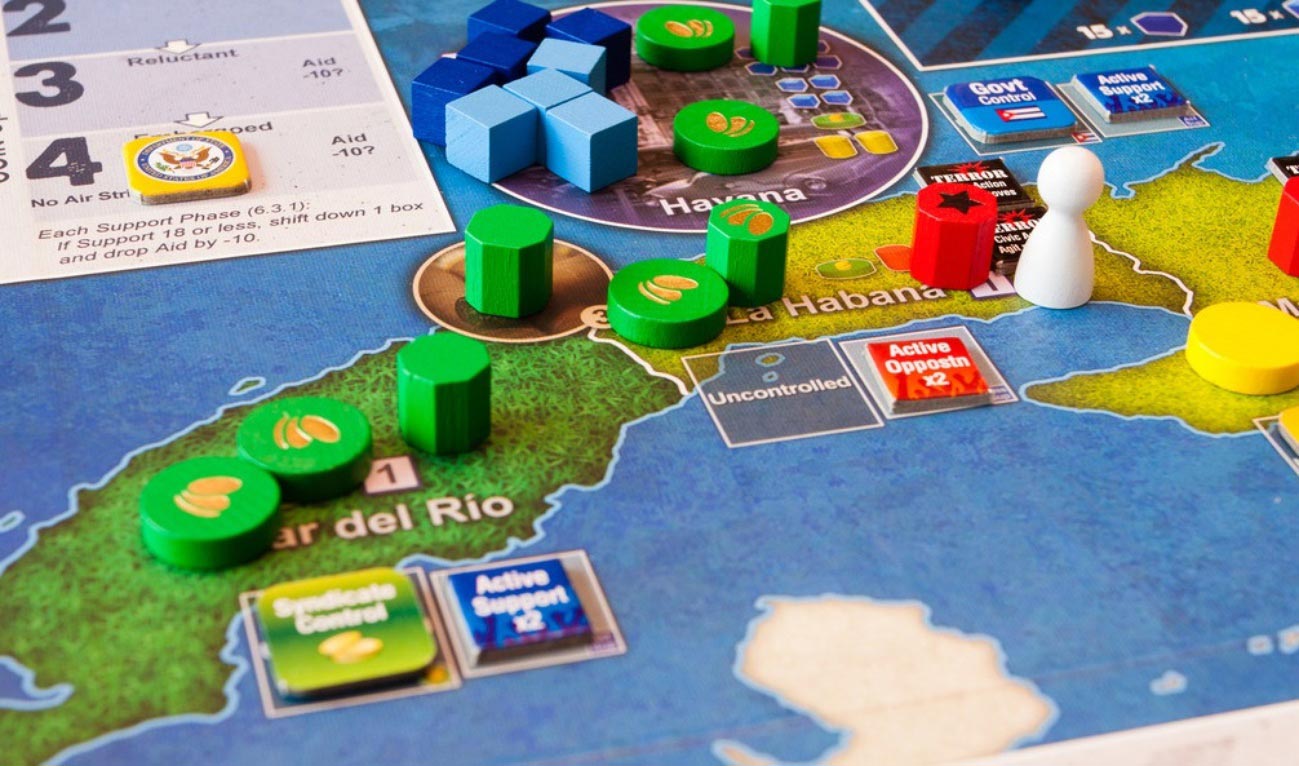 Thrower
: Do you find numbers scary? Do you dread the pointy 1, the razor-sharp 7, the misery of an unsolved sum? If you do, you've probably realised that most board games are just fearsome equations wearing friendly grins.
Designers, however, understand this, and more. They welcome it, glory in it, roll in it like pigs in mathematical mud. Because it's what they use to build the foundations of something fun, yet something real.
Take Volko Ruhnke, designer of contemporary wargames Labyrinth and the Counter-Insurgency (or COIN) series. "Most board games and video games that are about something are models," he told me. "Trading games, railroad building games, shooting games, strategic war games. They all communicate the game designers' model of certain aspects of human affairs."
nubs for the nub throne, all of the guns, oh what a lovely war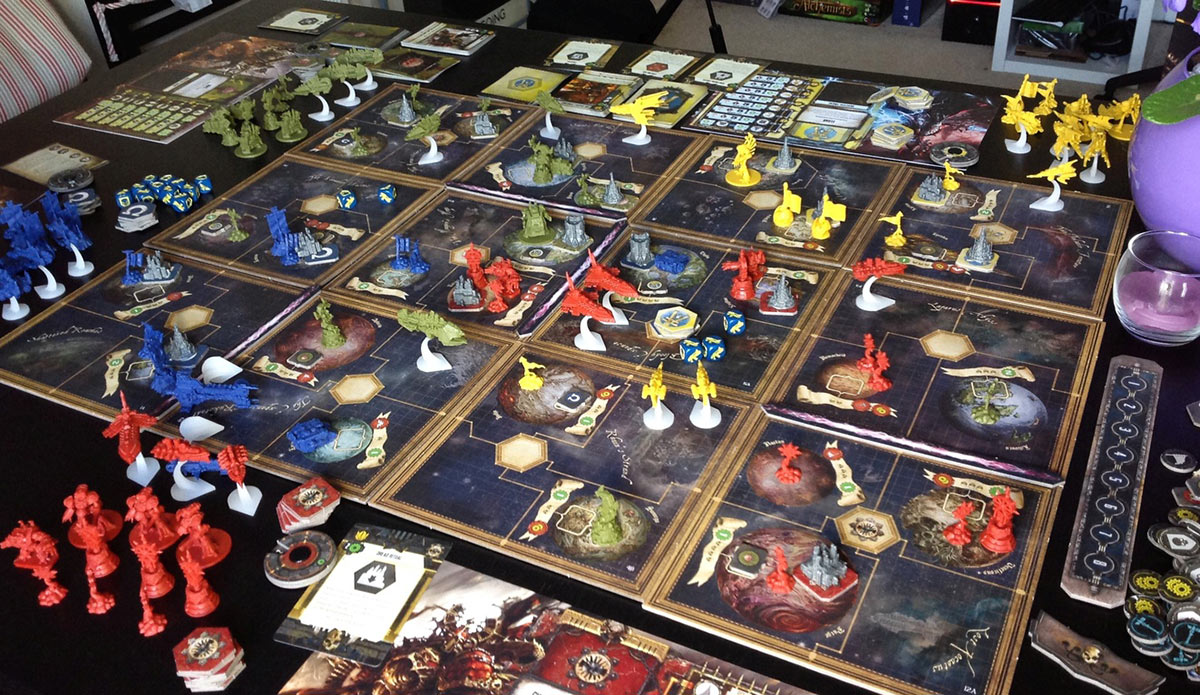 Quinns
: I don't really like the Warhammer universes. When I was a kid I couldn't get enough of them. "In the grim darkness of the future there is only war"? Holy shit!
These days I find them a little tired. Conflict is exciting, but not without peace to contrast it with, and not when you siphon all the humanity out of it. Where's the ego and romance? Where are the themes and mysteries? And obviously: Where are the women?
Let me wrap this up before people start sending me photos of Sisters of Battle, or pointing out that the expanded universe is awesome (I know!). My point is I was a little grouchy when I opened up of Forbidden Stars, Fantasy Flight's new, striking war game set in the Warhammer 40K universe.
I'm happy to say that Forbidden Stars defrosted my icy heart. This game is sensational.