these things are true: the world is dark, and we are alive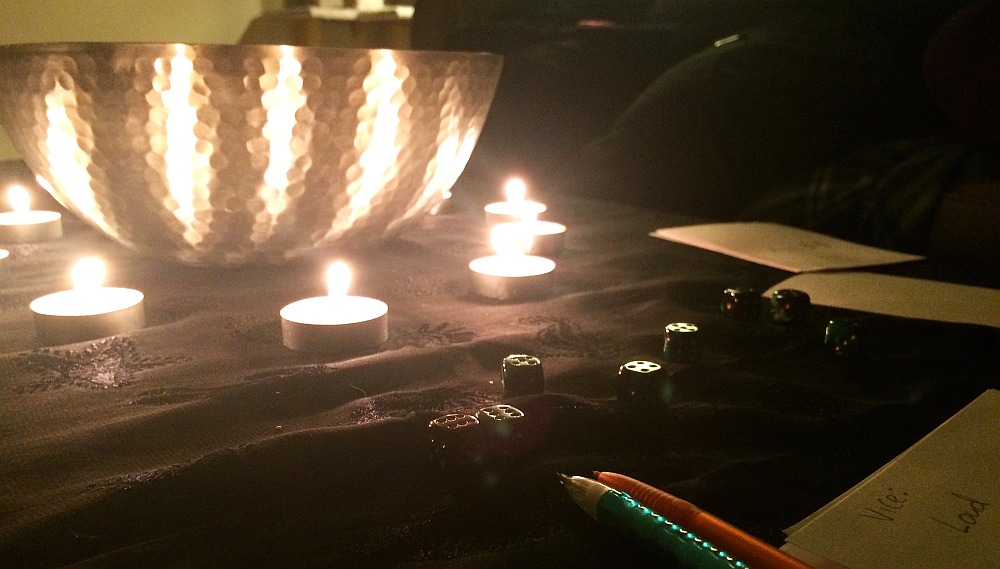 [Introducing RPG columnist Cynthia Hornbeck! As a former Utahn, temporary Minnesotan, PhD dropout and current public school teacher she is radically overqualified for a job with SU&SD. Please, nobody tell her.]
Cynthia: Hello, dear readers! I'd like to invite you all to accompany me to the end of the world, and to your death. Don't worry! I assure you that you're perfectly capable and prepared for the end – as it manifests in the phenomenal indie storytelling game Ten Candles, that is.
Ten Candles is a flexible, firelit game of "tragic horror" designed by Stephen Dewey and published by Cavalry Games. And I'm so totally in love with it. It's many scenarios take place in a variety of apocalypses where thick darkness blankets the earth and an evil force known as "Them" threatens humanity. Oh I know, there are plenty of post-apocalyptic games out there, and I imagine you're all raising your hands to ask what's so special about this one. Well, let me show you. Because what's special about Ten Candles is pretty much everything.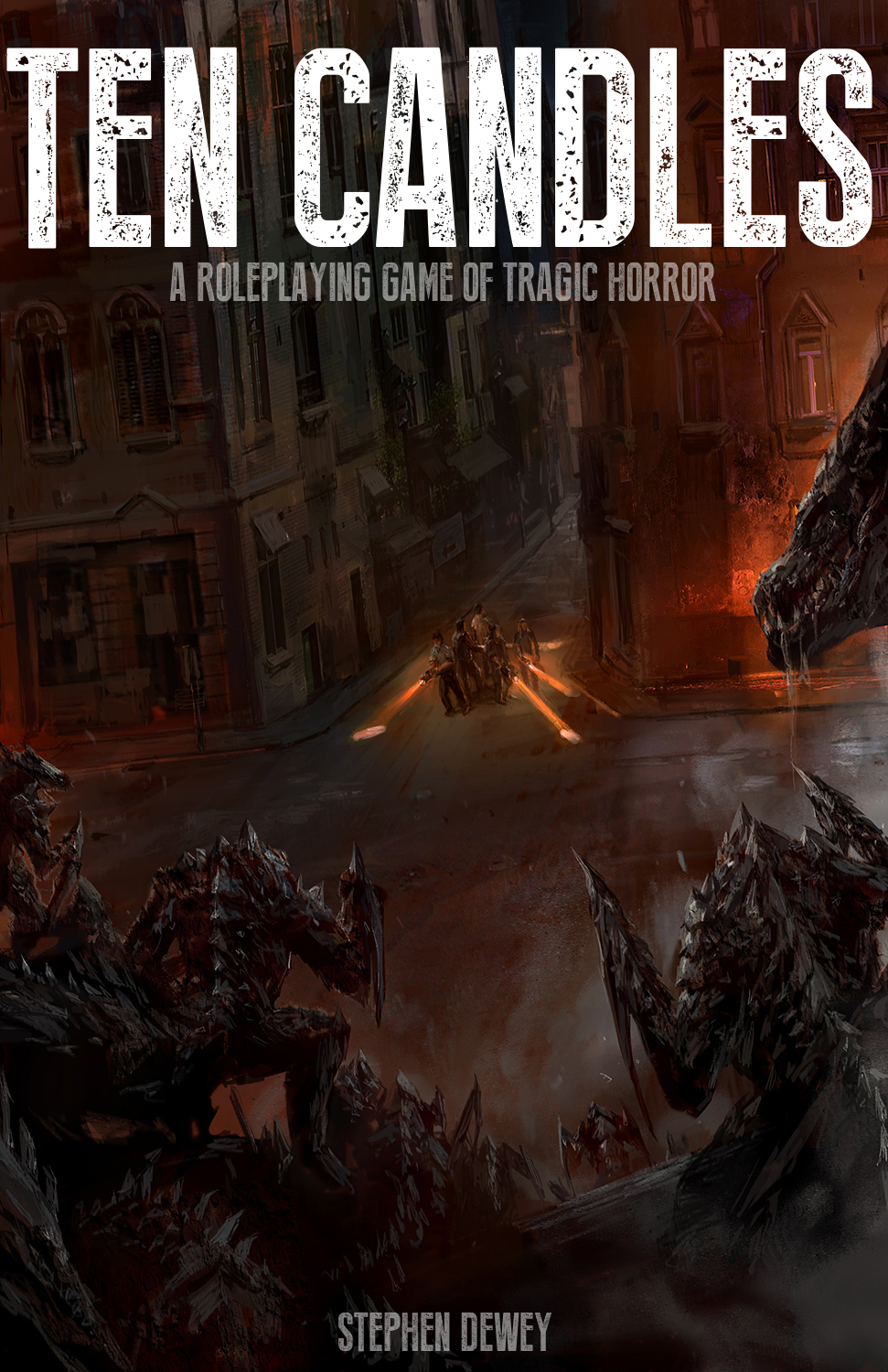 Ten Candles is a zero-prep tabletop storytelling game designed for one-shot 2-4 hour sessions of tragic horror. It was released in December 2015 and is best played with one GM and 3-5 players. It is played by the light of ten tea light candles which provide atmosphere, act as a countdown timer for the game, and allow you to literally burn your character sheet away as you play. Ten Candles is described as a "tragic horror" game rather than survival horror for one main reason: in Ten Candles
there are no survivors
. In the final scene of the game, when only one candle remains, all of the characters
will die
. In this, Ten Candles is not a game about "winning" or beating the monsters. Instead, it is a game about what happens in the dark, and about those who try to survive within it. It is a game about being pushed to the brink of madness and despair, searching for hope in a hopeless world, and trying to do something meaningful with your final few hours left.
The setting of Ten Candles will change game to game as the gamemaster selects different "modules" to run for an ever-changing lineup of doomed characters and scenarios for them to play within. The antagonists of the game also change, leaving you to fight nightmares in one session only to fight sentient shadows, bloodthirsty clowns, or the gods themselves in the next. Every session of Ten Candles is unique and will present an entirely new tragic story for you to tell.
the corpse annex, bow of the bowman +1, trapped birds, candlepower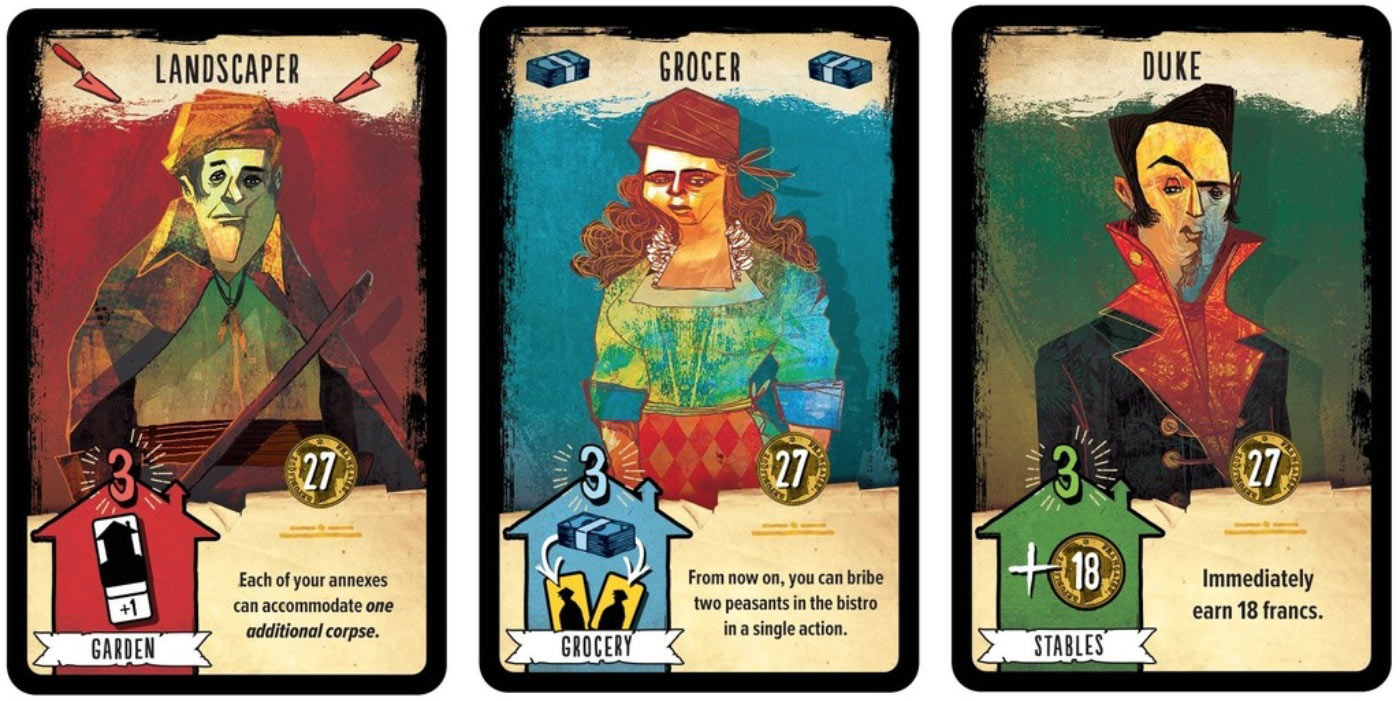 Quinns
: Morning everybody! Our cover photo today is of L'Auberge Rouge ("the Red Inn"), a gorgeous-looking game coming next year from venerable Belgian publisher Pearl Games. It looks like you'll all be running incredibly creepy pubs.
Brendan: oh god what day is it
Quinns: Brendan?! What are you doing under the desk? The Top 25 wrap party is over. You should be at home.
Brendan: i had the worst dream. i reviewed board games for a living
Quinns: Hey, I've got a great idea. You can help me do the weekly Games News! Here, pull up a chair.
Brendan: oh no