crashing india into the ground, bustin' makes me feel tired, hey buddy, buddy
In this shellshocked edition of the SU&SD podcast, Matt, Paul and Quinns crawl out from their writing-trenches to discuss the mammoth feature we published this week:
SU&SD Take On The BoardGameGeek Top 100
. As a postscript, they discuss the dozens of phenomenal games that are cruelly, criminally absent from BGG's fabled list.
Are you disinterested in crimes against arbitrary inventories? Not to worry. Matt also chats about his tiny dice in Star Wars: Dice-Tiny, Paul discusses the impractical politics of Imperial 2030, Quinns has finally rolled around in Roll for the Galaxy and, for some reason, there's also there's a discussion of Ghostbusters: The Board Game II and whether ghosts can move through other ghosts. Ugh.
sparkling lemons, misplaced limes, diamonds and bananas, a cardboard mormon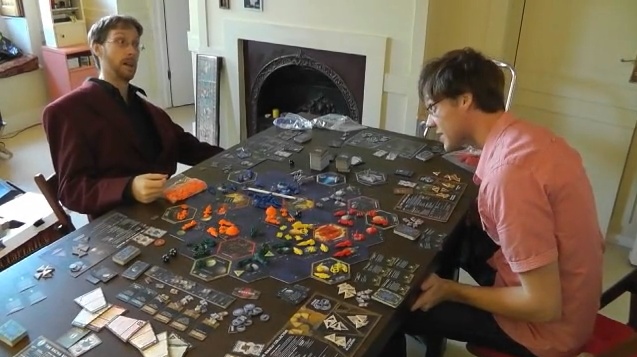 Quinns
: As we continue our marathon-like jog through Board Game Geek's top 100 games ever, today I can reveal that we're out of the weeds. We've played every single board game in the 60-41 slot!
Which isn't to say that we always enjoyed ourselves...
Paul's Cool Zone, Nautical nudges, entombed with Carcassonne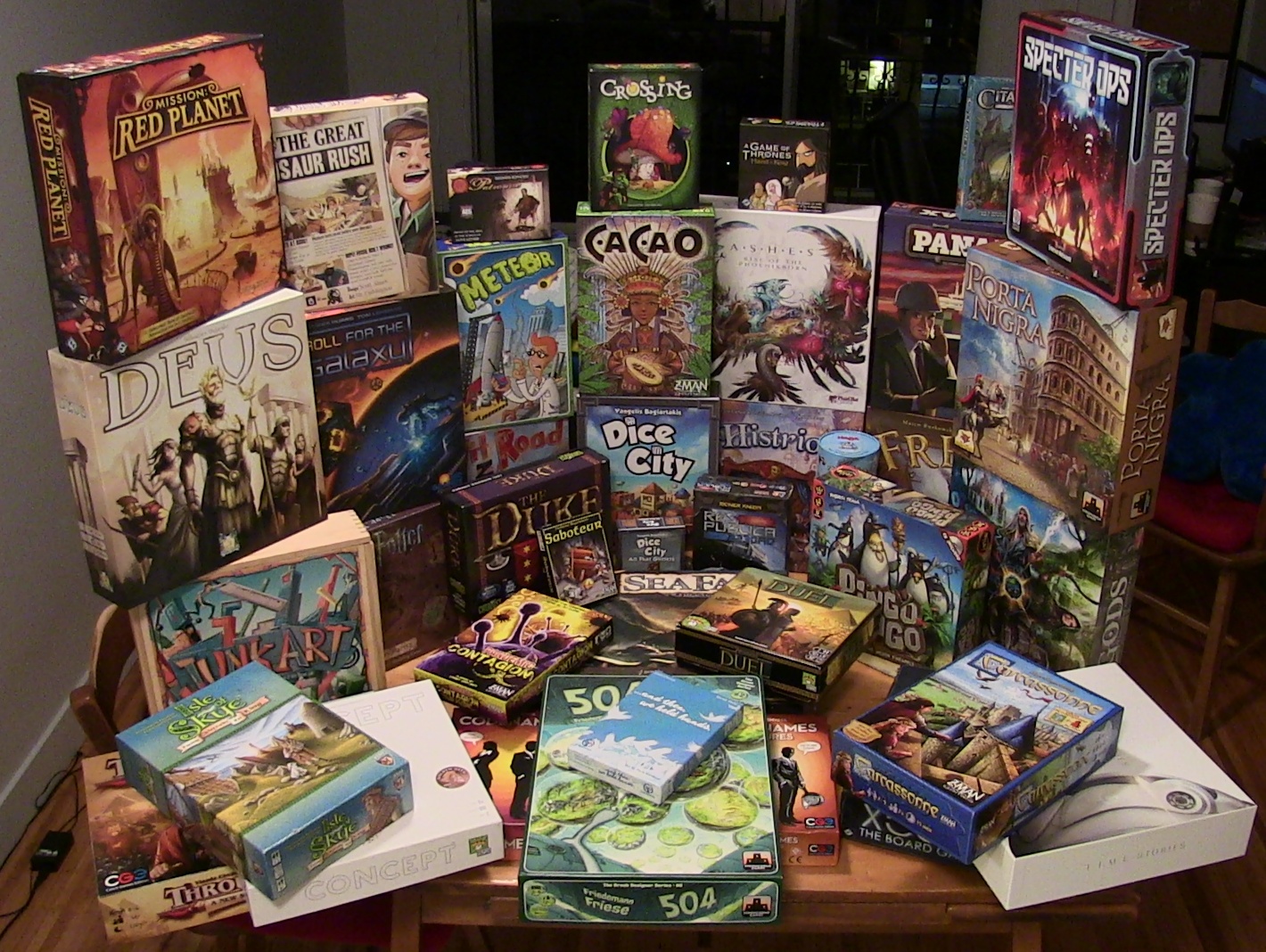 Paul: Welcome! Welcome to a very particular corner of my home. While apartment life in Vancouver doesn't afford me the sort of cavernous attic that we peeped into when Quinns talked about his game collection, I do have a very particular place where I keep mine, all safe and warm and pristine...
Downton Abbey, an accident, 300 games, 800 spiders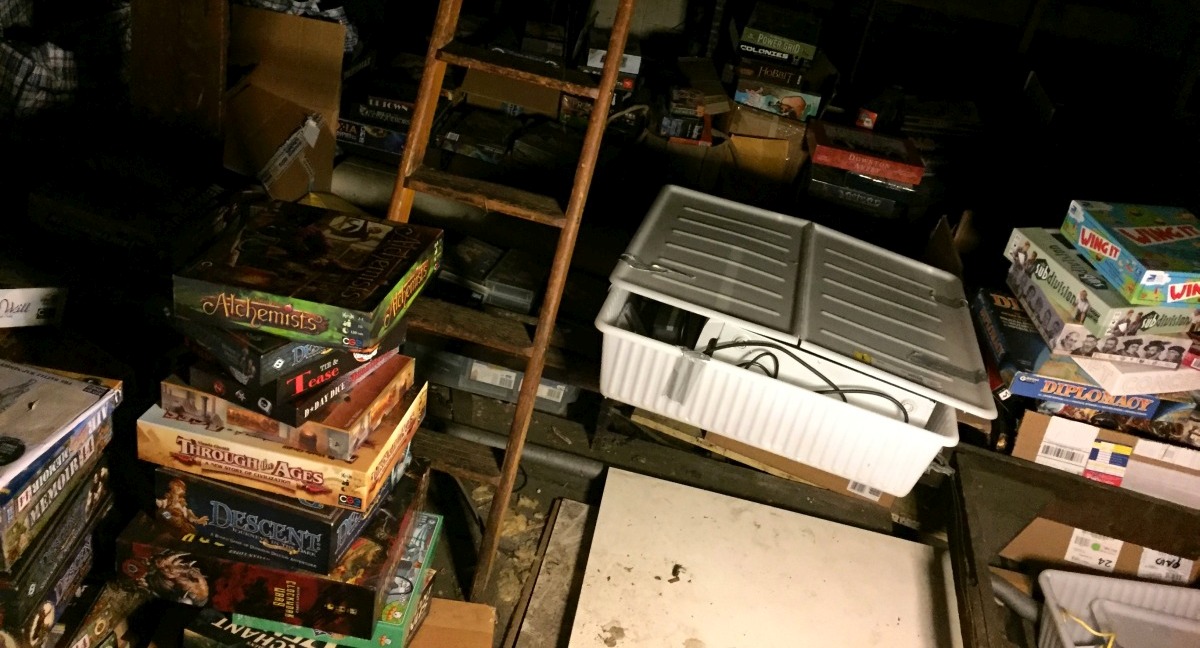 Quinns
: Ladies and gentlemen, roll up! It's time for a new series where we take a look a team SU&SD's board game collections. Come and see! Be amazed. Be aghast. Be envious. Comment with thought-provoking assertions like "why do you have that game it is bad".
You guys will have seen my collection in the background of loads of SU&SD videos, but I don't think you've seen the work that goes into it. Come with me today as I perform... a CULL.
weepinbell, fresh blood, soup stories, beautiful bratwurst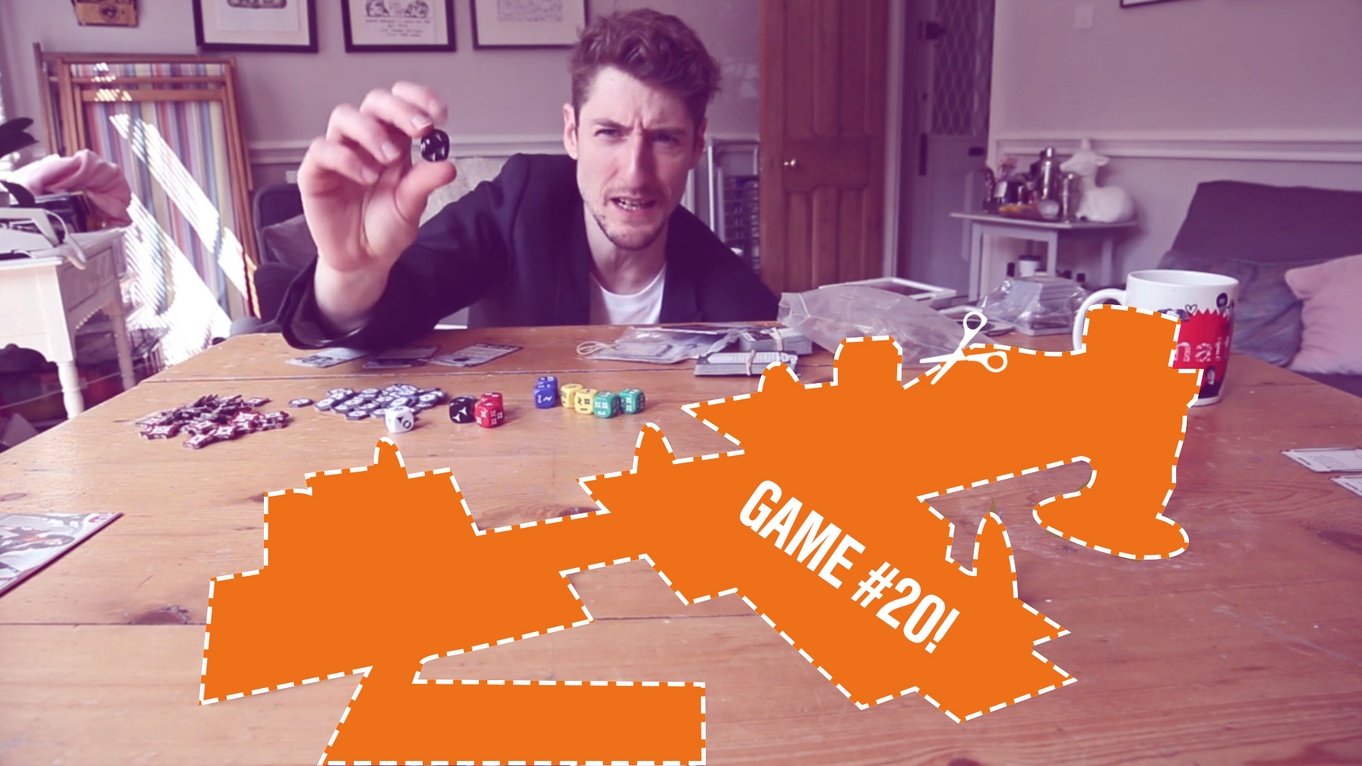 Quinns
: We are entering the teens! Steady as she goes, operator.
Operator: Sir, the site was never built for this! She's going to buckle under the pressure!
Quinns: There's no turning back now. We'd never make it. The only way out... is through.
trilobyte comment threads, indigo livin', night witching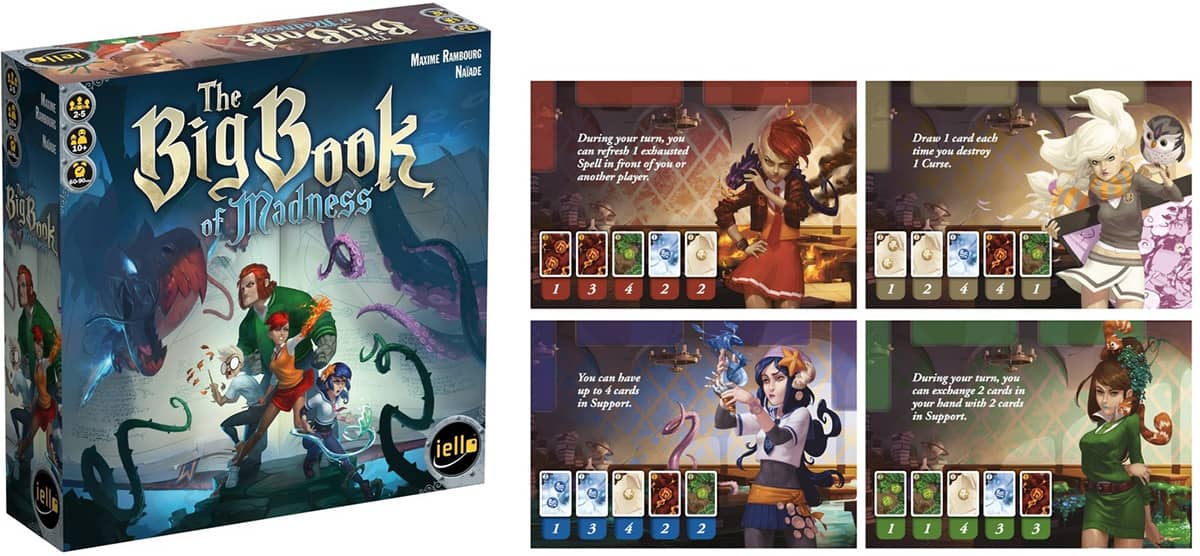 Quinns
: Good morning everybody! News: I've got it, you want it. Let's conduct this transaction like a couple of consenting adults. Stop looking at the door! News is
entirely legal
in the UK.
Board Game Geek News has a Big Book of Madness designer diary up, and goodness me this game looks like a treat. It's a deeply co-operative, Harry Potter-style deckbuilder, but with a more flexible interpretation of deckbuilding that I find very welcome.
Players are attempting to close an evil book and defeat all the monsters spilling out of it, but you're not simply slowly improving your deck as the game goes on. You can improve your deck, or spend your turn putting good cards in your friend's deck, or trying to expunge horrible Madness cards that you'll slowly amass as the game goes on, or actually closing the damn book.
vampire trains, helicopter dice, table regurgitations, mind sports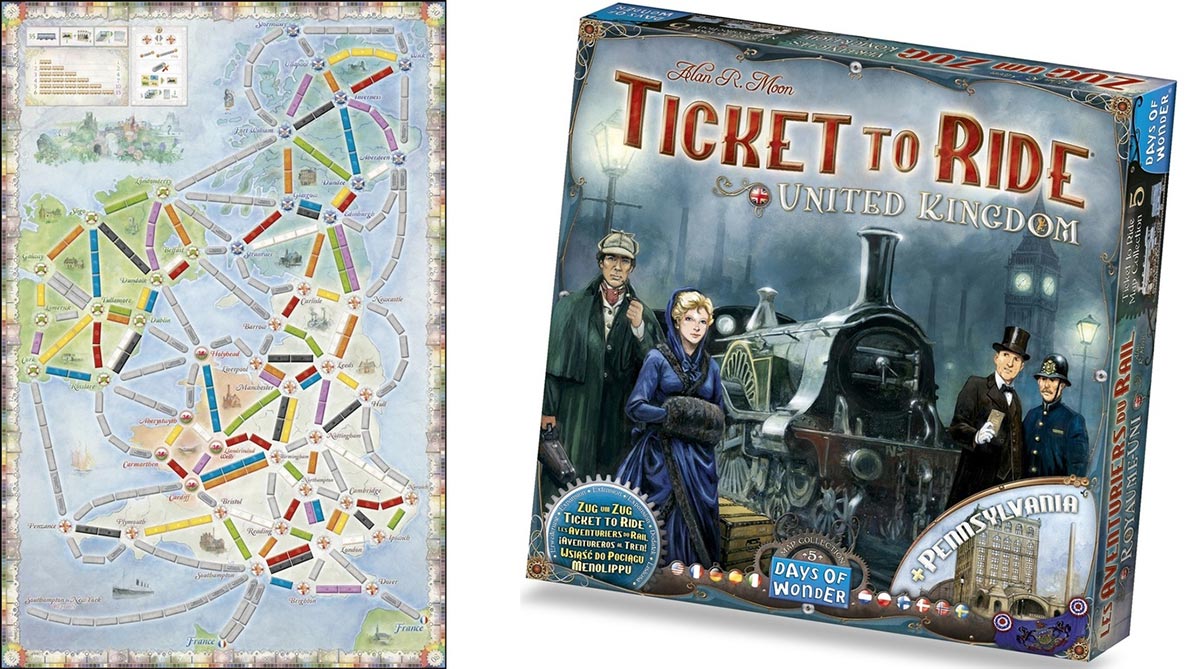 Quinns
: Welcome to the NEWS!
Never mind the jokes and reviews. The NEWS is what you come to this site for for, isn't it? A great sluice-tube of consumer information, poking through your window and filling your life with piping hot knowledge. Praise be to NEWS.
Today's first NEWS is that the latest map pack for Ticket to Ride is now available for pre-order, and will add new United Kingdom and Pennsylvania boards to the train-placement smash hit. As always with Ticket to Ride map packs, the new boards each boast new rules. The UK will feature technology upgrades, while Pennsylvania gets stocks and shares.
"This is boll****," UK Prime Minister David Cameron was heard to have said upon hearing the news. "We waited 11 years to be included in Ticket to Ride, and we're bundled with Pennsylvania? I don't even know where that is. Nobody does."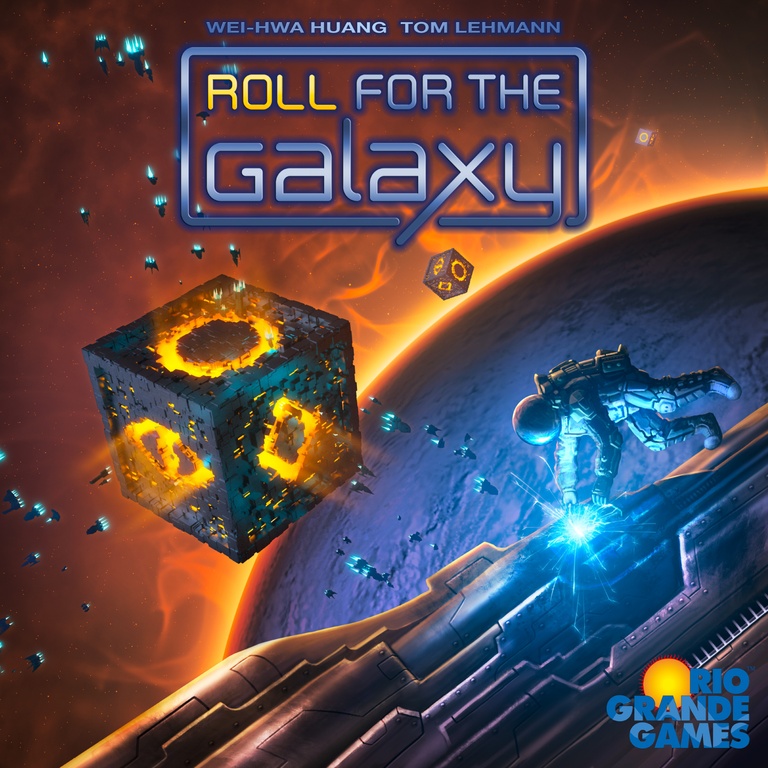 Roll for the Galaxy is a dice game of building space empires for 2–5 players. Your dice represent your populace, whom you direct to develop new technologies, settle worlds, and ship goods. The player who best manages his workers and builds the most prosperous empire wins!
so much throbbing, steamy escape capsule, everything wears a goatee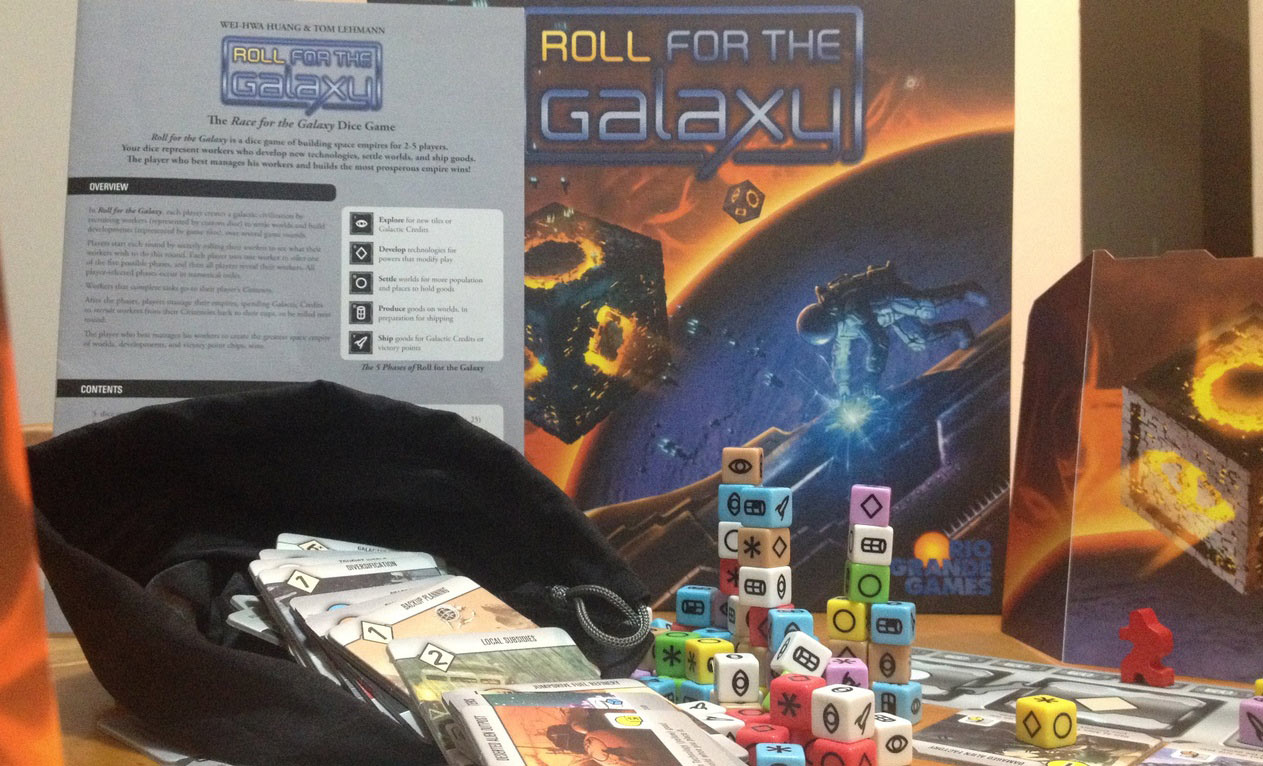 Paul
: I think I can trace my excitement for custom dice right back to my earliest gaming experiences. Dice were supposed to be uniform, six-sided things that counted from one to six. The moment I saw that you could put
other things
on dice, my world was turned upside down. Icons? Pictures? Why stick to just six sides? Any shape you roll could be a die! What was to stop me shaving numbers into the dog's fur and tempting her to roll about the hall floor to decide our gaming fates? Nothing, friends.
Nothing
.
The first time I heard about Roll for the Galaxy's 111 multicoloured custom dice I had to be sedated. I don't actually remember much of the day but Matt says they had to call an ambulance and I recall Quinns, Brendan and Leigh visiting me in a facility specially constructed and arranged to avoid reminding inmates of the platonic solids. Thing is, in that place we still had our black market deals that the staff didn't know about. Ten pounds to touch a D12. Forfeit an evening meal to roll some X-Wing attack dice.
Oh yeah, Roll for the Galaxy. I'd better tell you about it.