quinns' toothy heart, a sad birthday, 8 more complexity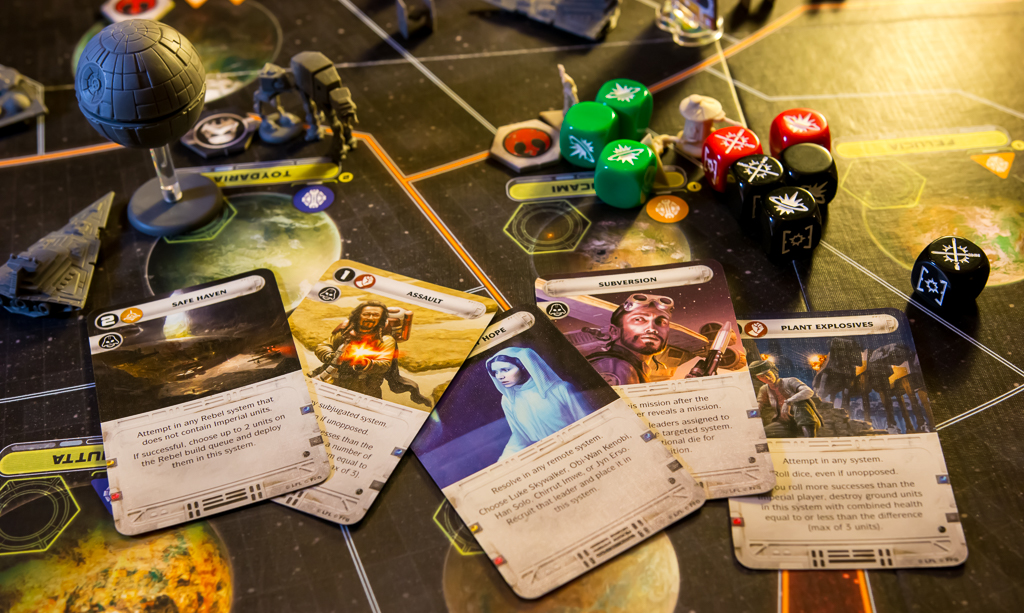 Quinns
: Matt, are you ready to review the
Rise of the Empire expansion
for Star Wars™: Rebellion? To bring everyone up to speed, Rebellion is a grand 2-4 player game set in the Star Wars universe,
which I reviewed
and said it was fun, but I couldn't quite recommend it.
What does the expansion add? Well, let me just quote the press materials: "Rise of the Empire isn't just inspired by Rogue One; it follows the movie's example, adding new depth and story to the Rebellion game experience just as seamlessly as Rogue One provided new insight into the Galactic Civil War presented in the original Star Wars trilogy."
Matt: I just did a big vomit out of a window. In Real-World Terms™ it's an expansion that adds quite a bunch of stuff: new leader characters, new cards, a whole new combat system, more unit types and plastic figures, and a brand new planet: EWOK-HOTH, HOME OF THE CHILLYBEARS.
19 organs, 90 dice, 400 of dollars, 7 previous editions, 1 life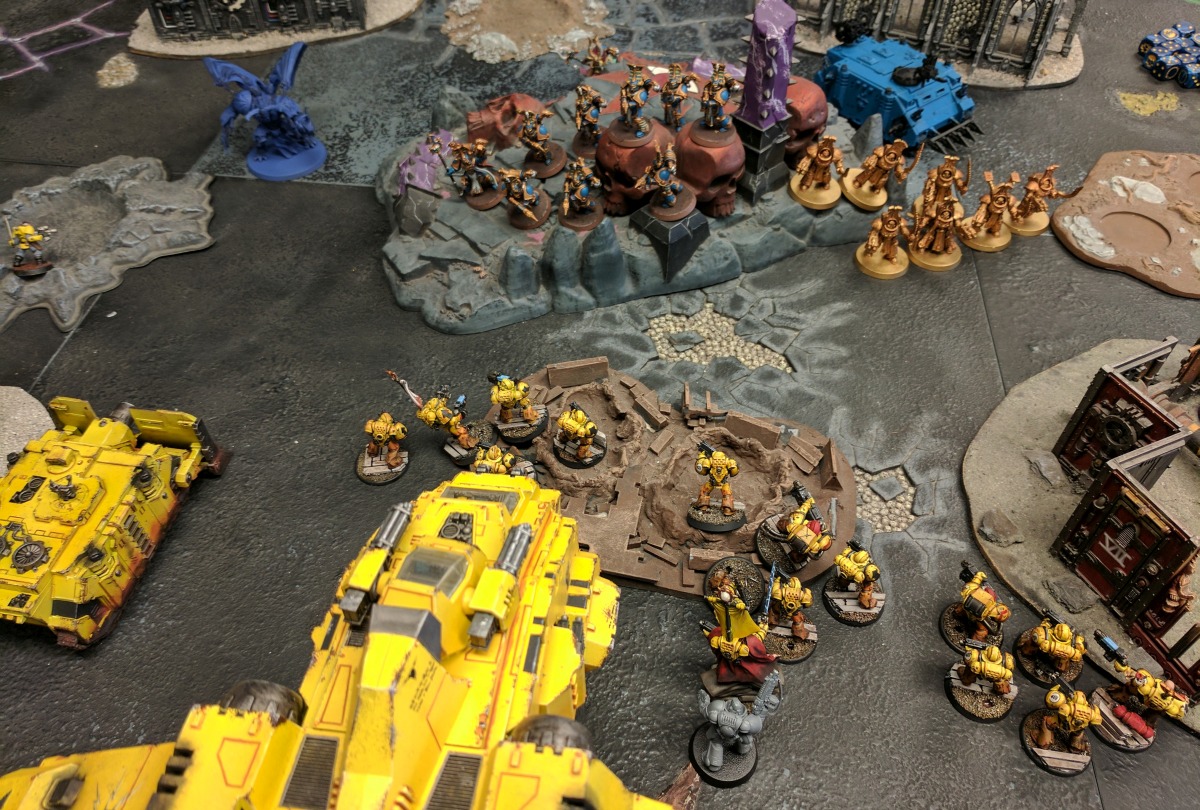 Eric
: For any of what follows to make sense, I need to take you to a place in my past. Imagine the house where I grew up. Follow me down into the basement, past the unfinished walls and pantry shelving and washing machine. Back here, hidden under the stairs. Do you see it?
That was my desk.
It isn't much to look at – an austere, industrial thing. The kind of desk I now imagine factory workers flipping over in some proletarian revolution. But I spent huge amounts of my late childhood and early teenage years here. Pouring through those roleplaying manuals stacked in one corner, drawing elaborate maps on that graph paper, and – as the spackling of color attests – painting the little figurines that line the shelf above.
Those were my first space marines.
About a month ago, Games Workshop released their 8th edition of the Warhammer 40,000 rules. Back when I was painting at that desk, it was 3rd edition I played. As much as those iterations between then and now can be seen as cynical cash grabs – partly because some of them were – there is something noteworthy about this new one. But more on that in a minute.
mount your turtles, biting risks, bloated samurai, tasty details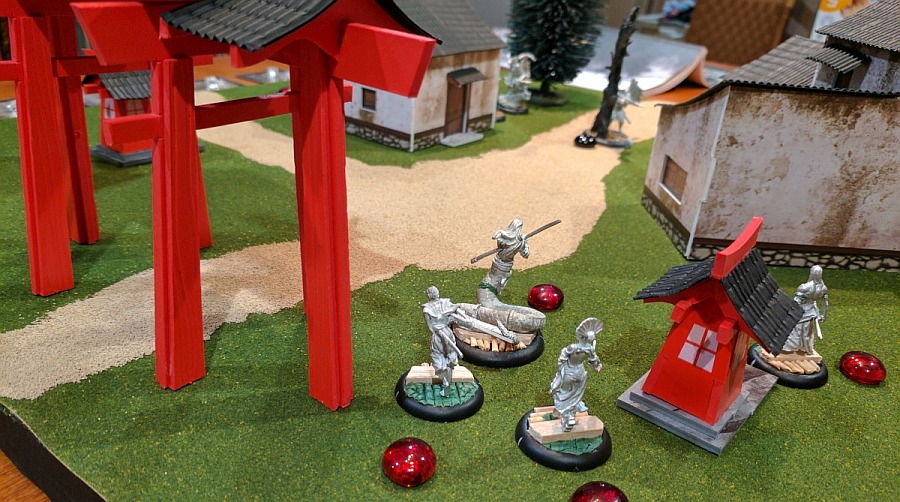 Eric
: I'm standing here, what feels like a katana in my chest, the bodies of my soldiers piled around me. I'm standing here defeated and absolutely delighted, a big grin on my face, trying to figure out what it's doing there.
That was the end of my second play of Bushido by GCT Games - the actual impaling being only metaphorical, if you're the queasy sort, but the defeat and delight being real. From my first encounter, what intrigued me about Bushido was that I found it immensely pleasurable even when I lost horribly. Let me try to explain why.
If the name and picture don't make it apparent, Bushido is a tabletop skirmish game set in a world inspired by Japanese folklore, or at least a western, Tolkein-filtered riff on Japanese folklore. Elves and Dwarves are replaced by Tengu and Oni, the heroes include snake-people and warrior pandas, and the outfits look like the result of a raid on a Kurosawa film's prop closet. All in the best possible way.
a dead prince, a drifting stick, a strong spine, steve holt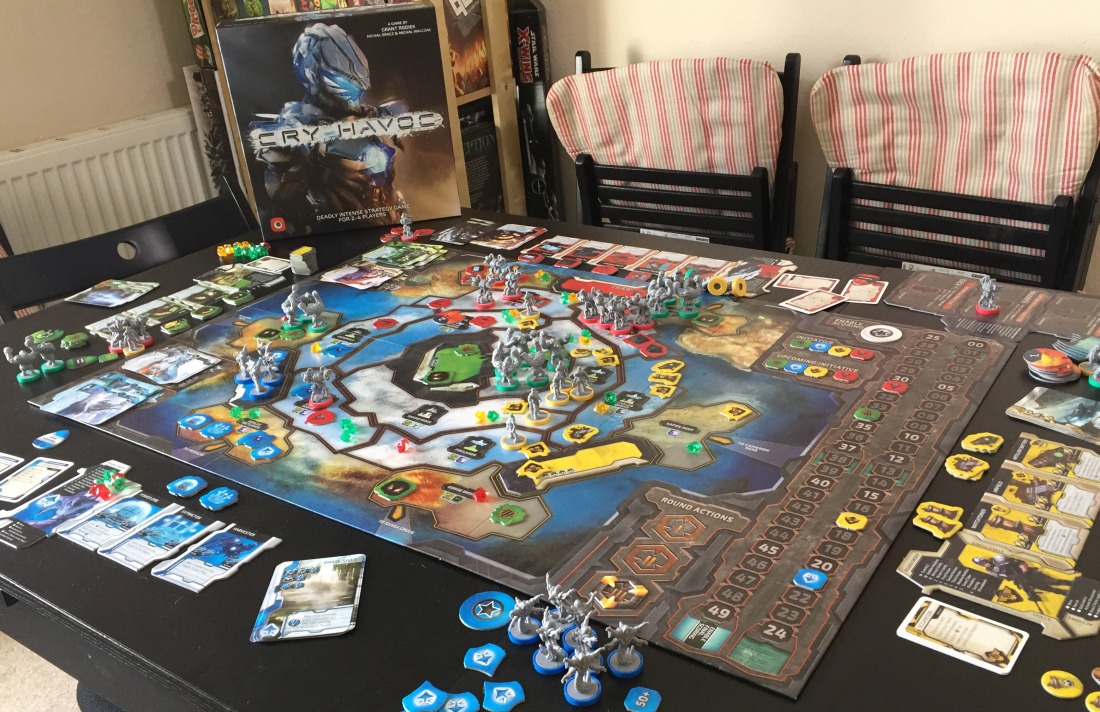 Quinns
: Oh my god. Where do we start?
Maybe just gaze into the above image. Try and take it all in. Crystals! Robots! Colours! Cards! Three dozen unique kinds of token, each with a different shape, as if they were all so scared of this primary-coloured scrum that they started to collapse in on themselves.
This is Cry Havoc, one of 2016's most striking and well-received war games, and if you take anything from its Shakespearean name it shouldn't be wry sophistication, but that this design is as wild and energetic as a pack of dogs.
"Friends, Romans, countrymen, lend me your ears!" Let me tell you what I think of this grand box.
That was another quote from Julius Caesar, you see. I might even do another before we're done. Brace yourselves!
sport, sports, blood sports, mind sports, spoooooorts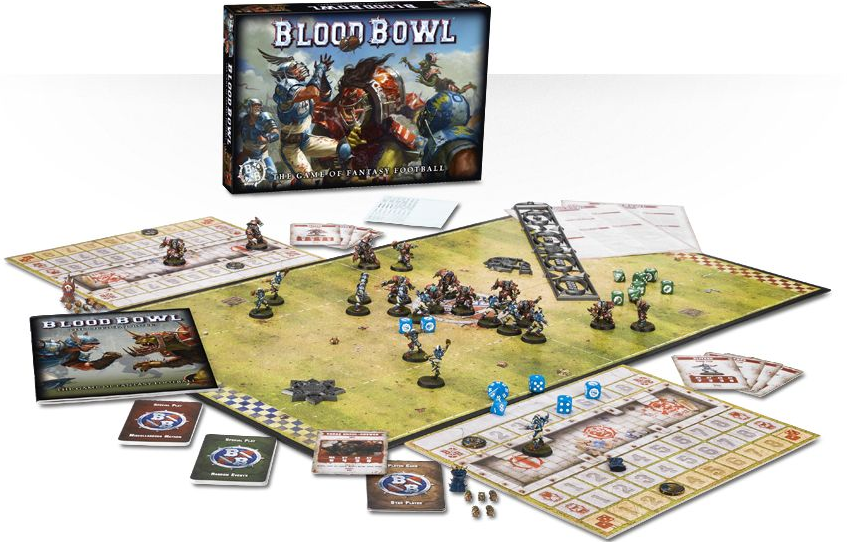 Eric Tonjes, our esteemed miniatures game correspondent, has returned and the CROWDS HAVE GONE WILD! Vendors are sobbing into their hot dogs! Babies are being tossed in the air by baby-tossing machines! Everybody, let the man speak...
Eric: Ladies and gentlemen, boys and girls, we're here to talk about sports! Sports are perhaps the ur-games. Probably organizing alongside early militaries as tools for training and proving of skill, they have grown to eclipse armed conflict for many, serving as a sort of proxy for violent aggression. But what happens when sport seems unnecessarily violent, and we need a proxy for that?
Today we're looking at two possible solutions. Blood Bowl is the grandparent of sports miniatures games. It's a rollicking high fantasy version of North American football in which you can violently maim opposing players. Guild Ball, meanwhile, is a newcomer to the scene which has quickly gained a following. It is a gritty low fantasy version of soccer (or "actual football") in which you can violently maim opposing players. While there are nuances to the themes, both games are clearly competing for similar space. So, in true sports fashion, let's put them in a ring and see which one scores the most points. Or violently maims the other player.
lost ding dong, goes to eleven, you are masticated
While we don't usually review Kickstarter titles, we've made a very particular exception for this seasonal special, with Paul taking a long and very hard look at at the "boutique horror" of Kingdom Death: Monster. Why this? Why now? A new version of Kingdom Death
is back on Kickstarter
and generating astounding amounts of interest (and cash). It was all the excuse we needed to plunge into this enormous beast and tear at its innards.
Have a terrific weekend, everyone. If you decide to spend it out in some snow, or fighting monsters, or even just rolling particularly large handfuls of dice, do remember to stay safe!
Conan i have never reviewed you before, i have no tongue for it
Like an irrepressible wall of pecs and steel, Conan arrives next week (in Europe) and the week after (in America) to bounce all other miniatures games off your table. Standing in his way is Shut Up & Sit Down, a noble bulwark of common sense, here to tell 
you
if this burly box is worth the money.
If you will it, we now have a selection of associated retailers who are more than happy to take your pre-order! And huge thanks to Vancouver's Valkyrie Western Martial Arts gym for their support. If you're in Vancouver why not try a class?
Have a great weekend, everybody. Do it for Crom.
a robotic chocolate box, omnistomping, fueltanking, headbutting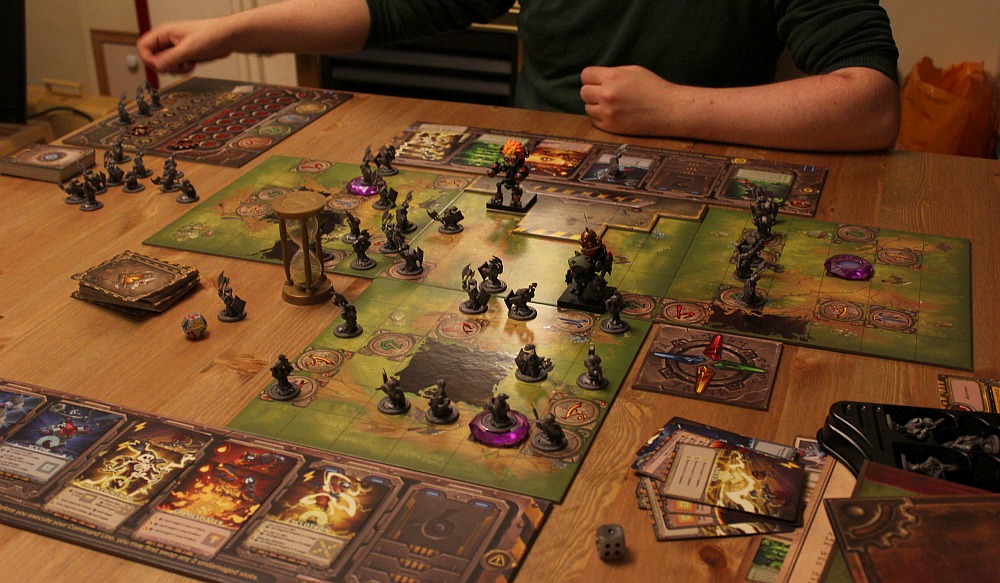 Disclaimer: Quinns, of this site, was a paid consultant on this game. Originally we weren't planning to cover it, but ultimately decided to send it to Pip for an impartial review.
Pip: Summary for the super spoiler-conscious: League of Legends – a videogame with a frankly enormous player base – has made a first foray into board gaming with Mechs vs Minions.
Mechs vs Minions is REALLY good! The developers bill it as Robo Rally meets Descent to give you an idea of how it plays. I've been playing through the campaign with Chris Thursten. We're having a blast and I'll get into the more detailed explanations in a moment BUT!
I wanted to say how much we're enjoying it up here because the game is an episodic campaign with each mission coming in its own envelope so as to deliver a few surprises as you play. With that in mind I figured it would be best to say "It's so good!" up front in case you wanted to go in with as close to zero knowledge of the contents of the game.
Everybody else? Come stomping this way.
to deposit by vomit, to leap at your peril, to become a child once again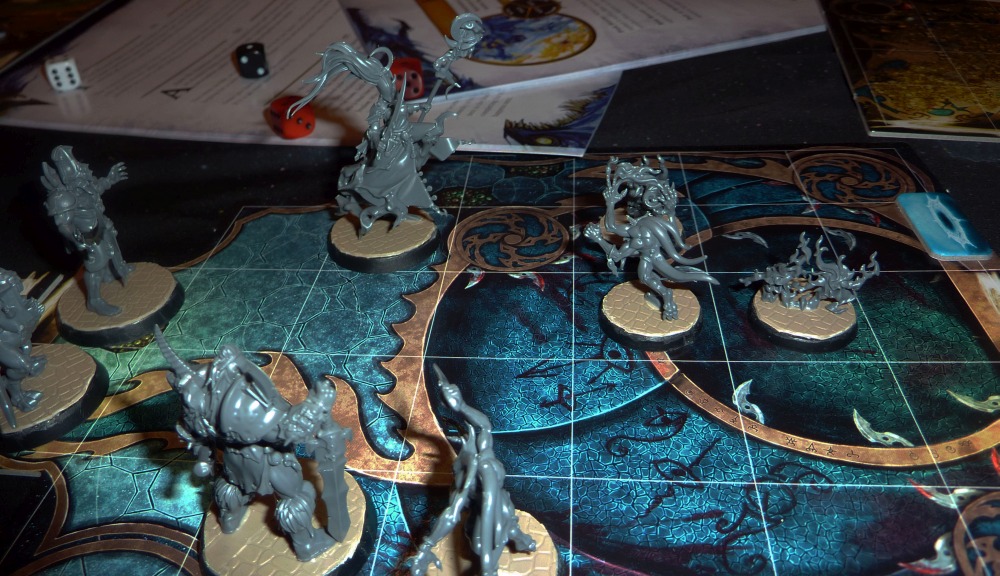 Thrower
: 
The Silver Tower
is the abode of a mad wizard, designed to chew up and spit out heroic interlopers by the dozen. Yet its first victim was small and personal: my finger.
After looking in the box, I pulled the sheath off my craft knife for the first time in a decade and immediately slit a digit open. It didn't bode well for the three-hour assembly time I'd heard boasted of on the internet.
What you get in this box is a literal plastic kit with assembly instructions, like scale models of tanks and planes. There is even a dwarf with a multi-part beard to glue together. But I was swayed by the fond memory of twisting whole plastics off sprues in my Warhammer days, so I figured I could handle it. Plaster on finger, I dusted off my other modelling tools and set to work with one simple question in my mind. Could this board game be worth it?
sexy lady apes, Robot and the Holograms, Dr. Worm, back on the shelf
We delight in throwing curveballs, so here's a video you'd never have expected. A fat Let's Play of fantastic miniatures game
Infinity
, with scenery provided by the excellent people at
Battle Systems
!
The truth is that ever since our spirited review of this game last year, Matt and Quinns have been collecting Infinity together with a few of their friends, and anything we're interested in, we want to show you why. So we ended up making the above heartfelt half-hour, demonstrating just how tense and dangerous this game is. Enjoy, everybody.
NOTE: There's about 45 seconds of insane strobing in this video, especially during the final interview segment. Rest assured that Quinns is working on a fix.