mr. riddles, the jokerman, batman's carmobile
It's time for the second review of Chronicles month, and oh boy,
have we got a chronicle for you.
With a price point of $130, Batman: Gotham City Chronicles is the second most expensive game we've ever reviewed. If there's a bat-thing you love, you're bound to find it sequestered in one (one!) of this game's many, many boxes.
But could some boxes of fictitious bats ever be worth that much money? Click play, let us tell you what we think.
the bandana boys, cause of death: cool punches, good talk guys
In yesterday's Twitch stream, masculinity was stretched to its very limits
. 
Bandanas? Check. Beer? Check. Punching a warehouse full of bad dudes 
right in the mouth?
 Check.
The game we're playing is Street Masters, which has a new expansion (as well as the base game) on Kickstarter RIGHT NOW. If you're in the mood for some dumb, schlocky fun, Street Masters is precisely the kind of smart dumb fun that we can get behind.
If you'd like to watch the video and our gut-busting Twitch commenters at the same time, the stream will be available here for the next couple of months. Oh, and look forward to more co-op combat in a couple of weeks, because on the 22nd of November we'll be streaming Gloomhaven, and Quinns will be doing his best to make a permanent impact on Matt's campaign.
Have a great weekend, everybody.
death worlds, interdimensional horrors, endless war, and ennui?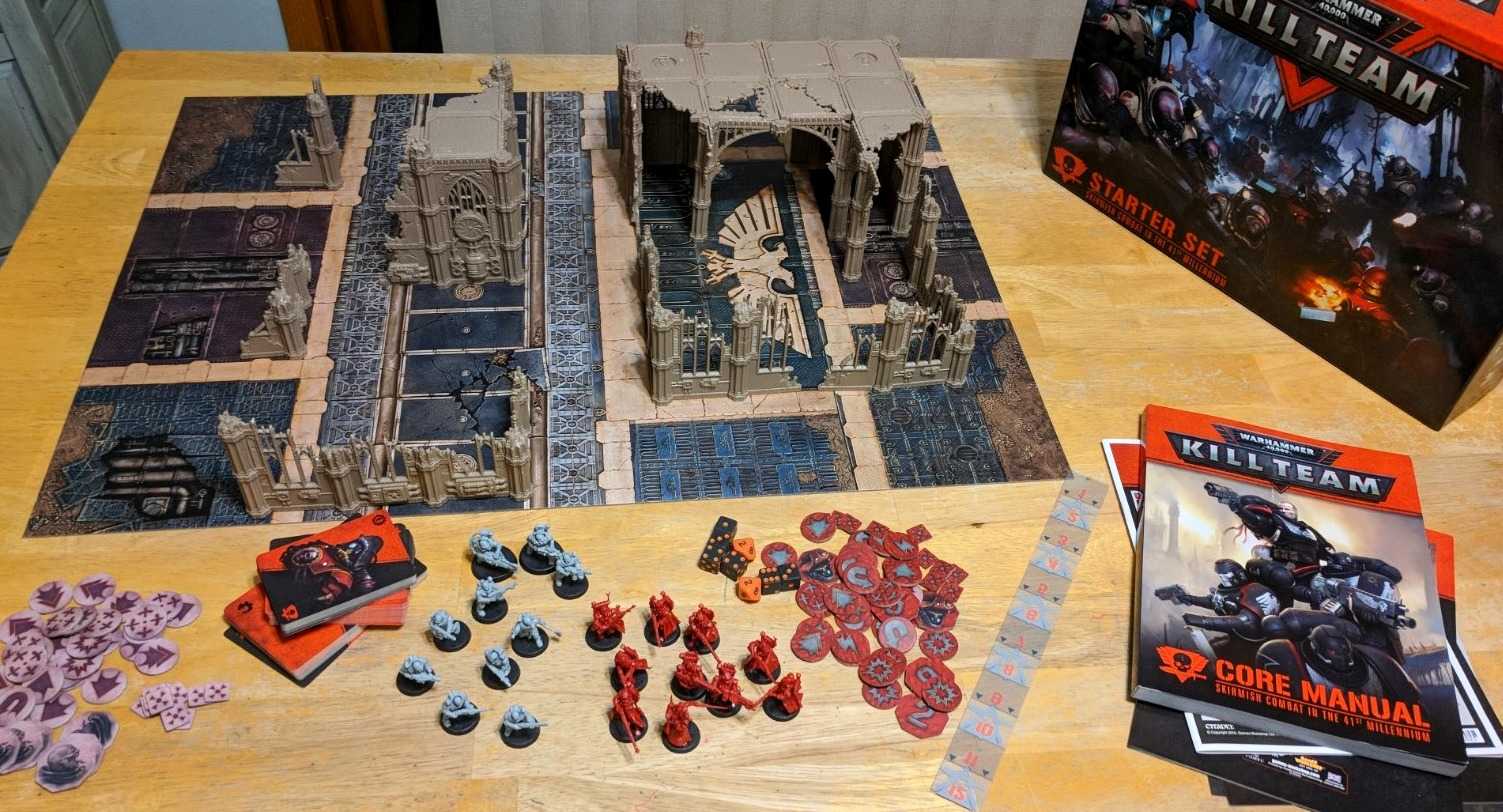 Eric
: As a teenager, one summer I decided I wanted to learn all of the trick taking card games, a genre that I found strangely fascinating. (I suppose this tells you a lot about me as a teenager and the rural midwestern world of the United States where I grew up.) I learned the rules for
Spades
,
Pinochle
, and
Pitch
. I sort of learned how to play
Bridge
. I at least read the rules for
Whist
and
Euchre
. At the end of the process, though, I found myself feeling confused. In theory, I knew the variations between these games should excite and engage me. In practice, I was at a loss to differentiate one from the other. None of them could really hold my interest.
That is probably a strange place to start my review of Games Workshop's newest offering, Kill Team! A re-release of a variant of Warhammer 40,000, the game's big selling point is its size. Unlike the sell-your-car-budget armies of its larger cousin, in Kill Team each player uses a small band of 5-20 miniatures to do battle in a space designed to fit on a kitchen table. As I've played around with it, though, I find myself at a loss as to what to say.
Kill Team is, at the same time, an exhausting incremental iteration on a tired system... and the best thing Games Workshop has released in years.
king of the bobbits, gothic seagulls, shut up and war of the ring
If you were looking for 
one game to rule them all,
War of the Ring
 might be it. This magical game has more than 200 plastic miniatures, 40 pages of rules and a depth that most board games could only dream of.
But what will Matt and Quinns make of it? For one thing, this wouldn't be the first time that Lord of the Rings was accused of being too long.
Click play, and let their opinions seep into your very bones.
Rebuffing viking bobbins, A diddly hand of cards, A katamari made of axes
Who remembers Quinns' anciente video reviewe of
1812: The Invasion of Canada
? Well, today we've got a redux for you! It's our review of the latest game in that series,
878 Vikings
, as well as the
Viking Age expansion
.
And boy, those mechanics have stood the test of time. It's still tons of fun to invade a country with a buddy, rolling handfuls of dice together and stretching your armies too far, too fast. Click play and find out why Quinns calls this series the mac & cheese of wargaming.
twenty times as heavy, a nasty little pulp song, a happy and hairy fellow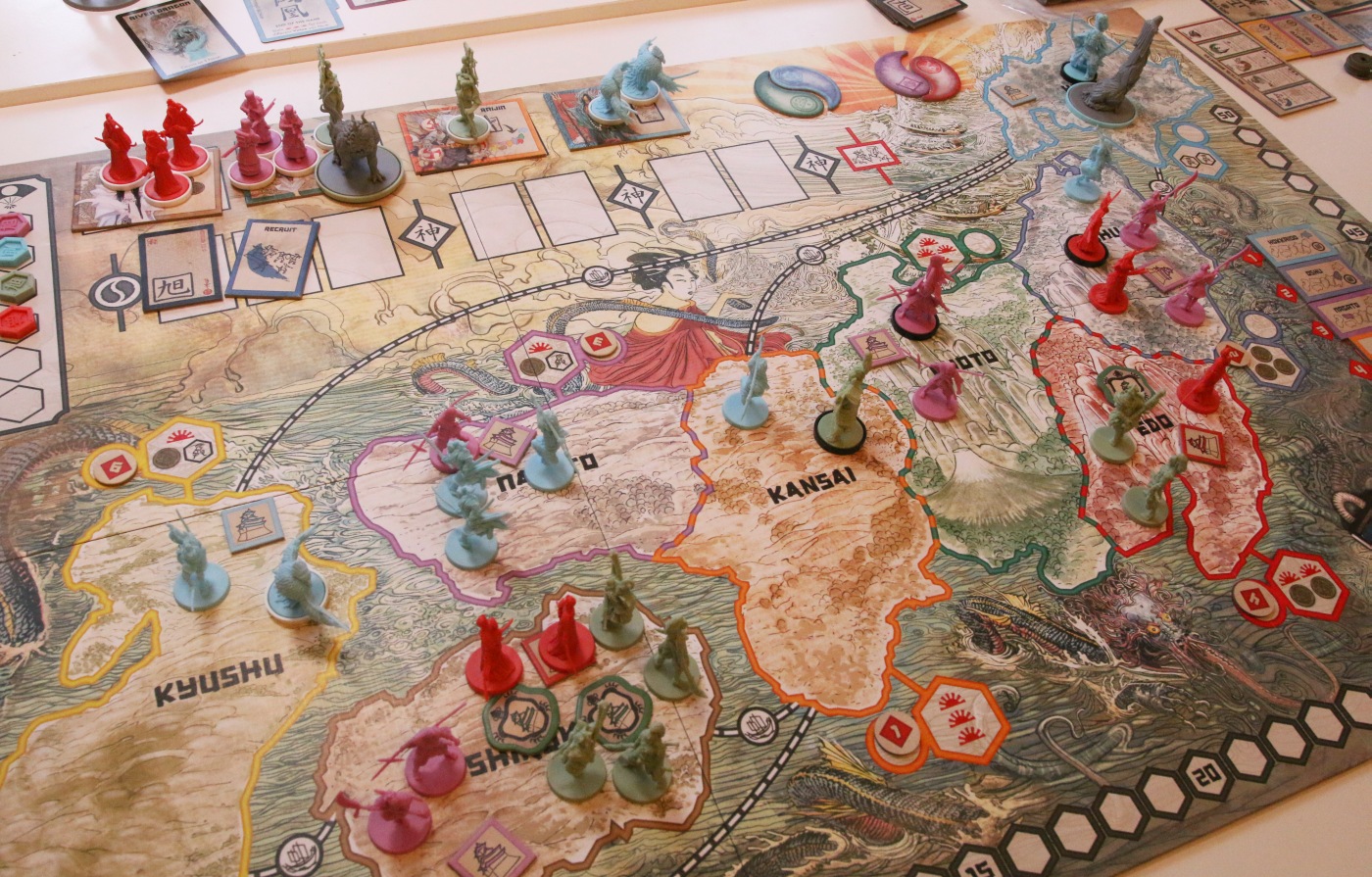 Matt
:
Rising Sun
is a big-box Kickstarter darling filled with frankly massive plastic things, with a hefty retail price of £75 / $80. Set in a god-powered version of feudal Japan, players act as one of six different clans vying for control of those lovely islands. But the plus-size map and plastic armies are slightly misleading: Rising Sun is not what it appears to be.
If you're expecting a traditional game of nudging toy soldiers around a map, Rising Sun might leave players bored, confused, or quietly in a huff. But if you can get your head around what it is, and teach your friends what it is (and isn't), Rising Sun can be really very good.
a sweary han, a forceful box, a noisesome backbone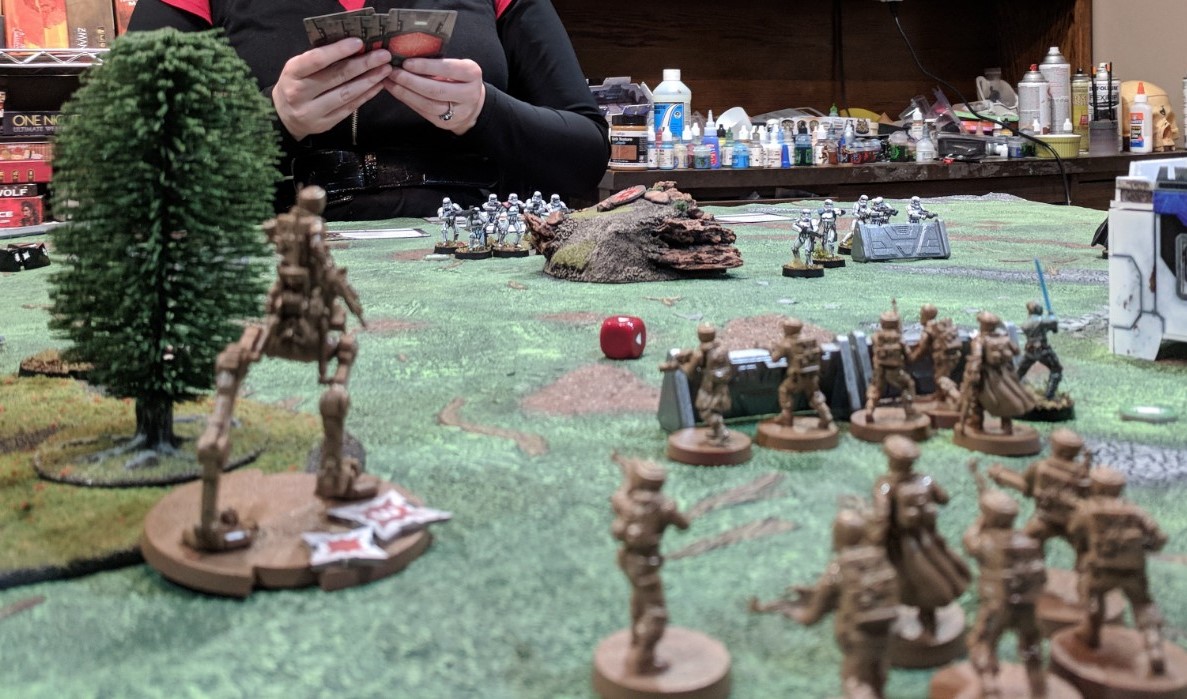 Eric
: Star Wars has always had a strange magic for me, a modern mythological mojo which transcends its contrived plots and sometimes stilted dialog.
I first felt the tingle of that power when I was seven years old. It was an open house at a local technical school. Back in a corner, away from the admittedly-modest crowds, was a little display for a "flat screen" television, cutting edge technology of that long, long time ago. The exhibit had just started, and as I walked up, two droids were surveying the blasted landscape of Tatooine. Perched on a ledge, I sat for the next six hours and watched the entire trilogy, lost in a galaxy far, far away.
That makes Star Wars: Legion, the new miniatures game from Fantasy Flight, hard to review. It tempts me to be too generous – just putting a lightsaber in someone's hand provokes the ghost of a chill. At the same time, it makes me worry I will set the bar too high. To have expectations no collection of cardboard and plastic could ever meet. I say this to acknowledge that I come to this game as the farthest thing from a blank slate. I am a fanboy, with all the enthusiasm and critical nitpicking that entails.
in memoriam lyv, an itchy brain, a timid lover, a beloved lasgun, a two-part head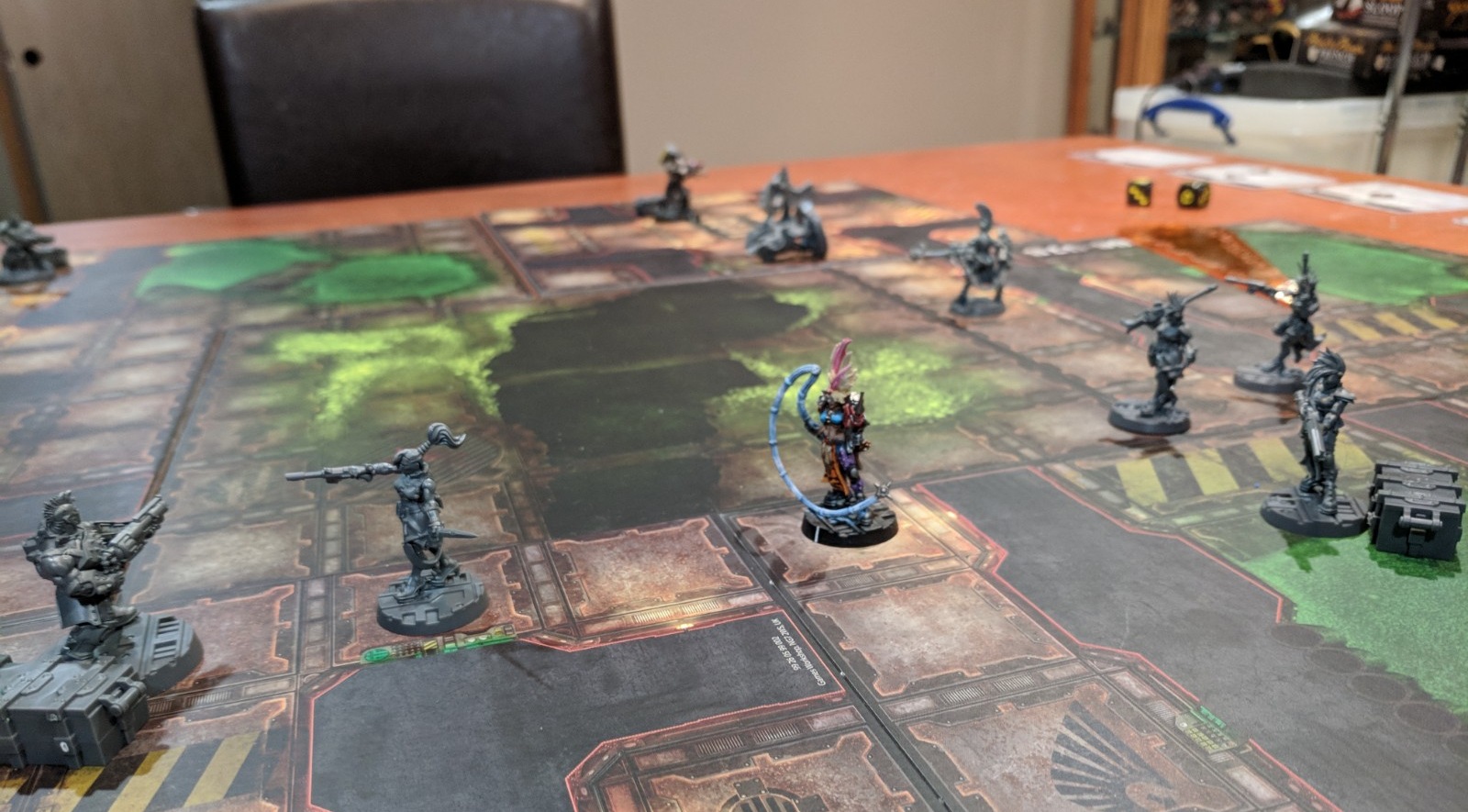 [We once again welcome SU&SD miniatures correspondent Eric Tonjes for a report from some far-flung warzone. If you've not yet caught up on his work for us, do so on the double!]
Eric: A few years ago I had the chance to revisit the grade school I attended as a child. It was a jarring afternoon. The huge hallways were suddenly kind of small. I could see over the bookshelves in the library where I used to get lost. The teachers... several of them were younger than me. I walked in the door feeling nostalgic; I left a bit unsettled.
I found myself remembering that visit as I got ready to open Games Workshop's new remake of Necromunda. A skirmish game set in the collapsing underbellies of hive cities in the Warhammer 40,000 universe, the original Necromunda one-upped the grim darkness of the 41st millenia by adding gangs, drugs, slavery, abject poverty and child soldiers. To a 15-year-old me, it was a thing of glorious joy. Yet I wondered, would this turn out to be just another narrow-halled school with five-foot bookshelves?
quinns' toothy heart, a sad birthday, 8 more complexity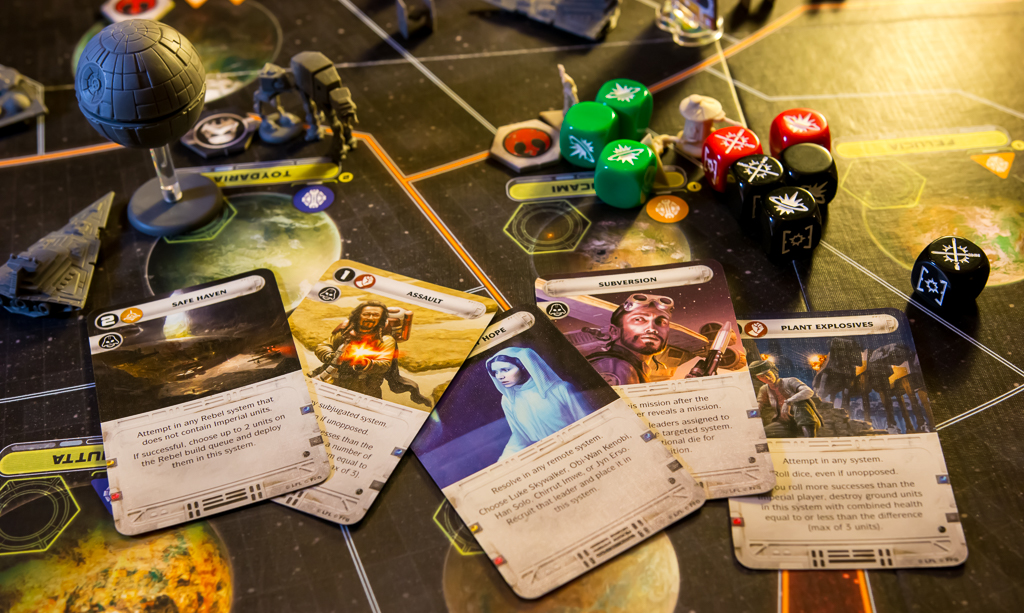 Quinns
: Matt, are you ready to review the
Rise of the Empire expansion
for Star Wars™: Rebellion? To bring everyone up to speed, Rebellion is a grand 2-4 player game set in the Star Wars universe,
which I reviewed
and said it was fun, but I couldn't quite recommend it.
What does the expansion add? Well, let me just quote the press materials: "Rise of the Empire isn't just inspired by Rogue One; it follows the movie's example, adding new depth and story to the Rebellion game experience just as seamlessly as Rogue One provided new insight into the Galactic Civil War presented in the original Star Wars trilogy."
Matt: I just did a big vomit out of a window. In Real-World Terms™ it's an expansion that adds quite a bunch of stuff: new leader characters, new cards, a whole new combat system, more unit types and plastic figures, and a brand new planet: EWOK-HOTH, HOME OF THE CHILLYBEARS.
19 organs, 90 dice, 400 of dollars, 7 previous editions, 1 life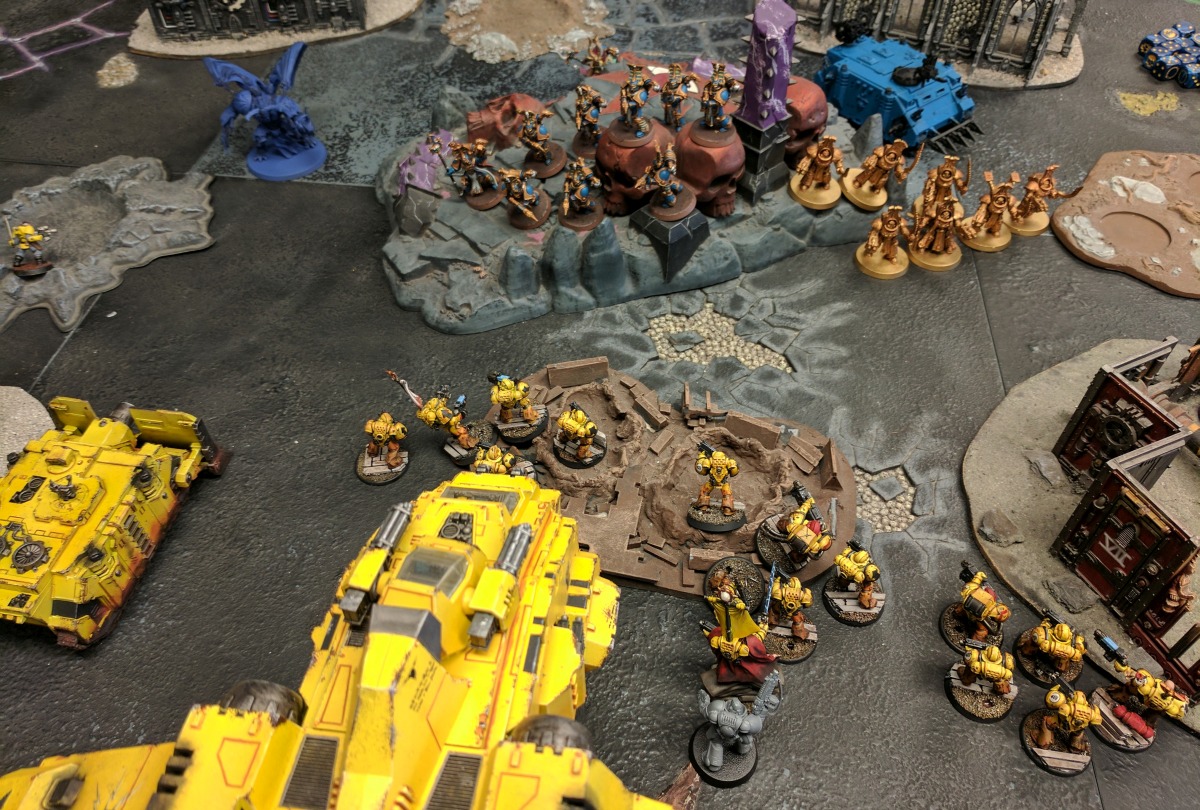 Eric
: For any of what follows to make sense, I need to take you to a place in my past. Imagine the house where I grew up. Follow me down into the basement, past the unfinished walls and pantry shelving and washing machine. Back here, hidden under the stairs. Do you see it?
That was my desk.
It isn't much to look at – an austere, industrial thing. The kind of desk I now imagine factory workers flipping over in some proletarian revolution. But I spent huge amounts of my late childhood and early teenage years here. Pouring through those roleplaying manuals stacked in one corner, drawing elaborate maps on that graph paper, and – as the spackling of color attests – painting the little figurines that line the shelf above.
Those were my first space marines.
About a month ago, Games Workshop released their 8th edition of the Warhammer 40,000 rules. Back when I was painting at that desk, it was 3rd edition I played. As much as those iterations between then and now can be seen as cynical cash grabs – partly because some of them were – there is something noteworthy about this new one. But more on that in a minute.