pip can't wink, quinns can't identify clipart, matt can't go to the edge of darkness
Our 66th ever podcast has been removed, hot & crispy, from the aging oven of our minds!
In this instalment Matt, Paul and Quinns try and unpick all of the games they played at SHUX 2017. That means chat about Shifty Eyed Spies, Bargain Quest, Hanamikoji, Edge of Darkness, Space Base, When I Dream and Quinns getting a bit aggressive about Meeple Circus (again). We also preview the upcoming expansions for Inis and Lords of Vegas, which we had literally no idea were going to be playable at our own event.
Finally, we can't resist closing the podcast with a tease of the gigantic reviews we're all working on right now. Quinns is playing Pandemic Legacy: Season 2, Matt's enjoying Gloomhaven, and Paul's about to crack open his copy of Charterstone. It's going to be a fun end to the year, everybody!
Pavlovian puppies, sightless stooge, sumptuously silly smorgasbord of stuff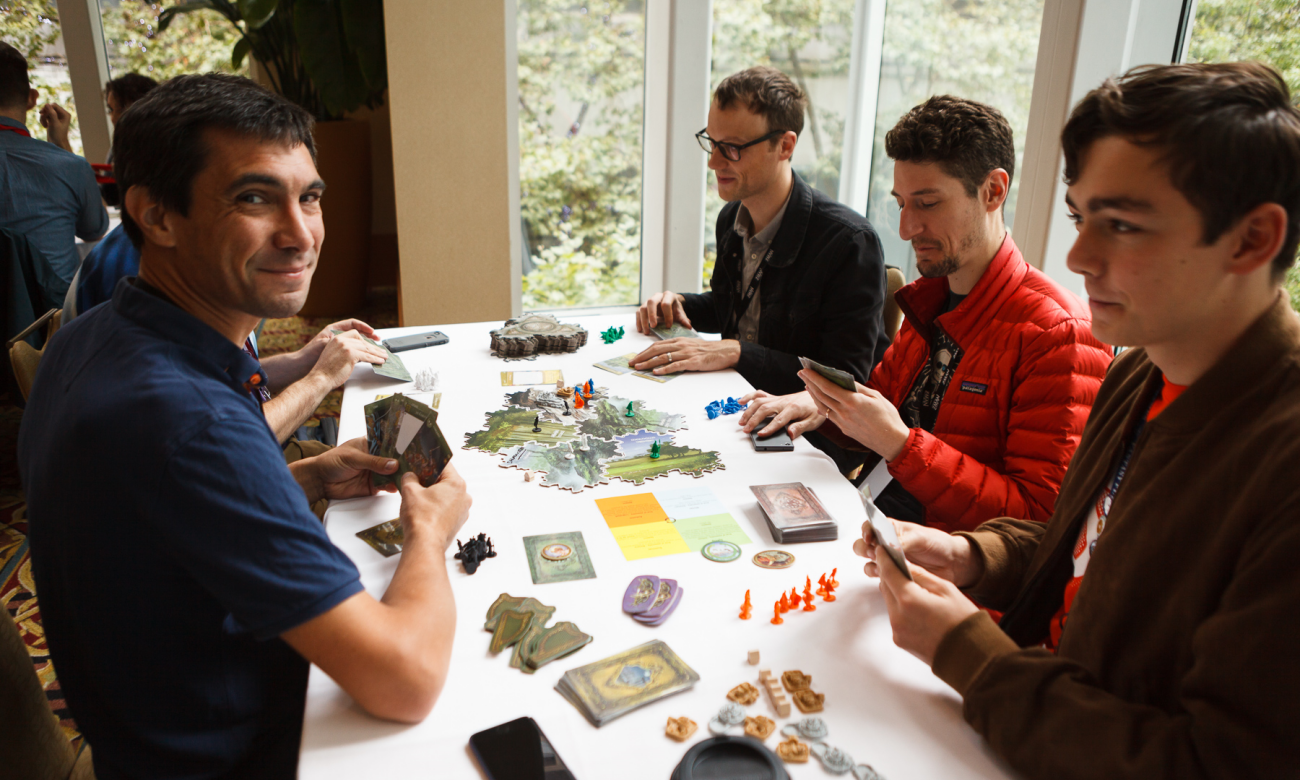 Paul
: It feels so very, very strange to be doing this. We're always writing post-con roundups, flying home and tapping out our thoughts on the best new games we tried, but to do that after our
own
con? It feels a little peculiar, like the first time a doctor shone a light into my ear. But that's a proper, sensible thing that doctors do, right? It's not just for giggles?
Matt: At the time, it was straight-up stressful! We hadn't accounted for the fact that people might be showing off things we really wanted to look at, so we frantically juggled schedules to try and check stuff out. There was still so much we missed, but we caught some REAL GOOD BITS.
Paul: For a start, Matagot only went and rolled up with an Inis expansion that they just casually announced IS A THING THAT EXISTS?
a good ol' flecking, matt's hats, big-boy joys, it's all about the soup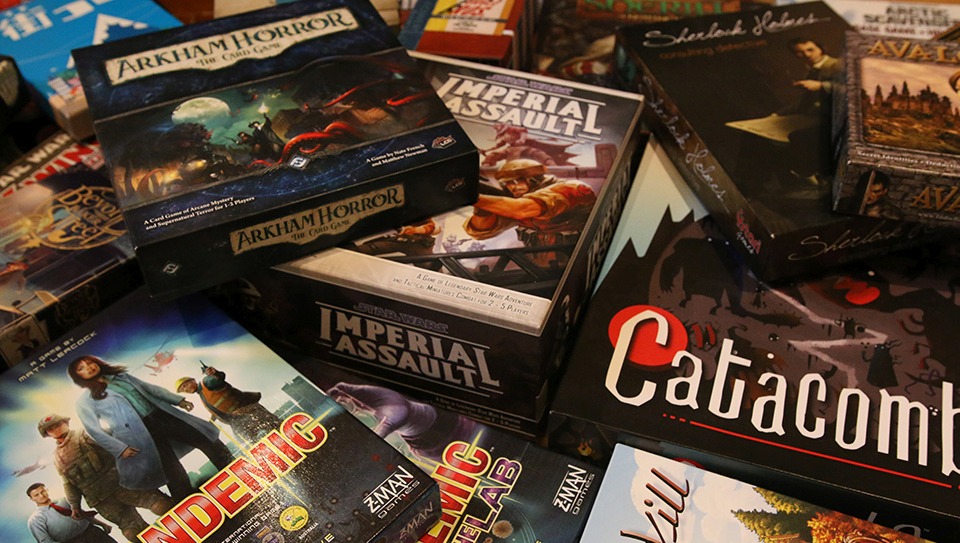 [Following on from our expedition into Quinns' board game collection and the polite visit to Paul's, it's now Matt's turn. Enjoy, everybody!]
Matt: Contrary to popular belief, I am not a man of infinite luxury. Paul has an entire cupboard just for games - Quintin has a cavernous loft to explore. Many have climbed that ladder and never been seen alive again, fading away to become a new addition to the dark and dusty collage of cardboard and bones. Basically those boys have space to play with. I however, have a shelf.
But it's a big shelf! Oh my. There's plenty of room in the rest of my flat, but my wife is a bit of a cheery dictator when it comes to interior design - so the sins of the husband must be tidied away. It's occasionally annoying, but it does mean I get to live in a genuinely beautiful, tidy place? Swings and roundabouts, life is compromise.
Downton Abbey, an accident, 300 games, 800 spiders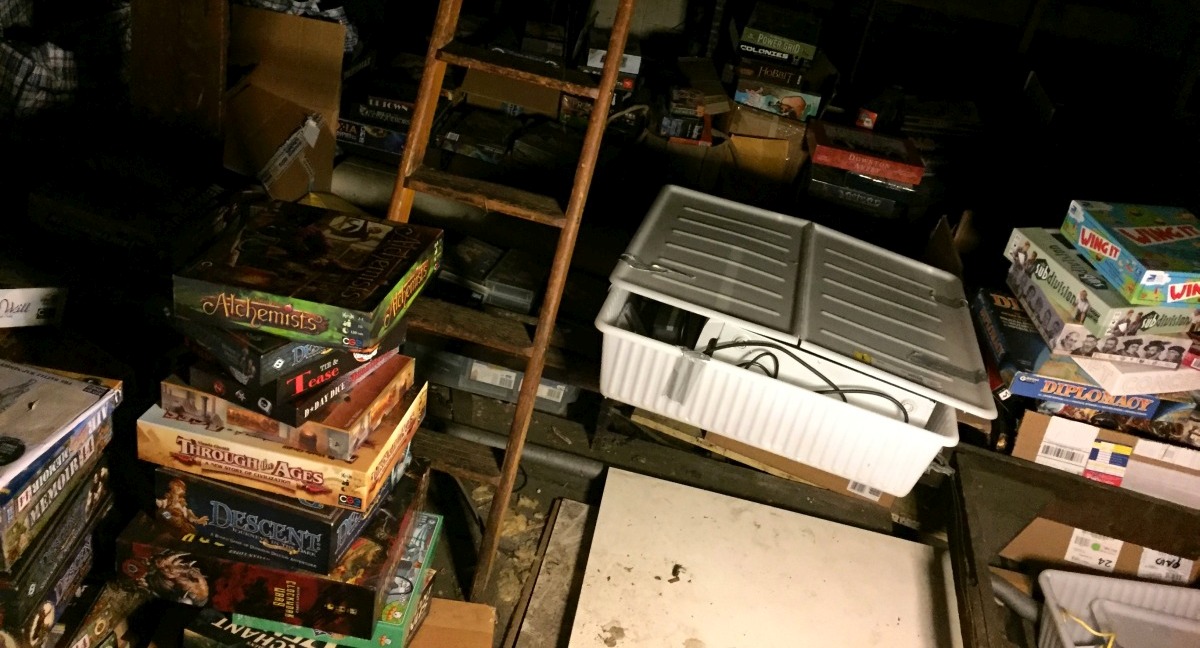 Quinns
: Ladies and gentlemen, roll up! It's time for a new series where we take a look a team SU&SD's board game collections. Come and see! Be amazed. Be aghast. Be envious. Comment with thought-provoking assertions like "why do you have that game it is bad".
You guys will have seen my collection in the background of loads of SU&SD videos, but I don't think you've seen the work that goes into it. Come with me today as I perform... a CULL.
gramblin' in the casios, throwing up in a hedge, missing your easyjet flight home
Ever since
our review
, Lords of Vegas is the economic warfare game that we find ourselves recommending the most. Why pay for flights to Las Vegas when this game lets you gamble, drink heavily, invest unwisely and come to loathe your friends, all from the comfort of your own home?
For other entry-level economic slugfests, do check out Chinatown, or dip way back into the SU&SD archives for a peek at our Black Gold review. It's one of our earliest ever bits of criticism, and a game we still have a soft (and oily) spot for.
(And yes, this IS our first video to use our YouTube channel instead of Vimeo! We'll slowly be moving the back catalogue over, as well as putting all future videos on YouTube, but it's still worth popping over now to check out Matt's completely dope header image.)
magic bowls, the anger engine, barnacles and broccolis, sex mermaids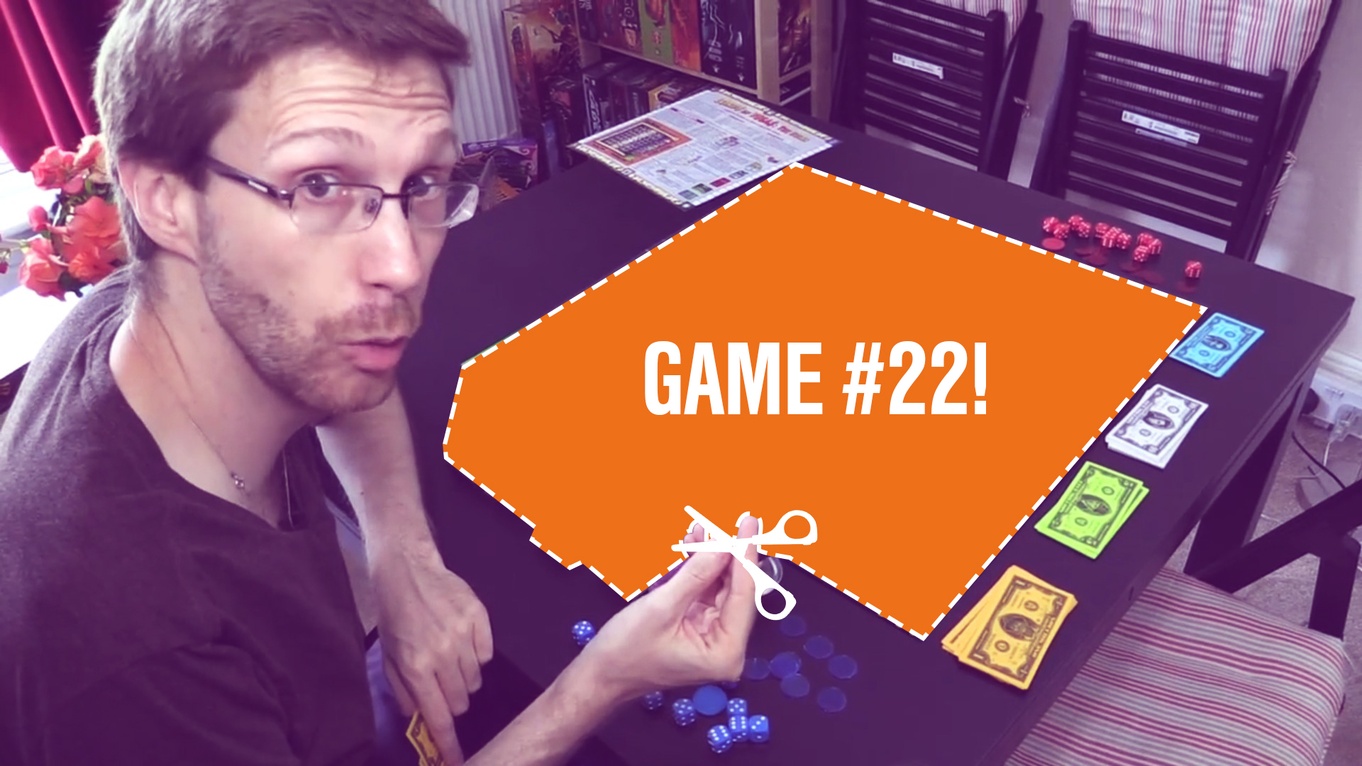 Quinns: Alright, we're proceeding into the twenties. Keep your arms and legs inside the article at all times. If you feel sick stop reading immediately, make a cup of tea and add the Forgetful Mixture we taught you how to make in your induction.
a beautiful bratwurst, a wad of potato, a cup of tea, judas iscariot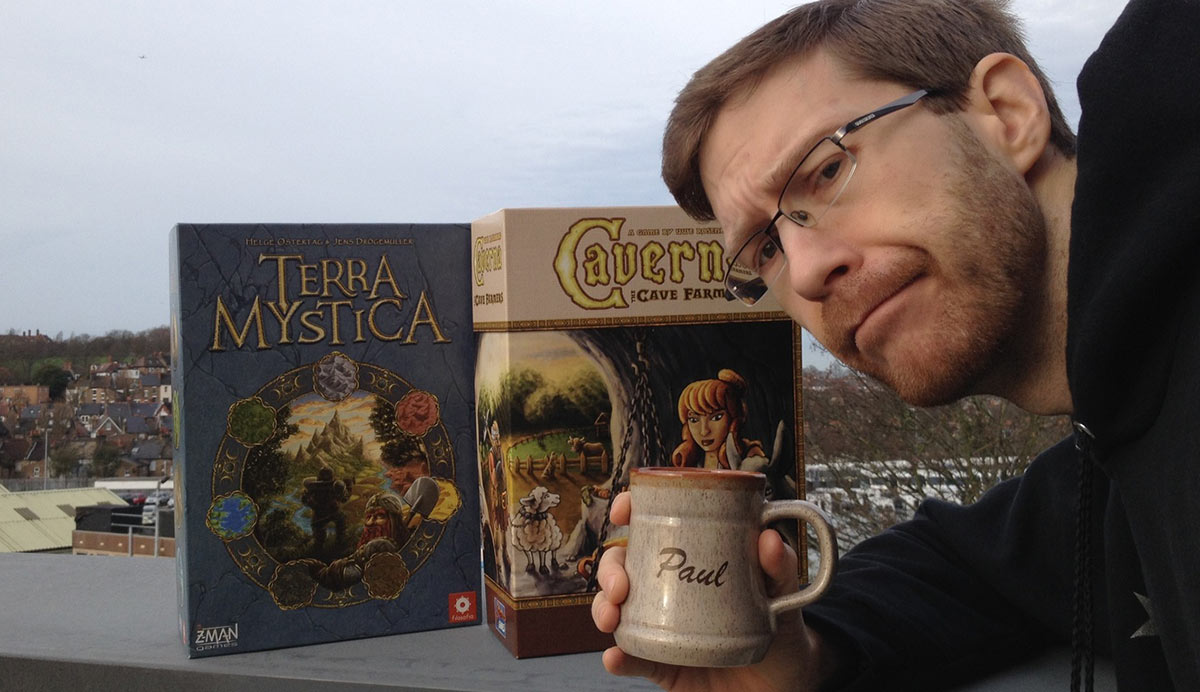 Quinns
: We're back! Like a chicken rolling down a hill, SU&SD has started and won't stop until we've reached the bottom of this mess.
Let's see what golden games we're squawking about today, eh?
gambling, sin, criminal enterprise, raspberry vodka, return of the shirt
We've got a rare trio of reviews for you today! Paul and Quinns pop their collective collars to examine the bright dice and the big cities of
Lords of Vegas
,
Las Vegas
and
Roll For It!
. One of which they're wholeheartedly recommending, and the other two they're being very mean to.
Phew! The boys' living room hasn't seen this much sin since they ordered extra-cheese pizza back in '09. They couldn't finish the thing and had to throw half of it away! Ah, to be young again.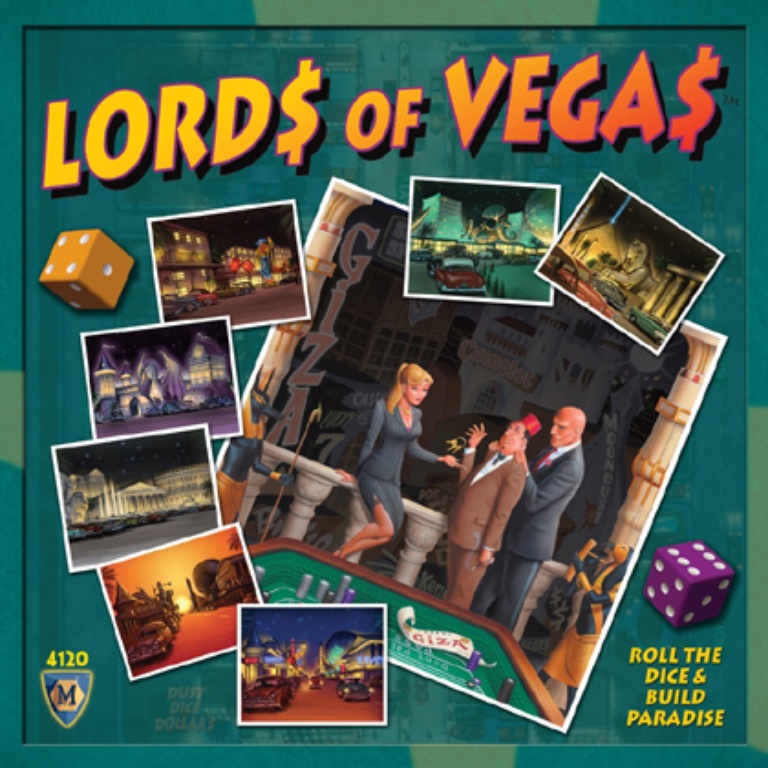 You and your opponents represent powerful developers in a burgeoning Nevada city. You will earn money and prestige by building the biggest and most profitable casinos on "The Strip," the town's backbone of dust and sin. You start with nothing but parking lots and dreams, but from there you build, sprawl, reorganize and gamble your way to victory. Score the most points investing in the most profitable development companies and putting the best bosses in control of the richest casinos. Put your dollars on the line . . . it's time to roll!
The game board is broken into 8 different areas, each consisting of a number of empty 'lots'. Players build lots by paying money and placing a die of the value matching the one shown on the lot's space onto the lot, along with a casino tile of one of 7 colors. Adjoining lots of the same color are considered a single casino. The casino's boss is the player whose die value is higher than any other in the casino. On each players turn, players turn over a new card representing a new lot they get. The card also is one of the casino colors. Any built casinos of the matching color will score both money and VP. Money is earned for each lot in the casino, where each lot may be owned by a different player. VP goes only to the casino's owner. Players can expand their casinos; try to take over casinos owned by other players; make deals to trade lots, casinos and money; or gamble in opponents' casinos to make more money. Ultimately, though, only victory points matter, and that means making yourself boss of the biggest casinos.
paul's crap casino, brendan's terrible tomb, quinn's doomed detective agency
Podcast #18, "The Turbocast", has been sighted in the Earth's atmosphere!
Not to be confused with podcast #17, the Megacast, the Turbocast sees Team SU&SD compressing 60 minutes of board game chatter into a super-dense 30 minutes. We recommended you pop your ears before listening so the change in pressure doesn't cause your head to collapse like an egg.
The games that underwent this revolutionary treatment were Trains and Stations, Lords of Vegas, Sherlock Holmes: Consulting Detective and Valley of the Kings. Finally, we provide the world's fastest, worst and most decisive Agony Aunt service. Enjoy, everybody!
Read the full article...