poseidon the god of jerks, ares the god of points, apollo the god of extra bits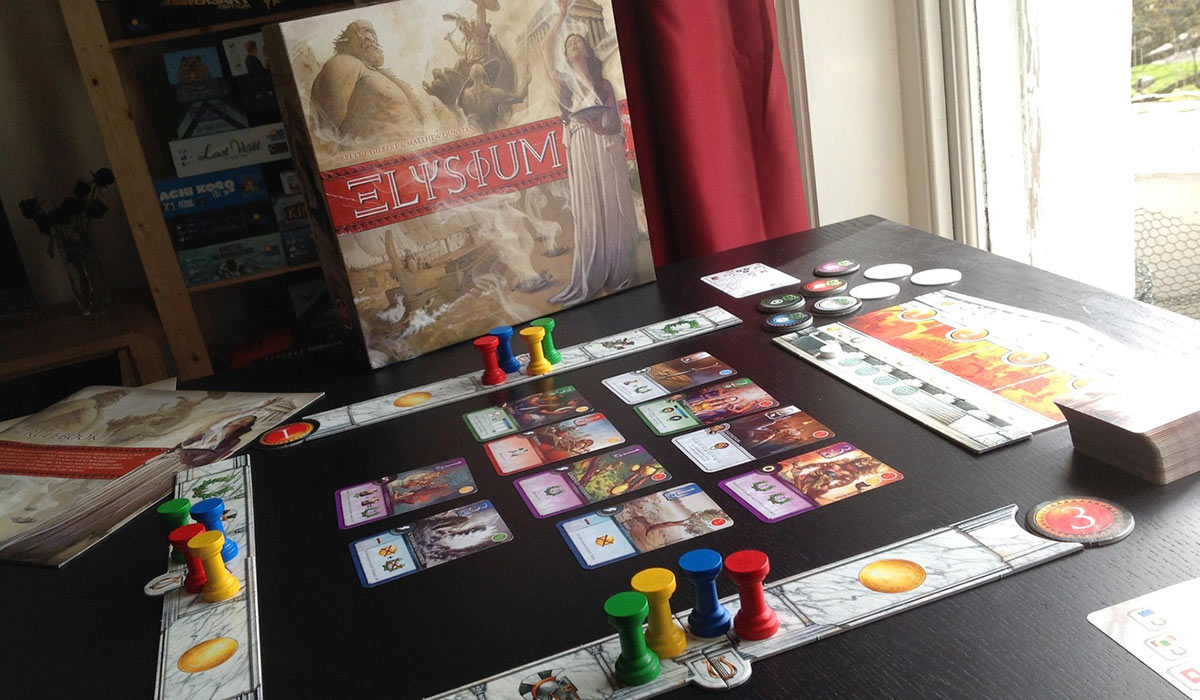 Quinns
: So you walk into your local board game shop, eager to make a purchase. An unhealthy, bubbly excitement starts building inside you, as if you were a shaken can of cola. You scan the shelves, letting your obsession rise from the pit of your stomach to slightly above your stomach.
You're taking one of these boxes home.
So you drop to all fours, ready to begin the hunt. The shop owner doesn't give you a second glance. He's seen it all before. You prowl between the aisles, buttocks undulating like a pair of bald men being ritually drowned. What's this? Elysium... ?
It's a brand new release from Space Cowboys, the hot young publisher of the wonderful Splendour and the entirely passable Black Fleet. Elysium looks great! It's got cards, Greeks, gods, it looks lovely and it's different every time you play.
"STOP!" comes the cry, as I slide down a nearby fireman's pole (was it there before?!).
"My name is Quinns," I continue, squeaking all the way down as the pole rubs between my bare thighs. "Allow me to tell you whether to buy Elysium using... a review."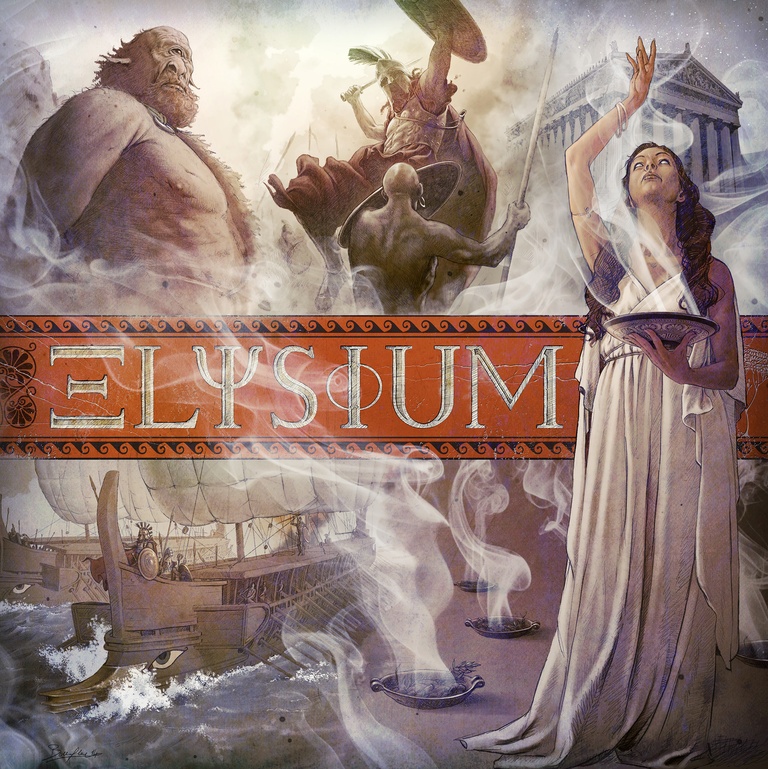 Mythic Greece. As an upstart demigod, you want to earn the favor of the Olympians and become a figure of legend yourself. Gather heroes and powerful artifacts, please the gods and bear their power to write your own epic tale.
Let your allies achieve their destiny and enter the Elysium, home of the glorious and the brave. Once the stories are written, only one demigod will be chosen to stand at the side of Zeus. Elysium is a game of set collecting and combinations in which players recruit cards representing heroes, items, powers and gods. These cards have many different powers and you can create powerful combination to earn gold (the help of the gods) and victory points (the favor of the gods). Each card belongs to one of the eight Olympians gods (a family), and shows a level (1 to 3).
During the five turns of the game, players will try to transfer their cards to the Elysium and write their own Legends, which are series of cards from the same family or from different families of the same level. The more epic the Legends, the more favor from the gods they'll earn. But as they go to Elysium, most cards lose their power and players will therefore have to renounce some of their combinations !
A game of balance and opportunity with simple action, but constant dilemmas and complex strategies.
written on a plane, flat spin, tom cruise on a cruise?, goooooose!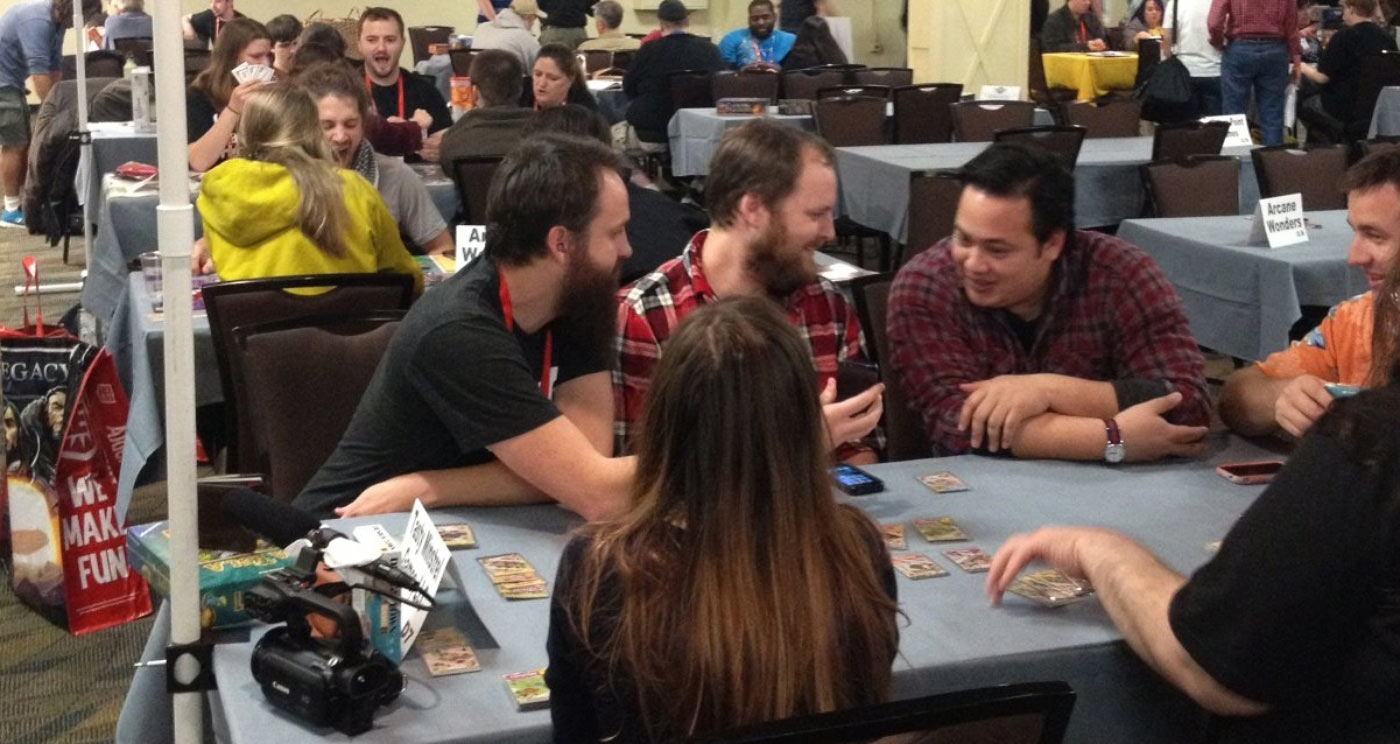 Paul
: Okay, listen up. This is how Games News is going to work today. I'm Tom Cruise from Top Gun, you're Val Kilmer.
You're Val Kilmer
. Idon'tcarewhoyoureallyare! You've brought a friend? They can be the other guy, but not the guy who dies. The important thing is that we're all cool and this is some cool, post-BoardGameGeek Con news (that's some of our
Board with Life
pals having fun above). We're getting real serious and smooth and even a bit dangerous here, so strap yourself in, fire up your jets and turn up the
sound
, because I feel the need... the need for news!