The cat fell asleep, etymilogical detective, CUMBERBATCH FROM EGGS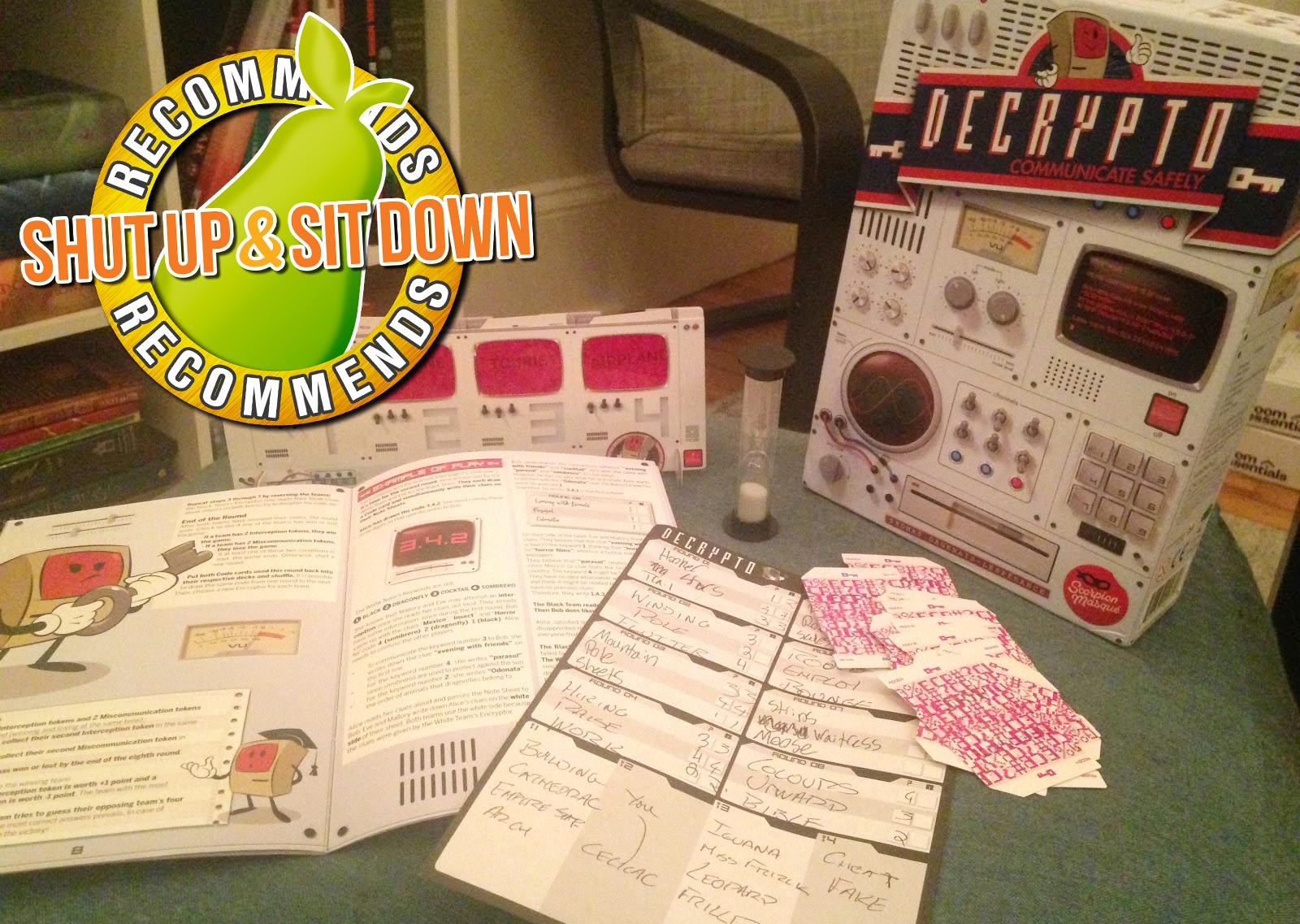 Paul
: I have never, in my life, seen so much frantic, last-minute lying. I've never seen so many misunderstandings over cake. I've never thought I'd have to explain to someone how oil is obviously, indisputably associated with Texas. And I never thought a tiny misunderstanding over a simple word like "heat" could, and would, ruin everything.
But that's Decrypto for you, a game of discord and deception that somehow ends up fraught, funny and absolutely fantastic. It sets you the simplest of challenges and creates the most convoluted complications as you and your friends try to tell secrets out in the open, right in front of each other.
cookie-cutter design, a wobbly foundation for a game, an aussie lolly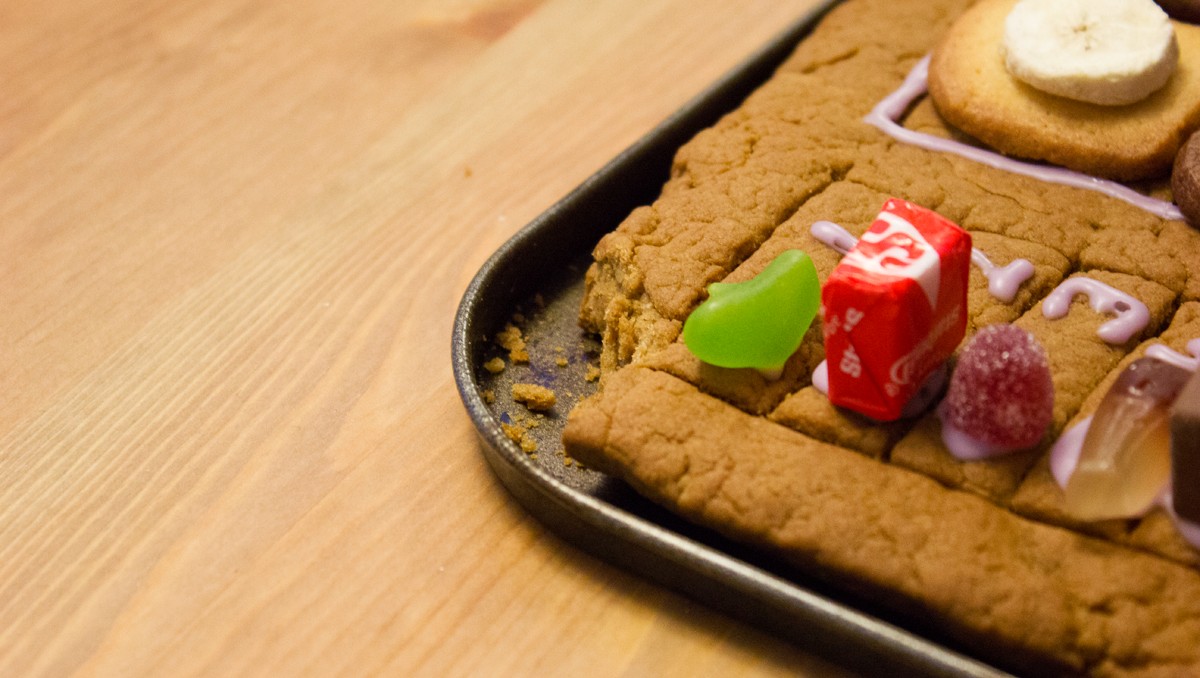 Pip
: In the time it takes my companion/opponent to move his knight to a new square I have broken off a piece of the game board and stuffed it into my mouth, crumbs on my T-shirt volunteering the specifics of my crime.
On the plus side, I am road testing one of Jenn Sandercock's edible games – The Order Of The Oven Mitt – and thus I have a mouthful of gingerbread rather than cardboard. On the less plus side you aren't supposed to eat the board yet and I've just remembered I don't like gingerbread.
The gingerbread debacle happens every year around Christmas. Faced with the dramatic potential of pretending to be a giant devouring a village I will tuck into any number of gingerbread houses and gingerbread folk, trying to ignore my tastebuds. I mention this to make it clear that the gingerbread problem is my own cross to bear rather than anything to do with Jenn. BUT gingerbread is a really useful building material so it's working really well as the substrate for the game.
drop a deduce, the gut-motor, a nice hot loaf of police, elementary you're a dick
A mere thirty-six
years
after the release of the amazing 
Sherlock Holmes Consulting Detective
, the board game industry has leapt into action! This month sees the release of the 
West End Adventures
standalone expansion, and... we're not reviewing it.
That's because this month we're also getting a new English-language edition of Watson & Holmes, and that's EVEN MORE EXCITING. This game takes the original, superlative co-op experience that is Consulting Detective and makes it... competitive. Is this a work of evil genius to rival Moriarty? Or simply an error in deductive reasoning? Let's find out.
Have a great weekend, everybody.
RACCOON ANXIETY, OXYTOCIN, THE GORDON RAMSEY OF MICE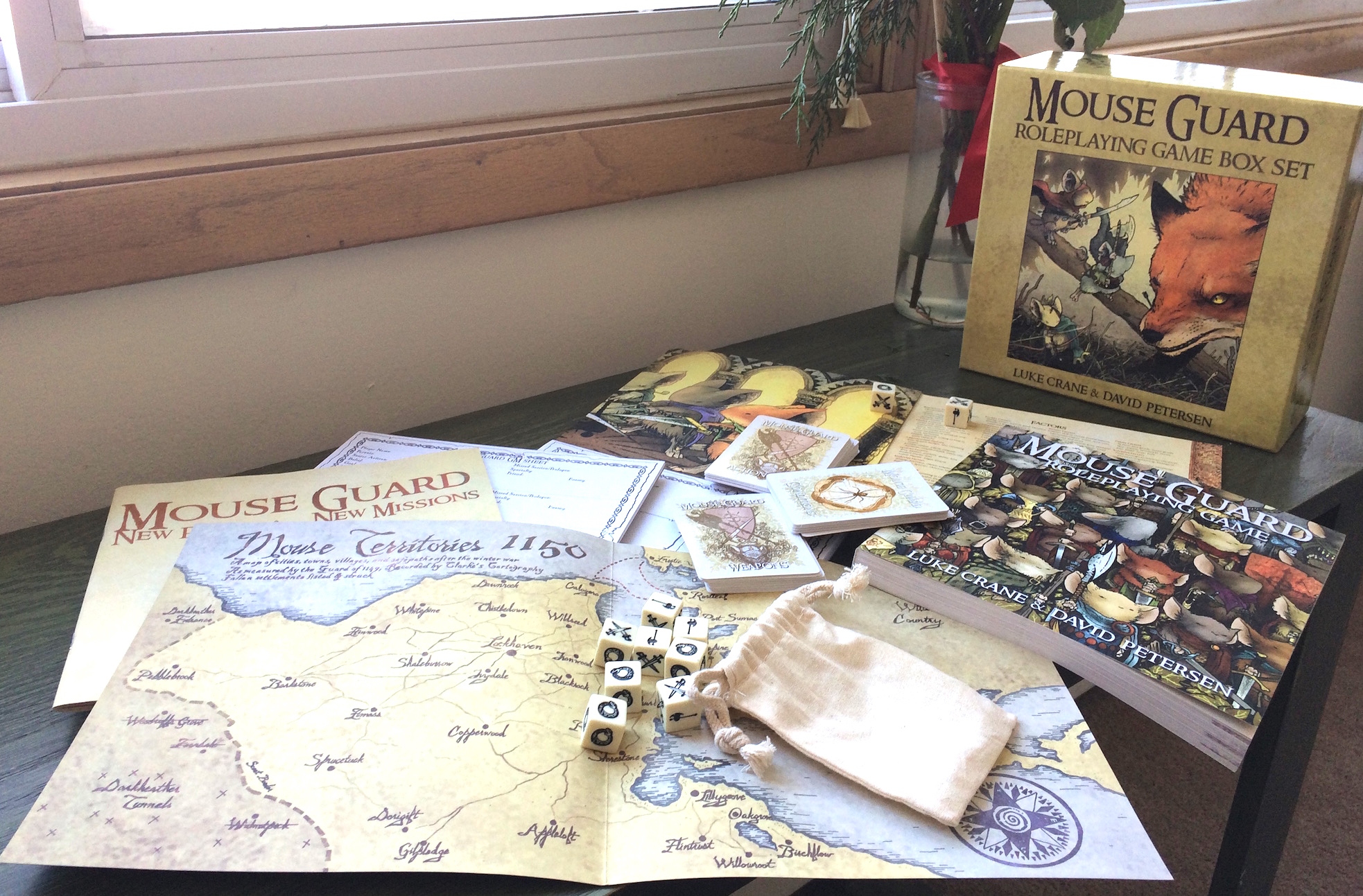 Cynthia
: There's something extra lovely about roleplaying games in the winter. Where I live in Minnesota, going outside can often be quite deadly, so I prefer to huddle around a table with friends and food and drink. The problem is, being trapped indoors makes me crave adventure.
But there is one RPG that this winter has been mollifying my seasonal adventure disorder and warming my heart just like a good cup of hot chocolate with whiskey in it warms your body. That game, my dear readers, is Mouse Guard. So grab your weapons, fluff up your fur, tweak your whiskers, and tap into your anxieties about owls, weasels, and raccoons. You're about to undertake great and perilous deeds for the sake of all mousekind.
these things are true: the world is dark, and we are alive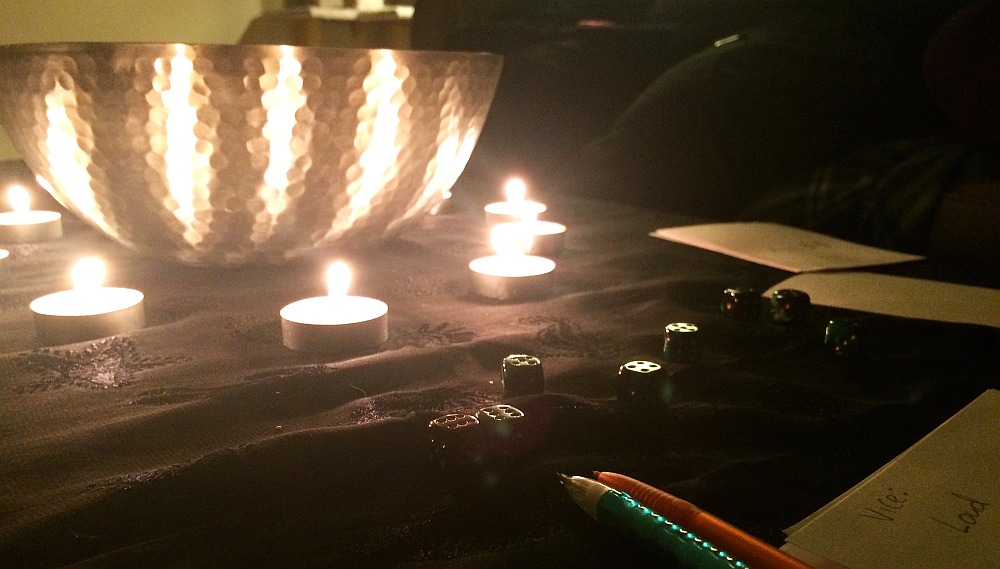 [Introducing RPG columnist Cynthia Hornbeck! As a former Utahn, temporary Minnesotan, PhD dropout and current public school teacher she is radically overqualified for a job with SU&SD. Please, nobody tell her.]
Cynthia: Hello, dear readers! I'd like to invite you all to accompany me to the end of the world, and to your death. Don't worry! I assure you that you're perfectly capable and prepared for the end – as it manifests in the phenomenal indie storytelling game Ten Candles, that is.
Ten Candles is a flexible, firelit game of "tragic horror" designed by Stephen Dewey and published by Cavalry Games. And I'm so totally in love with it. It's many scenarios take place in a variety of apocalypses where thick darkness blankets the earth and an evil force known as "Them" threatens humanity. Oh I know, there are plenty of post-apocalyptic games out there, and I imagine you're all raising your hands to ask what's so special about this one. Well, let me show you. Because what's special about Ten Candles is pretty much everything.
Katherine F. Tynderflail-Crustington, he's the worst, who invited that guy
Following on from our
early review
of Mysterium and our video that
teaches you the rules
, today we're rounding off our coverage with something a bit special. It's our most ambitious Let's Play EVER, featuring both more cameras and
more dressing up
than ever before. We're also playing exclusively with the new characters, locations and weapons found in the new expansion,
Mysterium: Hidden Signs
!
Huge thanks to T.D. for the set-dressing on this one, and to Leigh and Jessi for being thoroughly excellent 1920s psychics.
Everyone else, have a great weekend!
put the "oo" in boo, put the "host" in ghost, i can't think of any more
We reviewed Mysterium so early (and
so breathlessly
) that we never got to do a video on it. Gaw bless these rules explanations for letting us fix that!
Mysterium didn't so much replace Dixit as murder it in the attic with the mantelpiece clock, and Asmodee's new edition is just gorgeous. In fact, we're planning a full Let's Play as soon as the Hidden Signs expansion arrives, which could be as early as next month!
Man fast outside, storm tool, bird on a wire with goldie hawn
What would it be like to live in a world without words? How difficult might it be to communicate the idea of a person, an object or a work of art through nothing but a collection of slightly ambiguous icons? How would that even go?
If you think the answers to those questions, in turn, are "Pretty awkward!" "Very difficult!" and "It would be a disaster!" then you're already primed for our first playthrough video of 2016. Paul sat down with some of his friends, a copy of Concept and some very simple rules:
Divide into two teams of two.
Play to a two minute turn limit.
Choose the card (though not the exact concept) the other team must play.
Play the game on the middle of its three difficulty levels. That should be fine, right?
This is what happened.
a dashing time traveller, a cannibal lady, a drunk man setting up an apple tv
It's time for another of 2015's most breathtaking releases, and that's
not
a euphemism for a fart. Rather,
T.I.M.E. Stories
is a whole new kind of co-op board game. Your team will complete each time travel scenario in a blistering five hours and then it's time to buy a whole new deck, making this the most expensive game we've ever covered. Great Scott!
On the other hand, the only thing Quinns loves more than the movie Primer are board game expansions. What happens when an immovable force meets an unstoppable object? Tune in and find out.
deadly words, intense fuss, your horrible idiot lab rat friends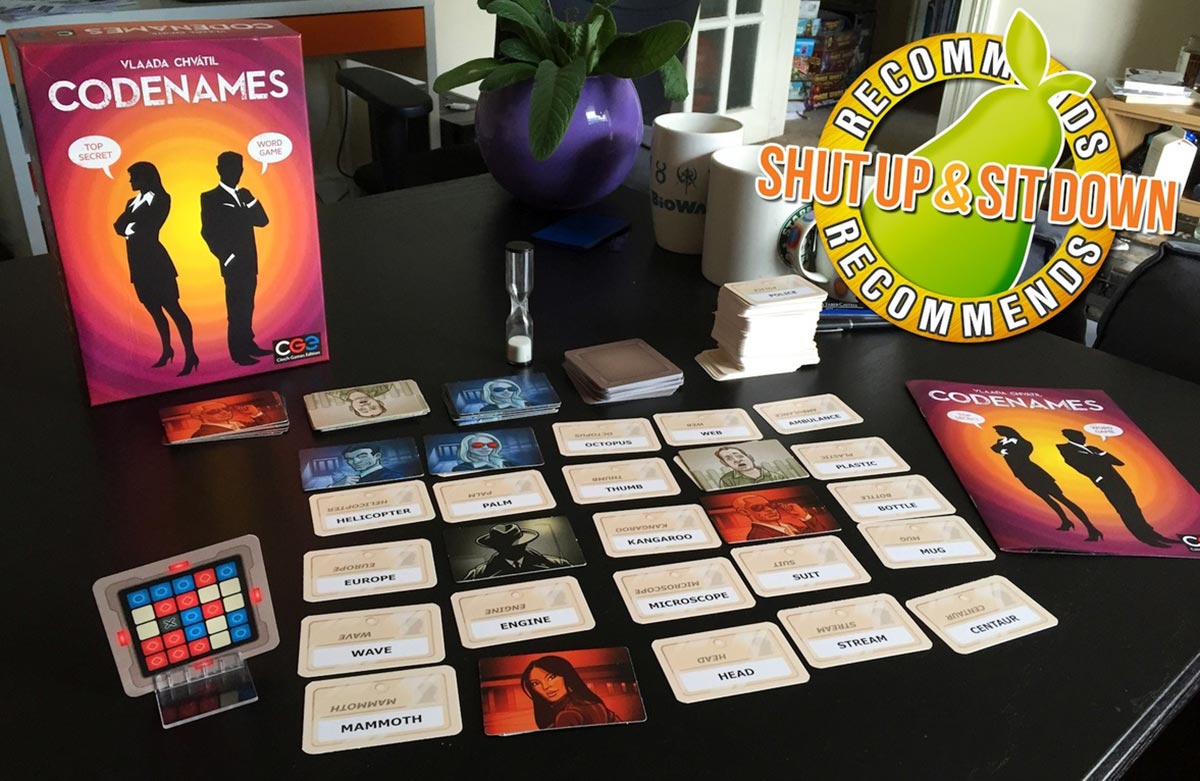 Quinns
: In an age where we can fit
dice on rings
and hold Battlestar Galactica LARPs
in decommissioned warships
, team SU&SD has learned that rules can only hold us back. The only rule we have left is that before we review a game, it has to be available for our readers to buy it.
Today, we're breaking that rule!
Codenames was the smash hit of Gen Con this year. It's still perched happily atop BoardGameGeek's "Hotness" sidebar, it sold out despite having a terrible name and a terrible box, and it's the game I heard most people gossiping about. Under such crushing hype, and knowing that articles will soon be flowing in, today we're offering our review early.
Let's start with two words: Vlaada Chvatil.
Then another five: He's done it again.