troublesome fuzziness, impterns, unless i'm drunk you are my grandchild
Brace yourselves, because Quinns (maybe) has a new favourite board game of all time.
Blood on the Clocktower is live on Kickstarter right now, and for the first time in Shut Up & Sit Down history we've published our review to coincide with that Kickstarter to help to get this game into the hands of as many people as possible.
What makes it so special? Is it the haunted gerrymandering? The frightening complexity? The fact that, under all of the lying and murder, it's a feelgood experience?
It's all of that, and much, much more. Have a great weekend, everybody!
Mr. Bimble, private pirates, one riddle udder, velveteen booties
"Start as you mean to go on," as they say. That's why for our first review of 2019 we picked a fantastic game, put on the loudest shirts that Matt owned, broke out the eyeliner,
and
squeezed in an homage to The Muppets.
Don't get distracted by all of those lovely colours, though. Featuring a bit of bluffing, a bit of logic, a bit of deduction and a lot of laughter, Treasure Island is a game that deserves some serious consideration.
The cat fell asleep, etymilogical detective, CUMBERBATCH FROM EGGS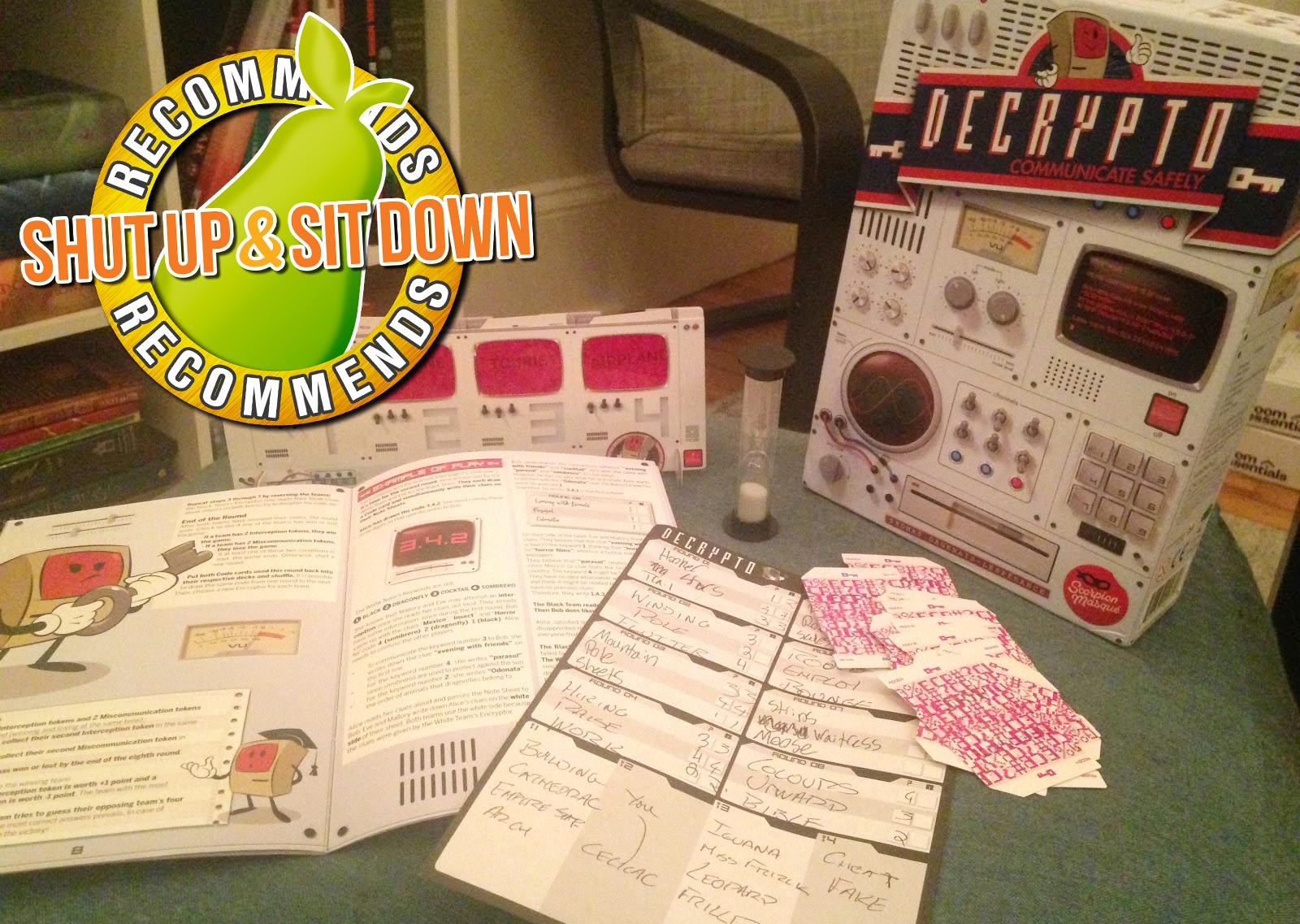 Paul
: I have never, in my life, seen so much frantic, last-minute lying. I've never seen so many misunderstandings over cake. I've never thought I'd have to explain to someone how oil is obviously, indisputably associated with Texas. And I never thought a tiny misunderstanding over a simple word like "heat" could, and would, ruin everything.
But that's Decrypto for you, a game of discord and deception that somehow ends up fraught, funny and absolutely fantastic. It sets you the simplest of challenges and creates the most convoluted complications as you and your friends try to tell secrets out in the open, right in front of each other.
jack won't behave, hamster in a hurricane, solo socks
Paul has been on the road of late and, since it's never a bad idea to travel fast and light, he's made sure to pack a few smaller games. Among them is the book-sized marvel that is Fugitive, but can a game so small stand out in a world of big boxes and flashy components? Can it compete with its big brothers? Here's our definitive opinion.
reckless and relentless, a mighty interjection, YOU ARE LOOKING AT A SHOWER CURTAIN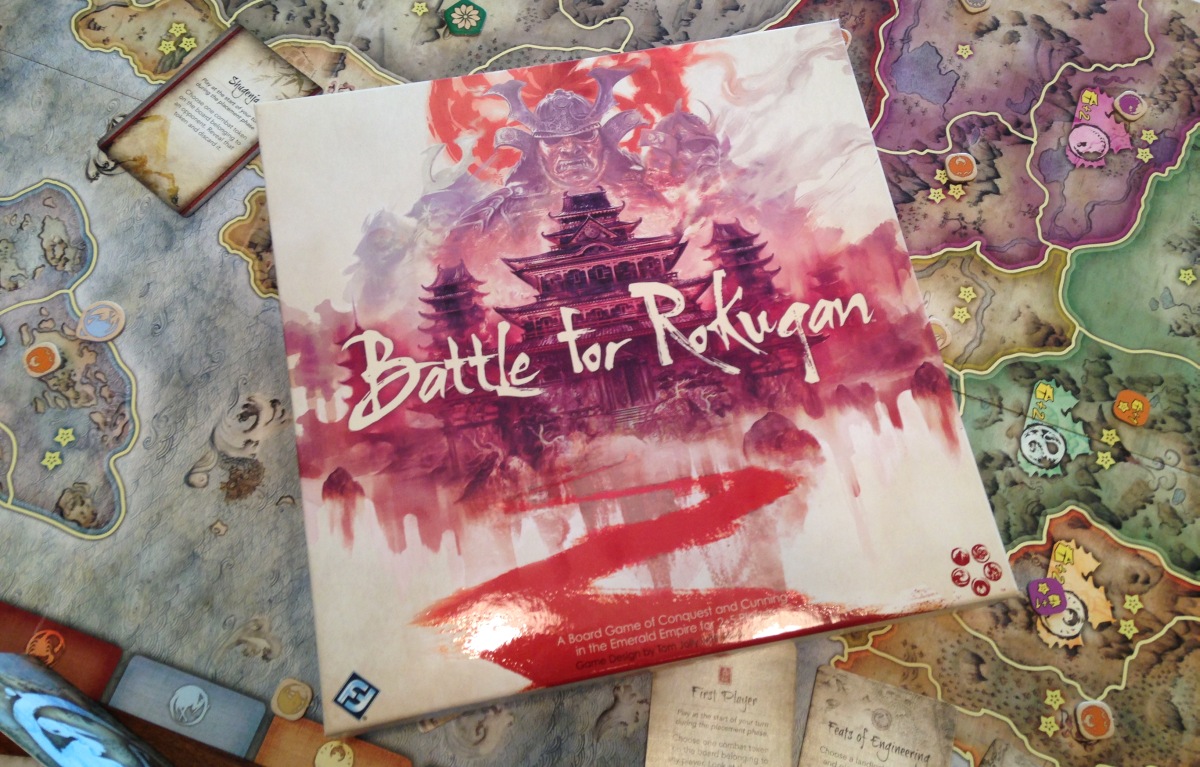 Paul
: I can't remember the last time I angered so many people so quickly. The last time I broke so many promises, stepped on so many toes, turned on so many friends. Maybe I never have before. Maybe a board game has brought out the very worst in me. Maybe my ambition has finally overcome my morality.
Was it worth it? Was all the bloodshed, backstabbing and brutality justified in service to my thirst for cardboard conquest? Would I do it all again? I just might, so take a seat and let me tell you all about Battle for Rokugan.
hot ants, cool dogs, regal bats, and an average man
As our team continues playtesting and preparing for the first of the year's Big Reviews, here's a cheeky appetiser! While Quinns was on holiday this month he filmed a couple of lightweight reviews on his favourite travel games, starting with the ever-entertaining
Cockroach Poker
.
(Yes, we published an article about Cockroach Poker before, but in 2018 our written articles reach a fraction of the audience that our video reviews do. In other words, if a game's absolutely awesome then us writing about it is basically the worst thing that could happen to it, so going forward you can expect us to occasionally re-visit a classic game in video format.)
(And no, you're not wrong, Quinns mentions Galaxy Trucker in this video but forgot to film that bit of the script. His waterlogged English brain was probably struggling with all that sunshine.)
Conversational sex act, Danny DeVito, No no no no no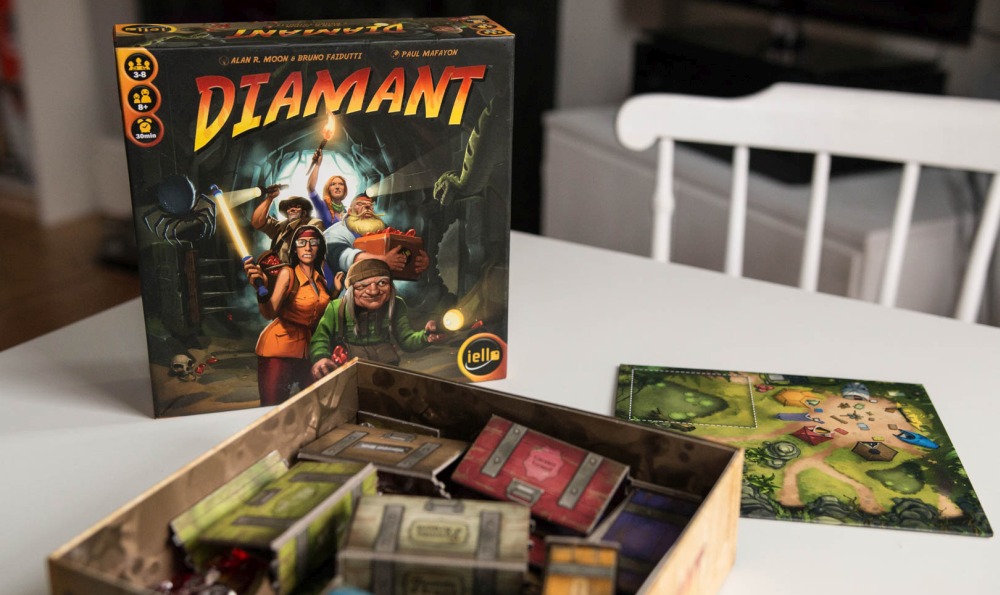 Paul
: QUINTIN. I know we want to tell people all about
Diamant
and how this cute-but-cruel game of pushing your luck can make you either rich or dead, but I've got to say one thing right thing right here, right now, right off the bat. Right?
Quinns: I'll allow it!
Paul: Diamant is probably the most fun I've had for the least investment of time and energy SO FAR THIS YEAR. I'm so sorry. I just had to blurt that. It's a petite wonder. PETITE. WONDER. Like… Danny DeVito. Or... a teabag?
Quinns: You're arriving at this party a little late though, aren't you? Last year I called Incan Gold the best little push-your-luck game I'd played in forever. Diamant is just a beautiful new edition of the same game! You can't talk about it like you've just found a dead sea scroll in your back garden.
Paul: All right, all right, back that boulder up, snarkaeologist. Incan Gold? The 2006 game? And when did you come to it, exactly?
Quinns: Erm. 2016.
Paul: An entire decade of incompetence.
give me your badge and your gun and that rock you keep in a plastic bag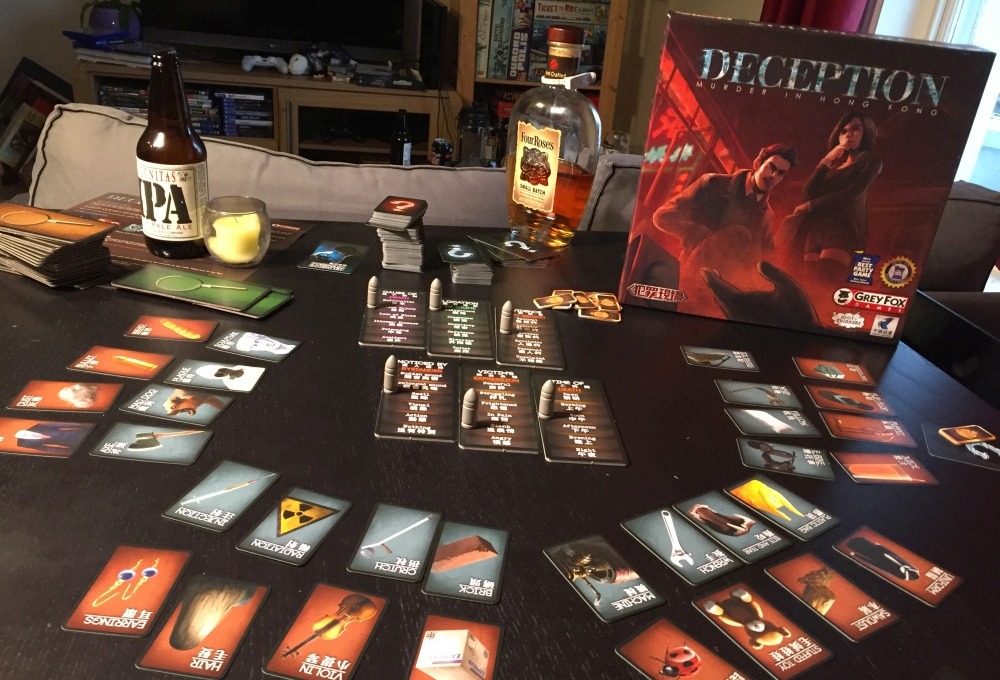 Quinns
: After playing co-operative social deduction game
Deception
, the proof is insurmountable. The 21st century police force is the greatest board game theme of all time, not because it works so well but because
it doesn't work at all.
Back in our eighth ever podcast we talked about Police Precinct, and while we had a terrible time with that game we were endlessly amused because we seemed to be playing the cast of Reno 911 on the set of The Purge. Then last year I finally got to try Good Cop Bad Cop, where in one memorable turn I confiscated my colleague's coffee as evidence, downed it in one gulp, then shot them.
But with a name like "Deception: Murder in Hong Kong" and brooding, maroon box that includes a handful of plastic bullets, you might assume that this, at last, is a serious game about law enforcement.
You couldn't be more wrong. I'm thrilled to say that Deception is every bit as silly as those others, and it's also the best game of the three. Come for a ridealong with me! You're statistically unlikely to be shot.
cool crimes, greasy opossums, rubbery kigurumis, dammit linkedin
Who wants to get extravagant! Inspired by
his own Chinatown review
, Quinns has published a
negotiation triple-bill
. Three new smallbox games, each one telling the story of dividing up loot after a cool crime, but each with a radically different approach.
At the time of writing H.M.S. Dolores looks like it has some European stock availability, but Millions of Dollars and Gentleman's Deal aren't yet broadly available for purchase. If you want these games and can't find them, simply call your friendly local game shop (or your friendly regional game shop) and put in an order.
more rules, more friends, more guns, more cash, less fun?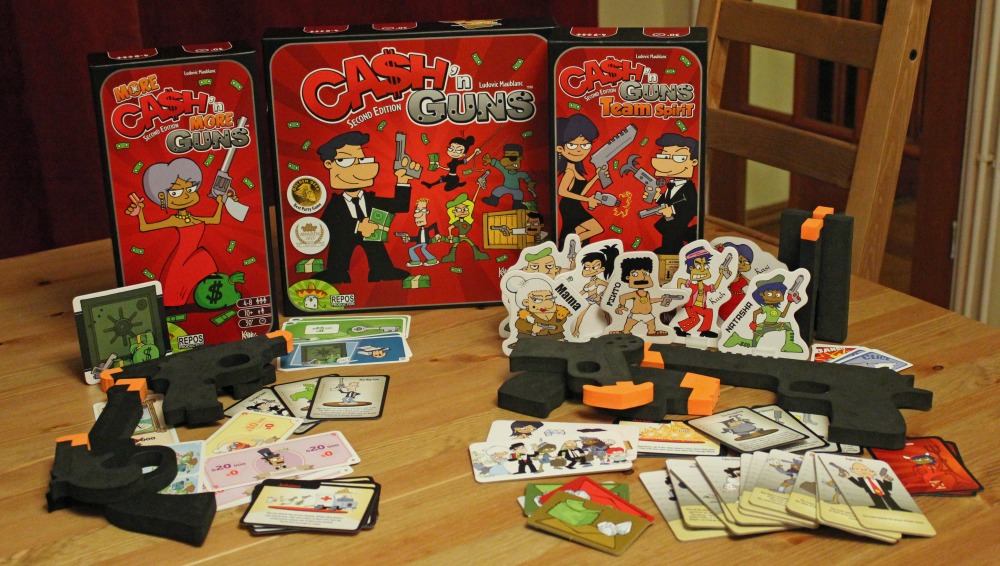 Pip
: In order to assess the two
Cash 'n Guns
expansions I've spent a couple of evenings luring friends to my house with the promise of nachos, homemade chilli and foam guns. One time there was even banana bread. That was the tastiest heist. ANYWAY! I am now in a position to tell you all of my opinions on
More Cash 'n More Guns
, and
Cash 'n Guns: Team Spirit
. Also I have a terrifying foam arsenal which makes me look like I've joined the foamy NRA.
And so! Here's a brief explanation of the base game in case you're unfamiliar: Cash 'n Guns is a party game about dividing the loot from a heist. You all play one of the ne'er-do-wells involved in the heist, each armed with a foam weapon, and you're trying to end up with the most loot. Every round loot cards are dealt onto the table, the players pick a live or fake bullet which they play face down, and then point their foam gun at another player. They then have the choice to duck out of the round, avoiding injury but missing out on loot or staying in and risking injury but also potentially being part of the loot-sharing. There's also a godfather role which can move around between players and does things like giving that player the ability to tell someone to shoot at someone else.
You can imagine that the foam guns help with the role-play and people get really into the theatricality, pretending they're in Reservoir Dogs or attempting accents. (I don't do accents because I know my limits. Cockney ends up somewhere in the West Country, Welsh is somewhere between Indian and Northern Irish, and Russian is some kind of pan-European road trip as the sentence goes along.)