Conversational sex act, Danny DeVito, No no no no no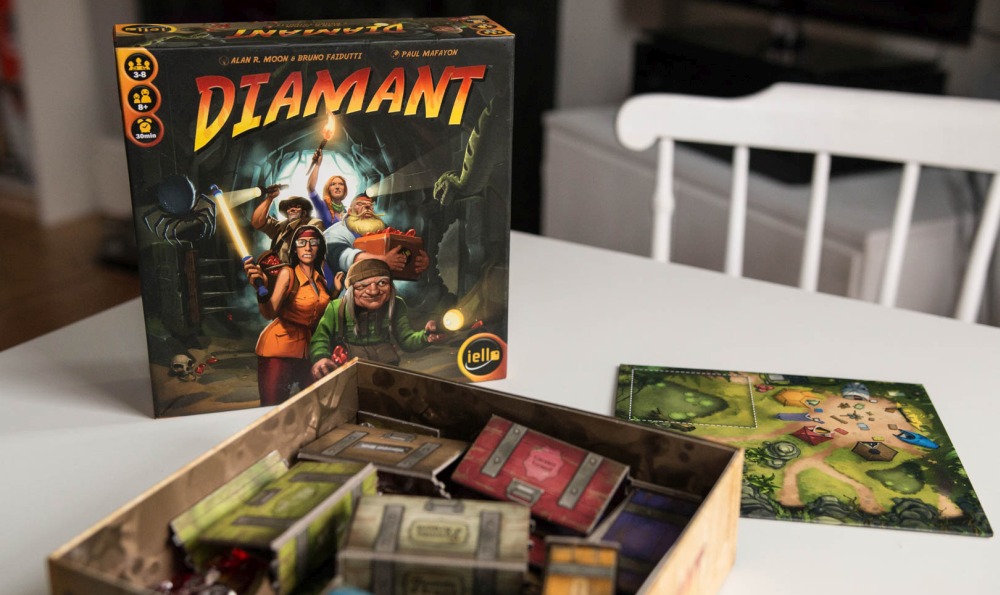 Paul
: QUINTIN. I know we want to tell people all about
Diamant
and how this cute-but-cruel game of pushing your luck can make you either rich or dead, but I've got to say one thing right thing right here, right now, right off the bat. Right?
Quinns: I'll allow it!
Paul: Diamant is probably the most fun I've had for the least investment of time and energy SO FAR THIS YEAR. I'm so sorry. I just had to blurt that. It's a petite wonder. PETITE. WONDER. Like… Danny DeVito. Or... a teabag?
Quinns: You're arriving at this party a little late though, aren't you? Last year I called Incan Gold the best little push-your-luck game I'd played in forever. Diamant is just a beautiful new edition of the same game! You can't talk about it like you've just found a dead sea scroll in your back garden.
Paul: All right, all right, back that boulder up, snarkaeologist. Incan Gold? The 2006 game? And when did you come to it, exactly?
Quinns: Erm. 2016.
Paul: An entire decade of incompetence.
give me your badge and your gun and that rock you keep in a plastic bag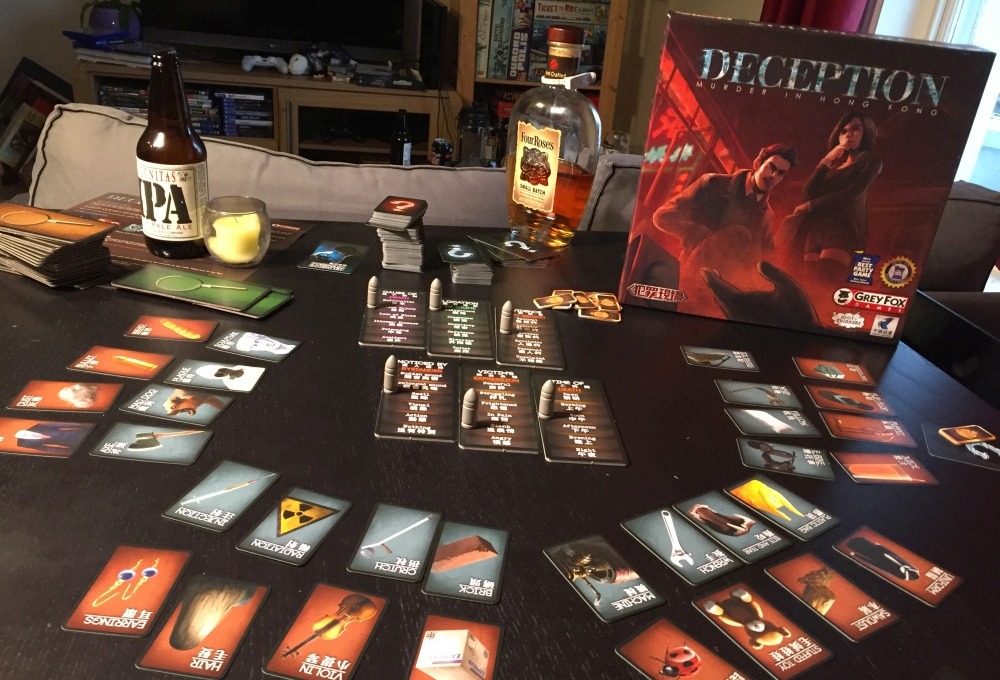 Quinns
: After playing co-operative social deduction game
Deception
, the proof is insurmountable. The 21st century police force is the greatest board game theme of all time, not because it works so well but because
it doesn't work at all.
Back in our eighth ever podcast we talked about Police Precinct, and while we had a terrible time with that game we were endlessly amused because we seemed to be playing the cast of Reno 911 on the set of The Purge. Then last year I finally got to try Good Cop Bad Cop, where in one memorable turn I confiscated my colleague's coffee as evidence, downed it in one gulp, then shot them.
But with a name like "Deception: Murder in Hong Kong" and brooding, maroon box that includes a handful of plastic bullets, you might assume that this, at last, is a serious game about law enforcement.
You couldn't be more wrong. I'm thrilled to say that Deception is every bit as silly as those others, and it's also the best game of the three. Come for a ridealong with me! You're statistically unlikely to be shot.
cool crimes, greasy opossums, rubbery kigurumis, dammit linkedin
Who wants to get extravagant! Inspired by
his own Chinatown review
, Quinns has published a
negotiation triple-bill
. Three new smallbox games, each one telling the story of dividing up loot after a cool crime, but each with a radically different approach.
At the time of writing H.M.S. Dolores looks like it has some European stock availability, but Millions of Dollars and Gentleman's Deal aren't yet broadly available for purchase. If you want these games and can't find them, simply call your friendly local game shop (or your friendly regional game shop) and put in an order.
more rules, more friends, more guns, more cash, less fun?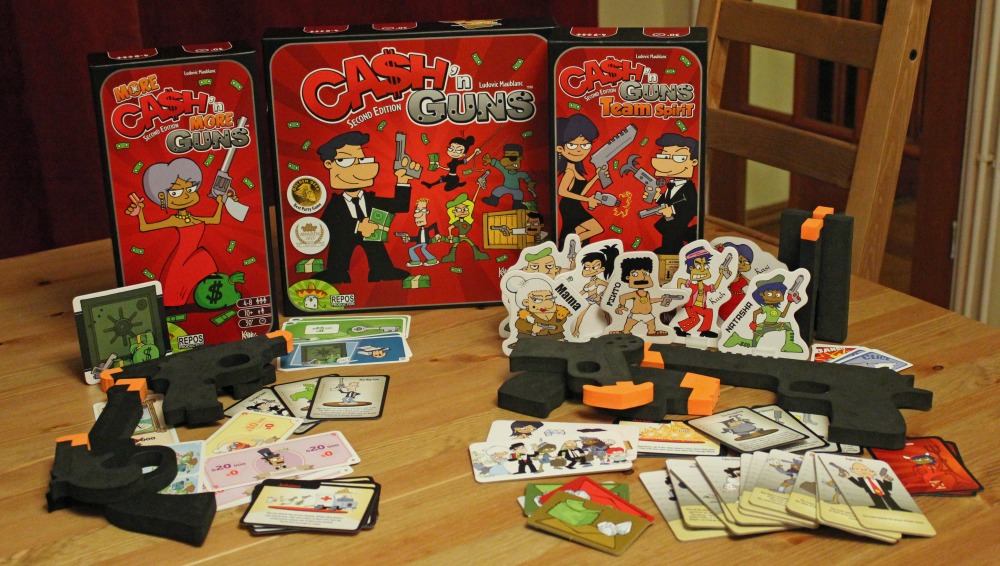 Pip
: In order to assess the two
Cash 'n Guns
expansions I've spent a couple of evenings luring friends to my house with the promise of nachos, homemade chilli and foam guns. One time there was even banana bread. That was the tastiest heist. ANYWAY! I am now in a position to tell you all of my opinions on
More Cash 'n More Guns
, and
Cash 'n Guns: Team Spirit
. Also I have a terrifying foam arsenal which makes me look like I've joined the foamy NRA.
And so! Here's a brief explanation of the base game in case you're unfamiliar: Cash 'n Guns is a party game about dividing the loot from a heist. You all play one of the ne'er-do-wells involved in the heist, each armed with a foam weapon, and you're trying to end up with the most loot. Every round loot cards are dealt onto the table, the players pick a live or fake bullet which they play face down, and then point their foam gun at another player. They then have the choice to duck out of the round, avoiding injury but missing out on loot or staying in and risking injury but also potentially being part of the loot-sharing. There's also a godfather role which can move around between players and does things like giving that player the ability to tell someone to shoot at someone else.
You can imagine that the foam guns help with the role-play and people get really into the theatricality, pretending they're in Reservoir Dogs or attempting accents. (I don't do accents because I know my limits. Cockney ends up somewhere in the West Country, Welsh is somewhere between Indian and Northern Irish, and Russian is some kind of pan-European road trip as the sentence goes along.)
gremlins II, gremlins, vampires, what was up with that sexy gremlin anyway
Happy Halloween y'all! To celebrate this most fiendish of holidays Paul's 
brought a game back from the dead.
SU&SD first covered Werewolf with Matt's candlelit review. Since then we've fallen in love with One Night Ultimate Werewolf and its standalone sequel, Daybreak.
Today Paul investigates the next game in this undying chain. One Night Ultimate Vampire significantly en-complicates the series we know and love. Can it possibly survive?
the best rules, the worst die, quintin smithu mooltipas, honest-to-god sex
It was two years ago that Paul and Quinns
ordered you guys to buy Dead of Winter
. Today, we've got fantastic news for everyone who disobeyed us!
Dead of Winter: The Long Night is a new, standalone expansion for Dead of Winter that's bigger and sexier than the original game. But since it's mostly the same game again, we figured that instead of a review we'd do a rules explanation for both games with a teeny buyer's guide on the end.
And yes, we're aware of the irony that our filming date for this frosty game fell on the hottest day of the year. At least
maybe it's not a skull, i bet that's a skull, is that a skull, oh DAMMIT
If you ask us what our favourite game is, it changes with the weather. If it's a sunny day, Cosmic Encounter. If it's wet and windswept, Consulting Detective. If it's a sleepy autumn night, Memoir '44. And so on, forever and ever, until we get tired and go to sleep.
But if you ask our team which game they've played the most, you'll only get one answer: Skull*. Arguably the best bluffing game ever made, and a glittering showcase of just how much game you can get out of a minimum of rules.
If you're still not sold, check out Matt's review and a recipe! Skull with Fresh Pizza.
*Though Quinns' Netrunner habit and Paul's Carcassonne addiction do offer some competition.
clutch heroines, emergency bishops, scarecrow power
Condottiere
is a card game with a little bit of everything. A bit of area control, a bit of bluffing, a bit of hand management, a bit of negotiation and a bit of luck. It's like a delicious sampler platter of everything board games have to offer, and it's a perfect game to start your collection with.
Shut Up & Sit Down has talked up this classic since the site began. Check out this review from back in 2011! It turns out this game is still available in shops and still excellent, so it's time to do it again!
have fun hunting an old and potentially misgendered man across europe
You ask, and we provide! Our second ever
How to Play
video walks you through your first game of the sublime 3rd edition of
Fury of Dracula
.
Once again, this isn't a COMPLETE rules explanation (we forgot to mention that Dracula can't be found in sea spaces and doesn't place encounter cards, for a start), but it should certainly give everyone a ruddy good grasp of the game before you get stuck into the dirty business of questions and manuals.
Enjoy, everybody!
I mesmerise you, no I mesmerise you, no I punch you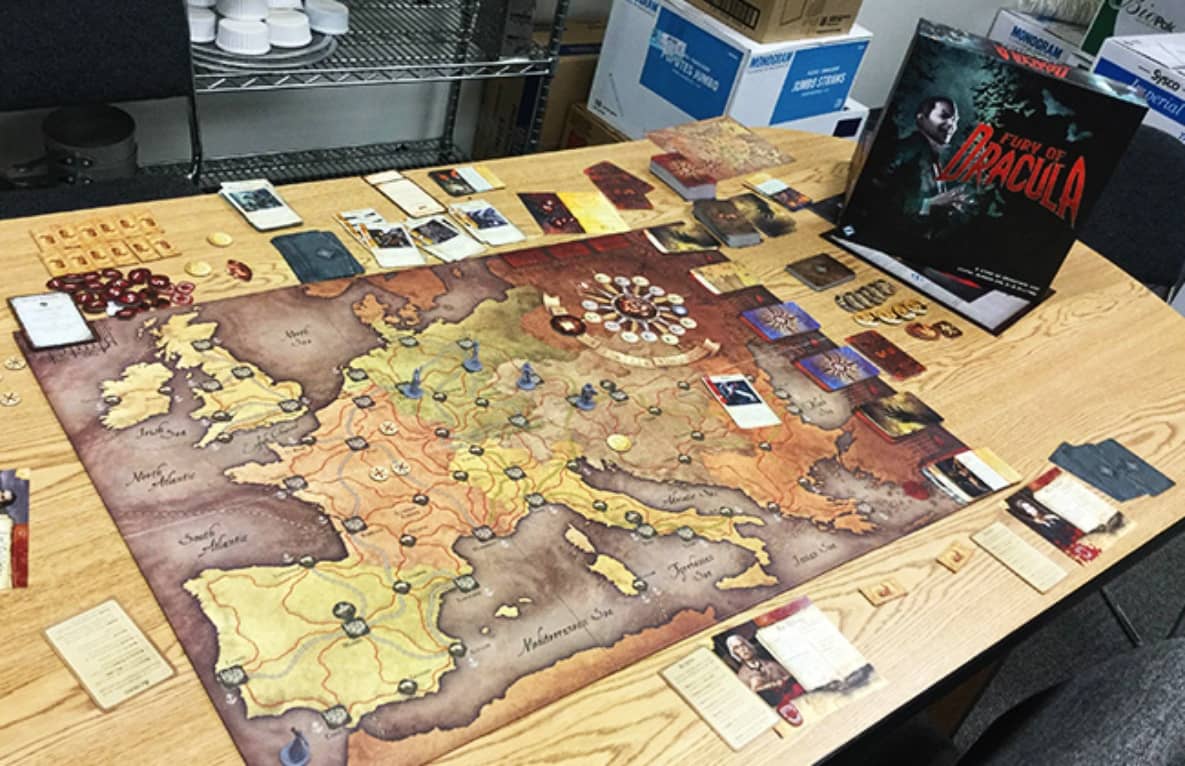 Paul
: I'm a doctor. I'm not
the
Doctor, but I have dogs and garlic and a knife and a gun, along with train tickets that take me all over Europe. That's better than anything Colin Baker ran around with. The dogs are
particularly
useful because they saved me from an ambush. This was just one of all sorts of unpleasant surprises that Dracula had left in his wake, like horrid slime behind a slug, as he slipped his way across Europe. In this case, he'd left a nasty surprise in Edinburgh, one of my very favourite cities. Damn you, Dracula, for ruining such a fine town.
Quinns: Paul, are you excited about the new edition of Fury of Dracula? Fantasy Flight's gothic hidden movement game, originally from Games Workshop back in the distant past, has been out of print for so long now that it's almost passed into legend. Now and then, copies surface online with ridiculous three-figure price tags, but they're as rare as hen's teeth.
Paul: As rare as vampire fangs! Except those fangs aren't rare any more. Dracula's back! He's back in style, too, with a glossier cape, a smoother style and even an improved map of Europe. I'm glad to see Dracula back because the boy done good.