Brendan's Correct Way to Scratch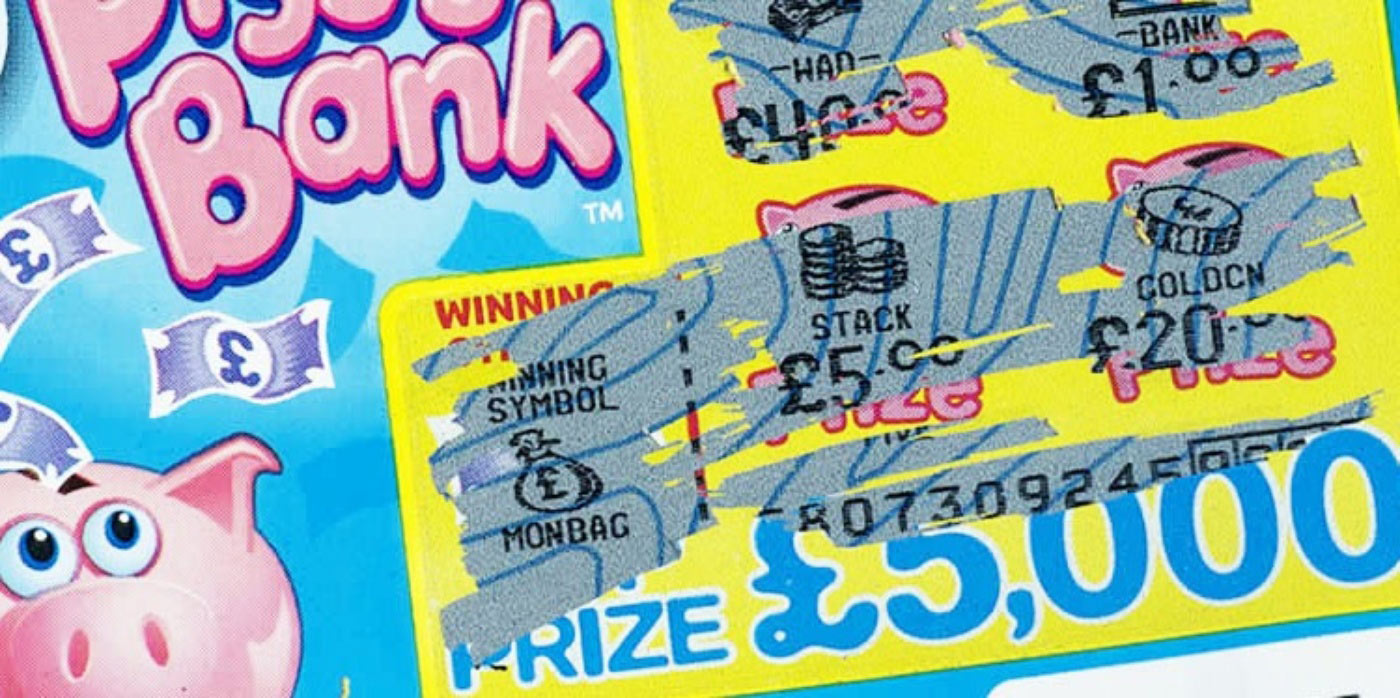 [
We're trying something a little different here. Brendan recently wrote an article about scratchcards on his blog which we thought was rather special. He's kindly let us republish it here as text (below) and as an improbably transporting spoken word piece in our podcast section. Take your pick, everybody! And enjoy.
]
Brendan: Scratchcards – the most worldly and humble of the lesser gambles. Although I am far from being one of the people who are inexplicably and tragically addicted to them, scratchcards nevertheless maintain a power over me. I was talking about them with some friends recently and concluded that my enjoying a scratchcard has more to do with ritual than money. Although, let's be honest, like all forms of gambling, the money is at the nucleus of its strange charm.
I like scratchcards because there is a very particular method of playing a scratchcard, which goes far beyond the simple physical act of searching for gold beneath the layer of coarse latex, scouring away at that grey scum of possibility. No. The correct – the ONLY – way to play a scratchcard is to adhere with fearsome loyalty to the Caldwell System of Gambling, which I will now describe.
Firstly, you must buy a scratchcard only as an impulse, when buying other things. Arriving one day at the checkout, with your hands full of milk, bacon, chilli-coated peanuts, you will glance absent-mindedly at the stand of colourful cards and be immediately shaken with the intense feeling that you are alive and that nobody can stop you from winning everything. Although, that is not to say you feel confident. This is a feeling more wistful and playful in nature than confidence. It stands to reason that what you are feeling is a sense of fatefulness. If you are an atheist, this is the closest you will ever come to detecting providence in your life. Put down your milk for a moment.
Now the decision comes: which card to choose? This is a simple matter. Do not make the common mistake of believing the £5 scratchcard is in some way superior to the £2 scratchcard, itself more honourable than the £1 scratchcard. This is wrong. All scratchcards were made equal, except the ones with money in them, which have been made rich. The people that create these cards have the most beautiful name – the Scientific Games Corporation – beautiful because such a name is one more glinting jewel of evidence that we live in the Future and that dystopia is redundant. In any case, the Aryan myth of the £5 scratchcard's nobility of breeding probably stems from the increased odds of winning. However, as we shall see, these odds (fluctuating approximately between 1 in 4 to 1 in 3.5) simply do not matter, as success is mostly incidental to the following proceedings. In fact, to the untrained eye, the Caldwell System appears to want nothing to do with winning. The process can be more likened to 'having the craic' or perhaps theatre. Remaining mindful of the excess of customers forming behind you (carrying their milk, bacon, chilli coated peanuts) you should therefore choose the scratchcard with the most modest character, invariably of the £1 variety. This is a part of the story foundation process. If you should ever win big (the Top Prize on these purple ones says £100,000) you will want the story to begin thus.
YOU: I won £100,000 on a scratchcard!
MOTHER: Good God! Was it one of thon £5 behemoths?
YOU: Nay. Twas but a quid. A punt in the dark.
MOTHER: The purple ones! You don't say?
YOU: I do, I do.
MOTHER: You are a meek one, to be sure. You won't forget your roots as a rich man.
YOU: I certainly will not.
However unlikely this scenario may seem, it is important to stay honest by buying only the £1 cards. Any other species and a win – no matter how great – is inevitably polluted by the grandiose gesture of spending five whole pounds on a single card, not to mention aligning yourself with the Übermensch bigotry of the more unsavoury scratch theorists. No. You will recognise the card for you very easily. The £1 cards are plain of colour and font, simple of conceit, sometimes adorned with ungainly mutant scrawls masquerading as cartoon pigs. You should buy only one.
The following phase is difficult for those to whom it does not come naturally. You must put the scratchcard into your back pocket (this is very important) and, as soon as possible, forget entirely that it exists. The reason the back pocket is used and not the front, despite the obvious disadvantages, is that, above all, the principle of fatalism must follow the course of this card for as long as it remains unscratched. This means putting it in your back pocket to allow for the slim possibility that bodily motion will cause the card to slip out unnoticed on the pavement, in the restaurant, in the restroom. Yes, you will lose the card in this case – but this too is a part of the process. Like I say, this phase is difficult for many people to grasp but allow me to put it to you like this: have you ever found an un-scratched scratchcard lying on the ground? (On the pavement? In the restaurant? In the restroom?) Did you pick it up? And did you smile to the blue and white canopy above you as if the sky itself had provided the card? And did you spare a brief thought for the man or woman who adhered to the back pocket routine, understanding all the while the possible costs? If the answer is 'yes' then you will understand this adherence to karmic fate – it is an almost Eastern feeling of universal destiny and the acceptance that one is subservient to Events. This includes losing the scratchcard, which you have anyway entirely forgotten about. Never mind, for someone else may find it and win, while the world spins on.
Some time later (days, a week?) something will occur or some words will be idly said and your brain will crack like a sparkplug. The scratchcard! The sensation of reaching into your back pocket to feel the thin sliver of theatre and hope and finding it still there, with all its attendant possibilities, is remarkable. Do you see now? It is for this intense (if short-lived) smile that the previous phase is indulged. This is an important point: the practice of deferred gratification can apply even to the gambler. A person imbued suddenly with a fateful and dreamy impulse at the checkout can also contain within them the most wonderful cornerstone of discipline – a calm forgetfulness. Only now, when the mixture of remembrance and delight has compelled you into your back pocket for the card, is it time to scratch.
The mathematics behind the scratching drill itself are difficult to describe in any brief way. You should be aware that this is a very precise, mechanical operation. The preparations are the easiest part to detail. You will need to find a penny, or a two pence coin. It is IMPERATIVE that you use only these coins. No other coin will do. As an American or other nationality, the smallest equivalent denomination is to be used. The reasoning behind this is similar to that which prohibits the purchase of £5 cards under the system. In fact, a disdain for all ostentation (buying multiple cards, scratching them with gaudy £2 coins) runs through the whole process. Scratching with your house key or car key is certainly out of the question. Using your thumbnail or fingernails is allowed but only if they are not glossy with bright paint or adorned with tiny jewels. However, should the fingernail paint be flaking off, days or weeks after application, then by all means: scratch away. Ignore these caveats and conditions at your own peril.
Get your brown coin or plain fingernail ready. Many minds will have tried to reduce the optimum order of scratching to its base mathematical formula. Yet, there is no perfect 'Tic Tac Toe' solution to these flaky grids, and the system I am prescribing cannot be said to be perfect by any means. Nonetheless, it is rooted in a simple emotive idea: that you must keep yourself in suspense for as long as possible, especially while scratching. In the spirit of this suspense, it is perhaps wise to put down your coin so that we may take some time out to describe the 'Ten Percent' rule.
The 'Ten Percent' rule is simple. If a family member is in the room when the scratchcard has been remembered and retrieved, then etiquette demands that you agree to give them ten percent of the winnings, should Fortune rule in your favour. However, they should refrain from demanding their cut outright, as it is impolite. Still, it is equally, if not MORE offensive to play the card without any comment at all, or with a brusqueness that implies you did not care who won anything. Please practice caution if there is more than one family member in the room, as things may become dangerous.
Now that royalties have been mostly covered, the scratching can finally begin. Take the brown coin, or unembellished fingernail, and scratch the card's grid methodically, taking time to consider each revelation separately. Remember that suspense is the key to the technique.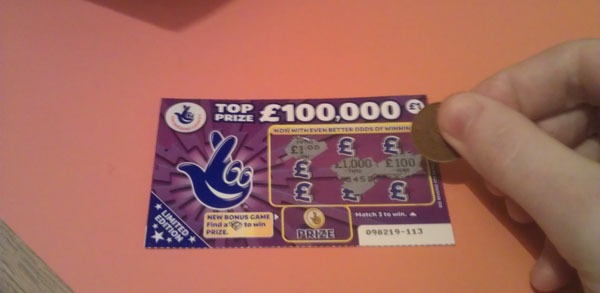 Since there are likely to be onlookers and the process involves a certain air of theatricality, it requires statements be made ("Let's do this thing!"), updates be given ("Oh! We have two £1000s!") and summaries be provided ("Okay, we've got a £10 and a £100 as a possibility"). This is all not to mention the final flourish when the last possible digit is scratched and revealed, which should always be accompanied with a gambler's battle-cry – a guttural, growling "come ooonnnnNNNNNN!" descending to a "NNNAAaaghh fuck it" when loss is incurred.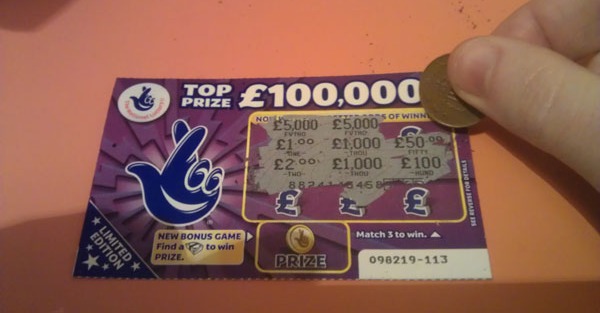 Should you win, remember to honour the Ten Percent rule, but beyond that the celebration is yours. I know of no process for winning, nor for being rich. Fate has either delivered you to riches, or placed you back in the line for the checkout. If you have lost, look over your card one last time and remember the final act of the ritual, more important than any other. You must tear the scratchcard directly in two.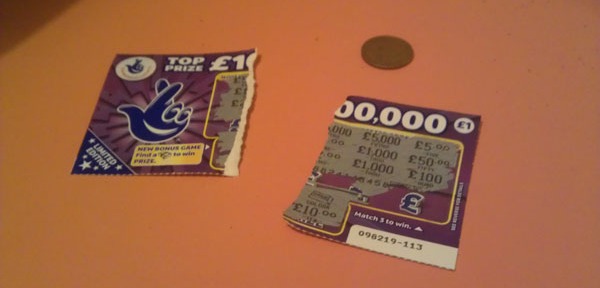 The Tear is colossally significant. In this way you have dismissed it all. You have dismissed the riches, the consumption, the possibilities. All the energy of the process may have led up to the point where a gruff cry of hope resounded throughout your home. Yet a shrug and a single swift tear is all that is needed to dispose of it. Do not tear the card again, into quarters – you do not need to. Once is OK. The cars, the holidays, the clothes, the things. They are not for you. You did not want £100,000 anyway. This is perhaps the most necessary part of the process. The final salute to Fate. At the end of a scratchcard, as in all of life: remember the Tear.