bad slides, big lobsters, working on the racism farm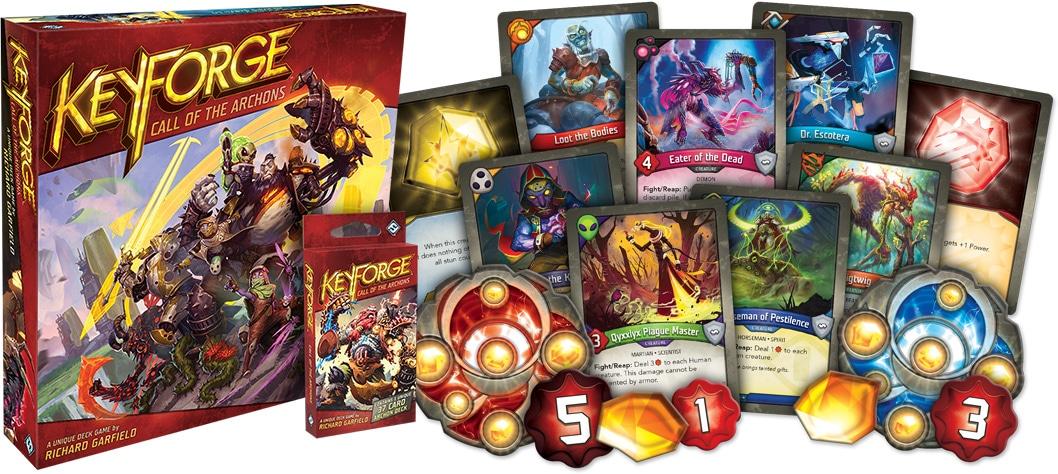 Matt
: It's a snappy news roundup this week, as Quinns and I are both prepping and packing for a journey to Philadelphia's
PAX Unplugged
! And oonce again we're stuck with an impossible question- how many games do you bring to a gaming convention?
Quinns: URGH. Bring too many and there's no room in your bag for more games, bring too few I am reduced to a grumpy banshee, stalking the halls of my hotel and wondering why I have naught to play.
Matt: One of the games I'm definitely bringing is Keyforge, which Quinns and I are currently playtesting for our big, end-of-year blowout review.
And actually, that game made headlines this month.
we just have one office rule, don't make eye contact with the pear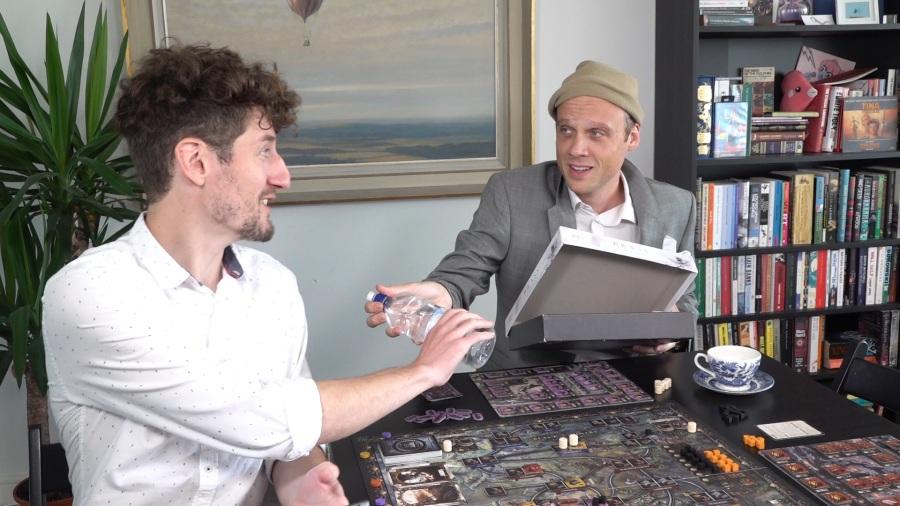 Quinns
: Hello all! Big news today. With Paul moving on to pastures new, we're beginning the search for new team members. Today, we're excited to announce a new, paid, part-time internship.
Throughout 2019, SU&SD will be offering a series of 3 month positions open to anyone in the UK interested in working with us, getting in front of our audience and learning everything that we can reasonably teach you about board games, scripting, video production, and all of the admin that gets stuck in-between.
We can't promise that any of these paid internships will lead to future work, but they really might. That said, even if they don't, we're confident we'll be able to teach you a whole lot, and - if it's something you want - we can help you to find your own audience.
Matt: We've gotten pretty good at what we do, but new voices and perspectives are always important - so whilst wit and on-camera charisma are a boon, we'd like to make it clear that applicants for these internship needn't have all the same skills that we do. Both myself and Quinns were lucky to start our careers in magazine writing - a culture that naturally cultivated mentorship and gave us both a really solid head start. In 2019 we'd like to try and pay this forward.
If you or someone you know would like to apply, all of the details can be found here, and the deadline for applications is January 31st.
matt the gyrados, did you know that is your wife, the nicest assassin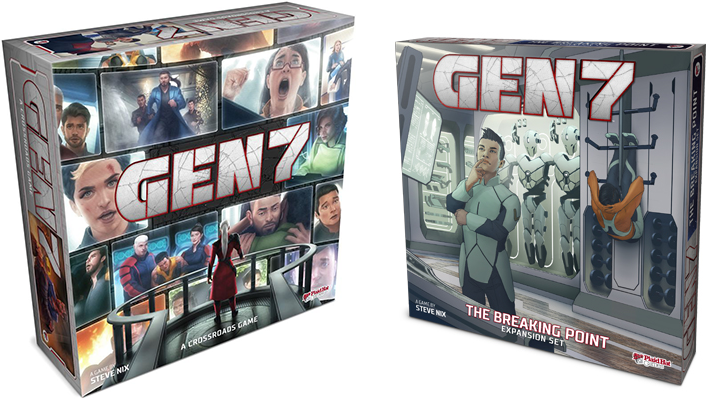 Matt
: After being firmly informed by readers last week that it is "never too early for ice-cream", I have been scavenging in a safe radius around the news desk, seizing control of Viennetta factories, busting Cornetto bunkers wide, wide open - and generally taking control of all dairy choke-points. My mastery of breakfast sugar knows no bounds, and I am now fully prepared to dance upon the news desk.
Quinns: I just woke up and WHY IS THERE CREAM EVERYWHERE
...Cream, but also news. Let's get stuck in.
gaunt boxers, sweet sketchy steggos, if pipe mania went to business school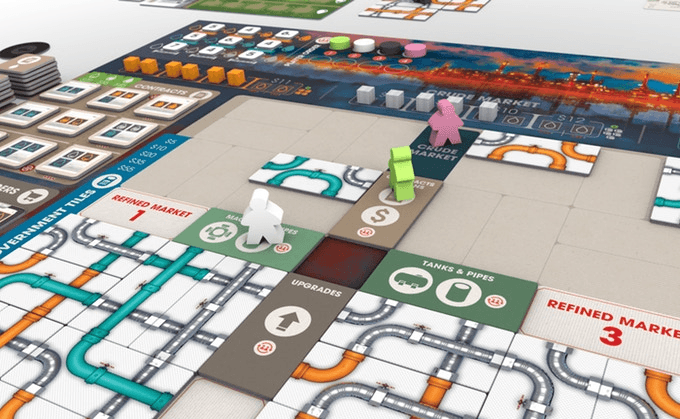 Quinns
: If I'm, honest, Matt, when I wrote these with Paul he'd let me sleep in a bit longer.
Matt: The news waits for nobody, Quinns. How many stories did we miss while you were unconscious?
Quinns: I don't know? It's hard to think while you're in my bedroom and kneeling on my chest
Matt: This is your fault! You've awakened a craving in me, Quinns. An insatiable hunger for scoops. And it's too early for ice-cream, so let's get to work.
the bandanna envelope, gloopy minis, reavin' kids, matt's 5 memories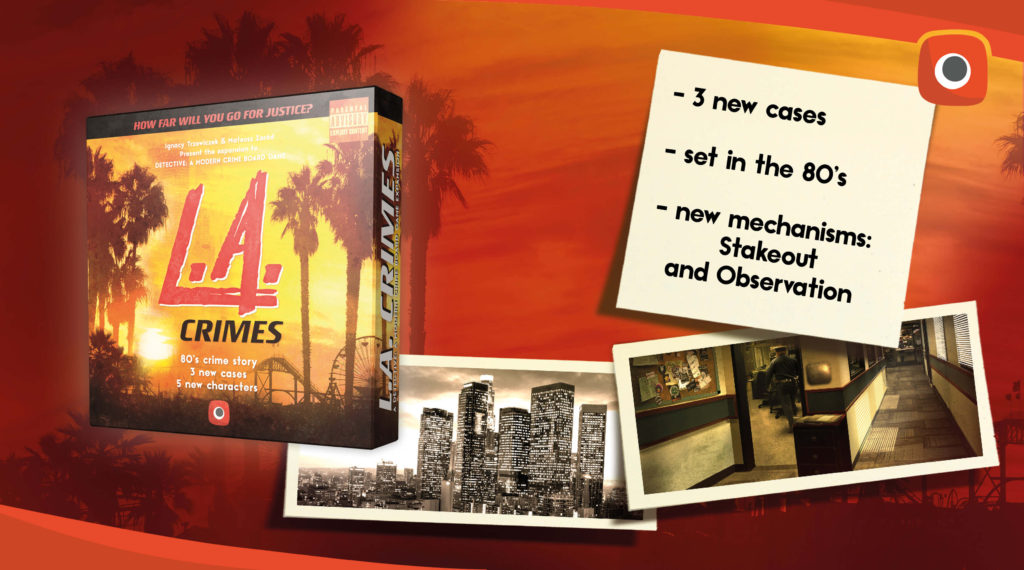 Quinns
: Today I'd like to welcome a relative newcomer to the news, it's SU&SD's own Matt Lees. Matt, please climb up from under the news desk.
Matt: I'd really rather stay under here, Quinns – it's cold up there and I'm ever so toasty in my nest of chewed-up Netrunner cards.
Quinns: If you won't come to the news, then the news will COME TO YOU
Matt: Please stop inserting stories into my mouth and face, I'll do the news I'll do it I will
a hill worth dying on, death warmed over, generational trauma, sticker schlock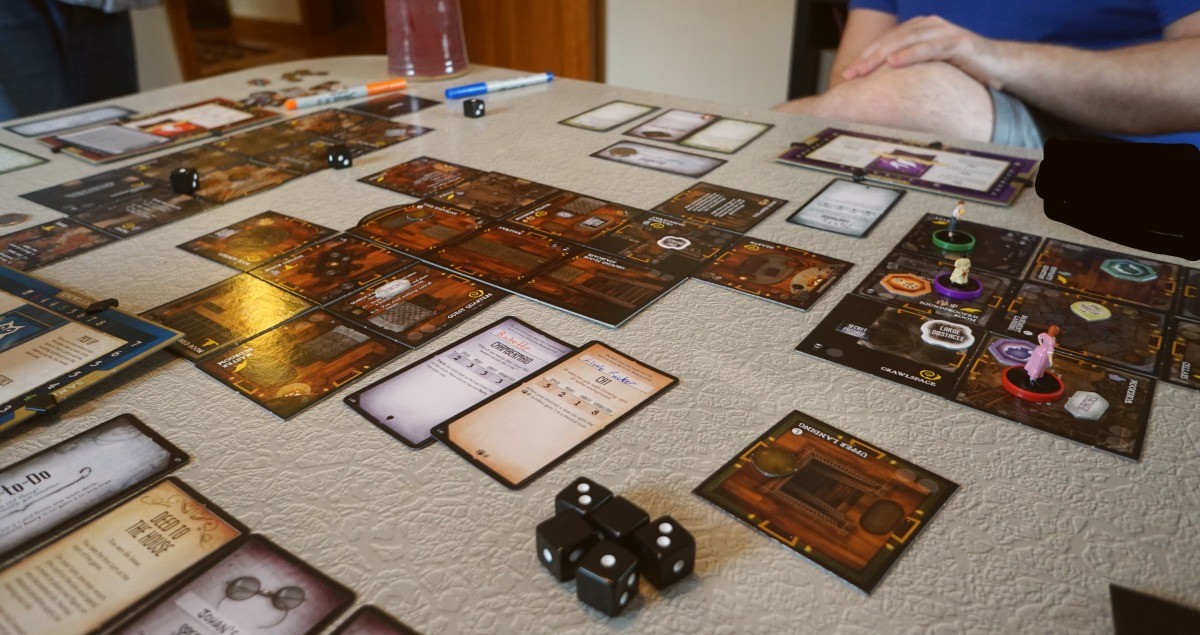 [Hello everybody! Please welcome back Jon Bolding, the rogue who offered us reviews of Orléans and the World Wide Wrestling RPG. As a special Halloween treat, today we're shoving him towards the campaign-powered sequel to Betrayal at the House on the Hill. Bwa-ha-ha...]
Bolds: Moving to live in a new place is stressful, nigh on terrifying. A place where the faucets turn differently, the light switches are in odd places, and your bed faces a wholly new wall.
Well, GET READY, because Betrayal Legacy is a game about moving into a new house over and over, forever, without end. A new house where the portraits leak blood, the attic is infested with gremlins, and even the ghosts have skeletons in their spectral closets.
changing the guard, turning the page, passing the first player token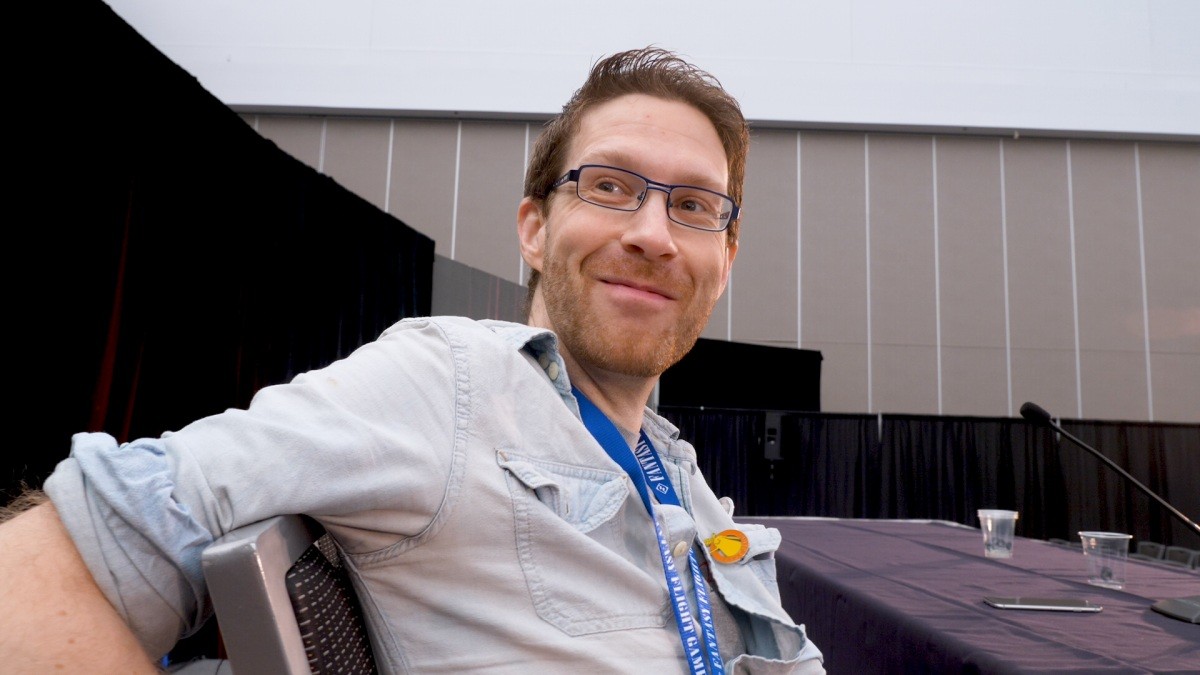 Paul
: Good morning, everyone! Would you like some hash browns? ME NEITHER, I've never been a fan.
Anyway, I hope you all won't mind, but after seven and a half years of very hard work, I'll be taking a break from Shut Up & Sit Down to focus more on writing, something I've not been able to pursue much for a while and which I miss terribly.
quinns has a couple of spatulas and he knows right where to stick 'em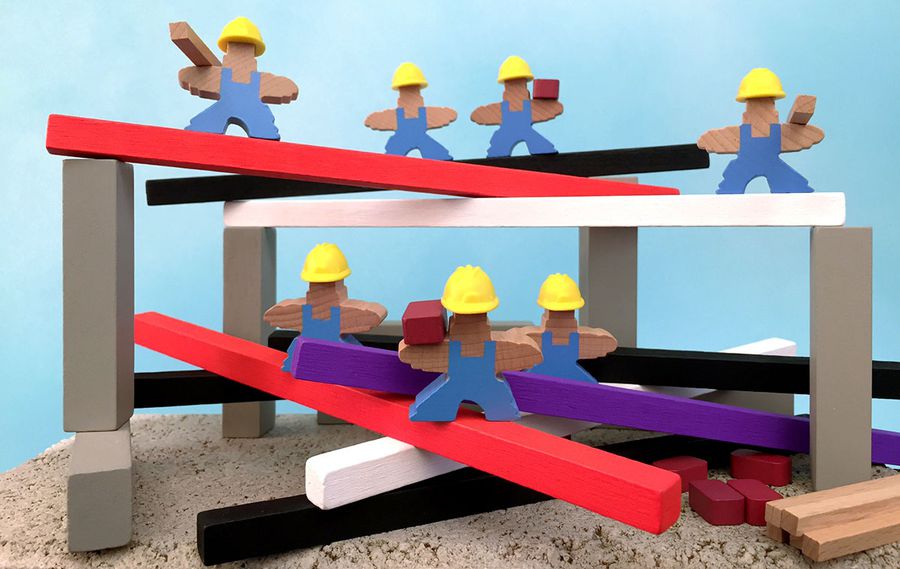 Paul
: Oof, sometimes you instantly know what must surely be the best Games News announcement of the week. It's
Men At Work
, the debut design from Rita Modl, illustrated by the magnificent Chris Quilliams and coming from dexterity experts (aka "dexperts") Pretzel Games.
Flick 'em Up was flickin' fabulous. The co-op Flick 'em Up: Dead of Winter was supposedly excellent. Junk Art was just great. Can they do... what's the equivalent of a hat trick but for four things?
Quinns: I think it's a phat trick.
Paul: You just made that up.
Quinns: Yes.
a tangential experience, a tiger squirrel, a robot dinosaur, please no not county jail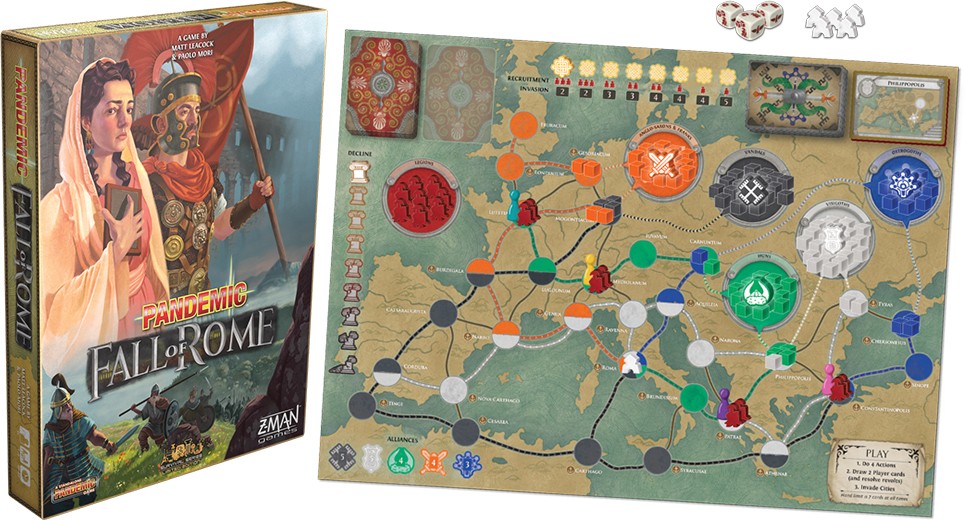 Paul
: Today's Games News comes bursting through your front door like a SWAT team seizing all your pirate DVDs. Why DO you have quite so many pirate DVDs? Why haven't you moved on to Blu-ray? These are questions we've all been asking and I guess you'll have plenty of time to ponder them in the COUNTY JAIL.
ANYWAY, Pandemic: Fall of Rome is on the way from Z-Man Games, it puts a new spin on the the classic cube-busting series and… I can also reveal that I've already tried it.
clam down paul, a non-electronic play environment, a baby in a bin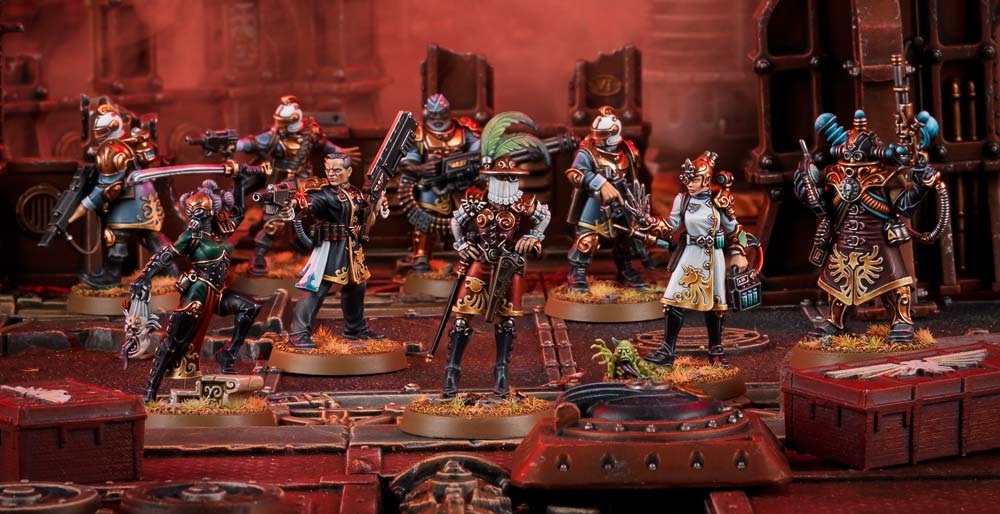 Paul
: I specifically told American punk rockers Green Day to wake me up when September came* and they have done with an absolute earful of games news. We've got everything from castles to fish to Lara Croft this week, so let's get this season rolling...
Quinns: ...with WARHAMMER.
Wait, hang on. Warhammer... in schools?