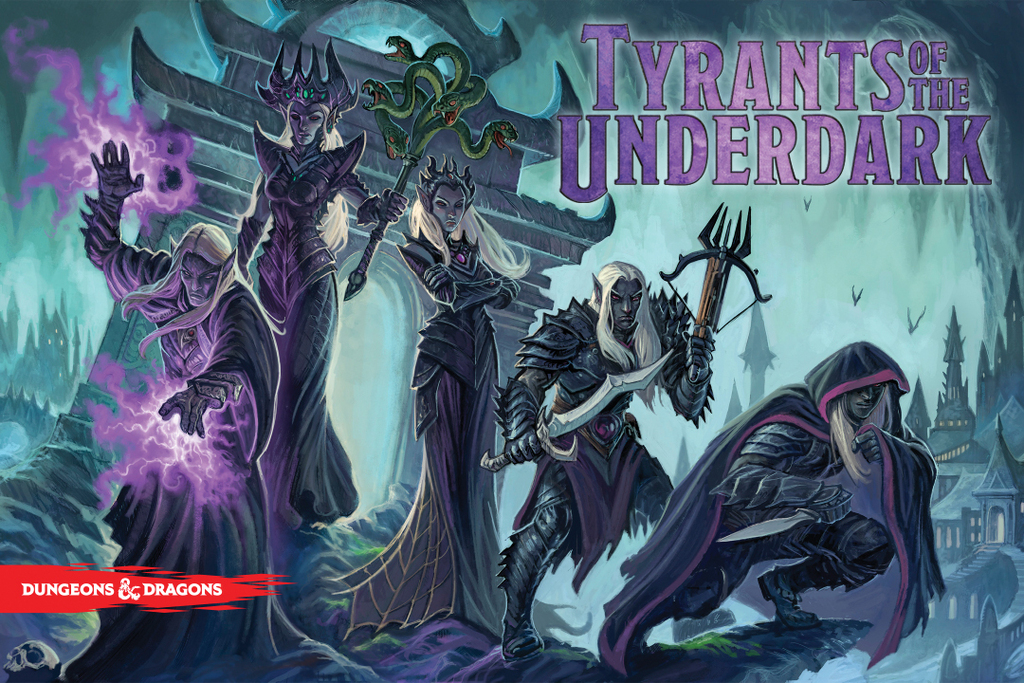 Tyrants of the Underdark pits 2 to 4 players against each other to take over territory in the tumultuous Underdark, mashing up deck-building mechanics with board control.
Designed by Peter Lee, Rodney Thompson, and Andrew Veen, and produced by Gale Force Nine, Tyrants of the Underdark is a competitive board game in which you play as a drow house recruiting monsters, cultists and demons to aid you in controlling locations such as Menzoberranzan and Blingdenstone. Using power and influence as resources, Tyrants of the Underdark features multiple strategies you can use in crafting your deck of minions. Be the spymaster infiltrating your enemy's strongholds or the deadly war-leader concentrating on assassinating enemy troops. No matter how you decide to play, whoever controls most of the Underdark at the end of the game wins, unless there's some hidden strategy in play.
Tyrants of the Underpants, That's Drow for Now, shoving a dragon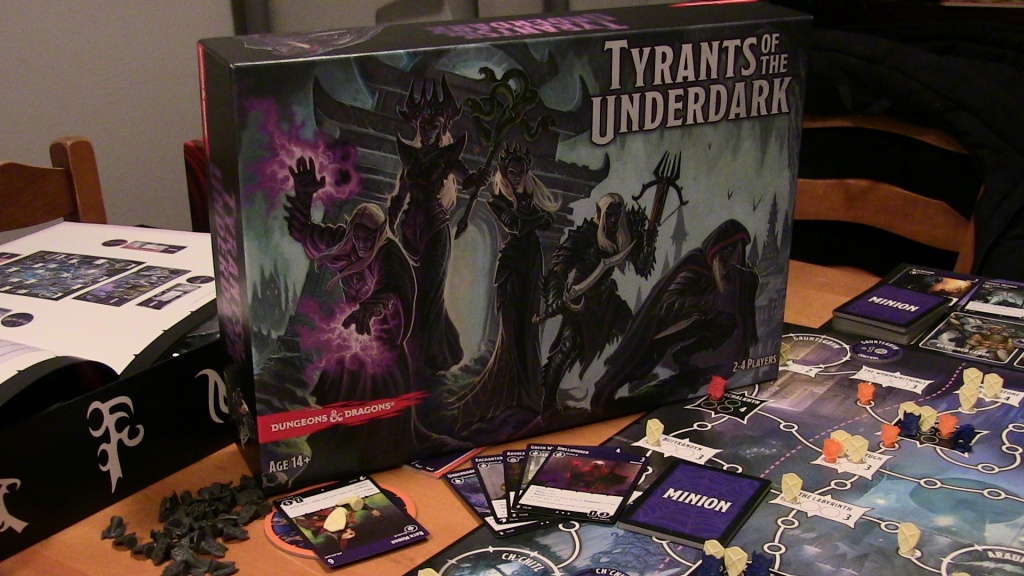 Paul: I have a confession to make. I have a profound prejudice toward purple and it very much affected my first impression of Tyrants of the Underdark. When my review copy arrived, I was a man with plenty to do. I opened the box that evening, saw the almost monochrome palette of so much grey, black and violet, flipped through the manual and then put this in a cupboard.
Sure, it's game set in the murky bowels of the Forgotten Realms, Dungeons & Dragons' most famous setting, but did it really need to be so drab? I was squinting at the card art, groaning at the board and then, suddenly, some long-sealed vault in my mind was opened and a memory of the most monstrous mediocrity suddenly burst forth: Defenders of the Realm. Oh God. This is why I don't play D&D board games. They lack all the spirit that the RPG inspires. "Tyrants of the Underpants," I thought.
I was so wrong about Tyrants of the Underdark.
quinns in bed, paul in iceland, the pearple's choice, a shocking twist
Hold onto your listicles, Paul and Quinns are celebrating the 50th ever Shut Up & Sit Down podcast (by recording a podcast (they are unimaginative)) and we want you to join us!
In this tawdry tornado of numerology the site's aged founders discuss Spyfall 2, Tyrants of the 1derdark and the Final Fantasy Trading Card Game (which has numbers in it) before dropping their respective top 5 board games of 2016. We'll warn you now, make sure you're sitting down when you hear Quinns' number one.
If anyone can't bear the wait until podcast #51, here are the winners of the Pearple's Choice Awards.
Enjoy, everybody!
ghost court that is, i find you in contempt of court, happy halloween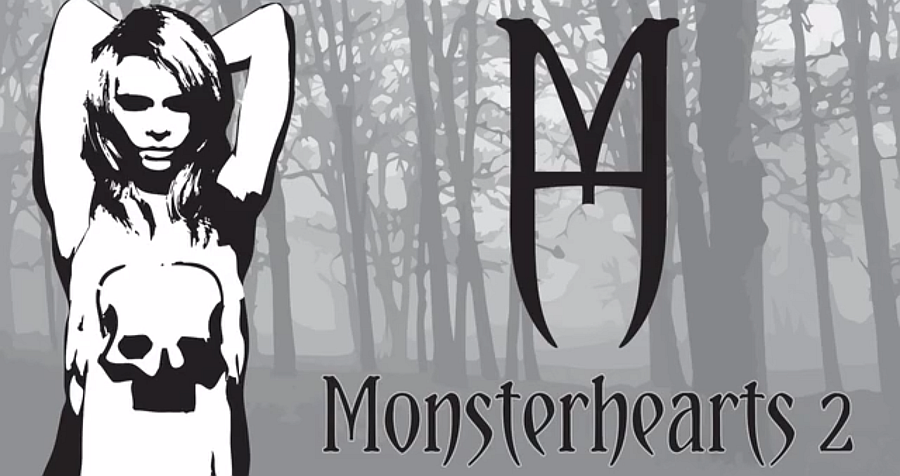 Paul
: Hello and welcome to this week's Games News!
Quinns: paul why are you welcoming me i am always here-
Paul: I was welcoming them! Our readers! Quick, let's get going, I'm writing my parts of this in a café that's playing weird dance music at 1pm. I don't know why it wants to be a club, but also a place that serves French toast. Anyway MONSTERHEARTS 2.
Quinns: HERE COMES MONSTERHEARTS 2!
🎵 Let's have awkward sex again, like we did last summer 🎶