a terrible dollar, level 10 cats, romantic comedies, drinkin ur sunlight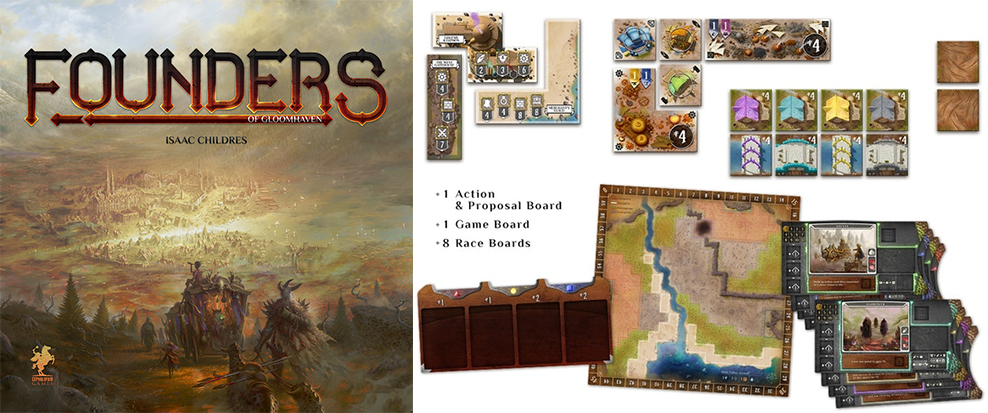 Quinns
: Paul, I understand you enjoy placing illustrated tiles on a grid.
Paul: I hope this is alluding to the Kickstarter for Founders of Gloomhaven, and not my rare sex fetish.
Quinns: Exactly that! Wait, what?
Paul: You haven't heard? Founders of Gloomhaven is board gaming's latest Kickstarter smash hit. Remember Kickstarter fantasy co-op adventure Gloomhaven? Well, Founders of Gloomhaven is a second game from designer Isaac Childres set in the same world, but this time he's offering a competitive game of building a city featuring "a unique mix of tile placement, action selection, hand management, worker placement, and blind bidding."
Quinns: It sounded like you said "rare sex fetish."
Paul: Founders of Gloomhaven has already raised almost $300,000, and it still has twenty-four more days to soar past its funding goal.
sexy space cops, sexy church games, bad dryads, wizard martinis
Psst! Down here! Climb into this cramped cave of chat with us. There's room for one more person.
In what could well be our most feature-filled podcast ever, Matt, Paul and Quinns discuss Torchbearer, Merchant of Venus, Dragon Farkle, The Red Dragon Inn and the concept of playing board games in virtual reality, before getting down to (yet another) peculiarly erotic folk game.
But wait! There's more! Quinns snagged video game designer Soren Johnson of Offworld Trading Company to discuss civilisation-building and trading board games. Enjoy, everybody.
stay hydrated, you'll never be fresh again, serious triumphs

Hilary
:
Torchbearer
is a dungeon-crawling role-playing game.
So what? There are a lot of dungeon exploration games in tabletop roleplaying. It's the genesis of the genre, and most of the big tabletop RPGs people are familiar with are of this style. One of the things that differentiates Torchbearer is its heavy emphasis on the crawl. While other games are focused on getting loot, fighting monsters, and generally being completely badass adventurers, Torchbearer is about attempting to get loot and deal with monsters, while being completely worn down by the dungeon experience.
It turns out exploring dangerous unknown environments while lugging a bunch of heavy gear and trying to stay hydrated and rested and fed is really, really hard! It turns out there's only so much space in your backpack and your habit of checking over every room you enter sometimes gets you into trouble and it's hard to avoid getting cranky as all hell when you've been stuck wandering around dank passageways for hours without any snacks.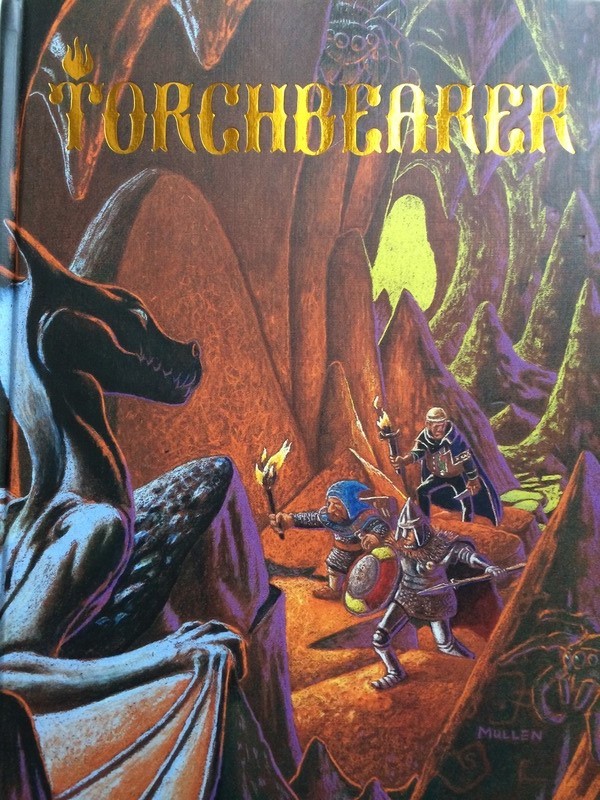 Based on the award-winning Mouse Guard Roleplaying Game, Torchbearer is a riff on the early model of fantasy roleplaying games. In it, you take on the role of a fortune-seeking adventurer. To earn that fortune, you must delve into forlorn ruins, brave terrible monsters and retrieve forgotten treasures. However, make no mistake, this game is not about being a hero or about fighting for what you believe.
This game is about exploration and survival. You may become a hero. You might have to fight for your ideals. But to do either of those things, you must prove yourself in the wilds. Because there are no jobs, no inheritance, no other opportunities for your deadbeat adventurers. This life is your only hope to prosper in this world.