a herd of managers, chasing the sandy sausage, a mid-game nap, resin pudding
You know what doesn't get enough kudos? 
Bags. 
Big ones, small ones, soft ones, leathery ones. Where would we be without bags? Walking home from the shops, clutching cucumbers to our chest with onions in our armpits, that's where.
Our 63rd podcast is all about great games with some great bags. Paul's been building (and cursing at) stained glass windows in Sagrada, Quinns has been carelessly eroding his car in the amazing Automobiles (see our review of that one here), and this time we remember to have the chat about Orleans that was meant to go the previous episode. Inspired by these three titles, Shut Up & Sit Down's campaign for More Bags In Games begins next week. Please send money now.
Could you give two figs about bags? Are they "Not your bag"? Not a problem! Paul and Quinns also provide some early impressions of the ludicrously pretty Wasteland Express Delivery Service, and answer a reader mail about why long games lead to a special kind of exhaustion.
Kissing Cogs, Slumped on a Bump, Sticky Cake, Rich Beef Sausages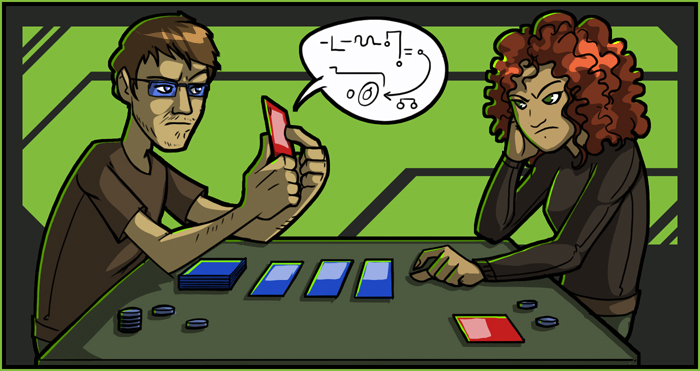 Paul
: Matt it's nearly Friday, how are we only now poking our way into the top 40? Why did we take on this challenge?
Matt: Trains.
Quinns: He's a goner, Paul. There's nothing we can do for him now. PRESS FORWARD.
crunchy boatmen, hot jests, herb gardens, winning beer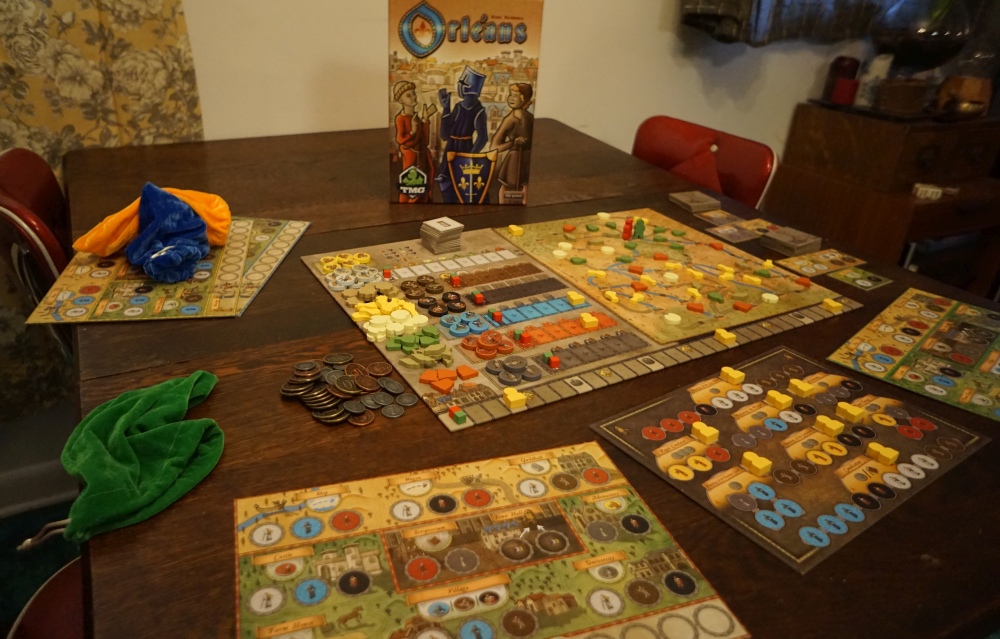 [Team SU&SD grows ever-stronger! Please give a warm welcome to game writer Jon Bolding, who comes bearing gifs. Enjoy, everybody.]
Bolds: Welcome! Welcome to Medieval France's fabulous Loire valley, and its jewel, its shining, brocaded, wine-and-cheese-filled capital city of Orléans.
Orléans has a lot in common with those ever-popular "deck-building" games, in that you're still accruing little somethings to go in your something, but each something is different, and has a different purpose - and your something, certainly, is different from everyone else's something. In Orléans these somethings aren't cards, but are little circular people, and you stuff them in your personal bag like a kind of hungry giant saving them for later, never quite sure what delicious treat you'll pull forth when you go plunging in for a snack.
Ugh, peasants again? Why don't we ever have Boatmen? Love Boatmen. The little crunchy paddles and rafts. The delicate waterlogged texture.
And speaking of crunch, Orleans is a good deal heavier than most deck-building games. Really, what we've got here is a fabulous fusion of a "building" game and a heavy eurogame, and it's almost entirely delicious.
hey look a dungeons and dragons ride, your pustules, are the army even allowed to do jokes
Paul
: Hello and welcome to a very fresh and very exciting Games News! Today I shall bungee from the precipice of journalism deep into the chasm of news, bouncing back upward with only the most thrilling of scoops, the choicest tidbits of board game gossip, the tastiest morsels for your so very particular palate. Does latter suggest that I'm actually dropping out of the sky to snatch at food, like a snickering seagull? Well, I suppose that would be the killjoy's way of putting it.
Anyway! Let's kick off with some good old-fashioned wooden chunks.