The Spirit of Christmas, Auntie Sandra, Lying to your mother
What are the very best card and board games to play with coworkers and family this holiday? Games that are actually FUN - that you could bring to a party as a great gift for cheap, or tuck in the stocking for Christmas Eve?
Quinns will be writing a piece next week about games more suited to those who already love the hobby, but as part of our ongoing mission to convince the world that board games are great, we wanted to put together an easy resource for the question we seem to get almost all the time: "What game should I buy to play with my family?"
If you've been linked to this by someone else who loves board games, hello! We've put this list together as both a video and a written list. Enjoy!
Matt: Greetings Holiday Humans, it's time to mildly panic as you realise that family will soon descend upon you like a flock of seagulls to a discarded ice-cream. Rather than trying to explain your job to relatives to the point that you might have a mental breakdown, we'd recommend playing board games instead.
These are the 15 best big-family games: all play with at least 6 people, and most can handle 8. In no particular order, let's go!
a good ol' flecking, matt's hats, big-boy joys, it's all about the soup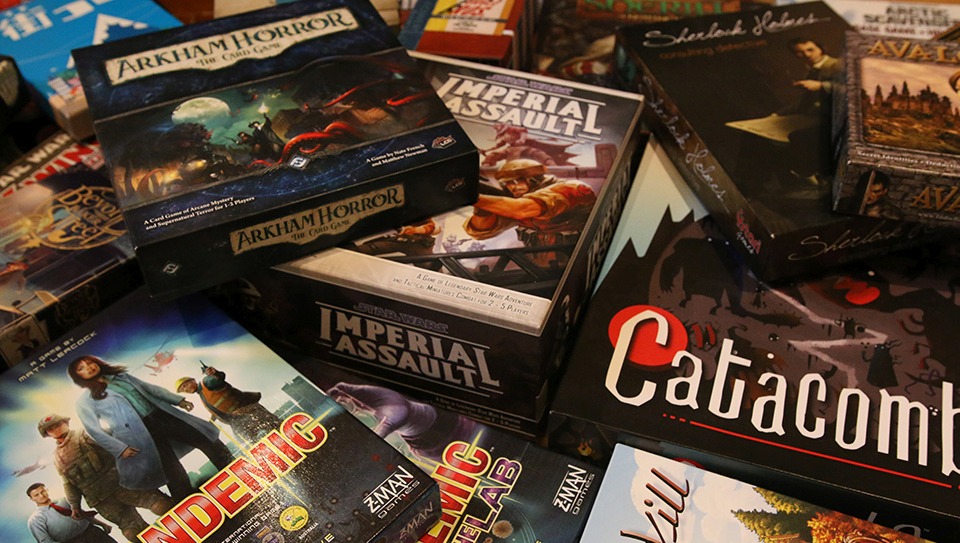 [Following on from our expedition into Quinns' board game collection and the polite visit to Paul's, it's now Matt's turn. Enjoy, everybody!]
Matt: Contrary to popular belief, I am not a man of infinite luxury. Paul has an entire cupboard just for games - Quintin has a cavernous loft to explore. Many have climbed that ladder and never been seen alive again, fading away to become a new addition to the dark and dusty collage of cardboard and bones. Basically those boys have space to play with. I however, have a shelf.
But it's a big shelf! Oh my. There's plenty of room in the rest of my flat, but my wife is a bit of a cheery dictator when it comes to interior design - so the sins of the husband must be tidied away. It's occasionally annoying, but it does mean I get to live in a genuinely beautiful, tidy place? Swings and roundabouts, life is compromise.
gremlins II, gremlins, vampires, what was up with that sexy gremlin anyway
Happy Halloween y'all! To celebrate this most fiendish of holidays Paul's 
brought a game back from the dead.
SU&SD first covered Werewolf with Matt's candlelit review. Since then we've fallen in love with One Night Ultimate Werewolf and its standalone sequel, Daybreak.
Today Paul investigates the next game in this undying chain. One Night Ultimate Vampire significantly en-complicates the series we know and love. Can it possibly survive?
Downton Abbey, an accident, 300 games, 800 spiders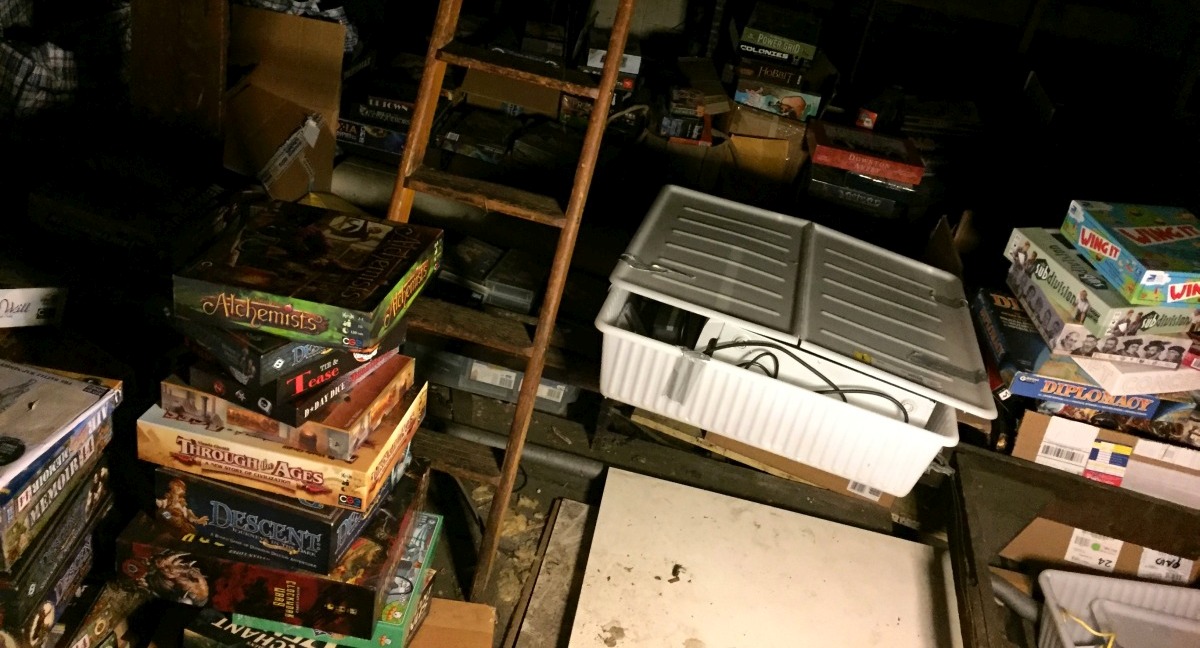 Quinns
: Ladies and gentlemen, roll up! It's time for a new series where we take a look a team SU&SD's board game collections. Come and see! Be amazed. Be aghast. Be envious. Comment with thought-provoking assertions like "why do you have that game it is bad".
You guys will have seen my collection in the background of loads of SU&SD videos, but I don't think you've seen the work that goes into it. Come with me today as I perform... a CULL.
weepinbell, fresh blood, soup stories, beautiful bratwurst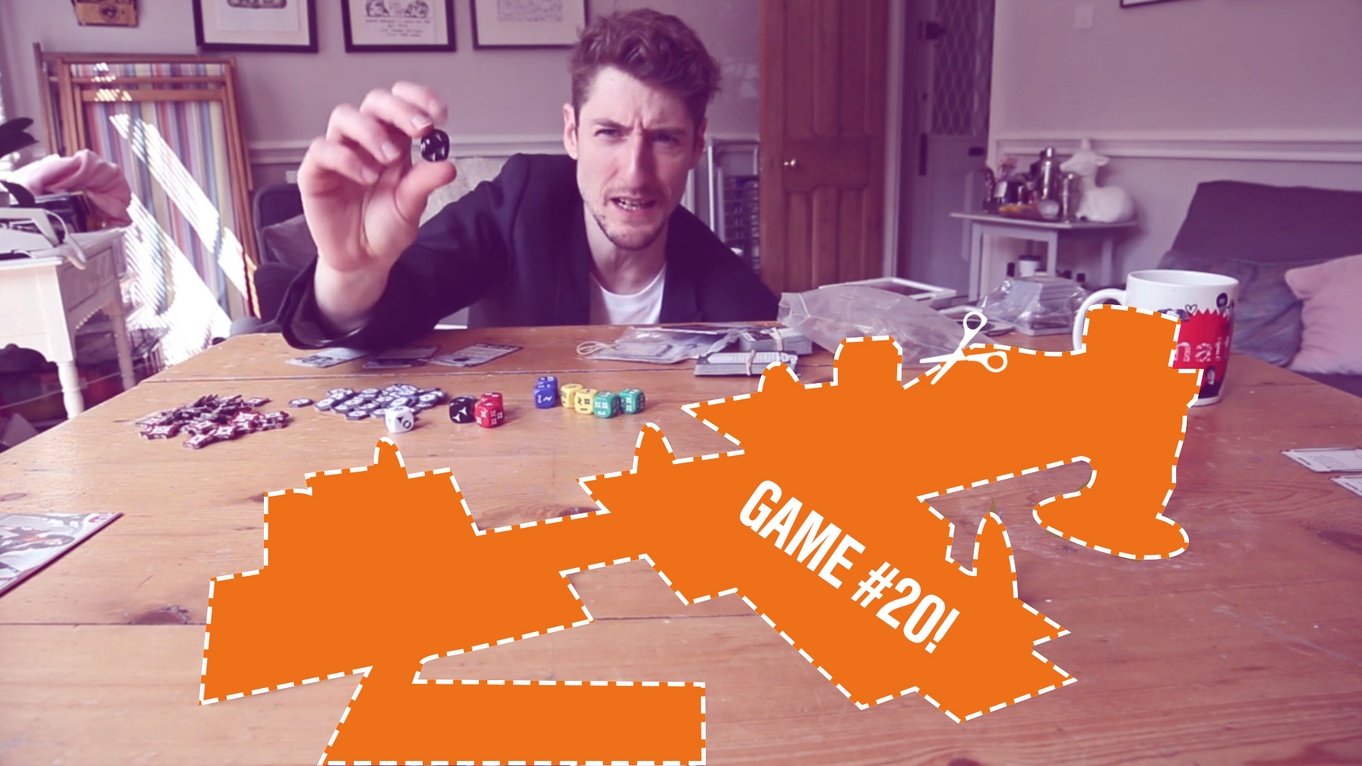 Quinns
: We are entering the teens! Steady as she goes, operator.
Operator: Sir, the site was never built for this! She's going to buckle under the pressure!
Quinns: There's no turning back now. We'd never make it. The only way out... is through.
the power of stains, the secrets of jenga, the folly of goblins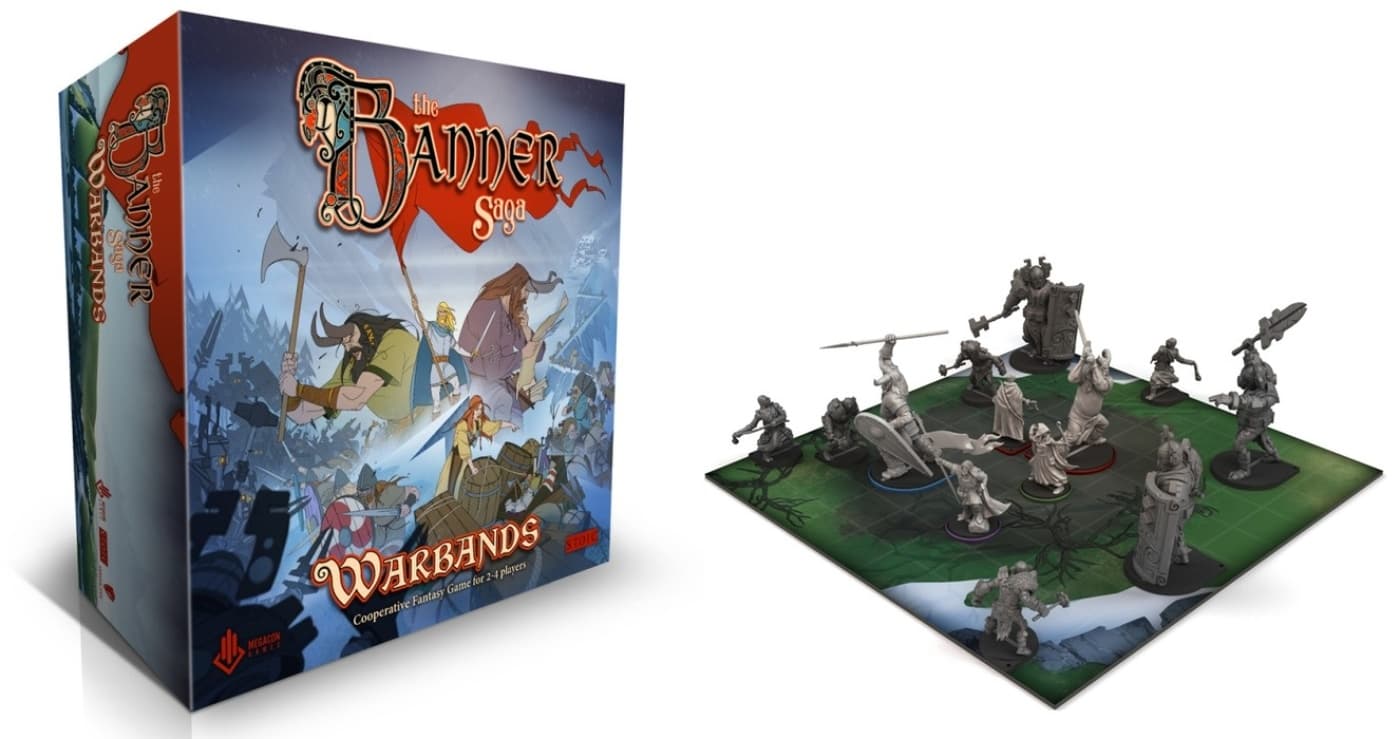 Quinns
: Hello everybody! Shut Up & Sit Down is still four sheets to the wind this week. Paul's off to
Board Game Geek Con
, Matt's recovering from Fantasy Flight's
World Championships
and I'm just back from New York University's
Practice gaming summit
. These are important trips! If you don't check up on Americans they'll be marrying cobwebs and getting stuck behind radiators before you know it.
Fun fact! At Practice I saw a talk by Leslie Scott, inventor of Jenga. Did you know that as Jenga is manufactured, they make sure the bricks are all of varying sizes and weights to make the game work better?
Ah, but you've been waiting so long for your Games News! Not to worry. I may have spent five hours asleep in a cold corner of LAX this morning, but I've fetched some black coffee and classic rock (won't you do the same?) and I'm ready to get to work.
furry dracula, master mind, cat pee, spooke ghosts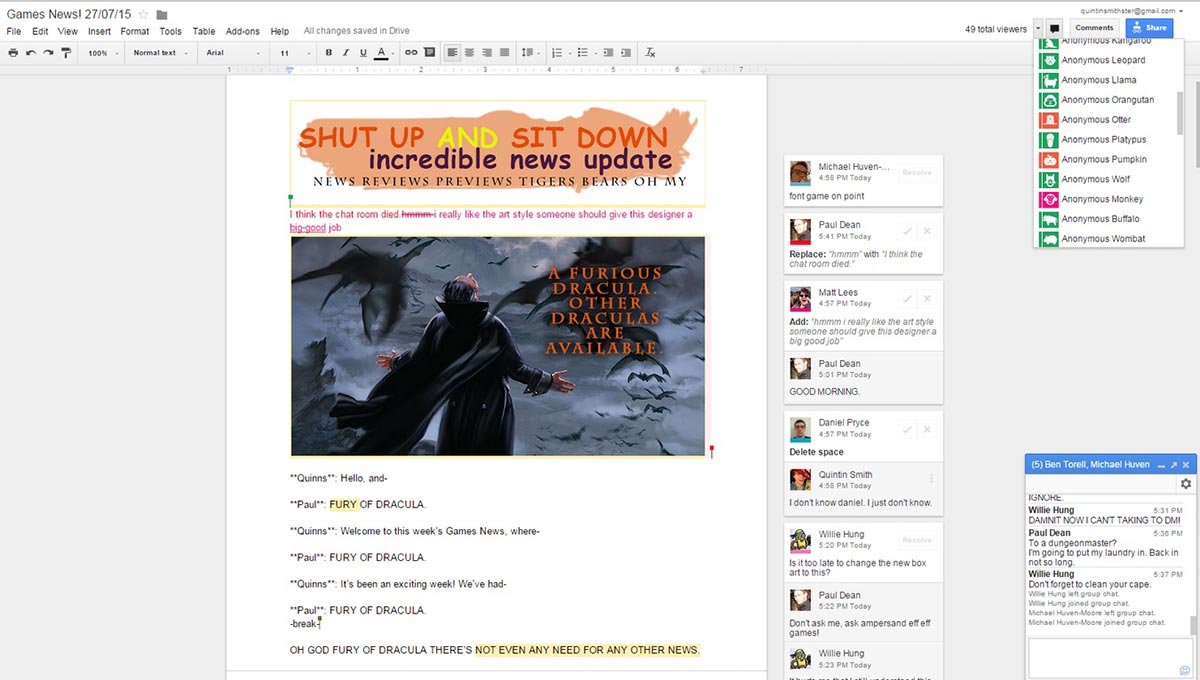 Quinns
: The Shut Up & Sit Down site was down today from 10:45am GMT to 5pm GMT. That meant we couldn't access the backend, so we couldn't write the news.
So we did it in this Google Doc instead
.
It's been a FANTASTIC news week, though! You must go take a look. Fantasy Flight announced a new edition of Fury of Dracula! Bezier Games announced One Night Ultimate Vampire! There's an amazing article about the English-language reimagining of Mysterium, and we learn about one of board games' most iconic covers.
Enjoy, everybody! And try not to make too much of a mess...
the corpse annex, bow of the bowman +1, trapped birds, candlepower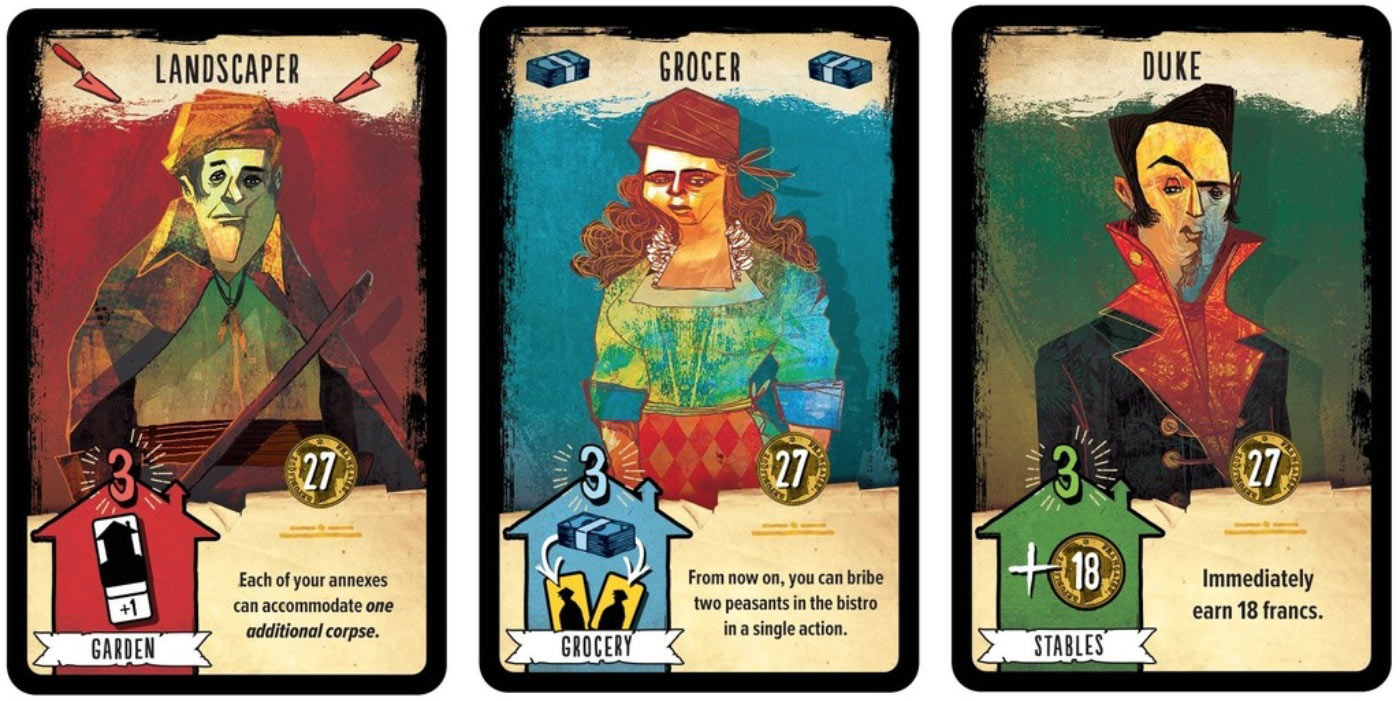 Quinns
: Morning everybody! Our cover photo today is of L'Auberge Rouge ("the Red Inn"), a gorgeous-looking game coming next year from venerable Belgian publisher Pearl Games. It looks like you'll all be running incredibly creepy pubs.
Brendan: oh god what day is it
Quinns: Brendan?! What are you doing under the desk? The Top 25 wrap party is over. You should be at home.
Brendan: i had the worst dream. i reviewed board games for a living
Quinns: Hey, I've got a great idea. You can help me do the weekly Games News! Here, pull up a chair.
Brendan: oh no
the hexagons appear, the lies make their debut, the rude jokes begin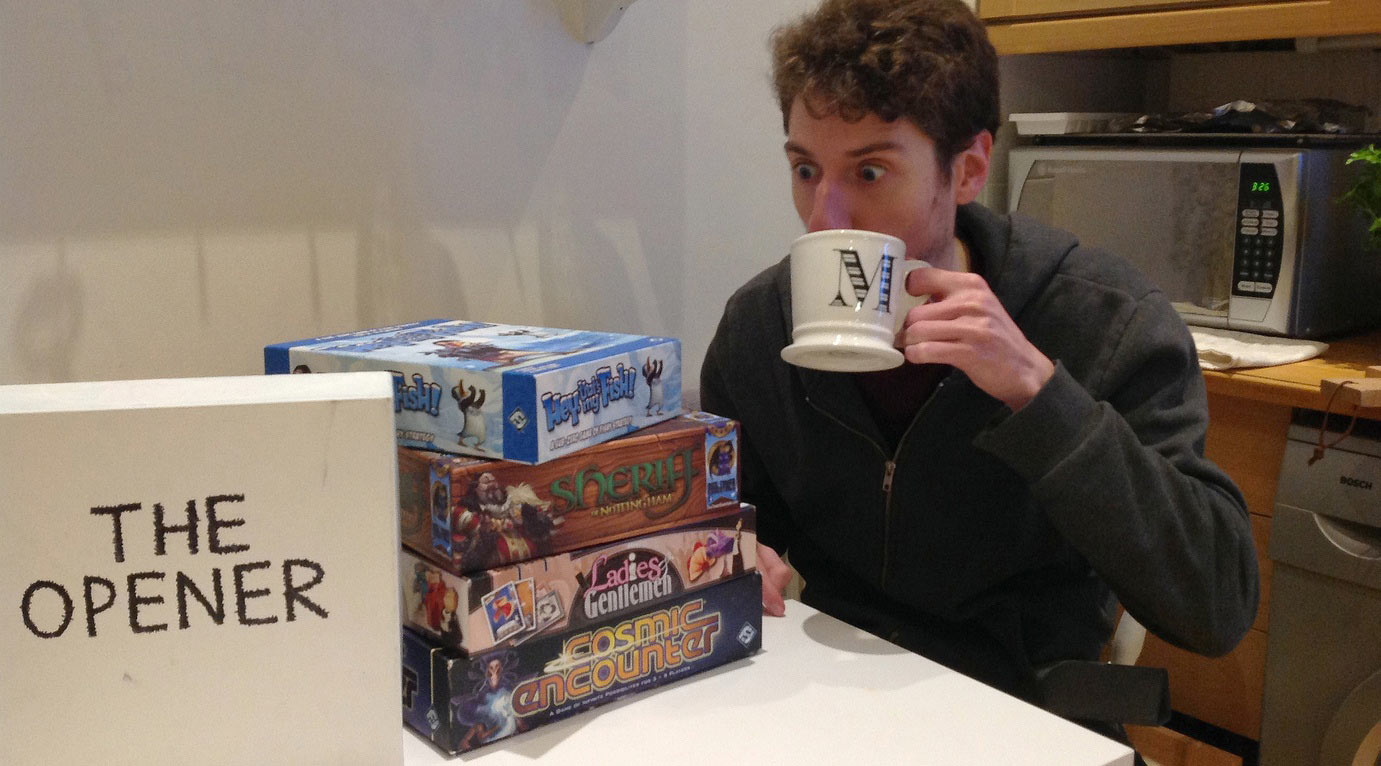 Quinns
: Like the M People or a fart, today we're
Moving on Up
with our team's Top 25 games ever.
Have you guys started guessing at the top 10 yet? You must at least have had a guess at number 1. Go on. It's just a bit of fun. No shame in it.
change your mind, kidnap the merchant, kill the tanner, blacken the flange
It's the very first ever podcast of 2014, and we're celebrating with never before seen audio quality! Not that you can see sound. Unless you're a bat! Do any bats listen to the podcast? We just don't know.
If they WERE listening, they'd hear Paul and Quinns are talking about new year's resolutions, and all the games they played over the holiday season! Games like the deeply hyped Yedo, the deeply excellent Timeline, the deeply deep Power Grid, the deeply creepy One Night Werewolf, and the deeply recent New Amsterdam. Finally, we descend to the deepest pits of nerdery, because our Game of the Month is none other than Dungeons & Dragons. Enjoy, everybody!