Make a sound effect using someone else's hand from another room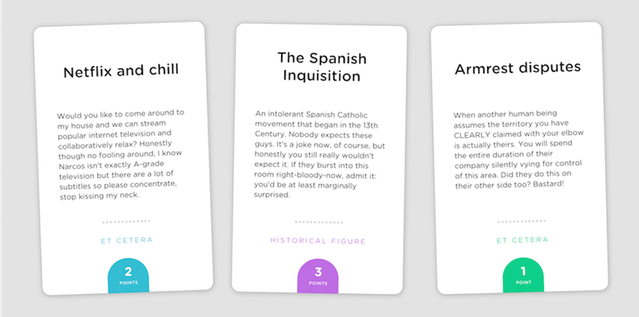 Quinns
: Hey everybody! With just seven days left on our
Kickstarter for the Monikers Nonsense Box
 - a standalone expansion for
Monikers
written entirely by SU&SD staff - all backers now get a free gift!
Basically we reached 2,500 backers and decided we'd like to improve the product you guys were getting. Think of it as a kind of thank you for helping us to stretch past our original goal. We're calling this addition a "Girth Objective" and it's my guess that by 2020 every Kickstarter will have one.
As of this week every backer of the Nonsense Box Kickstarter will get a free pack of Hopelessly Stupid Fourth Round Cards. You see, Monikers is a game that starts off very pedestrian in round 1 and becomes marginally more interesting in round 2 before going completely insane in round 3. But as old Monikers pros will tell you, you can keep playing and the game gets dumber and funnier with every additional round. "Charades but under a bedsheet" has to be played to be believed.
We have a tenative list already drawn up, but we're well aware that you guys are often funnier and smarter than us in our comment threads. If you have an idea for a fourth round for Monikers, and would like to see it on a card with your name on it and a professional illustration, please leave a comment below!
Thanks so much, everyone. <3
it's a box of fun, just put it in your pocket, slide it in
Quinns
: Everybody, we've got a Kickstarter we'd like to point you towards! Do you all remember
Monikers
, the effortlessly funny and accessible party game? How would you like an expansion for it created ENTIRELY by the cast of Shut Up & Sit Down?
Ooh, yes! The Shut Up & Sit Down Nonsense Box (this is the link you click on) (click it!) is no less than 112 cards that were dreamed up and playtested by... us! We didn't get the memo that the card descriptions were only supposed to be informative, so we made those really funny too. Oops.
Don't have the Monikers base game? Not a problem. The Nonsense Box is a standalone game, or you can chuck the base game onto your pledge as an add-on.
A micro-FAQ follows, after the jump!