Mr. Bimble, private pirates, one riddle udder, velveteen booties
"Start as you mean to go on," as they say. That's why for our first review of 2019 we picked a fantastic game, put on the loudest shirts that Matt owned, broke out the eyeliner,
and
squeezed in an homage to The Muppets.
Don't get distracted by all of those lovely colours, though. Featuring a bit of bluffing, a bit of logic, a bit of deduction and a lot of laughter, Treasure Island is a game that deserves some serious consideration.
smash dad, keyforge kitchen, let me into your house im gonna be sick
For our last review of the year, Matt pulled out all the stops... and then Quinns appeared and started plugging them back in again.
It seems this pair can't quite agree on Keyforge. Is it fun, or not-fun? Is the business model good or bad? Is the universe a joke or a failure?
Let us know your experience with Keyforge in the comments! Whatever our thoughts on it, Keyforge's staggering initial sales hint that this game is going to be with us for quite some time.
press f to pay respects, where in the world is rita modl, two-brick matt
The choice of which game of play on
our Twitch channel
this week was a no-brainer. Which is to say, we knew we'd have no brains remaining after flying back from PAX Unplugged, so we chose a game that could be enjoyed by eight-year-olds.
Men at Work is the next beautiful box coming out of Pretzel Games, makers of Flick 'Em Up and Junk Art, and we love the heck out of it. And like those previous games, it functions as a lovely object, as well as a silly challenge, and - if you so choose - an arena where actual tactics can be deployed.
If you'd like to watch the full stream, with the beginning, the end and all of the hilarious comments in between, it'll be available here for the next sixty days. And if you'd like to hear about us talk about Men at Work on the podcast, you'll find that sweet ol' chat on episode #88.
Have a great weekend, everybody!
matt will never be young again, quinns wants to go through a door, inoxes
This time last year, Matt published
his review of the enormous, decadent game of Gloomhaven
. But since (a) it remains a superb game, (b) Quinns hadn't played it, and (c) it was the only way Matt could make progress in his campaign, this week we decided to break it out
on our Twitch channel
.
Be sure to tune in on the 6th of December, when we'll be streaming Pretzel Games' excellent Men at Work. But then, that's only a short game, so perhaps you can also expect a surprise or two...
delicious minerables, networking nirvana, we have to cut our nails for these vids you know
Remember Roland Wright from
our review of Welcome To
? Well, he's only 
done it again.
Railroad Ink should be arriving in shops any week now, and that's cause for celebration. This game of rails, roads and mounting desperation makes its competitors look like amateur hour. The only questions remaining are (a) should you buy the Red or Blue edition, and (b) when can we expect an expansion?
Have a great weekend, everybody.
the bandana boys, cause of death: cool punches, good talk guys
In yesterday's Twitch stream, masculinity was stretched to its very limits
. 
Bandanas? Check. Beer? Check. Punching a warehouse full of bad dudes 
right in the mouth?
 Check.
The game we're playing is Street Masters, which has a new expansion (as well as the base game) on Kickstarter RIGHT NOW. If you're in the mood for some dumb, schlocky fun, Street Masters is precisely the kind of smart dumb fun that we can get behind.
If you'd like to watch the video and our gut-busting Twitch commenters at the same time, the stream will be available here for the next couple of months. Oh, and look forward to more co-op combat in a couple of weeks, because on the 22nd of November we'll be streaming Gloomhaven, and Quinns will be doing his best to make a permanent impact on Matt's campaign.
Have a great weekend, everybody.
mens for the men cup, captain efka, here we are in history times
This week
our Twitch page
was the site of a
grand experiment.
It's no secret that Memoir '44 is one of our favourite games. 5 years ago we even made a video
showcasing its amazing 4 vs 4 Operation Overlord expansion
. Well, this week we tried
1 vs 100,
as Quinns took on the wobbly hivemind of Twitch chat!
Huge thanks to everyone who took part, and for Efka of No Pun Included for acting as Twitch's supreme commander. Our live stream will be back in a couple of weeks on the 8th of November, with Matt and Quinns whupping some punks in a game of Street Masters. See some of you there!
death worlds, interdimensional horrors, endless war, and ennui?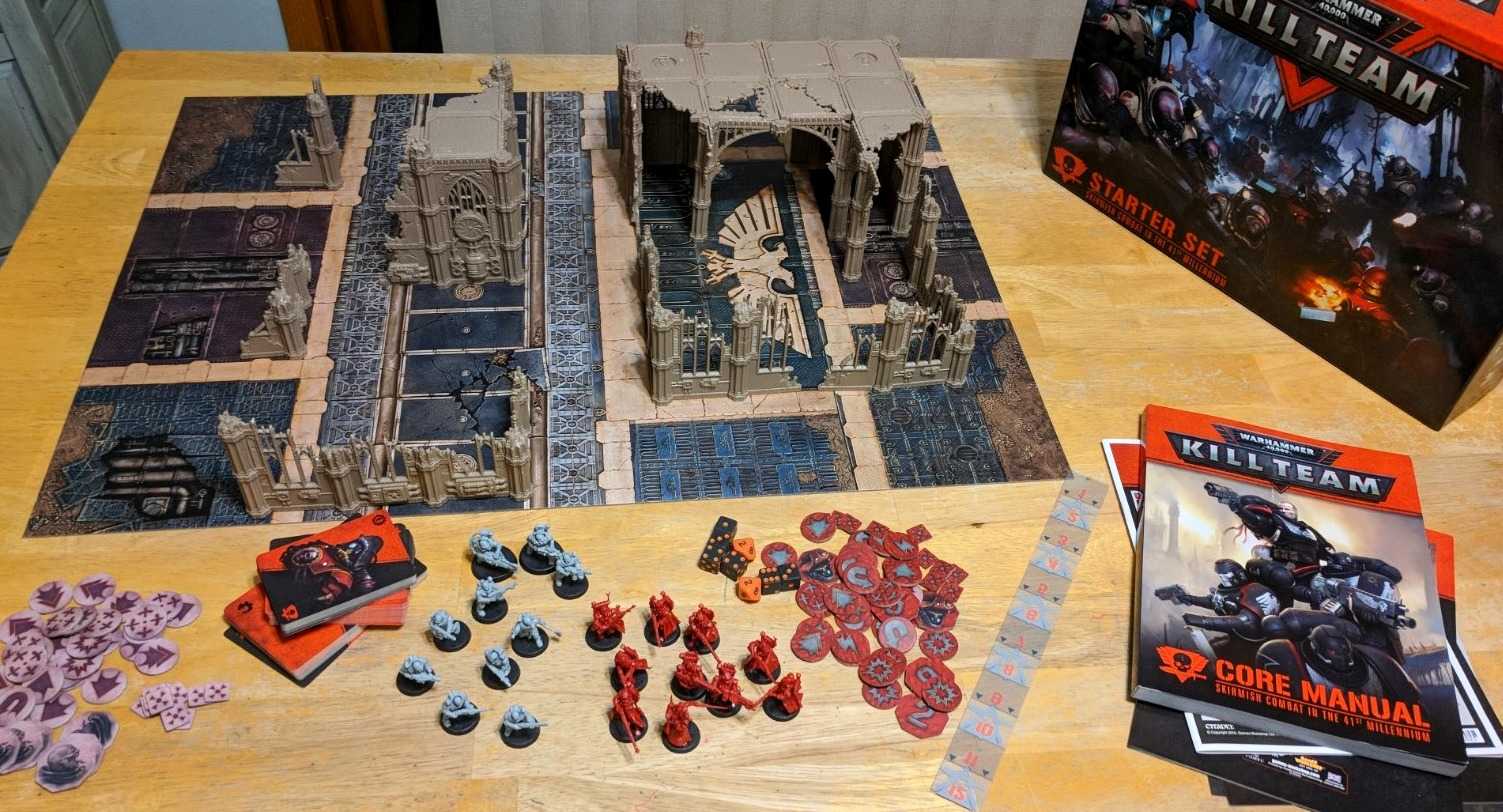 Eric
: As a teenager, one summer I decided I wanted to learn all of the trick taking card games, a genre that I found strangely fascinating. (I suppose this tells you a lot about me as a teenager and the rural midwestern world of the United States where I grew up.) I learned the rules for
Spades
,
Pinochle
, and
Pitch
. I sort of learned how to play
Bridge
. I at least read the rules for
Whist
and
Euchre
. At the end of the process, though, I found myself feeling confused. In theory, I knew the variations between these games should excite and engage me. In practice, I was at a loss to differentiate one from the other. None of them could really hold my interest.
That is probably a strange place to start my review of Games Workshop's newest offering, Kill Team! A re-release of a variant of Warhammer 40,000, the game's big selling point is its size. Unlike the sell-your-car-budget armies of its larger cousin, in Kill Team each player uses a small band of 5-20 miniatures to do battle in a space designed to fit on a kitchen table. As I've played around with it, though, I find myself at a loss as to what to say.
Kill Team is, at the same time, an exhausting incremental iteration on a tired system... and the best thing Games Workshop has released in years.
boyFetch, a grimy sweet-shop, textbook textures
More than two years ago
Quinns reviewed the classic game of Brass
, but ultimately came away disappointed (and wet, and riding high on sugar).
Today, it's time for round 2! Introducing Brass: Birmingham, a collaboration between Roxley Games and original designer Martin Wallace, this is the sequel to Brass.
Will this industrial revolution bring progress, or once again grind our reviewers' gears? Click play, and find out.
bountiful pimples, baby buffet, the opposite of Santa Claus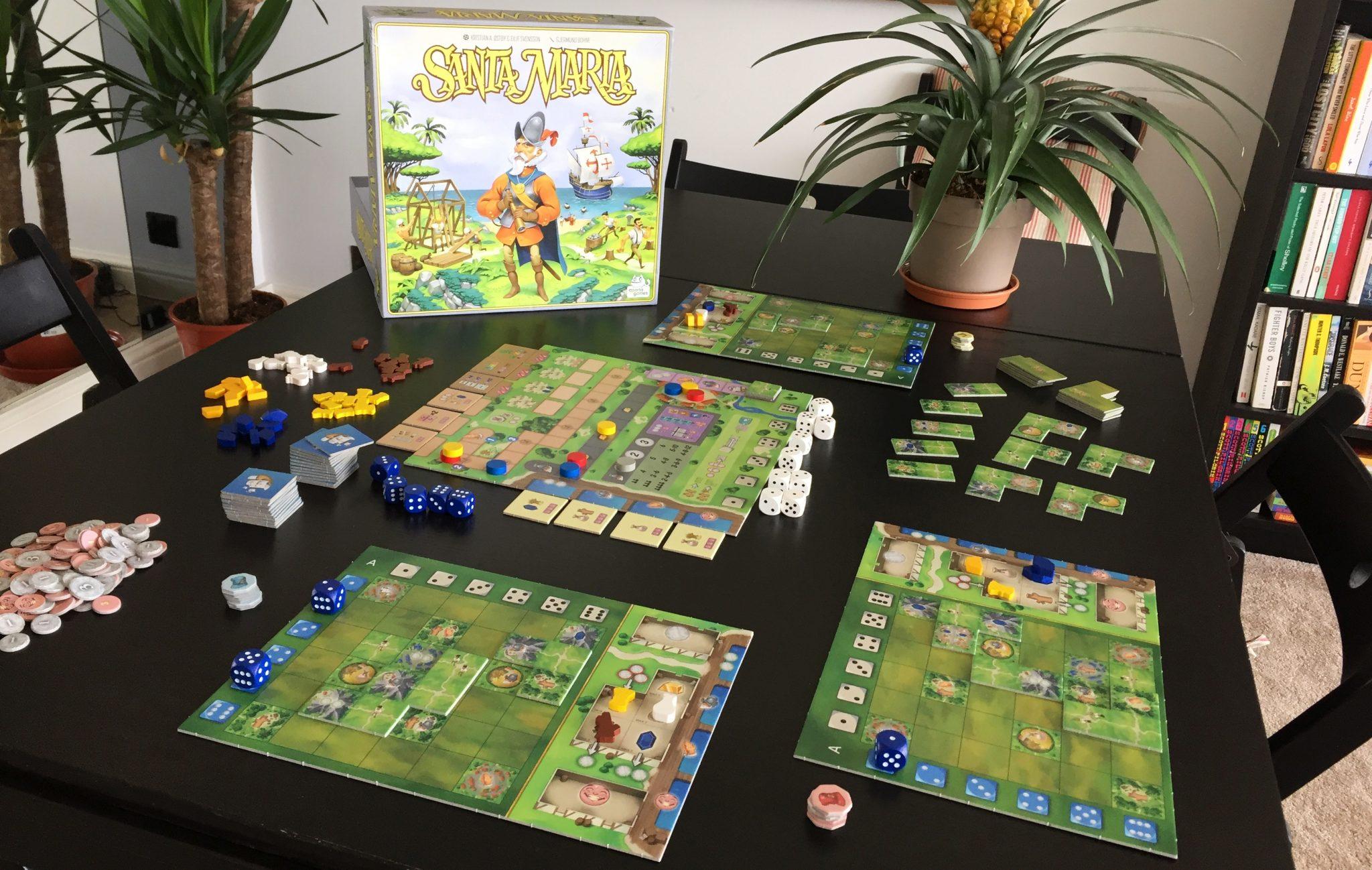 Quinns
: There's quite a bit of buzz around
Santa Maria
. "Buzz!" spake this box as it arrived in my flat like a gentle but hefty bumblebee, excited to alight on my table.
Paul: OH GOD WHERE'S THE SPRAY QUICK OPEN A WINDO-
Quinns: It's fiiiine Paul! This is something we can safely let into our homes to flit happily about, to land on our tables or to watch us from the shelves with its compound eyes. Santa Maria is quite harmless!
Paul: Harmless and… perhaps toothless?
Popping open the almost cartoonishly cute box, which appears to depict Santa Claus as armoured as he is jolly, we've got dice! We've got charming wooden tokens! We've got wonky jungle tiles! We've got… is this the terrifying face of an inflated baby, about to burst?!