quinns' toothy heart, a sad birthday, 8 more complexity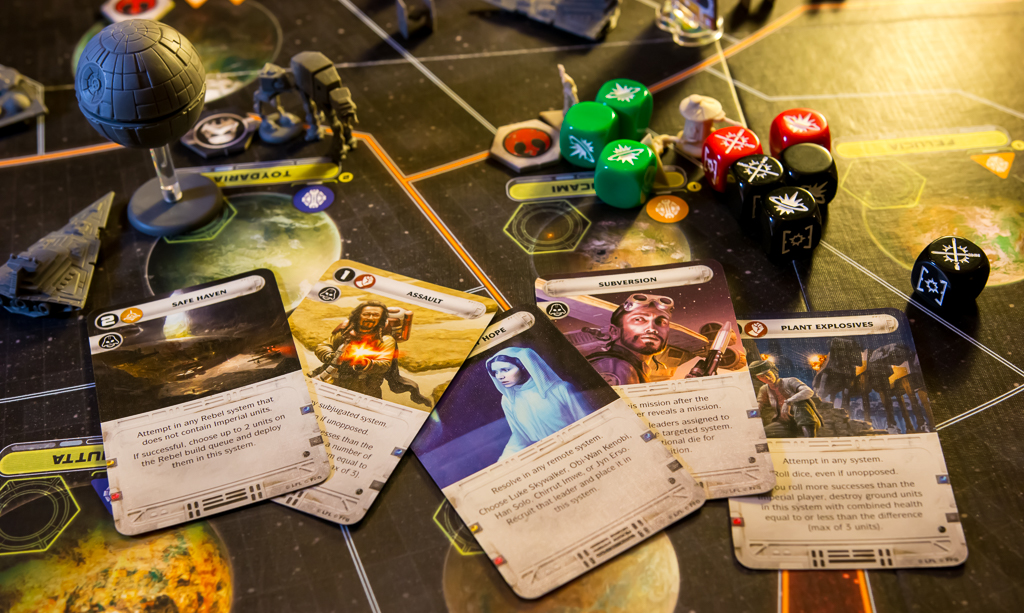 Quinns
: Matt, are you ready to review the
Rise of the Empire expansion
for Star Wars™: Rebellion? To bring everyone up to speed, Rebellion is a grand 2-4 player game set in the Star Wars universe,
which I reviewed
and said it was fun, but I couldn't quite recommend it.
What does the expansion add? Well, let me just quote the press materials: "Rise of the Empire isn't just inspired by Rogue One; it follows the movie's example, adding new depth and story to the Rebellion game experience just as seamlessly as Rogue One provided new insight into the Galactic Civil War presented in the original Star Wars trilogy."
Matt: I just did a big vomit out of a window. In Real-World Terms™ it's an expansion that adds quite a bunch of stuff: new leader characters, new cards, a whole new combat system, more unit types and plastic figures, and a brand new planet: EWOK-HOTH, HOME OF THE CHILLYBEARS.
embarrassing dads, a really good candy-based joke, bouncing bags of bananas
Hot dog! At the time of writing
The Voyages of Marco Polo
is ranked as BoardGameGeek's 39th best game 
ever.
 Our team has now comprehensively tested, teased and tutted over every aspect of its complicated machinery to bring you what we think.
That said, our viewers should note that as Englishmen, we still have no bloody idea about that American folk game where someone yells "Marco!" and someone else yells "Polo!", and we're not Googling it on principal.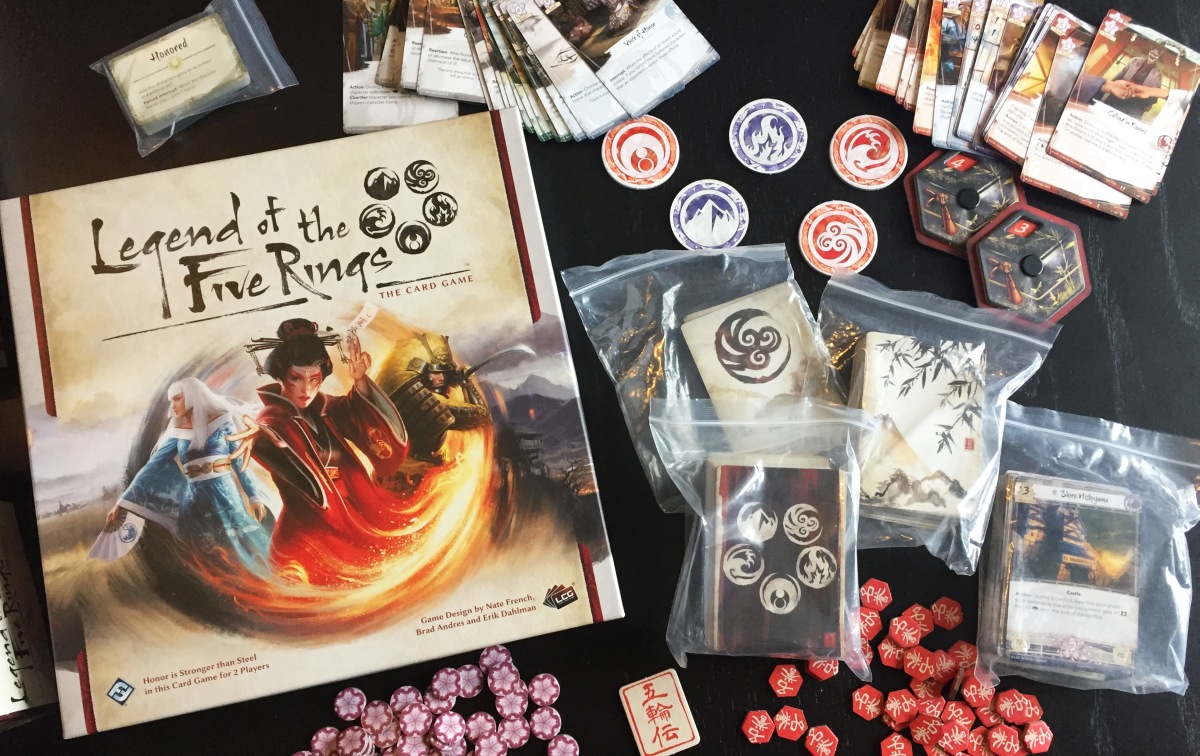 Quinns
: Phew! I birthed two of the year's
toughest
reviews
last week, but there's no rest for the wicked. Today we've got some coverage that a lot of people have been asking for.
Remember when Fantasy Flight Games bought the rights to 1996 collectible card game Netrunner and released a new edition that took over my life? Well, Legend of the Five Rings (henceforth "L5R") is them doing that again. This was originally a 1995 card game, but any week now shops will receive FFG's beautimus new edition using the Living Card Game business model of releasing fixed expansions rather than randomised boosters. This makes it cheap compared to most collectable card games, albeit still expensive compared to board games.
In other words, we could have a hit on our hands. Have Fantasy Flight folded the original game's steel into a captivating card katana?
Let's find out.
plodding & prodding, it's a crane not a gun, every flavour of lozenge
OH MY GOODNESS! It's time for a fantastically exciting box.
First Martians: Adventures on the Red Planet
is a game of surviving as the very first colonists on the Solar Satsuma, and keeping your wits about you as your home crumbles like a dunked biscuit.
It's also the sequel to 2012 release Robinson Crusoe, which Quinns didn't get on with very well. What's changed in five years? A lot, we can tell you.
a surprise pterodactyl, vomiting into a trumpet, cereal box fiction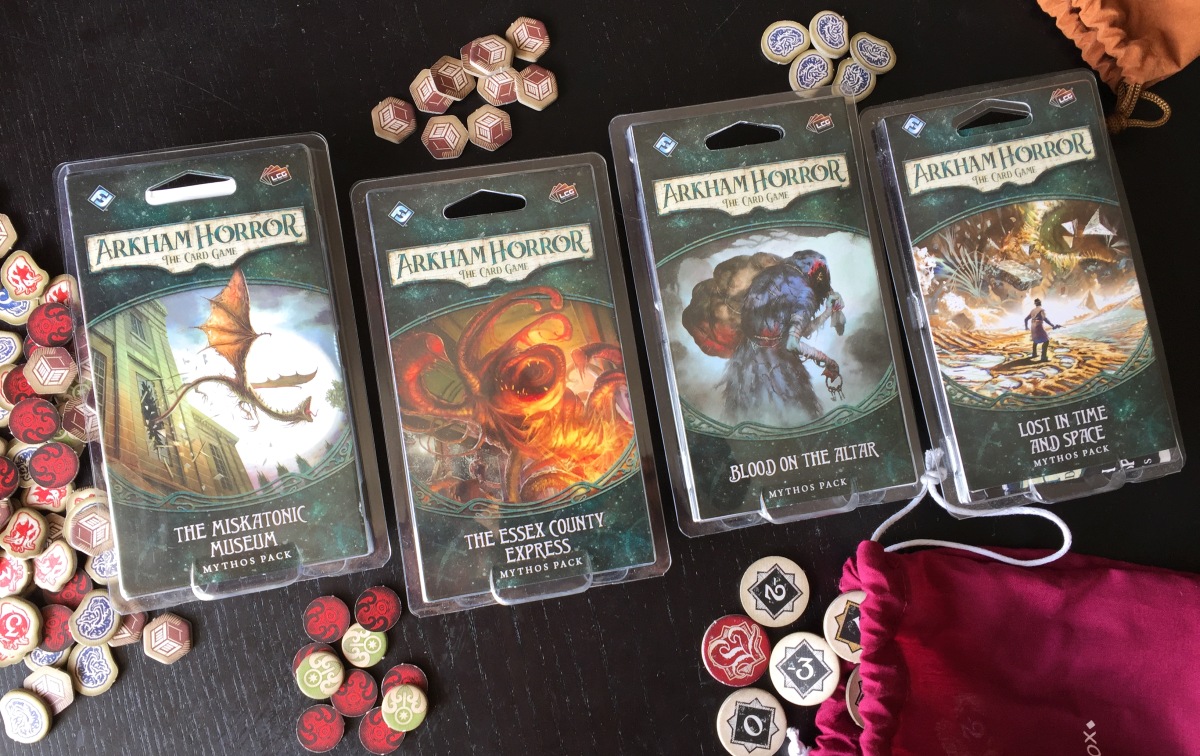 Quinns
: So, we're seven months on from when Matt and I first peeled the delicate outer membrane from the otherworldly Arkham Horror: The Card Game (otherwise known as 'shrink-wrap').
We were stunned at how much fun we had
. After years of rolling our eyes at Fantasy Flight's Lovecraft products, we found that inside this small, unassuming box was an absolutely electric experience. I was as surprised as anyone when I announced that it was
my favourite game of 2016
.
Now, you'll remember that while you can go back and play this game's scenarios on "Hard" and "Expert" modes, most of the appeal is in the first playthrough, making each new expansion pack feel like a long-awaited episode of a favourite TV show. You call your friends over, microwave some popcorn, put the popcorn in the bin so nobody can get grease on the cards and sit down to see what happens to your characters (and their decks!) next.
Which begs a question. Now that the first full campaign has been published (seven expansions that make up The Dunwich Legacy), how's this TV show doing?
And I think most players would answer you the same way. A small laugh, a faraway look, and then they'd say "Oh, man. It's good. And... weird."
19 organs, 90 dice, 400 of dollars, 7 previous editions, 1 life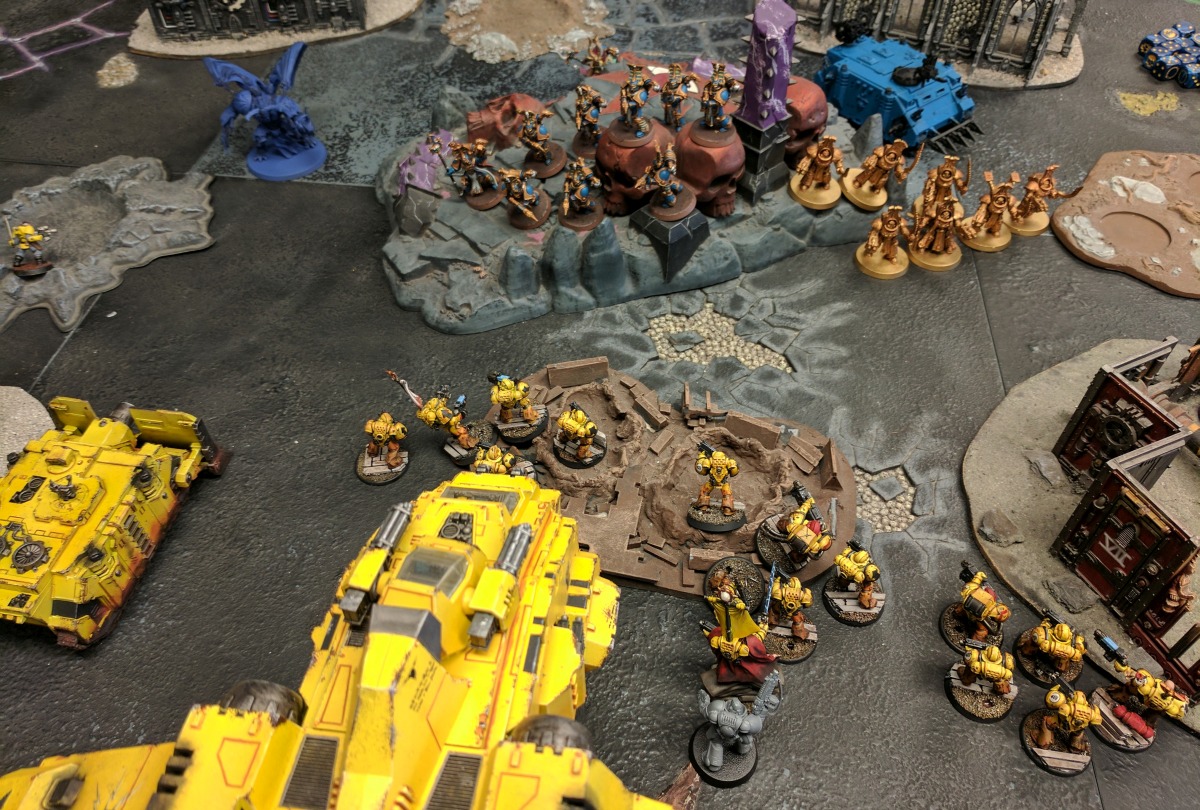 Eric
: For any of what follows to make sense, I need to take you to a place in my past. Imagine the house where I grew up. Follow me down into the basement, past the unfinished walls and pantry shelving and washing machine. Back here, hidden under the stairs. Do you see it?
That was my desk.
It isn't much to look at – an austere, industrial thing. The kind of desk I now imagine factory workers flipping over in some proletarian revolution. But I spent huge amounts of my late childhood and early teenage years here. Pouring through those roleplaying manuals stacked in one corner, drawing elaborate maps on that graph paper, and – as the spackling of color attests – painting the little figurines that line the shelf above.
Those were my first space marines.
About a month ago, Games Workshop released their 8th edition of the Warhammer 40,000 rules. Back when I was painting at that desk, it was 3rd edition I played. As much as those iterations between then and now can be seen as cynical cash grabs – partly because some of them were – there is something noteworthy about this new one. But more on that in a minute.
Cow compression, campestral candy, for peat's sake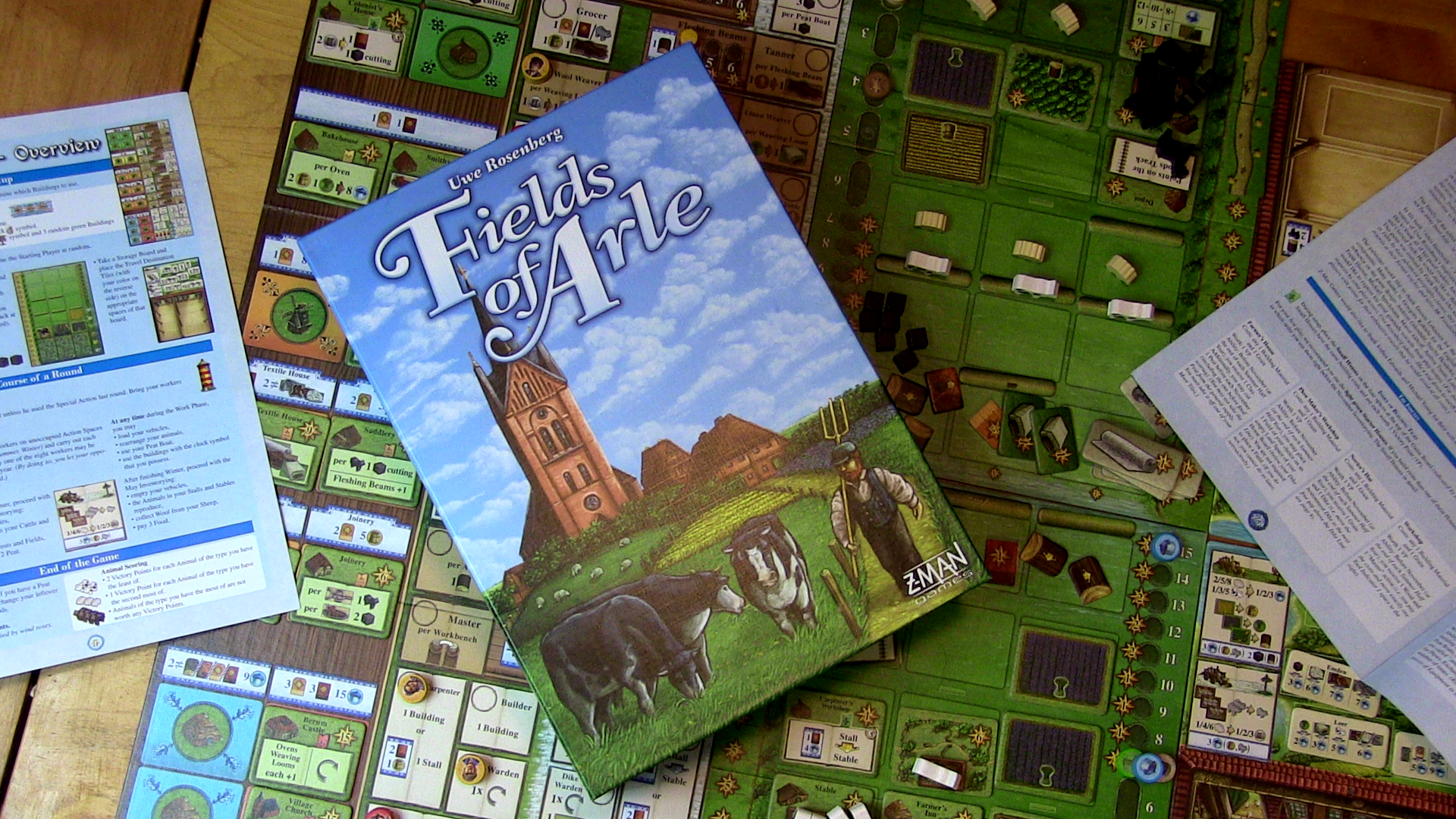 Paul
: I'm not sure what it is about all this grit and graft that hooks me. Uwe Rosenberg keeps making games about hard work and manual labour and there I am again, scraping at the soil or sweating at the forge as I worry if we have enough food for the winter. My servile son shoves another horse into the stables, while my wife trudges through the fetid, bubbling peat bog that marks the edge of our land. There is so much that needs doing. Fields of Arle is the greatest farming challenge I've ever taken on and… is it weird that I relish that?
mount your turtles, biting risks, bloated samurai, tasty details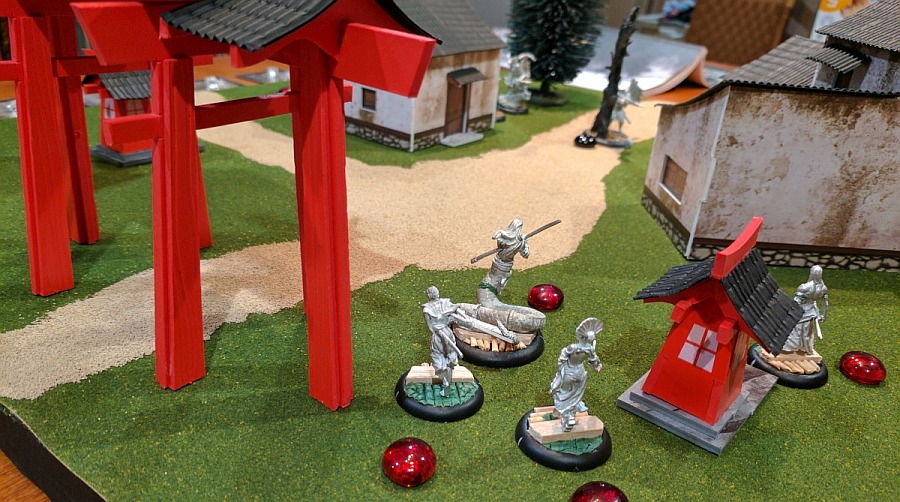 Eric
: I'm standing here, what feels like a katana in my chest, the bodies of my soldiers piled around me. I'm standing here defeated and absolutely delighted, a big grin on my face, trying to figure out what it's doing there.
That was the end of my second play of Bushido by GCT Games - the actual impaling being only metaphorical, if you're the queasy sort, but the defeat and delight being real. From my first encounter, what intrigued me about Bushido was that I found it immensely pleasurable even when I lost horribly. Let me try to explain why.
If the name and picture don't make it apparent, Bushido is a tabletop skirmish game set in a world inspired by Japanese folklore, or at least a western, Tolkein-filtered riff on Japanese folklore. Elves and Dwarves are replaced by Tengu and Oni, the heroes include snake-people and warrior pandas, and the outfits look like the result of a raid on a Kurosawa film's prop closet. All in the best possible way.
quinns stop clicking your fingers, number-udders, that's cowboy magic
Hoo baby! The profoundly beefy 2016 game of
Great Western Trail
is finally back in stock the world over. We've had ample time to test its systems, prodding its many rules from every conceivable angle, and today want to tell you that it lives up to the hype.
And thank goodness for that! When was the last time your evenings contained a dose of cowboy magic? It was too long, wasn't it?
never work with animals or triangles, paul's precious intestines, an actual cameo
It looks like 
Watson & Holmes
 isn't the only game that wants to offer something different from 
Consulting Detective!
Introducing Mythos Tales, a game of solving occult mysteries where if you're not careful, you might become a victim yourself. Will Paul Dean crack the case of whether Mythos Tales is a worthy consumer product, or will this be his final review?
We wish him luck.