have fun hunting an old and potentially misgendered man across europe
You ask, and we provide! Our second ever
How to Play
video walks you through your first game of the sublime 3rd edition of
Fury of Dracula
.
Once again, this isn't a COMPLETE rules explanation (we forgot to mention that Dracula can't be found in sea spaces and doesn't place encounter cards, for a start), but it should certainly give everyone a ruddy good grasp of the game before you get stuck into the dirty business of questions and manuals.
Enjoy, everybody!
weepinbell, fresh blood, soup stories, beautiful bratwurst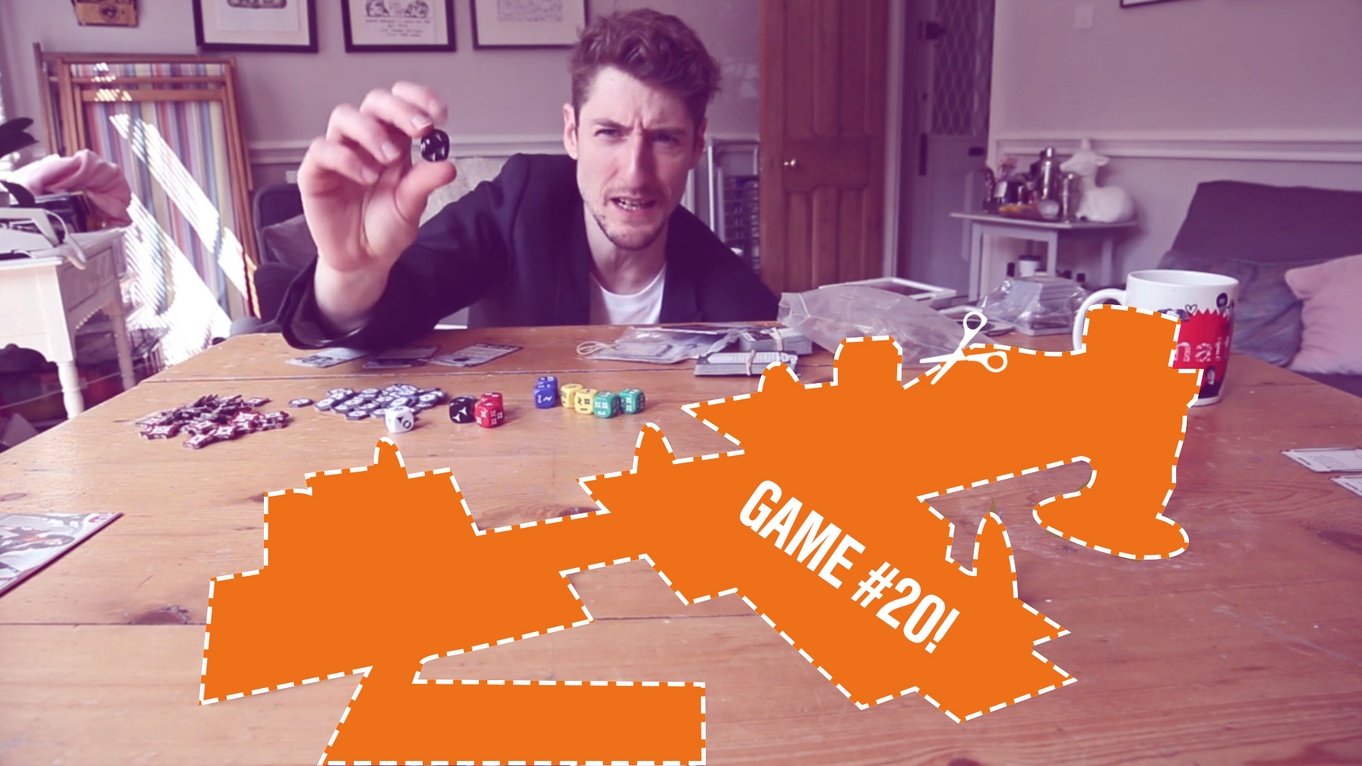 Quinns
: We are entering the teens! Steady as she goes, operator.
Operator: Sir, the site was never built for this! She's going to buckle under the pressure!
Quinns: There's no turning back now. We'd never make it. The only way out... is through.
I'm sure you understand, sorry for blowing up kashyyyk but it had too many ys
Oh god. Sit down. The new podcast is out, and we've peaked. We'll never have a lineup like this again.
Last week we enjoyed exclusive access to scalding-hot 2016 Fantasy Flight epic Star Wars: Rebellion, and on this podcast we want to tell you all about the fun we had with it. But that's not all! We also discuss our time with the wonderful new edition of Fury of Dracula, return to Star Wars: Armada and Quinns has sat down with Jeff Cannata of the DLC Podcast for a (well signposted) spoiler-ridden chat about Pandemic Legacy.
That's more amazing board games than is wholly decent. But you deserve it.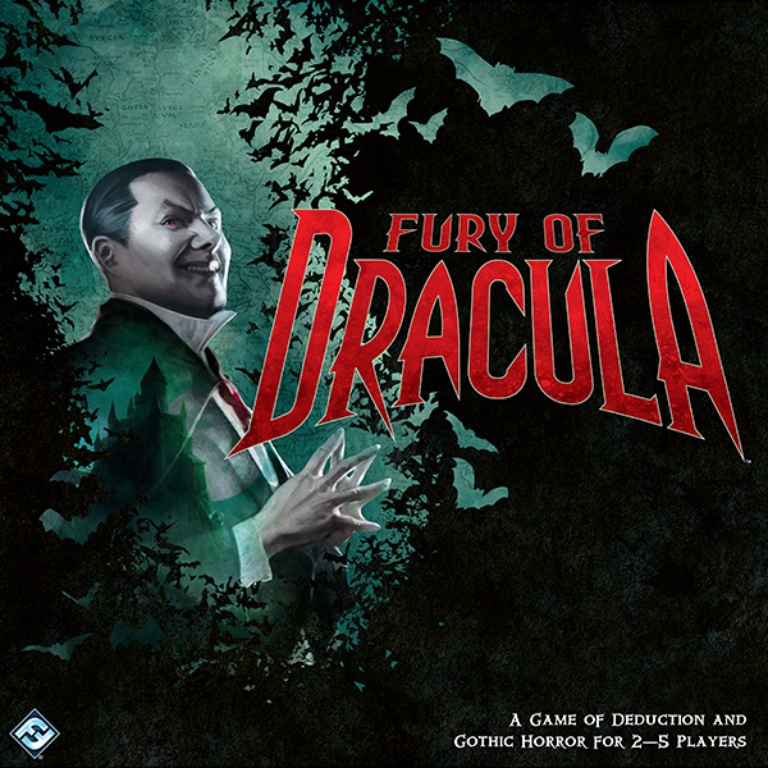 Eight years ago Mina Harker and her companions returned home from Castle Dracula believing that they had definitively banished the vampire Count's evil presence from the earth. They were wrong. The King of the Un-Dead has now risen again to menace mankind. Throughout Europe wolves are behaving strangely, superstitious peasants are growing fearful, and mysterious deaths are proliferating. Tormented by uncanny dreams and haunting visions of nighttime travel and drinking blood, Mina has rejoined her former companions, now even more determined to find Count Dracula and destroy him once and for all.
In Fury of Dracula you undertake their perilous quest, hunting Dracula across Europe and battling him wherever he is revealed. Or you take on the role of the legendary Count Dracula himself as he seeks to thwart these pursuers and plunge the entire continent into an unrelenting and evil darkness.
I mesmerise you, no I mesmerise you, no I punch you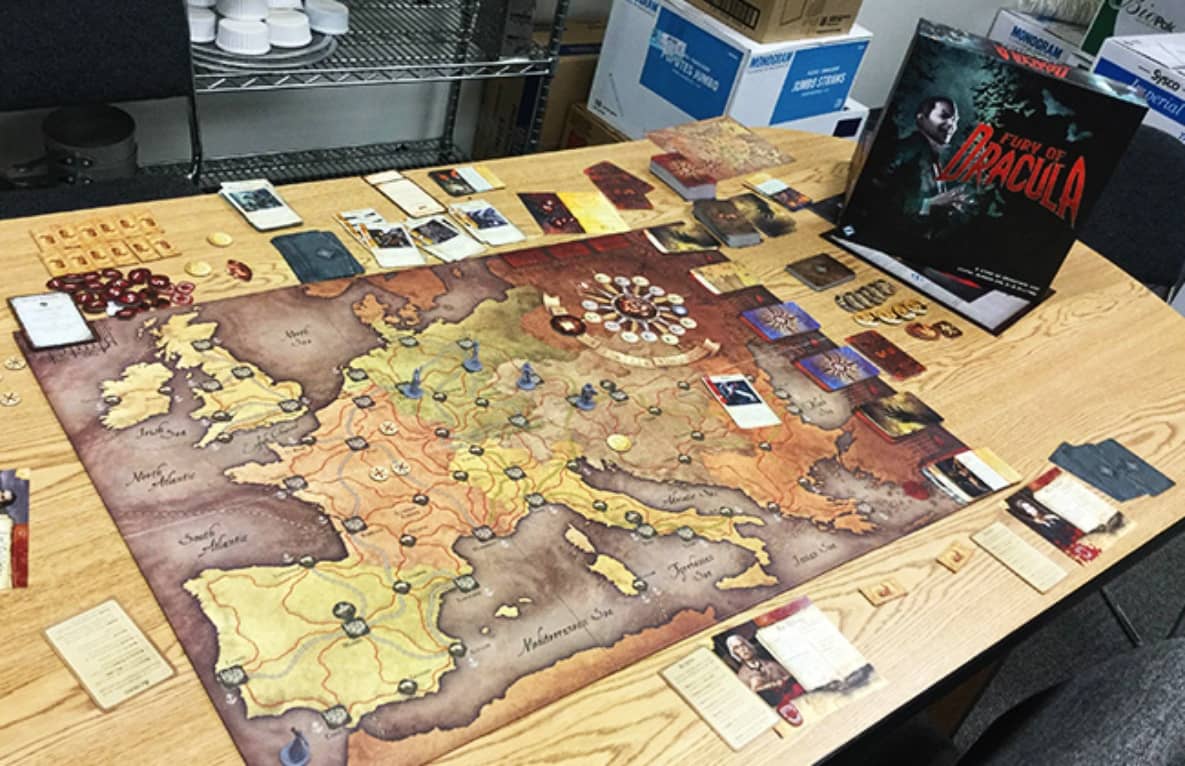 Paul
: I'm a doctor. I'm not
the
Doctor, but I have dogs and garlic and a knife and a gun, along with train tickets that take me all over Europe. That's better than anything Colin Baker ran around with. The dogs are
particularly
useful because they saved me from an ambush. This was just one of all sorts of unpleasant surprises that Dracula had left in his wake, like horrid slime behind a slug, as he slipped his way across Europe. In this case, he'd left a nasty surprise in Edinburgh, one of my very favourite cities. Damn you, Dracula, for ruining such a fine town.
Quinns: Paul, are you excited about the new edition of Fury of Dracula? Fantasy Flight's gothic hidden movement game, originally from Games Workshop back in the distant past, has been out of print for so long now that it's almost passed into legend. Now and then, copies surface online with ridiculous three-figure price tags, but they're as rare as hen's teeth.
Paul: As rare as vampire fangs! Except those fangs aren't rare any more. Dracula's back! He's back in style, too, with a glossier cape, a smoother style and even an improved map of Europe. I'm glad to see Dracula back because the boy done good.
game pre-views with billy cool, winning and losing with phillipa warr, boffing
What do board games, miniatures games, dexterity games, dinosaurs, dancing, Spider-Man, hot cosplay, leather kilts, hugs, remorse, death-defying climbs, arguments, soapy baths, vampires, fragile cities, farkles, conferences, boffing, children and blindfolds all have in common?
Why, they're all featured in our GEN CON SPECIAL EPISODE, of course!
Exposure to this special may create a burning desire for more Gen Con Specials. If this occurs, go and watch last year's Gen Con Special again.
furry dracula, master mind, cat pee, spooke ghosts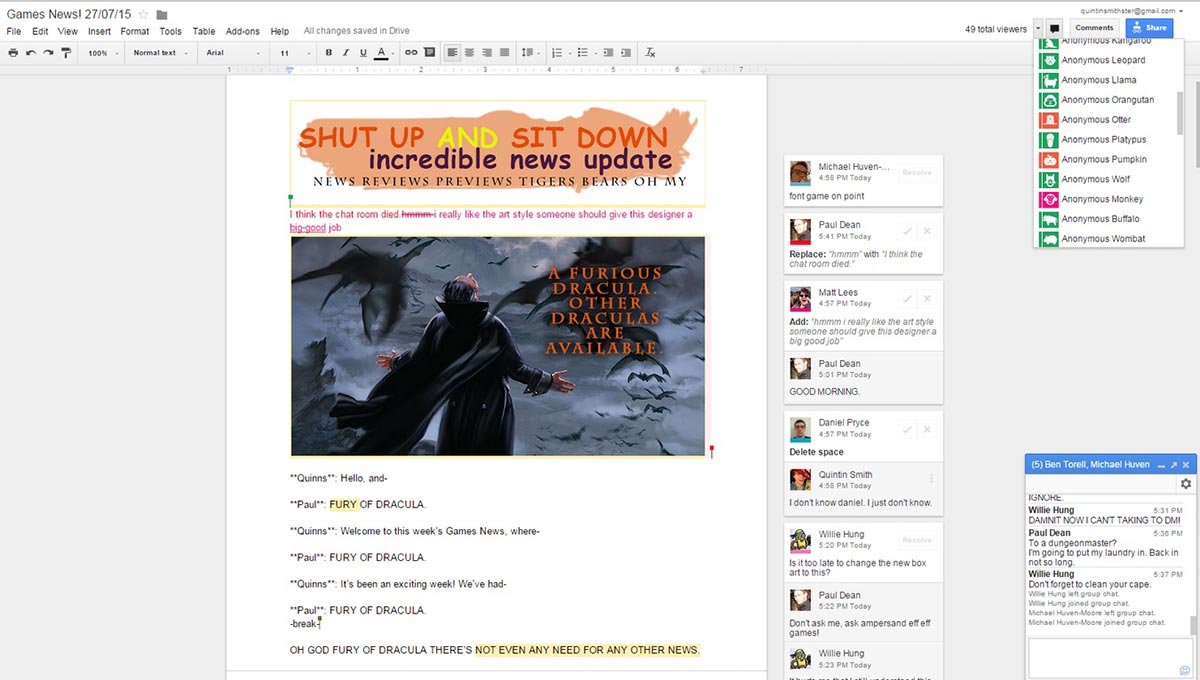 Quinns
: The Shut Up & Sit Down site was down today from 10:45am GMT to 5pm GMT. That meant we couldn't access the backend, so we couldn't write the news.
So we did it in this Google Doc instead
.
It's been a FANTASTIC news week, though! You must go take a look. Fantasy Flight announced a new edition of Fury of Dracula! Bezier Games announced One Night Ultimate Vampire! There's an amazing article about the English-language reimagining of Mysterium, and we learn about one of board games' most iconic covers.
Enjoy, everybody! And try not to make too much of a mess...