children up chimneys, the longest spoons, our efficiencies will blot out the sun
Who wants to play a game about manufacturing forks!
Anybody? No? What if we were to tell you that Arkwright turns the manufacturing of bread, forks and lamps into a bruising war. What if we were to say that this game puts the very machinery of the industrial revolution in your hands, and allows you to grind your friends in its very cogs.
What if we were to tell you that this game is a cheaper, rock-solid competitor to fascinating games like Food Chain Magnate and Panamax.
Would you want to play then?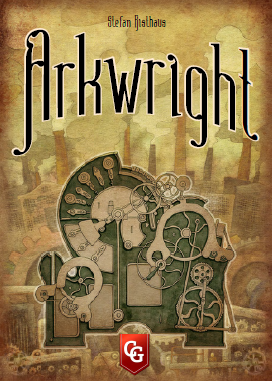 In Arkwright, 2 to 4 players lead enterprises and try to develop and run them profitably over several decades. It is important to invest in your own company and ensure that the value of its shares rises. The player with the most valuable portfolio of their shares wins the game.
In the beginning, workers are required to run the factories. However, their expensive wages (£2 - £5) make machines (£1) very desirable. To increase a factory's production of goods, you may hire more workers or improve the technological level of your factory.
You determine the price of your goods for each of your factories. To enhance the chances of selling your goods to serve the demand in England, you can improve the technological level of your factories, increase the quality of your goods, and partake in distribution activities. The higher these factors are, the more successful you will be. However, the higher your prices, the less appealing your goods become.
putting boys up chimneys, thinking about dogs, breaking poker
Rain falling on cracked windowpanes. Once-boisterous assembly rooms, now silent. Mr. Paul stalks the halls of his once-proud lamp factory, his mind a warren of regret. 
How did my business venture go so wrong?
Excitingly, this week on the Shut Up & Sit Down podcast Paul and Quinns discuss their experience of running 19th century factories in the ENORMOUS game of Arkwright.  Also, there's chat about why Quinns didn't get along with the beautiful new edition of card game High Society, the pair once again discuss the superb NMBR 9, and Quinns talks about being a brave weather fairy in the game of Broom Service.
Finally, the pair take their shoes off and paddle around the mailbag to answer not one, not two, but three little questions! Don't come in, the water's cold and full of jigsaw puzzles and binding agreements.
New podcast feeds (if you're missing episodes 71 onwards, try these):