Early Badge Pickup: Thursday September 29th: 2pm - 8pm PDT
Where? Inside the Vancouver Convention Centre East Building - you'll see the big SHUX archway and know you're in the right place!
You will need your ticket (printed or on your device) as well as the ID that matches the name on that ticket. You will also be able to pickup the badge under someone else's name with their ID and ticket.
Please make sure you have your proof of vaccination with you when you come to pick-up your badges.
Show Hours / Regular Pickup: Friday/Saturday: 8am - midnight, Sunday 8am - 6pm PDT
See you Friday!
SHUX RETURNS TO VANCOUVER!
September 30 - October 2, 2022
Hottest Games. Coolest Guests. Friendliest People.
SHUX returns to the Vancouver Convention Centre with the very best of board games and board game culture!
Stage shows, massive social games, special events, over 50 publishers, 2,000+ Title Game Library, and more open gaming than any other show in Canada make these three days you'll never forget!
Meet your favourite designers, reviewers, entertainers, and your new best friends; play loads of games, and try and buy the newest unreleased hotness just in time for Christmas!
Don't miss out on 2022's best 3 days of Board Gaming along Vancouver's scenic waterfront!
Bigger and Better Publisher Hall
Try and buy the latest and greatest board games and RPGs from industry leading exhibitors. You can expect a lot of Essen previews and great upcoming/new releases again this year!
Are you a publisher, designer or indie interested in coming? Contact us for details on how to join the con!
Games Library and Looking-For-Group Lounge
Lots of tables for gaming means we need lots of games to play on them! We'll again have a nice big library of games for you to checkout and try. This year we'll have a focus on new releases and games recommended by SU&SD.
We'll have a "play to win" section again this year, where you can win games by playing them! And an area dedicated to matching up gamers looking for a group.
Trade games with other attendees through our math trade. A math trade is a fancy term for a swap. Offer the games that you want to trade away and, if someone wants them, you will get games from your wish list. If not one has what you want, your games won't trade. Simple as that! All of the work of figuring out who gives which games to whom is figured out in advance and then everyone meets at SHUX to do the exchange. Last show over 2,150 games were involved in the trade!
Get started here! https://shuxshow.com/mathtrade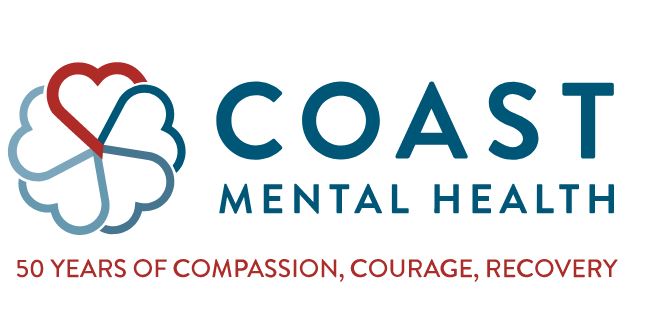 We have partnered with the Coast Mental Health who will be running a coat/bag/game check in the SHUX concourse, where they will store whatever you need for as long as you need over the three days of SHUX.
This is an incredible non-profit that's close to our hearts and they are run by donation, so please consider leaving them a small donation when checking in or out. The hours are TBD, daily.
Join Team Shut Up & Sit Down and special guests for interesting talks, live stage shows, and lots of other surprises and features. You can be sure they'll be action packed and full of fun!
Here's one of our favourites from last show:
Workshops & Massive Social Games
Have you ever wanted to design your own board game? Have you ever wondered what it takes to publish a board game, or run a Kickstarter campaign? The workshop room is where it's all going down. Meet new friends and negotiate your way to victory with dozens of other guests!
Coming from the airport? Take the SkyTrain! It stops just a block away from the Convention Centre at Waterfront Station. Cabs are fixed fare from the airport. There is also paid parking at the venue if you are driving.
Babies under 2 years old are welcome and free to attend, but unfortunately we can't offer any specialist childcare facilities on-site. Please be cognizant and respectful of the enjoyment and needs of attendees who choose to bring babies or small children.
Children under the age of 10 can also attend for free, however they will need to wear a badge and be accompanied by a responsible adult at all times. We do not have any specialist childcare facilities on-site. To request a badge for your child aged 2-10 please email us with your full name, the transaction number of your purchased ticket, and the full name of your child. You will also be required to bring valid proof of age with you to registration at SHUX for badge pickup (a photocopy of their birth certificate, health card or passport is acceptable).
What people loved about past SHUX
Just meeting other board gamers from all over the world and feeling like we all spoke the same language regardless of where they came from.

The whole atmosphere of the weekend. Everyone was there to have a great time and play games with whoever wanted to, and were so welcoming and enthusiastic. Also getting a photo of Matt making an egg for me while Quinns watches, I don't usually go in for the hero worship stuff but it's hard not to get a little starry eyed around the SUSD team because you all seem like so much fun to be around. Oh, and the gang being so friendly and funny during the closing ceremony despite being so obviously completely shattered was gold.

Being taught to play 5 new games by their designers. Talking to so many people in the games industry. Playing prototypes.

Working on a game design with great people, who previous to the amazing "Design With Your Hair On Fire" activity on Saturday morning, were complete strangers to me. I've actually befriended a couple from Seattle that was on my team and got to speak with Isaac Vega about submitting fledgling game ideas to him for review and advice. That kind of support, and the friendship thing are what made the 5 hour flight more than worth it. We had a very short chat but getting a chance to chat with Quinns for a very generous amount of time and Matt for a shorter bit was extremely cool as well.

Every time my partner and I sat down to play a game someone would come up to us and ask to join. It was great! Got to make some really cool friends because of it.
*Feedback was collected anonymously.
SHUX would not be possible without our incredible sponsors!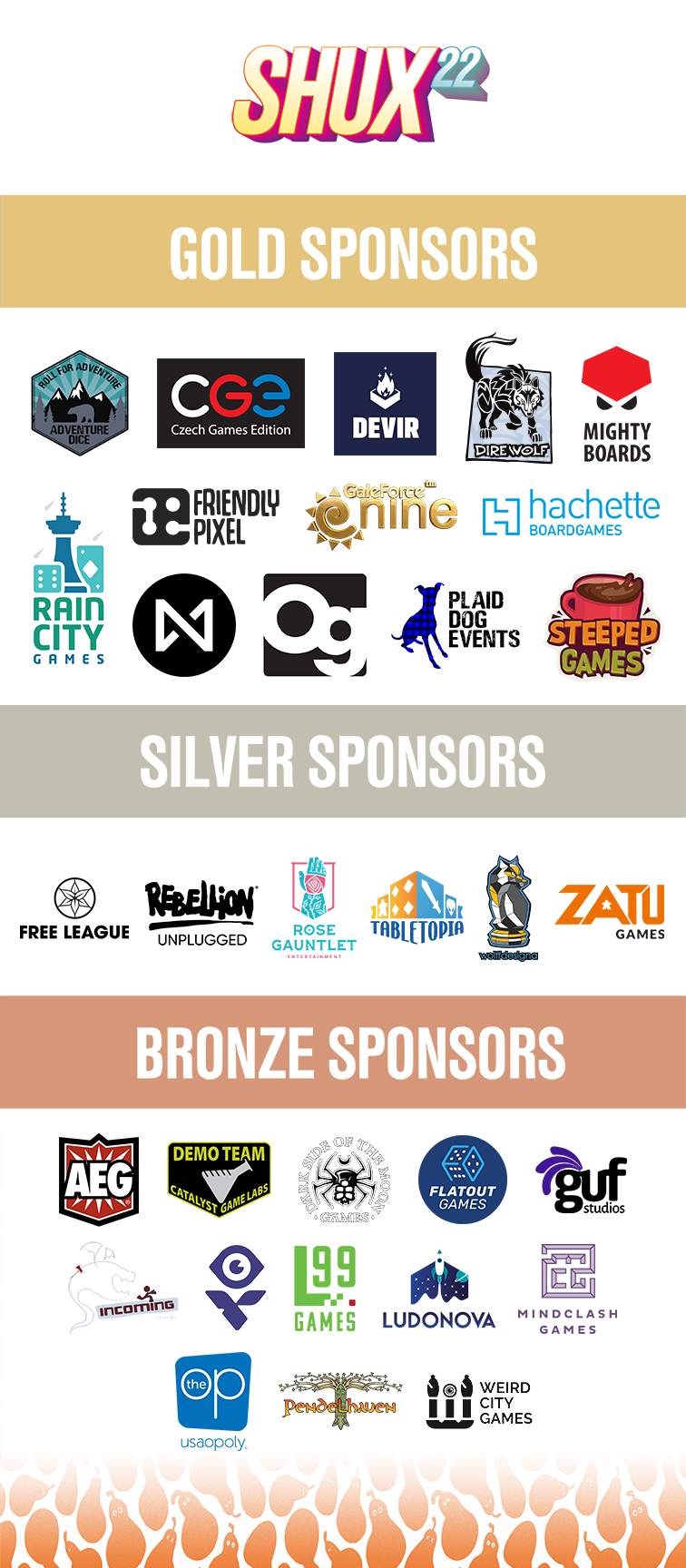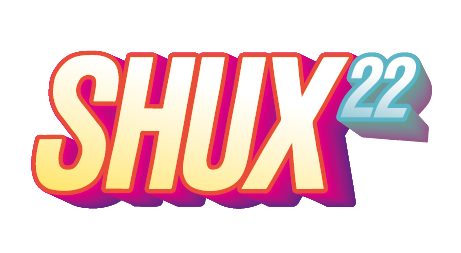 Important Details – Please Read!
Show Hours:
Friday: 8am-Midnight
Saturday: 8am-Midnight
Sunday: 8am-6pm
Tickets are priced in Canadian and US Dollars, please pick the ticket in your home currency to avoid or minimize exchange fees.
Payment methods available at checkout for USD transactions are VISA and MasterCard.
Payment methods available at checkout for CAD transactions are VISA, MasterCard, Discover, American Express, and UnionPay.
All purchases are subject to Goods & Services Tax of 5%.
Ticket sales will be billed immediately at checkout. You will receive an electronic receipt and ticket(s) by email and pickup your physical badge(s) when you check-in in Vancouver. If you did not receive your ticket(s) please check your junk mail or confirm your purchase with us.
Tickets are transferable, please CC us on an email from the original purchaser email with the full name and email address of the person the ticket(s) are being transferred to.

We will not be able to transfer tickets within seven days of the start of the event (cutoff is midnight PST September 23rd, 2022).

Tickets are refundable, please email us from the original purchaser email.

All refunds are subject to processing fees ($15USD for US Tickets, $20CAD for Canadian Tickets).
We will not be able to refund tickets within thirty days of the start of the event (cutoff is midnight PST August 31st, 2022).

If you are interested in volunteering please reach out here and we will send you the volunteer application! You'll need to be available Thursday evening for training and scheduling. You'll be on your feet for long hours and won't have as much time for playing games, so make sure you're up for a long and taxing weekend before signing up! But you'll also be pivotal to this whole thing working out ♥♥! Volunteers do not need to buy a ticket. For any questions, please reach out to us at

[email protected]

.
If you are interested in booth space or sponsorship opportunities at SHUX please email us at 

[email protected]

.

If you're a small indie company we'd love to have you there. We will have an "Indie Ave" where you can book a table for one day of the con.
For larger publishers or those looking for a more permanent instillation we have booth space available for booking.
We also have sponsorship opportunities for publishers and industry companies.

We are selling 2,200 general admission all-ages tickets, and 25 Gold Badges:

General Admission tickets cost $159.00 USD or $199.00 CAD each and permit entrance for all three days of the show (September 30 - October 2, 2022) and everything going on inside.
Gold Badge tickets cost $590.00 USD each and permit entrance for all three days of the show (September 30 - October 2, 2022) and everything going on inside, as well as some additional activities on the evening before the show kicks off.

The event and venue is fully wheelchair and mobility scooter accessible.
Outside food is not allowed in the venue.
This con is being run 100% separately from our day-to-day running of Shut Up & Sit Down. We're involved in every step but have a ton of people helping out behind the scenes. Thanks to all the incredible and hardworking volunteers for helping make this happen for a FOURTH year!
Questions? [email protected]