matt's villainous trams, a secret stargate, elevated dorado's
All aboard! In this very special tram-isode, your favourite board game podcast is going on a journey.
This chat makes stops at the enormous new Race for the Galaxy spinoff New Frontiers, both expansions for Kemet, namely Ta-Seti and Seth, and The Quest for El Dorado, before terminating at the bizarre game of Tramways.
After that, Matt had to dash off to hospital for an "adrenaline test". We're not sure what that is, but we're pretty sure it involves him putting on electrodes and then doing a kickflip. Good luck, Matt!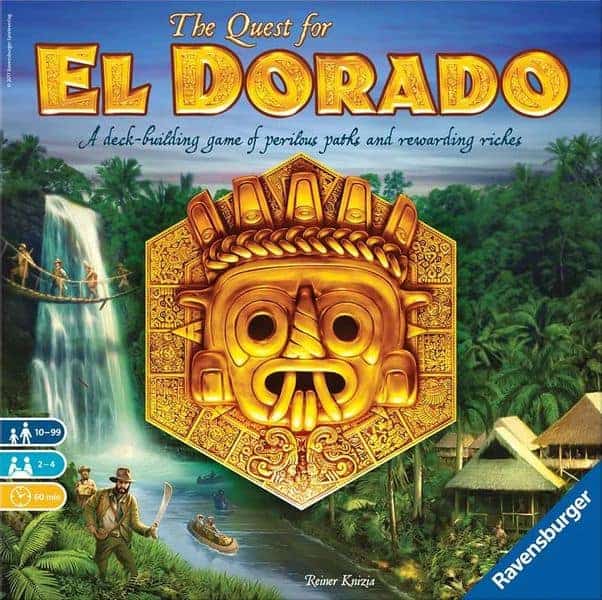 In The Quest for El Dorado, players take the roles of expedition leaders who have embarked on a search for the legendary land of gold in the dense jungles of South America. Each player assembles and equips their own team, hiring various helpers from the scout to the scientist to the aborigine. All of them have one goal in mind: Reaching the golden border first and winning all of the riches for themselves. Whoever chooses the best tactics will be rewarded!
uncle bagface, steamy analogies, chrono trigger, gertrude everdeen
With the release of
The Quest for El Dorado
, it seems that board gaming owes
yet another
debt to venerable designer Reiner Knizia. This game is a nail-biting race through a troublesome jungle, and we think it's superb. A solid, simple, clean design.
...But what if you want a wobbly, complex, dirty design? Well, then you could pick up the Heroes & Hexes expansion, which Quinns also investigates in this video.
Have a great weekend, everybody!